Welcome to Apploye 🎉 !!
Apploye time tracker allows you to track your employee time and improve the efficiency of your team. You can also monitor their screenshots (optional), projects, and the task time of their work.
Let's get you started with a few easy steps:

1. Onboarding
2. Invite your employees to the organization
3. Downloading the app
4. Add project and budget
5. Assign a member to a project
6. Add task
7. Set up pay rates
8. Add team
9. RemoteTrack (screenshot, app, URL)
10.  Check Timesheets & Reports
💡
TLDR: After creating the account, download the app (if you have employees, ask them to download it) and start tracking time. Then, you can check the timesheets and screenshots from the web app.
1. Onboarding Process 🧙

After signing up and verifying your account, you will see the option for Create a New Organization. However, if you are an employee, please click on "Join An Existing Organization".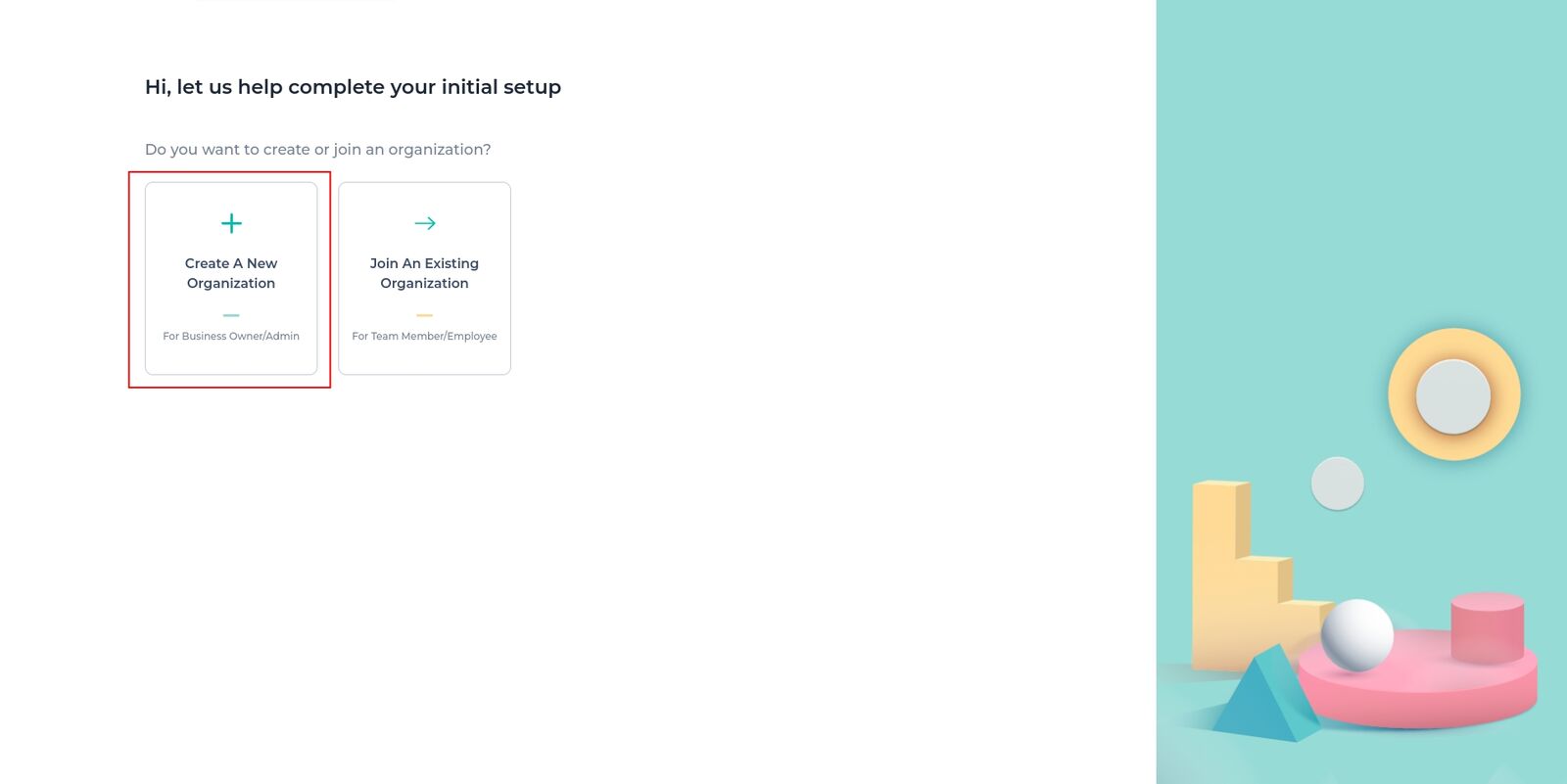 Give the name of your organization and select the timezone of your organization. Then click on the "Next" button. Add your projects and click on "Next":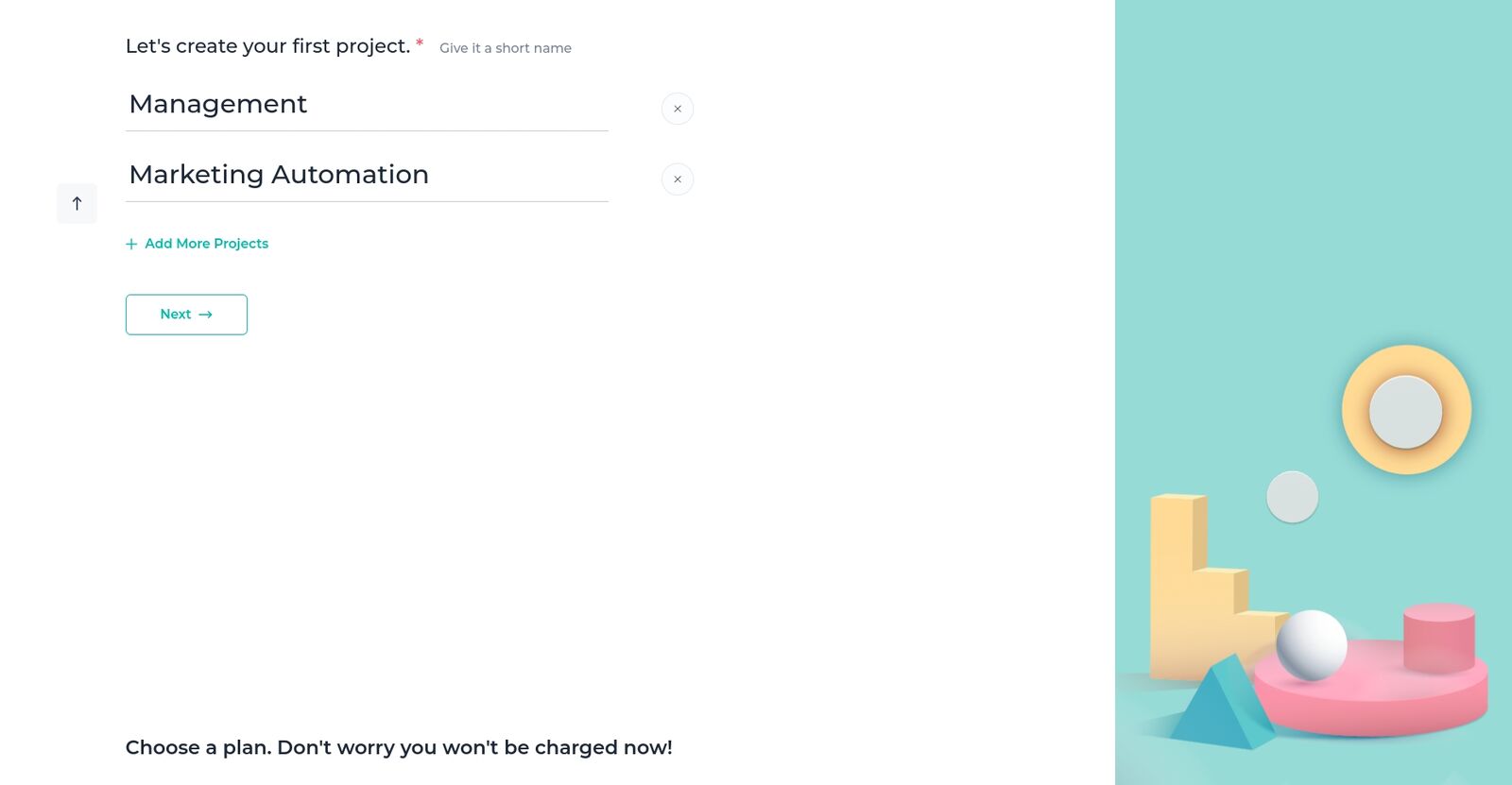 And select a plan that fits your needs (you don't have to pay for a trial in any plan). Then invite employees to work in your organization (You can add them later too). Then, click on "Get Started". 👼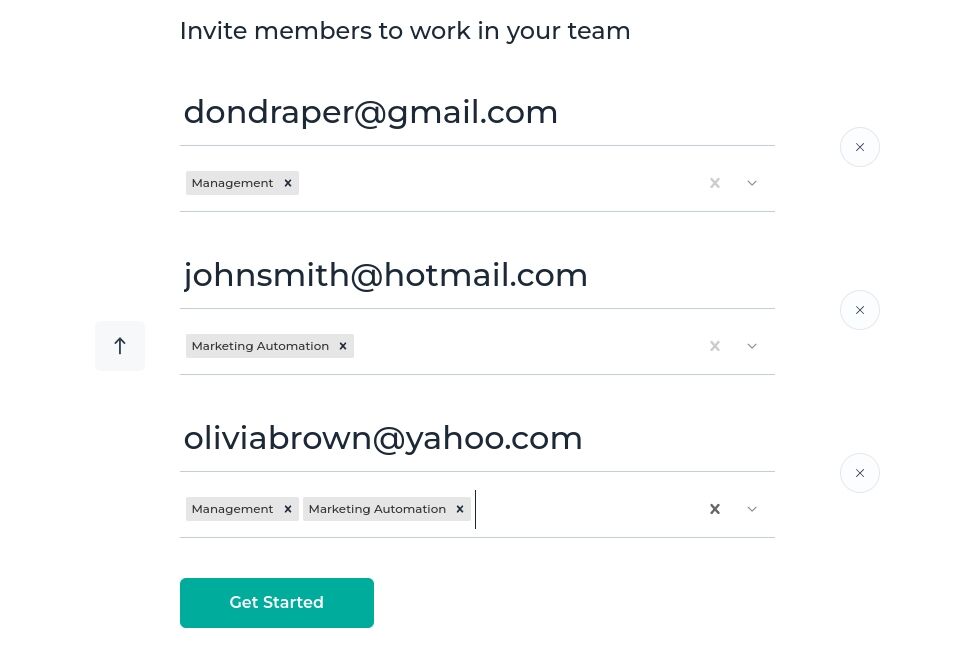 2. Invite your employees to the organization 👥

The first thing that you'll see is your Dashboard (Right now, it's empty because there's no data to show, as you/your employees haven't yet started the tracker. Don't worry, we'll get there 🚀). On this Dashboard page, you can find visualized time reports and metrics about your employees and the projects of the organization. You should also see a side panel on the left, this is mainly how you'll navigate ⛵.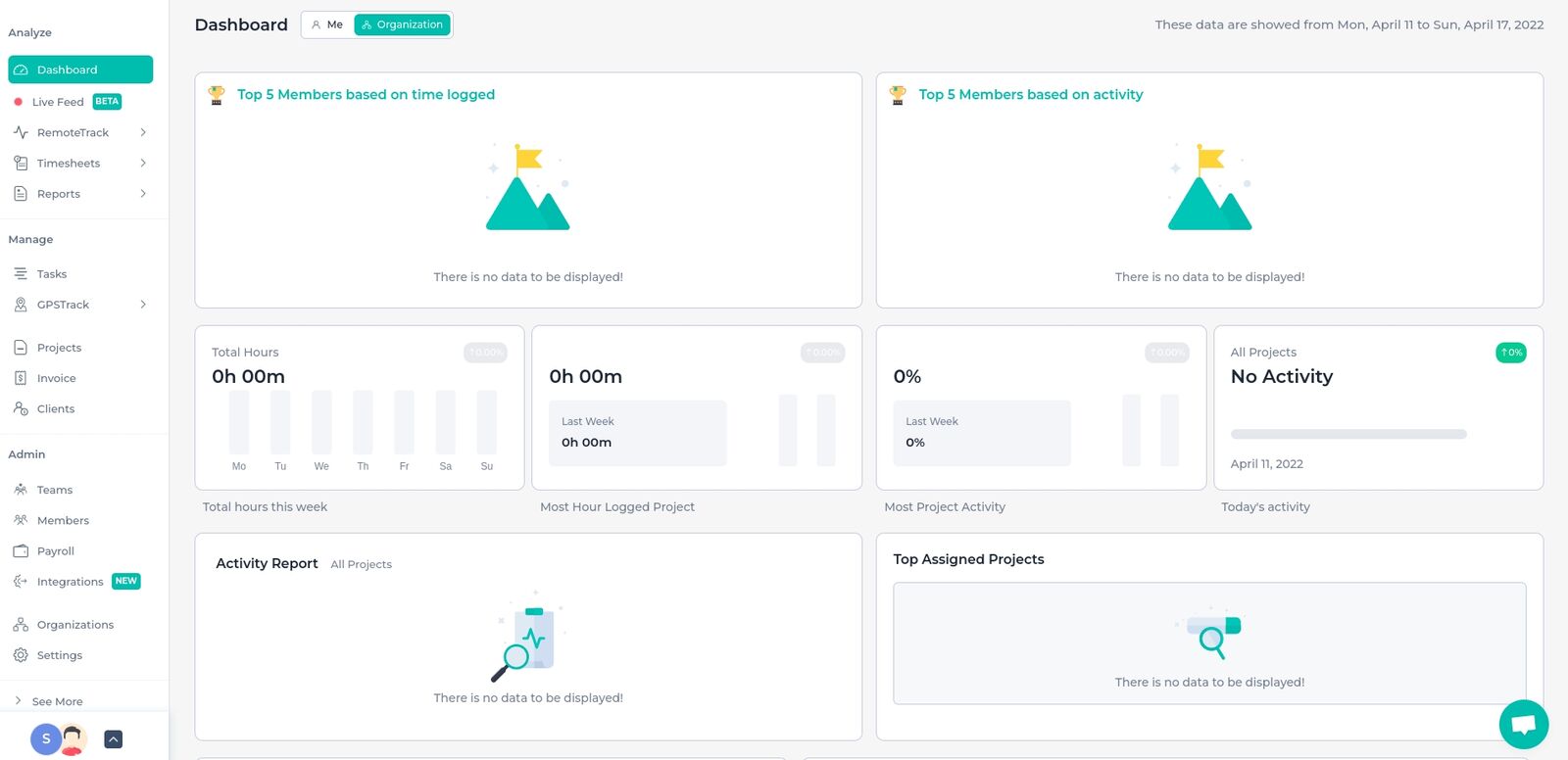 If you didn't already add members, you can still invite members. If you don't want to send invites right now, you can skip this step for now.

Go to the "Members" page and click on "+ Invite Member". Now, put their email address and select the projects you want to invite them to.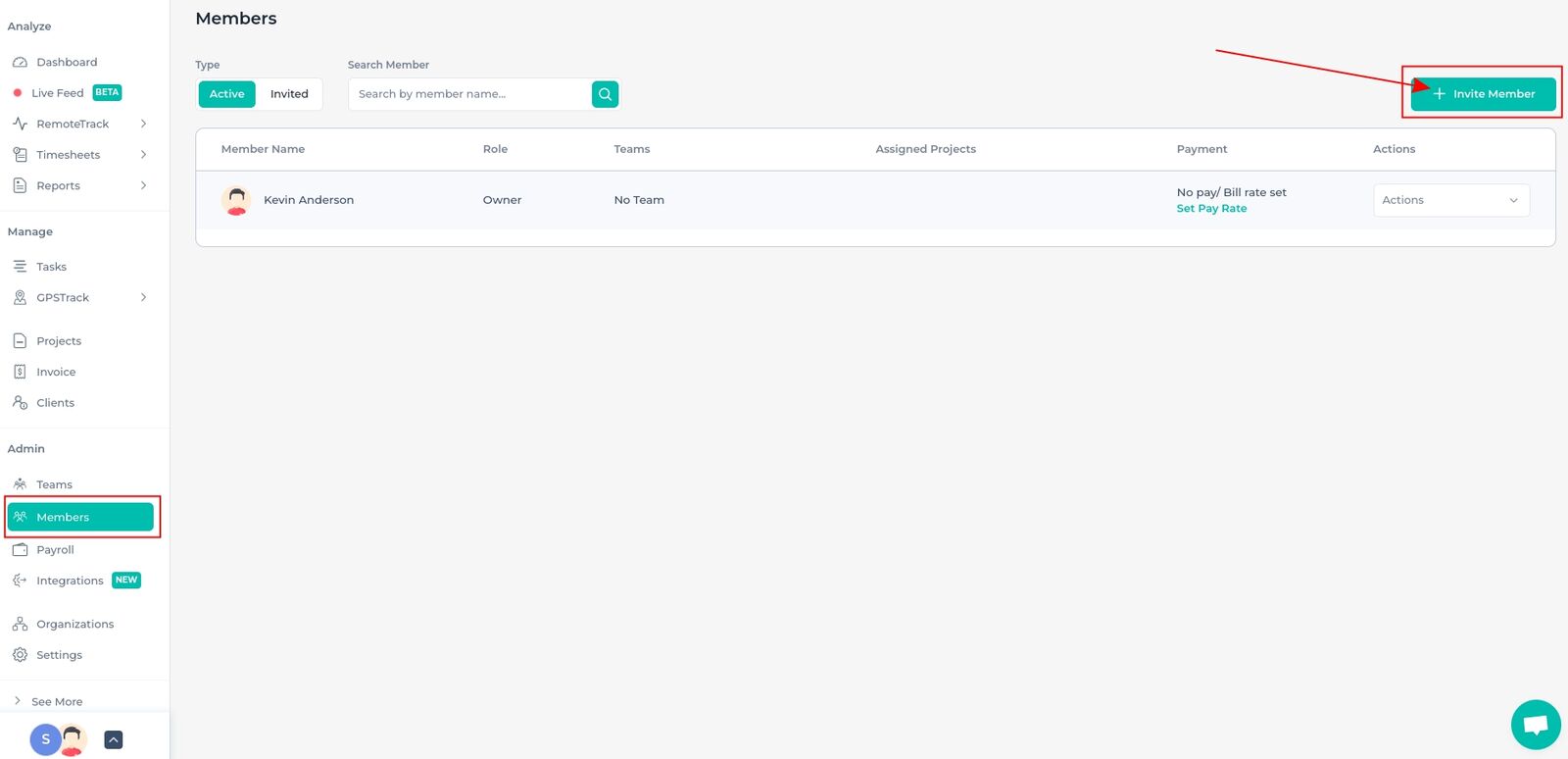 If you want to invite the people, click on "Send & Add Another". If you are finished inviting for now, click "I'm Done With Invitation".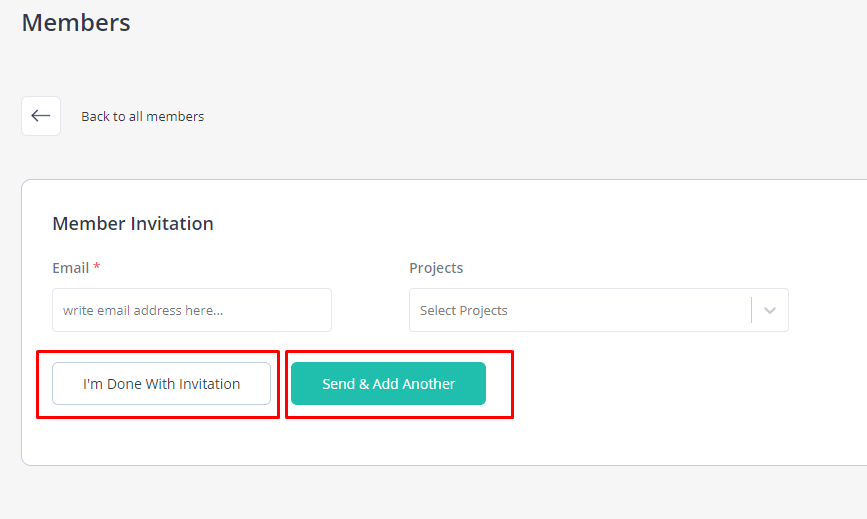 Now your employees will simply go to their email and find the invitation mail, and join by clicking on "Accept Invitation". At this step, please ask them not to create an account without accepting your invitation.


3. Downloading the app 🎁

Once your team is onboarded and you can easily see them on your "member" list. Now, they will need to install their app to track time. For download, go to the Apploye website and click on More>Download. You can also directly go to this Download link. You don't need to download the app if you are not going to track time by yourself. However, please ensure that all of your employees have installed the app on their devices.

Your operating system will be automatically detected. Just click on the "Get Apploye for (OS)" button to begin downloading. Then, you can install the application.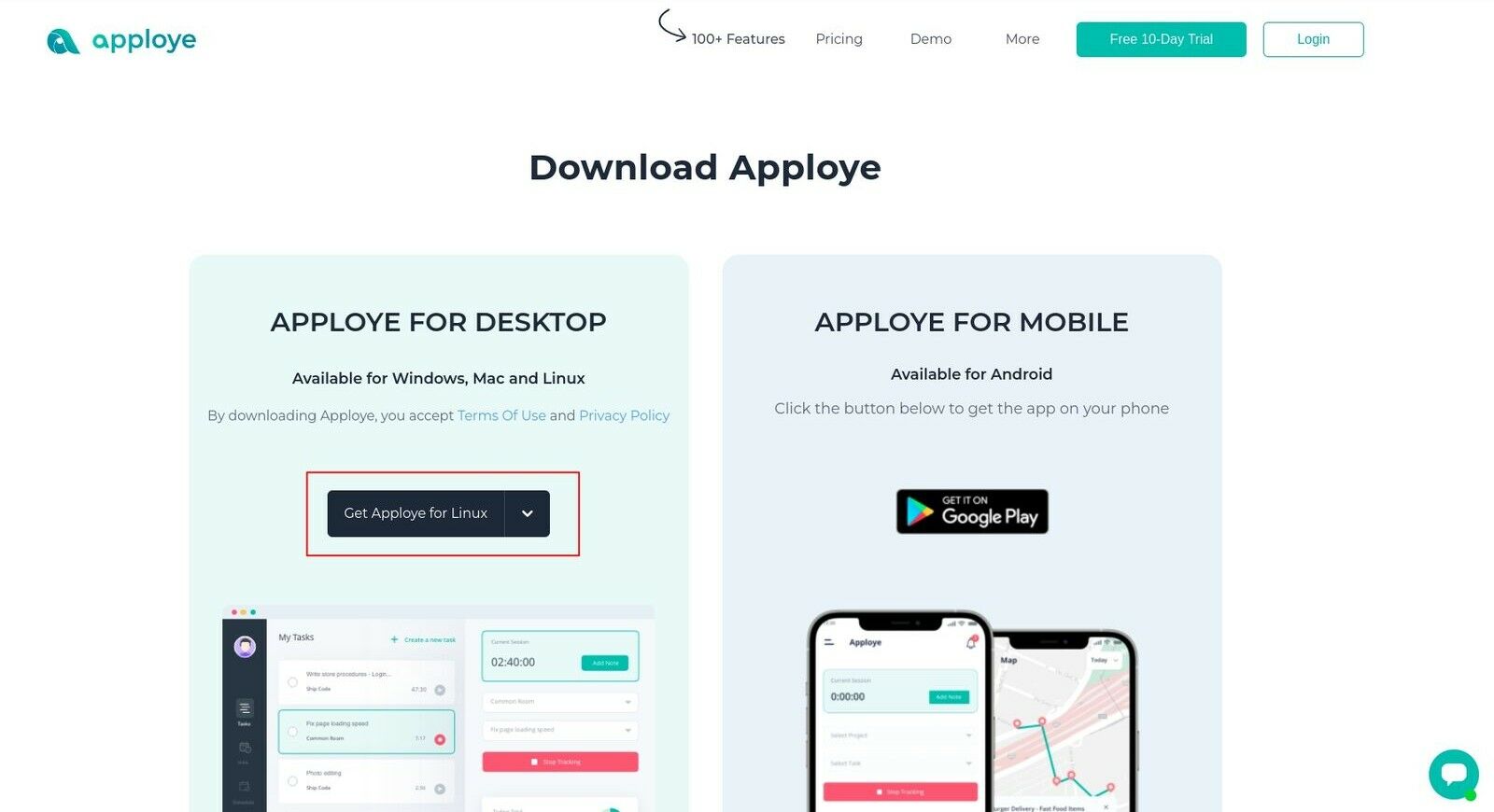 4. Add project and budget 💼
Now, let us show you how to create a project & assign members. Without being assigned to a project, you/your employees can't start the tracker. You can assign tasks under the project. You can do budgeting, and add permission for your employees.

Go to the "Projects" page from the side panel. If you created projects during the onboarding process, they'll show up here. Click on the "+ Create Project" button to add new projects.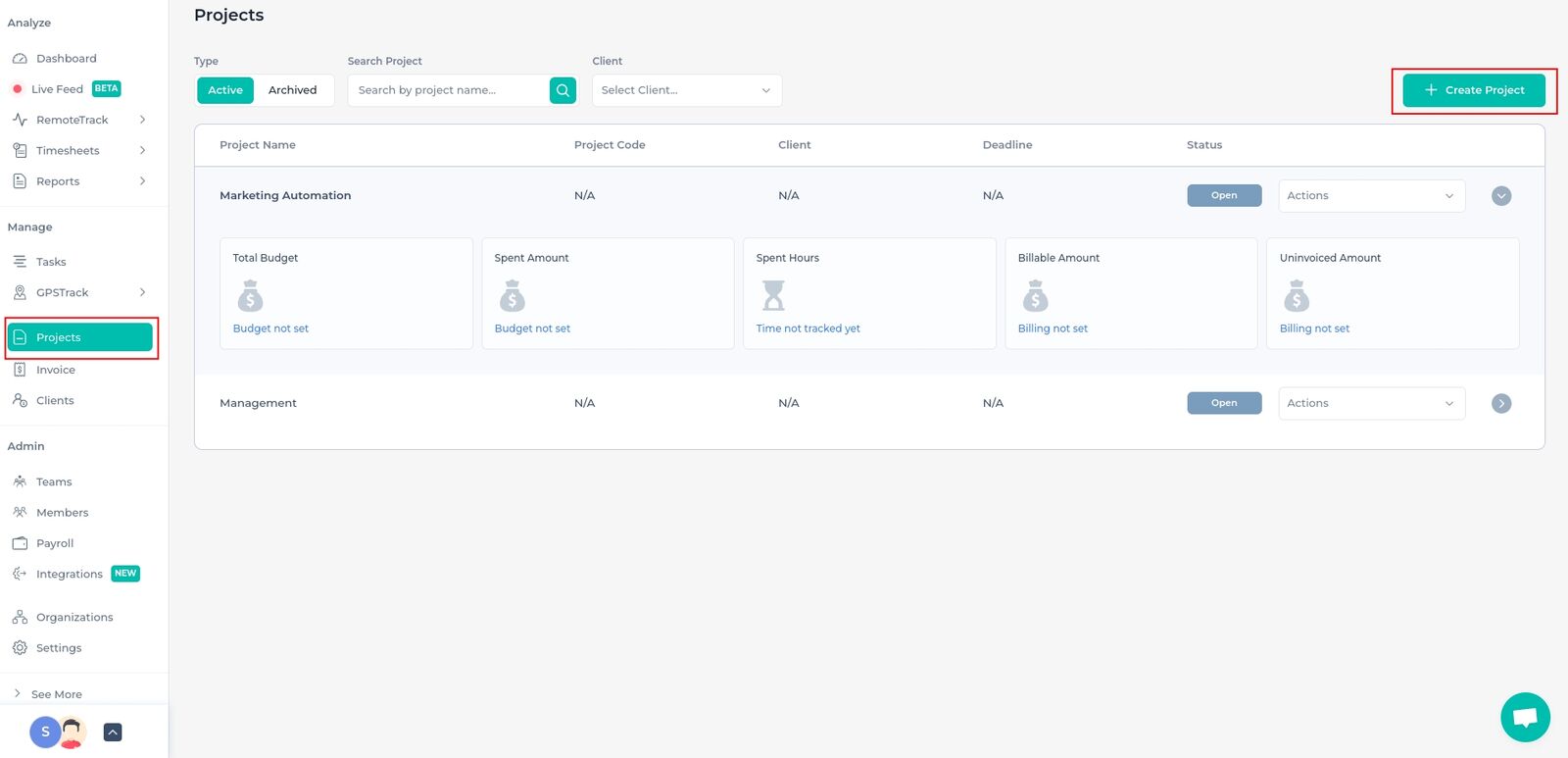 Now, you will be taken to the create project page. You need to add a name for the project and may choose to add details (you can add them later too), then click on the "Save" button. And you'll be able to see your project and your members can start tracking time for that project.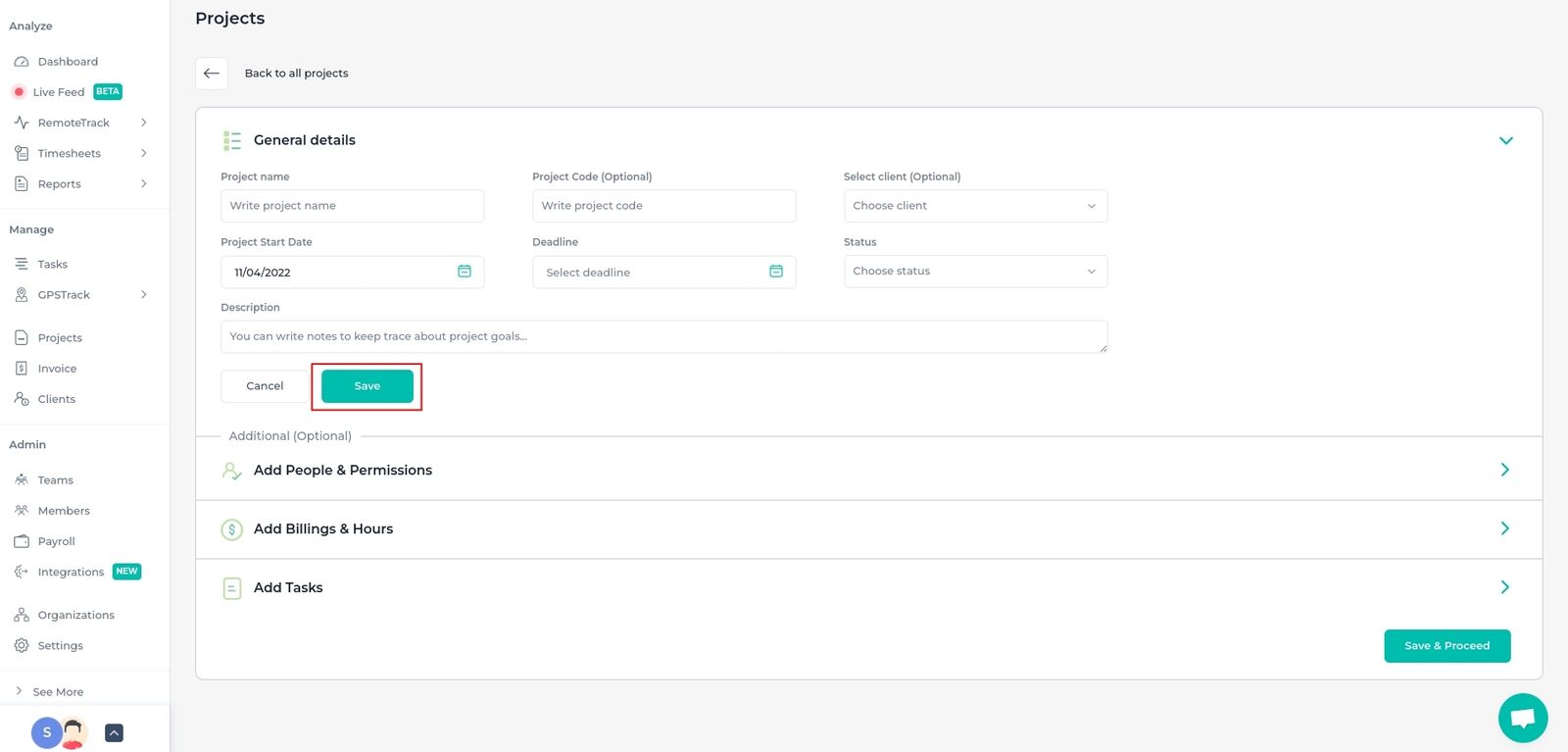 You can always come back later to edit these. If you want to edit the project, click on "Edit Project" from the "Actions" drop-down menu.


From "Add Billings & Hours" you can add Hourly rate/ fixed pay. You can also set the details about the project budget.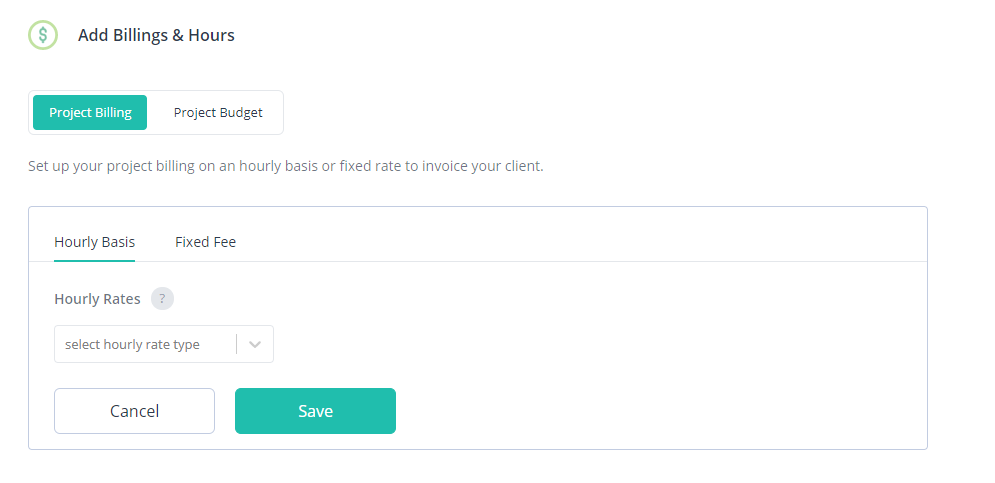 You can choose to add a task from the Project section. Remember to click on Save & Proceed. However, we'll show you another way in step 6.


For more details, check out the overview of projects.


5. Assign a member to a project 👤

You will need to assign employees to projects before they can start working. Employees can create tasks, but they can't create projects. You can assign employees from the Add people & Permissions section in "Edit Project". Click on the (+) button to add employees.


After adding employees, you will be able to set their permission to View reports or Manage this project. When you give permission to Manage Project to an employee, he/she will become the Project manager for that project and can change the details of that project. With permission to view reports, Project managers can check the reports for the project.


6. Add task 🚚

Whether you have created tasks from Projects or not, you can easily create tasks from the Tasks page. Click on "+ Add new task". Alternatively, you can create tasks from the desktop app too.



These tasks are the sub-project which are to organize your work smoothly under the projects. If you have a project for "Marketing Automation" you can create tasks with a specific focus, e.g. "Automate Email Tasks". Then, you can add employees for that task by clicking on the (+) button.


Now all these assigned tasks and projects will be seen from their individual desktop app and mobile app, so they can select that task/project for tracking their work.

7. Set up pay rates 💰
Skip this step, if you do not need payroll.

Now that your employee has completed all the steps and working pretty well, you can set their pay rate to configure their rate based on an hour or month.

Go to the "Members" page. And click on "Actions"> " Edit Member ". Alternatively, if you haven't set up a pay rate, you can click on "Set Pay Rate" and it will take you to the Member details page.



Once you are in the details section, now you can scroll down and you will find "payment" where you can "add payment configuration"

From that, you simply can configure it based on your need for that individual person, and once done click "save".

Then you can simply jump back to the member panel and see if your added rate has been updated or not, and from that on once your employee will start working in that specific organization, the pay rate will be multiplied by their working hour to calculate payroll automatically.

8. Add team 🤠🤠🤠

You might be assigning members one by one every time you create any task/project. But, by creating teams you will be able to group a bunch of people together with a name tag, for example: the Developer team, marketing team, support team, beta testers, etc.

Go to the "Teams" page and click on " + Add Team".



Put the name of your team and click on the checkmark button to save.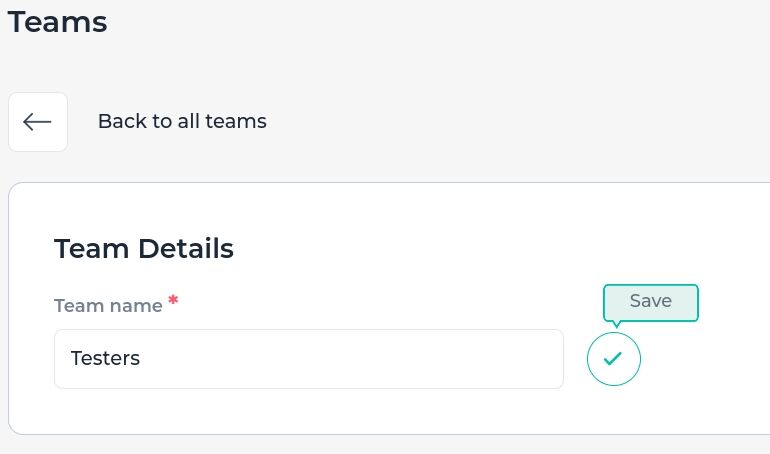 Now add people to the team and assign their roles "team member" or "team manager". Once you are done, click on "Save & Close".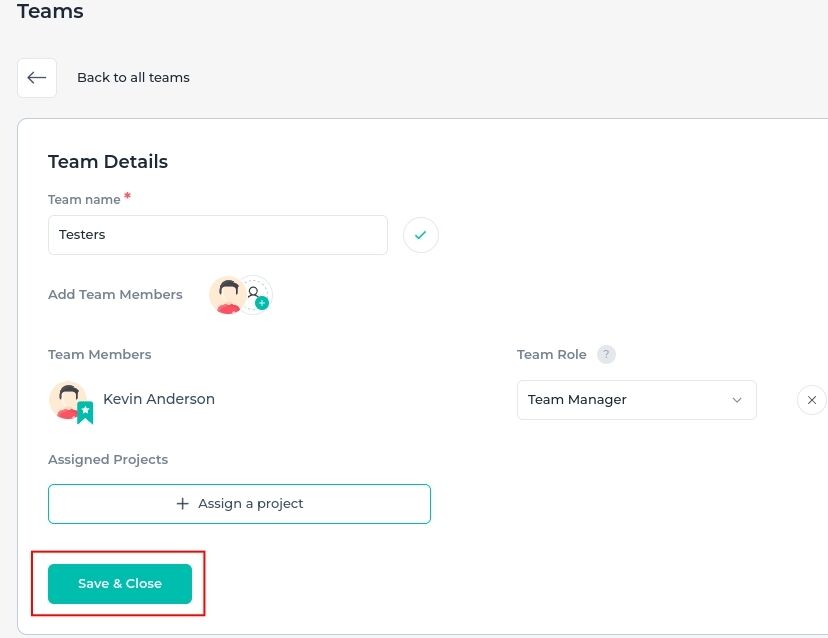 You can simply add this team to any project of your organization to have them there, and this will be updated on their desktop app for working on it. The "Teams" feature is very useful for big teams, now you won't have to struggle to assign every member one by one for any new task and project 🎊

9. RemoteTrack (screenshot, app, URL) 🥳

Apploye will give you a detailed report with unique insight into what is working and where your productivity could be improved. You will get a clear view of employee performance so that you can optimize for the maximum efficiency of your team.

On the RemoteTrack panel, you will be able to see individual employees' activity such as screenshots, application usage, and URL's usage with their individual time frame, along with productivity rates. RemoteTrack or employee monitoring feature is only available for the Elite plan of Apploye.

🌟 Screenshots

Go to RemoteTrack>Screenshots to view the screenshots.
💡
Please remember to select a member to see their screenshots. By default, your own screenshots will be shown.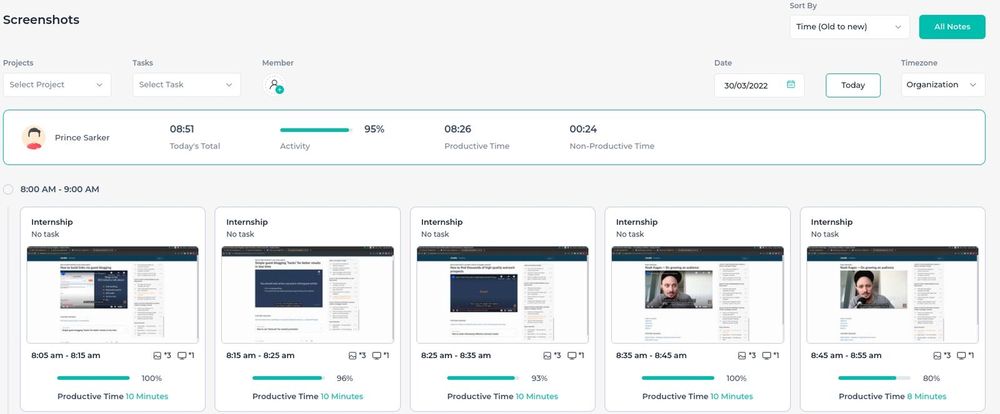 From the screenshot page, an owner/admin can find screenshots of employees' screens with activity ratio. By default, Apploye takes 1 random screenshot in a 10-minute period. The owner/admins can change the rate or turn off screenshots from Settings>Activity.

An owner/admin can also filter out projects and tasks and check any employee's screenshot. This filter system allows the owner/admin to have a more organized way to see employees' screenshots based on individual projects and tasks.

Also, an admin/owner can see individual employees' "Today's Total" average activity percentage, productive and non-productive time of a day. Admins/the owner can also check screenshots from any previous dates.

Employees can access and delete their own screenshots (but need to write the reason for deletion). The owner/admin can change the options from Settings>Activity.
Employees can also add notes at any timeframe, the owner can check them later, once they want to see them.

🌟 Apps
Apploye can track which application/software your employees are on and how much time they have spent on it with activity percentage.

From this Apps section, an admin/owner can easily find which application employees are using during their office hours.

🌟 URLs
It also allows tracking employees' visited URLs with a time frame and the percentages of their activity ratio for the individual link used.

10. Check Timesheets & Reports
You can check the tracked time on the timesheets. If you have idle time set up, you'll be able to check and delete the idle time as well.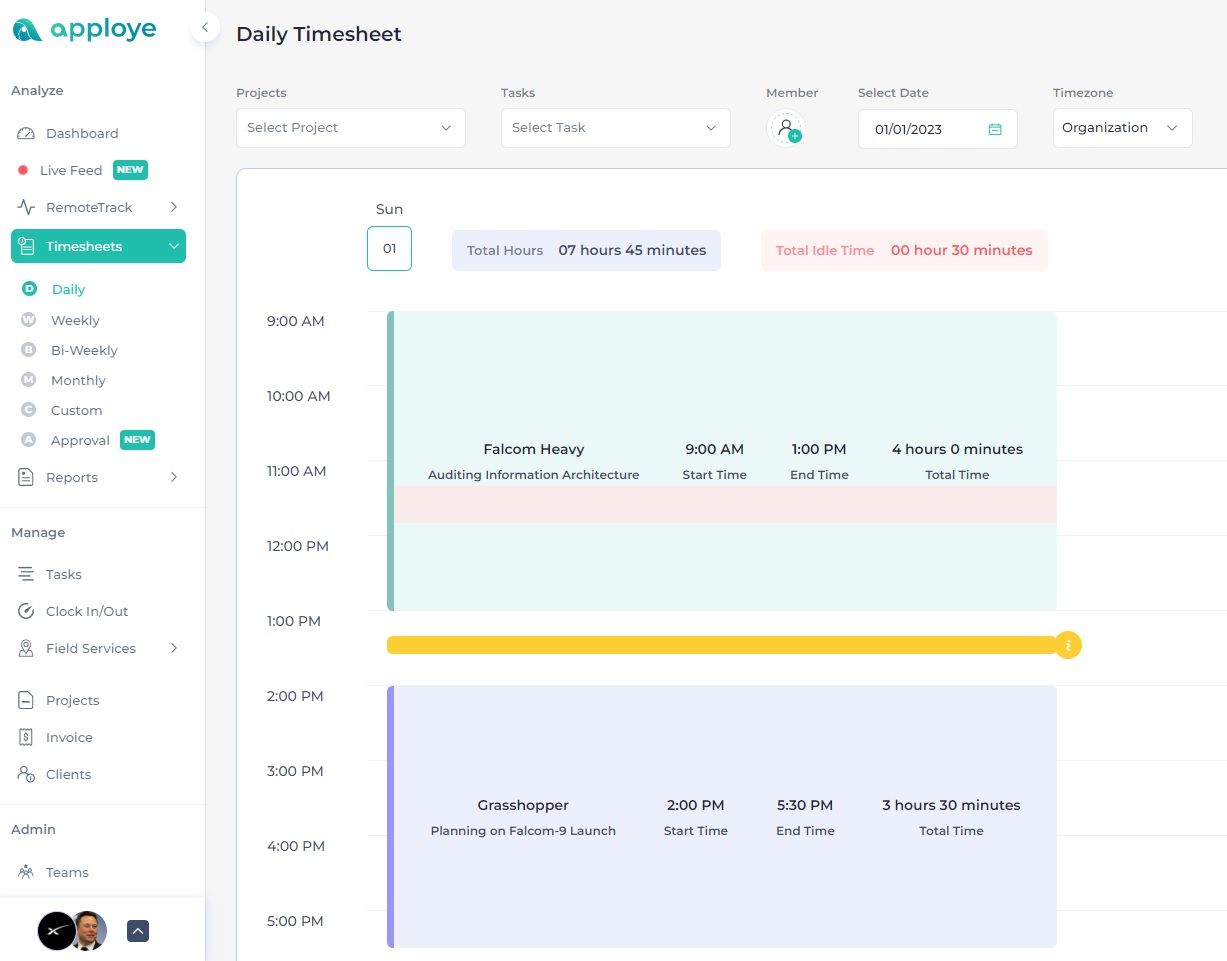 You can approve the timesheet for payroll, from Timesheets>Approval.
You can also check the total time and export the reports from the Reports section. You may as well check the Manual time and Apps & URL usage reports. By clicking on the Export button in the upper right corner, you can also export the reports in PDF or CSV (Excel) format.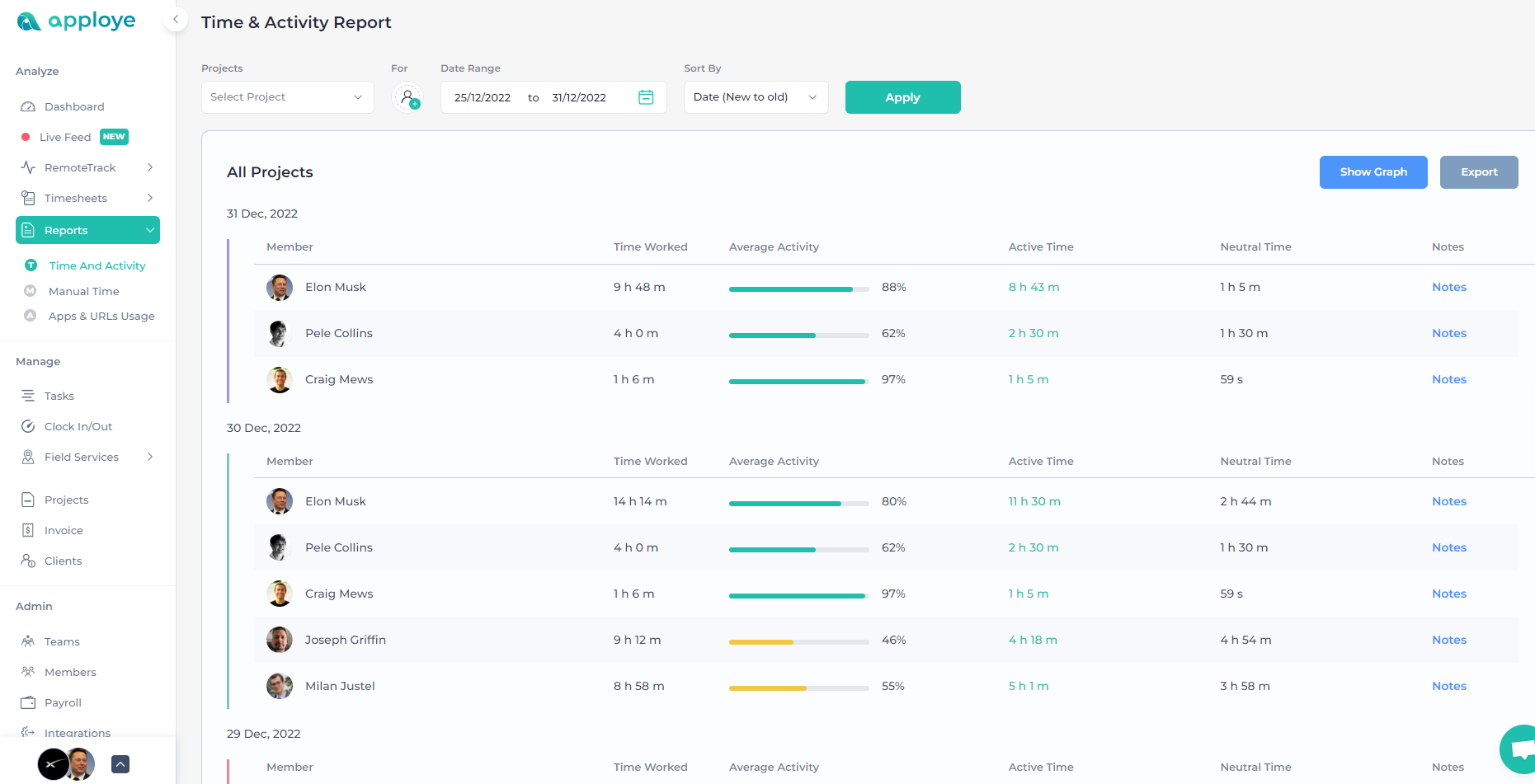 ---
Still, have any queries? Knock us in the Live chat or reach out to us here: support@apploye.com. Stay Productive ✊