10 Best Roofing Contractor Software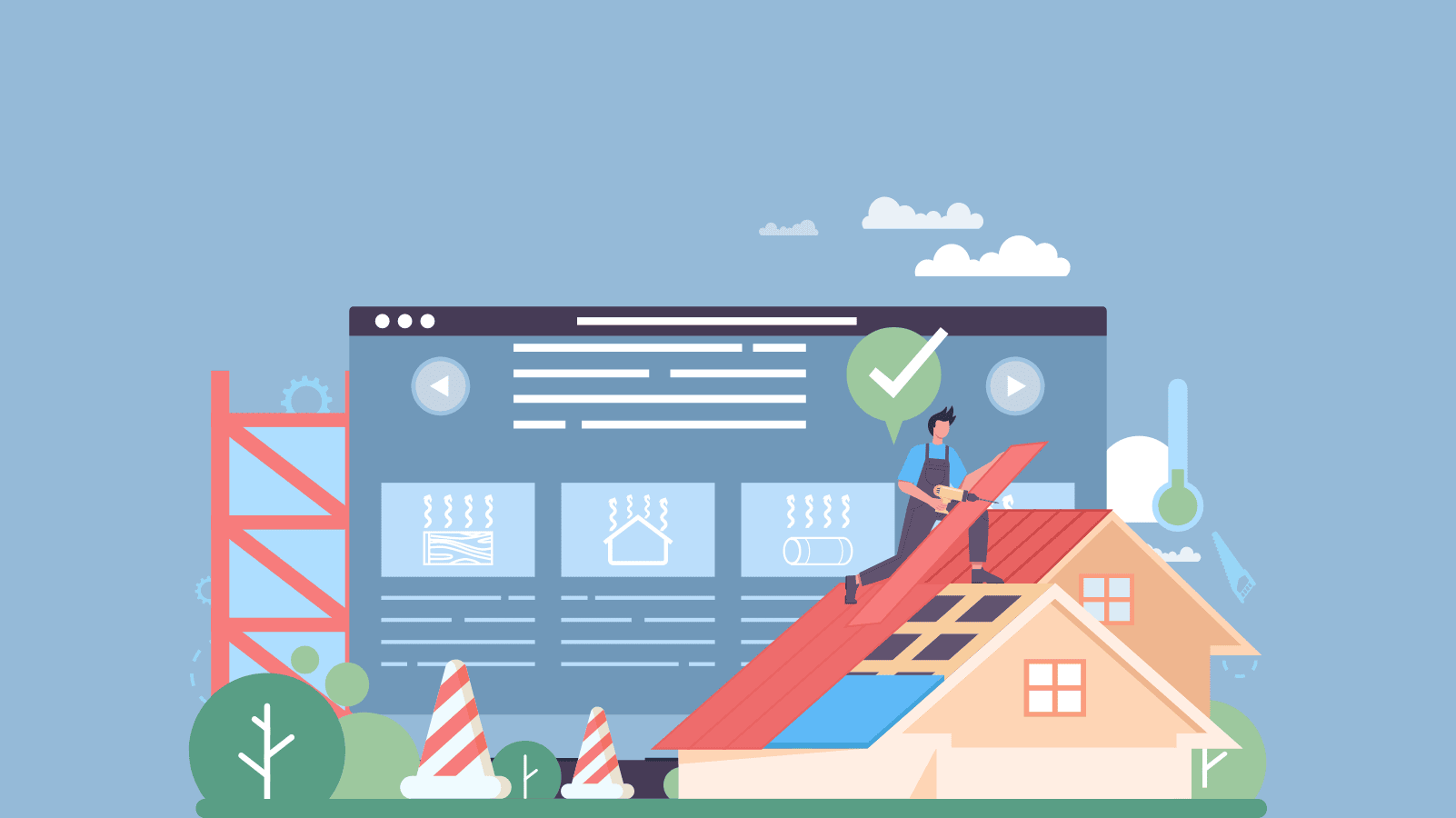 Perfecting the roofing craft isn't just about mastering the hammer and nails - it's about leveraging technology too. Meet the new-age assistants of the roofing world, the Roofing Contractor Business Software, designed to handle everything from precise estimations to customer relationships.
Dive into our top 10 picks and discover how the right software can boost your roofing business's productivity. Let's upgrade your toolbox and take your business to new heights together.
List of best roofing software for contractors and their pricing
Here is a summarized form of the pricing plans for the best roofing business software.
Roofing Software
Pricing Plans
Acculynx
You need to request the seller for the pricing
Jobnimbus
You need to request the seller for the pricing
RoofGraf
Gold Monthly $150* *Plus tax where applicable
Gold Yearly $1,260* *Plus tax where applicable
Platinum Monthly $400* *Plus tax where applicable
Platinum Yearly $3,360* *Plus tax where applicable
Procore
You need to get a quotation. You can get the price based on General
Contractor, Speciality Contractor, Owner/Developer & Government
Dataforma
You need to contact the seller for the pricing
Roofsnap
Pay as you go: $13/measurement order
Monthly Subscription: $99/user/month
Annual Plans have different pricing
Jobba
You need to contact the seller for the pricing
iRoofing
Professional: $149 /Monthly,
Includes 3 paid users $39/mo per additional user
Custom Price: Starts at 50 paid users
Leap (Formerly known as Jobprogress)
$249 /MONTH* $500 one time setup fee
$99/month for each additional user/td>
ProEst
Request Seller for the pricing
Detailed Review of the Best Roofing Contractor Business Software
Let's explore some of the best roofing business software out there. We'll learn what makes them unique, the perks they offer, and what size or type of business they're best suited for. Ready?
1. AccuLynx
AccuLynx, established in 2008, is a one-stop software helping roofers work smarter. Today, it's a big family of hundreds making roofers' lives easier. Thousands trust AccuLynx for smoother operations and better customer service, from small startups to large firms.
AccuLynx is a comprehensive roofing contractor software designed to manage all aspects of a roofing business.
Features
AccuLynx offers robust features, including CRM, estimating and invoicing, project management, material ordering, and more. It also integrates with popular software like QuickBooks for accounting needs.
Benefits
AccuLynx improves efficiency by streamlining processes and centralizing information, reducing manual tasks and errors. It also enhances customer service with its practical CRM module.
Ideal Business Size/Type
AccuLynx is well-suited for small to large-sized roofing contractors seeking a comprehensive, user-friendly solution to manage all aspects of their business.
2. JobNimbus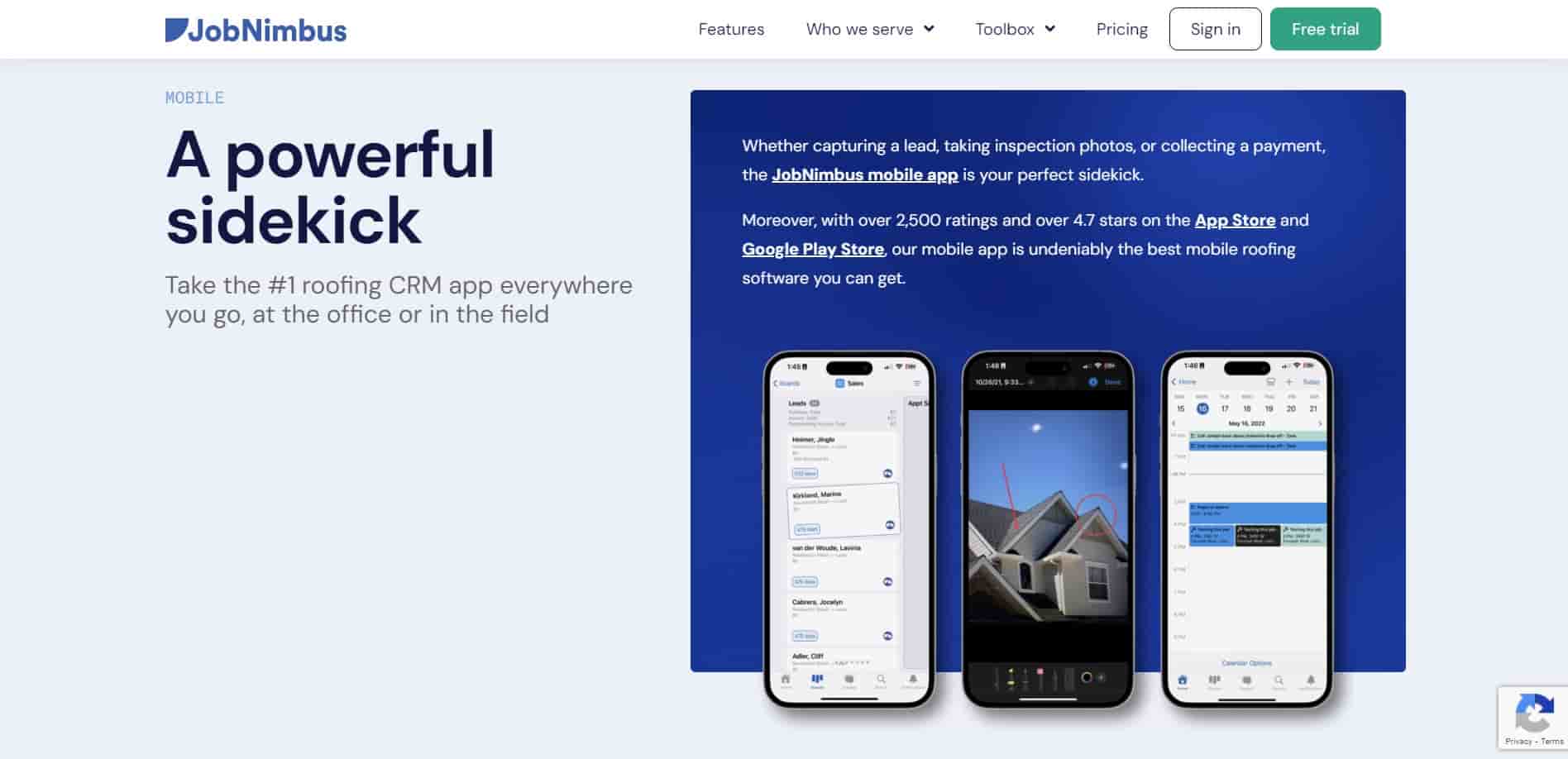 JobNimbus, a CRM software company, was born in Utah in 2013 to give contractors a powerful tool for managing projects. It is a versatile roofing business software combining CRM and project management capabilities.
Features
JobNimbus offers lead tracking, job scheduling, document management, and more. Its CRM system is capable of managing contacts and jobs, tracking leads, and automating follow-ups.
Benefits
The software enhances productivity and fosters better customer relationships. The built-in reporting feature also provides valuable insights into your roofing business performance.
Ideal Business Size/Type
JobNimbus is ideal for roofing contractors of all sizes, particularly those looking for a solution that combines CRM and project management.
3. Roofgraf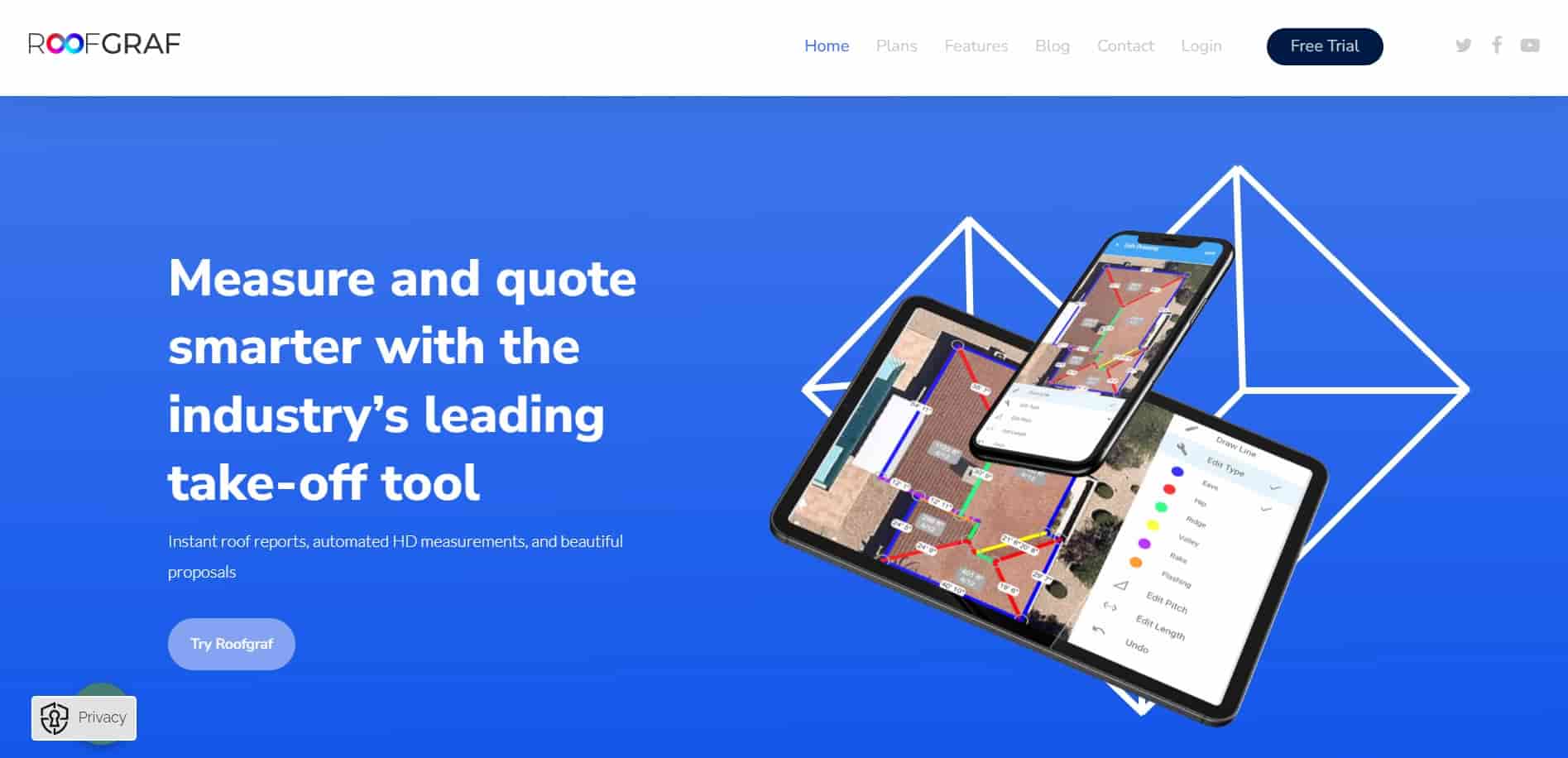 Roofgraf is a leading software for roofing contractors focused on proposal creation and roof measurements.It is a cloud-based residential roofing, siding, and solar business tool.
It offers features like automatic cost modules, job tracking, and more. With Roofgraf, users can draw roofs, create quotes, and buy roofing leads. The software also allows users to add notes, manage files, control budgets, and keep track of project profit margins.
Features
Roofgraf offers precise roof measuring tools, proposal templates, and material ordering capabilities. It also includes an interactive presentation tool for proposals.
Benefits
Roofgraf allows contractors to create accurate and professional proposals quickly. Its measurement tools reduce estimating errors, saving time and costs.
Ideal Business Size/Type
Small to medium-sized roofing contractors who frequently create proposals and need accurate measurement tools will benefit most from Roofgraf.
4. Procore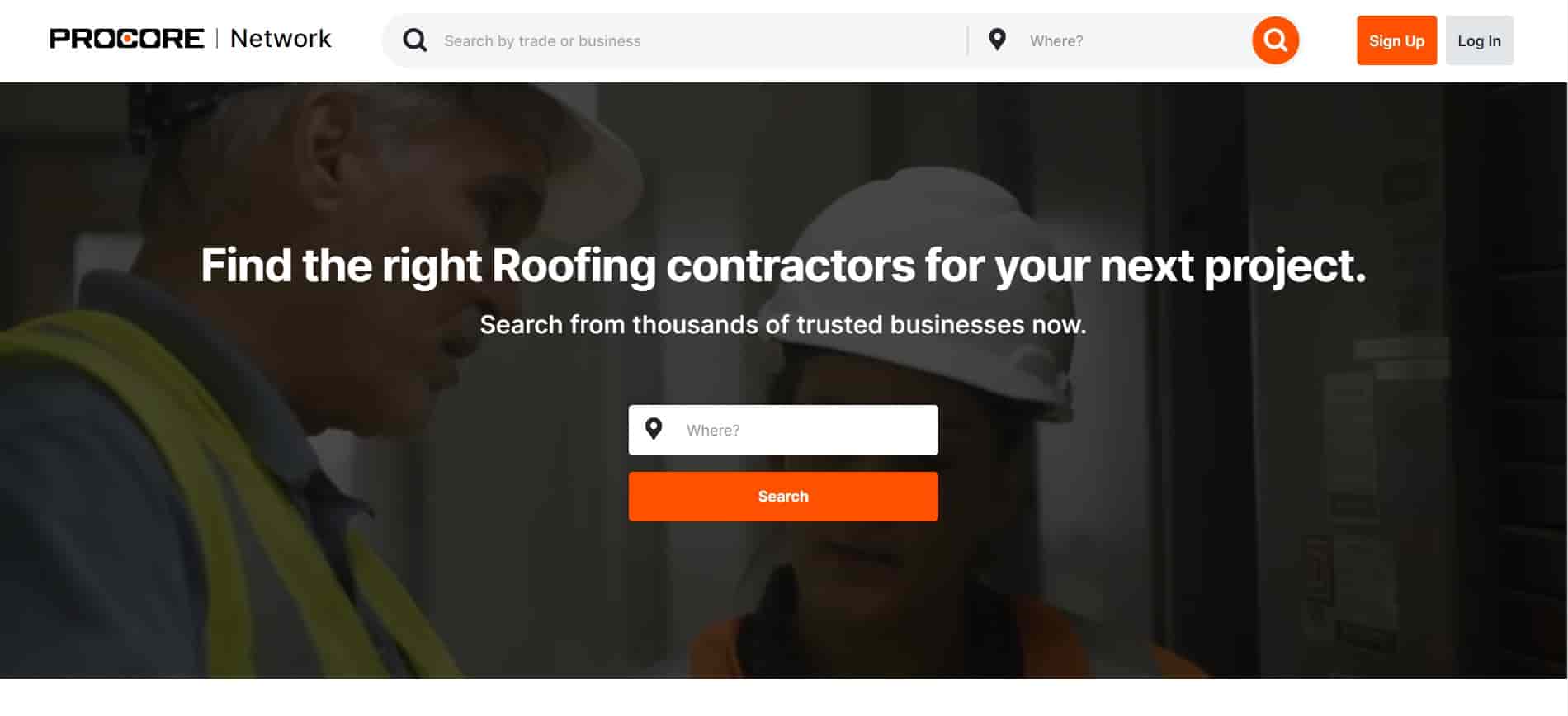 Procore aims to boost productivity and profitability from solo operators to large multi-location firms. Powered by the Cloud, it provides purpose-built tools for estimating, project management, and operations.
It is crafted and vetted by experts from fields like electrical, mechanical, plumbing, and low-voltage industries.Procore is a powerful estimating and takeoff software ideal for roofing contractors
Features
It offers robust estimating tools, a comprehensive materials database, and an intuitive project management module for roofing business owners.
Benefits
Procore simplifies the estimating process, improving accuracy and speed. The software also allows for easy tracking of project progress.
Ideal Business Size/Type
Procore is ideal for small to large roofing businesses that require strong estimating capabilities.
5. Dataforma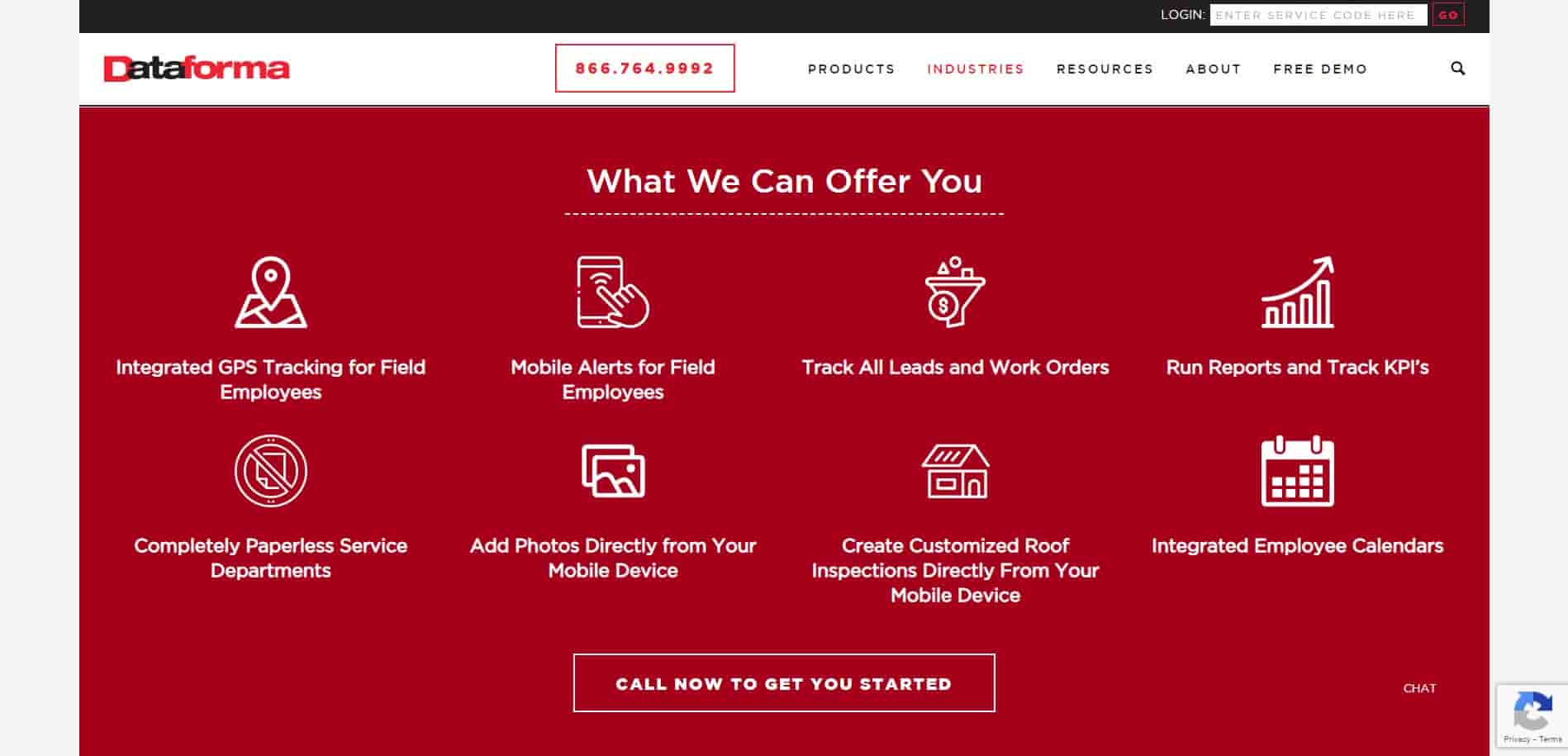 Dataforma is a cloud-based roofing contractor app that focuses on business management and document control. It can be your go-to roofing service software. Simplifying project management, customer relations, and invoicing boosts efficiency and customer satisfaction. It's one of the best roofing business management software.
Features
Dataforma offers comprehensive work order management, CRM, project tracking, and document control. It also provides robust reporting for business insights.
Benefits
Dataforma centralizes business operations, providing a single platform for managing jobs, customers, and documents. Its cloud-based nature allows for remote access and collaboration.
Ideal Business Size/Type
Dataforma is suitable for medium to large roofing contractors looking for an all-in-one business management solution.
6. RoofSnap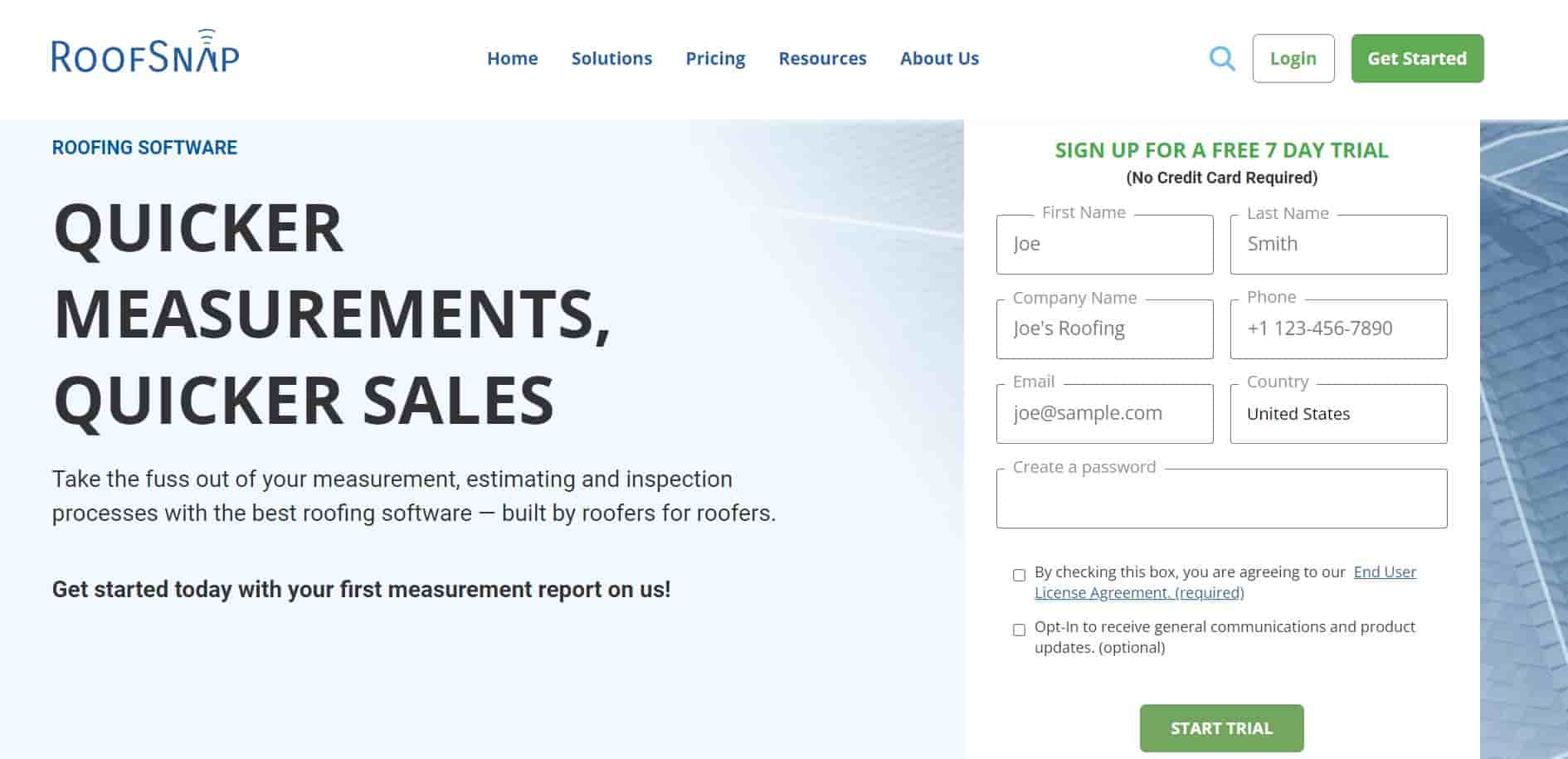 RoofSnap is the ultimate tool for roofers. Designed by roofers for roofers, it combines flexible measurement solutions with robust estimate-building tools. Their software accommodates even complex roof architectures, providing affordable, accurate measurements.
Benefit from professional documents, exclusive discounts, and DIY tools to accelerate your sales process. You can opt for RoofSnap, your shortcut to efficient and cost-effective roofing solutions.
Features
RoofSnap provides accurate roof measurement tools, sketch reports, and estimation capabilities. It also allows for digital contract signing and offers robust project management features.
Benefits
With RoofSnap, contractors can deliver accurate and comprehensive estimates promptly, improving customer satisfaction and reducing estimation errors.
Ideal Business Size/Type
RoofSnap suits a variety of roofing contractors, from small businesses to large enterprises, especially those in need of detailed sketching and estimating tools.
7. Jobba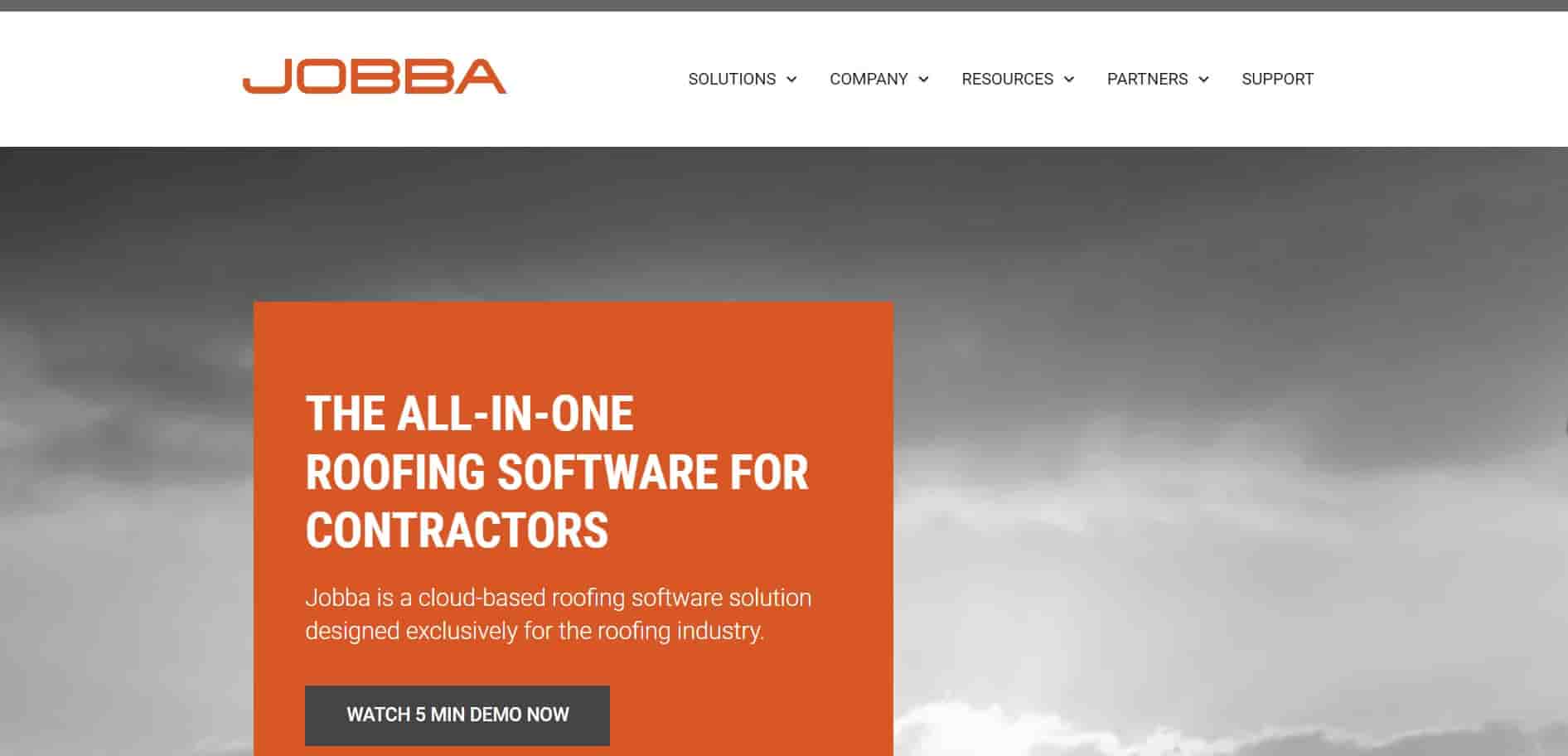 Jobba Trade Technologies empowers roofing professionals with cutting-edge tools for business growth. It aims to streamline processes from scheduling to bidding, freeing up time for business expansion.
Backed by a dedicated team deeply rooted in the roofing industry, Jobba can be your trusted partner for state-of-the-art roofing solutions and customer satisfaction. Jobba is a comprehensive, mobile-ready roofing software solution.
Features
Jobba provides scheduling and dispatch, work order management, CRM, and comprehensive reporting. It also offers GPS tracking for real-time updates.
Benefits
Jobba enhances productivity by streamlining operations and promoting efficient resource allocation. The mobile capability allows for remote job management and quick response times.
Ideal Business Size/Type
Jobba is an excellent option for medium to large roofing companies, particularly those with multiple teams or branches.
8. iRoofing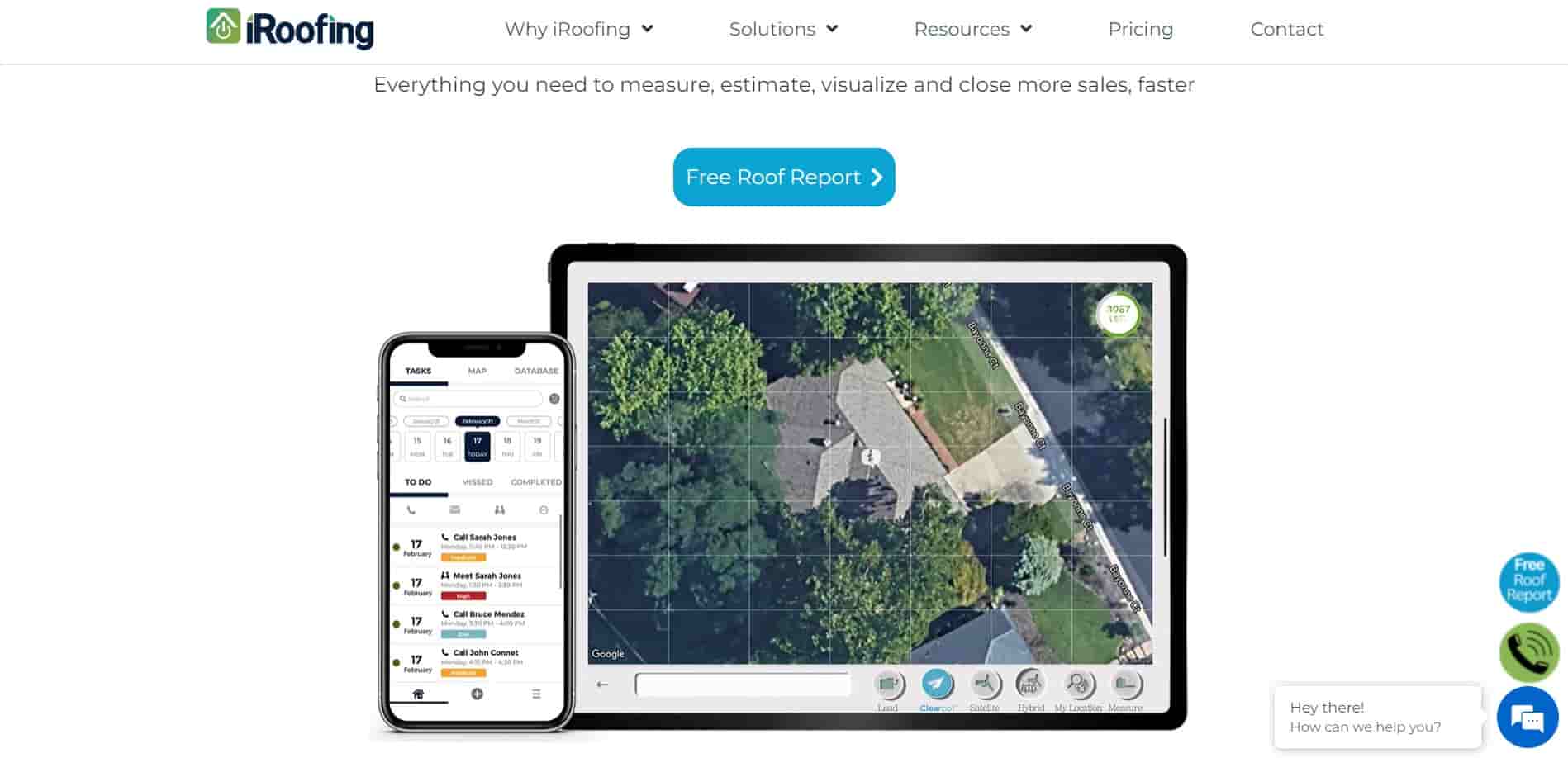 iRoofing revolutionizes the construction industry with its tech-driven solutions. It was founded in 2012. iRoofing transforms how roofing projects are specified, cost, and sold using satellite imagery and smart technology.
It aims to reform industry processes while equipping workers with future construction technology opportunities. iRoofing is a user-friendly roofing software that combines project management, estimation, and customer service.
Features
iRoofing offers digital measurement tools, instant roofing estimates, material ordering, project scheduling, and a customer database.
Benefits
iRoofing improves estimation accuracy and reduces measurement time. It also improves customer service by enabling contractors to show 3D models and material options to clients.
Ideal Business Size/Type
iRoofing is ideal for small to medium-sized roofing contractors seeking an easy-to-use tool for estimation, visualization, and customer interaction.
9. Leap (formerly known as JobProgress)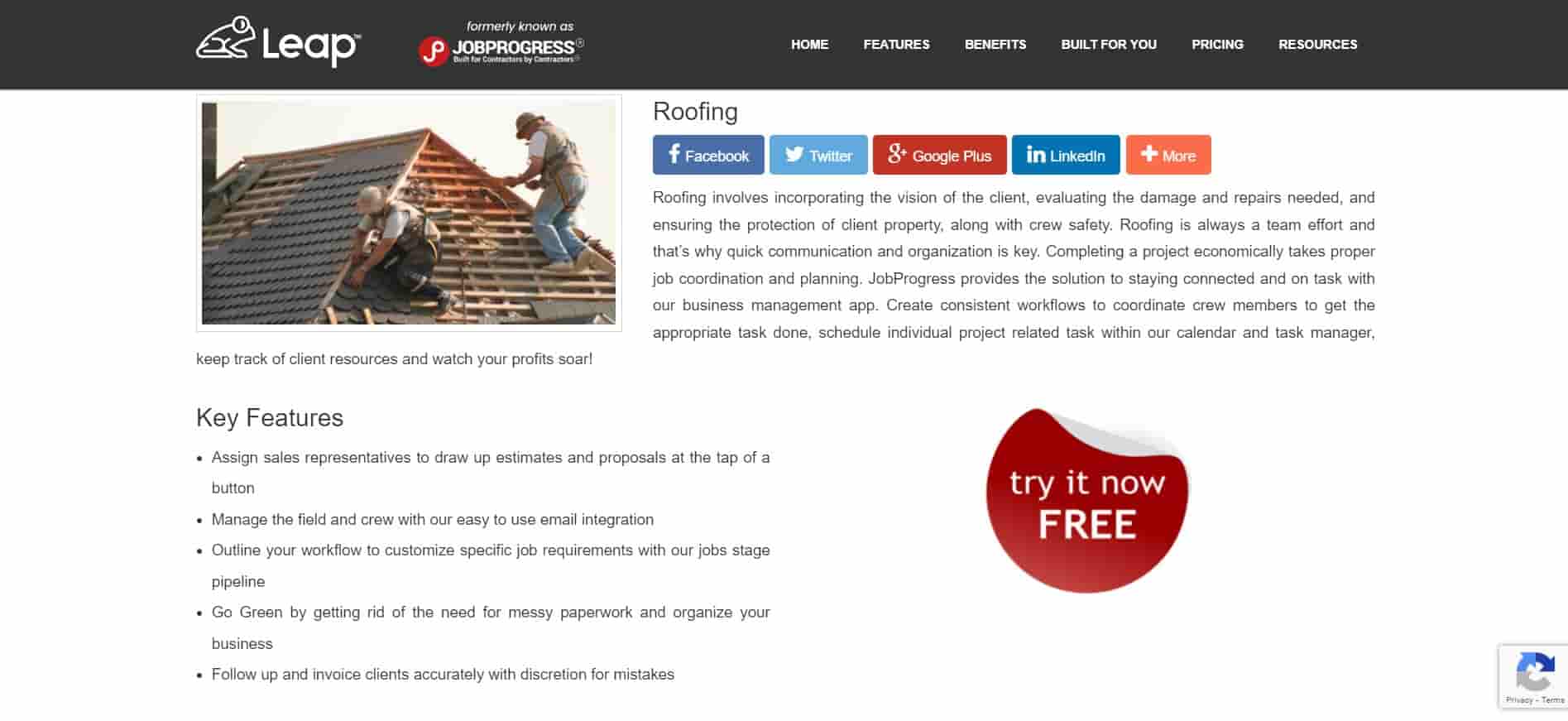 Leap is a business productivity platform designed to cater to home improvement contractors, including roofers. It is a comprehensive roofing contractor software that digitizes and streamlines your business operations. With features from quick estimating to safe cloud storage, it offers complete control over jobs and workflows.
The app integrates CRM, online sales, marketing, and instant proposals into one platform. Manage employees, subcontractors, and operations effectively with Leap. it will give you a hassle-free, efficient, and paperless roofing business experience.
Features
Leap offers robust project management, a sales pipeline, and CRM. It also includes estimating, proposal tools, and integrates with popular software like QuickBooks.
Benefits
Leap helps improve workflow, maintain customer relations, and manage projects effectively. It enables businesses to track progress and performance effectively.
Ideal Business Size/Type
Leap is well-suited to small to medium-sized roofing contractors looking for a comprehensive solution to improve productivity and sales.
10. ProEst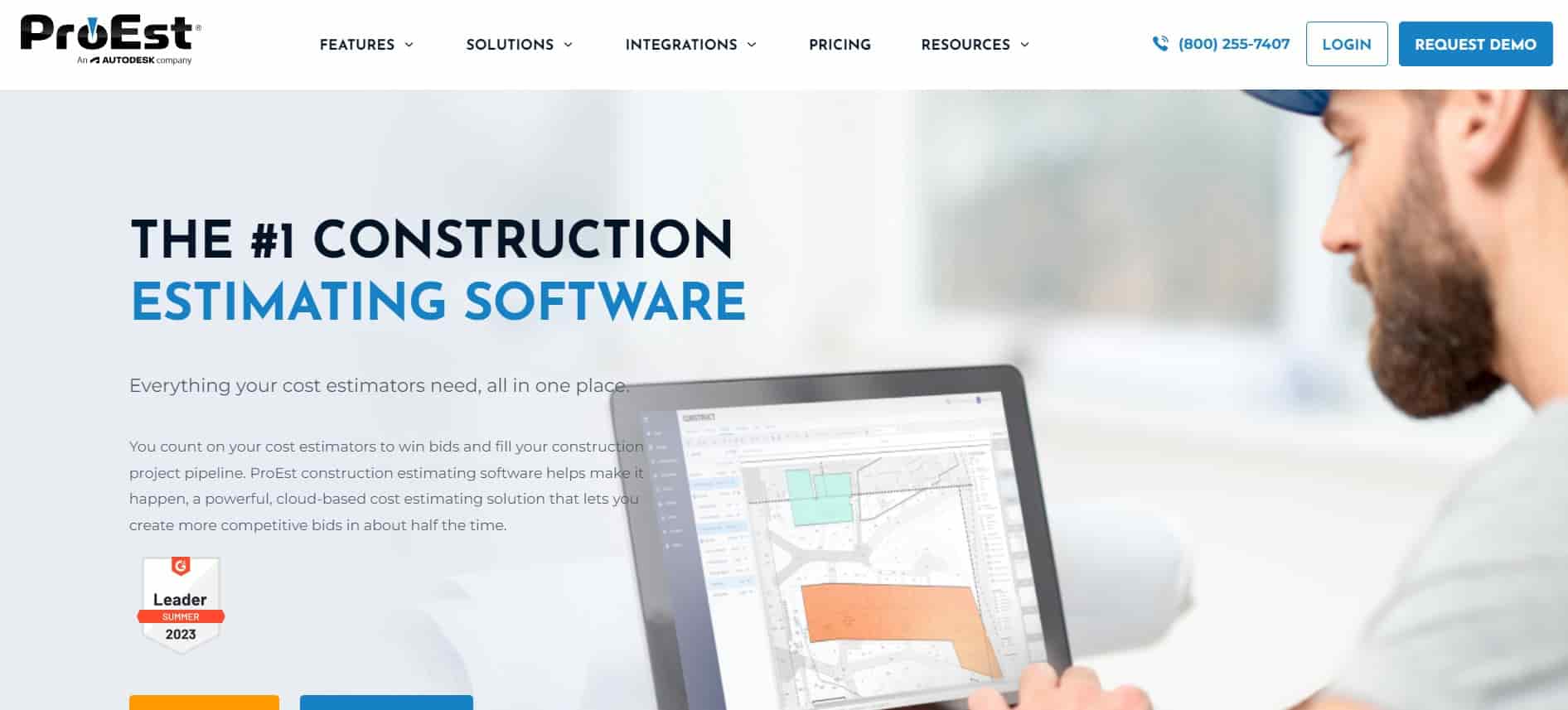 ProEst is your key to smarter contracting. Our cloud-based solution simplifies estimating and preconstruction, helping you win more bids and boost profits. Opt for ProEst for effortless and profitable project management.
ProEst provides advanced estimating capabilities and digital takeoffs in a single platform.
Features
ProEst offers cost estimating, digital takeoffs, proposal generation, and integrates with popular construction management software.
Benefits
ProEst helps roofing contractors streamline their pre-construction process, improve estimate accuracy, and create professional proposals.
Ideal Business Size/Type
ProEst is ideal for small to large roofing businesses focusing heavily on the pre-construction phase and in need of advanced estimating capabilities.
Full Spectrum Analysis on Roofing Software and relationship with Roofing Contractors
The Evolution of Roofing Contractor Business
Roofing businesses have come a long way, swapping hand-drawn blueprints and physically demanding tasks for innovative software solutions. The journey was challenging, but the power of technology was too promising to ignore.
Once upon a time, roofing was all about manual labor and craftsmanship, with estimations and schedules jotted down on paper. It was hard work but worth it, fueled by a passion for quality and customer satisfaction.
Fast forward to the digital age, and the roofing landscape began to shift. The dawn of technology brought about software solutions that gradually took over traditional methods, making tasks less complicated and more efficient.
Today, roofing app isn't just a nice-to-have. It's a must-have. From the first client call to the final project delivery, software is there, streamlining every step of the way. Thanks to these powerful tools, accurate estimations, efficient scheduling, and effective customer service have become the norm.
Therefore, the beauty of integrating roofing business software is the drastic reduction in manual labor and added precision and efficiency. And let's remember the wonders of roofing CRM software - it's transformed how we interact with customers, making communication more personalized and timely.
Technology has redefined the roofing business, boosting productivity, enhancing service quality, and paving the way for growth. The journey thus far proves the power of change and the marvel of technology. As we look ahead, we can only imagine what other advancements will continue to take this industry by storm. Exciting times lie ahead!
Understanding Roofing Contractor Software
Imagine a digital companion for your roofing business that simplifies, organizes, and automates your day-to-day tasks - that's what roofing contractor software is all about. This software is here to make your work easier and more efficient. Think of it like a toolbox filled with essentials like
Estimation Tools: No more manual calculations. Get accurate job estimates quickly, considering measurements and material costs.
Scheduling and Task Management: Keep your projects on track with tools for planning, assigning, and tracking tasks.
CRM: Streamline customer interactions. Track leads, communicate effectively, and follow up effortlessly.
Project Management: Keep an eye on your project from start to finish. Stay aligned with timelines and budgets with ease.
Document and Contract Management: Store, access, and modify your essential documents and contracts without the hassle.
Invoice and Payment Processing: Say goodbye to billing errors and hello to seamless payment collection.
But it's more than just the features. In short, roofing contractor software is your ticket to quickly navigating the modern roofing industry. It provides the resources to optimize your business, stay competitive, and ensure consistent growth. It's time to invest in the best and let the software do the rest!
Why Roofing Contractor Software is a Game-Changer
In the fast-paced world of roofing, time and efficiency are king. That's where roofing contractor software comes into the picture, revolutionizing the way we work in countless ways.
Revving Up Efficiency and Productivity
Roofing contractor app is a powerhouse for boosting efficiency and productivity. Automating tedious tasks like scheduling, task assignment, and document handling frees up precious time for you to focus on the core job – roofing. It reduces the time spent on mundane tasks, leading to a more profitable business.
The cherry on top? These software solutions come with user-friendly designs and intuitive interfaces, putting everything you need at your fingertips. Your workflow becomes a breeze with all your project details and customer information in one place.
Elevating Customer Relationships
CRM, or customer relationship management, is another game-changer in roofing contractor software. As your business grows, juggling customer interactions can get complicated. Roofing CRM software comes to the rescue, systematically managing customer interactions.
It helps you keep track of leads, maintain customer records, manage communication, and ensure timely follow-ups. This way, you can deliver personalized service that boosts customer satisfaction and builds long-lasting relationships. And a happy customer means a competitive edge, a better reputation, and increased profitability for your business.
Delivering Accurate Estimates and Invoices
Accuracy is key in estimates and invoices. A slip-up can lead to budgeting mishaps and unhappy customers. That's where software solutions come in handy, helping you generate accurate estimates using real-time data like material costs and labor rates.
And when it's time for invoicing, roofing contractor software makes it simple, ensuring all charges are documented and invoices sent out promptly. This fosters customer trust and maintains a steady cash flow for your business.
In short, roofing contractor software is a real game-changer. By harnessing app's power, you can boost your roofing services, stay ahead of the competition, and spur consistent growth. Now, isn't that a win-win?
Guide to Choosing the Best Roofing Contractor Software
Selecting the right roofing contractor software can be a game-changer for your business, boosting efficiency, enhancing customer service, and impacting your bottom line. Here are some key factors to keep in mind when you're on the hunt for the best software:
Understand Your Business Needs
Every business is unique. Whether you're a small local outfit or a large company with multiple branches, your software needs will vary. Start by analyzing your business size and specific needs. Do you need a tool for CRM, scheduling, project management, or accurate estimates and invoices? Identifying your particular needs will guide you to the perfect software.
Budget Wisely
Think of roofing contractor software as an investment. Yes, you need to keep your budget in mind, but also consider how much time and money the app could save you. The best choice is often the software that provides the highest return on investment, not just the one with the lowest price tag.
Opt for User-Friendly Design and Reliable Customer Support
A user-friendly interface is crucial. Even the most feature-rich software won't be helpful if your team struggles to use it.Likewise, top-notch customer support is vital. The ideal software provider will offer excellent customer service, helping you troubleshoot issues, providing training, and ensuring you're making the most of their product.
Choose Scalability
Your business will grow, and so will your software needs. Go for a software solution that can scale with your business. The ideal roofing contractor software will offer various plans or modules, allowing you to customize the software as your business evolves.In a nutshell, choosing the right software for your roofing business is a critical decision. Considering your business size and needs, budget, and the software's usability and scalability will lead you to the right choice. Remember, you're not just looking for any software, but the software that's the perfect fit for you.
Bottom Line
In conclusion, technology has radically reshaped the roofing industry, ushering in software solutions that boost efficiency, streamline processes, and enhance customer service. Throughout this guide, we've explored top-rated  roofing software each tailored to cater to the diverse needs of the roofing industry.
But, choosing the right roofing software isn't a universal solution; it depends on your business size, specific needs, budget, and scalability. Usability and quality customer support also play crucial roles in your selection. Hope, you will be able to choose the perfect roofer software for your needs from this article.
Frequently asked Questions about Roofing Software for Contractors
What's Roofing Contractor Software?
Think of roofing contractor software as your digital helper in your roofing business. It helps you manage tasks, keep jobs on schedule, deal with paperwork, and create estimates and invoices.
What is CRM in roofing software?
CRM stands for Customer Relationship Management. It's a feature in roofing software that helps you manage and track interactions with customers. It can really help enhance customer service and foster stronger relationships.
Can these roofing service software really improve my business?
Absolutely! Roofing contractor software can increase efficiency and productivity by automating tasks, streamlining job scheduling, and offering a central location for all important information.
Is investing in roofer's app big investment for contractors?
While there is a cost to start using roofing contractor software, think of it as an investment. The time you save, the productivity you gain, and the improved customer service can lead to increased profits that offset the initial cost.