10 Best Pomodoro Apps for Focus and Productivity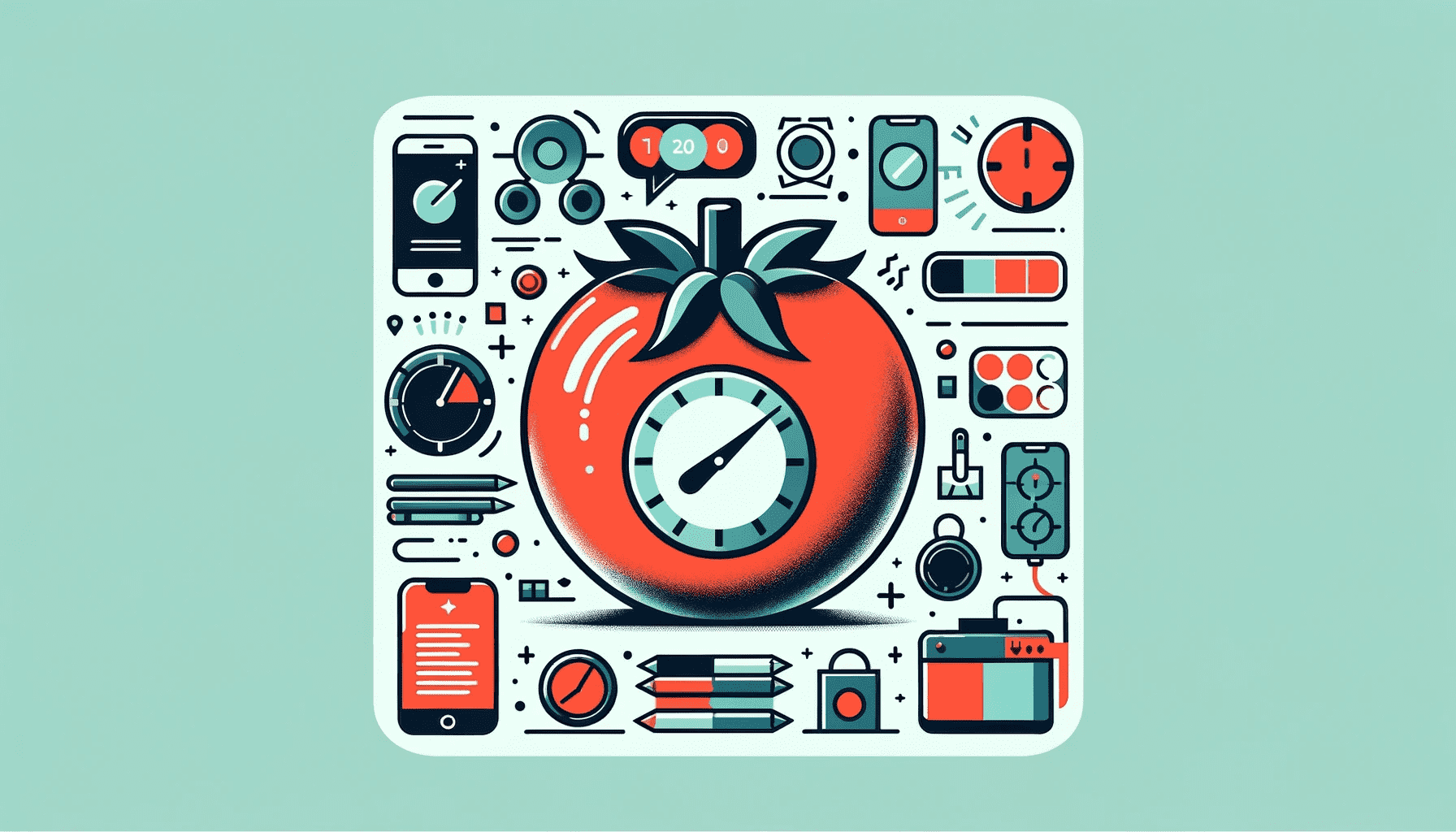 Very often, we lose our attention to work, study, or any important work. Especially when we have a box of distractions (mobile), we can't commit to getting deep down to work.
The result comes with time loss and low productivity. Time is measurable and indispensable, but to what extent could you make proper use of it?
The solution is to block the distractions effectively and increase the focus on work. The Pomodoro technique is one of the most renowned, influential, and used time management methods.
The Pomodoro app provides you with the best way of implementing the technique. It helps you grow a productive habit to maximize your efficiency.
To make your search easy, we've brought the 10 best Pomodoro apps with details. Also, go through to the end to get bonus suggestions.
What is the Pomodoro technique?
A Pomodoro method is a time management system with consecutive focus hours and breaks. It helps you get more things done within less time. You can improve your working capacity and train your mind for better concentration.
It is a fundamental yet powerful technique to be consistent at work. It has six steps to complete the process.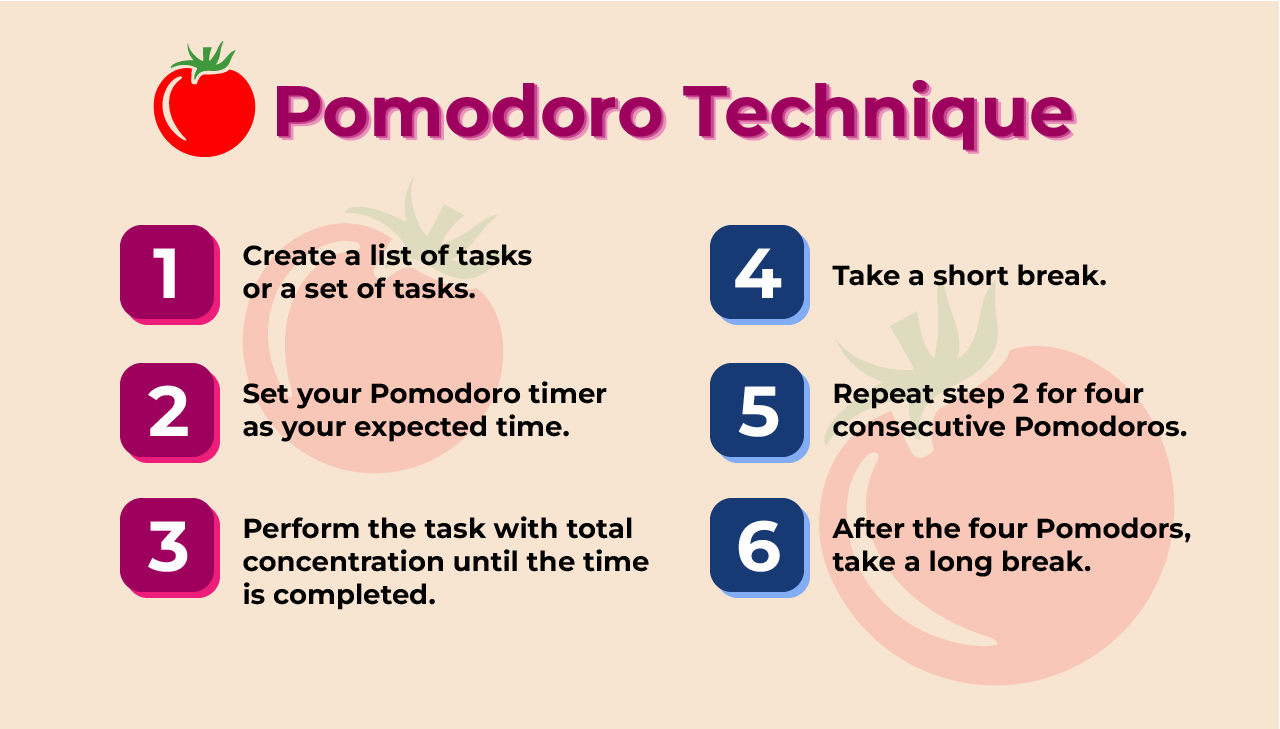 Create a list of tasks or a set of tasks.
Set your Pomodoro timer as your expected time. Usually, it would be 25 minutes. But you can change the interval as per your requirements. Also, set the short break time.
Perform the task with total concentration until the time is complete.
Take a short break.
Repeat step 2 for four consecutive Pomodoros.
After the four Pomodors, take a long break.
Background
The developer and the writer, Francesco Cirillo, evolved the Pomodoro technique in the early 1990s. He was in college when he could not focus on studying and got distracted easily. So, he was trying to find an effective solution to get on track.
Using a tomato-shaped kitchen timer, he initially committed to concentrate for 10 minutes. The results came with instant focus and productivity. After some trials, he finally settled with 25 minutes of focus time and 5 minutes break.
This process is not only efficient for students but also conducive for professionals, especially when you need to be proactive to complete your task within the time frame.
List of the Pomodoro timers
Apploye
Forest
Toggl track
Focus booster
Pomotodo
Pomodone
Engross
Paymo Pomodoro
Focus To-Do
Focus Bear
The details of the Best Pomodoro apps in 2023
Apploye- Best Pomodoro timer for employees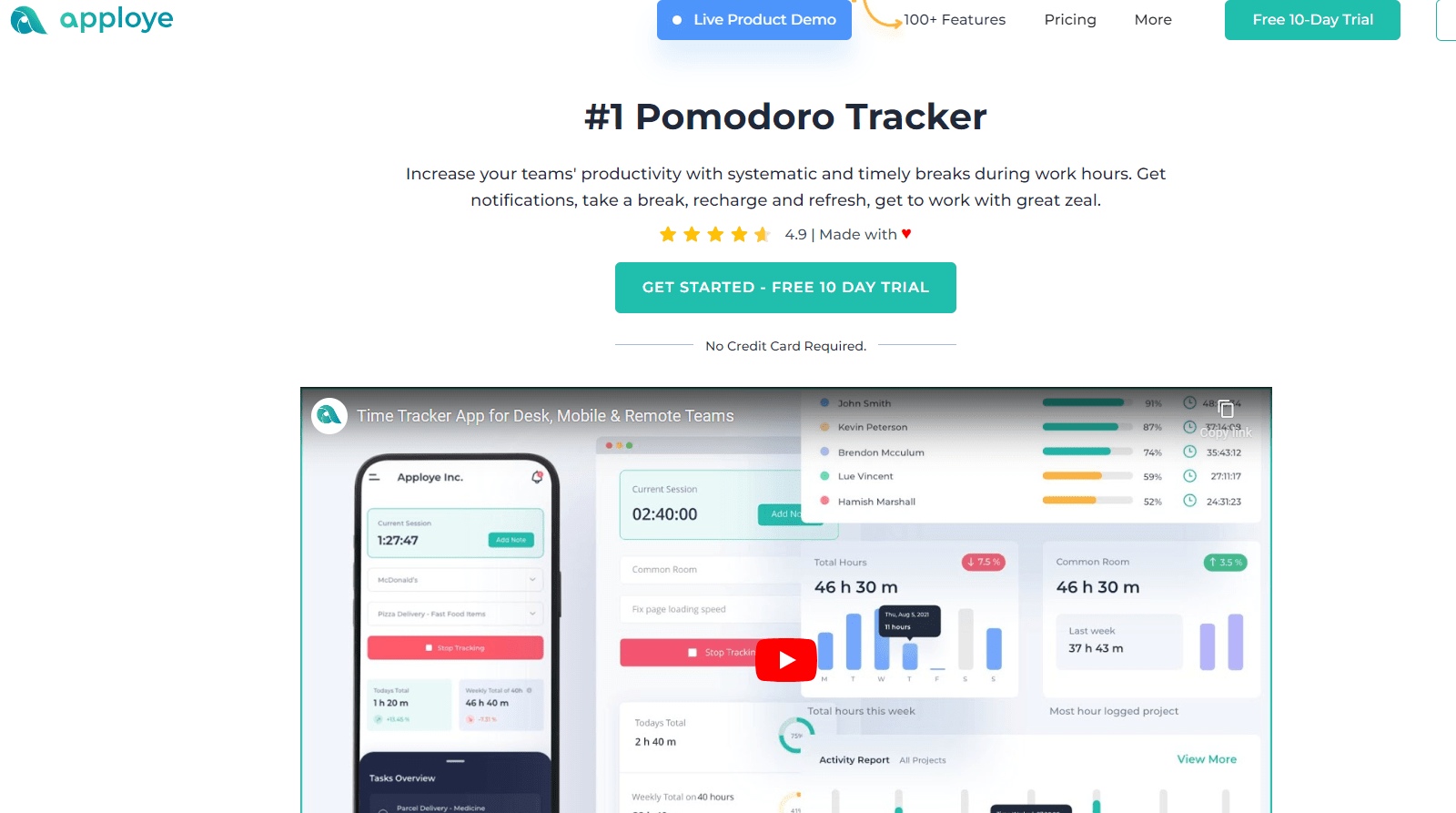 Apploye provides an intuitive project and task-based Pomodoro tracker. The built-in focus timer helps you avoid the chaos of switching between apps or integration. It is beneficial for creative teams, developers, or even marketers.
It provides a powerful platform for tracking the working hours. The automatic and manual time entry, timesheets, billable and non-billable hours tracking make the app advanced in time tracking requirements. The Pomodoro timer completes the productive time management process.
It minimizes multitasking and improves focus work. Also, the short break works as a power booster to retain the energy and avoid burnout. Apploye can make the employee time tracking better with the Pomodoro timer in a generative manner.
Project and task time tracking, automatic and manual time entry
Timesheet, clock-in and out, Pomodoro timer with a custom setting,
Time off, notes, idle time tracking, reports, task management,
The features are significant for any organization and its employees. Apart from these, Apploye provides employee monitoring, project management, payroll, and invoice management.
Platform
Windows, Mac, Android, iOS, Web
Pricing
Standard: $5 per user per month
Elite: $7 per user per month
Get 50% off on a yearly plan.
Forest- Gamification of the focus session
Enough with serious work. Let's play a game within the focus session. The game is about creating a forest brought to you by Forest. It is a focus-boosting app that helps you engage in deep work.
It is super helpful for those who have a strong addiction to mobile but need to use it. It means you have nothing but the necessity of the mobile while working. At a time, you are obsessed with it.
Forest provides a unique solution to balance these two systems.
Starting with your focus time, your phone grows a virtual plant.
After completing the whole session, the plant becomes a tree and is added to your forest.
If you leave the app ( meaning using the phone or exit the focus time), The plant will die.
You can customize your focus session as per your task requirements. You can use the tags to classify your tasks and observe your performance status in the timeline.
Platform
Android, iOS
Pricing
$3.99 with in-app purchases.
Toggl track- A simple Pomodoro timer with time tracking
Being a professional, you may need more than a simple Pomodoro timer. It would be best to have a whole record of working hours with the focus timer. For those purposes, the time management app Toggl Track has brought the tomato-based Pomodoro timer.
You can use the Pomodoro timer with the browser extension or the desktop apps. For a continuous distraction-free workflow, combining the focus timer with time tracking can result in a fantastic productivity-improving tool.
It notifies you at the time of taking breaks. You can customize the length of the focus time and interval. If you are looking for a multi-functional free Pomodoro timer, check it out.
Platform
Windows, Mac, Android, iOS, Web
Pricing
Free: up to 5 users
Starter: $10 per user per month
Premium: $20 per user per month
Enterprise: Contact vendor
Focus booster- Project and client-based Pomodoro app.
Focus Booster is ideal for freelancers, individual workers, and small companies who have to handle multiple projects and clients directly.
Like other Pomodoro apps, it has a Pomodoro function combining the focus and break session of default 25 minutes of focus time and 5 minutes of break time.
You can settle the durations for different projects and tasks. It can track the billable hours. You can see all your work in timesheets and productivity in reports.
Also, you can count your focus sessions. Focus Booster has a free tier. But it has limited features and Pomodoro sessions. The paid version is reasonable.
Platform
Android, iOS, Web
Pricing
Starter: free
Professional: $4.99
Pomotodo- Pomodoro with to-do list
The Pomotodo has combined the Pomodoro technique with a to-do list. A work plan is the first step in applying the Pomodoro method, which we discussed earlier.
Setting up the account is very simple and easy. It has two parts; one is the 'Pomo' for the Pomodoro timer, and the second is the 'Todo' for task sorting. You can set your daily goals in Pomo and manage your planning in Todo.
The list management provides basic and advanced features. Advanced features like hashtags, subtasks, note-taking, etc., are available in this app. You can also get the weekly work reports by email.
Platform
Windows, Mac, Android, iOS, Web
Pricing
Pro: $3.9 per user per month
Pomodone- easy integration with task management tools
Pomodone is the best option for those who don't want to use any independent Pomodoro app. To avoid the clutter of switching between multiple apps, you can easily integrate Pomodone with your favorite project and task management tools such as Trello, Jira, ClickUp, Slack, etc.
The integration is smooth and compatible. You can set different timers for different tasks. It offers automatic time tracking. So, with a comprehensive focus timer, you can track your time.
Platform
Windows, Mac, Linux, Android, iOS, Web
Pricing
Lite plan: $4.32 per month
Ultimate plan: $6.48 per month
5 licences package: $27 per month
Engross- Best Pomodoro Android and iOS app
If you are looking for an app to utilize your phone for a productive purpose, Engross can be your assistant. The app is straightforward and minimalist in design. The UI is very user-friendly.
It combines a focus timer, scheduling, and a to-do list. You can start the timer from the to-do list. It helps you avoid the hassle of switching between the apps. Some more unique features, like comments on timer sessions, app blocking, repetition of tasks and events, etc., make it commendable.
Platform
Android, iOS, Web
Pricing
Paymo Pomodoro- Project and task-based timer
Paymo is successfully beating the time tracking and project management market and has launched the Pomodoro timer for focus work. It offers a customizable timer, short breaks, and long break sessions.
You can use the timer for specific projects and tasks. It will help you to focus on the critical and urgent work. It generates the time reports you can easily convert into invoices.
Platform
Windows, Mac, Linux,
Pricing
Free: up to 10 users,
Small Office: $9.95 per user per month,
Business: $15.79 per user per month
Focus To-Do- A straightforward Pomodoro timer
Focus To-Do is a very straightforward Pomodoro timer and is compatible with all of your devices. It is a task-based Pomodoro timer. You can set the estimated time for any specific task, start the timer, and concentrate on your work.
It helps you optimize your time and performance. It gives you analytics that can show the completion of tasks. So you can get a thorough idea of how you can amend your routine to be more productive.
Platform
Windows, Mac, Linux, Android, iOS, Web
Pricing
Free
Premium: not provided by the vendor
Focus Bear- Habit builder and productivity tracker.
Focus Bear has taken the Pomodoro technique to the next level. It is designed to grow the productive habit by implementing Pomodoro in routine. It has incredible features that would make your focus session more effective.
It can block distractive apps and websites from all of your devices. It has declared to minimize decision fatigue and motivate you to stick to your plan.
Platform
Windows, Mac, Android, iOS, Web
Pricing
$4.99 per month
What is to consider before choosing a great Pomodoro app?
Ease of use
The Pomodoro app should be simple and easily blended with your system. The UX and UI should be user-friendly and optimized.
As the technique itself is very simple, the app must showcase the clarity of the concept. In fact, an app can automate the focus and break session to avoid the chaos of manual work.
Platform compatibility
The app you want to use on your device must support the operating system. Imagine how boring it gets if you can't open the app so frequently and fast on your device because of malware and bugs.
So, the app must run smoothly and without any disturbance. Also, cross-platform compatibility can be appreciable when choosing any application.
Basic functionality
The Pomodoro app must cover the essential features to run the technique smoothly. It comprises the time division of focus and break sessions, the customization of time, the count of the sessions, etc.
The advanced features add a plus to the app. You can choose the features as per your need, but remember the basics.
Updated regularly
Software upgrade is crucial for many reasons. The most common practice of the users is to get bored with the dated app even if it runs fantastic. The updates solve the old issues, bring the new interface, improve the user experience, and so on.
It makes them change the tool and get the new one. So, a regular update is mandatory to exist in the marketplace.
Pricing
Last but not least, the pricing of the Pomodoro timer must suit the user. If you need the free version, plenty of free Pomodoro apps are good for freelancers, individual workers, and small agencies. If you need to take the paid one, do deep research on the functionalities according to the price.
Bonus Pomodoro Apps for productivity
List of Pomodoro timers for free
Pomello
Clockwork Tomato (Android)
PomoDuctivity (Windows)
Pomotroid ( Windows, MacOS, Linux)
GNOME (Linux)
List of Pomodoro timers for Android and iOS
Tomato Timer
Plantie
Session
Be Focused
Tide
Focus Keeper
Flat Tomato
List of Pomodoro timers for Web
MarinaraTimer
Pomodoro
Aesthetic Pomodoro Timer
Final words
Pomodoro timers are absolutely effective tools for retaining productivity and time management. The Pomodoro technique can help you organize your daily life and maintain a work-life balance.

However, the Pomodoro technique is effective for most of the people. But it is not everyone's thing. Some may not find it effective. If you are on that list for whom Pomodoro is not right, check the other useful time management methods we've covered.