The Ultimate Guide to Remote Work and Managing Remote Employees Like a Pro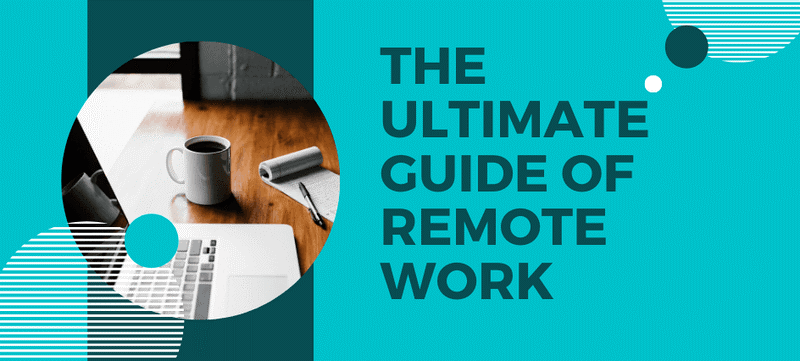 I asked one of my closest friends what he thinks about remote work or working from home. Well, the answer was quite predictable. As he has a pretty considerable job occupied in a regular office, he thinks remote work is quite preferable in the sense that you are on the ball with ease and flexibility.
You don't need to face the hard schedule and commute trouble, the toxic boss, some disgusting colleagues, and their office politics. Instead, you can avail of a native atmosphere working at your own desk, enjoying the homemade food, and working whenever and wherever you want.
But is that so?
I am a remote worker and work from home. I know how challenging it is to continue the job and maintain productivity. Let's dig deeper more about remote working.
Why should you work remotely?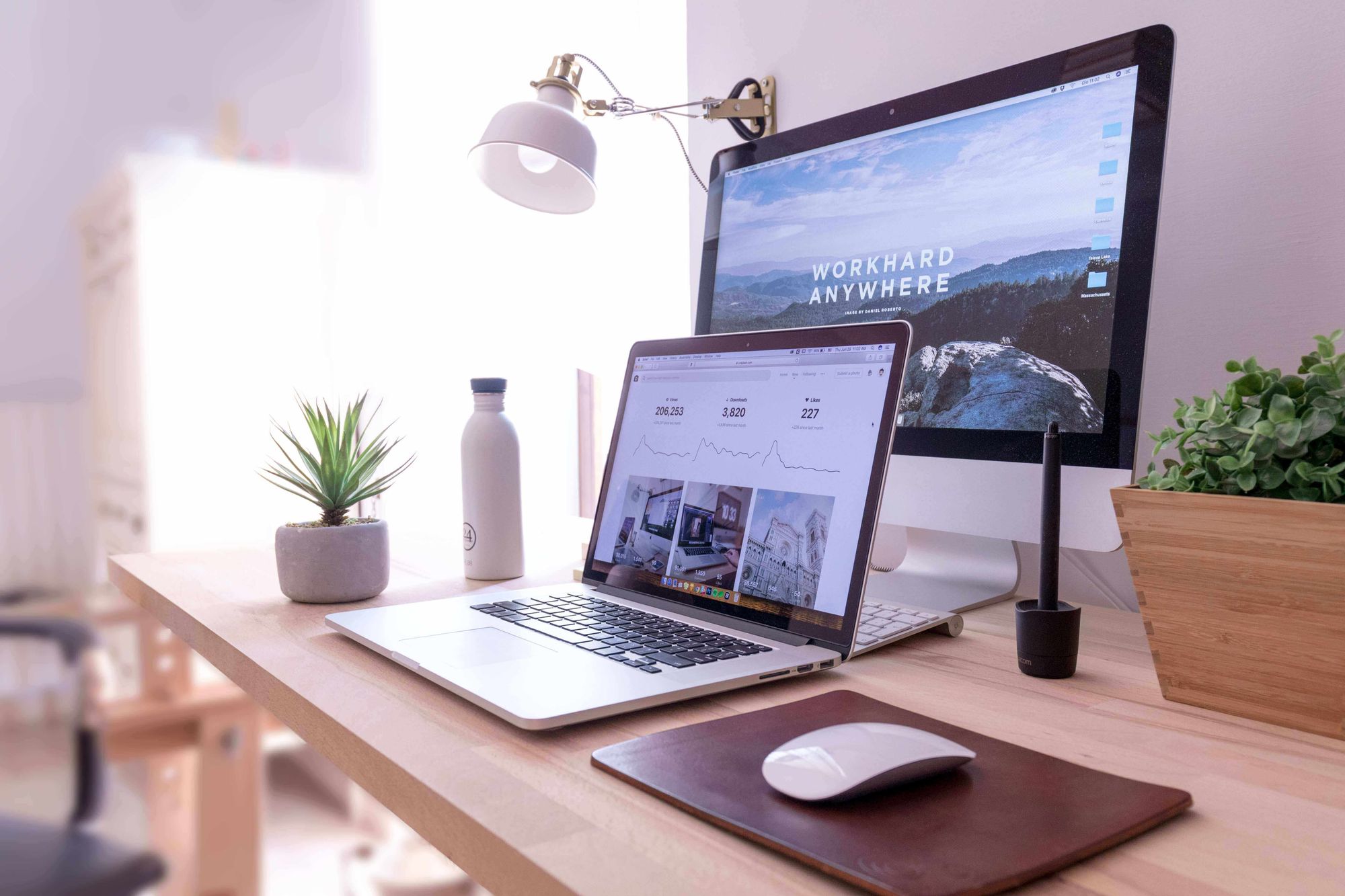 Despite all the challenges and negativities, people are enrolling in this profession and staying in this permanently. It has some extensive advantages that you can't deny.
According to Kate Kendall the founder of CloudPeeps, "So much of remote work is about PRODUCTIVITY and COMMUNICATION. You'd think it'd be easy to hide working remotely but it isn't."
Versatility in career choice
You may have completed your graduation from engineering but have passion and proficiency in graphic design. Go for the design field. Your expertise and skill would be paid off.
There are so many opportunities that you can choose the right track. It is important to have enthusiasm for the work we do. Remote working would provide you the flexibility to work with passion and live your dream.
Opportunities for retirees
The most common problems for the retired person are depression, loneliness, a feeling of despair as well and a loss of self-dignity. As a result, they suffer from mental disorders and health issues.
They may work remotely from home and do part-time and full-time jobs. In most cases, senior citizens are super skilled and have lots of experience and knowledge.
These are the most expected qualities that should be inherited by any employee. Having such kind of a skillful person is as right as rain for the team to achieve success.
Work like a Horse
Remote employees are more communicative and dedicated to their jobs. The faster they are responsive, the more they engage in work. They work proactively to meet the target.
They are more concerned about building up trust and relationships with their employers and mates. As they need not stick to a 9 to 5 schedule, they can work for hours to meet the deadline.
According to Forbes, remote workers are 35-40% more productive than office employees. With fewer leaves or sick days, they perform more effectively.
Explore top talented recruits
Remote work is not for a specific area or community, rather people from all over the world have free access to it. If you are passionate and have full faith in yourself, you need to be a master of your space.
There may be thousands of skillful people who are already in your space. Don't get agitated. Prepare yourself to attain the maximum expertise in your field. The world still needs real knacks and values them for their capability.
It increases the diversity in a group that improvises innovative ideas and vision. This culture improves the growth and success of a company.
Target new marketing strategies
As a business owner, you have a significant chance to expand business outreach. You have a massive opportunity to work with people from several countries on the same platform.
These people would do marketing for you in their community though you have to put minimum effort into this. For example, you have launched a new global online retailer. Already there are many big fishes dominating the global e-commerce site.
If you want to lead the market, you need to ensure the best service as well as create a buzz globally. Your remote employees can promote your product in their communities and countries as well.
Reduce startup installation and maintenance expenses
For starting a new business, you need to figure out implementation expenditures like office space, equipment, utilities, and others. Remote work facilitates you to reduce such type of costs as you run a bigger virtual office rather than the real one.
Also, you don't need to provide an office set up for each employee. Remote work is perfect for small and mid-size business agencies to start with a minimum amount.
Rock-bottom wages with maximum employee retention
The determination of the salary of a remote employee depends upon some factors like qualification, skills, experience, demand- factors, and others. Among them, one of the most important factors is location or country-area.
For instance, you can hire South-Asian talent comparatively lower wage than the Canadian with the same competence. It is because of the variation in living expenses. Employee flexibility is one of the main reasons for employee retention.
The workers would tend to switch their jobs where they have a more flexible working environment. The remote working system has the most flexible working policies that an employee demands.
Challenges of remote working- Let's break the ice
Some companies are fully functioned remotely. Some may have a few remote workers along with the regular office. Most of the organizations don't have the remote working practice.
Due to the pandemic situation, people are tending to remote work platforms. As remote work policy is exposed to a few, the rest of the new are facing some challenges and trouble in practicing the trend.
You may see the statistics of the state of remote work where you may find the scenario of the struggles with working remotely.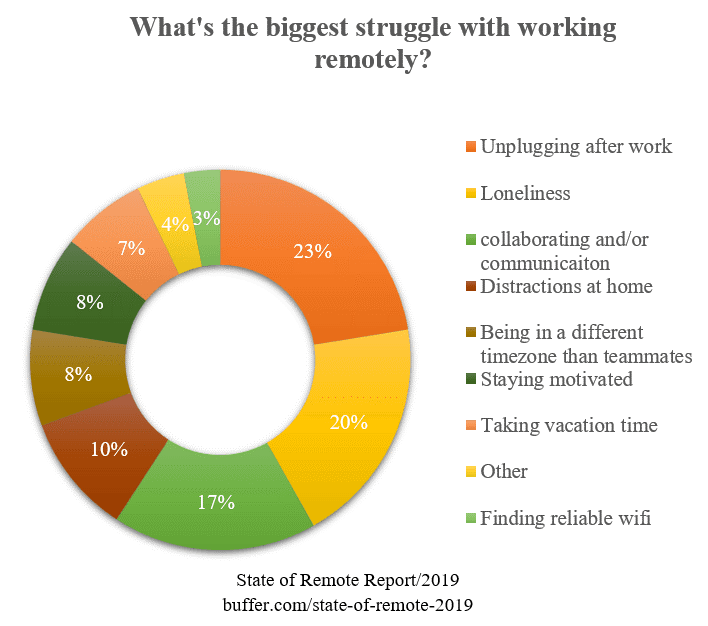 Buffer reports on the state of remote work
The challenges mainly come from organizational aspects and the individual worker. Both have a great impact factor on the remote working platform. Considering both cases, we can explain-
Challenges for the remote team
Challenges for a remote worker
Let's talk in detail.
Challenges for the remote team
Collaboration or communication difficulty
Psychological distance
Trust issue
Different time-zone
Cultural differences
Collaboration and communication difficulty
See the report above, one of the biggest challenges is to sort out the communication and collaboration problem. If you have remote working experience, raise your hand if you have missed any notification or meeting.
I know everyone has faced this problem. There is no room for face-to-face interaction. You need to rely on multiple tools to discuss, file sharing, meetings, and project management. Different purposes of your job need different setups and tools.
For that reason, the work becomes so chaotic that you need to push extra effort.
Psychological distance
When you are far from anyone or anything in terms of time, emotion, and physical appearance, you construct an abstract perception of that specific man or thing that can be beyond your imagination.
As a result, it creates illusions and stereotypes that may not be true in reality. As we love to accept our thoughts, this misleading conception may often create over-positivity or negativity in real.
The remote members face this kind of trouble more and this affects team performance, collaboration, and productivity.
Trust issue
Because of the psychological distance, remote workers suffer from trusting one and all. Look, you won't trust anyone for whom you know nothing, right?
Most of the team members know a little about their mates. You feel an opacity between you and your co-workers. It is a common nature of all and we have to handle it consciously.
Different time-zone
You may have a full of enthusiastic, talented, and dedicated team members in your team. But the maximum of them belong to different countries throughout the world.
The problem is that whenever one member needs another one, he might go for off-peak hours. See the report it is quite a markable problem for remote working.
Cultural differences
Working with different countries allows bringing different norms and behaviors on the same page. It has some advantages like exploring diversity, cultures, and values. At a time, you have to accept the provocations.
For the people of South Asia, they value their family more than work while in the UK, work comes first. Also, different traditions and religions have different occasions and holidays. You have to be respectful and avoid all types of discrimination, racism, and prejudice consciously.
Challenges for a remote worker:
Unplug after work.
Lack of social interaction
Poor productivity
Unbalanced work/life
Unplug after work
Do you know what bothers me more about my job? I overthink the task though I have signed out from work for that day. This scenario is quite familiar to all.
We always think of the uncompleted task of the office subconsciously, though we have closed the work at the scheduled time. This practice hampers both mental health and personal life. You become distressed, lose concentration, and get a monotonous vibe in your job. Gradually, you fail to improve your skills and productivity.
Lack of social interaction
The grass is always greener on the other side. Remember my friend whose story I have told in the beginning?
He has complained about working directly with his mates. What he has skipped is team empowerment. It is easy to build healthy team bonding in the office rather than remotely.
Also, most of us feel isolated from the rest of the world and need to put extra effort into socializing. Work becomes a burden, as life.
Home distractions
It is nearly impossible to undergo distractions while working from home. You create all possibilities to retain the home-office vibe and on your mark to focus on your work.
Hold on! What about your pet or your children? For them, home is still a HOME. And parents are always needed whenever they want. Or some unavoidable emergencies happen. Can you deny it?
It is quite hard to explain the family and friends about the depth of remote work. They don't understand that running a home office needs 110% separation from household chores and chaos.
Poor Productivity
It is natural not to overcome the expectations of your boss. You may be an average performer of your team while there already are some outstanding performers.
Sometimes, it feels fish out of the water to work in such a group where you have less priority and acknowledgment. We all face these issues in our careers.
This situation is pretty suffocating, especially for remote workers. It causes distraction, less motivation, and low productivity. It becomes a challenge to stay motivated and try to achieve a high pace.
Unbalanced work/life
Drinking alcohol, smoking, irregular schedules, inadequate sleep, and poor diet cause poor health effects. Without sound health, you may not function properly. It is very common for a remote worker to take a meal while working, and seat day long at the working desk without any physical activities.
Consequently, you get obesity, malnutrition, and chronic disease. Man is not a machine. The work is equally as important as the family. If you prioritize one over another, you may not be happy.
How do you prepare for remote work?
After observing all the challenges and advantages of remote working, you get convinced to start working remotely. But still, you need to learn some more things before getting started. As a remote worker, I can suggest two spaces that you need to ensure firmly.
Psychological assistance
Technical assistance
Both are vital for remote working. Let me explain in a little bit more detail.
Psychological assistance
It is very tough to keep consistency in work. In remote working, there is no direct inspection at work. You have to hold up the enthusiasm and self-dependency to dedicate your maximum liability.
Is it for me?
First of all, you need to contemplate if you want to take up the job. We often start a new thing without in-depth thinking. In the middle, we lose our passion and get monotony. Ultimately, we come up with zero productivity, less efficiency, and depression.
Prepare your workspace.
Choose a separate room for work. If it is not possible, choose a corner as your workspace. Fixed your office time and make a schedule. If it is possible, hang a note showing the office time so that your family and friends know your work time. Decorate the space and ensure all equipment you need to work.
Know your community
It is important to know the organization and the people of your team. It will help you in several ways; you won't feel lonely and stranger anymore; get the support of the team; hold the zeal for work, and It will increase team communication and collaboration.
You have to be over-communicative. It is a mandatory thing to be more responsive in remote working. Your success would depend a lot on your communication skills.
Before starting the new one, close the old one
Don't undertake new projects until you have finished the old ones. You may be a workaholic and bear the extra load of work. As your focus will divert, it will decrease your efficiency. Try to complete the existing task within the deadline or before the deadline and start the new project.
Learn to 'Log Out' for real
Remember the challenges described above, one of the main challenges is unplugging after work. Especially the remote employees face this trouble more.
You have to close your job consciously from your mind. For that, you can fill your hobbies, spend quality time with family and friends, go to a gym or exercise, enjoy vacations, and take proper rest.
You have to close all the office-related tabs. Try to avoid unnecessary texts or messages.
Technical Assistance
Technology itself is not a blessing until we utilize it properly. Before proceeding to join any remote team, one more important thing is still you need to learn tech-related things. Try to find out the useful apps and tools in your field.
Create an attractive portfolio
When you are expecting to be hired you need to prepare yourself with proper skills. A portfolio is a bridge between the employer and your skills. It is a way of showcasing your work and proving your knack for it smartly.
Your portfolio will reflect your smartness, credibility, and achievements. Your employer will explore the potentiality within you through your portfolio.
That's why a portfolio is a vital thing, especially for remote work. A few things should be kept in mind before making a striking portfolio.
Representation should be brief and self-explanatory.
Don't showcase all of your work. Only the best works for you.
Keep room for your achievements in your portfolio.
Maintain professionalism and keep a simple design.
Learn some common tactics for remote work
There are some must-have tools to learn to conduct remote work. You need to know the functionalities and basics of them. For example, a child goes to school. He reads science, math, language, general knowledge, and others.
Along with them, he must learn basic etiquette and discipline, though these are not the things he is intended to learn. But he will master them with his own. This is how things work.
You are a programmer. That doesn't mean that you are hired to do only programming. You need to perform some additional tasks to fulfill your business. Detailed info is described in the most essential tools for remote work section.
Know the field-oriented tools
When working in a group or an organization, the field-oriented tools will not suffice. Suppose you are a Java programmer. You have great expertise in Java programming. But when working in a group some more tools will be needed like GitLab, GitHub, etc. Know the advanced and most used software in your field to increase credibility.
The most essential tools for remote work
There are some must-have tools you need to know to use. They are needed for communication, project management, collaboration, to-do lists, monitoring apps, and many more important ones.
Communication app
Using email for communication purposes is pretty old-school, right? You have to communicate in real time from anywhere and anytime. The asynchronous team needs a synchronization tool to link up every member and update.
Slack would be a great option for communication purposes.
It has channels for team communication where the channels can be distributed as public and private. You can organize your team according to your necessity and make the team more liable and obliged.
You can make audio and video calls, message directly to the individual or create a group. It provides a self-messaging system. I use it to note down important instructions.
You can share files, documents, and images. You can continue your discussion on the threads without interrupting other messages.
The interface is very user-friendly to use. The free version of Slack with its basic features is perfect for start-ups.
You can run your business campaign on a shared channel with other companies.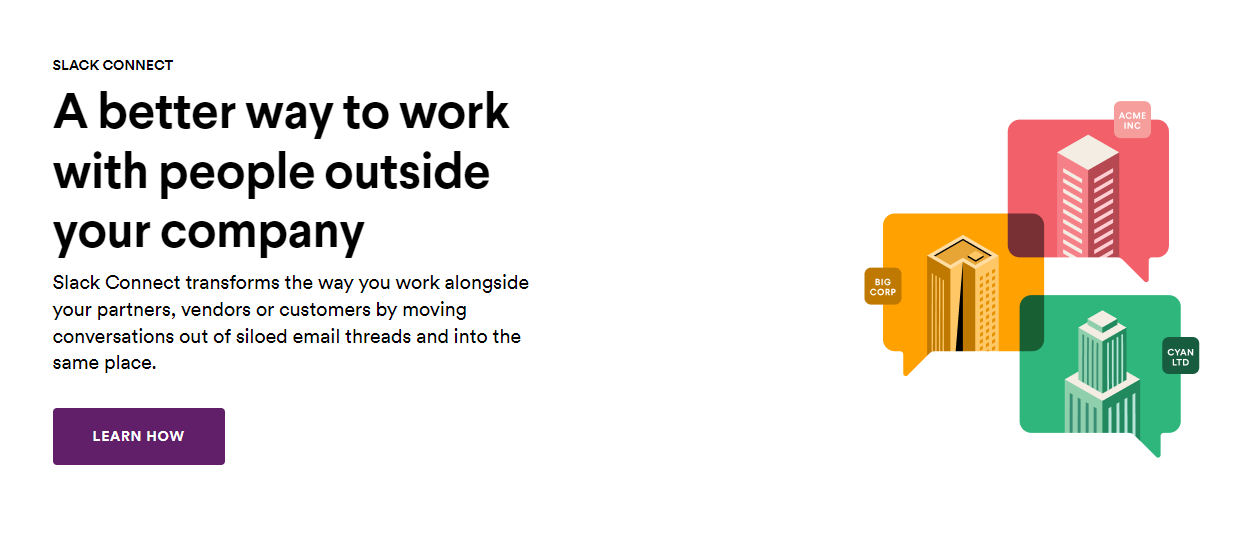 Time tracking and monitoring app
The tracking and monitoring software is very significant for both employers and employees. Offices regulate their staff regularly. They apply various workplace surveillance methods such as direct monitoring, CCTV monitoring, network analyzer, attendance tracker, implementing monitoring software, and others.
In the case of remote workers, there is only one monitoring method can be applied. That is the implementation of employee monitoring software. The starters feel hesitant to use such a surveillance app because of their privacy concerns. You probably feel it tough to work when you know that someone continuously keeps an eye on you. Monitoring tools made me feel like that at first.
Eventually, I realized that the monitoring system links up to you with your employers. It gives proof of your work and increases trust and transparency in your job.
I recommend you use Apploye as a time tracking and employee monitoring software.
Apploye Time recorder app tracks time based on projects and tasks automatically. You can work in an offline mood. You can also enter your time manual time if you forget to start the app.
It has a customizable online timesheet app. You can preview the history on a daily, weekly, and monthly basis.
It tracks the mouse movement and keyboard stroke, apps and URL usage, and location by location time tracking to oversee each of the employees.
Employers can schedule their employees to line up the team.
It provides reports based on real-time data.
It generates payroll reports on an hourly or one-time payment.
The price of Apploye is pretty reasonable with a 10-day free trial.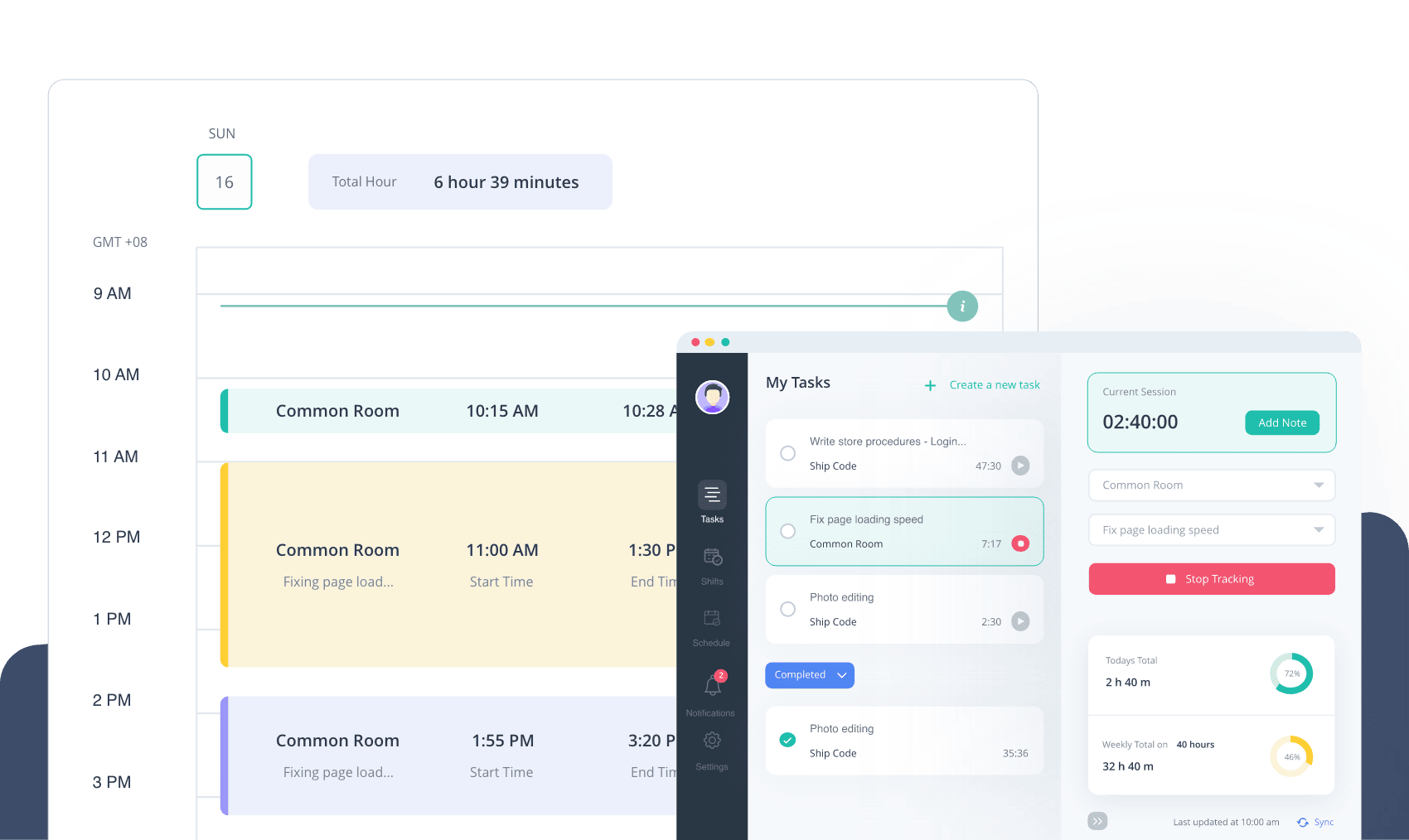 Project management Software
You may need a project management tool to assemble multiple projects in a single platform. This software tracks every project's progress and helps to meet the deadlines.
Clickup is one of the best choices for several reasons.
It can be used as a project management tool, notes, reminders, and goal tracker.
The interface can be organized as a list, board, box, calendar, Gantt, file, and form view.
You can customize your spaces for every team.
You can chat in real-time, assign tasks to the corresponding members, and set the deadline for every task.
The free version is quite sufficient for small and mid-size business owners.
Storage tool
You need to store all your data, documents, and files in a safe and secure platform. For this reason, Google Drive owns millions of hearts.
You can store all types of files and data photos, videos, drawings, and more.
You can use 15 GB of free data with a Google account.
The drive is accessible from anywhere and on any device.
You can organize your data according to your preferences.
The files and folders can be shared with anyone or any group.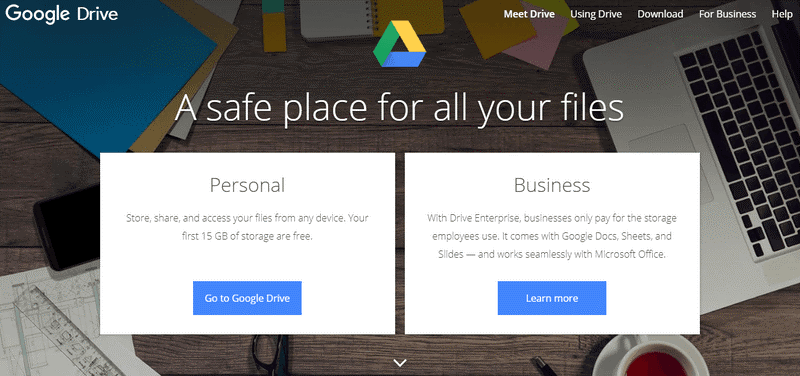 To-do list maker
For listing up your workday, you can use any to-do list-making app. This app will ease you by reducing your workload. Schedule your day. Don't miss any necessary notifications and focus on more work.
Evernote can be used for this purpose.
You can use it from personal to professional extent.
You can save documentation, voice, and images.
Set reminders not to miss any deadlines.
You may share your schedule or ideas with your mates.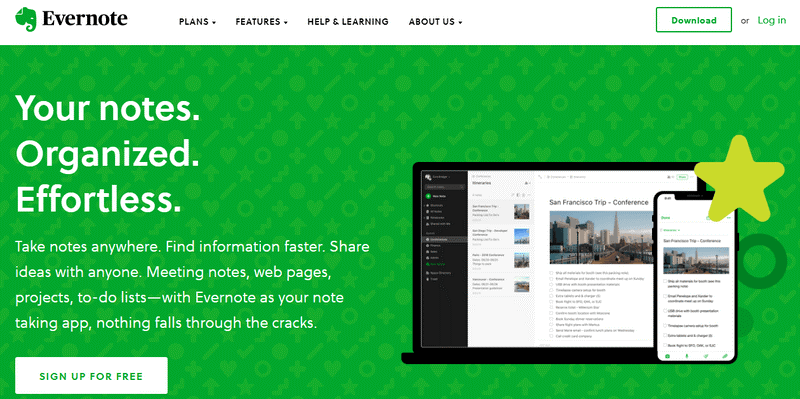 App for meetings
In remote work policy, conducting meetings and video conferences need a dedicated tool that is available and accessible from all platforms.
You may use Zoom for meetings and conferences.
The free plan of Zoom is very resourceful providing a 40-minute meeting time with 100 participants and an unlimited number of meetings.
Compatible with all operating systems. It has Chrome and Outlook extensions.
The meetings can be recorded for further use.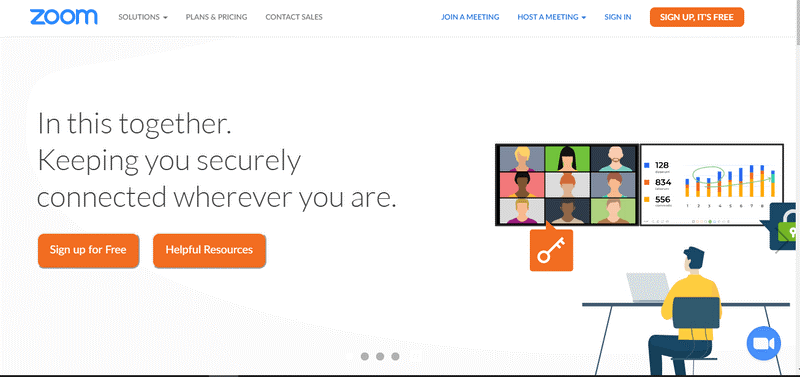 Screen recorder app
When you need to share something with your mates, give any instructions, or presentations, or teach any new software, this tool will help you so much.
Loom can be used for this purpose.
Loom offers to capture the screen, record your voice, and share your recording in your community.
Avoid unwanted meetings, clear your calendars, and share your ideas without time waste.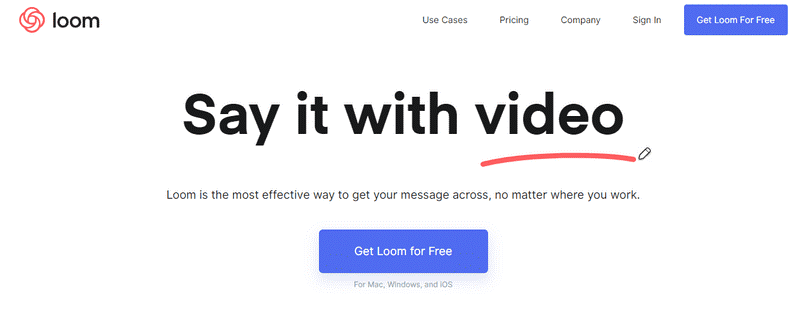 Why remote work is the future?
People are embracing remote work trends like butter in the bread. You may check some a 159% increase in remote work in remote work in the U.S. from 2005 to 2017 and over the last 10 years remote work growth is increased by 91%.
Pretty amazing, right?
Especially in this current devastating situation of the coronavirus outbreak, some of the world's leading companies have implemented remote work policies. Many organizations are also encouraging employees to work from home.
With the technological growth stream, companies may continue to practice remote work policies more than before.
Want to get into the remote work platform?
I try to put together the very basic information about remote work. After going through the whole content, you might give a thought to start working remotely. Or modify your work policy for remote team management.
Let me know if this article gives the zeal to you. Also, don't forget to share your experience.