19 Best Online Collaboration Tools in 2023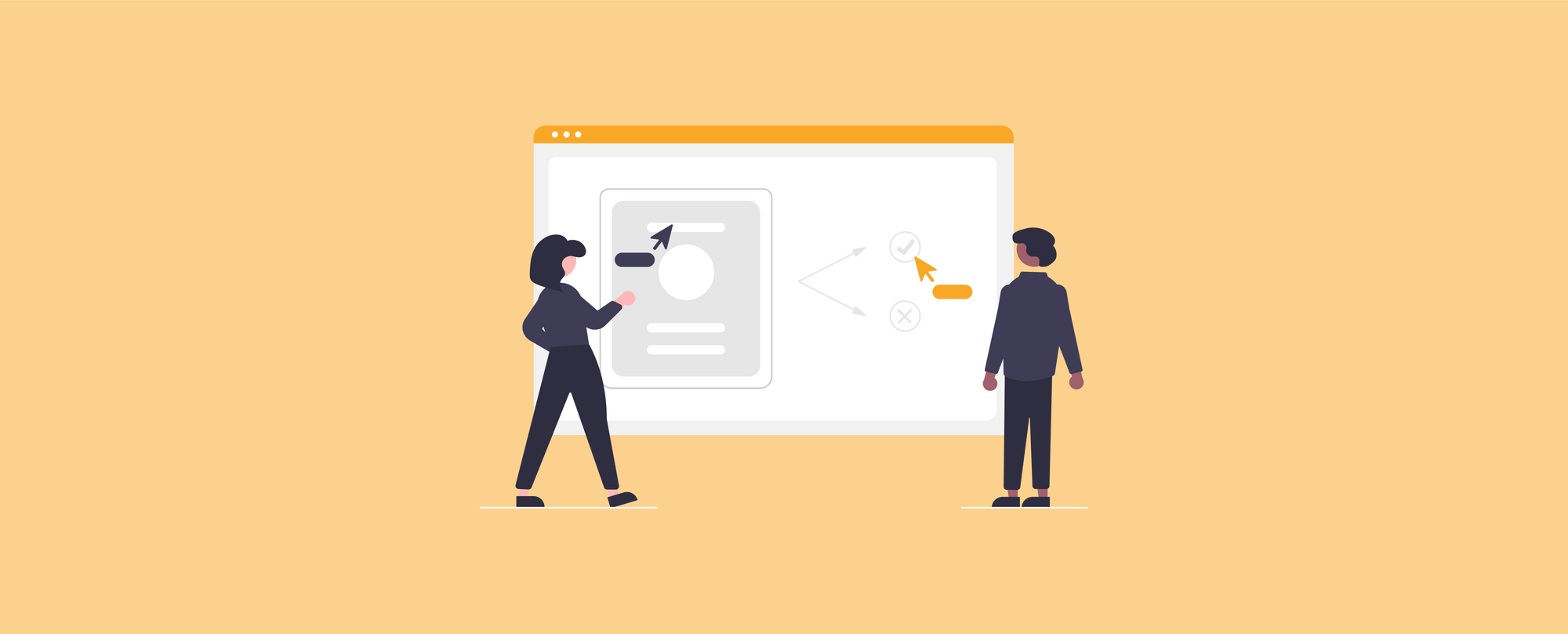 Online collaboration tools are web-design platforms, a technology that helps businesses or organizations connect, chat, share projects, delegate assignments, or share files from anywhere in the world. They greatly support teamwork even if all the parties are in different locations, generating transparency, hence high productivity as an end product to any organization.
Working as a team is the most applauded approach many business companies or organizations consider to deliver their best services to the user, but this only can be practical with the best online collaboration software to ease communication amongst the team members.
Online collaboration tools greatly lay impact the functioning of an organization through teamwork performance. These tools help in the following ways;
By opting for cloud-based tools, you can bring onboard people in an instant.
An organization can share ideas with its team to maintain the teamwork spirit through digital whiteboards.
There is ease of access to business applications and files.
How Online Collaboration Tools Boost Team Performance
The introduction of online collaboration tools to workplaces and organizations is taking the lead to improve the productivity of its services to the end-user in different ways as stated below,
1. Enhances Better Communication
Some organizations have large teamwork, which may lead to some team members missing out on an invitation, or failing to get mail on time to commence a certain task due to improper or failed communication.
All these discrepancies will end up ruining the performance of a team hence affecting the productivity of an organization. But once collaboration software has been incorporated into the system, the team comes together in quick sharing of documents, faster emailing, and timely response by signing documents online, which becomes easier and more reliable. Cocosign helps you comprehend how technology makes signing documents easier, minimizing paperwork and cutting down on time wastage.
2. Creates Utmost Teamwork Engagement
A proper functioning tool keeps the team spirit higher by bringing the team together due to an improved workspace. The aspect of unity in an organization with extra effort amongst the team keeps the organization's production and delivery at better stake.
3. Improved Decision Making
Online collaboration software keeps decision-making on track by fetching ongoing discussions. Members come to a concrete final decision since the project manager can capture all the discussions.
4. Improved and Quality Delivery
Online collaboration software tools have made organizations deliver the best end product to the consumers keeping in mind that you are using the right collaboration tool for the right work.
Types of Online Collaboration Tools & Software
Project goals are the main key areas in a business. Still, all this will fail if you have a poor online collaboration tool to record your emails, files, and messaging to a working team. Still, once you input an intended online tool, you can consolidate your work and properly manage your project. Every year many online tools emerge while those in operations keep improving their functionality.
Below are the best online collaboration tools:
1. Google Docs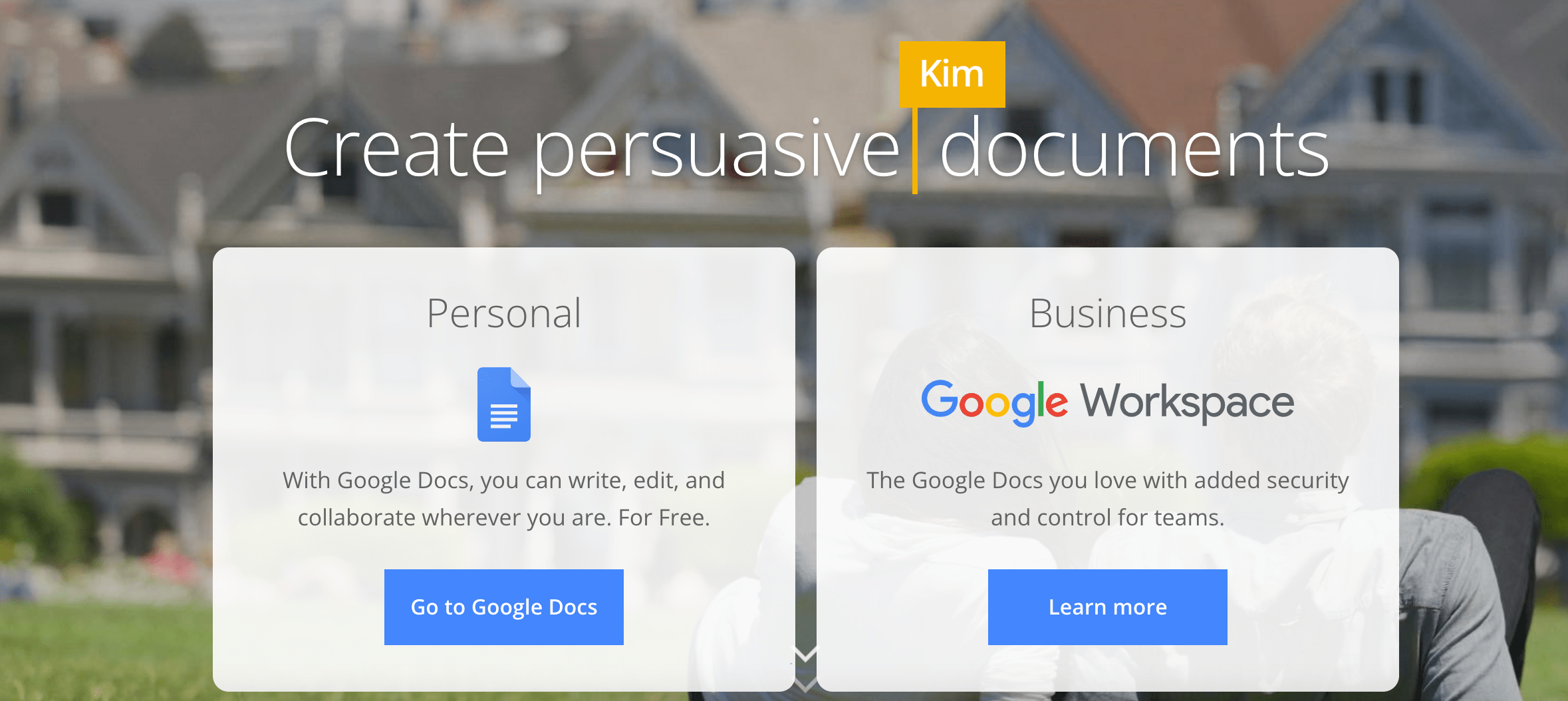 This is a web-based online tool offered by Google that can be accessed through an internet browser and is available as a mobile app in googles Chrome Os. It gives users the capacity to create and edit documents in real-time. Google docs perfectly save documents in the following formats;
Open format
Richtext format
Unicode
Zipped HTML
Microsoft word
Have features that offer search results with action items based on the content of a document allowing users to give or assign tasks to other team members. Google doc has the following features that make it the most used online collaboration tool;
Editing
Files formats
Explore
File limits
Google doc incorporates google drive, a better collaborative tool that allows sharing, opening, and editing documents by several users simultaneously. Users can see edits from other collaborators, which are automatically saved to its servers. It also has a chat bar where users can see changes or edits being made on a document.
2. Apploye
Apploye is a cloud web-based tool that supports remote working with its upgraded collaboration features. It's all-inclusive productivity software that keeps an eye on teamwork activities, and its time-tracking feature makes it work well to give the best results to an organization. Apploye has been much appreciated since the manager can follow up on an employee's ability to deliver through employee screenshot monitoring, reports, daily, weekly, and monthly timesheet templates, and GPS location tracking.
Apploye has excellent features as outlined below:
Screenshots Tracking
Time tracking
Team activity monitoring
It gives alerts and notifications
Automated time recording app
Can manage employee payroll
Has billing and invoicing feature
Apploye proves to be the best from its upgraded features that make organizations have maximized profits and gives quality results to users, this tool supports:
Emailing
Frequently Asked Questions platform
Has knowledge-based ability
Live Chat
Document sharing and editing
3. Asana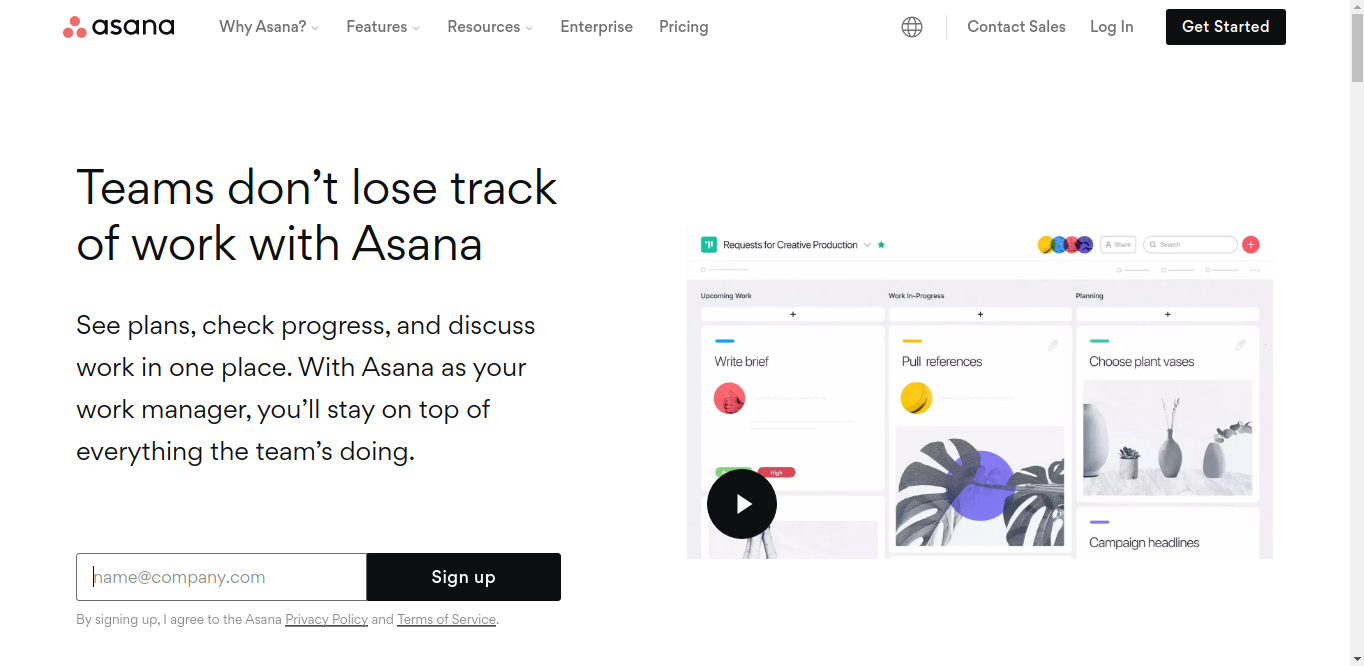 This web-based online collaboration tool has features designed to keep teams organized, manage and follow up on ongoing projects. Asana fosters and helps in team management, task management, and project management in one tool, an upgraded high-productivity software. ASANA has reporting tools to assist teams in following up on projects. This file attachment option allows teams to create projects, assign work to teammates by stating timelines, and ease communication within the team.
Asana has a feature for member management and the whole team follow-up to communicate project proceedings to stakeholders. Also, teams can organize and visualize their projects in columns. With its interactive features incorporated in its functioning, businesses can map up on their ongoing projects.
ASANA offers the following features:
To-do lists.
Team communication.
Programmed management.
Project planning.
Asana has the best reputation on the market in the following ways;
Consolidates all the organization team's tasks in a simple view project.
Gives clear information on which team is responsible for certain ongoing projects.
Best task sharing and tracking of the project and team.
Vast features to consolidate all kinds of tasks in one space.
Asana can be used on the browser or as an app.
Very quick and easy to assign tasks to a team.
You can set tasks to appear all the time of the month, referred to as repeating tasks.
Supports file sharing with team members and assigning tasks to them.
Having a tool or application that enables you to edit pdf online, erase elements add texts, and manage your documents is the best aspect for any organization.
4. Trello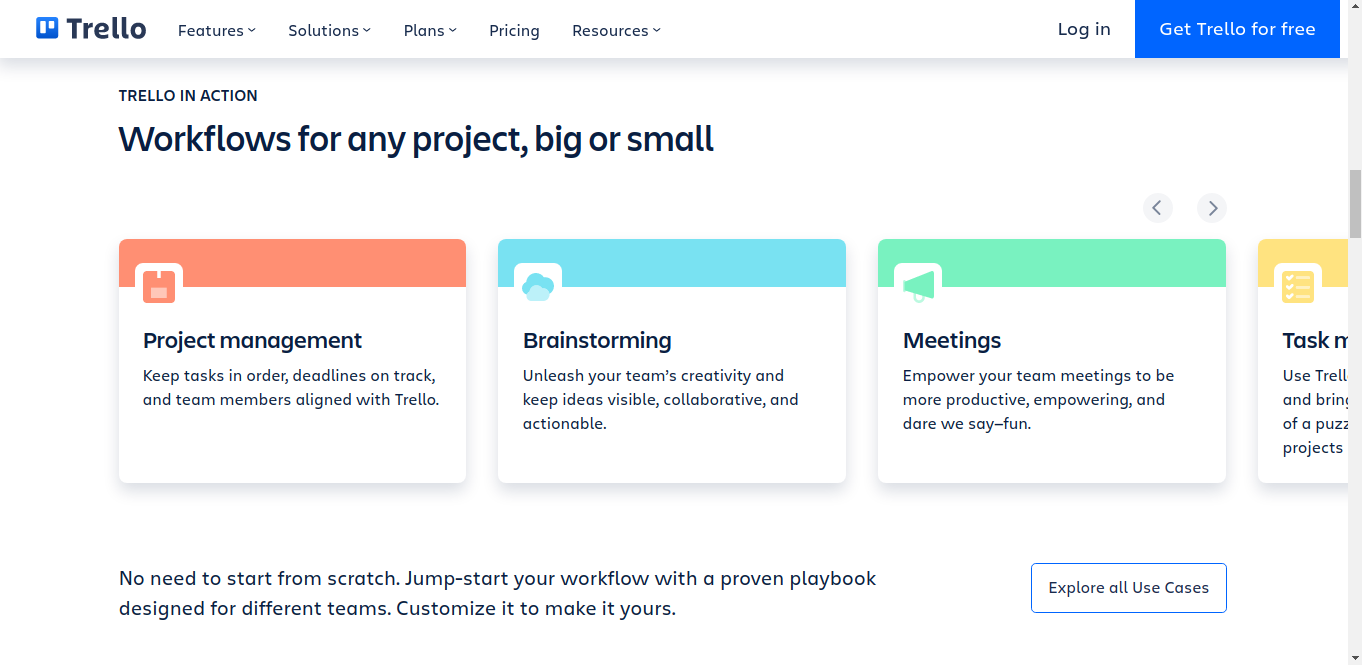 Trello is a web-based collaboration tool that many organizations have incorporated to boost teamwork to give maximum productivity results. It's a kan-based tool that helps essentially in task management and project monitoring. This is a fundamental tool that will organize the entire team's work to give your project the best management aspect, getting timely updates as they come in as you communicate with the whole team instantly.
Sometimes e-mailing is cumbersome to communicate with the entire group. Still, Trello is a perfect replacement for large or long emails, giving you the option to tag only selected people.
All team conversations are in one place, so if anyone has a statement to confirm about a certain task or piece of thought to share you have less time to look for it since it's just within a card. Cards are small units simply single tasks in the workflow, where work is done, and allow the user to include any attachments, tasks, dates, those working on the project, and possible checklists. The following are the main Trello features that make it loved by several organizations;
Has a file attachment feature.
Has inlining editing.
Simplified drag-and-drop editing.
Has progress meter checklist.
Card records archive.
Easy organizing with labeling, tags, and comments.
Has quick uploading to local devices, dropbox, and google drive.
Quick and speedy overviews.
5. Flowdock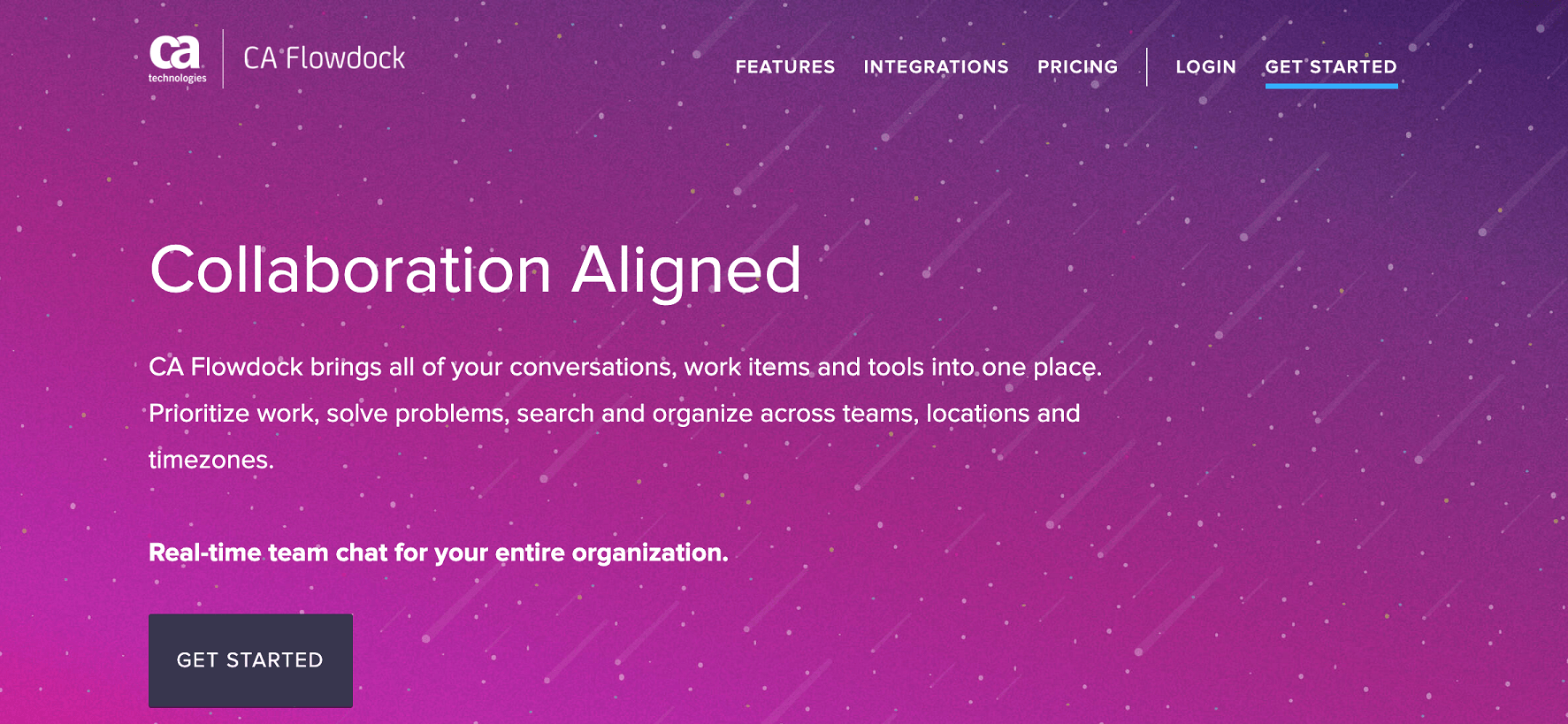 One of the best online collaboration tools for upcoming and small businesses that act as a collaborative platform for teams to chat inbox. This feature brings the teams' project or working in one place, making it very visible to everyone to communicate and follow up on the ongoing project and make appropriate discussions. This tool integrates with the system and provides a window to the teams' activities, putting everyone up to date on the proceedings. Flowdock offers the following features that make it loved by starter businesses:
You can comment on what you see.
You can see what the rest of the team is working on.
Has fabulous tags and threads.
Gives threaded inbox for integrations.
It's purely free.
The team can have discussions on the project.
Has separate inbox for integrations.
6. Slack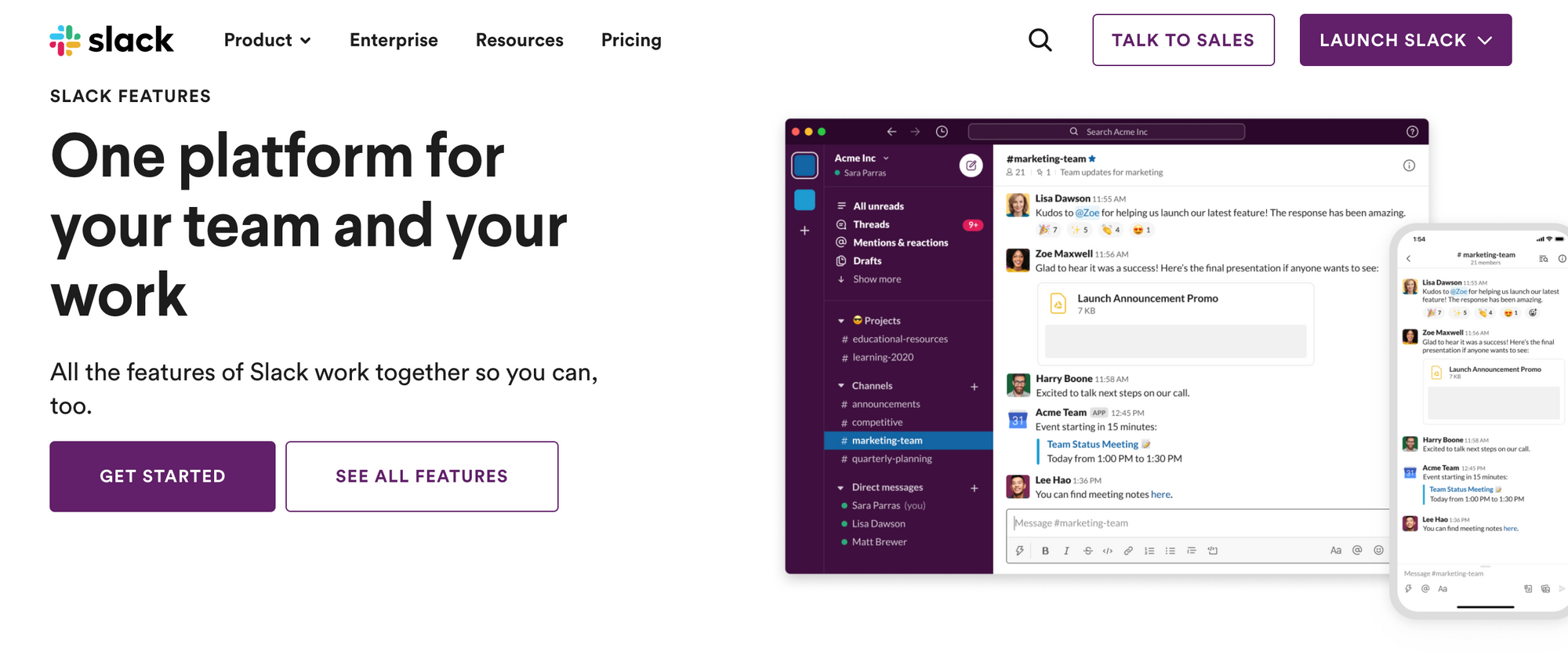 This is a web-based collaboration tool that offers instant messaging and provides file transfer options within the team. Slack brings the team's communication to just one place. Slack is best recognized for its productivity, where it simplifies communication workflow as a group chat and notification tool in that all your files, and messages are searchable. It comes with the following features:
Has team inbox.
Offers group chat.
One on 1 private chatbox.
Opens up channels for projects, and discussion topics for the whole to share.
Searching option.
7. WebEx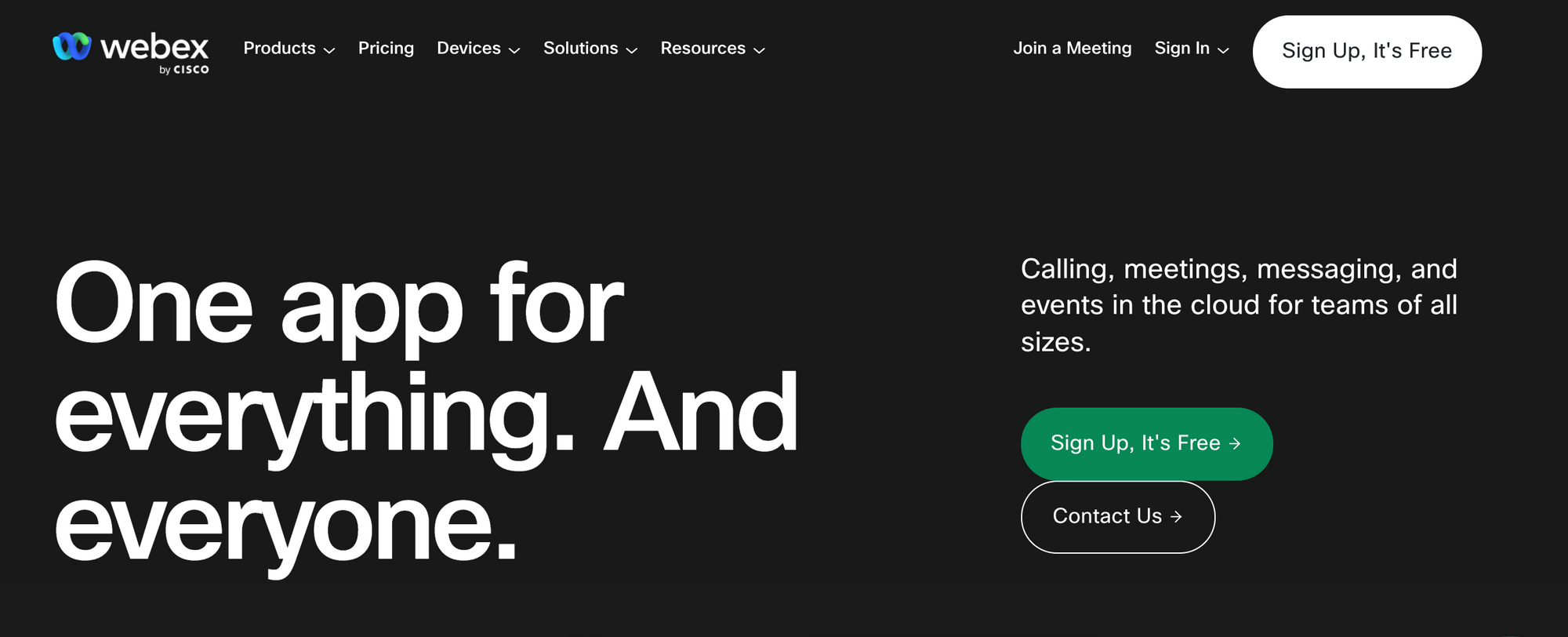 This is a platform that offers excellent solutions to big enterprises, which gives ultimate results to teams. WebEx offers great security features for your business and is much more productive, bringing everyone together to deliver exceptional work. Below are the features:
Has video conferencing applications.
Online group or private meetings.
Screen sharing.
Webinars.
Has a noise removal feature.
Content sharing from any available device.
8. Monday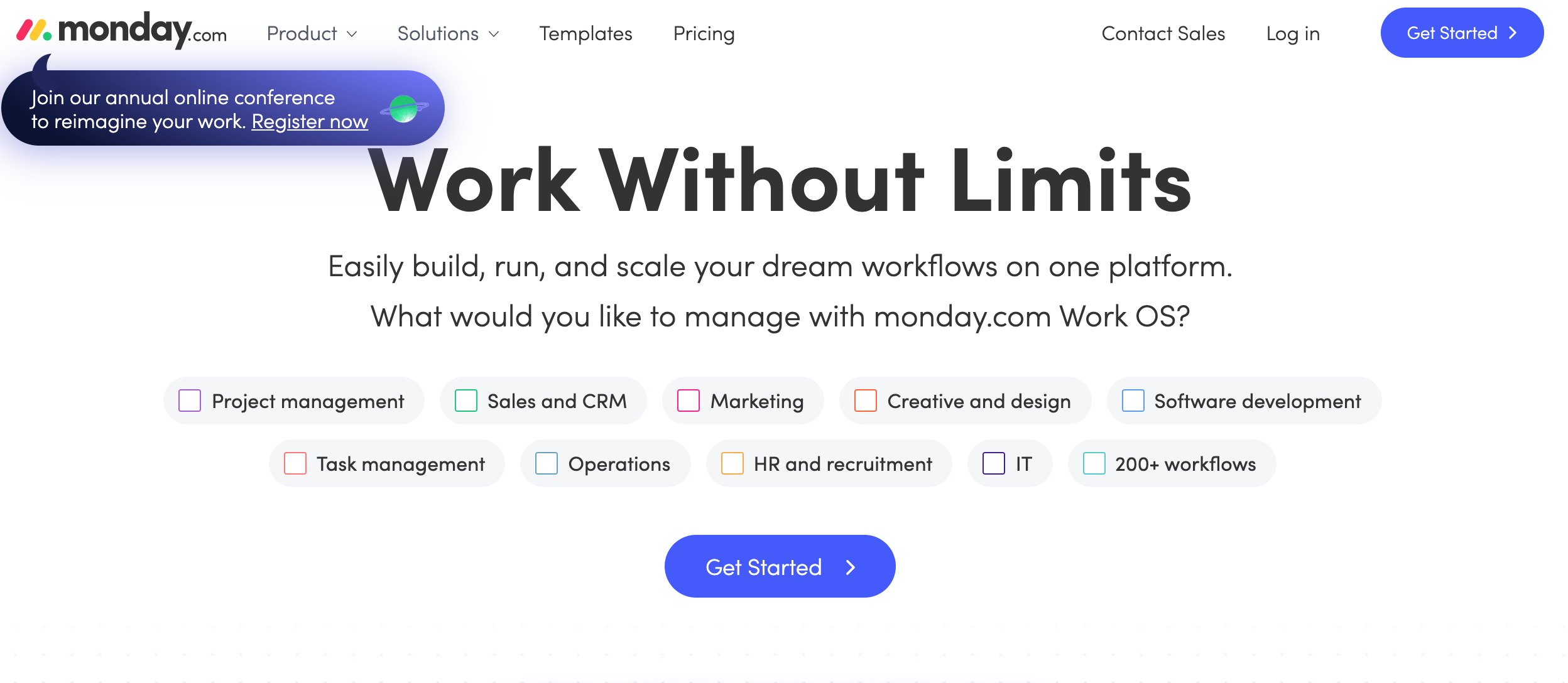 Monday is one of the functioning cloud-based platforms that gives organizations the go-ahead to develop their applications and working management tools to run their work. Monday, with its unique functioning, provides the following services;
It's collaborative software that provides the best communication among teams.
Allows management process.
Team management software.
Gives customer management relationships.
This tool gives users a platform to manage their working team, track any team activity, and instantly see which member is working on which project on a single board. This tool gives ultimate communication and collaboration solutions to workers in one synchronized place, making it the best project management software. The main features to put into consideration are as follows;
It's termed knowledge-based, where it's auto-generated, and has a fully searchable function with complete documentation.
Has copy and paste adobe.
Offers integrations from dropbox, google drive, and Pipedrive.
Has a large screen display for easy visualization.
Online collaborative software to man multiple employees.
9. ProofHub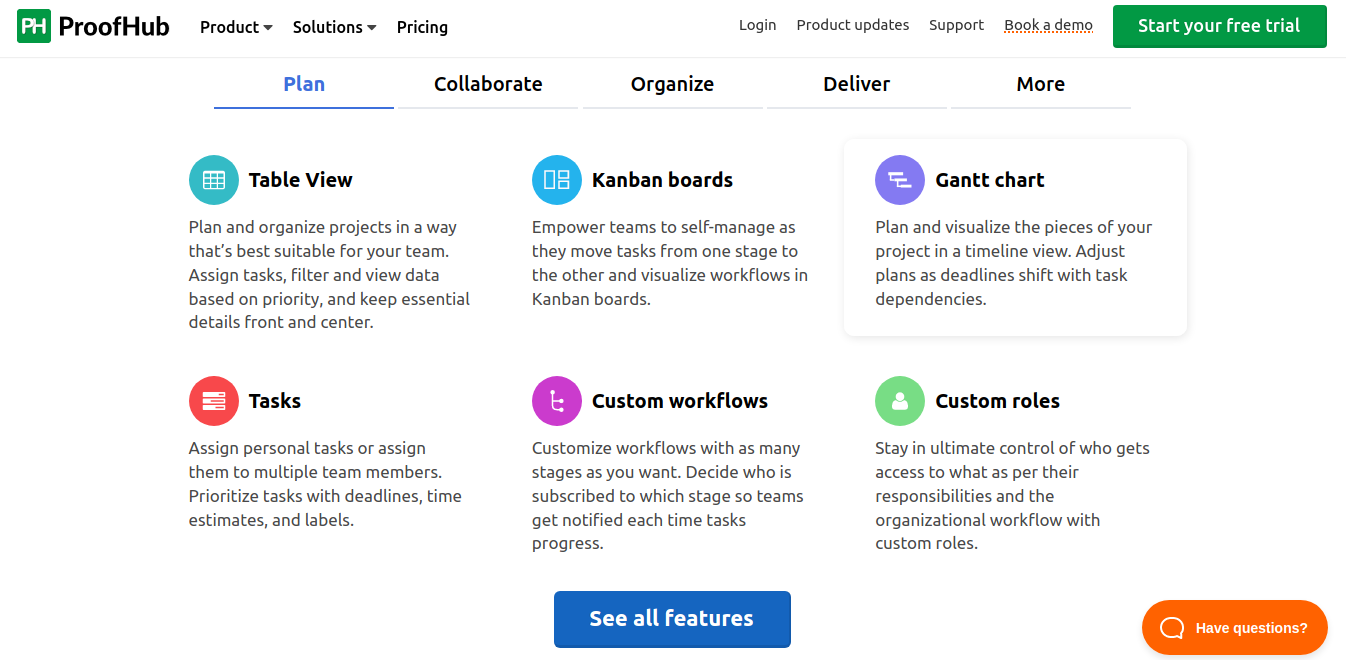 ProofHub is a project management and team collaboration software that enables teams to manage work and organize everything under a single roof. It's a centralized platform that allows teams to cut through the noise and visualize their daily tasks in real-time.
ProofHub assists users in keeping track of the time spent on each task, who is working on what, overall project progress, and communicating effectively. ProofHub's shared workspace keeps everyone focused on the same goals, allowing teams to collaborate effectively and produce excellent outcomes.
ProofHub offers teams the following features:
In-house communication tool
Gantt charts and Kanban boards
Discussions and announcements
Online proofing tool
Project reports and custom roles
If you are searching for good alternatives to ProofHub, check our best ProofHub alternatives list.
10. GoToMeeting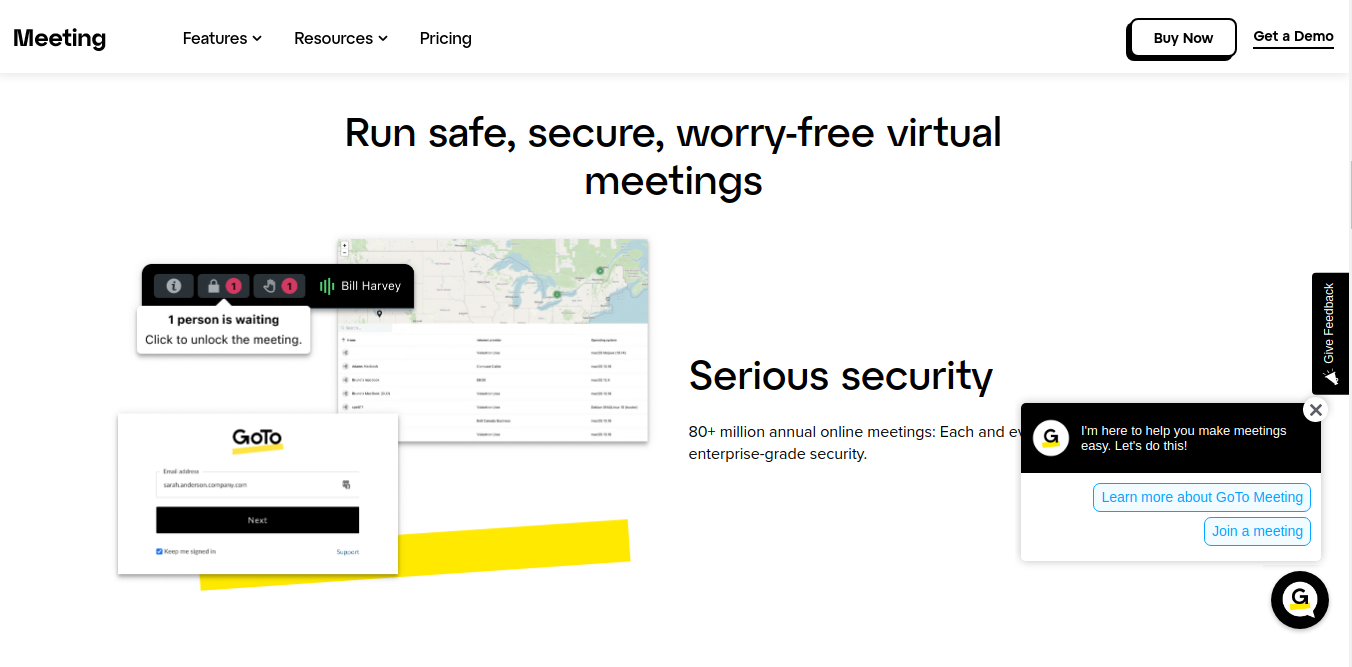 This web-based service is generated to foster online meetings, file sharing, and supports video conferencing that gives users a platform to meet other computer users or clients. Offers accessibility and reliability follow-up on the projects and activities being taken by the team. It can take up to 250 participants who can exchange various applications on their computers in real-time; they can connect to gatherings from their iPhones, iPads, PC, MACs, or android devices.
Main Benefits of Go ToMeeting:
Boosts workers' productivity so that the collaboration between the remote teams is high by completing projects speedy and on time.
Increased profits after good sales.
GoToMeeting cuts on training costs.
Gives online support whereby you can exchange technical issues; hence solving becomes easier through immediate collaboration between the team.
11. Bit.ai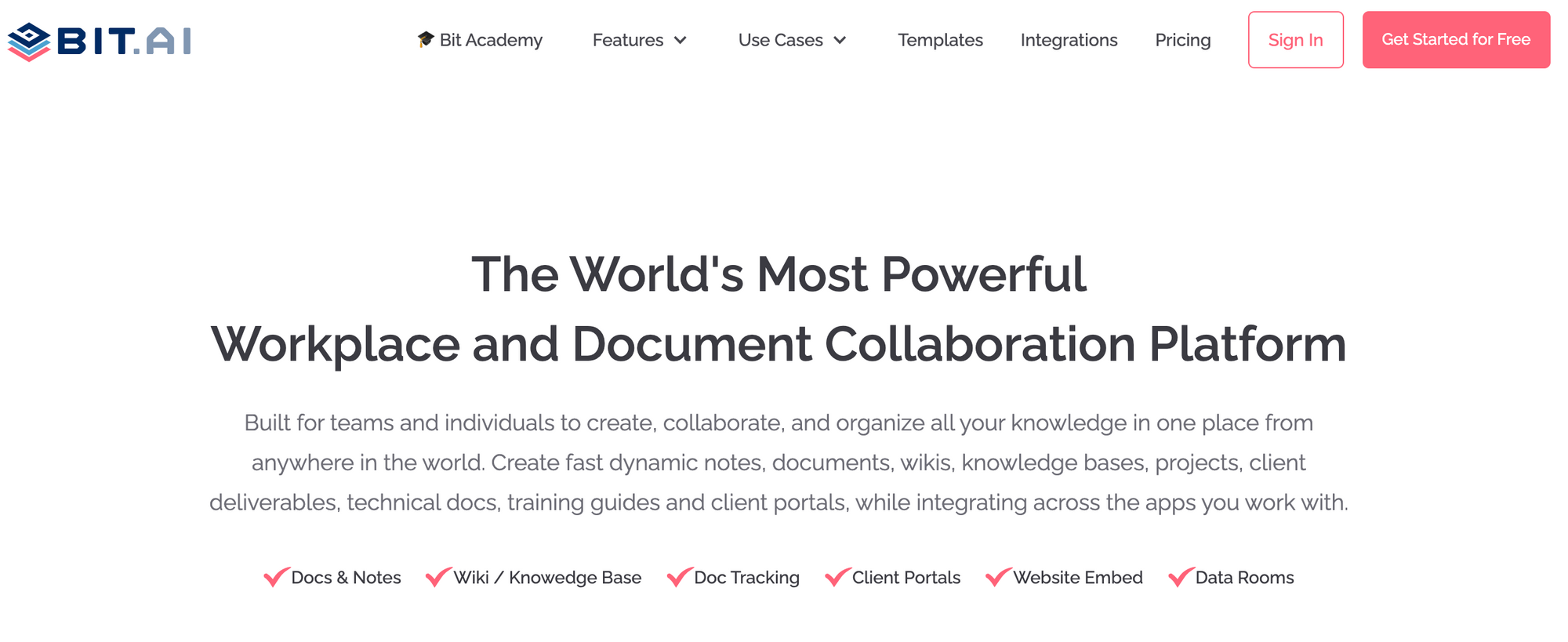 This is an online platform that has a well-nourished tool. Helps teams create, manage and track their documentation like proposals, sales desks, training docks, company policies, fact sheets, eBooks, and many more from its larger storage space.
This platform allows users to send documents to external partners or clients and track and manage them; in addition, the tool saves images, files, and digital content that you included in the document or workspaces. The team can continue working together by giving feedback, and suggestions, adding comments, and doing online discussions together.
Bit.ai has the following features:
Improved security controls.
Engagement analytics.
Customizable interface.
High document editing.
Digitalized content management.
This platform can fetch any content from other platforms like;
Instagram
GoogleMaps
One drive
Google drive
GitHub
Soundcloud
Dropbox
Kickstarter
Giphy
12. Pumble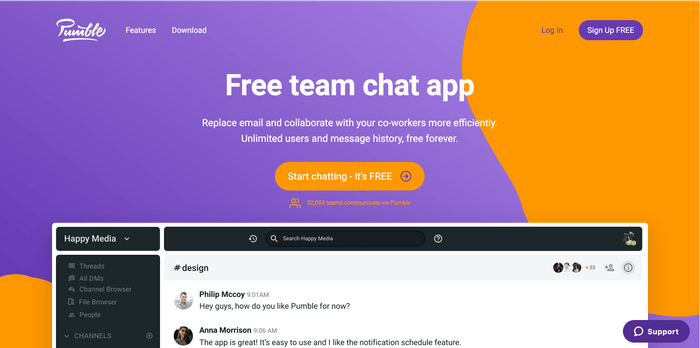 Pumble is a free communication and collaboration tool that offers features like instant messaging and file-sharing. With its notification setup and availability options across various platforms (desktop, mobile, and web), Pumble makes sure you don't miss any important updates from your coworkers. A great enabler of productive team collaboration, Pumble provides free unlimited chat history and unlimited users — a great solution for large teams working remotely. Additional Pumble features to have in mind include:
Creating private and public channels to discuss various topics with your team.
Pinning important messages to ensure information flow.
Replying in threads to avoid channel cluttering.
Guest access for third-party communication.
Search options to find important files, messages, or members.
So, if you're looking for a tool that merges effective communication, seamless collaboration, and maximum security, Pumble will cover all of it.
13. Weje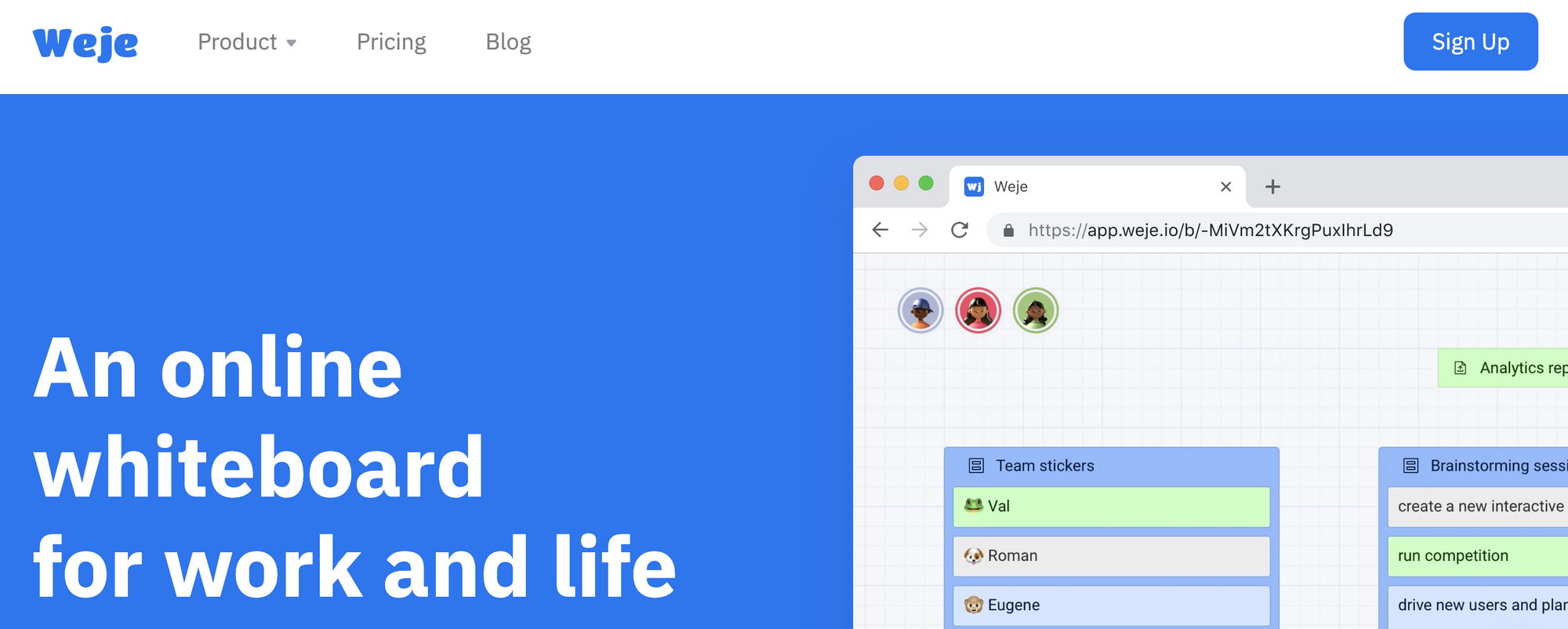 Weje is a free online collaboration tool that helps remote teams synchronize their actions. This is a digital whiteboard where users can keep, edit, and share information, including documents, tables, and media. Weje allows organizing data with a drag-and-drop action into cards. With nesting cards or by using templates from the library, users can create repositories, data hubs, Kanbans, workflows, moodboards, and design prototypes.
14. ProProfs Project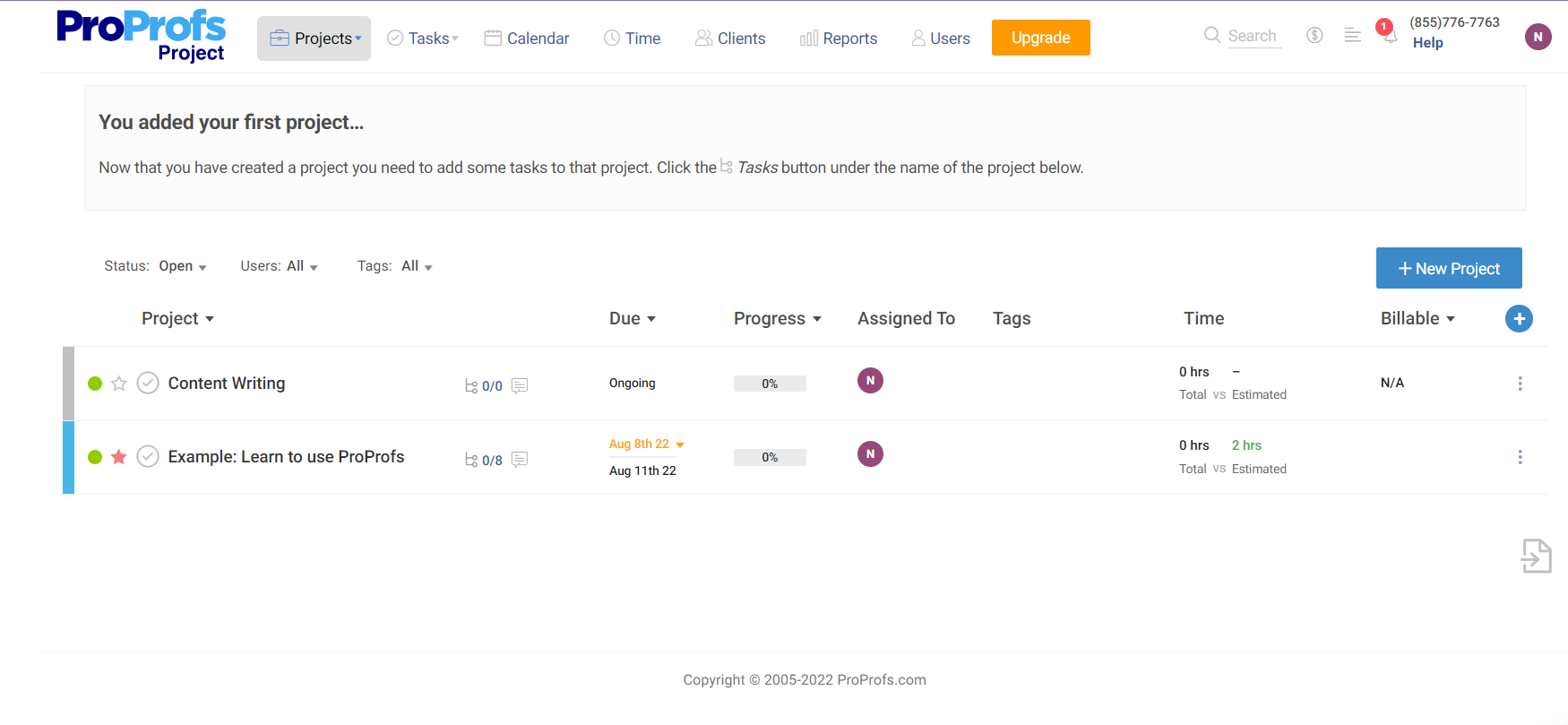 ProProfs Project is a simple yet powerful tool for improved team communication. It provides a collaborative space for team members to accomplish great work together. With quick onboarding, you can set up your project dashboard within minutes. You can create tasks and subtasks, delegate them to team members, and define due dates. This allows everyone complete visibility into task responsibilities, steering clear of driving without a map.
Using the tool, team members can give and receive instant feedback through task comments. You can even share files and documents on the move. Besides, its robust reporting capabilities provide rich insight into key project metrics, allowing you to discuss roadblocks and deliver work on time and within budget.
A few noteworthy features of the tool are:
Gantt, Kanban, List, and Calendar views
Time tracking
Drag and drop functionality
Customizable workflows
Task prioritization
Task dependencies
Milestone tracking
Real-time notifications
Presentation-ready reports
Anytime, anywhere access
15. nTask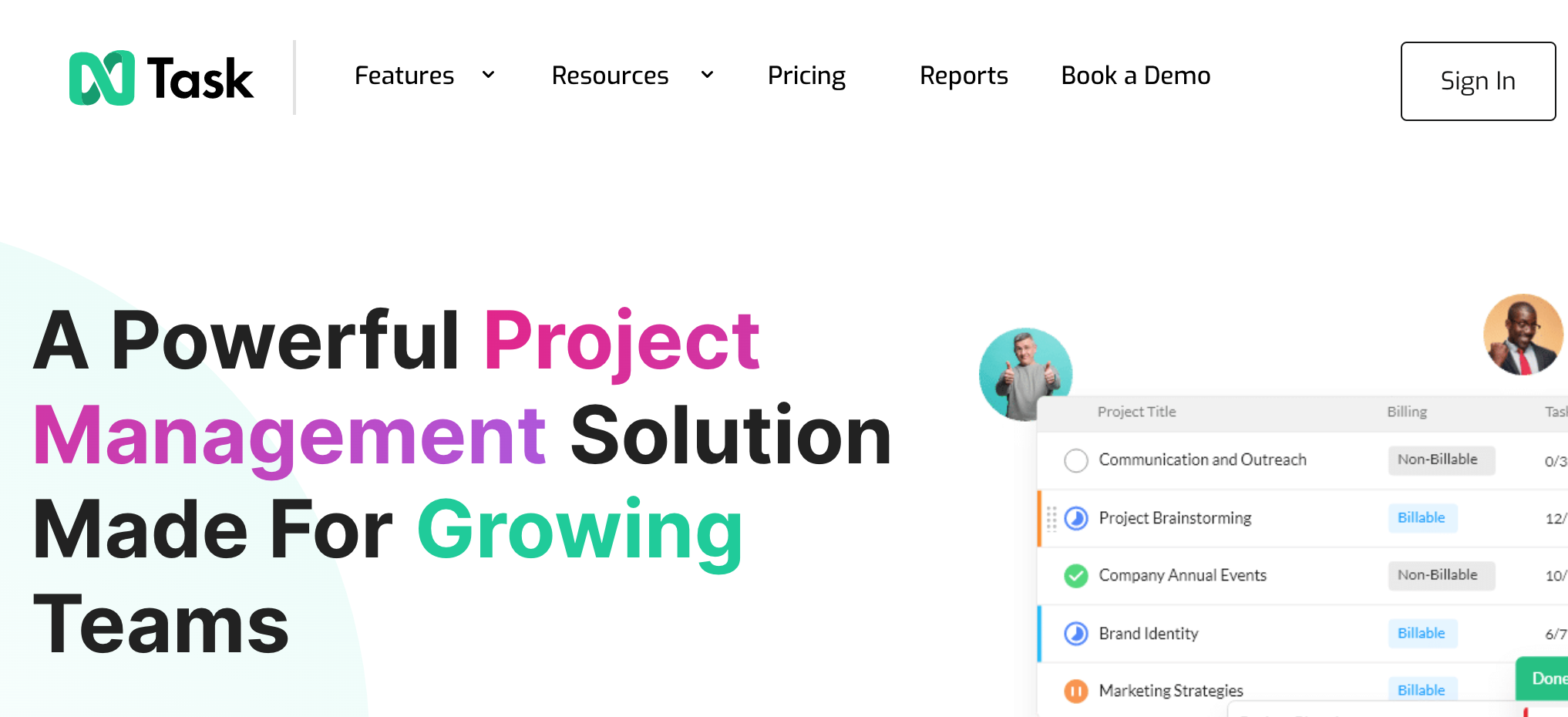 nTask is an incredible task and project management tool that allows all of its users to communicate and collaborate among themselves using the collaboration features and meeting management features.
The application helps managers and their team members track and manage the tasks that they have to perform regarding the project development process.
It also helps make sure that there are no blank spaces when it comes to communication and collaboration among the team members, and that they can discuss anything and everything related to their work regarding the project development process.
Here are some of the features that this incredible collaboration tool:
Task management
Project management
Risk management
Team management
Issue tracking
Collaboration tools
Commenting
Easy-to-use Interface
16. Canva Whiteboards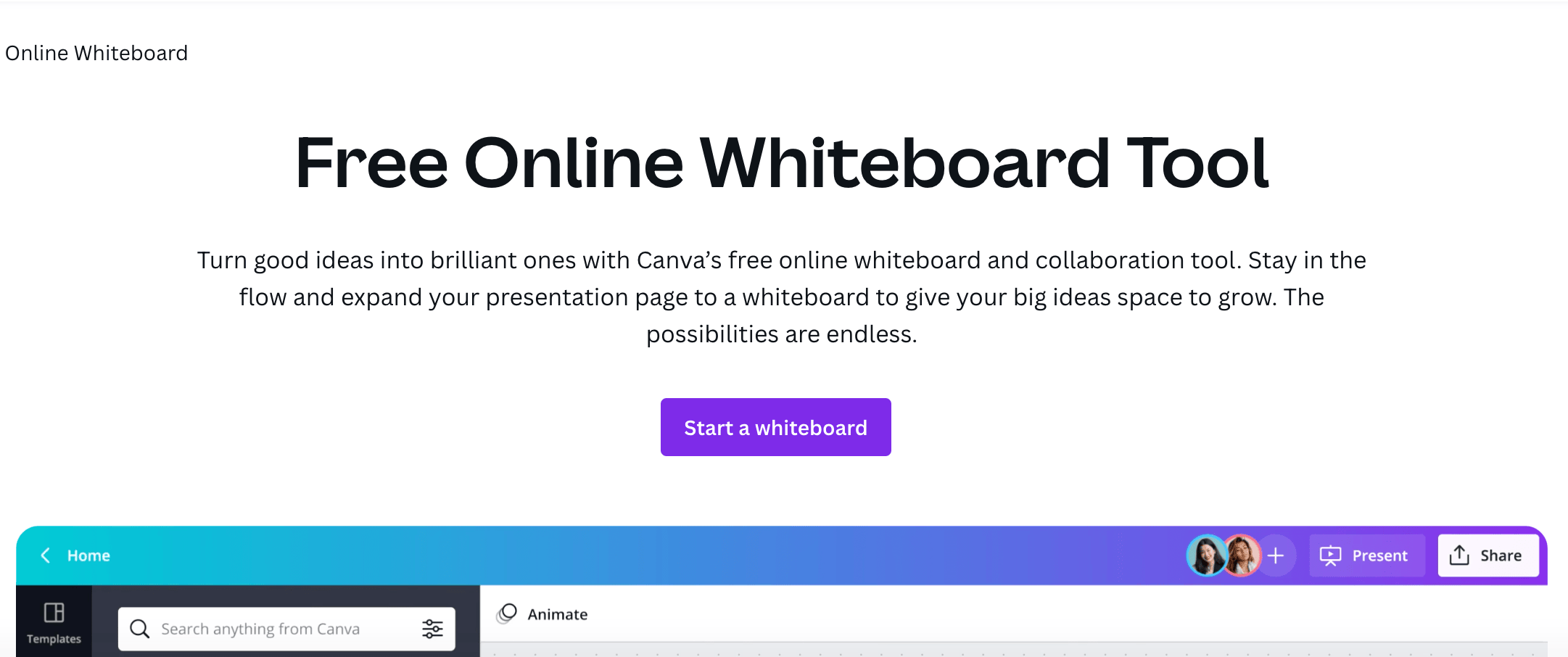 Canva Whiteboards is an ideal collaboration tool if your team likes to run brainstorming sessions and polish project details together. It gives you an infinite digital canvas to flesh out ideas, create diagrams and graphs, and plot out timelines.
Your team can work on a digital whiteboard in real-time, resulting in improved decision-making and better quality of work. Plus, you keep everyone engaged through comments and emoji reactions. When you're all done, you have lots of sharing and export options.
How's that for teamwork?
It's free
You can use the built-in timer
Offers one-click transformation from presentation to whiteboards and vice versa
Is customizable with lots of free templates and millions of images and graphics
Has a "Present" feature for easy conference call presentation
17. NapoleonCat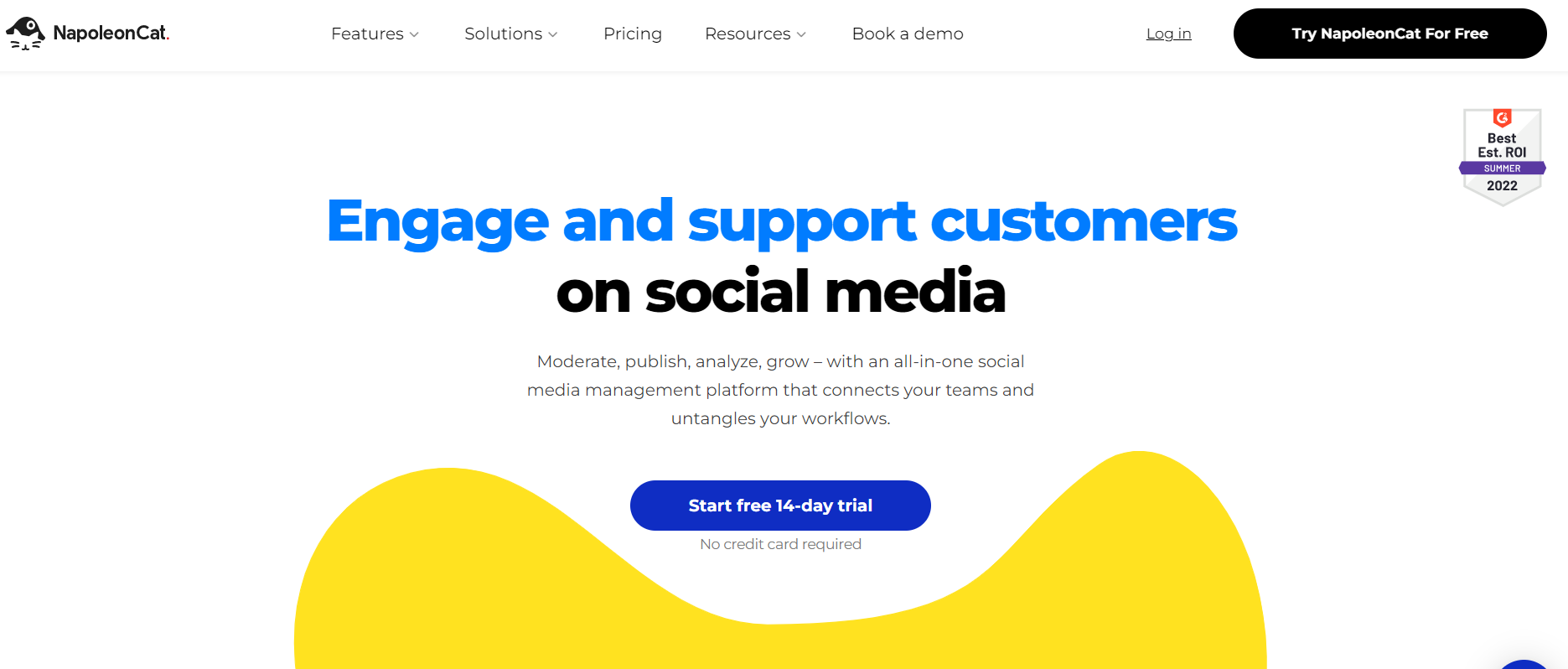 If you manage your brand social media profiles in a team, NapoleonCat is your best ally. You can assign conversations to team members using one unified inbox. They'll see their tasks in the "My tasks" folder. Whenever they're in doubt, they can consult with others using the comment thread or the built-in email consultation feature. Most importantly, everyone on the team can see who's doing what in real-time, and any potential mishaps or overlaps are a no-go. NapoleonCat's most distinctive features include the following:
Unified inbox for all social media comments, messages, and other conversations (including Facebook and Instagram ad comments, Google reviews, and Instagram DMs).
Real-time collaboration view in Social Inbox.
A social media scheduling tool for multiple platforms and different types of posts.
Moderation reports with response time and rate per every team member.
Social media analytics for your and your competitors' social media performance.
18. Mockplus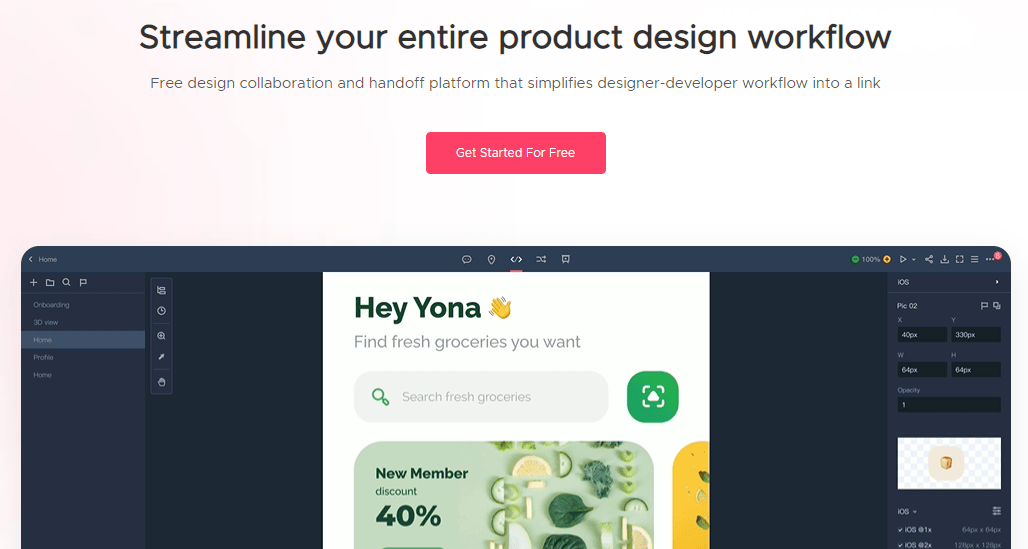 Mockplus Cloud is a web-based collaborative platform where product design teams can collaborate effectively and hand off prototypes or designs more efficiently. It gets each product team member connected and simplifies the entire design-to-development process.
Mockplus Cloud enables you to:
Import designs from Sketch, PS, Figma, and Adobe XD;
Handoff designs to developers with accurate specs, assets, and code snippets;
Collaborate and manage design tasks with ease;
Track your design process in real time;
Write PRDs online;
Build and customize your style guide;
Import Mockplus RP prototypes.
19. Pitch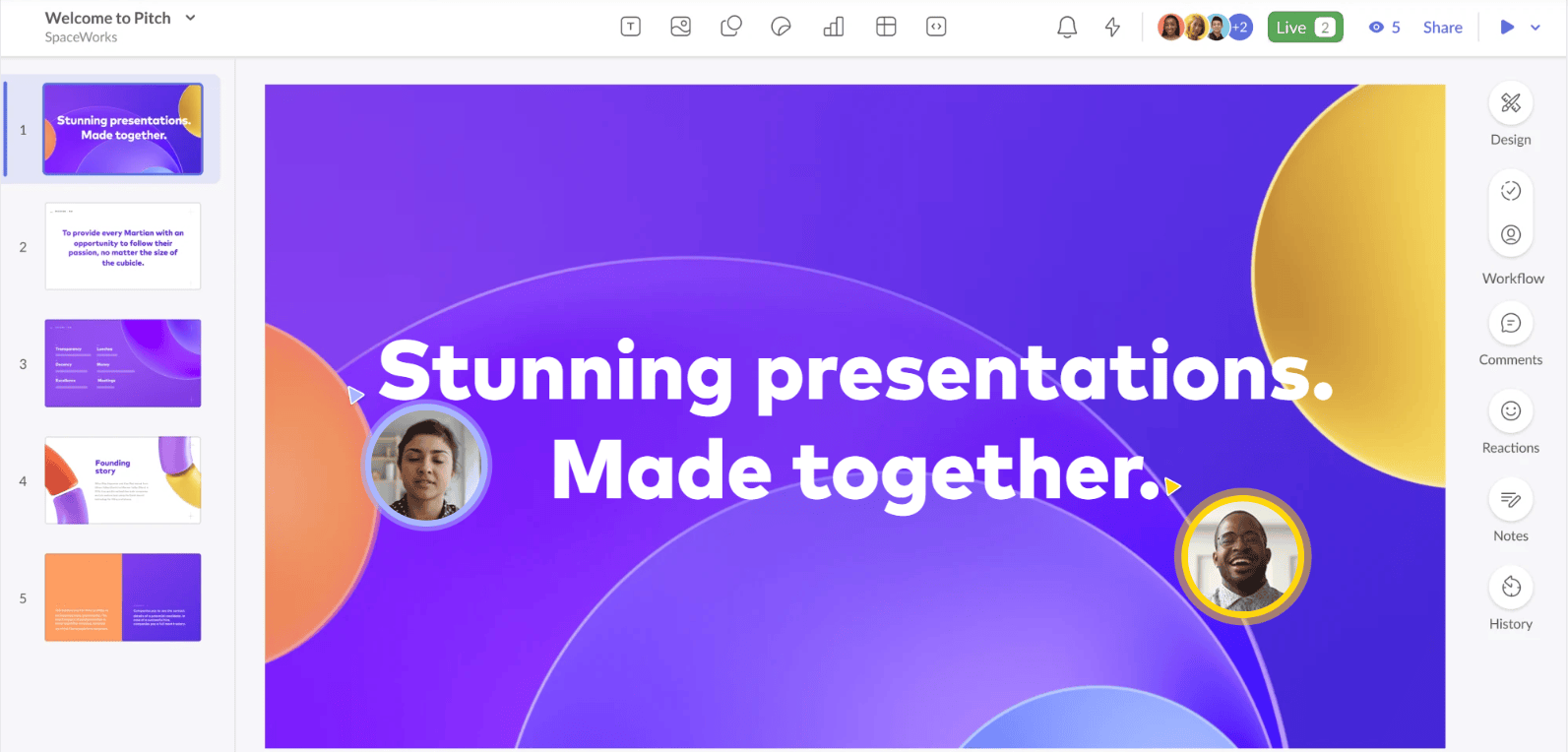 Pitch is a pitch deck collaboration software that allows you to create and present beautiful presentations easily. With Pitch, you can quickly put together slides using dozens of professionally designed themes and templates. You can also collaborate with your team in real-time, so everyone can work on the same presentation at the same time. You can also get instant feedback from teammates for a better outcome.
The software also includes a range of tools for collecting data, such as slideshows, polls, and more. The software is also equipped with an analytics dashboard that allows you to track your progress on any given project. Pitch is one of the best online collaboration tools to help streamline presentations and ensure success.
Pitch offers the following features:
A range of professionally designed themes and templates for easy slides creation
Real-time collaboration with team members
An analytics dashboard to track your progress on any project.
Bottom line
Today's world has grown widely in technology, forcing companies and business organizations to adapt faster to incorporate the technology. Many businesses have teams that help them run their activities or projects to maximize production.
Online collaboration tools have emerged specifically to make the work team carry on their projects collectively by sharing documents, having online meetings, discussing online, managing projects, and tracking how the employees participate. But before using these tools, an organization is advised to select the best online collaboration software for the intended business, the cost, and how much it can deliver.