How to Track Employee Performance (Details & Template)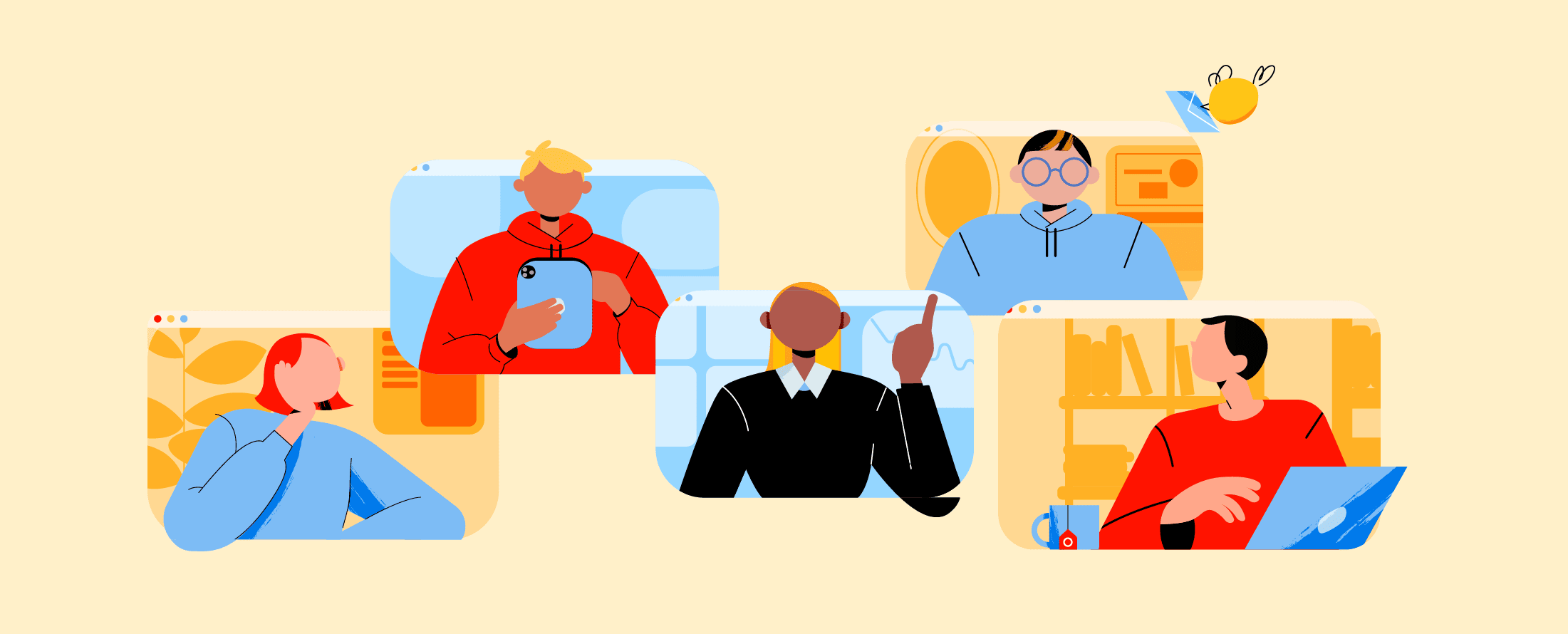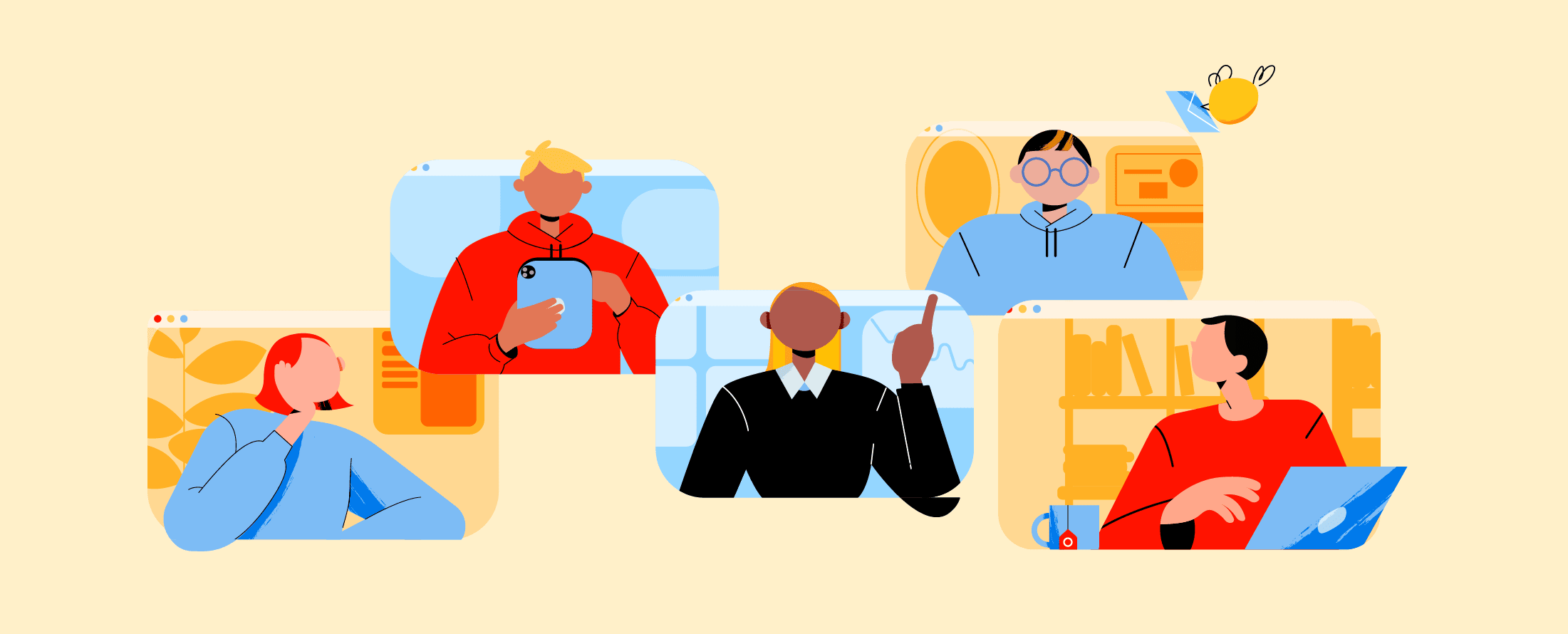 Tracking employee performance is paramount since it's the age of unprecedented technological advancement and hair-splitting productivity analysis. No company can afford to go beyond this norm to stay in the competition for too long. Competitors are breathing on your shoulder, and getting ahead of them once won't guarantee you a perpetual respite. So, to compete with them with surgical precision, you need to build a solid workspace where the performance of the employees would be accurately tracked, errorlessly analyzed, and perfectly conceptualized.
This article discusses modern techniques for tracking employee performance, giving away tips and tricks, providing tracking templates, and recommending Apploye as the best bet on your employee performance improvement.
Why is employee performance necessary?
Learning how to track employee performance is necessary to accomplish the firm's strategic goals without having to confront any obstacles. It is critical to improving employee performance to keep track of employees' progress in terms of their personal growth and development. This will help employees improve their skills and capacities.
It would be best if you started tracking employee performance to determine whether or not your workers are putting in their utmost effort to complete the tasks required of them in their jobs.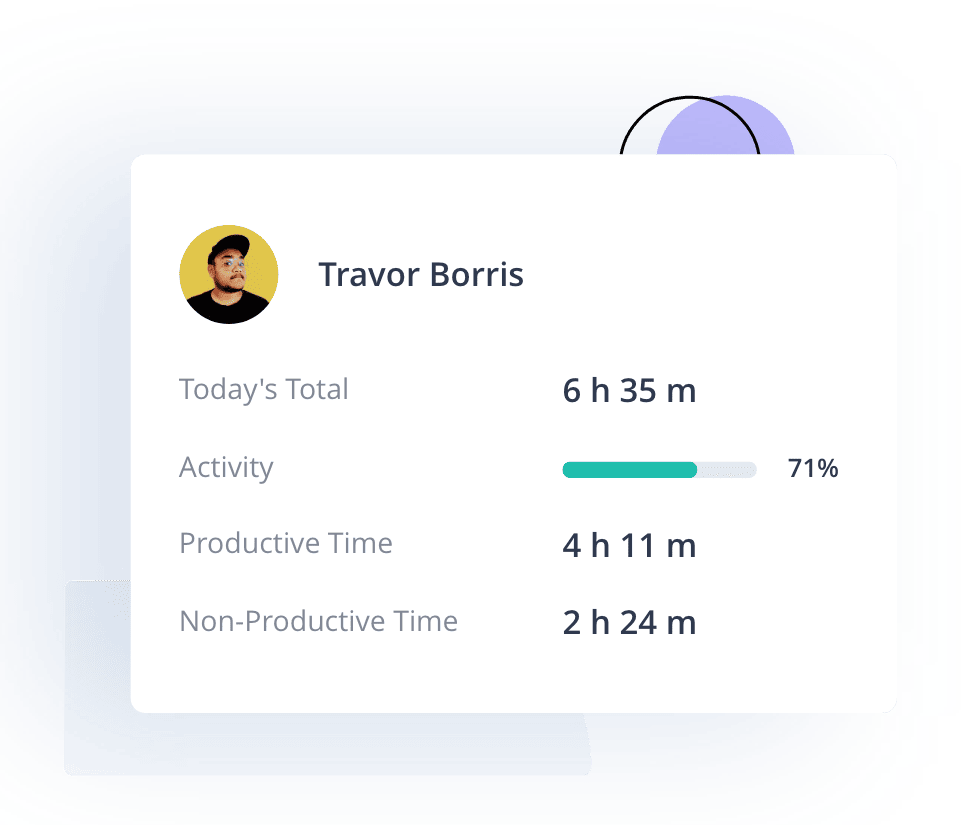 How to track employee performance?
As you go through to learn how to track employee performance, you will find terms crucially related to the tracking process, and you have no manners but to learn them if you want to make the process effective from the core.
Below are some of the processes that are involved while you go tracking employee performance.
Choosing performance standards wisely
The performance of each worker throughout a specific time can be measured with a critical indicator called an employee performance review. Therefore, these assessments will show the areas in which an employee is doing a fantastic job and the places where they need to improve.
Learning how to cope with tracking and setting standards accordingly is the single most significant step in infallibly tracking employee performance.
Two of the most prevalent processes in tracking employee performance with the hope of scintillating repercussions are OKR and SMART processes.
OKR
According to the framework "Objectives and Key Results or OKR" your objective is to define the goal. The objective is then divided into important outcomes or checkpoints so that performance can be monitored along the way.
Here is an illustration of a perfect OKR implementation.
Objective: Make the attendance tracking process a flawless one in your organization.
Key Result:
Use an attendance tracker app to automate the process.
Keep an eye on the employees who are most likely to be late according to their previous behavior patterns.
Make an audit every month to see how effective the process is and where the flaws remain.
You can also use online OKR platforms to define, track, and measure OKRs for your organization. These platforms allow users to easily set goals and get real-time updates and insights into how well their team is performing or if there are any changes needed.
SMART
SMART stands for Specific, Measurable, Actionable, Relevant, and Timely.
The employees are able to better understand their jobs and performance indicators with the assistance of this framework.
Here is an illustration of an effective SMART implementation.
SMART goal: Make the attendance tracking process a flawless one in your organization. (the same objective that was set for OKR).
Specific: Find out what were the problems regarding the attendance tracking system and why they happened in the first place.
Measurable: Find a process of measuring the effectiveness if you introduce a new process in tracking employee performance. Learn how to measure or compute what went wrong.
Actionable: bring time tracking software that can record employee attendance and make the process automatic with the help of effective clock-in and clock-out.
Relevant: Keep the process inscribed within, only checking the attendance. Don't micromanage the employees to learn if they are taking advantage of the overall system, i.e., keep some space for them and stay relevant in your job.
Timely: Make an audit within the first month of implementing the attendance tracking system and see if it came into your organization to stay.
Criticize strategically
Making criticism harsh and pointed is a very aggressive practice that reduces employee morale. Learning to criticize is a considerable factor in the organization; employers tend to exert their power nowadays. No matter how efficient and resilient, employees can be morally downtrodden if they face harsh criticism. This is a point you need to grasp with your heart while learning how to track employee performance.
So be diplomatic yet straightforward with your criticism. Be concise with your words but don't upset your subordinates. Learn to help them, not to obliterate their mindset. Praise them in front of others but criticize them in private.
The employees can better understand their jobs and performance indicators with the assistance of this framework. It would be best to keep a level head and always tell the facts without embellishing or playing down the situation. Therefore, your employee will be more likely to tell the truth and attempt to find a solution to a problem.
Communicate, Communicate, and Communicate
When communication inside an organization is inefficient, it can result in missed opportunities, deadlines, a significant decline in production levels, friction between personnel, and the failure of the business to fulfill its goals.
For employees to enhance their performance, they would need to communicate effectively in the same way managers convey goals and feedback. They shouldn't be afraid to ask their managers for clarifications on their performance expectations whenever there are questions about those expectations.
Therefore, efficient communication is essential to the development of positive interpersonal and workplace connections, as well as to the facilitation of collaboration. On the other hand, inefficient communication can have a detrimental influence on business relationships, the performance of employees, and the effectiveness of organizations.
Don't go beyond your domain
When you micromanage an employee, you are transmitting the message that you do not trust them to be able to work independently and generate promising performance on their own.
There are circumstances in which this is acceptable, such as when dealing with an individual who lacks appropriate training or when coping with very sensitive workflows. But there are better ways to teach employees the skills they need to do their job; micromanagement leads to employees becoming frustrated with management, increasing workplace anxiety and wrecking their trust in leadership. There are better ways to teach employees the skills they need to do their job.
It is always to the benefit of managers to keep in mind that there is a specific purpose behind hiring their staff members. They were the best candidate for the job because of the talents and experiences they bring to the table, so you should let them accomplish the work for which they were hired.
So, staying within your limit and getting the best out of your team is what you should be doing. Breaching the domain threshold only hurts your managerial competency and put your employee performance into jeopardy.
Monitor the work on regular basis to track performance
All interdependent tasks suffer if one is delayed. Your project's expenses could skyrocket due to these delays, and your company is losing millions before you realize it. Review work-in-progress frequently to prevent this. With this proactive approach, you may identify issues before they arise and address them appropriately.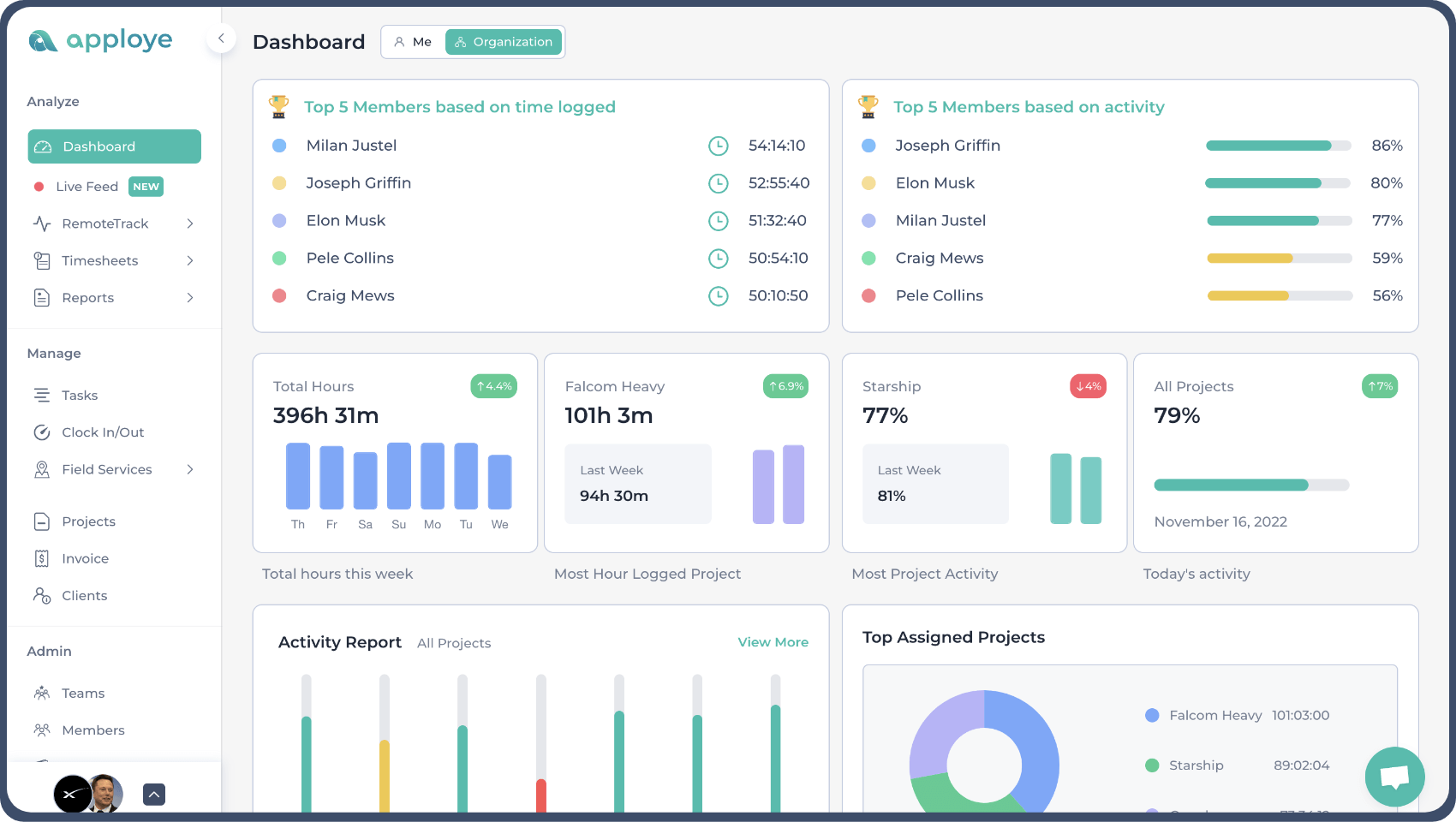 Ask your employees how they plan to connect their aims and objectives to advance the organization. If your staff fully grasp their responsibilities and goals, doing so will assist you in gaining a comprehensive understanding of the scenario.
You won't overlook any necessary information if you continuously monitor an employee's performance. Additionally, you would find it much easier to produce an annual report.
Introduce a system of performance score
When you share the same office with your employees and interact with them regularly, doing performance reviews in an office environment can be a relatively straightforward pursuit.
Consider the productivity numbers for each of the many initiatives. Analyze how the scores for each employee compare throughout the different projects. You'll get a sense of the kinds of projects they find difficult to accomplish and those that challenge them. After that, you'll be able to delegate tasks and training accordingly.
Use charts and graphs to be more precise and understandable
When you're in charge of several projects and a large number of people working on them, you will always have a tremendous amount of data to manage. This information may include the number of hours worked by each employee, the overdue tasks, the work currently being done, and so on.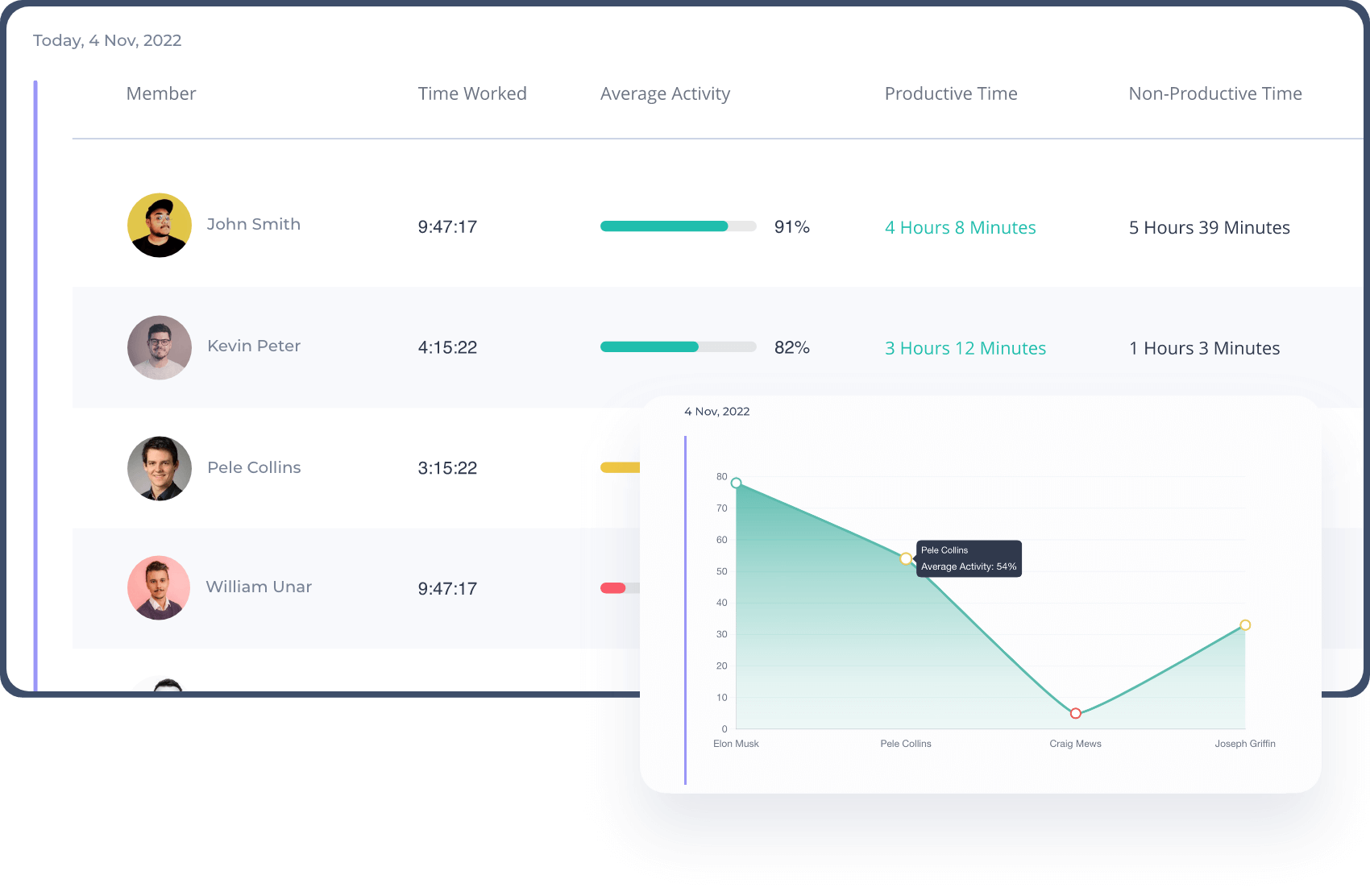 More can be gleaned from the employee performance data when shown visually instead of written down. In addition, it is easier to comprehend thanks to its overt representation and preciseness in depicting the data professionally, both of which are criteria missing from other methods.
When it comes to charts, use your imagination. Utilize the custom charts option of the application for managing projects to generate graphs that will assist you in monitoring employee performance from the time they were hired until the current day.
Set meeting whenever necessary
Setting meetings with the employees in 1:1 fashion is considerably a good decision if you think discussing the performance tidbits with the employees is going to help both the employee and your organization.
The working connection between employees and managers can significantly improve through one-on-one meetings. A one-on-one meeting not only opens up communication channels and helps employees feel heard but also gives line managers essential opportunities to provide clear and direct feedback on employee performance.
Some topics may be covered in one-on-one meetings, including goal setting, progress updates, breaking down agreed-upon goals into smaller chunks, and barriers to completing the purpose (s).
Introduce the culture of re-learning
It will be much more difficult to adjust quickly to the changes if you do not have the passion and the drive to learn. As a result, it can be a disadvantage and impede the learning curve on a personal and professional level.
For a learning experience that is never ending, it is always a good habit to brush up on the skills and knowledge that you have obtained. As the business sector becomes increasingly digitally advanced, there has been a substantial shift in the strategies and organizational workflows. Because of this, the employees are motivated to improve their technological skills.
It is essential to have the opportunity to cultivate a habit of lifelong learning to comprehend the change. This will offer infinite possibilities for adaptation and improvement, which will, in the long run, benefit everyone.
Introduce the feedback loop
Feedback from workers is an essential component of any company to enhance the performance of its workers and foster their professional growth. It must be helpful, delivered on time, detailed with all the relevant information, and honest. This is another point you need to grasp with your heart while learning how to track employee performance.
Feedback helps provide direction by pointing out key performance indicators and enabling team members to understand better their advancement toward achieving a goal. When every team member is aware of their place on the team and the responsibilities that come with it, the group will be able to accomplish more of its objectives.
Therefore, if you want to enhance your skills as a team leader and as a feedback provider, learning to receive feedback can help you do both of those things.
Conduct survey to improve the whole process
Employee surveys give you the ability to assess employee engagement and levels of satisfaction by allowing you to collect feedback and monitor the progress of workers in real time. This puts you in a much better position to execute the adjustments that your company requires.
Employee surveys, on the other hand, should have well-defined goals and questions that are actionable. You need to make sure that your team is aware of the survey results and that critical findings are acted upon.
Templates for employee performance tracking
Below are some basic templates for employee performance tracking that you can use to get a synopsis of your employee performance.
An overall employee performance review template
Through this template, you will be provided with the criteria of technical skills, productivity, attendance, and teamwork. These standards of performance ought to be adhered to by every employee. When you check each ability, you will notice that you have received grades ranging from unsatisfactory to good to superb.
Download: Excel • Google Sheets

Annual employee evaluation template
This template provides an annual summary of the performance standard outcomes of your previous reviews and gives you a boost in mastering how to track employee performance.
This template does a better job of describing individual goals than it does quantify them. You can list an employee's accomplishments since the previous report with the help of an annual template. It would be best if you also took heed of their limitations.
This template provides information as well as illustrative examples. This template also includes one more column for your convenience. Both you and your workforce must receive feedback from employees regularly. This is the most effective method for resolving issues that arise inside a group.
Download: Excel • Google Sheets
Apploye- tool that can precisely track employee performance
The only solution you can rely on is Apploye if tracking employee performance prevents your business from growing and diverting you from the rise in business profitability.
Apploye is a time tracking software that tracks employee performance with the highest level of accuracy. Owners and management can unleash a company's actual growth potential by using Apploye to execute systematic monitoring and control, resulting in higher productivity and error-free performance tracking.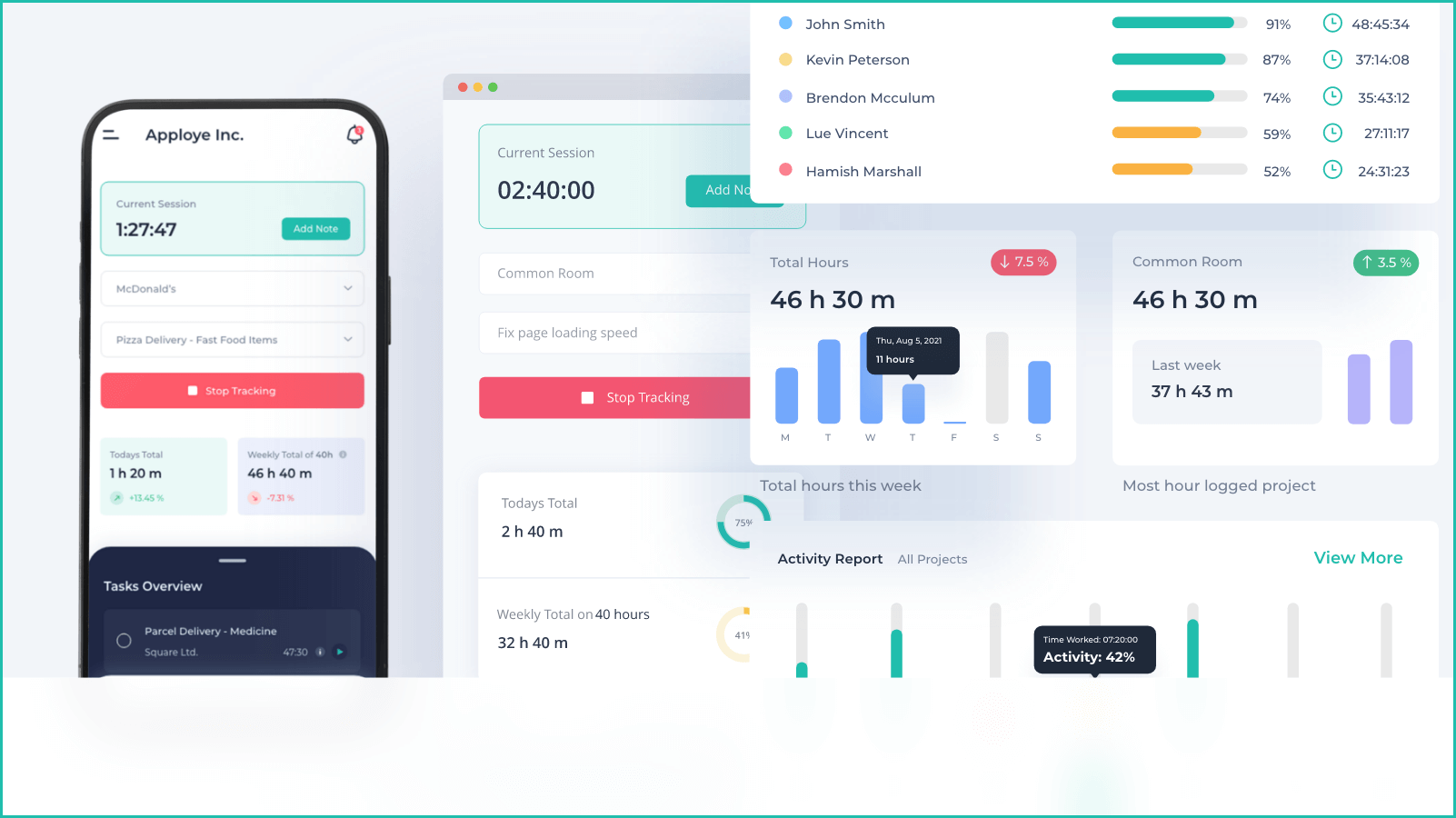 Even while it primarily aids startup businesses, other businesses of any size may benefit from adopting the program. Because of its well-organized user interface and functionality, the program is simple to use and understand. Create infinite projects and tasks with ease using the user-friendly Apploye platform. These guidelines will make it easy for you to input the project budget, track expenses, and fulfill the deadline.
Instead of providing the same user experience across all economic sectors, the platform is modularized into Add-Ons that meet your needs. Therefore, it makes no difference if you are a mobile workforce or a remote agency because we have all your needs covered.
Again, Apploye is the best option for the user's needs if you have a hybrid force that combines deskless, on-desk, and remote workers.
Why Apploye is the right software for tracking employee performance
Tracking employee performance through the templates mentioned above may be a good option if you think tracking their performance doesn't need that much attention.

However, a professional person in business with a top-level business mindset and understanding must think of a solution that can dramatically change performance-related issues and skyrocket your business's profitability drastically.
Apploye provides benefits that are difficult to discover in other time tracking techniques and employee performance tracking, such as Excel or any other that you may have used in the past.
These benefits make Apploye an attractive alternative to additional time tracking methods. These benefits range from the exceptional facilities that Apploye offers to the time tracking functions that it provides.
Below are some of the top-notch features of Apploye that you should consider while tracking the employee performance with it.
Tracking time to keep a note on employee performance: Suppose you are unaware of how Time is handled in your organization and how you should track employee performance. In that case, managing the productivity curve to an upward trajectory will be difficult for you to accomplish. Both manually update their timesheets and track their Time through Apploye's user-friendly online interface, which is available to employees using the time tracking software.

In addition, Time can be tracked through the use of our browser extension as well as integrations with services provided by third parties. You can establish a prompt workforce with Apploye's automatic and manual Time monitoring features. This is an excellent aspect of attaining your team's best performance possible.
Clock-in Clock-out for accurate attendance: When an employee starts using Apploye to track their time, he is immediately clocked into the system. When the employee stops using Apploye to track their time at the end of the day, this can be considered a clock out. This makes it possible for the management to keep easy track of staff attendance without worrying about losing data or manipulating it.

You can examine and review your members' attendance reports at the end of every calendar day. This is a superb tool that allows for the tracking of attendance and the creation of a workforce that is punctual.
Remote tracking features for keeping remote employees accountable: If you manage a team that consists of remote employees, one of your biggest challenges must be keeping those employees working for most of the day. The sophisticated RemoteTrack features that Apploye offers, on the other hand, can rescue you from the predicament you're in.

Screenshots, Activity monitoring, Apps, and URL usage tracking are the essential elements that are included with this add-on. Every ten minutes, the Apploye desktop program will capture a screenshot of the remote employee's computer screen, which will be chosen at random. The settings allow as many as three screenshots to be taken every ten minutes.

Once again, Apploye can monitor the activities of its users on the internet by keeping track of the URLs they visit. In addition, it monitors how often the app is used to check that the employees are employing the appropriate apps for their tasks. This suite of tools enables you to monitor and keep tabs on the performance of employees working outside the office or from their homes.
Dashboard where you'll get everything: The Dashboard serves as the central command center for Apploye and is capable of displaying anything and everything connected to the productivity and performance of employees. The best performers can be found at the very top of the Apploye dashboard.

This is determined by the total length of time recorded as well as the number of activities that have been finished. Keeping an eye on what your employees are working on and recognizing the areas in which there is an opportunity for growth is one of the most effective ways to increase your team's productivity.

You will be able to gain a transparent and trustworthy perspective on the performance of your team members, which will enable you to improve the effectiveness of your organization as a whole.

Therefore, if you want an overall picture of how well your team is doing, the Dashboard that comes with Apploye will be the most appropriate one you can find in the Dashboard.
How to start tracking employee performance by Apploye
Follow the following six steps below to keep track of employee performance with Apploye.
Step 1: Create Apploye account
You can start a new organization after providing all your required information. Employees must first select "Join an Existing Organization." Next, name your company's Timezone—next button. Select "Next" after adding a new project. Determine the next steps. Invite friends to the event (You can add them later too). Start by clicking "Start."
Step 2: Create projects and assign members
Navigate to "Projects" using Apploye's side panel. Click "Save" after naming and detailing the Project. Once the Project is public, your team can start tracking their time. You may edit the Project," which is under the "Actions" menu. Add an hourly rate or set wage under "Add Billings & Hours." Estimate project costs. When in Project, you can add a task. Save changes after doing all of these.
Step 3: Download Apploye App
Click "More" on the Apploye website (at the top), then "Get" to download the Apploye Desktop software. You may also download the app by clicking here. Apploye auto-detects your computer's OS. Choose "Get Apploye for" from the dropdown menu. Installing the application is as easy as you like!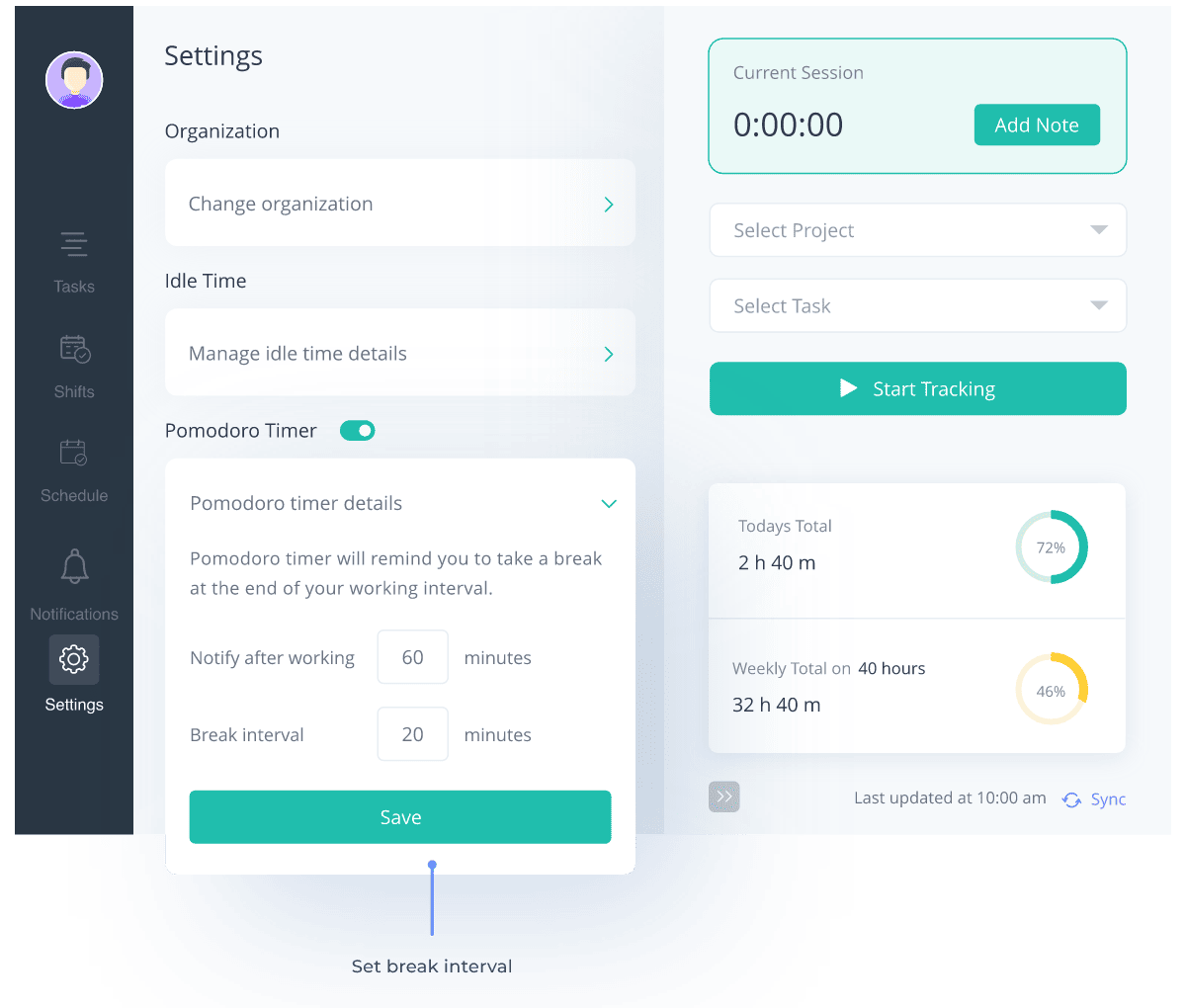 Step 4: Create and assign a project
You must now do a project that can be completed using the desktop or web apps. By opening many tasks within a project, you can start tracking time against many tasks at once.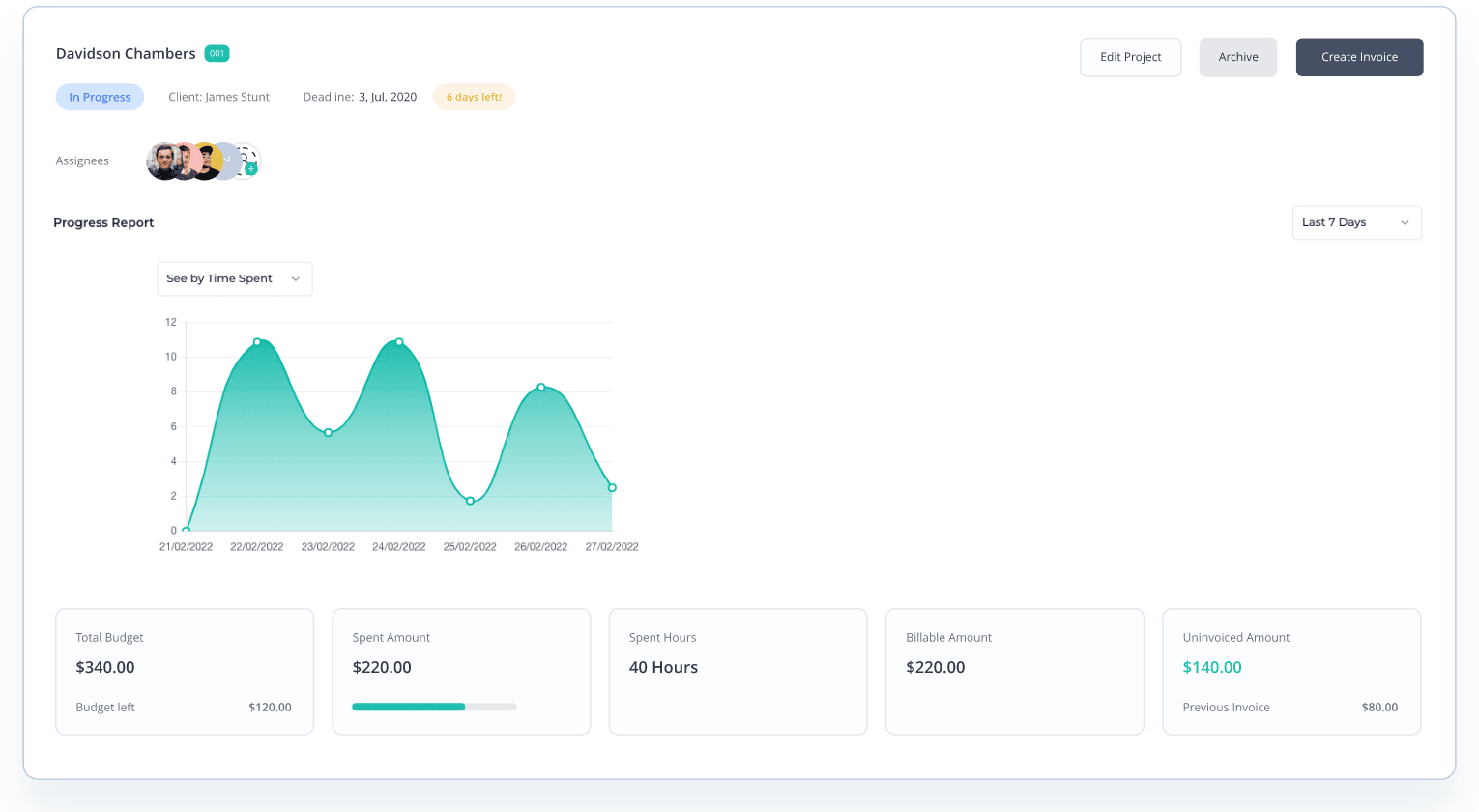 Step 5: Automatic entrance of time in timesheet
By selecting the 'Start Tracking' button in the Apploye app, you can start keeping track of your time. It would be best to decide which project you want to track your time for. The Desktop software allows for the addition of tasks under projects.
Step 6: Reports on Tracked Time in CSV and Excel format
You can export a report on the monitored time recording for each employee from the Reports area of your dashboard. Furthermore, it is broken down into three sections, namely "Time and Activity," "Manual Time," and "Apps & URL Usage," respectively.
Conclusion
Learning how to track employee performance in the mercantile world has certainly got its upside as companies focus more on getting the most out of their employees in the limited work hours. However, modern distractions require modern technology to be wiped out, so we suggest Apploye as the best employee performance tracker to track their performance. Start monitoring with Apploye to see how your productivity surges and your performance improves as days pass.