Upwork Review: Why You Should Use it in 2023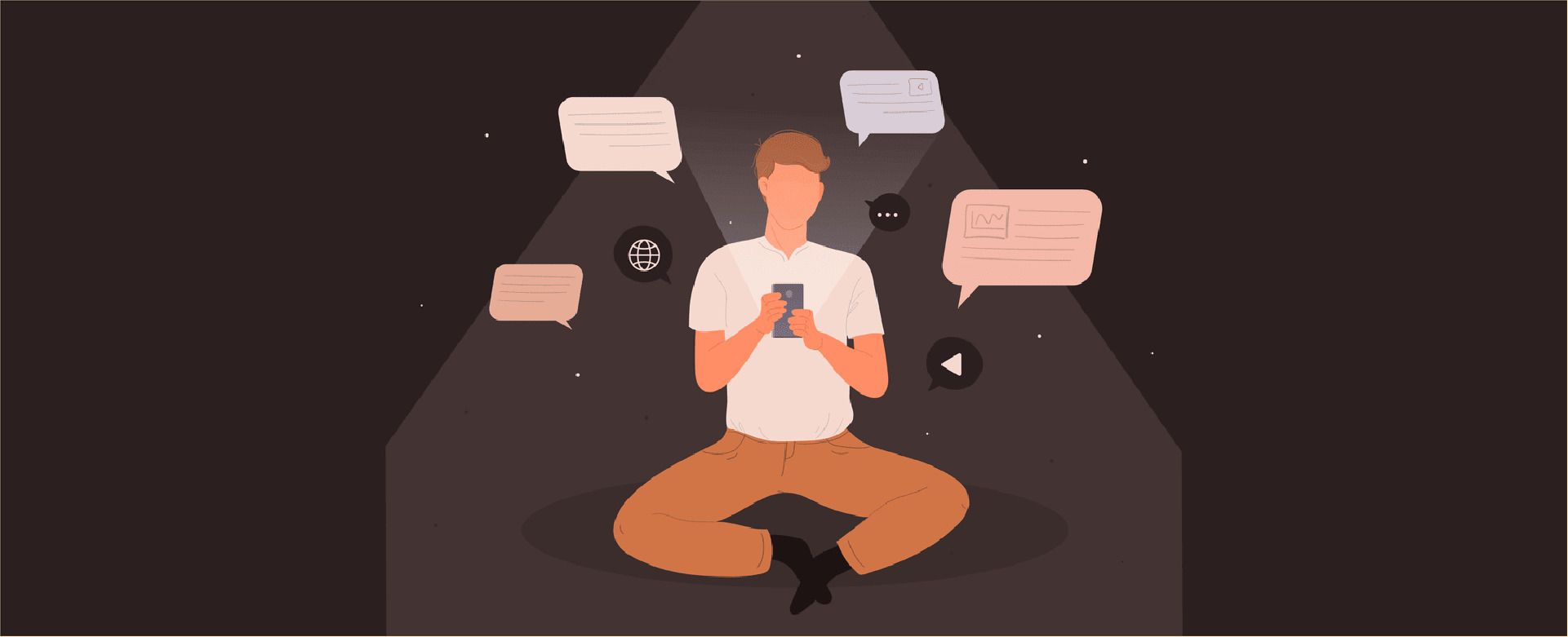 Have you ever wondered how the word; "Freelance" comes into our collective consciousness?
The origin of words never ceases to amaze me; if we trace back the origin of "Freelance," we will be surprised to know that it is way older than the word "internet." Nowadays, we cannot think of the word freelance without the internet.
With the evolution of the internet, freelancing has been digitalized and found a place on our screens. Now people can easily contract a 'medieval mercenary warrior'/freelancer and can get the job done by them. Professionals all over the world began taking advantage of the opportunities available, and now virtually anyone can become a freelancer.
More than 40% of the American workforce will be freelancers and independent contractors by the end of 2020, and in 2023 this percentage will only increase. And this whole revolution was made possible by the top freelancing platforms like Upwork- 'A world of opportunities.
Upwork is the biggest and the most popular online marketplace. It is the symbol of the ultimate freelance corporatization, where Upwork has industrialized freedom.
This form of industrialization has both pros and cons in its bag; we will discuss both of these aspects and demonstrate "Why you should use Upwork in 2023" from the clients' and freelancers' perceptions.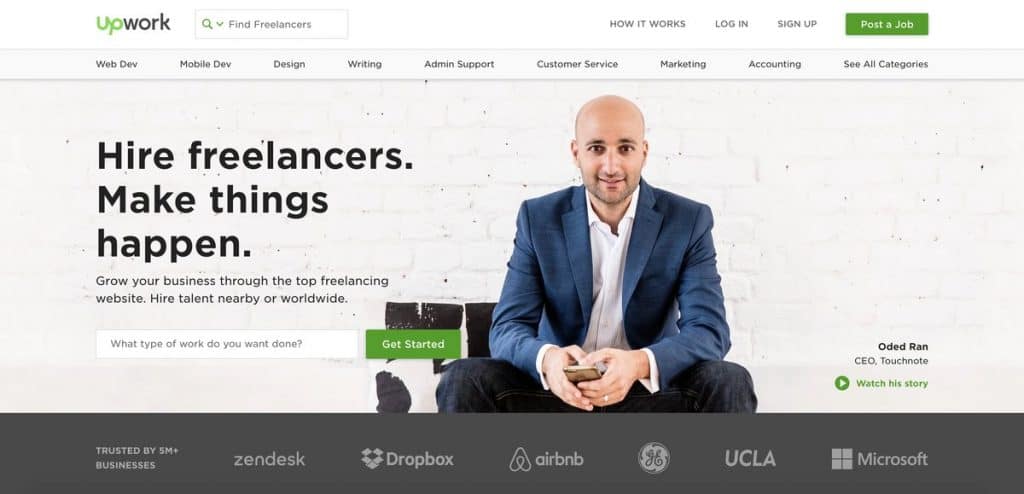 Upwork Review: What is Upwork and How Does It Work?
You have already got the idea of online freelancing websites. In 2015, two of the popular online freelance platforms E-lance and oDesk, merged to form Upwork with the motto "Upwork makes it fast, simple, and cost-effective to find, hire, work with, and pay the best professionals anywhere, any time."
So basically, Upwork is a generic bidding freelance marketplace of non-vetted freelancers.
In simple terms, the Upwork website is a freelance marketplace, more like a virtual place where people can find passionate talent to hire to do work for them. Who are independent contractors looking for gigs in the freelance platform, Upwork talents worldwide can do any work that can be done remotely, and there are no other limits.
According to the latest statistics, Upwork has over 18 million registered freelancers with 5 million registered clients, where 3 million jobs worth over $1Bn are posted annually, making Upwork the largest freelancer marketplace in the world.
With the arrival of the ' gig economy', people are leaving the security of full-time jobs to pursue different opportunities as passion. Many independent, talented professionals are signing up on free marketplaces like Upwork to offer their services.
With world-class training, even attorneys, CMOs, and consultants are choosing to work independently.
Freelancing is incredibly efficient for individuals as they can choose their assignments and work schedules according to their passion and freedom. It is great for organizations to hire talent that may not be available in-house or even on the same continent. By the end of 2017, the analysis showed the average business started to hire more than 25% of its workforce as freelance workers in 2015.
How much does Upwork Charge?
Most of the fees of the Upwork are applicable for the freelancers: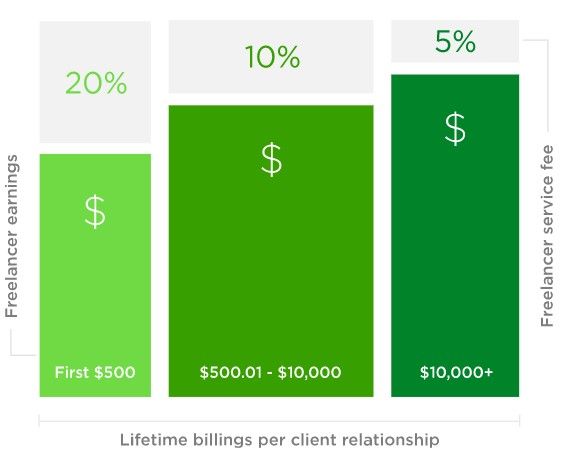 Freelancers have to pay 20% of their earnings until they hit the $500 billing; from $501 to $1000, they have to pay 10%, and from $10,000+, they have to continue with 5% of their earnings for a lifetime.
Besides the fees listed above, freelancers also have to pay the withdrawal fees, and the amount of those fees depends on the withdrawal method they use.
Upwork also has its currency; freelancers have to buy and spend the " Connects" to apply for a job on the platform. Connects cost $0.15/each, and they have to be purchased in bundles ranging from 10 to 80 connects. Based on the job category, it costs between 1 to 6 connects to apply. But obviously, those costs will affect a freelancer's price.
On the other side, clients will be billed a 2.75% payment processing fee every time they pay a freelancer. You can also tip a freelancer whose work you like the most using the Bonus feature in the payment option. It's an excellent way to maintain a professional relationship with the freelancers, which will also affect the review positively of both parties.
Most businesses use the Basic plan, which is free, giving you access to the majority of Upwork's features. There is also a premium feature called Upwork Plus, available for seeking quality and collaboration with a 24/7 dedicated helpline
Get Your Pricing Right
As a client…
By being realistic about the pricing, you can attract the right talent.
Pricing a job too low, will attract the poor quality of freelancers and 'spambots,' which will jam your post with the lowest prices.
Describe the project in detail. Include skill requirement and how many hours are required to complete it. The detailed description will attract more specialized freelancers according to your job description, which will prevent you from wasting valuable time prowling around large numbers of irrelevant proposals.
As a freelancer…
Don't put yourself under a low price rate to attract jobs, even if you are new to this platform.
Calculate your hourly rate or price-per-job according to the value you are providing; you can also use a rate calculator so that it not only covers your cost but also reflects the talent and uniqueness you bring to the table.
Don't just cut your price in the price competition; show potential clients the resources and time that you spend on a job and make them realize the value that you provide. This will help you to build trust and respect, which works in the long run in getting great offers.
Don't put yourself into a limitation by not applying for a job where the client's budget is lower than your price rate. Not all the clients are aware of what the budget should be for a job; some of them might be willing to pay more for the talent you have.
How do I Make Payments on Upwork?
To pay a freelancer through Upwork, you have to add a billing method to your Upwork account. From the settings, you can find the 'Billing Method' button. Upwork supports credit cards, PayPal, and Direct Bank accounts.
You can add more than two billing methods to your account, which will prevent your account disruption in case of an issue with the card or the payment methods for freelancers.
After the billing methods have been added, paying is easy; with just a couple of clicks, you can pay a freelancer, and Upwork will walk you through the whole process.
For Hassle-free Payments
As a client…
Pay only after you've received the final product and reviewed it to check the quality you wanted.
Define clearly the milestones according to your project and specify the payment according to the milestones.
Delay reviewing a completed job or delaying in releasing payment can create disputes, and your account may get blocked.
As a freelancer…
Make sure that the clients' payment methods are verified.
Use Upwork's desktop app and free online timesheet calculator to track your time and the progression of the assignments to avoid any conflict at the payment stage.
Keep the deadlines in mind as discussed with the client and try to submit the project within that period; otherwise, if you need time, communicate with the client clearly and get an extension.
How to Hire Top Talent on Upwork
Are you seeking a talented freelancer on Upwork to help you with your project effortlessly?
Upwork is dense with excellent professional freelancers who are eagerly seeking jobs. This substantial virtual marketplace is designed to protect both businesses and freelancers so that everyone gets a fair deal.
With a little extra effort while posting job offers, you can get better results. To complete a freelance project, you need to make sure you follow these rules:
1.Write a detailed job description: The very best freelancers expect their clients to be the right partners. By giving a brief job description, you can start attracting the top talent and assure them that you are a good company.
2. Focus on vetted freelancers: You should focus on the specialists who have dedicated their careers to doing specifically the type of work that needs to be done.
3. Ready to pay the price: Top talent usually comes with top rates. As you have to pay top rates for permanent employees, you have to pay top freelancers' top rates.
4. Use screening questions to judge the freelancers: Upwork gives you the option of adding screening questions to your job posting. Use them!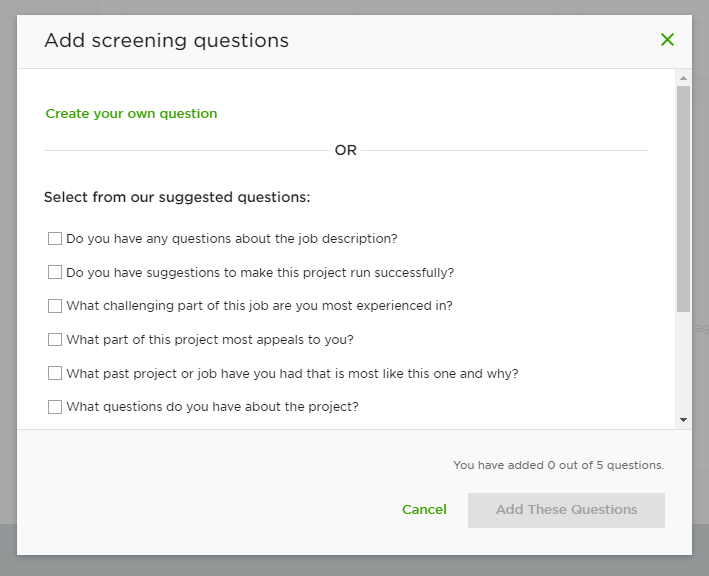 5. Invite top-rated talents to apply to your post: Without waiting for the freelancer to interact with your job posts, you can immediately invite the top talent to your job posts.
6. Conduct video interviews: By conducting a video interview, you can learn a lot more about your freelancers and give them the necessary information about your project.
7. Start with a paid trial project: After you've narrowed down the field to two or three potential candidates, you can make it easier to decide by giving the remaining candidates a small, paid trial project.
How to Find the Well-paid Gig on Upwork as a Freelancer
What about freelancers?
Like the clients, are there specific rules for them to find the perfect gigs on Upwork? There sure is:
1.Improve your portfolio: Make sure your profile is decorated with the right information, describing your specialties before applying to any job posting.
2. Personalize your cover letter: Since there's so much competition for the most appealing jobs, you need to find a way to stand out.
3. Look for the job postings with detailed descriptions: If you want to find great gigs on Upwork, focus on job postings that are honestly looking for the best person for the job. Apply for the gigs, which are described in detail.
4. Make sure the client is vetted: Always vet a potential client before applying to their job posting. Firstly, check if they've added and verified a billing method to their Upwork account.
5. Match your skills to the job posting: Only apply to those job postings that match your skills and experience.
Advantages & Disadvantages of Upwork
Upwork has several advantages as a freelance platform, which also introduced us to the disadvantages of the same coin's other side. These advantages are:
Access to plenty of talent
The most popular freelance platform
Great screening process
Payment protection
Lower prices
To give you an idea about the advantages of Upwork, attached two reviews from both clients' and freelancers' points of view, Here's a review of a satisfied client:
And here's a review of a happy freelancer: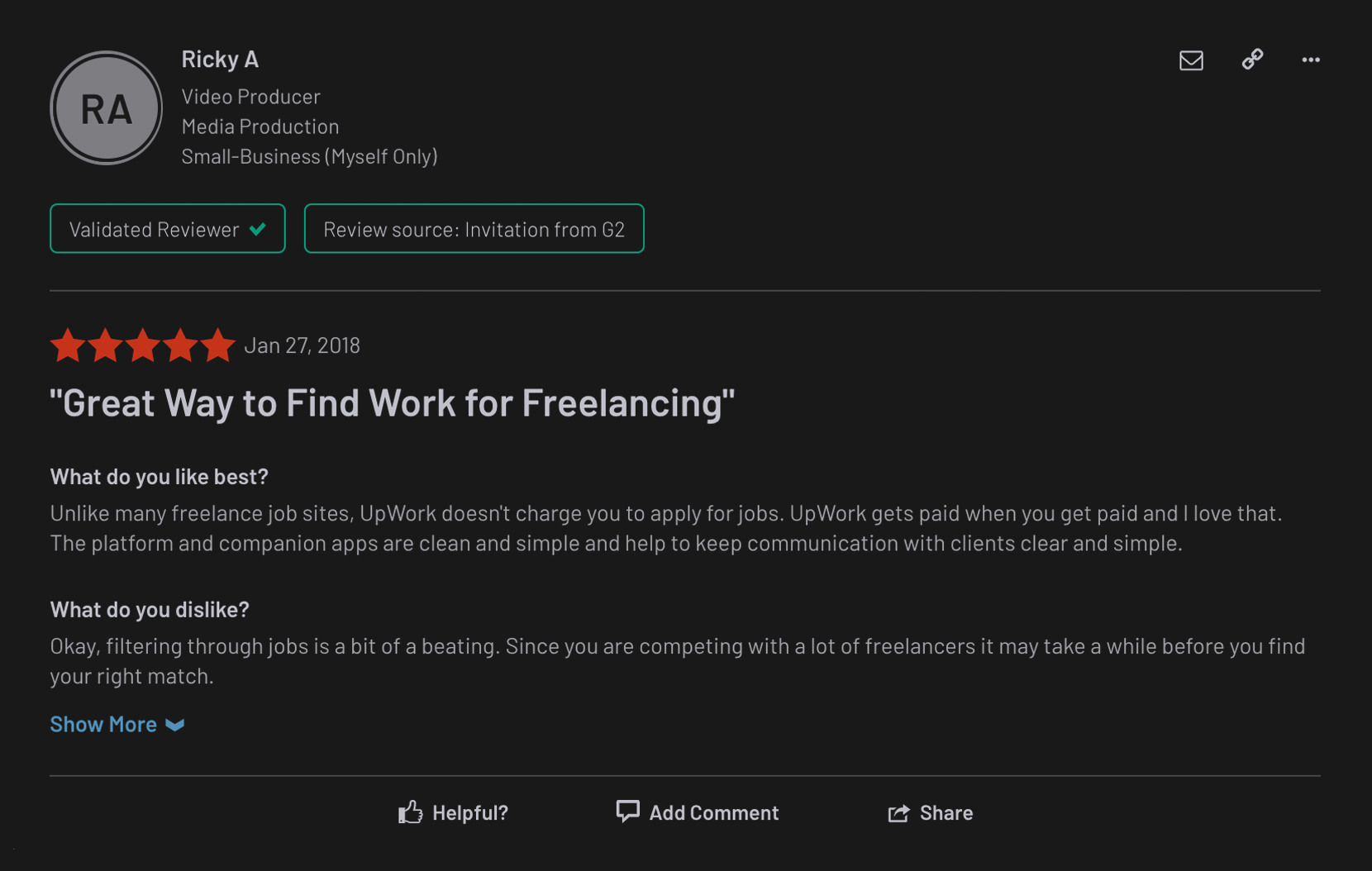 Here are the disadvantages of Upwork:
High competition
Upwork scams are a thing
Non-vetted freelancer
Poor customer care support
Here is the review of a client who is not satisfied with the customer care service of Upwork: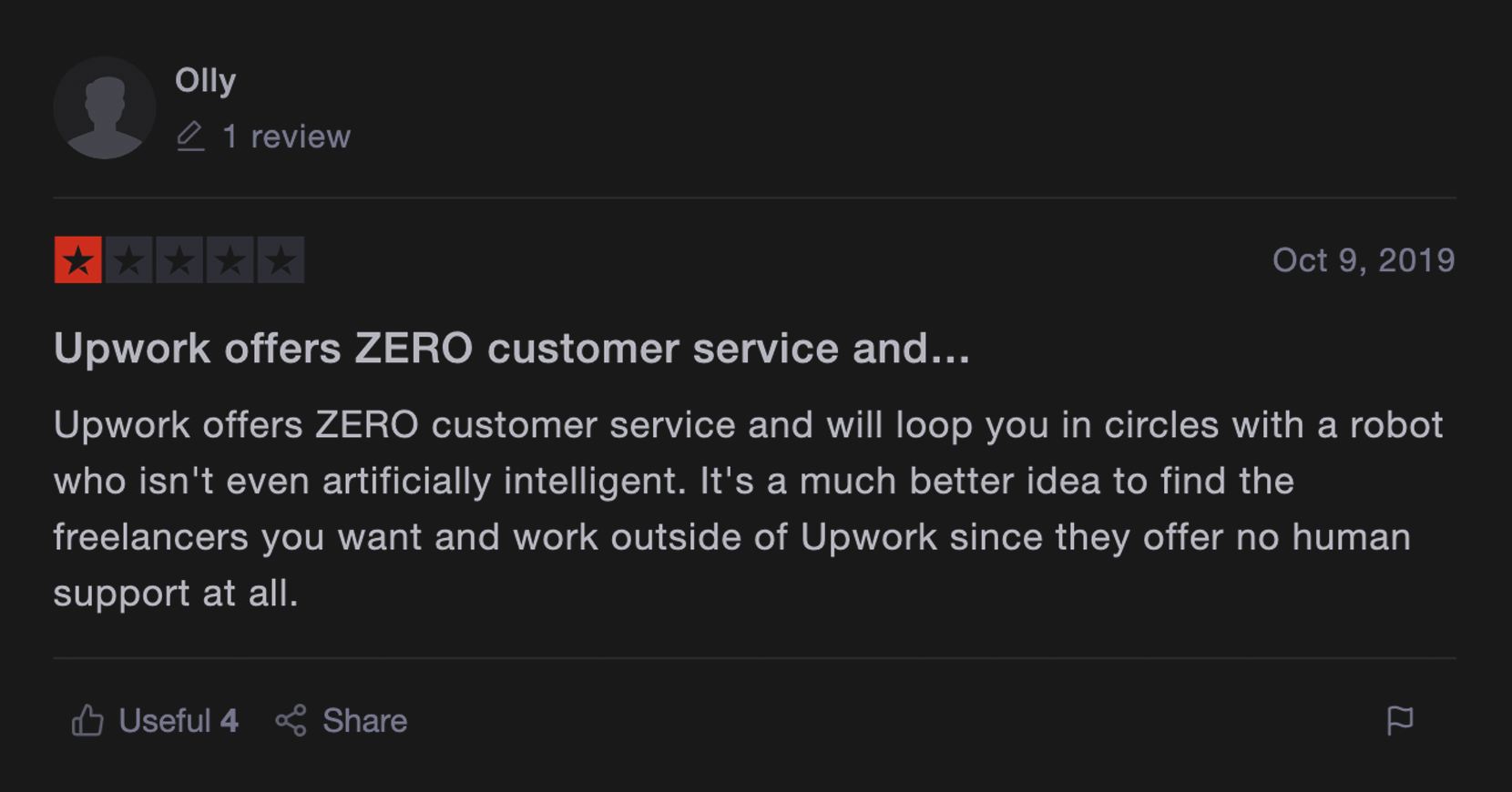 Another review of the freelancer who is complaining about the bidding system of Upwork: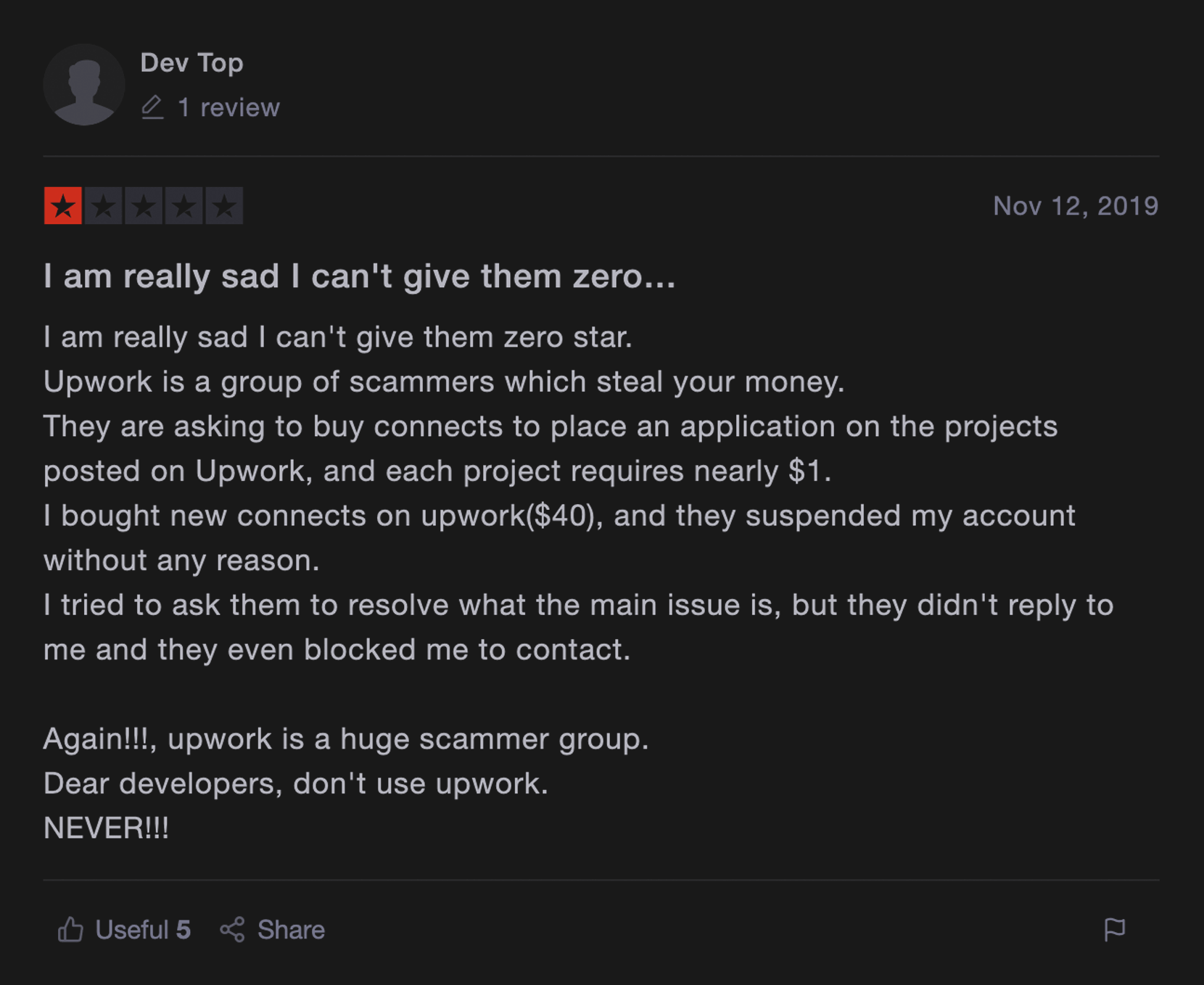 As we can see, there are the same number of pros and cons of Upwork, and as this freelance platform is ever-growing, Upwork is growing. They keep improving their services and trying to minimize the cons, but there will always be some of it with an organization this big size.
Latest Booming Statistic of Freelance Platforms and Upwork
It is no surprise that amid this pandemic, Upwork Stock was moving on Up to -- 37% and is still on the rise why it is now called one of the coronavirus-proof tech stocks?
From the Freelancer's 'Fast 50' report, it is evident that freelance job openings increased over 25% from April to June of 2020, compared to the first three months of the year.
A recent Upwork study finds, 36% of the U.S. workforce freelanced amid the COVID-19 pandemic. The most comprehensive analysis of the U.S. independent workforce, named "Freelance Forward: 2020," found that a large number of Americans freelanced in this pandemic, contributing $1.2 trillion to the economy, and this increase was fueled in part by an influx of younger, highly-skilled professionals seeking flexible alternatives to traditional employment.
Key findings are revealed here:
Recently $1.2 trillion had been contributed to the U.S. economy in annual earnings by the freelancers, a 22% increase since 2019.
Since 2019 the number of independent professionals who earn a living by freelancing full time has increased 8%, which points to 36%.
In 2019 who quit their full-time job to freelance, 75% of them said they earned the same or even more in pay than when they had a traditional employer.
Since 2019, 5 percentage points has increased from 45% to 50% in freelancers providing skilled services such as computer programming, marketing, and IT, with business consulting.
58% of new freelancers who came to remote work due to COVID-19 are now considering freelancing in the future.
If we let the statistics talk, we can see how greatly Upwork assisted America during this pandemic and how people of all ages are investing in a freelancing platform like Upwork. This statistic will be rising in 2023 and will also be more stable shortly.
Read the comprehensive article similar to Upwork.
Conclusion
In conclusion, with the help of statistics, we can get the big picture "Why You Should Use Upwork in 2023".
Coming 5G internet speed in 2023 will open up a new dimension in the freelancing universe, influencing many new jobs to operate remotely, which is not possible for now. High internet speed will give freelancers hassle-free communication, attracting many new users to freelance platforms like Upwork.
We also need to realize what is driving this generation to freelance platforms like Upwork?
The reason is that we are awakening to our authenticity, which we are calling passion. We are all specializing in our authenticity by following our passion to the fullest. This realization drives us to the free-market system where we can individually sell our uniqueness, which is a win-win for everybody. And this is just the beginning.
So, what passion are you going to sell in 2023? Or are you going to hire talents to buy their uniqueness to get your job done?