Upwork Competitors: Best Alternatives of Upwork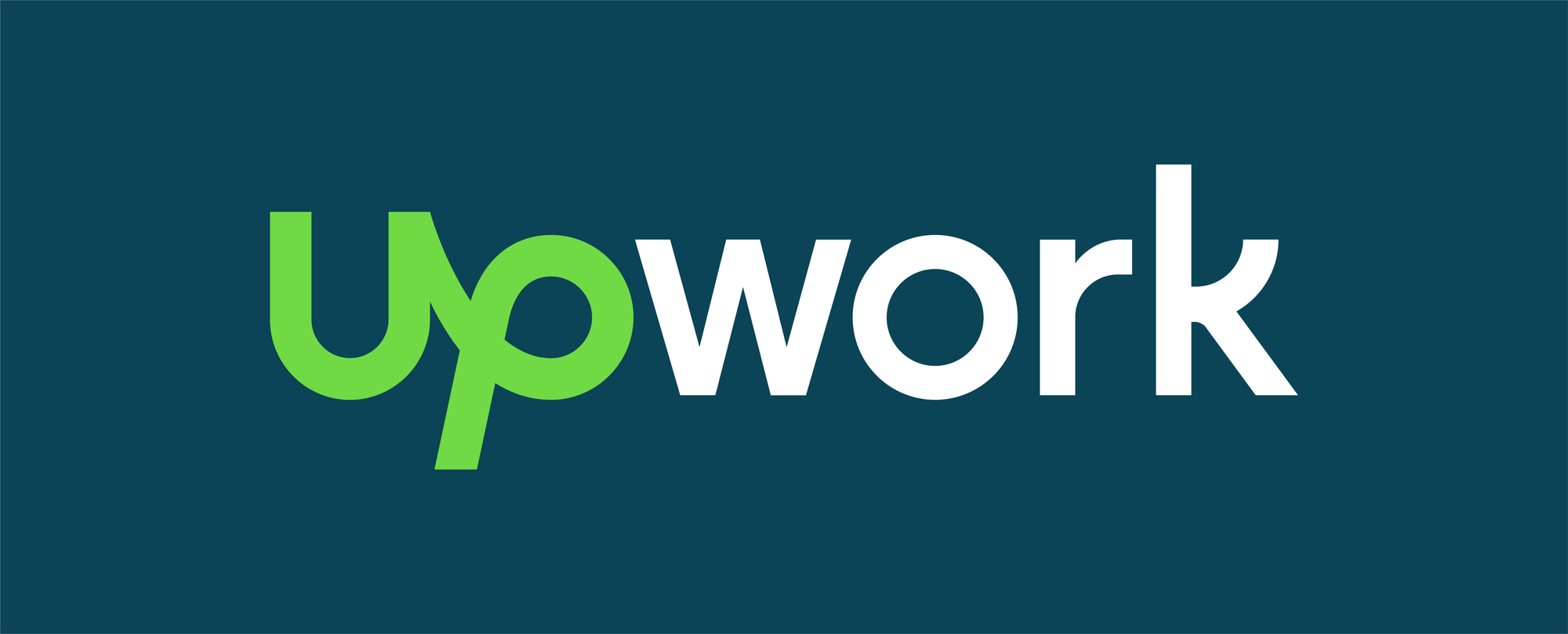 Upwork is the biggest freelancing marketplace around; nowadays, Freelancing and Upwork complement one another. As we have seen, the advantages of Upwork can be disadvantages to it.
For many freelancers, Upwork is a world full of opportunities. Unfortunately for some clients, it is a place of scammers. Their advantage of being the largest freelance platform becomes their disadvantage for the bombarded competition for getting the gigs, making it a hassle to find a freelancer from a job post too.
The competition forces the freelancers to lower their prices in this bidding market system. Many established freelancers are now leaving and seeking alternatives to Upwork, which is justifiable. It creates a fair chance for Upwork competitors, making the freelance platforms more diverse and competitive than a big monopoly system.
So, while Upwork does serve the purpose as one of the biggest platforms, it is not the only option. There are plenty of other marketplaces created based on the lack of giant freelancing platforms like Upwork. For example, in Fiverr, where a job will find you, you don't have to bid for the gigs anymore.
Let's explore the best alternatives of Upwork!
What We Explore for in the Best Alternatives to Upwork
Platform fees
When beginning on Upwork, 20% of your profit (up to the primary $500 earned for each client) goes straight to Upwork's pocket. And typically, in expansion to any premium enrollment expenses, you will pay. We included freelance platforms that let you keep more of your hard-earned cash!
Accepts most professions
In case you drop into one of the numerous professions that are overrepresented on Upwork, the chances are that Upwork won't acknowledge you. Our options are more likely to recognize individuals from all businesses and encounter levels.
Plenty of Work
Finding the ideal project can be troublesome, particularly in a swarmed commercial platform like Upwork. The choices we select have a bounty of employment accessible that covers about every form of talent imaginable.
Trust-worthy Clients
Whereas there's no ensured way to dodge scammers, a few platforms offer you more security than others. All these options either have a debate determination benefit, a curated client list, an employer review framework, or all three!
Upon these four criteria, we have selected the four best alternatives of Upwork, which are very similar to Upwork but have their unique features.
Fiverr
FlexJobs
PeoplePerHour
Freelancer.com
1. Fiverr – The Most Creative Marketplace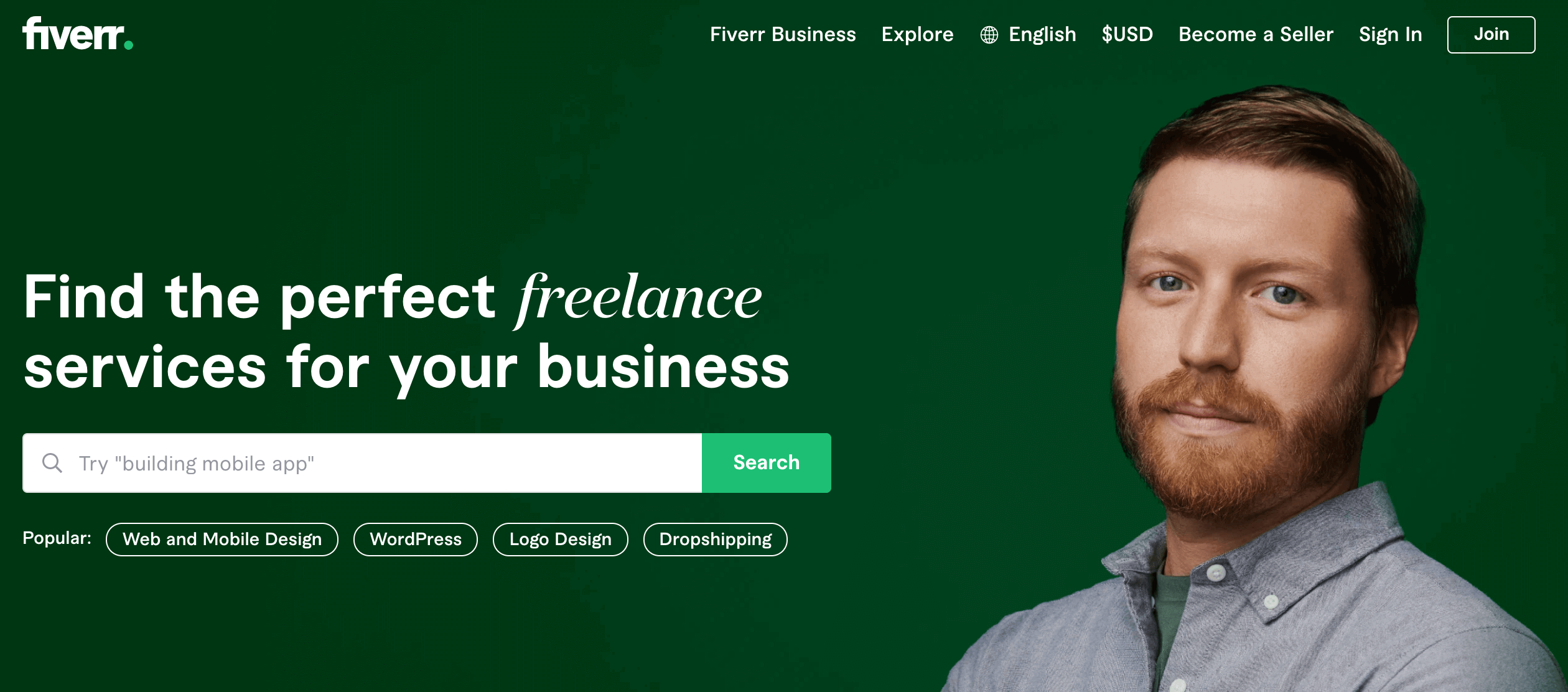 Just like Upwork, Fiverr is also one of the largest freelance platforms for freelance services on demand. Here the freelancers post the gigs according to their talent, and the clients explore these posts to find out what service they need to get their job done.
No matter what services you want to sell or want to buy, you can sell or find them on Fiverr, from designing a t-shirt, beatboxing your name to prank-call someone, and lots of other weird, wild services.
Getting started on Fiverr can be difficult; at first, you may need to lower your price to get things going. But once you've gone through selling experiences and earned enough reputation on Fiverr, you can make some serious cash.
If you want to get yourself started on Fiverr and need help from a pro freelancer, You can check out how to post a gig to Fiverr.
You can earn thousands of dollars for a single gig by doing something you love based on your talent. If you want to use it to make a little side cash or as your primary income, most reviewers agree that Fiverr can be an outstanding alternative to Upwork.
Features
In Fiverr, creativity is the main focus. You can sell any services imaginable on Fiverr, as long as it's legal.
One of Fiverr's original features is that here gig finds you; on this platform, clients come to you.
On Fiverr, apart from your main gig, if you create other gigs, it helps the seller to lure buyers into spending more cash.
After you start selling gigs and receiving positive feedback, Fiverr will raise your rank.
For people who want a gig completed within a small budget and quickly, Fiverr is the best place for them.
| Fees | Fiverr takes 20% of every sale you make |
| --- | --- |
| Competition | Depending on the industry, it can be stiff |
| Seller Protections | Resolution center help the seller to dispute fake buyers |
| Screening Process | Anyone can create a profile without vetted and start selling gigs for free |
2. FlexJobs­— Only Quality Opportunities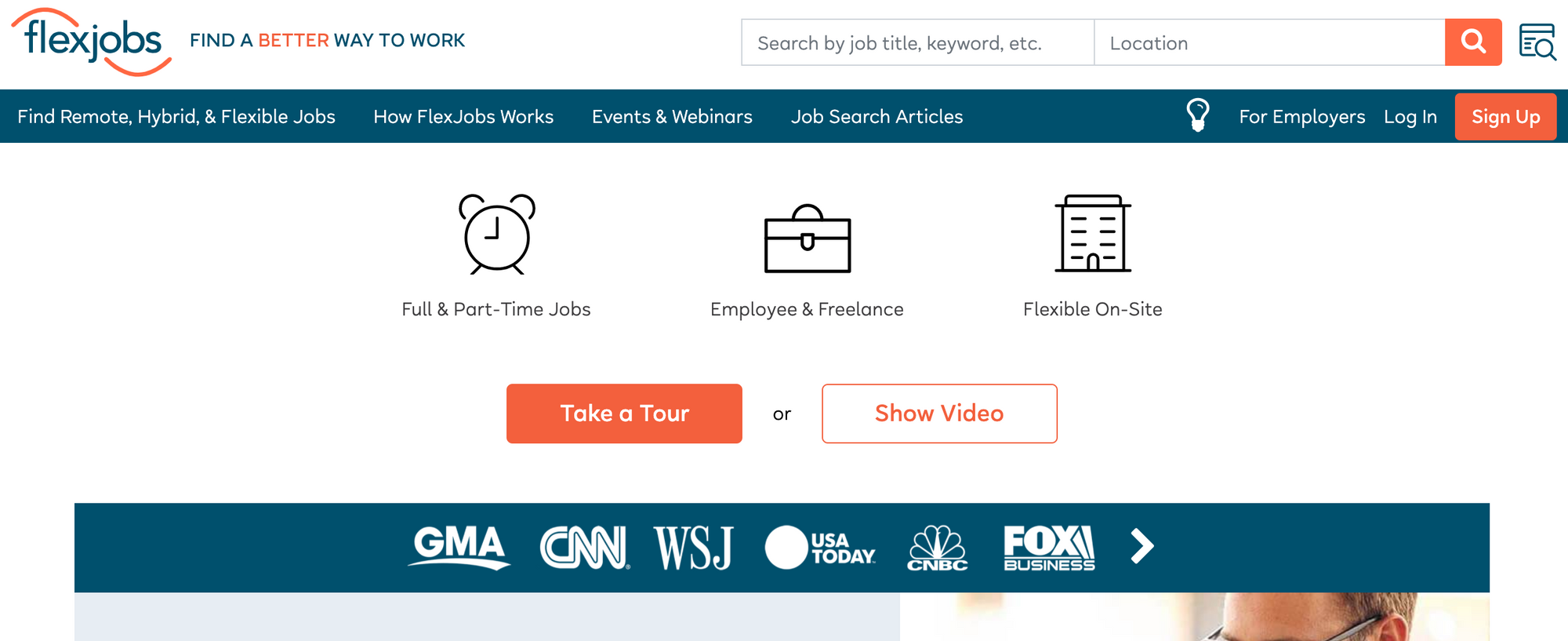 When you get tired of scammers on platforms like Upwork, FlexJobs is the place you need to go. Here you can only see job listings from serious clients. Though FlexJobs does charge a monthly or annual fee, it's a worthy place if you have enough of the scammers in Upwork.
FlexJobs is so reliable that each job posted to this platform has been specially investigated and decorated. The investigators over FlexJobs ensure that only trustworthy jobs from trusted clients are assigned to the platform, so you don't have to worry about scams and unpleasant experiences.
Features
By opening an account in FlexJobs, you can demonstrate your worth. FlexJobs provides free skill tests that can help prove your talents to potential clients.
After opening an account in FlexJobs, if you're not happy with their services, you can cancel your subscription within 30 days with a full refund.
Since all the jobs on this platform have been investigated and decorated by FlexJobs researchers, you don't have to waste your time by creeping around the platform.
FlexJobs can also help you with your resume and give career advice through proper Career Coaching and Resume Review.
| Fees : | Three different payment system, monthly, quarterly or annual fee |
| --- | --- |
| Competition : | Here competition vary |
| Seller Protections : | Researched jobs keep you safe from scams. |
| Screening Process : | No screening process, but you need to pay to create an account to browse through the listings. |
3. PeoplePerHour—The Least Competition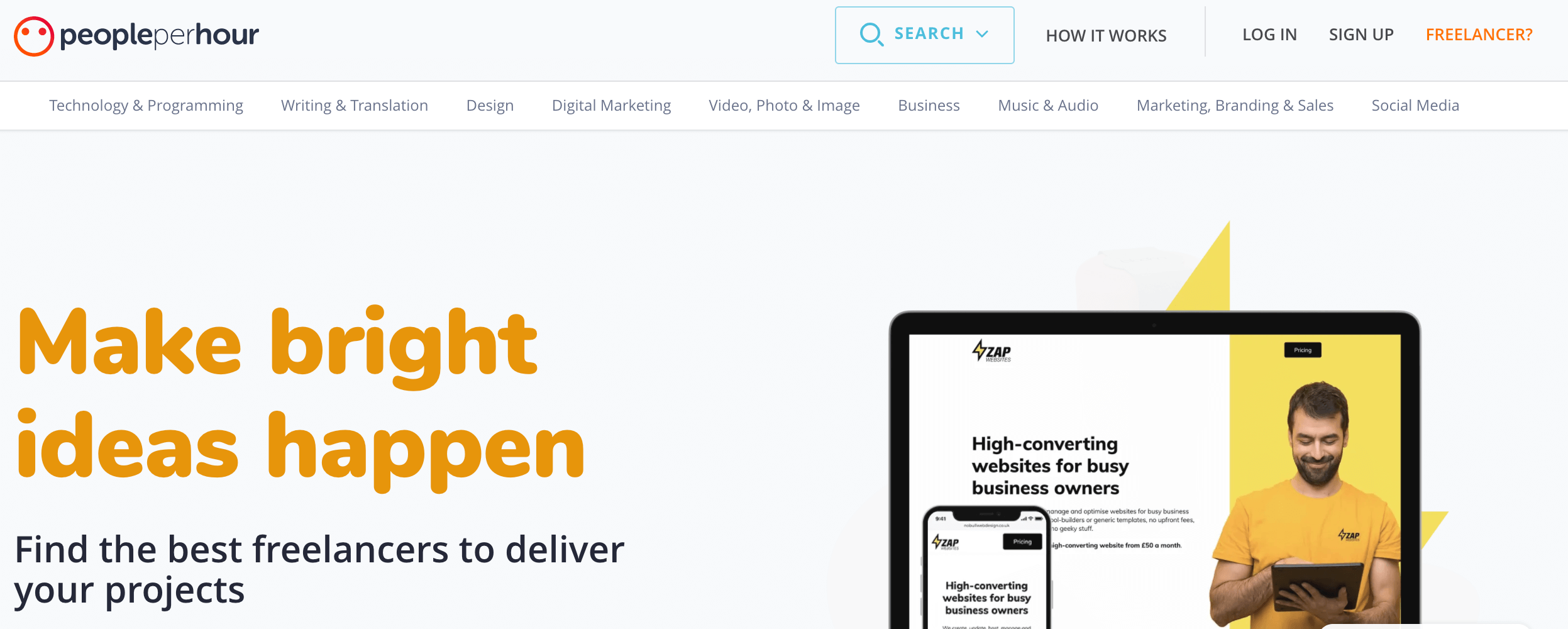 PeoplePerHour is kind of different from some of the other freelance platforms. You need to apply to find jobs on this platform. PeoplePerHour will only accept your application if there's a real demand for your talent.
This can be bothersome, but it lessens the competition. So, if there are jobs available for your talent, there's a good chance that you'll be accepted here readily.
Features
PeoplePerHour uses its powerful AI system to match you with projects that you're likely to get. Here you can find your perfect match.
On this platform, you don't have to submit countless proposals to find work. Here you can create custom offers for your unique services at the price you want to set. And clients will come to you.
Manage your projects at ease with PeoplePerHour's project stream tool, where it is easy to share files, receive feedback, and collaborate with your clients in one place.
After you're done with your project, PeoplePerHour automatically generates an instant invoice, which you can edit if needed.
| Fees | Payments less than $700 have a 20% service charge, from $700 to $7000 have a 7.5% fee, and above $7000 have a 3.5% fee to charge. |
| --- | --- |
| Competition | Here competition vary |
| Seller Protections | Researched jobs keep you safe from scams. |
| Screening Process | No screening process, but you need to pay to create an account to browse through the listings. |
4. Freelancer. com—The best for beginners
Just like Upwork, Freelancer.com is one of the most popular and largest freelance platforms on the internet. More than thousands of great jobs available with no screening process, and that's why it's evident that it gets such great user reviews.
Though the competition can be a little tough, it's a great platform to land your first few gigs and start building your portfolio if you're new to freelancing. Here making an account is free, but it comes with a minimal number of bids. But premium options can let you apply for more jobs.
Features
Here you have many options to land work on freelancer.com. You can find a job posted by a client, enter a competition for a project, or create a service; in this case, the clients will come to you.
Freelancers from all skill levels can serve at Freelancer.com. Many established freelancers started to build their portfolios from Freelancer.com.
In this platform, both the clients and the freelancers can review each other, which can avoid difficult or untrustworthy people.
Unlike other platforms like Upwork, Freelancer.com allows anyone to make an account free of charge.
| Fees | Charge of fixed-price projects is 5% or 10% of a transaction; hourly project charge is 10% |
| --- | --- |
| Competition | High competition |
| Seller Protections | Optional arbitration and dispute resolution |
| Screening Process | None, anyone can create a profile |
These are the best alternatives to Upwork, which are somewhat similar to Upwork's structure. Now we're going to mention some of the freelancing platforms explicitly based on a particular profession like Developer, Designer, Writer, and Marketing Profession. If you are searching for a specially created platform for your profession, you can find it here from the list.
Freelance Sites for Developers
Finding the exact help, you're looking for can be hard these days, especially in the development and engineering-related sectors. The internet provides excellent freelancing platforms out there for you to trudge through and seek out which is the best for you to get your job done. This freedom can be a double-edged sword. It's suitable for the accessible candidates but tiring because there is only too much to comb through.
We're going to make this exhausting process easier by detailing some of the best alternatives of Upwork for the developer.

Toptal connects businesses and startups with the top talent in software development from around the world. The platform uniquely boasts that it can give you access to the top 3% of freelance developers all over the world.
They can ensure this through their unique screening process that all the applicants have to face before entering their platform. Their screening process includes a language and personality test, algorithm testing, technical screenings with other developers, a test project, and a commitment for freelance developers to maintain a perfect track record while working with clients.
Pros
One of the best screening processes ensures quality and vetted freelancers and saves you screening costs.
Risk-free trial.
Cons
More expensive than other platforms.
2. Truelancer
If you're looking for web development done at a reasonable price, Truelancer is the best option to consider. With tens of thousands of web developers located worldwide with various programming languages, Truelancer is a unique freelancing platform for web development.
Pros
Inexpensive fees.
Funds are on hold until work is approved and done.
Dedicated support.
Cons
No live chat support.
Only web development-related.
Revelo offers the largest online platform for US companies to hire remote software developers and software engineers from Latin America. The platform enables US companies to source, hire, and manage highly qualified, English-speaking, full-time remote tech talent in US time zones.
Revelo recognizes the trial of recruiting developers from overseas when it comes to dealing with payroll, taxes, health benefits, and compliance. Revelo takes care of all that for you and more.
Revelo provides benefits for the developers to make them happy employees who are excited to work, as well as rolling out new tools and resources like career ladders to help design developers' career goals in your company, and payroll, to easily pay across borders and track time.
Pros
Dedicated support through the hiring and employment process
Time-zoned aligned with U.S.
Quickly hire so you can get back to business
Fluent English-speaking developers
Cons
More costly than outsourcing
Freelance Sites for Designers
If you are searching for the right platforms to hire great freelance designers, we hope this listing will help you give you the idea you need. Also, if you're a designer and looking for a hassle-free platform to find the gigs, then you can try one of these platforms we've listed.
1. 99Designs
A very famous community of creatives helps you find designers in two ways: the first one is by creating a contest. The process is simple; you make a contest by detailing a brief of your project. When you publish the competition, designers can start submitting their entries from which you can choose your favorites. The platform also offers services for businesses who want precisely what they need to be done.
Pros
Flexible pricing with a different packaging system.
Money-back guarantee policy.
A streamlined and straightforward process.
Cons
Most of the entries may not be of the quality or relevant to your needs.
You have to pay for the designer and also the fee for the platform.
2. Coroflot
Coroflot is a career community exclusively created for professionals in design and creative individuals. Designers of all backgrounds are available here. Here you can post the project you need to be done, and it will be on the platform for 90 days. This popular platform is used by many world-famous companies that need talented designers, so it is a must worth checking.
Pros
You can explore designs based on salaries to help with your salary consultations.
You can post jobs anonymously.
Also, it can create job ads and reach designers more easily.
Cons
Services are a bit pricy.
3. CrowdSpring
CrowdSpring is also one of the most diverse communities of more than 210 thousand designers skillful in various design fields. The website allows you to post a project in over 40 categories for design and writing. This platform's rules are that you post a project, then receive actual design entries during the next seven days, and then you can choose a winner.
Pros
Diversity of design categories.
A money-back guarantee policy.
An interactive Q&A session.
Cons
The prices are a little high, as they cover both the award for the winning designer and the fee for the platform.
Freelance Sites for Writers
Contena is one of the best premium freelance writing platforms aiming to be more than 'just another job board.' They have their own "writing job finder" system, which automatically gathers the best freelance writing gigs around the internet.
You can search and group through them to find the best writing gigs, whether it's a $10,000 a month or a one-off blog in a specific niche, which saves a lot of time trying to prowl around a bunch of different sites to find the gigs.
Blogging veteran Darren Rowse created the ProBlogger job board, where two things are going on: the jobs are stable, and they'll likely be focused on blogging. The website itself is pretty straightforward. It's free to browse through and apply for jobs as a writer.
No sign-up is needed; find the job from the platform you are interested in and apply. If you want, they have a writer's dashboard; you can add your portfolio, manage applications, and get job alerts.
Freelance Sites for Marketing Professionals
Suppose you want access to the largest range of skills at a reasonable price. In that case, you can always use a freelance platform to find a freelance digital marketing specialist or a consultant in the location of digital marketing you need.
There are lots of platforms which are offering talents to choose from. Lucky for you we've done our research for you and listed the top platforms to hire freelance digital marketers with just a click.
This platform is the best for finding brand content marketers. It's also an excellent choice for brands looking for a wide range of Content with the security of knowing they're working with vetted professional digital marketers.
Digital marketer freelancers join the platform by creating a free Contently portfolio. They can then apply to become part of Contently's talent network, where the platform will let them before being accepted. Brands like IBM, Google, Walmart, and Marriott continuously work with Contently.
Best for unified digital marketing service. Just as Contently, ClearVoice invites freelancers to set up portfolios showing their best projects. After that, they can apply to be part of the ClearVoice community.
This platform has a smaller talent pool than Contently, but its 4,000 digital marketer freelancers have all been thoroughly vetted by their professional specialists. Besides writing and editing roles, ClearVoice can help your agency or brand hire designers, videographers, and content strategists.
This site is the best for digital marketing project management. You'll only find digital marketers here. This platform is newer to the internet. From this platform, digital marketers are experts in specialized fields as they have to go through a severe screening process before they can offer their talent to brands or agencies.
With this platform, it's easy to manage digital marketing projects. Torchlite has a built-in timeline, an internal communication system, and time tracking tools. These tools are highly integrative with Asana, Slack, and Trello to make project management smoother.
What's Your Ideal Match?
So, what do you think? What's your ideal match? Which one did you like most?
Do you have any of your personal favorites that we missed on the list? You can choose any of the alternatives of Upwork, whichever suits you the best.
Instead of investing in multiple freelance platforms, you should stick to the one that is based on your profession and passion. Whichever you choose to work on, you have to pursue it with passion and patience because it takes time to build a rich portfolio. Stick to your passion and gradually build your portfolio doing what you like most and earn your freedom with it.