11 Best Cleaning Business Software in 2023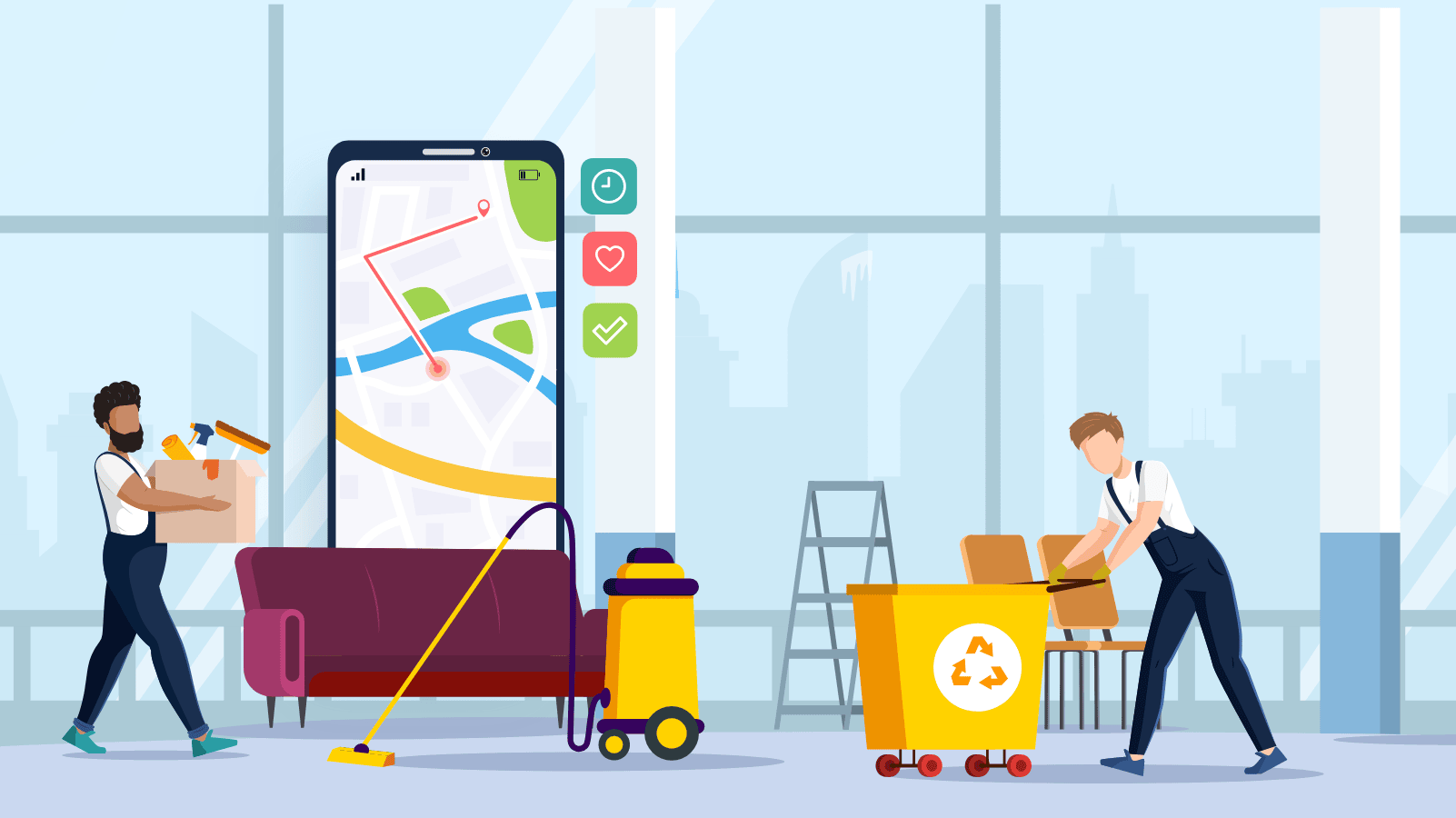 Most cleaning business software provides similar features and services. It is very tricky to find which software will meet the exact demand for your cleaning business service needs. Sometimes it can be solved by one app only, sometimes it requires a combination of multiple apps to get the job done.
In this article we will try to guide you through the 11 best software for cleaning business with their distinctive features. So that you can find what you need. Let's begin.
Shortlist for the best software for cleaning business and it's cost:
Here is a list of the pricing plans for the best cleaning business software.
Cleaning Business Software
Pricing Plans
Workwave
You need to contact sales for the pricing
KickServ
Lite: 5 Users, $47/month
Standard: 10 users, $95/month
Business: 20 users, 195/month
Premium: Unlimited users, $239/month
Housecall Pro
Basic: 1 user, $49/month
Essentials: 1 to 5 users, $129/month
Max: 1 to 100+ users, Contact sells for pricing
ZenMaid
Depends on the number of cleaners you have,
1 cleaner start with $58/month
ServiceM8
Lite: $9/month
Starter: $29/month
Growing: $79/month
Premium: $149/month
Premium Plus: $349/month
Swept
They have 3 different plans and you need to contact sells
to get a quote
mHelpDesk
Contact sells to get a quote
Orderry
Startup: $69/month, 3 employees included
Business: $99/month, 3 employees included
Enterprise: $199/month, 3 employees included
[You will be charged for adding additional employees]
Method
Contact Management: $25 per user per month
CRM Pro: $44 per user per month
CRM Enterprise: $74 per user per month
Octopuspro
Starter: $29 per month (1 user & 1 admin)
Established: $5 per worker per month & $50 per admin per month
Unlimited: Contact Sales
GeoOp
Starter: $11 per user per month
Unlimited: $19 per user per month
Detailed Review of the Best Cleaning Software for Business Owners Like You
In this segment, we are going to do an in-depth analysis of the top cleaning software available in the market.
1. Workwave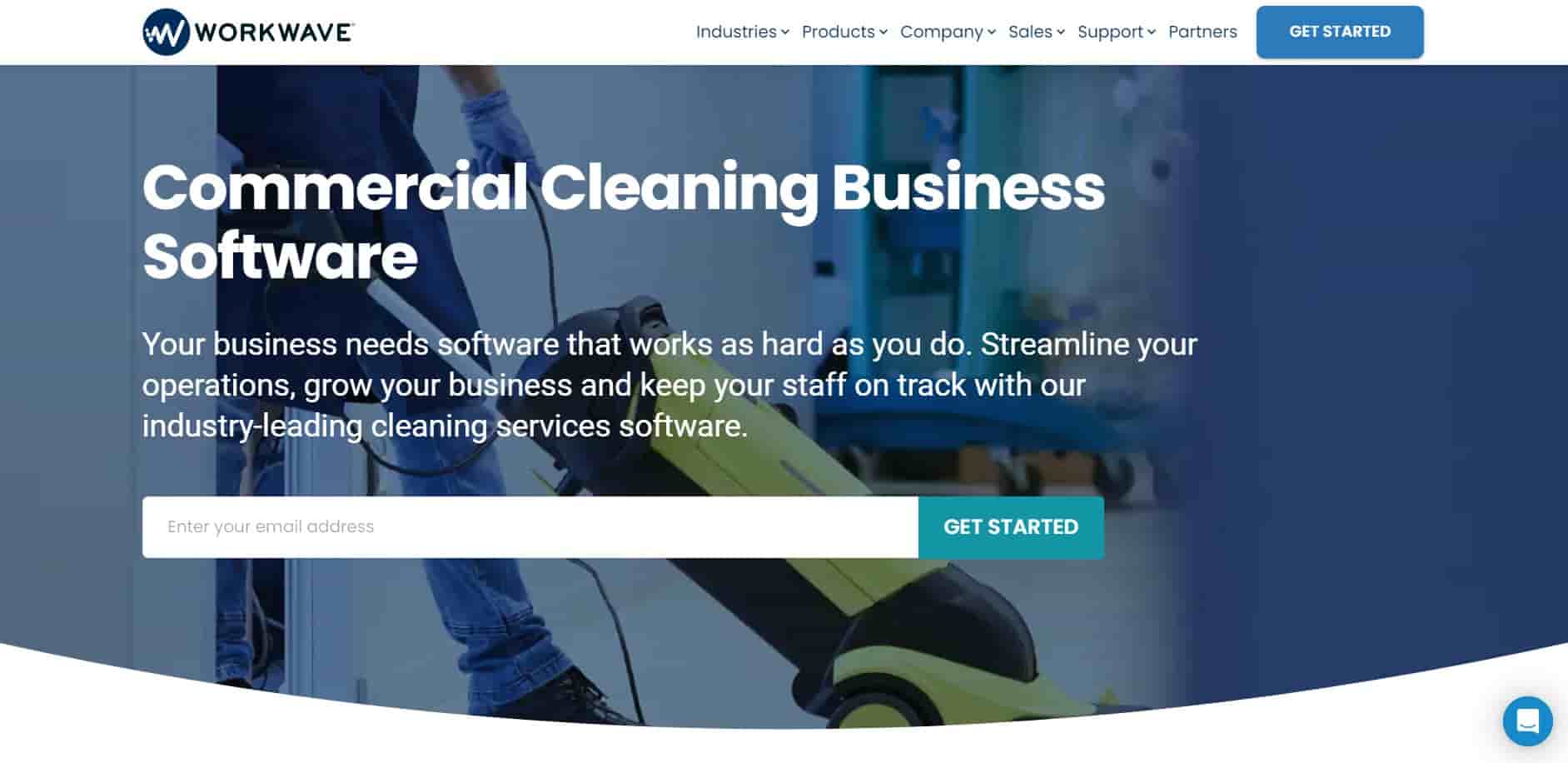 WorkWave can be your partner in growth and efficiency. Through their intuitive software, they can simplify operations and boost customer service for your cleaning business, helping you unlock its full potential. They have 375000 users in 40 countries.
Distinctive Features
WorkWave stands out with its advanced route planning and GPS tracking alongside traditional job scheduling and invoicing offerings.
With a well-equipped mobile app, you can manage your team on the go, optimize travel routes, and keep track of all your jobs in real time.
Benefits
One of the unique strengths of WorkWave is its focus on maximizing operational efficiency. Advanced route planning reduces fuel costs and improves team productivity.
Its real-time updates ensure that every job status is accurate, which can significantly enhance customer satisfaction.
Ideal Business Size/Type
WorkWave caters to cleaning businesses of all sizes. Still, its advanced route planning makes it particularly beneficial for larger businesses or those with multiple teams.
Whether you have a specialized, commercial, or just house cleaning service, WorkWave can offer solutions tailored to your needs.
2. Kickserv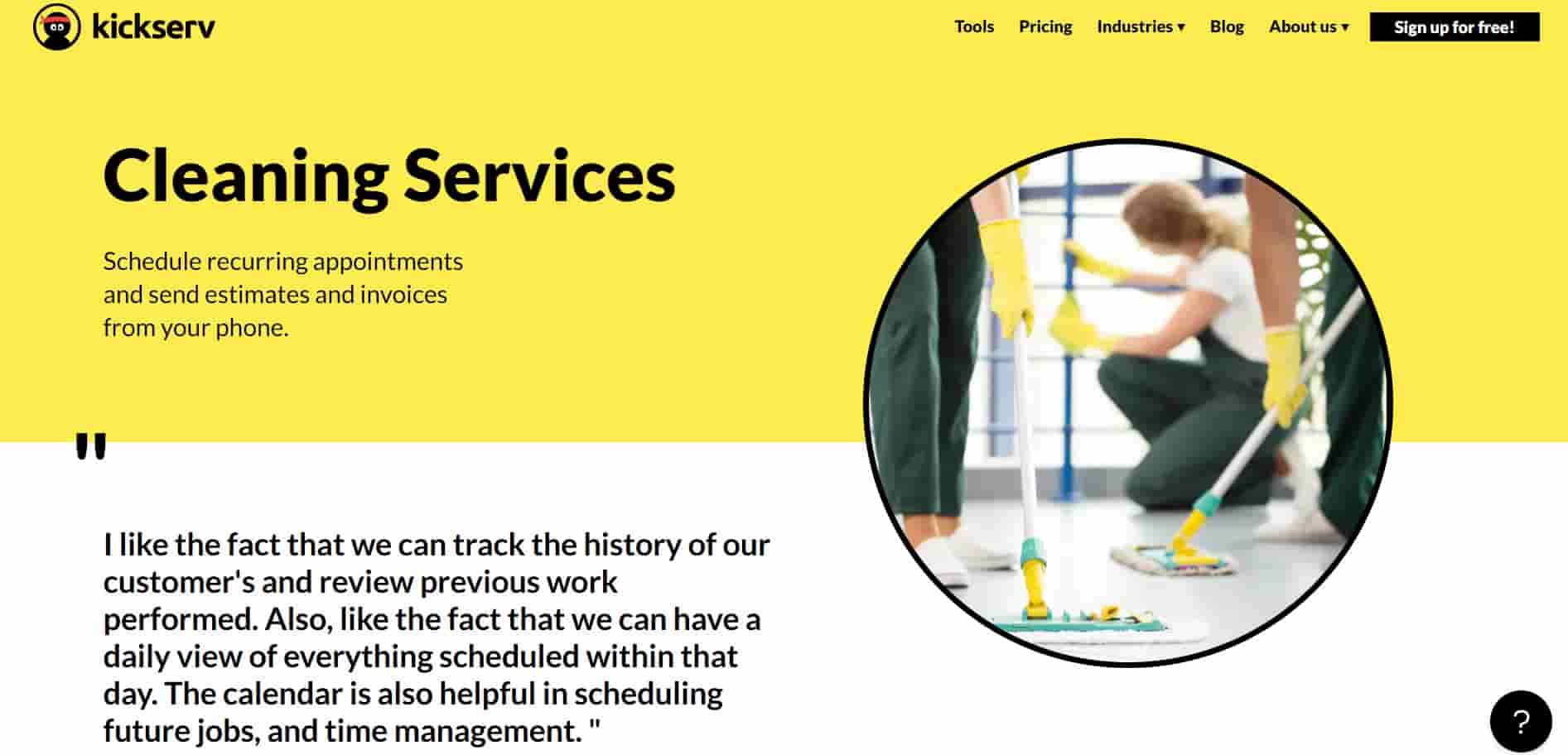 Kickserv's cleaning services app simplifies services for businesses big and small. It was founded about 20 years ago. It's now a category leader in G2 and Capterra with top ratings from its satisfied customers.
Distinctive Features
Kickserv's key feature is its all-in-one approach to managing a service business.
It provides a complete toolset for your cleaning business, from job management, scheduling, and dispatching to integrated invoicing and online payments. Moreover, it's known for its clear, color-coded calendar and intuitive job tagging.
Kickserv offers a unique two-way sync with QuickBooks, ensuring your accounting is always up-to-date and synced with your operational data.
Benefits
The complete toolset of Kickserv means you can run your business from a single platform, reducing the need for multiple software solutions.
The color-coded calendar visualizes your scheduling, making it easier to spot gaps or overlaps. Job tagging further helps in efficient job management.
Ideal Business Size/Type
Kickserv suits cleaning businesses of all sizes looking for a comprehensive, user-friendly solution.
Its features can handle the needs of a growing business. At the same time, its ease of use also makes it approachable for small or newly established businesses.
3. Housecall Pro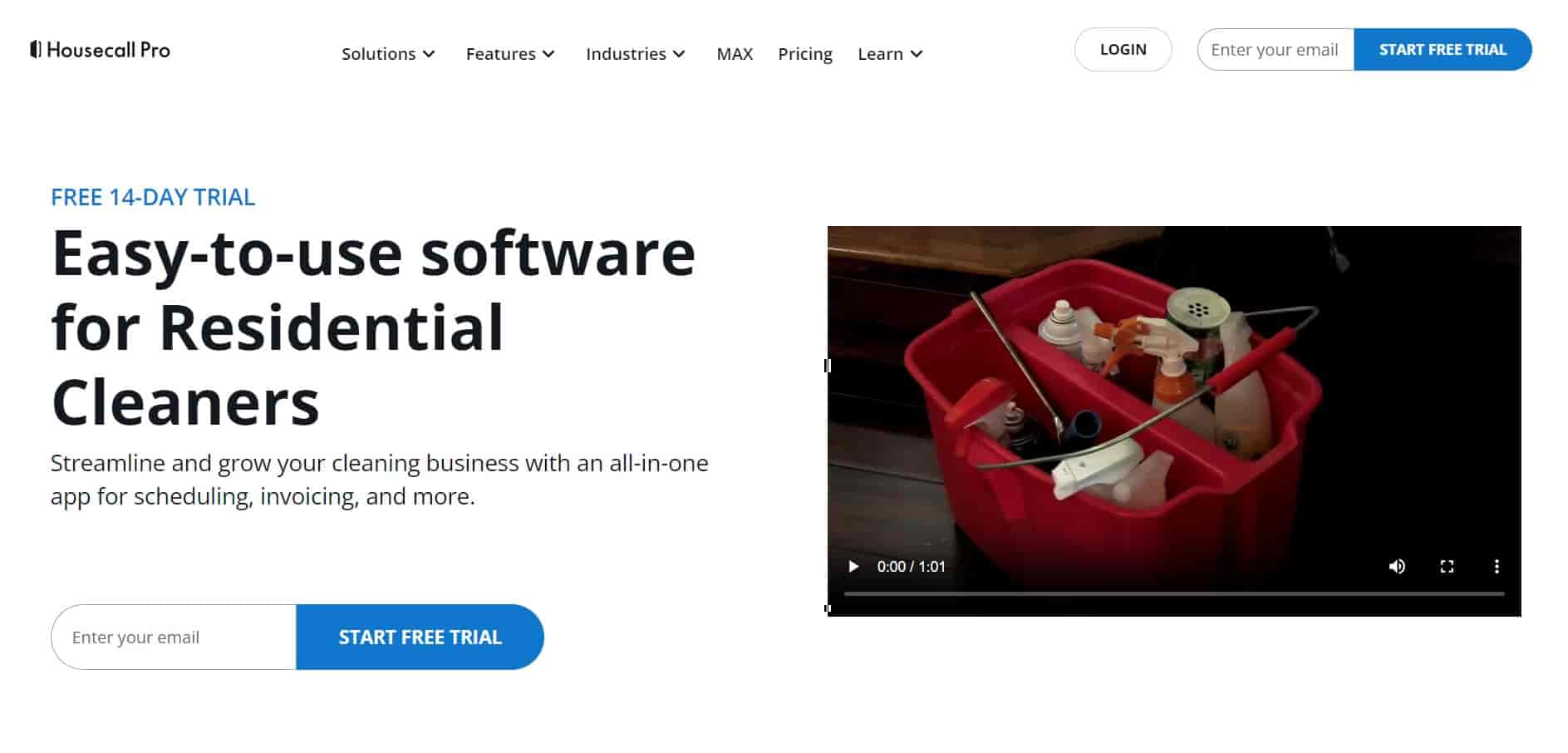 Housecall Pro, founded in 2013, is a top choice for home service professionals, including cleaning services. They provide a top-notch platform, financial services, and supportive solutions to manage your business seamlessly. This software company has served over 30,000 field service businesses.
Housecall Pro, founded in 2013, is a top choice for home service professionals, including cleaning services. They provide a top-notch platform, financial services, and supportive solutions to manage your business seamlessly. This software company has served over 30,000 field service businesses.
Distinctive Features
Housecall Pro stands out with its exceptional mobile experience, live chat support, and online booking system.
The 'Instapay' feature, which allows businesses to receive funds within 30 minutes of payment processing, is an example of its distinctive functionality.
Benefits
Housecall Pro's mobile app allows you to manage your business from anywhere, providing a seamless experience in the office or field.
The live chat support offers instant assistance when you need it. Online booking and 'Instapay' together provide a smooth end-to-end customer experience and quick payment turnaround.
Ideal Business Size/Type
Housecall Pro is best for small to medium-sized cleaning businesses.
The mobile app, live chat support, and quick payment features are ideal for companies seeking to streamline operations and improve customer satisfaction.
4. ZenMaid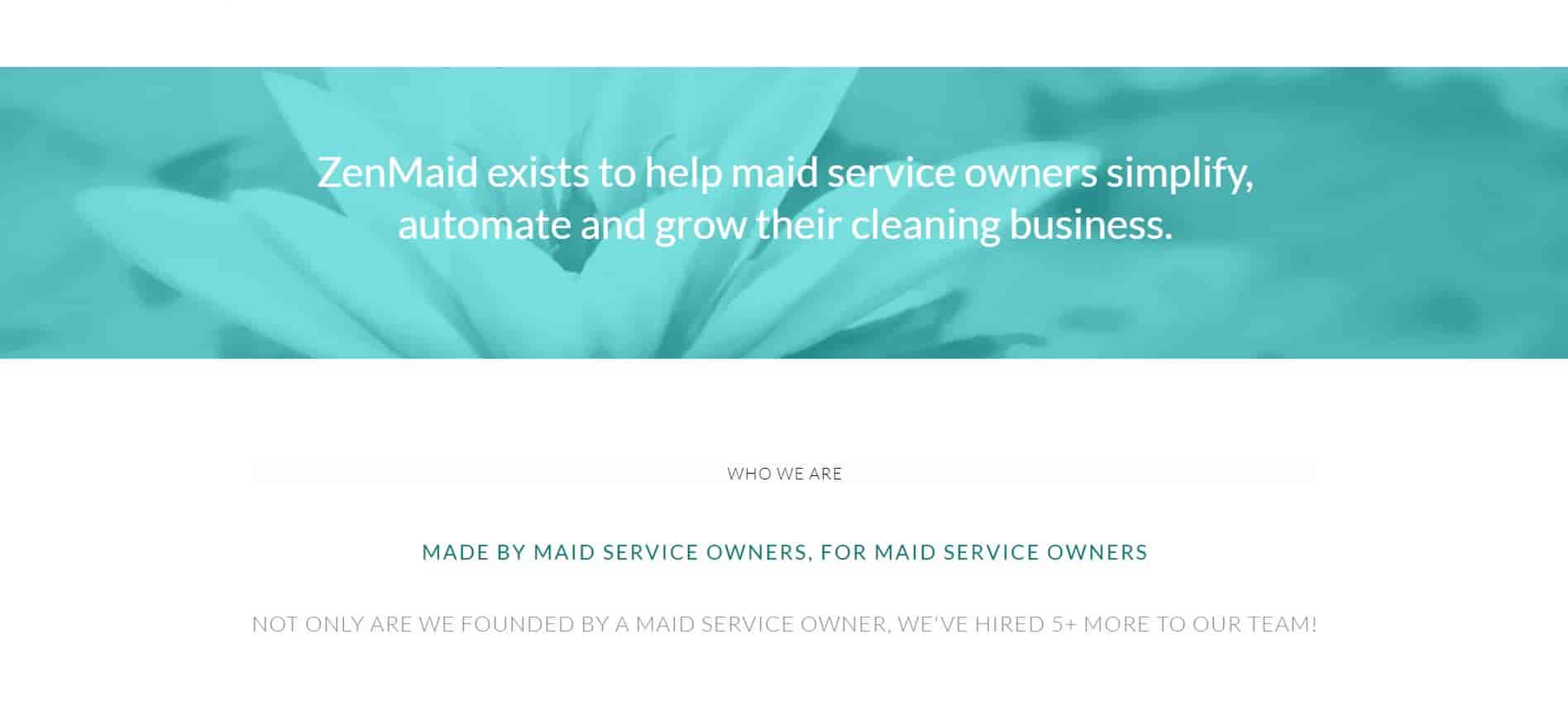 ZenMaid was founded in 2012 as Fast Friendly Spotless, a service that revolutionized cleaning. Instant bookings and swift task allocation made every interaction more human, efficient, and stress-free. ZenMaid - cleaning business apps with heart and smartness!
Features
ZenMaid shines with its automation features, especially its automated scheduling, reminders, follow-ups, and customer feedback.
It also includes unique touchpoints like the "before and after" text messages for clients, enhancing the overall customer experience.
Benefits
ZenMaid takes repetitive tasks off your plate with its automation capabilities, saving you time and reducing errors.
It improves client communication through automated reminders and unique touchpoints, helping increase customer satisfaction and retention.
Ideal Business Size/Type
ZenMaid is an excellent fit for small to medium-sized residential cleaning businesses.
The automation features benefit businesses that want to free up time from administrative tasks to focus more on delivering excellent service.
5. ServiceM8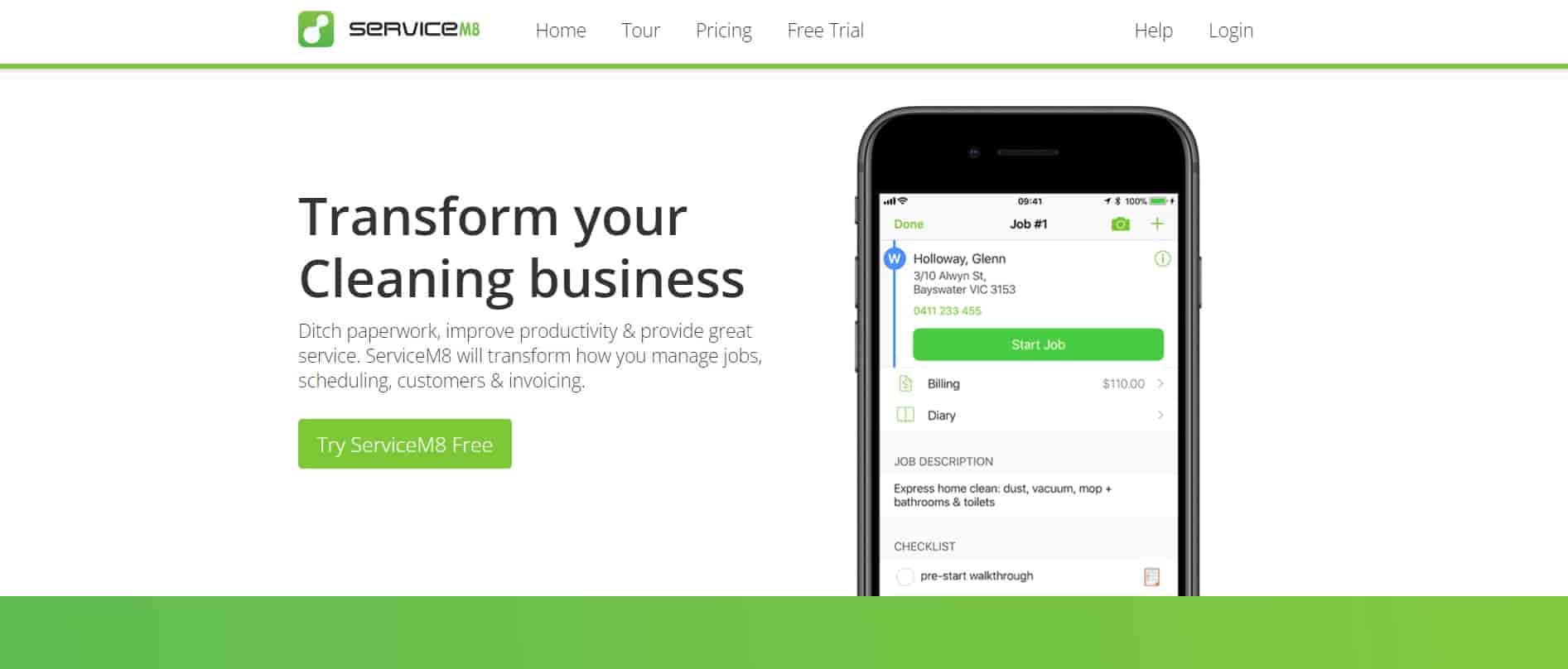 ServiceM8 is a field service app for cleaning service contractors. It streamlines work, from job dispatch to invoicing, providing real-time visibility on tasks and staff locations. Simple, effective, and always accessible, ServiceM8 can be your partner in intelligent workflow management. They have been providing software solutions since 2010.
Distinctive Features
ServiceM8 is your smart operational ally. With real-time job tracking and integrated payment, it stands out with a unique intelligent dispatch feature that matches jobs to your team's location, skills, and availability.
Benefits
Boost efficiency and client satisfaction with ServiceM8's intelligent dispatch, and enjoy quick billing with in-app payment. This tool assigns the right job to the right person at the right time, making your work seamless and efficient.
Ideal Business Size/Type
Whether you're a small business with diverse team skills or a medium-sized operation serving various customers, ServiceM8 can be your game-changer.
It's an excellent match for residential and commercial cleaning businesses aiming to optimize work assignments and cash flow.
6. Swept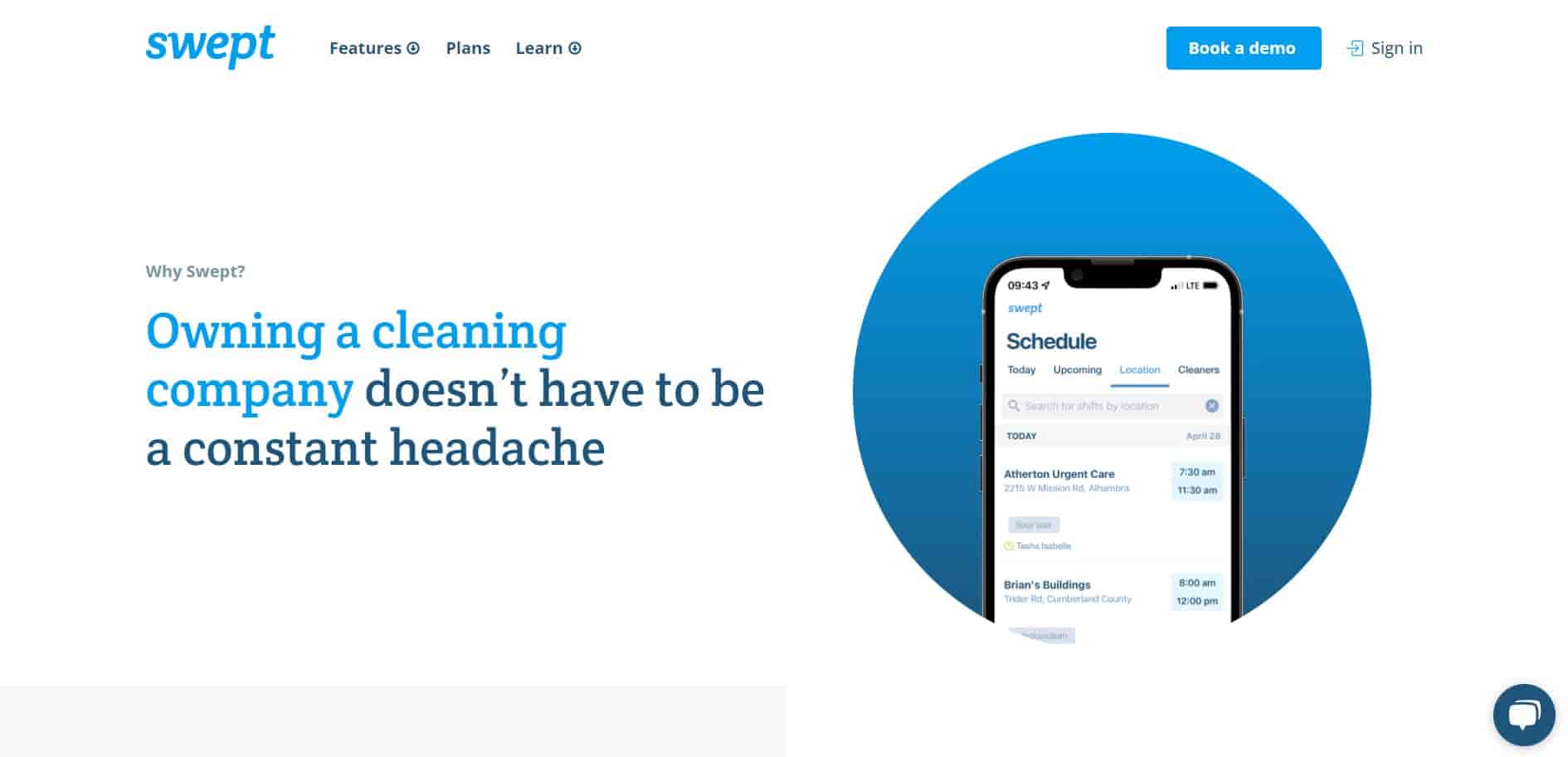 Swept was founded to transform the janitorial and cleaning business. Swept's user-friendly cleaning service software overcomes daily challenges and fosters growth, signaling a new era for the relevant industry.
Distinctive Features
Swept stands out with its robust language translation feature that allows for clear communication with a multilingual cleaners team.
It also offers standard functionalities such as scheduling, messaging, time tracking, and supply tracking.
Benefits
Swept eliminates language barriers within your team, promoting smooth operations and higher team morale. Efficiently handling scheduling, tracking, and communication enables a more organized workflow.
Swept ensures that your cleaning team always has the correct information at the right time, boosting productivity and job quality.
Ideal Business Size/Type
Swept is ideal for cleaning businesses of all sizes with diverse and multilingual teams.
It's perfect for businesses aiming to enhance team communication, improve efficiency, and foster a more inclusive work environment.
7. mHelpDesk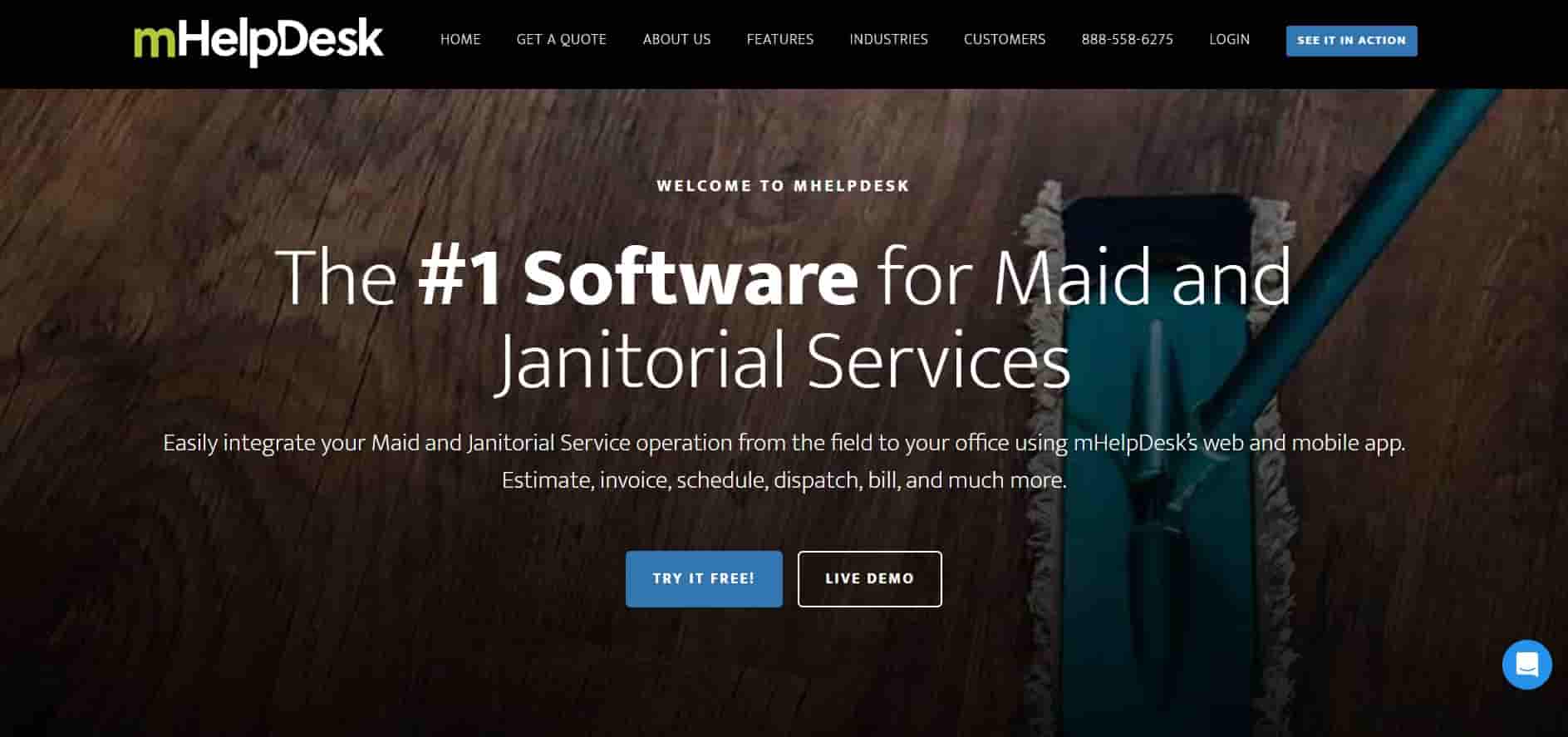 mHelpDesk, founded in 2007 by former Lockheed Martin engineers, provides robust and user-friendly field service management software. Cleaning service business owners can combine its unrivaled performance, reliability, and customer support. Moreover, they will empower your service business without a significant upfront investment.
Distinctive Features
mHelpDesk provides distinct features like lead-source tracking, which lets you know exactly where your customers are coming from.
Plus, it has advanced customization capabilities that extend to its reporting, allowing you to track what matters most to your business.
Benefits
With mHelpDesk, you're not just managing your jobs; you're gaining insights about your customer acquisition, helping you invest wisely in your marketing efforts.
The high level of customization lets you shape the software to fit your business like a glove, giving you control over your operations like never before.
Ideal Business Size/Type
mHelpDesk is excellent for small to medium-sized businesses that want a more detailed understanding of their operations and customer sources.
It fits residential and commercial cleaning services, especially those seeking to optimize their marketing strategies and operational reporting.
8. Orderry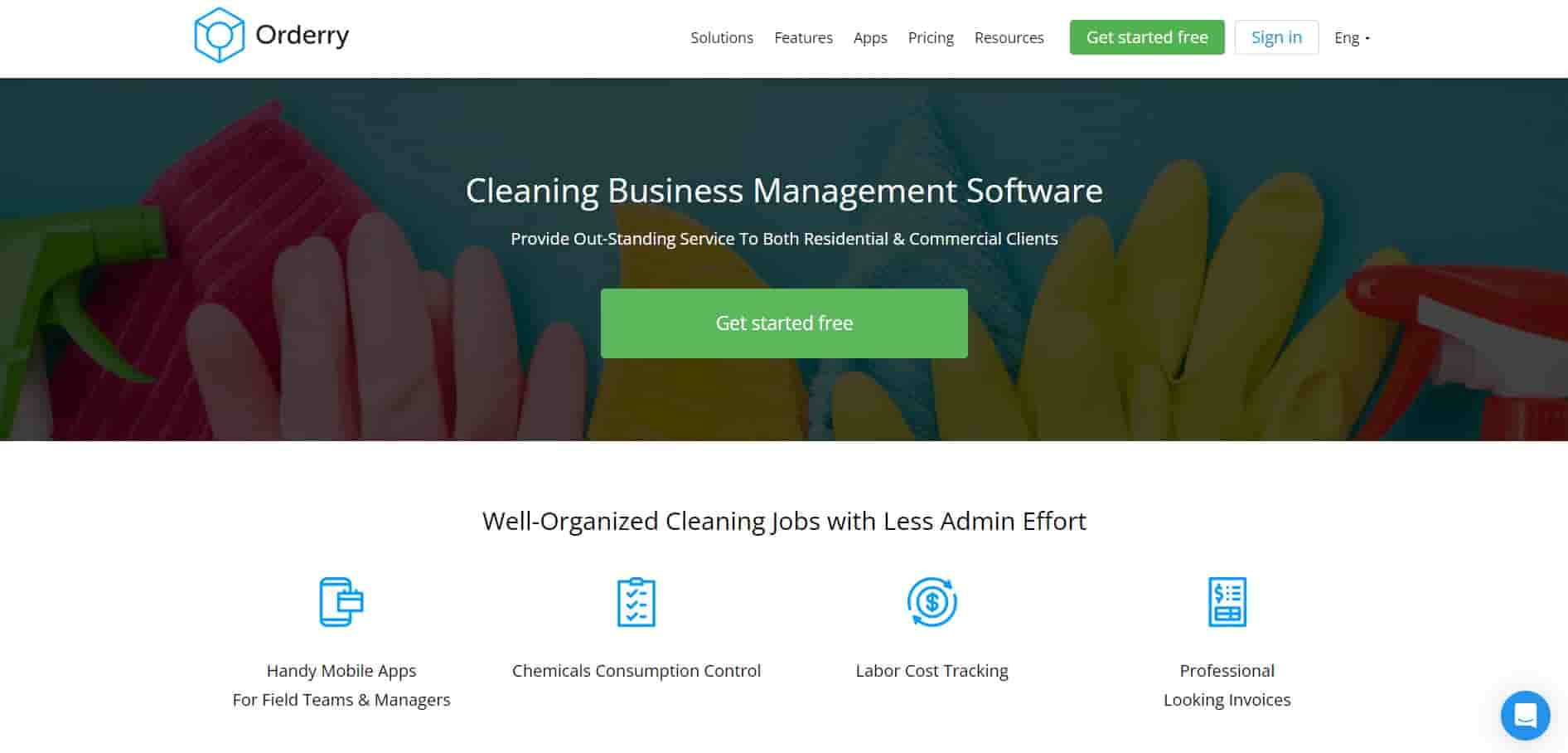 Orderry is a powerful, user-friendly management software tailored for service businesses like yours. You can have effortless management with Orderry.
Distinctive Features
Orderry's detailed reporting and analytics tools stand out, giving you deep insights into your business operations.
It's also equipped with a repair management system that can be a unique asset for businesses offering equipment maintenance or repair services.
Benefits
With Orderry, you're not just running your business but mastering it. The in-depth analytics shed light on your performance, helping you make data-driven decisions.
And if your services extend to equipment upkeep, the repair management system can make the process simpler and more efficient.
Ideal Business Size/Type
Order is a perfect match for small to medium-sized cleaning businesses that value analytics and offer equipment maintenance.
It caters well to commercial cleaning services with a broad service portfolio, providing tools that enhance efficiency and strategic decision-making.
9. Method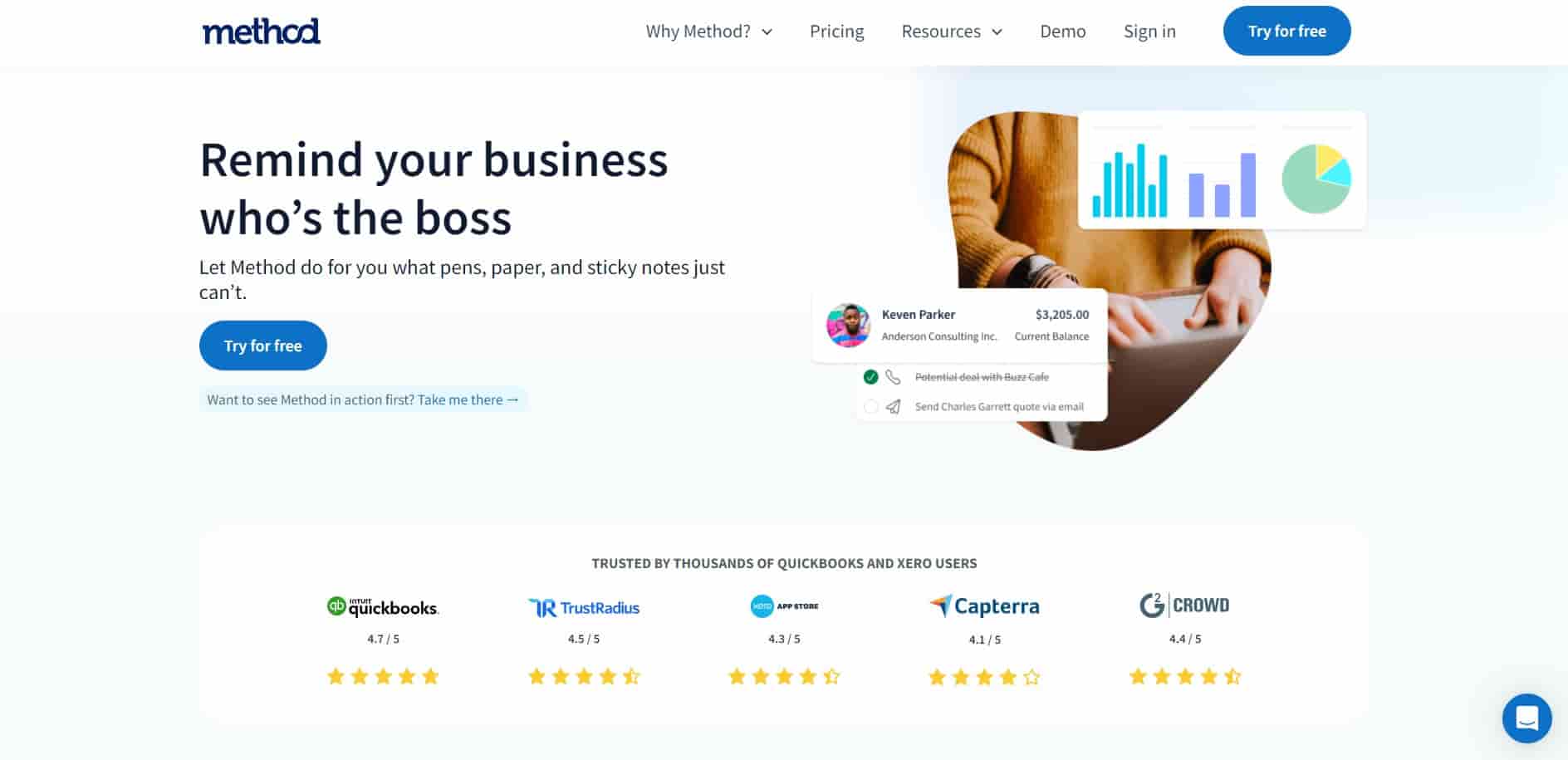 The Method is a customizable business software built for small businesses. They offer enterprise-grade benefits at small business prices, so nothing slips through, and productivity thrives.
Distinctive Features
The Method sets itself apart with its CRM-centered approach.
It's a customer management platform fully integrated with QuickBooks, providing a two-way sync for customer data, transactions, and more.
Benefits
With Method, you can access and update your QuickBooks data from anywhere. Its CRM-focused platform allows for better customer relationship management, fostering strong customer relationships.
It ensures seamless data syncing, minimizing the risk of discrepancies and reducing administrative work.
Ideal Business Size/Type
The Method is best suited for small to medium-sized cleaning businesses that already use QuickBooks and wish to integrate it with a powerful CRM for cleaning service.
It's excellent for residential and commercial cleaning businesses aiming to nurture client relationships and streamline administrative tasks.
10. OctopusPro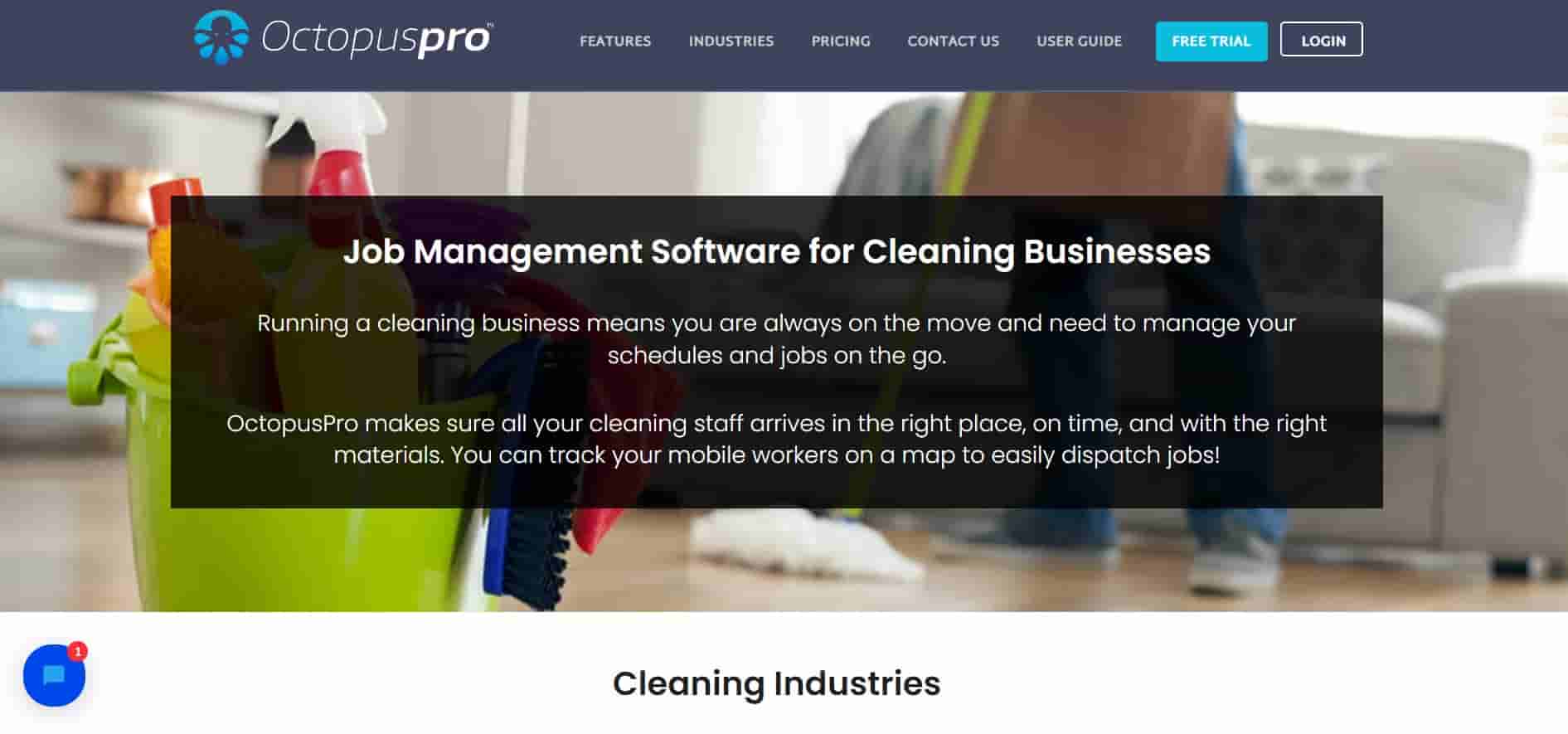 The OctopusPro is a cloud-based service management software designed to streamline your business. It will cover everything from customer management to staff coordination as one of the best cleaning business software programs.
Distinctive Features
OctopusPro sets itself apart with a comprehensive mobile app for service providers and customers, allowing for real-time booking, job updates, and communication.
Its advanced lead management feature aids in nurturing potential clients, and the integrated promotional campaigns tool helps to attract more business.
Benefits
OctopusPro's mobile app allows you to manage your business on the go and offer clients an effortless booking experience.
With its lead management and promotional tools, you can stay on top of potential business opportunities and actively work towards growth.
Ideal Business Size/Type
OctopusPro fits small to medium-sized cleaning businesses with an active mobile workforce and an emphasis on customer engagement.
Particularly suited for businesses operating across multiple locations, it empowers you to manage your operations efficiently and foster customer relationships effectively.
11. GeoOp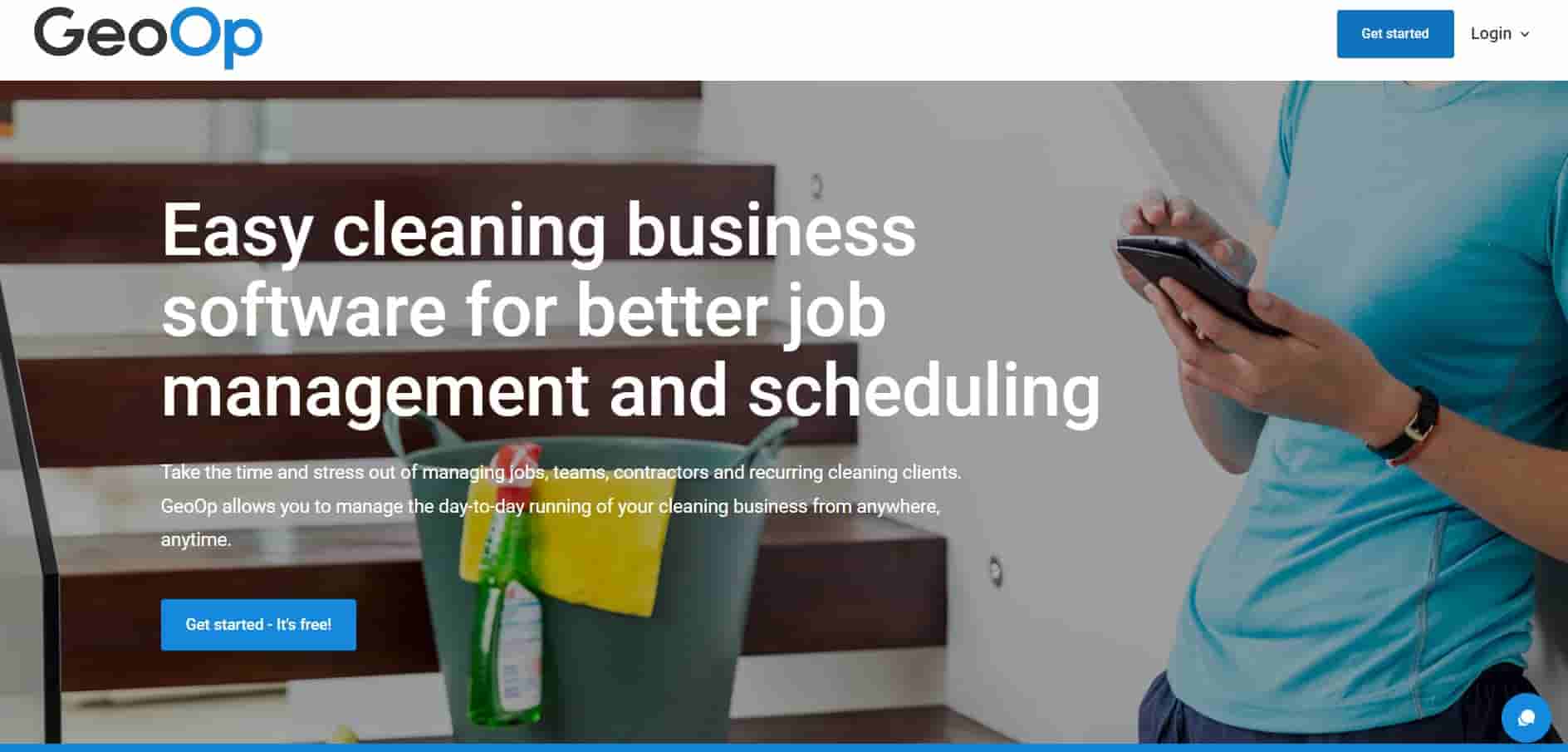 GeoOp simplifies managing trades, field service, and home service businesses. Their smart app helps streamline daily tasks, enhance cash flow, and save time.
Distinctive Features
GeoOp offers unique features like real-time GPS tracking of your field staff and a seamless drag-and-drop job scheduling interface. It also provides a visual job status indicator and supports custom fields for your business needs.
Benefits
GeoOp allows you to stay on top of your mobile workforce with live tracking, helping you improve job allocation and response times.
The intuitive drag-and-drop interface simplifies the scheduling process, saving you time. Custom fields allow you to tailor the software to your business's needs.
Ideal Business Size/Type
GeoOp is a good fit for medium to large cleaning businesses with field teams.
It's handy for real-time workforce location tracking and a flexible scheduling interface. Its custom fields make it adaptable to various business types and operational needs.
Understanding the Importance of Cleaning Software
Increasing Operational Efficiency
When running a cleaning business, things can get pretty hectic. Juggling schedules, keeping track of inventory, and handling invoices - it's like spinning plates!
Here's where cleaners' software can swoop in like a superhero. Think of it as your digital personal assistant that can help you streamline many of these tasks:
With the right software, scheduling becomes a breeze. No more flipping through calendars or spreadsheets!
Few cleaning business software helps with inventory management. It tracks your stock, alerts you when low, and can reorder supplies as needed.
Cleaning management software can automate the entire billing process. It creates invoices, sends them out to clients, and keeps track of payments.
Enhancing Communication
Communication can get tricky with your team across various sites and numerous client requests. Cleaning software transforms this, making communication efficient and effective.
Cleaning software often has features that allow for instant communication between team members.
You can assign jobs, share updates, or even resolve real-time issues. No more playing phone tag or waiting for responses to emails.
Cleaning software also offers a direct line between you and your clients. It can allow clients to book services, make payments, and leave feedback, all within the same platform.
The result? Happier clients who appreciate the smooth, efficient service.
Gaining Competitive Edge
Running a cleaning business is a non-stop race against time and competitors. How to win today? By leveraging cleaning software!
With cleaning software, you're not only saving time and reducing errors but also offering a modern, efficient service that clients will love.
Booking a service becomes as easy as clicking a button, and invoices arrive in their inbox without delays.
Plus, when you use cleaning software, you're sending a clear message - your business is technologically advanced and ready to meet the demands of the 21st century.
In a world where clients value convenience and efficiency, this could be the critical factor that makes them choose you over the competition. Remember, in the race of business, every second counts!
Real-World Scenarios on the Usage of Cleaning Business Software
Scenario 1: Optimizing Scheduling and Job Dispatch
Imagine Mary. She runs a bustling cleaning business and needs help with scheduling. It was like a daily puzzle with her team scattered across town. Then, she discovered cleaning software.
Suddenly, Mary could see everyone's schedule at a glance, assign tasks with clicks, and even automate schedules. Her team received assignment notifications, simplifying their day. It was like Mary found a magic wand that banished her scheduling woes!
This efficiency was a boon for Mary's clients, too. Jobs were done on time, reducing mix-ups and double bookings. The outcome? More satisfied clients and a relieved Mary.
If you, like Mary, find scheduling overwhelming, cleaning software could be your solution. It transforms scheduling from a headache into a breeze.
Scenario 2: Streamlining Invoicing and Billing
Imagine Tom, a top-notch cleaner and owner of a budding business. Invoicing and payment collection were a different story; mountains of paperwork and late payments were a constant. Then, Tom found cleaning software.
It was like hiring a personal accountant. Invoices were auto-generated and sent to the client's inbox, sparing Tom the hassle of mailing or hand delivery.
But there's more. The software tracked payments, allowing Tom to quickly see who had paid and who hadn't. It even sent automated reminders for overdue payments, saving Tom from uncomfortable conversations.
Not only did late payments decrease, but clients also appreciated the convenience of digital invoices and online payments. The once-daunting task became a streamlined, efficient process.
Like Tom, consider cleaning software if invoicing feels like climbing a steep hill. It simplifies invoicing and helps ensure prompt payments.
Scenario 3: Improved Client Relationships
Imagine Sara, who runs a thriving cleaning service. She valued customer service as much as the quality of cleaning. But, as her clientele grew, maintaining that personal connection became a challenge. That's when Sara turned to cleaners' software.
The software was like having her customer service team. It provided a platform for clients to book, modify appointments, pay, and leave feedback, all without a phone call. Sara's clients loved this convenience!
More than that, Sara could track each client's preferences, appointments, and feedback, allowing her to personalize her services and consistently exceed expectations.
Thanks to the software, Sara preserved her personal touch and enhanced client engagement. Her customer satisfaction ratings soared!
So, if you're like Sara and aim to enhance client relationships, cleaning software can be your secret weapon. It streamlines client interactions and personalizes their experience, turning happy customers into loyal patrons.
Overcoming Challenges with Cleaning Software
Training Staff to Use New Technology
Introducing new technology in any business can feel like teaching a fish to climb a tree. Only some people are tech-savvy, and there can be a learning curve.
Let's assume you are the owner of a cleaning company. You know the tech learning curve could be steep for your team, but you saw the potential benefits of cleaning software.
The ways you can implement cleaning software easily are:
Choose user-friendly software with a straightforward interface.
Arrange training sessions for your team.
Provide a safe space for them to learn and ask questions.
Slowly, your team will see the software as a helpful ally, not a daunting challenge.
Now, they can't imagine working without it.
Remember that with the proper support, this tool can enhance your business. Initial training pays off with more efficiency and a happier team.
Integrating Cleaning Business Software with Existing Systems
Change can be tricky, can't it? Especially when you're used to doing things a certain way. That's the hurdle you may face when integrating cleaning software into your existing business systems.
The ways you can easily integrate cleaning business software into your existing system are:
Choose a software known for compatibility with other systems.
Use their customer support for guidance during transition.
There may be a few bumps initially, but integrate the software into your setup.
Eventually, things will fall into place, and you can enjoy an efficient business process and more profit.
Final Thoughts
From simplifying schedules and invoices to improving communication and client relationships, cleaning software is a robust helper for cleaning business owners. Learning new tech and integration may pose challenges, but they can be conquered with patience, support, and resolve.
So, if you're running a cleaning business and haven't given cleaning software a shot, maybe it's time to consider it. After all, in this fast-paced, digital age, having a tech-savvy sidekick could be the thing to help your business shine even brighter.
Frequently Asked Questions about Software for Cleaning Service Business
What is cleaning services software?
Cleaning service software are digital applications designed to manage and optimize the operations of a cleaning or janitorial enterprise.
What software programs can I use to start a cleaning business?
Choose cleaning business software that can manage employees, track clients, make invoices, schedule tasks, control inventory, and provide reports. These features are essential for running a smooth operation.
Why Do I Need Cleaning Services Software?
As your cleaning business grows, software helps manage tasks so you can focus more on improving your services and growing the business.