Top 5 Time Tracking Software for Small Business in 2023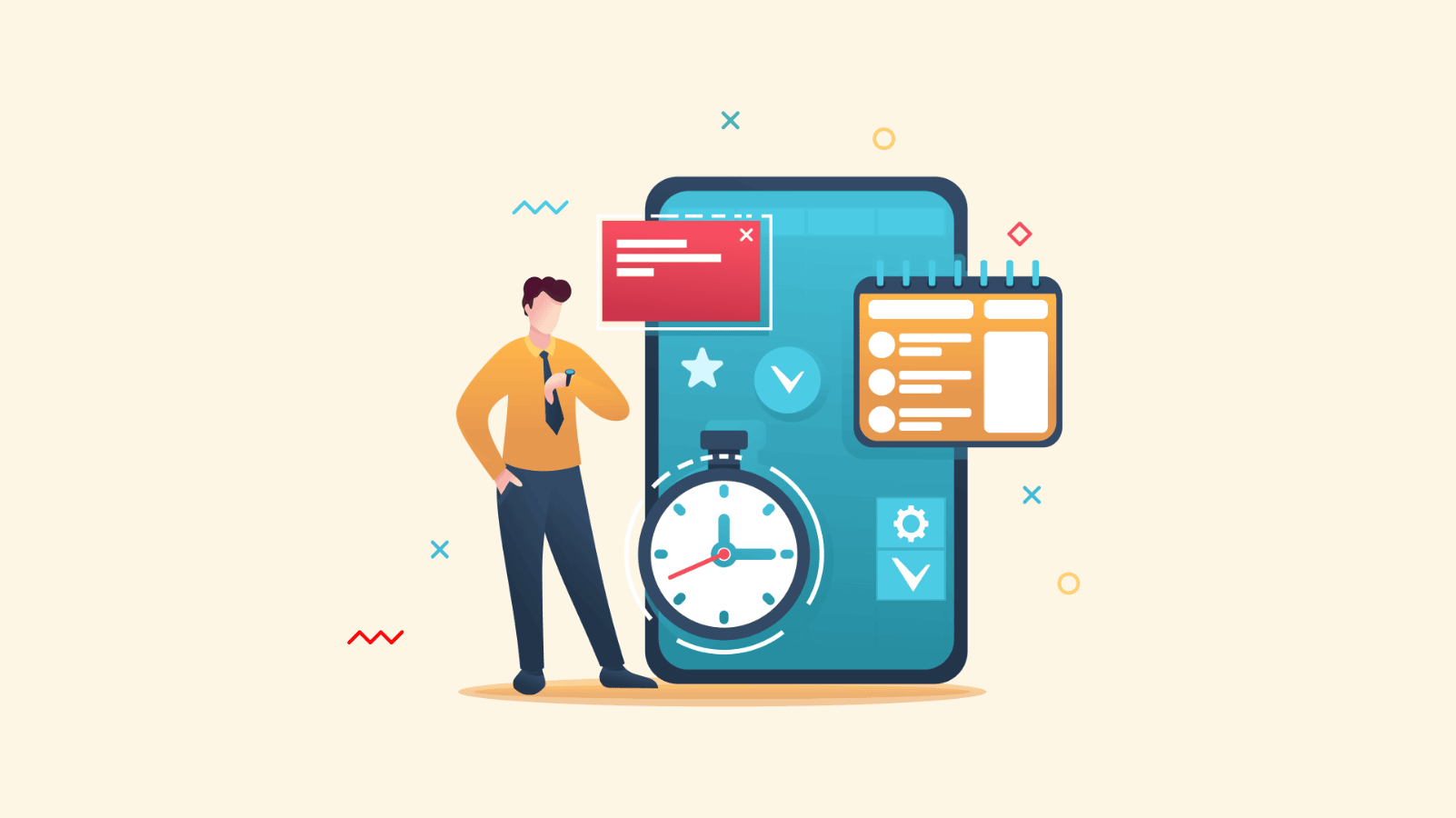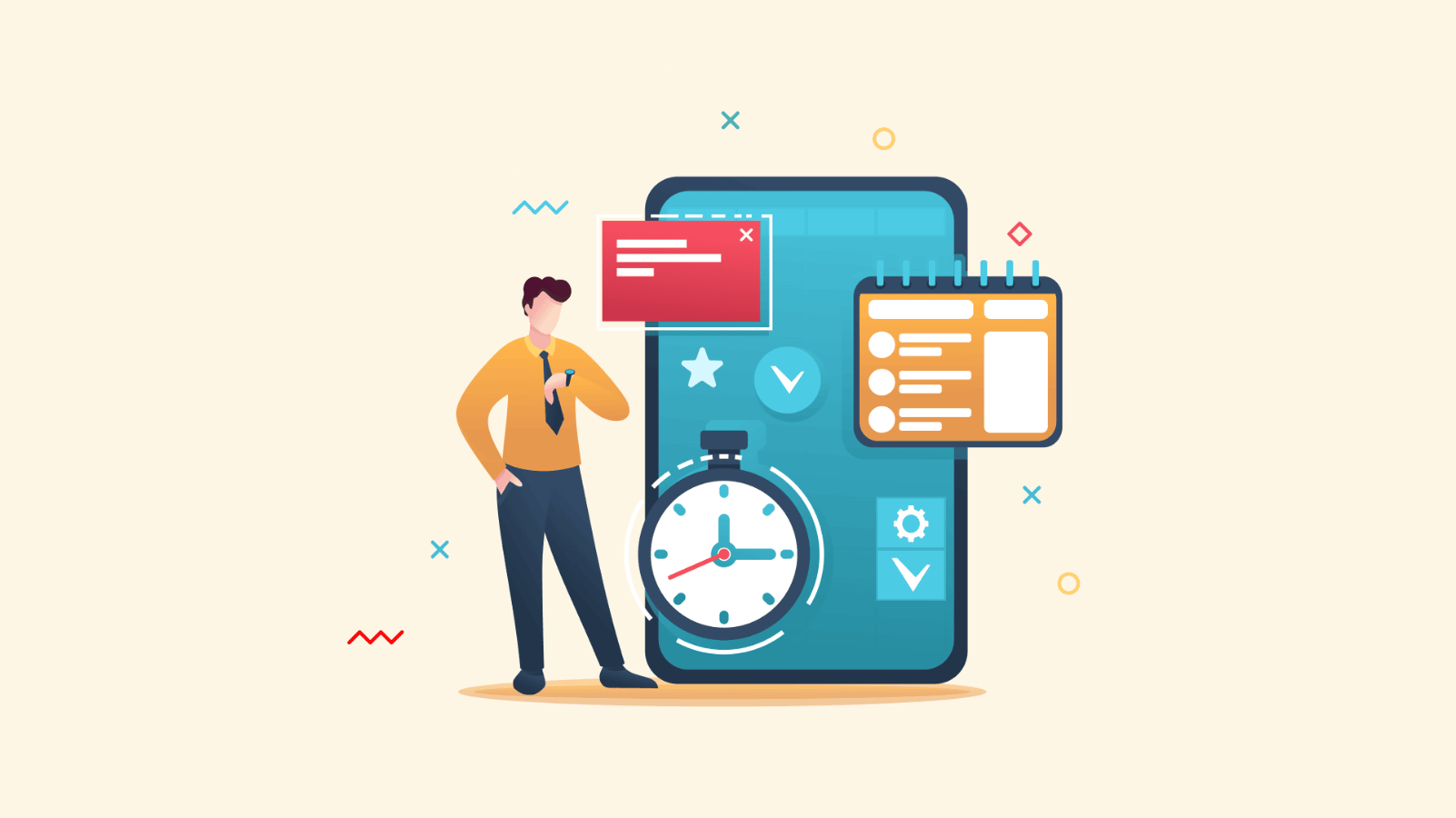 Tracking time is crucial for any business, but it's even more vital for small businesses. Small businesses must make every minute count while operating with limited resources and workforce. Optimizing these limited assets becomes a necessity, not just a luxury. That's where time tracking software for small businesses can help.
In this article, we'll guide you through the five best time tracking software solutions tailored for small businesses to help you make an informed choice for maximizing your team's efficiency.
Understanding time Tracking for Small Businesses: How does it help?
Small businesses frequently lose precious time on tasks that don't move the needle. With so many distractions around, it's crucial to ensure that resources and workforce are used to their fullest potential. Yet, without solid data, it's easy to fall into a time-management black hole.
That's where time tracking comes in handy. Owners, managers, and employees often don't have accurate data on how their time is spent, which can become a real problem. With time tracking software, you get concrete proof of how time is allocated. Tracking time can help you identify inefficiencies, streamline workflows, and, ultimately, increase profitability. So, if you're serious about scaling your business, proper time tracking is necessary.
Key areas of direct impact by time tracking software for small businesses are:
Financial Implications: Time tracking software can provide valuable data for budgeting and resource allocation.
Employee Productivity: Time tracking encourages employees to focus on tasks, making them more aware of how much time they spend on each activity.
Resource allocation: By understanding how much time is spent on various tasks, a company can redistribute workload to maximize available resources.
Accountability and Transparency: When employees know their time is being recorded, they're more likely to focus on their tasks, reducing the scope for slack or misuse of time.
List of top time tracking software for small business: User rating and starting price
Here is a list of the pricing plans for small business time tracking software with the user rating:
Name of Small Business Time Tracking App
Starting Price
Rating out of 5 (Capterra)
1. Apploye
$5/user/month billed monthly
or $2.5/user/month billed annually
4.9
2. Clicktime
$13 per user per month paid monthly
or $10 per user per month paid annually
4.6
3. Hubstaff
$7 / user / mo paid monthly
or $4.99 / user / mo paid annually
4.6
4. Desktime
$7 user / month paid monthly
or $6.42 user / month paid annually
4.5
5. Freshbooks
$17.00 per month
or $204.00 annually
(user cost: $11/per user per month)
4.5
Review of the best small business time tracking software
As you have already seen the starting price and the user rating, now we will now get into the detailed analysis for the best time tracking app for small organizations and businesses:
1. Apploye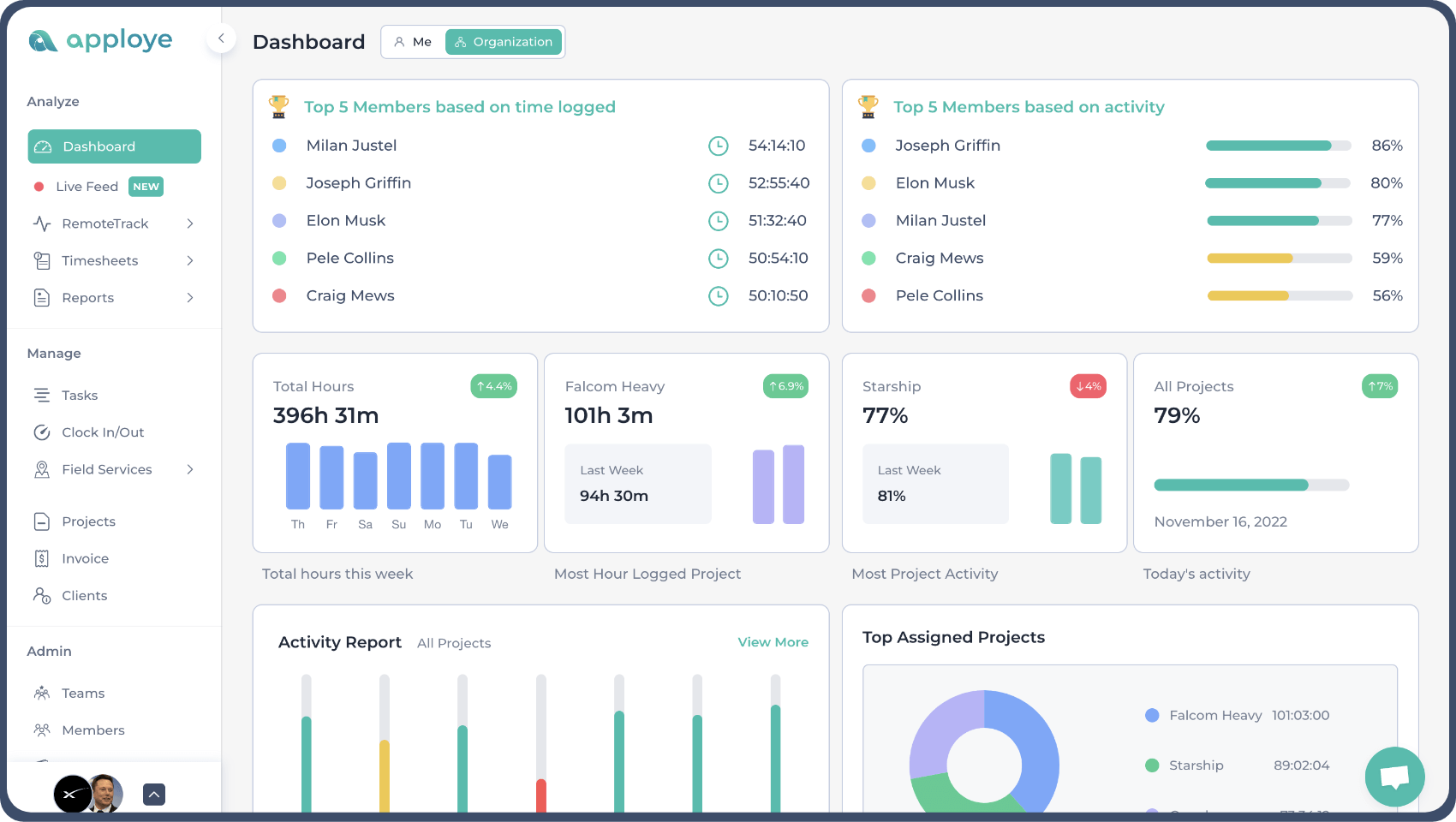 Apploye is an all-in-one time tracking software optimized for small businesses. Beyond clocking hours, it provides detailed timesheets, real-time monitoring, and project and task tracking to help you manage your team effectively.
This software offers insightful reports and analytics, automated invoicing, and even GPS location tracking for teams with field employees.
Whether your team is remote or in the office, Apploye ensures accurate payroll to keep everyone happy. Additionally, it boosts productivity and helps allocate resources, making it a must-have tool for small businesses focused on time optimization.
Besides, Apploye provides user time monitoring features as well. It has screenshot monitoring, apps and URL tracking, productivity tracking, and more. Which surely will be handy for small business owners and their management team.
Prime Features of Apploye
Automatic time tracking
Track time on projects and tasks
Idle time tracking
Timesheet Approval
Activity and productive time reports.
Apps & URL usage
Weekly activity analytics report
Project and Task wise time log
Track time on job location
Project Budget and Billing
Pricing
Solo: $4/user/month billed monthly or $2/user/month billed annually
Standard: $5/user/month billed monthly or $2.5/user/month billed annually
Premium: $6/user/month billed monthly or $3/user/month billed annually
Elite: $7/user/month billed monthly or $3.5/user/month billed annually
Let's explore Apploye's time tracking features and functionalities for Small Businesses
Automatic Time Tracking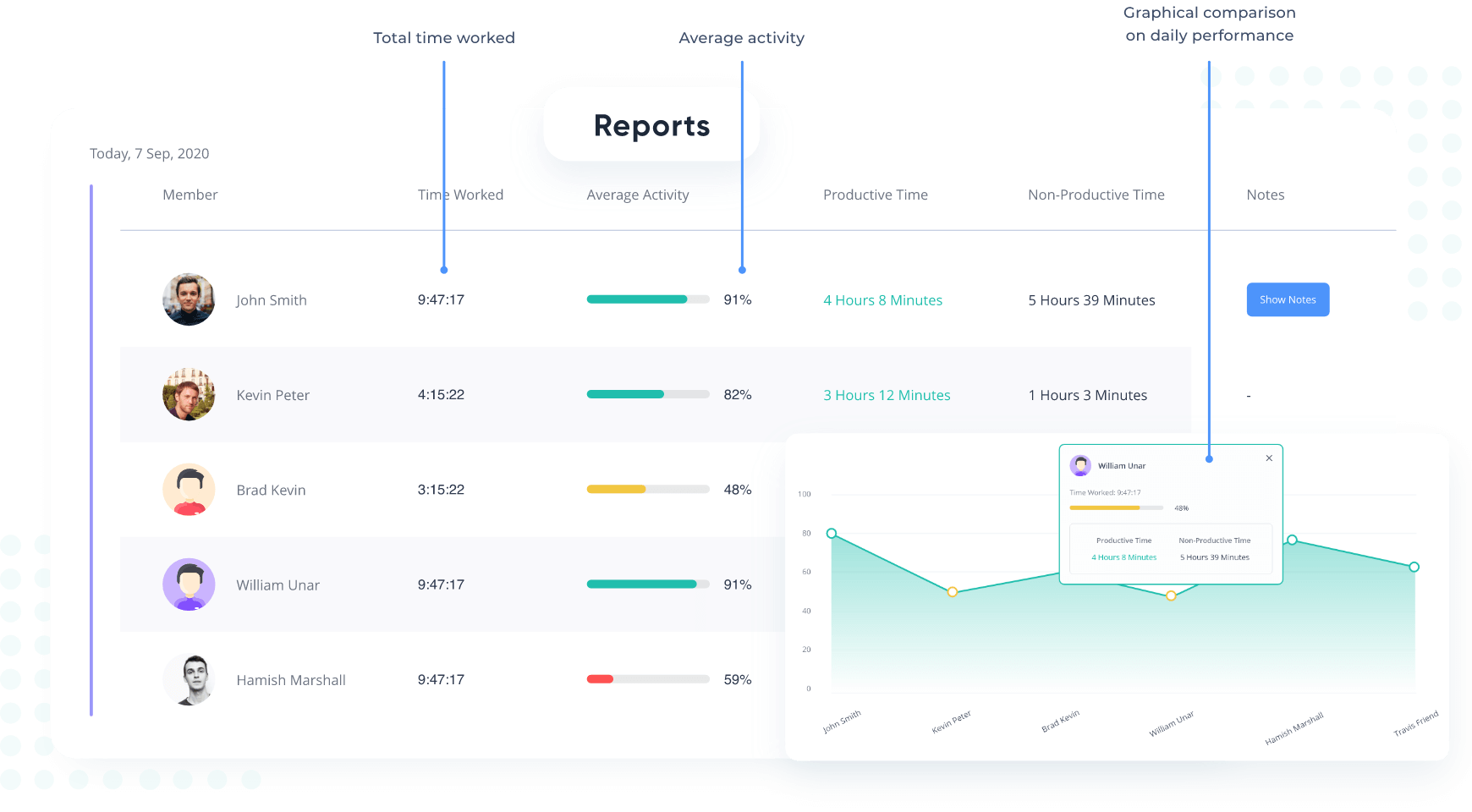 Automatic time tracking can be a lifesaver for small business owners undertaking multiple responsibilities. This feature will automatically track your employees' time and record it.
This feature lets you focus on running your business rather than getting lost in manual time entry.
Know the Clock-In & Clock-out Time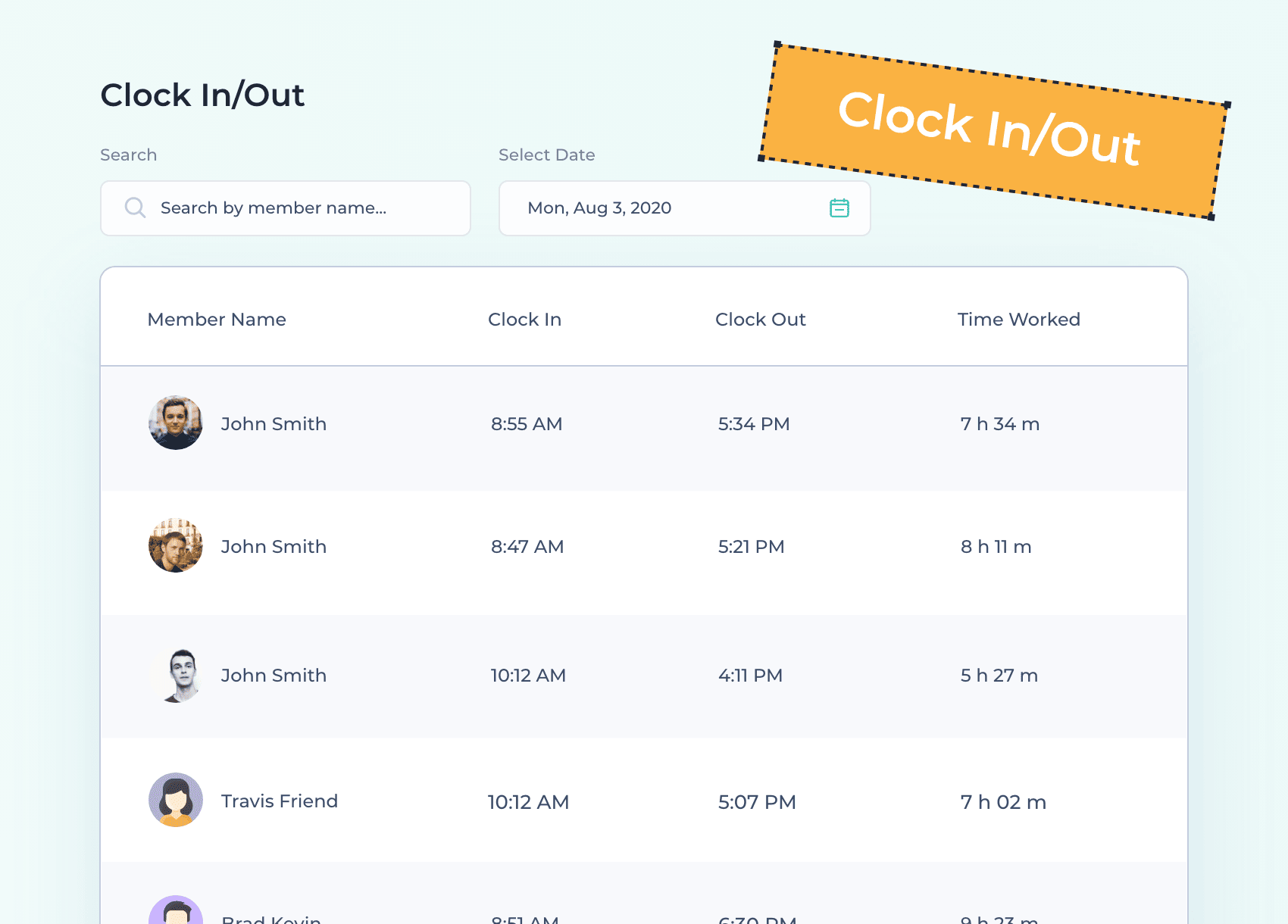 The Clock-In and Clock-Out feature of Apploye is pretty straightforward and very important for small businesses.
It mimics the traditional punch clock but in a digital format. Employees can start and end their workdays with a simple click.
This feature will bring transparency and help you in accurately calculating work hours. Consequently, it takes the guesswork out of payroll, making life easier for you and your employees.
Check the Automatically Generated Timesheet from Tracked Time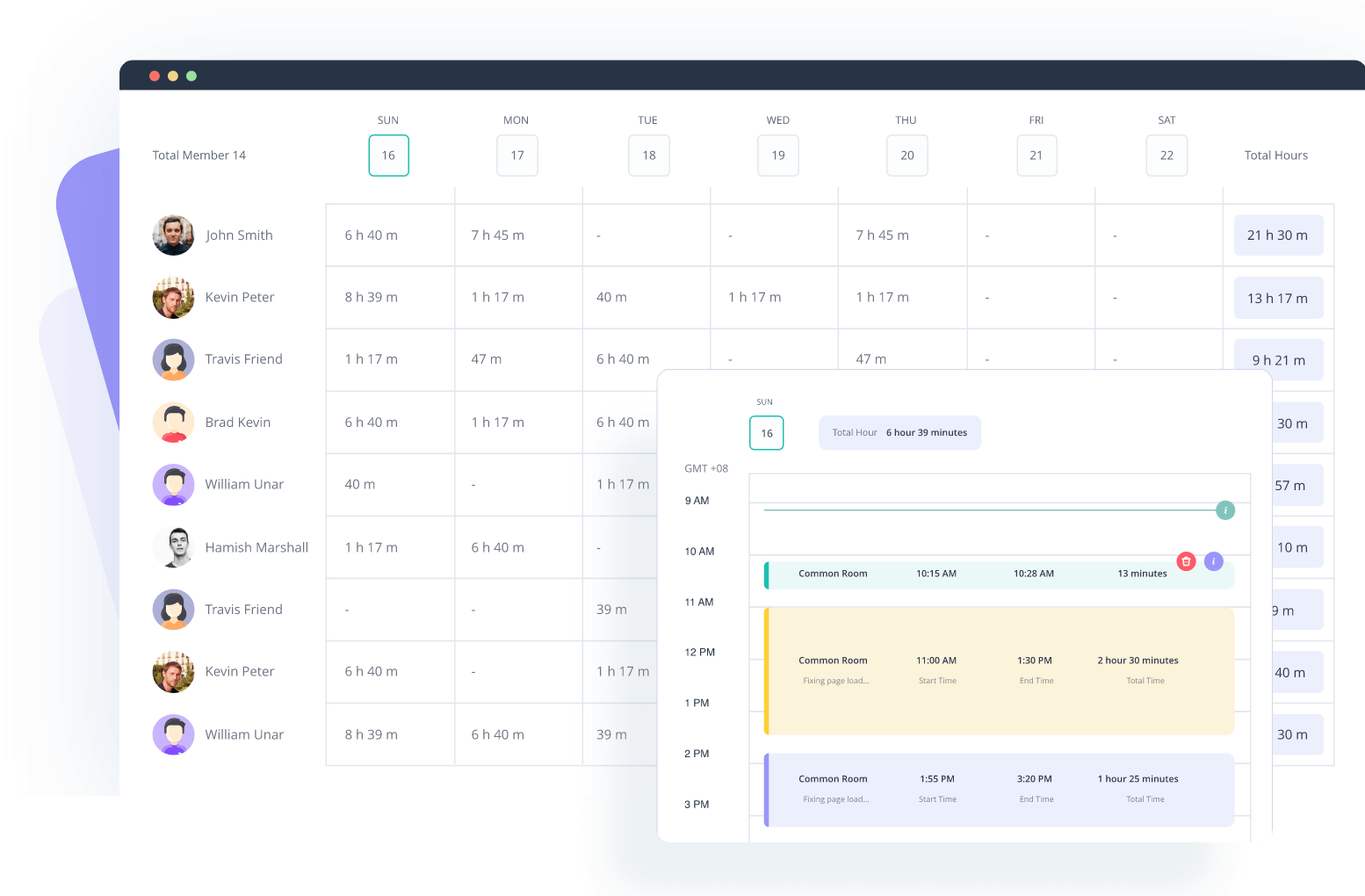 Apploye provides automatic timesheet generation, an important feature for small business time tracking software.
This feature automatically compiles timekeeping data into organized payroll or client invoicing timesheets.
You don't need to manually create timesheets at the week's or month's end. It saves time and significantly reduces the chances of human error, ensuring accurate and timely financial operations.
Approve or Reject Timesheet
Timesheet approval is another key feature of Apploye that will help track small business time.
Managers or business owners can easily review and approve timesheets directly within this time tracking app. This ensures that all logged hours are legitimate and correspond to the work completed.
Track Time on Projects and Tasks undergoing in your Business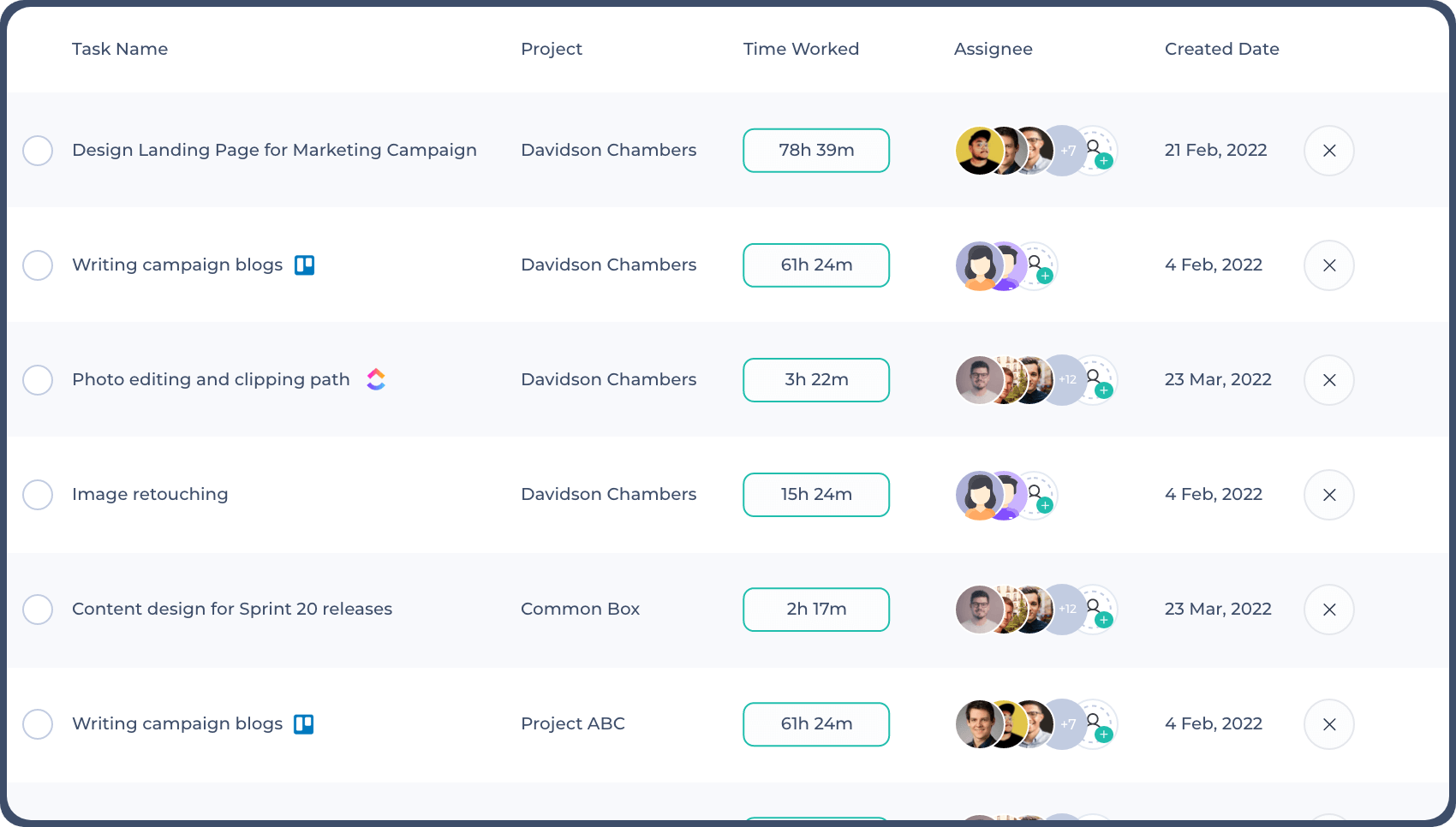 Apploye's ability to track time on specific projects and tasks can be invaluable for your business. This feature lets you see exactly how much time is spent on each project or task.
As a result, you can pinpoint inefficiencies, allocate resources more wisely, and even estimate future projects with greater accuracy.
Know when your Employees are Inactive by Idle Time Tracking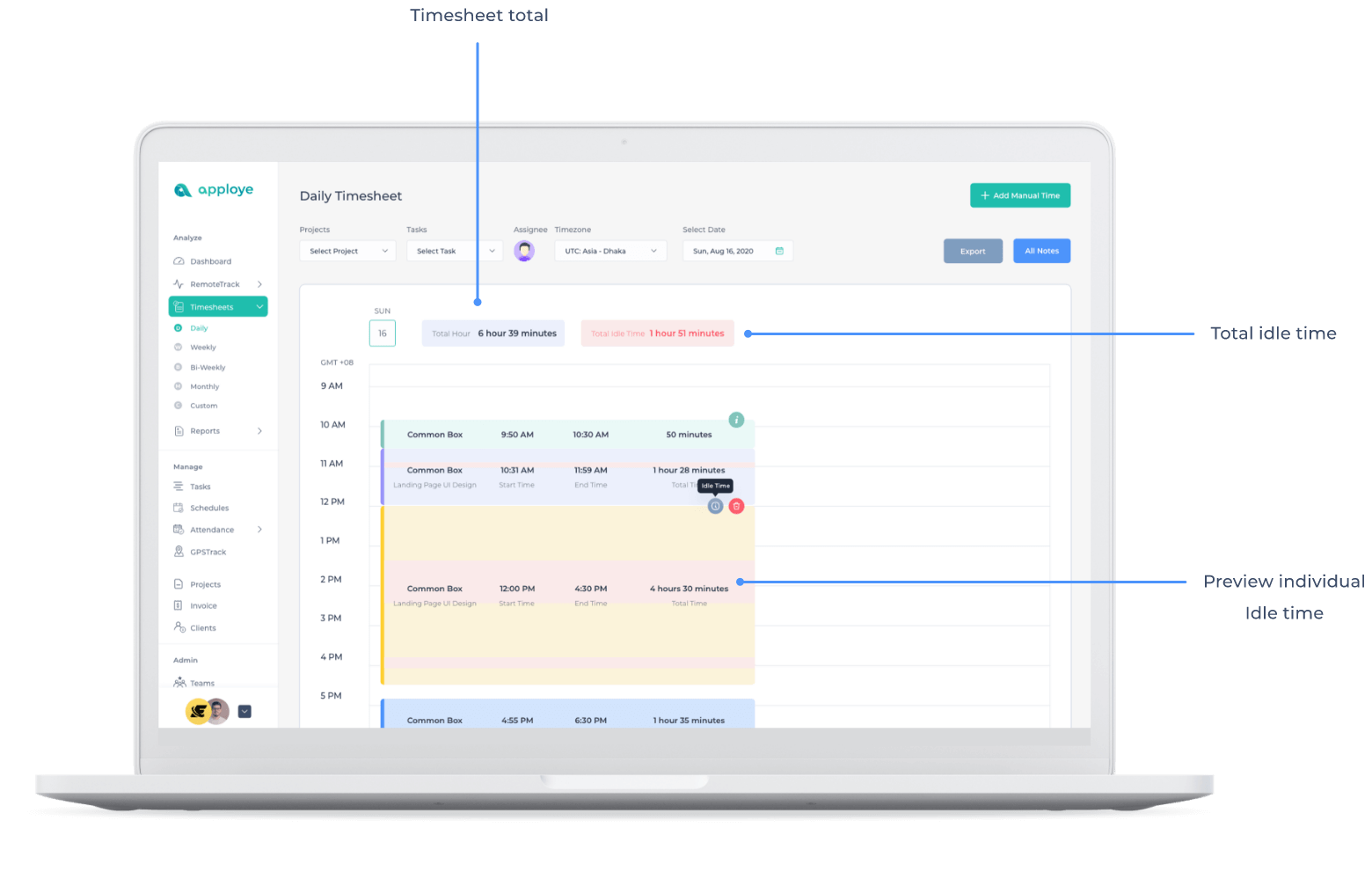 Apploye offers idle time tracking for small businesses looking to eliminate time wastage and improve productivity.
This function monitors periods of inactivity during work hours, giving you insights into how much time is spent unproductively.
Recognizing idle time can help you identify bottlenecks or inefficient practices, enabling you to take corrective action.
Calculate Billable and Non-Billable Hours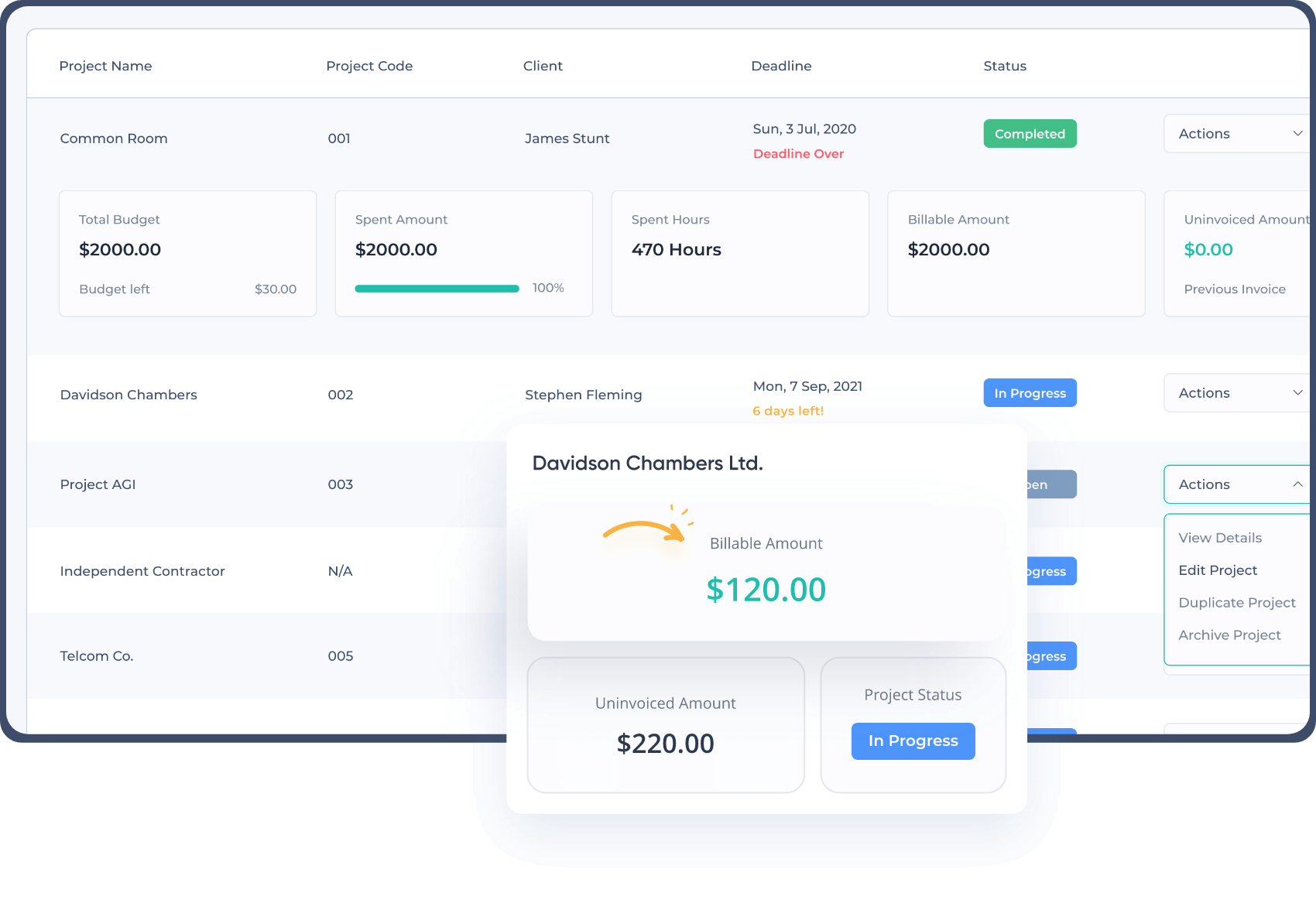 Tracking both billable and non-billable hours is essential for some businesses. This time tracking app will also help you track and manage the billing of billable and non-billable hours.
Knowing exactly what to bill clients and how much time is spent on internal or non-revenue-generating activities helps you get a clear financial picture.
This feature of Apploye will allow you to do more precise invoicing and better labor cost management, making your business operations more sustainable in the long run.
Monitor Screenshots besides Time Tracking of your Employees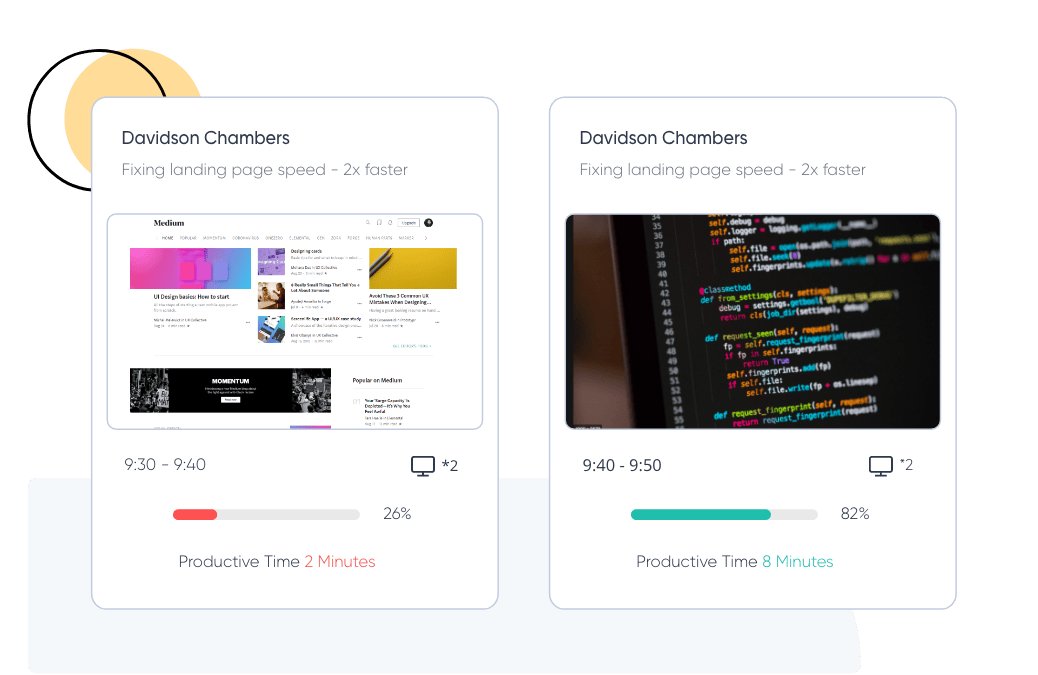 Suppose you're concerned about remote work efficiency and want to know what your employees are doing around the clock with visual proof. The screenshot monitoring feature of Apploye is for you.
This feature captures periodic screenshots of employee workstations, offering a transparent look into real-time activity. While some argue it's a bit invasive, it ultimately serves to verify that tasks are being worked on diligently.
Using this feature, you can keep your team accountable and ensure that company time is well-spent, which is especially crucial when team members are spread across different locations.
Track Apps & URLs Usage of your Staffs within your Business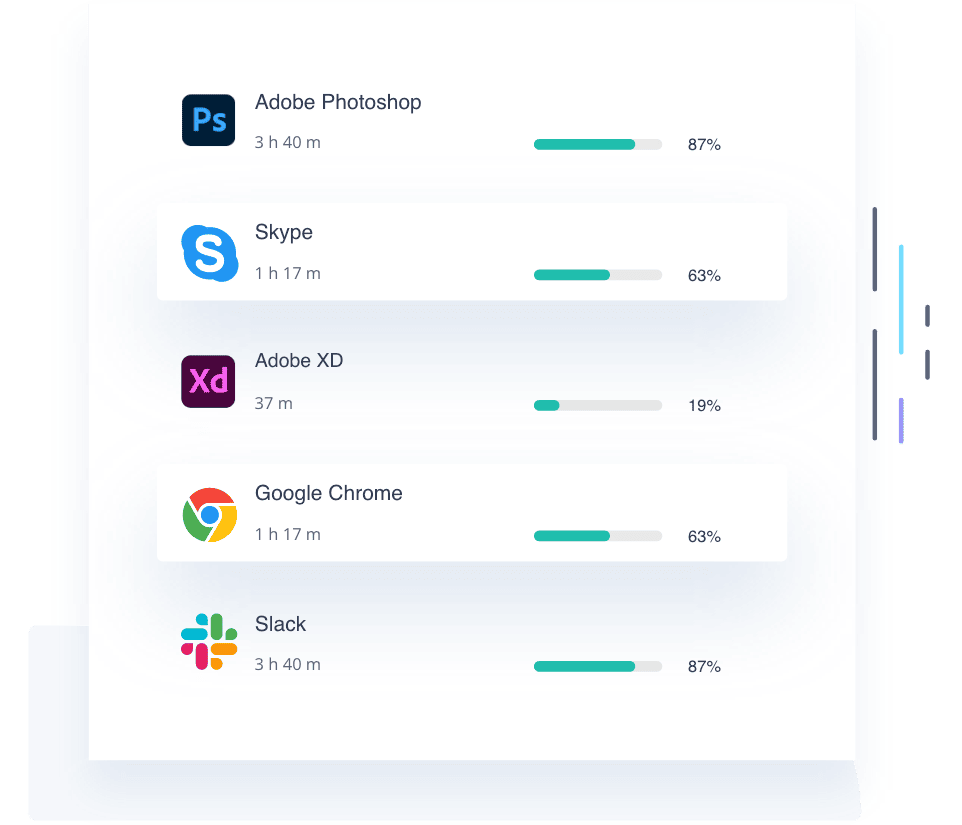 For businesses that want a full picture of digital work habits, Apploye's Apps & URLs usage tracking is indispensable.
This feature provides insights into which applications and websites are accessed during work hours, helping you identify both productive tools and potential distractions. Understanding where time is spent online allows you to address any issues proactively, improving focus and productivity across your team.
So, it's an excellent way to ensure that your staff makes the most of their online time.
2. ClickTime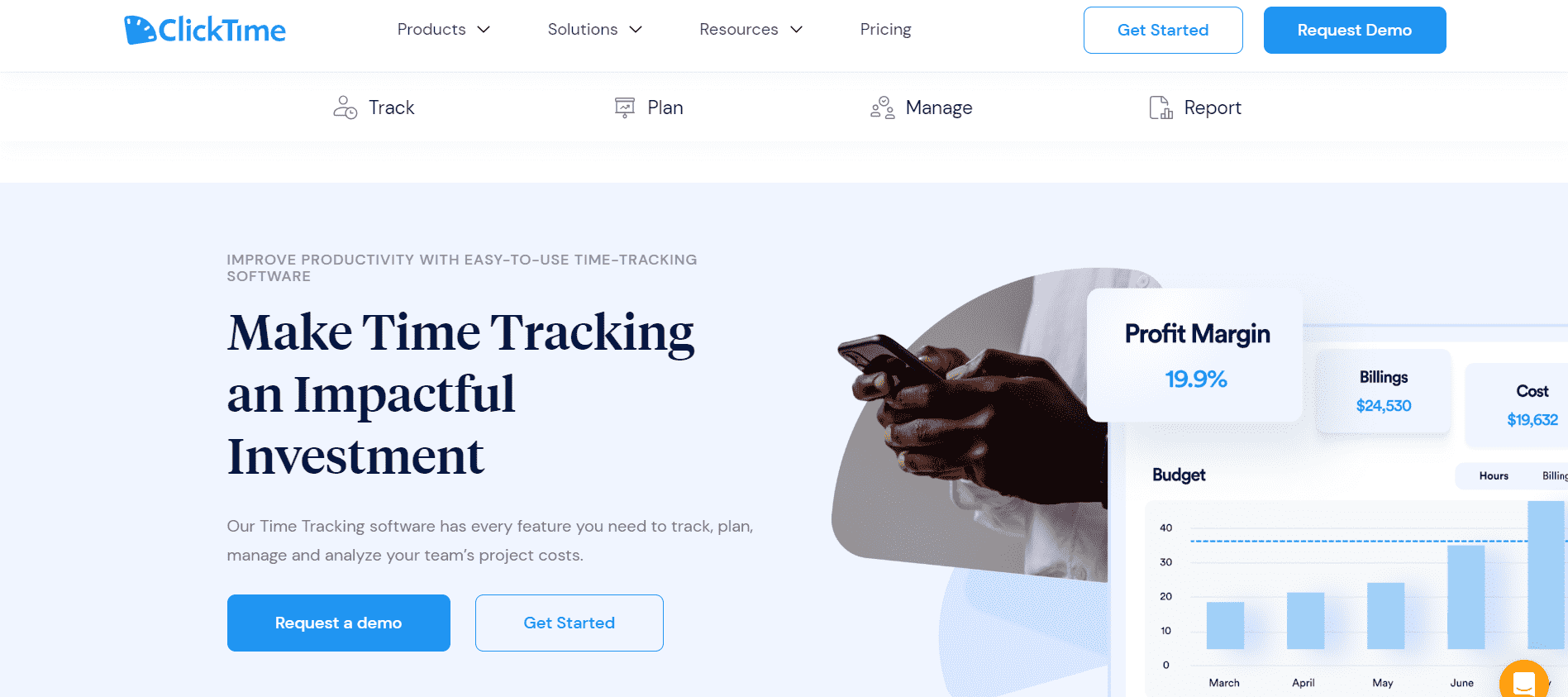 ClickTime specializes in helping small businesses understand how employee time is spent, allowing for more effective resource allocation. It's one of the best employee time tracking software for small business.
Unlike other time tracking tools, ClickTime excels in budget forecasting and expense tracking, giving a 360-degree view of project costs. Its user-friendly mobile app means remote or on-the-go teams can stay in the loop, making it a highly flexible solution.
Suppose you're a small business looking to do more than just track hours. In that case, ClickTime offers the insights to make smarter management decisions.
Prime Features
Easy Time Entry
Employee Capacity Planning
Budget Tracking
Expense Management
Customizable Reports
Workforce Management
Third-Party Integrations
Mobile Accessibility
Billable Time Tracking
Pricing
⁠Starter $13 per user per month paid monthly or $10 per user per month paid annually
⁠Team $17 per user per month paid monthly or $13 per user per month paid annually
⁠Premier $28 per user per month paid monthly or $24 per user per month paid annually
⁠Enterprise CALL
3. Hubstaff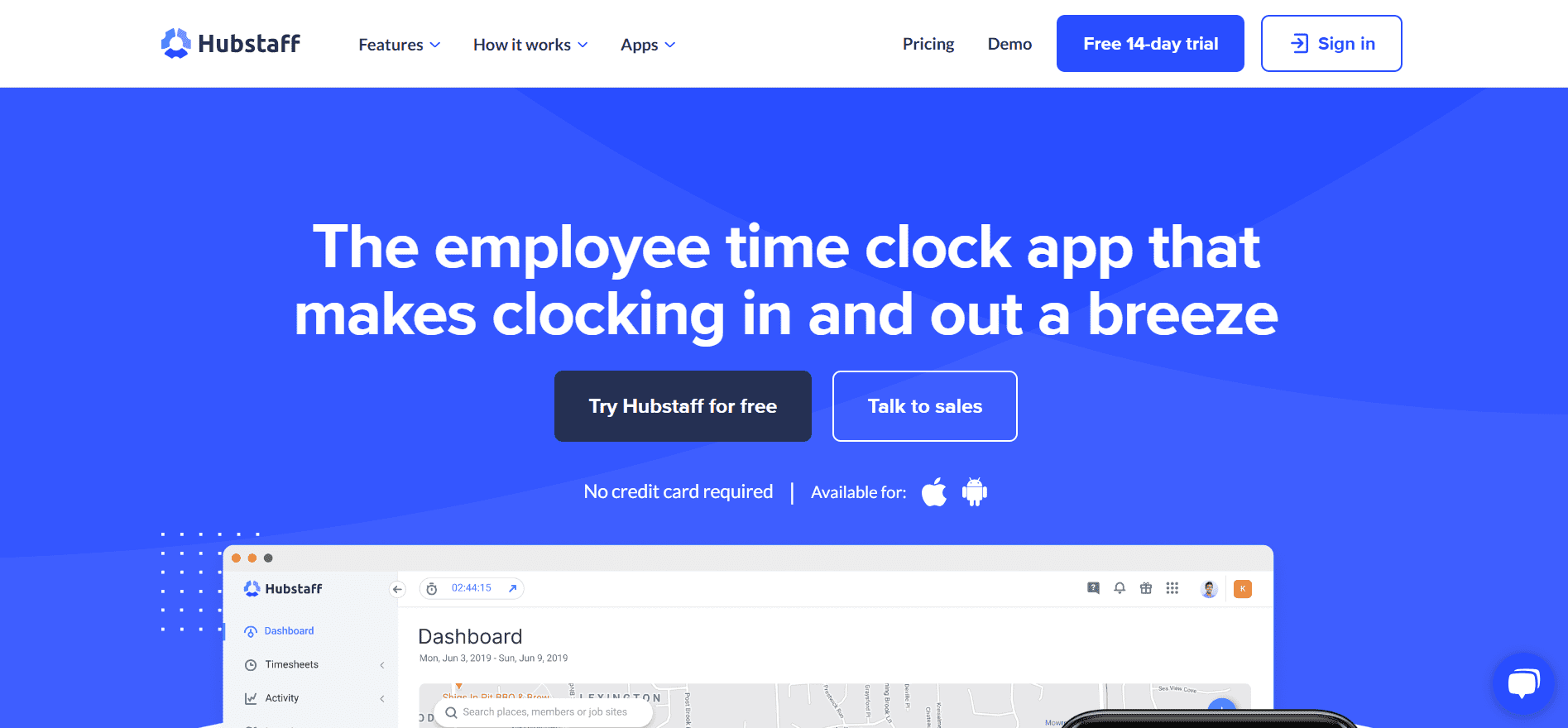 Hubstaff is a good small business time tracking software. With features ranging from automatic time tracking to in-depth reporting, Hubstaff allows small business owners to focus on what matters most—growing their business.
Its user-friendly interface makes it easy for teams to log hours. At the same time, its powerful backend allows managers to allocate resources more effectively and stay within budget.
Equipped with integrations for popular business tools and straightforward invoicing and payroll functionalities, Hubstaff provides small businesses with an efficient, easy-to-implement solution for time management and productivity.
Prime Features
Employee hours tracker
Time reports
Discard idle time
Track budgets and projects
Apps
Work break tracker
Automated timesheets
Pricing
Starter $7 / user/mo paid monthly or $4.99 / user/mo paid annually
Grow $9 / user/mo paid monthly or $7.50 / user/mo paid annually
Team $1200 / user/mo paid monthly or $1000 / user/mo paid annually
Enterprise: Get a customized plan
4. Desktime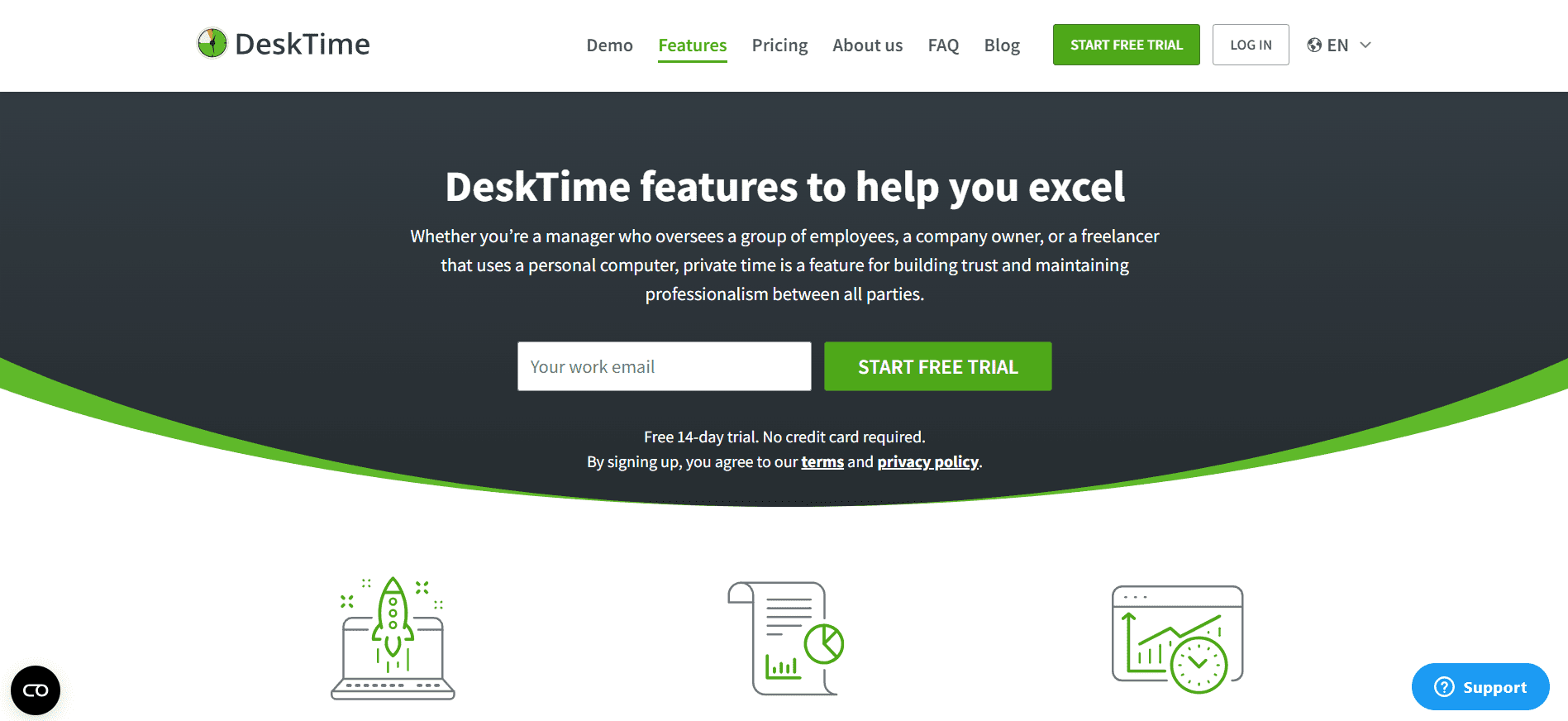 DeskTime is another elite time tracking app for small business. It tracks work hours and offers insights into how your team's time is spent, helping you boost productivity and manage resources wisely.
With features like automatic time tracking, productivity analysis, and easy invoicing, DeskTime makes it simple for small business owners to get a clear picture of their operations. The software seamlessly integrates with common business tools, making it a convenient addition to your existing workflow.
It's an ideal solution for small businesses looking to take the guesswork out of time management and focus on what matters.
Prime Features
Automatic time tracking
Cost calculation
Mobile app
Pomodoro timer
Team's contacts
Third-party Integrations
Project tracking
Private time option
Custom reports
Shift Scheduling
Web time tracker
Pricing
Pro $7 user/month paid monthly or $6.42 user/month
Premium $10 user/month paid monthly or $9.17 user/month
Enterprise, $20 per user/month, paid monthly or $18.33 per user/month
5. FreshBooks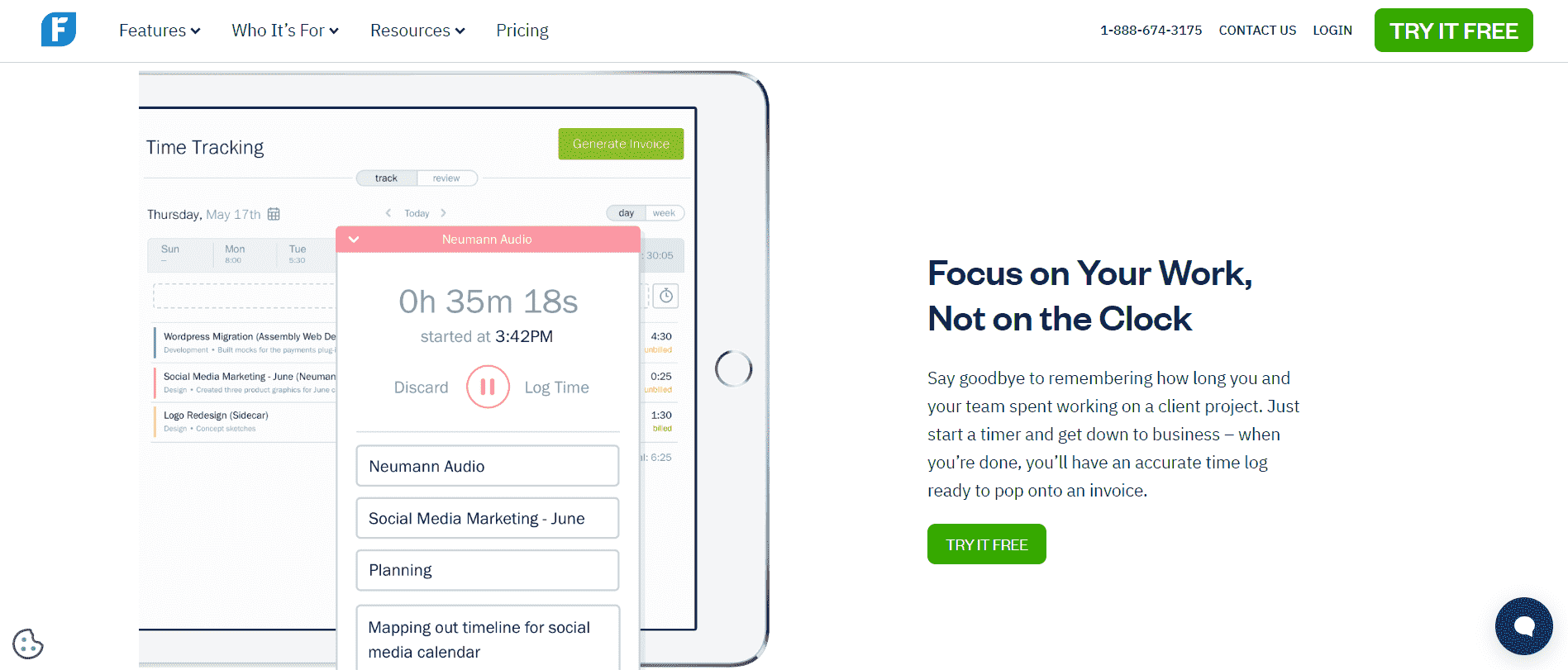 FreshBooks stands out as a time tracking solution for small businesses because it's more than just a stopwatch; it's a comprehensive business tool.
With FreshBooks, you can track time and seamlessly convert those hours into invoices, eliminating the hassle of manual billing. The software also allows for team time tracking. It offers insightful reports, helping you understand where your business's time and efforts are going.
Its integration with the accounting features FreshBooks is known for makes it a one-stop shop for small business owners. It's a smart, efficient choice for those who manage time and finances in one accessible platform.
Prime Features
Timer-based Tracking
Manual Time Entry
Team Time Tracking
Invoice Integration
Project Budgeting
Client-Specific Tracking
Expense Tracking
Reports
Mobile App
Third-Party Integrations
Pricing
Lite $17.00 per month or $204.00 annually
Plus $30.00 per month or 360.00 annually
Premium $55.00 per month or $660.00 annually
Select Contact Support
*adding team members will cost $11 per user per month on all the plans
How to choose the right time tracking software for small business
Only knowing about the best time tracking software is not enough. It is also important that how to choose the right software. Below are a few tips and techniques you should follow to select the time tracking system for your business
Identify Needs: Start by outlining what you need from a time tracking software. Are you looking to simplify payroll, track remote teams, or manage projects more effectively?
Ease of Use: Pick software that has an intuitive interface. If it's too complicated, your team won't use it.
Scalability: Choose a solution that can grow with your business. Check if the software offers different plans to adapt to your changing needs.
Features: Look for essential features like real-time monitoring, detailed timesheets, project tracking, and reporting tools. Some advanced options offer invoicing, GPS tracking, and integrations with other software you already use.
Cost: Evaluate the pricing structure. Ensure it fits within your budget and you're not paying for features you don't need.
Trials and Demos: Take advantage of free trials or demos. This gives you hands-on experience and a clearer understanding of how the software fits into your operations.
Customer Support: Ensure the software provider offers adequate support through multiple channels like chat, email, and phone.
Reviews and Recommendations: Look at customer reviews or ask for recommendations from business associates with similar needs.
Data Security: Ensure the software complies with relevant data protection and privacy laws, especially when dealing with sensitive information.
Compatibility: Check that the software is compatible with your business's devices and other software tools.
By considering these factors carefully, you'll be more likely to choose the time tracking software that best suits your small business's needs.
What should small businesses avoid while selecting their time tracking software?
When selecting time tracking software for a small business, please avoid the following:
Complex User Interface: A time tracker app for small businesses should be intuitive and easy to use. If the UI is complicated, it can discourage users from fully engaging with the system, thus defeating its purpose.
No Offline Tracking: Many tasks don't require an internet connection. If the software doesn't offer offline tracking, you might miss out on capturing essential data.
Weak Security Features: Data security is paramount. If the time tracking app lacks robust security features, it puts sensitive company and employee information at risk.
Limited Scalability: As your small business grows, your software should be able to grow with you. Limited scalability will mean you'll have to switch systems later, which can be a hassle.
High Costs: While you get what you pay for, sometimes tracking systems offer features you don't need at a premium price. Ensure the software fits within your budget and offers value for the price.
Poor Customer Support: No matter how intuitive a system is, you'll likely need support at some point. Poor customer service can leave you in a bind when you encounter issues.
Overwhelming Features: Sometimes, more is less. Software stuffed with features that are not useful for your business is unnecessary and can complicate the experience.
Is time tracking for small businesses necessary?
Time tracking in small businesses is more than just a nice-to-have; it's often essential. With limited resources and tight budgets, small businesses must ensure every minute counts.
Time tracking provides valuable data that can help make informed decisions for staffing needs, project deadlines, or client billing. It offers a tangible way to measure productivity and identify areas that may require improvement.
For example, an individual tracked his time, as mentioned in the Harvard Business Review, which allowed him to gain an additional 29% more time in his month — 866 hours instead of the typical 672.
Additionally, proper time tracking can offer legal and financial protections for both employers and employees. For example, it ensures that workers are compensated accurately for their time, especially those eligible for overtime.
For instance, you may find that too much time is spent on administrative tasks that don't directly contribute to revenue. In response, you could automate those processes or delegate them to lower-cost employees, allowing more skilled team members to focus on core business activities.
It can also serve as a documented history during client audits or when confirming the details of a project's scope and billing.
The real cost of 'No Time Tracking' software in small businesses
'No time tracking' in small businesses comes with a multi-faceted cost beyond mere dollars and cents. On the surface, wasted time directly correlates to lost revenue.
For a business operating with a tight margin, even a few hours of unproductive time each week can significantly impact the bottom line. But 'No Time Tracking' repercussions are far more complex and insidious.
Below are a few direct impacts of 'no time tracking' in any organizations or businesses:
Lost Revenue: Wasted time is essentially wasted money, particularly crucial for small businesses operating on tight margins.
Opportunity Cost: Spending time on low-value tasks means missing out on high-impact projects, giving competitors a chance to advance.
Low Morale: Poor time management causes stress and burnout, affecting team well-being and quality of work.
Tarnished Reputation: The stress and lower quality of work can lead to customer dissatisfaction, hurting the business's reputation, which is often its most valuable asset.
Domino Effect: Inefficiencies in one area, like delayed invoicing, can compromise other processes, disrupting the cash flow and causing financial strain.
Hinders Scalability: An inefficient small business will need help to adapt and grow more, making expansion costly and risky.
Limits Innovation: When you're always putting out fires, there's no time for forward-thinking or innovation, leading to business stagnation.
Poor time management is a silent killer that can affect every facet of a small business, from financial health to long-term growth.
How to implement time tracking software in small businesses?
Implementing time tracking software in a small business involves more than just installing a program. The process must be well-planned to ensure it meets business objectives, integrates well with existing systems, and is accepted by team members. Here's a step-by-step guide:
Step 1: Define Objectives
Clearly outline what you aim to achieve with the time tracking software. It could be for increasing productivity, improving project estimation, or streamlining invoicing processes.
Step 2: Assess Needs
Identify the specific features you need in a time tracking software. This can range from simple time logging to complex project tracking and invoicing functionalities.
Step 3: Research and Selection
Compare various time tracking software options based on features, usability, cost, and scalability. Select the one that aligns with your business needs and budget.
Step 4: Consult Team Members
Before making the final decision, consult with the team members who will use the software. Their input can provide insights into usability and features you might need to look into.
Step 5: Run a Pilot Test
Before full-scale implementation, run a pilot test with a small group of users. Use this phase to identify potential issues and assess the effectiveness of the software.
Step 6: Training
Once you've chosen the software and ironed out any issues during the pilot phase, train all users. This training should cover both the basic and advanced features of the software.
Step 7: Integration
Integrate the time tracking software with other business tools such as project management, payroll, and accounting tools.
Step 8: Rollout
After successful training and integration, roll out the software to the entire organization. Provide documentation and resources to assist users.
Step 9: Monitor and Tweak
Regularly monitor usage and gather feedback from team members. Use this information to make necessary tweaks and adjustments.
Step 10: Review and Adjust Objectives
After a predetermined period, review the implementation to assess if it has met its objectives. Make adjustments as needed and set new objectives if applicable.
Certainly, I understand what you're looking for now. Here's a revised version that's straightforward and uses transition words for better flow:
Wrapping Up
In summary, we've explored various time tracking software designed to meet the needs of small businesses. Each option offers distinct features, so it's essential to consider what your company specifically requires. Many offer free trials, allowing you to make an informed choice.
The right software can help you manage time effectively. We hope this comprehensive review will help you choose the right time tracking software for your business.
Frequently Asked Questions (FAQ)
How do small businesses track time?
Small businesses have various options for tracking time, each with pros and cons. Here's a quick rundown:
Manual Timesheets: A cost-effective but error-prone method where employees log their hours on paper or spreadsheets.
Punch Clocks: Traditional but reliable, although they lack features for task-specific tracking and require manual data entry for payroll.
Digital Time Trackers: These simple apps allow employees to clock in and out on their devices, offering better accuracy than manual methods.
Automated Time Tracking Software: Time tracking software offers comprehensive features like real-time tracking, analytics, and integration with other business tools.
Project Management Tools: Some businesses use software like Asana that includes time tracking features as part of broader project management capabilities.
Custom Solutions: Tailored specifically for your business needs but can be more costly to implement.
The best method of small business time tracking depends on your specific needs, including team size, nature of work, and budget considerations. Consider trying free trials or demos to find the best fit for your business.
Can time tracking software help remote teams?
Yes, time tracking software is highly beneficial for remote teams. It adds a layer of accountability by providing real-time insights into each team member's tasks and time spent.
Features like activity monitoring and project timelines make it easier to manage workflows, even when team members are in different time zones. Time tracking software is a virtual office that structures your remote team's day, making it an essential tool for managing a distributed workforce.
Will time tracking software affect employee morale?
The effect of time tracking software on employee morale can go either way, depending on its implementation and communication. If properly introduced with transparency, focusing on its advantages for productivity and workflow, it's likely to be welcomed.
On the other hand, if the software is perceived as a means of surveillance, it may negatively impact morale. The key to a successful implementation is open communication and involving employees in decision-making.
How does time tracking affect billing and payroll?
Time tracking software significantly streamlined the billing and payroll process by providing accurate, real-time data on work hours and tasks completed. For businesses that bill clients by the hour, the software ensures that every billable minute is accounted for, reducing discrepancies and disputes.
On the payroll side, it helps automate salary calculations based on the actual hours worked, including overtime, making the process more efficient and transparent. Time tracking software minimizes errors, saves administrative time, and contributes to a more equitable workplace.
What is the best time tracking software for small businesses?
The "best" time tracking software can vary based on your business needs. These platforms offer a range of features like real-time tracking, project budgeting, and employee monitoring, each with unique advantages.
Use free trials or demos to determine which software aligns best with your business objectives.