30+ Best Productivity Tools for Remote Teams in 2023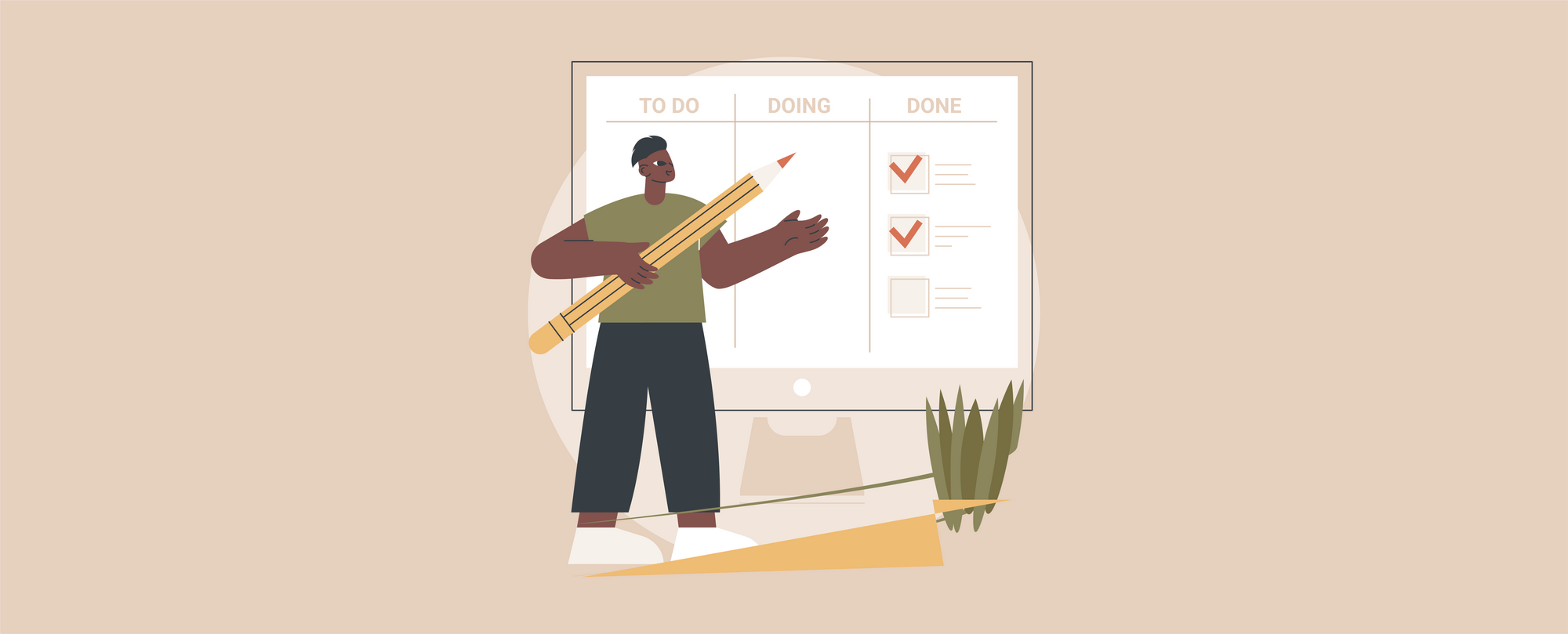 Working From Home has great luxuries but it also comes with great challenges. The biggest one is productivity. Work efficiency and the need for micromanagement are the pain points of employees and employers.
So, how can you keep your productivity high even by doing work from home? Also, how can a company that is managing multiple projects together keep in touch with its remote teams?
The answer is Productivity Tools for remote teams. These tools can help you in handling multiple projects, manage your team, track time, and much more.
Today, we will discuss 30+ productivity tools that would be helpful for remote teams in 2023.
Top Categories of Productivity Tools for Remote Teams
These productivity tools are divided into 9 categories based on their utility. Let's have a look:
Time Tracking Tools for Productivity
Time Tracking Tools come in handy while managing a fully remote team. It is a must-have productivity tool for employers to keep track of the employees whether they are working remotely or from the office. It has great features like timesheets, reporting, analytics, and much more. Have a look at these best time tracking tools available in the market:
1. Apploye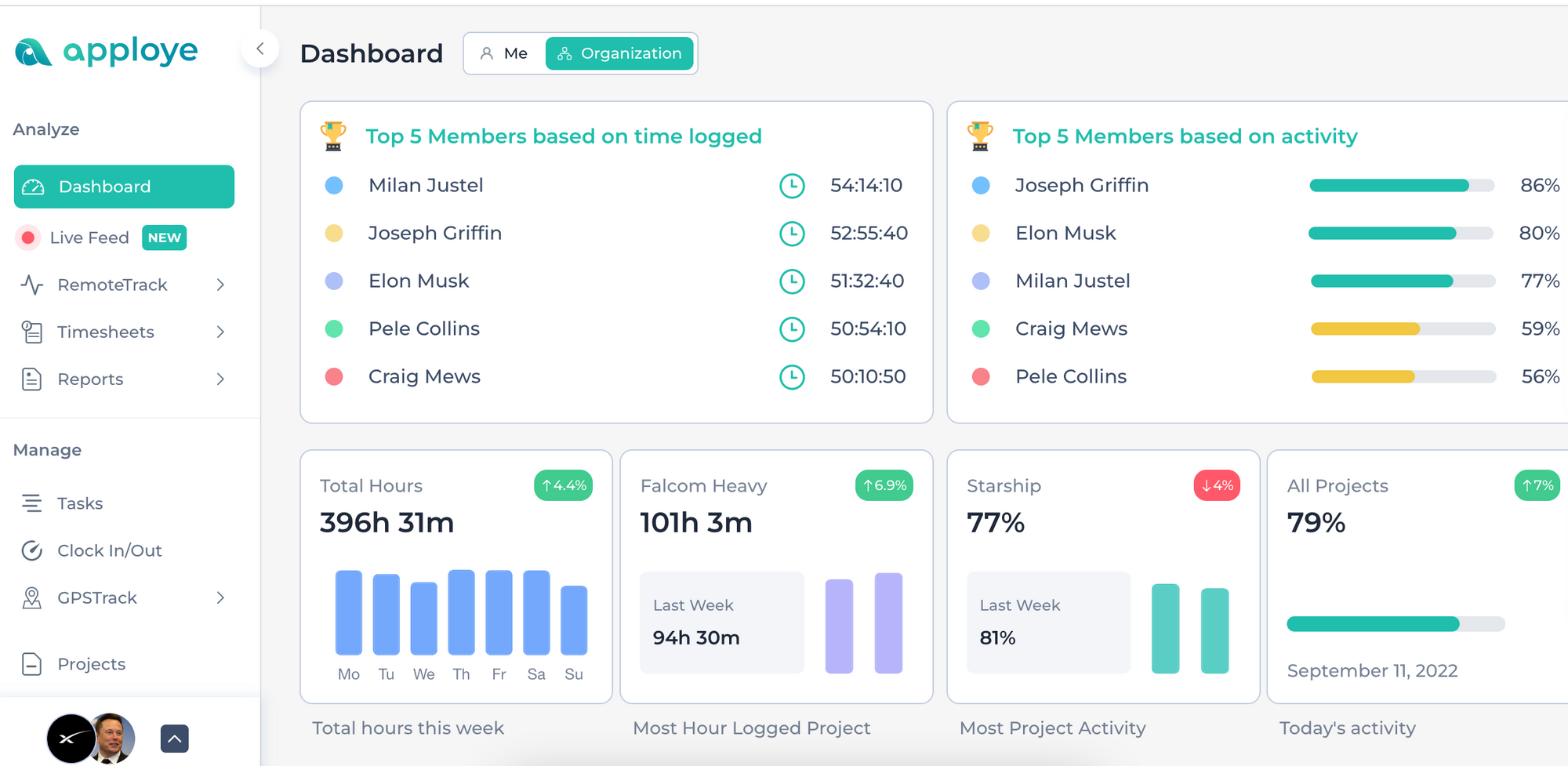 Apploye is an all-in-one time tracking software for all kinds of businesses. You can just start or stop your work with just a single click and it will get recorded with the help of a desktop app.
This app has a Pomodoro time tracker that will help you to focus on your work and boost your productivity by taking periodic breaks. It also has a mobile app that helps in tracking time in real time from anywhere. If the job is fieldwork, then you can also track staff location with this tool.
It has attendance management, staff management, remote employee monitoring, reports management, time management, payroll management, and more than 100+ features. This app has so much versatility that you can use it even if you are a startup or a big corporation.
Key Features - Pomodoro Timer, GPS Attendance, Geofencing Attendance, and Project Progress Reports are some of the striking features of Apploye. It has one of the best features at very affordable rates.
Pricing - It starts from $2 per user per month to $3.5 per user per month if subscribed annually. Also, you will get 6 months extra if you pay annually.
2. Time Doctor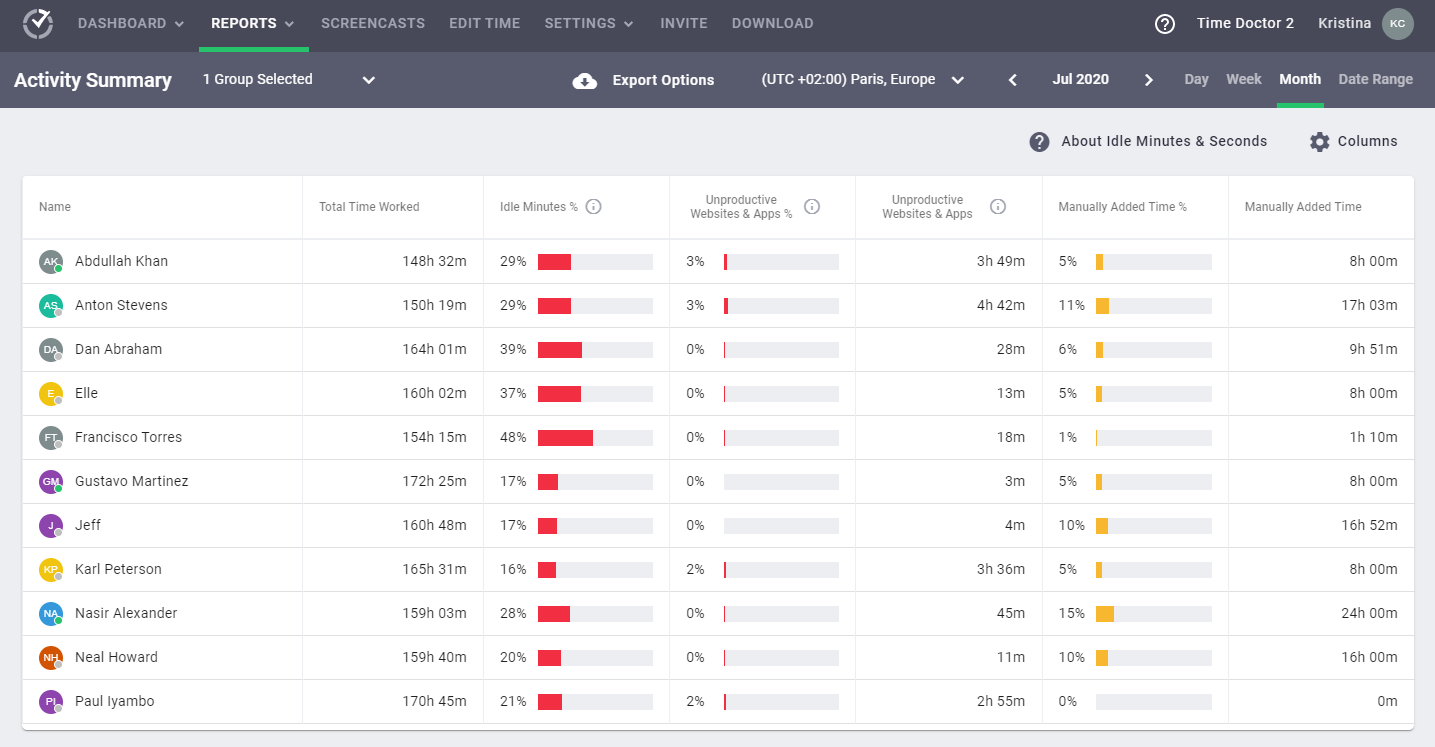 Time Doctor is another Time Tracking Productivity Tool. It helps in managing productivity by giving distraction alerts. If you are getting distracted by Facebook, Instagram, or Youtube then this software will instantly notify you. It will also alert you if you are sitting idle for too long.
Time Doctor is compatible with all devices that have Windows, Mac, Linux, iOS, and Android OS. It can also be integrated with tools like Asana, Jira, Trello, Slack, Github, Quickbooks, and many other apps. It also has an API that makes the operation of this app simpler.
Key Features - Distraction Alerts, API and Integrations, and All Device Compatibility are the most striking features of this app
Pricing - Its pricing range from $7/month to $20/month for a single user.
👉 See our comprehensive list of Time Doctor Alternatives in 2023.
3. Kickidler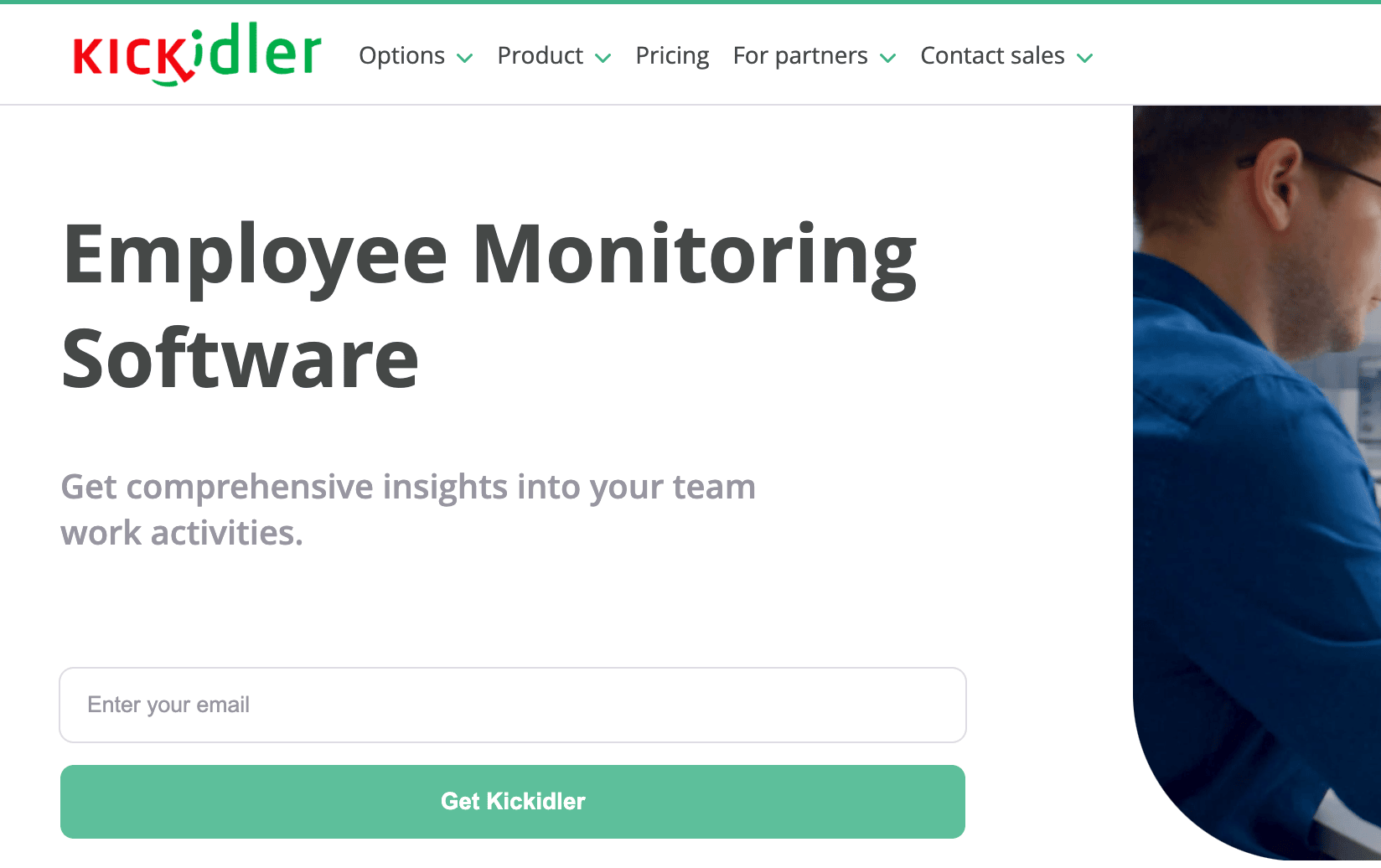 Kickidler is a comprehensive time tracking solution that helps businesses drastically improve their productivity. It automates employee time tracking, which in turn improves internal discipline and increases employee productivity, without needing to use any employee productivity tracker template in google sheet.
Its unique Autokick feature gives managers an in-depth look into employee behavior by rating employees and helping them monitor their own productivity.
The software also offers both employers and employees a variety of detailed reports on pretty much everything, from the way specialists spend their working hours and their habits at the PCs to their work dynamics and time distribution.

Key Features – screen video recording, Autokick, keystroke logging, and detailed productivity analytics are some of the most eye-catching features of the software.

Pricing – The cost of licenses per user per month starts at $3.67 for 3 years; $5.5 – for 1 year; $6.67 – for 6 months; $8.33 – for 3 months; $9.99 – for 1 month.
Project Management Tools for Productivity
Project Management Tools are mainly used to manage projects with ease. Here are some of the top project management tools you can use in 2023:
4. SmartTask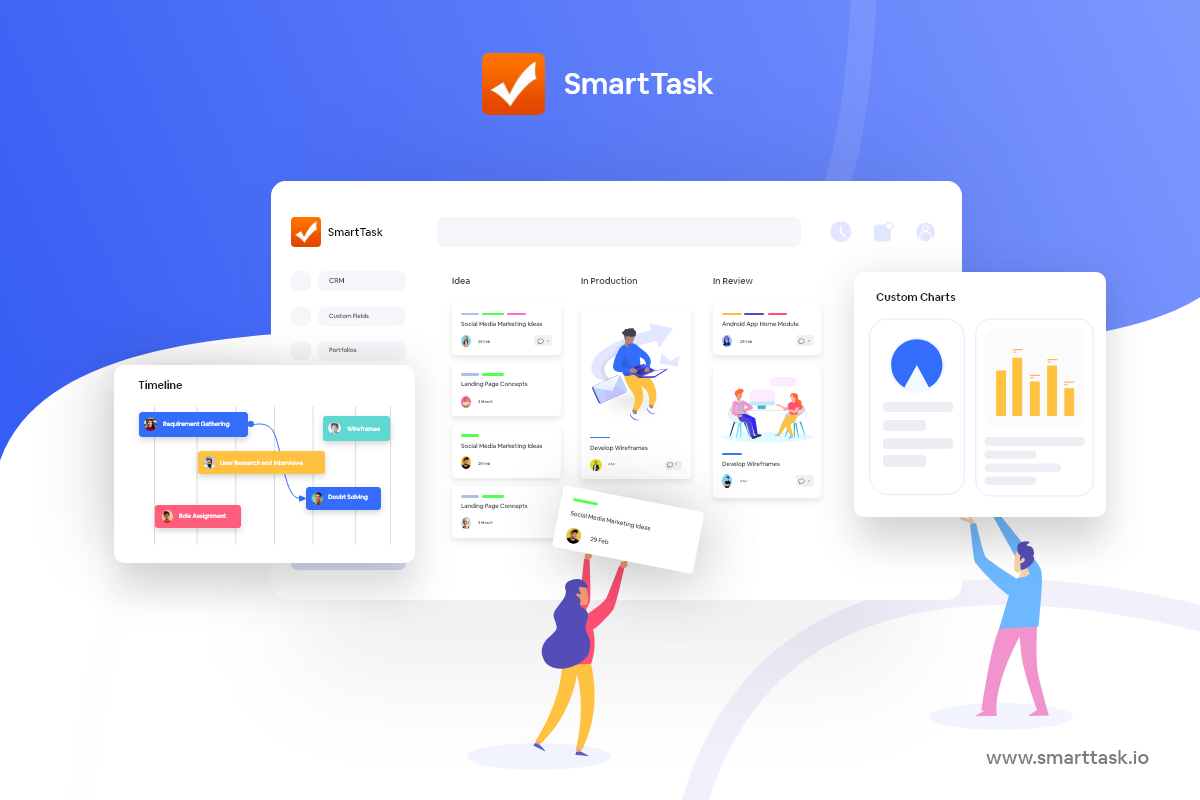 SmartTask is an all-in-one cloud-based work management solution that offers project management, task management, time tracking, CRM, team collaboration, analytics, and reporting features. It offers features like recurring tasks, task reminders, video conferencing, task auto-scheduling, project milestones, call tracking, time log activity, instant messaging, automated check-ins, and so much more.
It is a great productivity tool with multiple options for customizations and affordable pricing. One of the best features is Calendar View, using which you can see the upcoming tasks in your calendar and get an idea about the upcoming deadlines.
Key Features - Recurring Tasks, Task Dependencies, Tasklist View, Board View, Calendar View, Timeline View, Portfolio View, Workload View, Sales Pipeline Tracking, Mobile Compatibility, Project Budgeting, and 1000+ integrations are some of the striking features of SmartTask
Pricing - SmartTask offers its services for free upto 100 users and afterward it ranges from $5 per user per month to $8 per user per month annually. The prices offered are really low compared to their services.
5. Asana
Who doesn't know Asana? It is the most simple and popular project management tool out there with features like task management, team management, dashboarding, workflow automation, messaging, app integrations, mobile compatibility, advanced search, and much more.
It also allows you to analyze ongoing projects and help you keep every project on track. The best thing about this tool is Asana academy which teaches us to use the app at its full potential.
Key Features - Writing own rules, Timeline View, Board View, Portfolio View, Calendar View, Workload View, Goals, Forms, Reporting, 20+ app integrations, advanced search, and process automation are the most striking features of Asana that make it one of the best productivity tools out there.
Pricing - Asana also offers free pricing for limited usage and then it ranges from $10.99 to $24.99 per user/month if billed annually.
6. Trello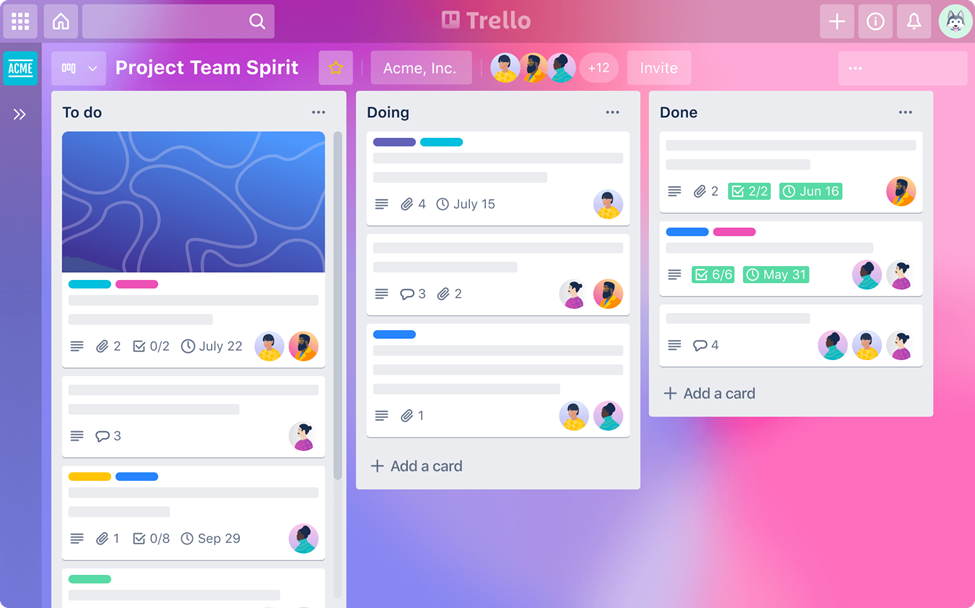 Trello is one of the most intuitive Kanban-style project management software with a great community. It has a lot of customizations available along with a new automation feature called Butler. With the help of Butler, you can automate any action in Trello and also integrate the tool with almost any integration.
Key Features - Board View, Timeline View, Calendar View, Butler, Customized Templates Library, and Simple UI are some of the best features of Trello.
Pricing - Trello offers free usage up to certain usage and then it ranges from $5 to $17.50 per user/month if billed annually.
7. ProProfs Project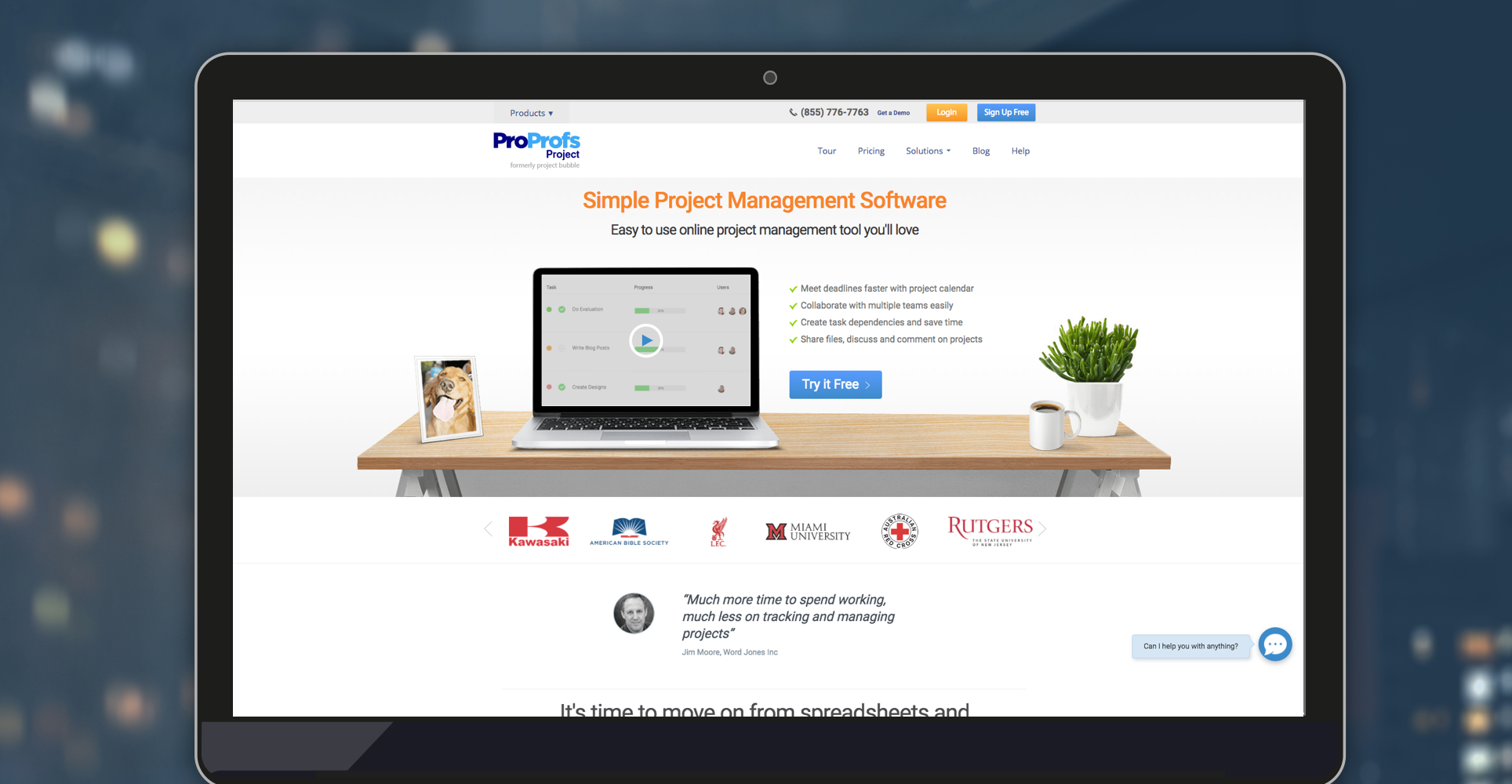 ProProfs Project is a feature-packed solution for coordinating the efforts of remote team members and delivering a project successfully. It offers a platform where everyone can collaborate and get things done faster.
One can create project schedules, assign resources, and set deadlines to complete projects on time and within budget. Moreover, its interactive project views allow everyone to stay on the same page with how the project moves forward.
Key Features - Actionable reports, task automation, project views that help visualize project progress, and employee time tracking are some of the striking features of the ProProfs Project.
Pricing - ProProfs project offers Essentials and Premium plans for $3/user/month and $6/user/month, respectively.
8. EngageBay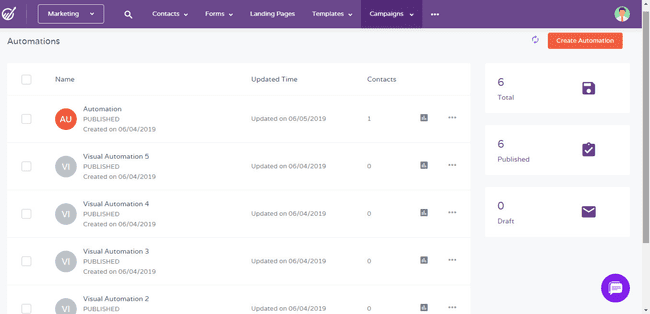 EngageBay is a CRM and project management software built for small businesses. It automatically creates tasks and makes it easy for project managers to keep track of every team member's progress. The system ensures that all your team members are aligned towards a common goal of project completion, growth, and revenue.
It also enables effective communication by keeping every team member on the same page. You can add notes to the tasks and keep your employees up-to-date. It's a great feature to share ideas and comments on business tasks.
Key Features - Drag & drop interface, task filters, add notes, and customizable project reports are some of the best features of EngageBay.
Pricing - Free plan is available for up to 15 users while paid plan starts at $7.79 per month.
9. Insightful.io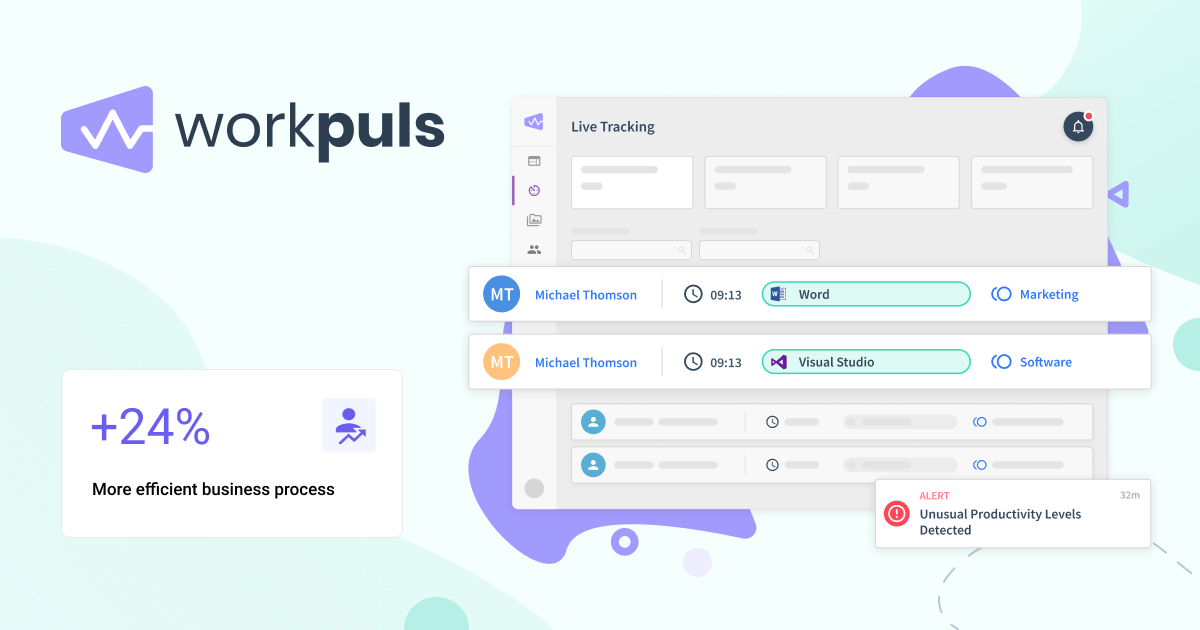 Insightful.io is extremely simple and easy-to-use software. It's an all-in package of boosting productivity, keeping projects on track, and eliminating human errors and manual entry while getting the best of tracking and monitoring employee attendance for remote workers.
You can track computer activity for both Mac and Windows operating systems. Insightful.io can be considered one of the best employee work hours trackers. This monitoring system keeps employees on track and boosts their productivity while economizing their time by suggesting a bunch of functionalities.
Key Features - employee monitoring, time tracking, attendance tracking, automatic time mapping.
Pricing - $6.40 for employee monitoring, $8.00 for time tracking, and $12.00 for automatic time mapping and Enterprise all-in package.
👉 See our comprehensive list of Insightful.io Alternatives in 2023.
10. Narrato WorkSpace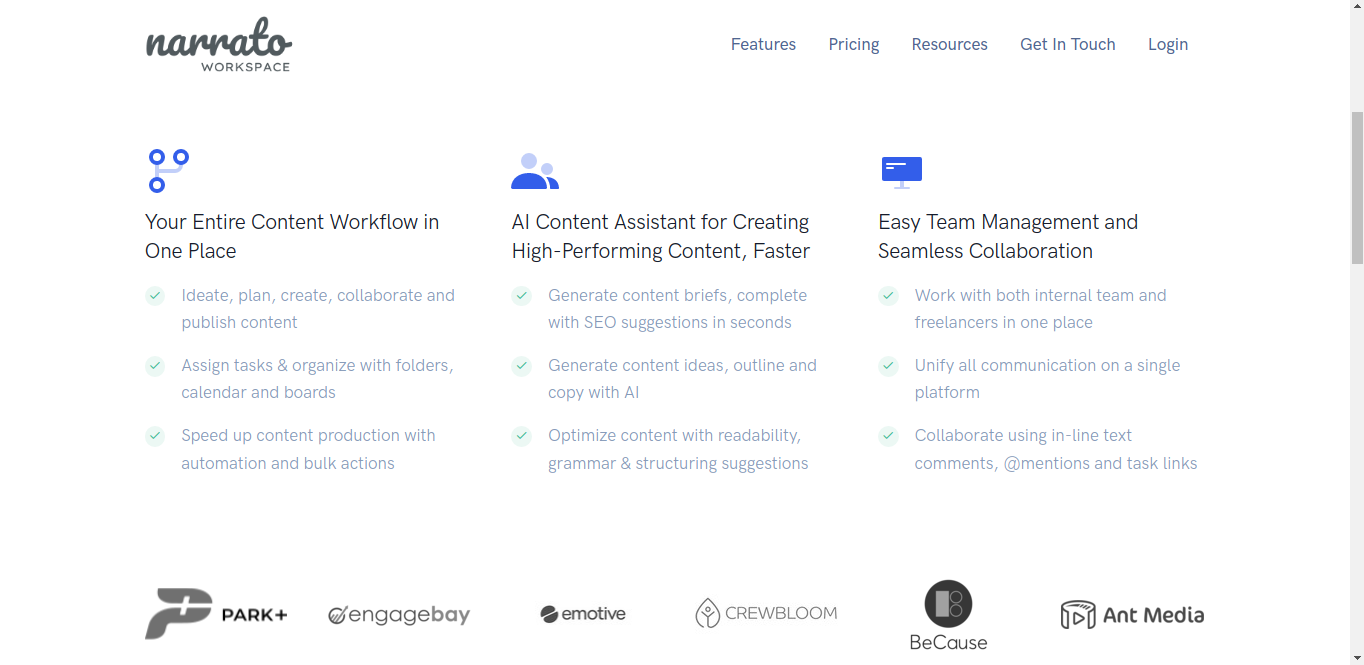 Narrato is a content creation, collaboration, and workflow management tool. Content processes are almost always scattered across multiple tools like docs, sheets, drives, email, messaging apps, project management platforms, and more.
Narrato replaces this broken, disconnected tool stack and lets you manage your content processes and teams seamlessly on a single platform. Narrato is perfect for creating, tracking, and delivering your content projects, from start to finish.
Key Features - Powerful content editor, AI writing assistant, In-line comments, custom templates and style guides, custom user roles, freelancer payments management, content calendars, and workflow boards.
Pricing - Free plan is available while paid plan starts at $8 per user per month.
Email Productivity Tools for Remote Teams
11. Drag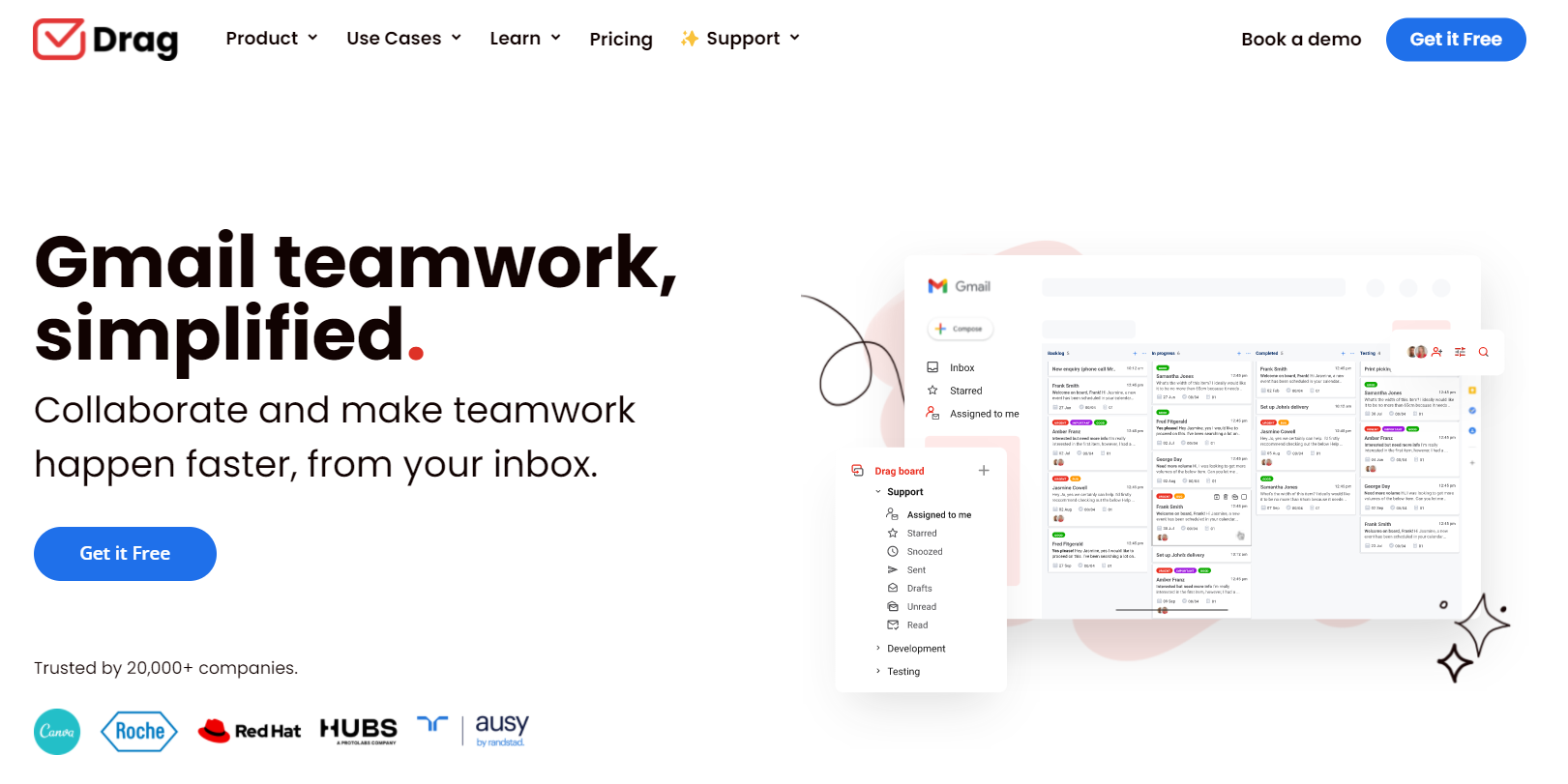 Most tasks start and end as emails so it's a no-brainer to manage tasks from inside your email client. That's exactly what Drag does to your Gmail. You can manage both your emails and your tasks in just one place, saving you all the time wasted switching between tabs and tools.
Key Features - Share inboxes with your team, create customizable Kanban boards, visualize emails across the board workflow, assign emails to teammates, add notes, chat and upload files within email cards
Pricing - Drag costs $8 per user/month but you can try it for free.
12. Right Inbox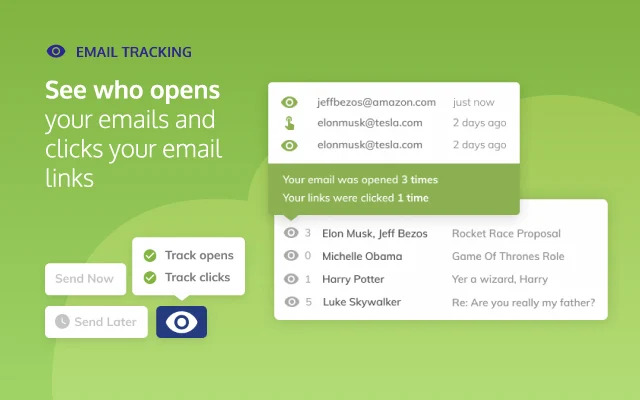 Right Inbox is the email productivity tool that can be used with Gmail. With Right Inbox you can schedule emails, track them, send mass emails, use email templates, send automated recurring emails, personalize your messages, and much more. The tool also allows you to add a different signature to each email. Right Inbox is free, with some feature limits that reset every month.
Key Features - Email scheduling & tracking, sequences, email reminders, private notes, email templates, mail merge, embedded GIFs, and recurring emails are some of the best features of Right Inbox.
Pricing - Free plan is available while paid plan starts at $5.95 per month when paid yearly.
13. Easysendy
Easysendy is an all-in-one email marketing solution that allows you to carry all your various marketing channels together and accelerate traffic, a higher conversion rate, and better ROI for online geeks, marketers, small businesses, and startups. In addition, you can easily design email templates for your campaigns.
Key Features - Easysendy can help businesses extend their reach, boost conversion rates, create a bond with their audience, and increase sales.
Pricing - EasySendy's free plan involves up to 2,000 connections. As a result, its platform is most effortless to get used to, with drag-and-drop features that enable you to stylize your emails.
14. Whatagraph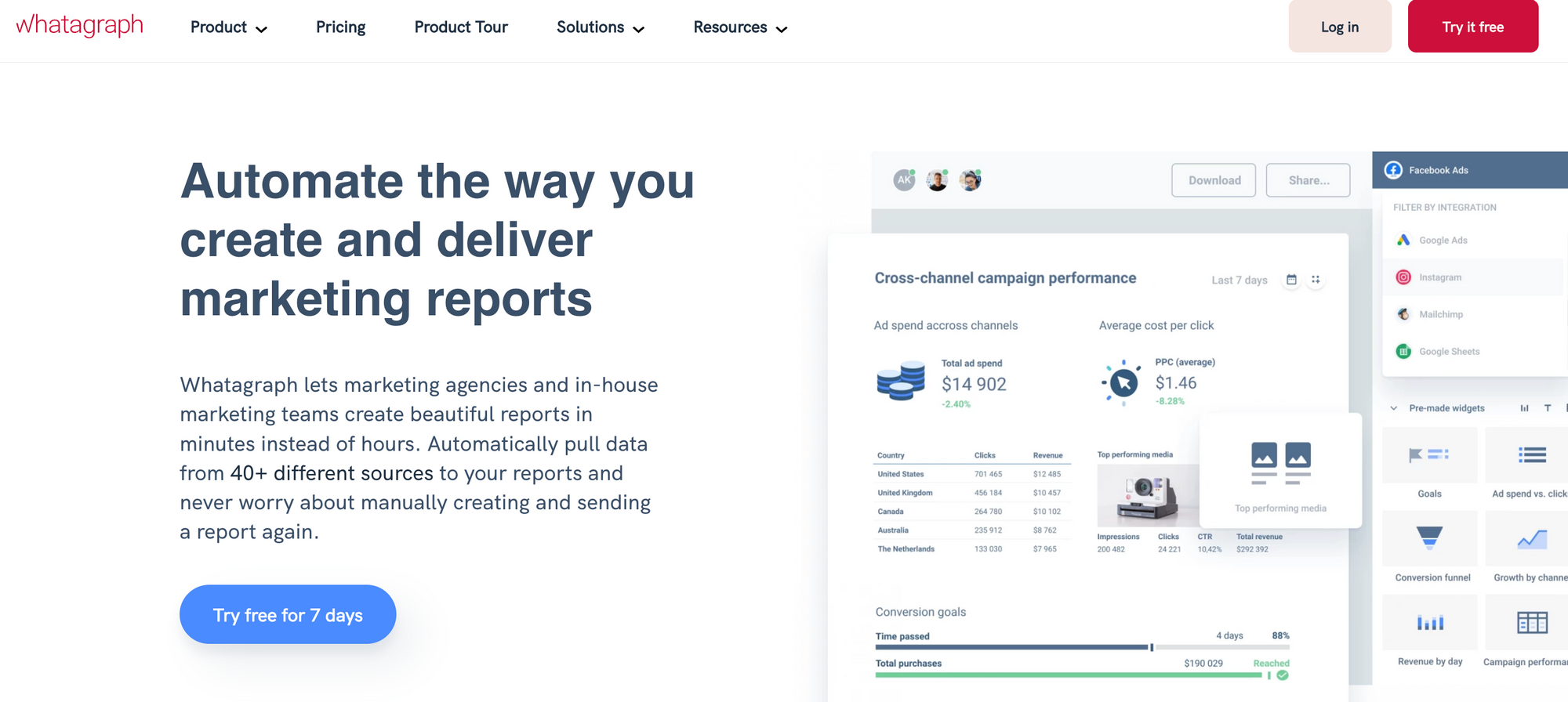 Whatagraph allows automating the way digital marketers create and deliver marketing reports. With more than 40+ integrations available, both in-house and remote marketing teams can create beautiful reports within minutes instead of hours. With Whatagraph, email monitoring is possible, and you can team up with colleagues, and keep track of multiple marketing channels, and style reports and this list is endless.
Key Features - creating reports in 10 minutes, transferring custom data from any source, teaming up with colleagues, delivering reports automatically, reports with custom branding, ready to use premade templates, and dashboards.
Pricing - 30-day money back guarantee on all plans is available while paid plan starts at $199 per month.
Communication Tools for Productivity
One of the most essential productivity tools that are required for remote teams is communication tools. It is necessary for the team's internal discussion, team meetings, team bonding, and of course client management. The three best communication tools are discussed below:
15. Slack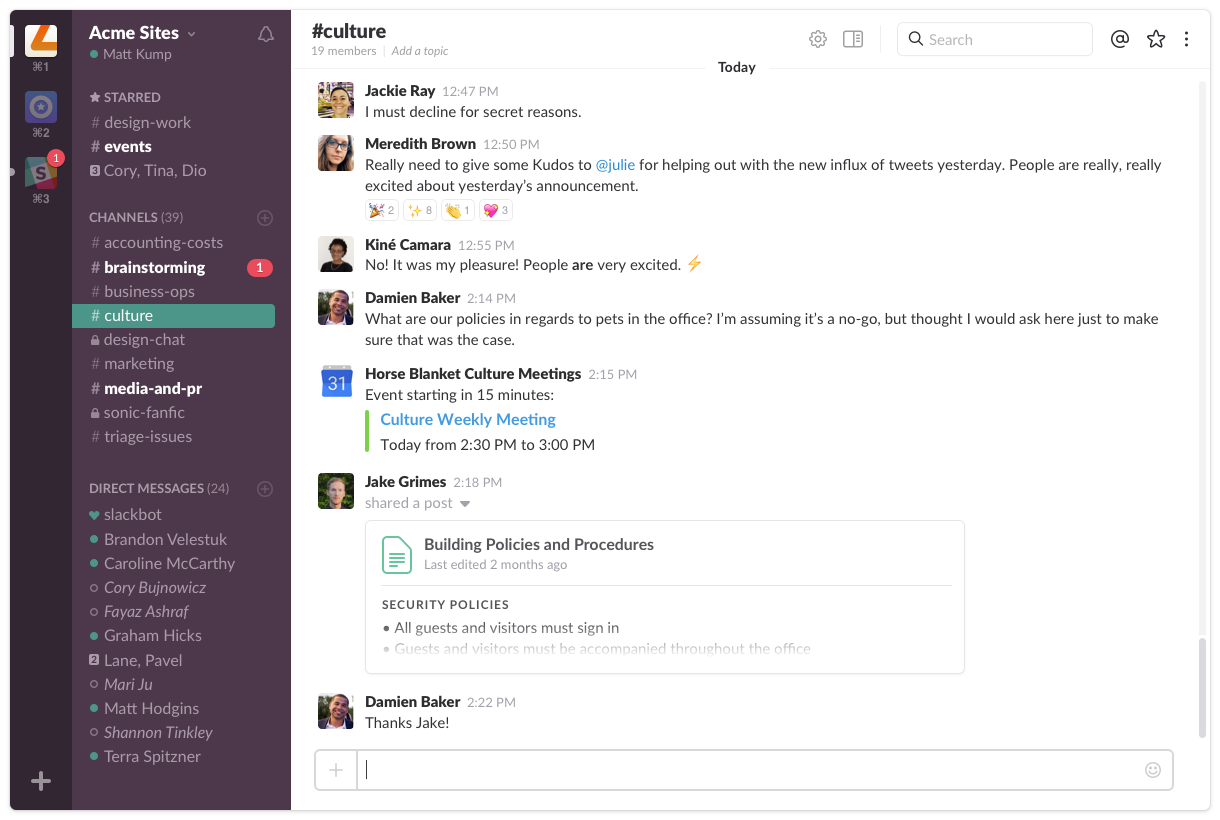 Slack is synonymous with communication. Literally! I don't think there is anyone who has not heard about Slack. It has become so popular that corporate people often say, "Slack this to me" instead of "Mail me". Slack has almost replaced email from the corporate world. It has great features that allow us to connect with our teammates via call, video call, text, or by building a community to chat internally.
Key Features- App Integrations, and Workflow Builder are two striking features of Slack
Pricing- Slack offers a free plan and paid plans start from $6.67 to $12.50 per user per month if billed annually.
16. Microsoft Teams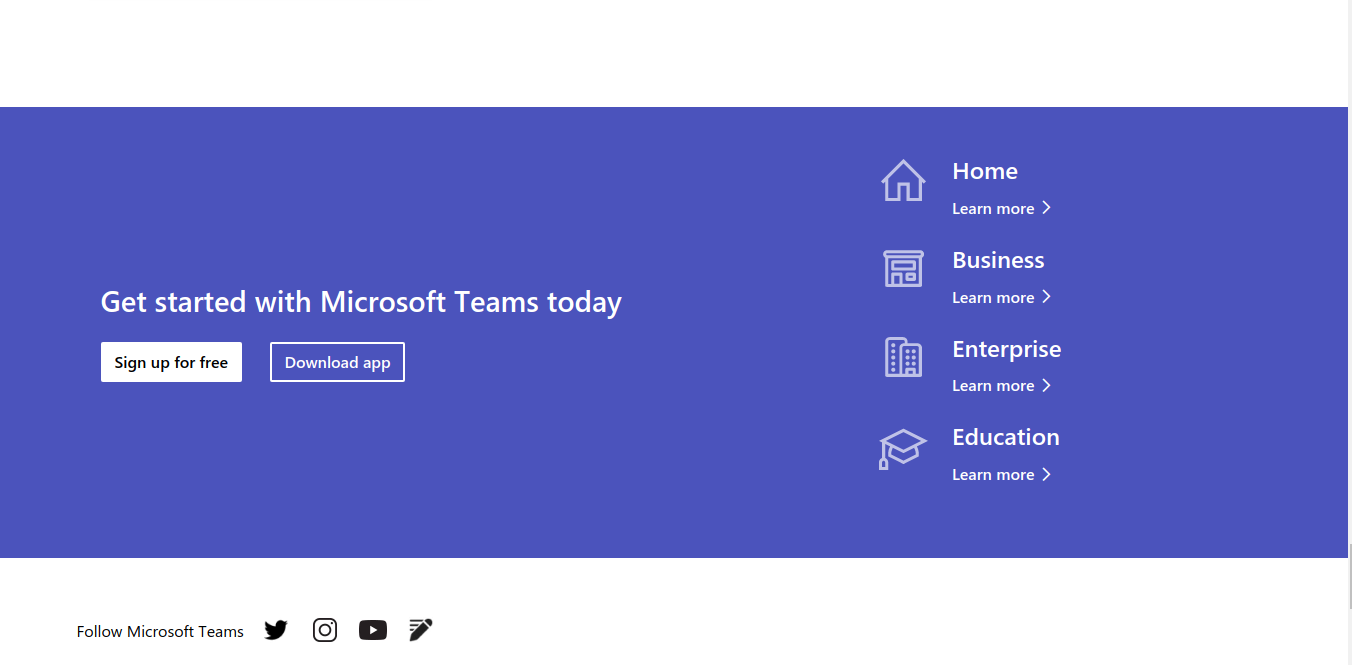 Microsoft Teams is to Slack what DC is to Marvel. There are fans divided between Slack and Teams just the way they are for Marvel and DC. Microsoft Teams have a relatively simpler UI and UX as compared to Slack and a widely used across the world.
It has great features like presenting the screen, selecting virtual backgrounds, and calling your team members to connect with them. Also, this tool is backed up by the brand name Microsoft.
Key Features - Screen Sharing, Workflows, Custom Backgrounds, and Simple UI are some of the great features of Microsoft Teams
Pricing - Free pricing but if need more features then the paid plan starts from $5 to $20 user/month
17. RingCentral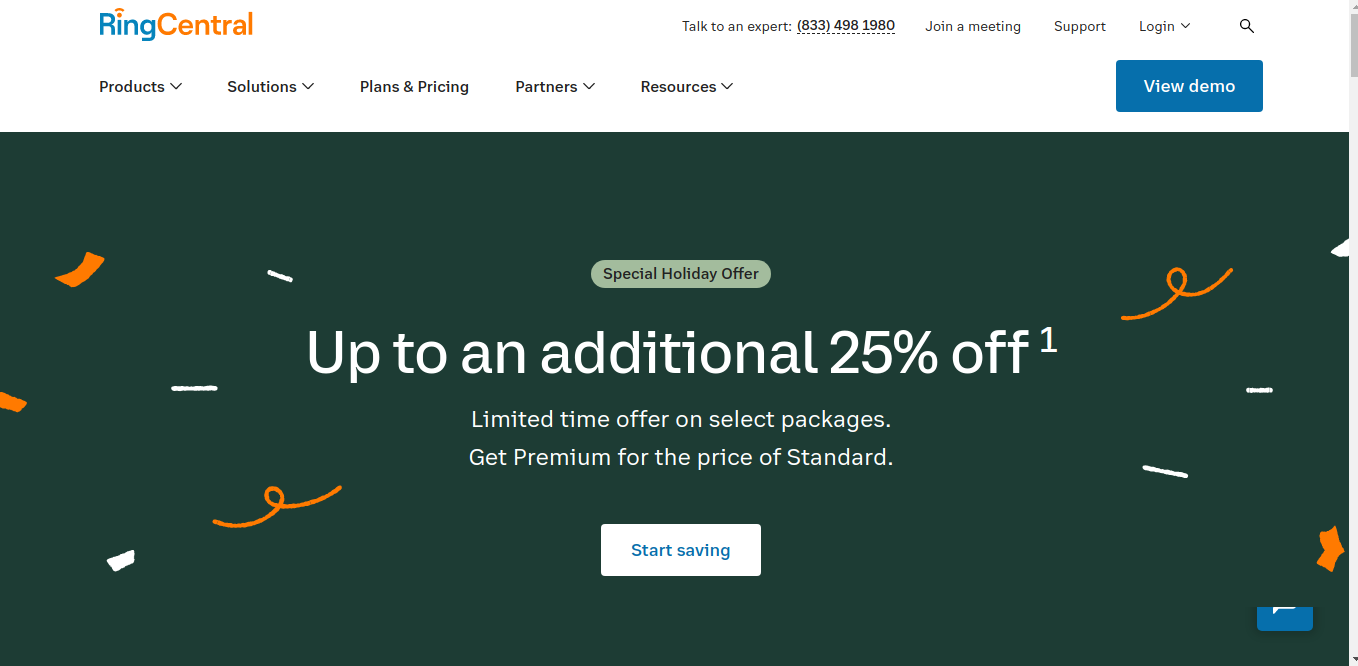 RingCentral is a cloud-based all-in-one communication platform that gives you messaging, video conferencing, and a phone system—in one app. RingCentral's app was designed to unify your team's messaging, video conferencing, and cloud phone into a single platform, so employees don't need to constantly toggle between different communications apps and instead focus their energy on the tasks that will ultimately grow your business.
Key Features - Team messaging, collaboration, file sharing, video & audio conferencing, screen sharing, and cloud-based phone calling are some of the best features of RingCentral.
Pricing - The Essentials package includes phone and messaging for up to 20 users, it starts at $19.99. The Standard plan includes video calling, unlimited chat, and phone support, it's $24.99.
The Premium plan includes everything the Standard plan does, but with additional features like 200 video participants for $34.99 a month. The Ultimate plan includes unlimited storage and is $49.99 (per user, per month).
18. Chanty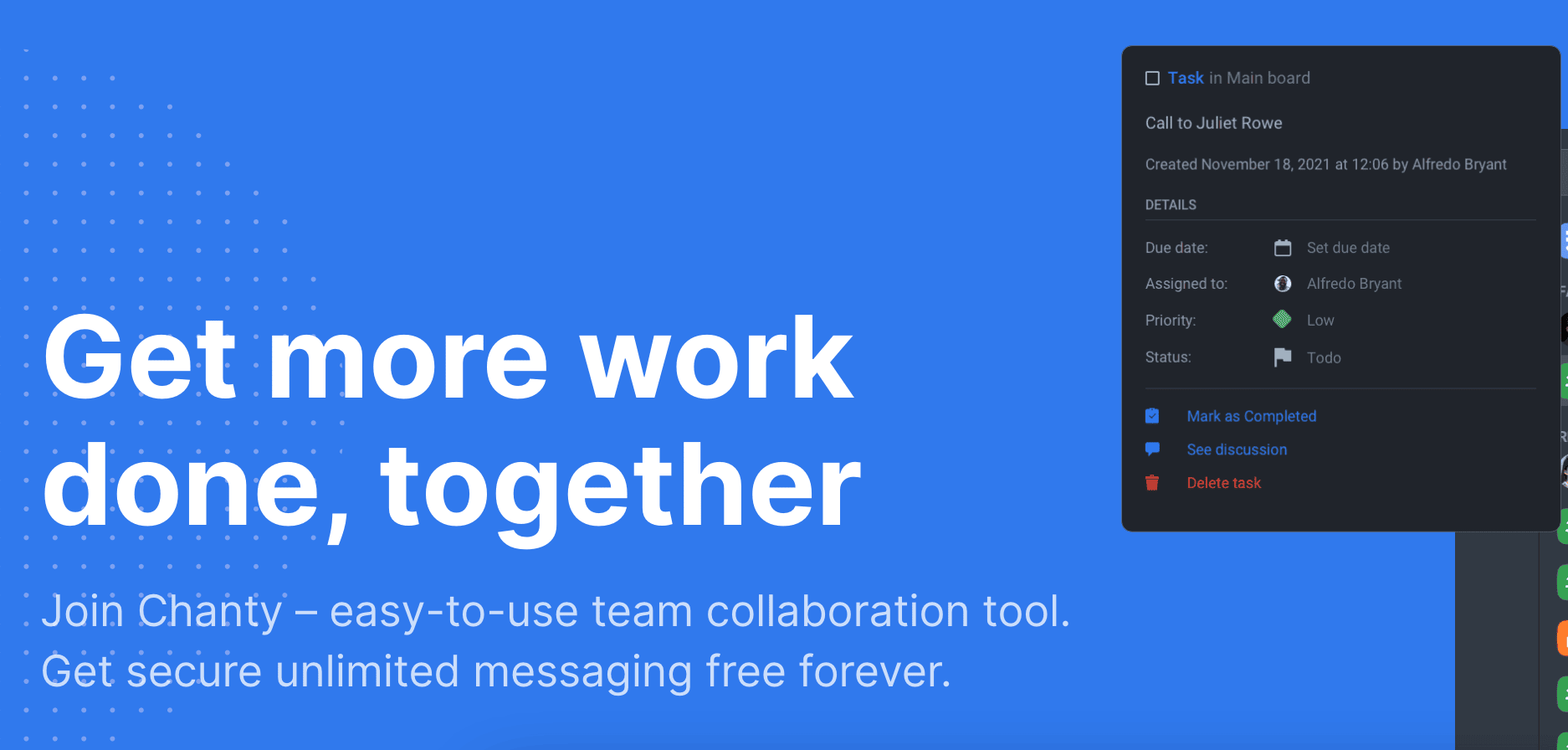 Chanty is a team chat app that promises to increase your productivity by up to 55%. With that aim, it has developed a user-friendly app that allows teams of all sizes to communicate and collaborate in a way that helps them reach their goals.
This is made possible by the efficient Kanban board that optimizes your workflow, task management, a team book to stay connected with everything at all times, multiple integrations so you don't have to switch between apps, and a lot more. This makes it easy for startups and big firms to get it.
Key Features - Unlimited searchable message history; one-on-one audio and video calls; voice messages; guest users; multi-conversation guests; a dedicated support line; screen-sharing group calls; file storage; data import; and a lot more.
Pricing - Besides the free plan that offers up to 10 members, the paid plan starts at $3/user/month for the annual plan and $4/user/month for the monthly plan.
Video Conferencing Tools for Productivity
A lot of information is misunderstood in the text and therefore a video conferencing tool is a must to convey some important information or do some team bonding sessions or take interviews for remote hiring.
Here are the two most legendary video conferencing productivity tools for remote teams:
19. Google Meet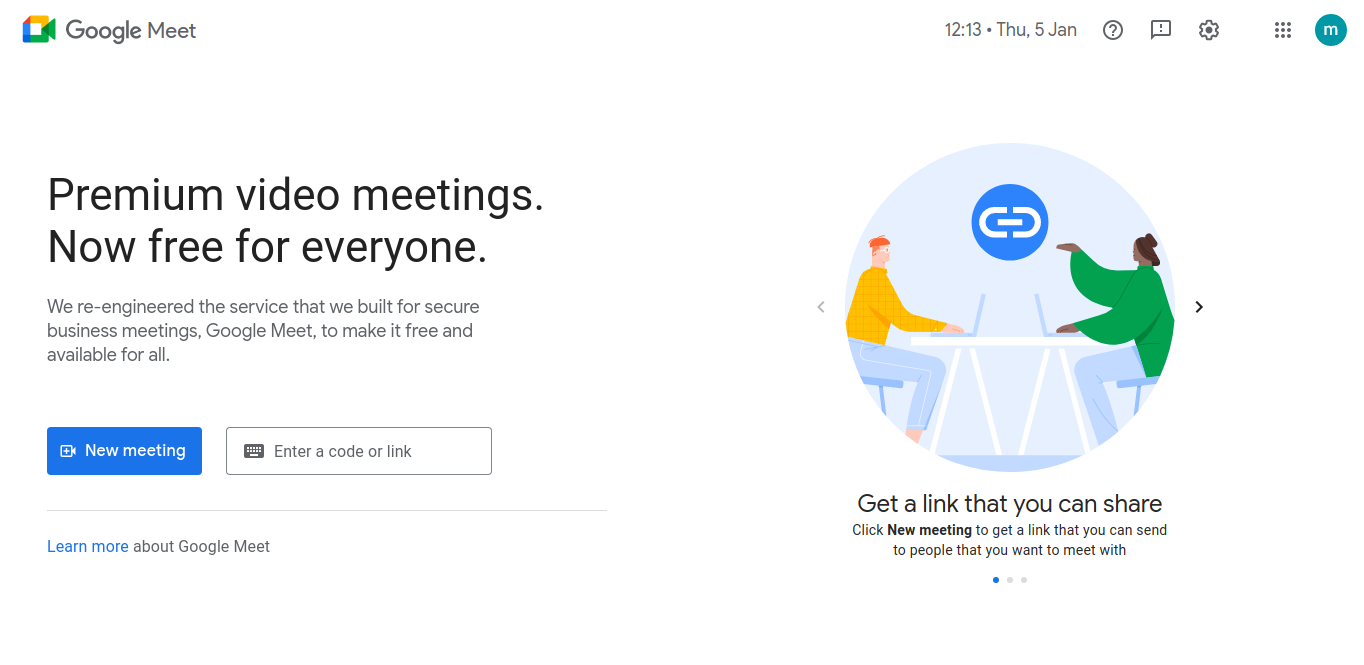 Google Meet, previously known as Hangouts is a video conferencing app that helps to connect up to 100 participants at once. It is built by one of the most trusted internet companies, Google. You can connect 1:1 with any person for 24 hours or create a group of up to 100 people for a max of 1 hour.
Key Features - Screen sharing, Intuitive UI, Secure calls, Live Captioning, Audio, and Video Previews, Integration with Google and Microsoft Apps
Pricing - Free pricing up to 100 participants and 1 hour and starts from around $8/month if you want to increase the 1-hour limit
20. Zoom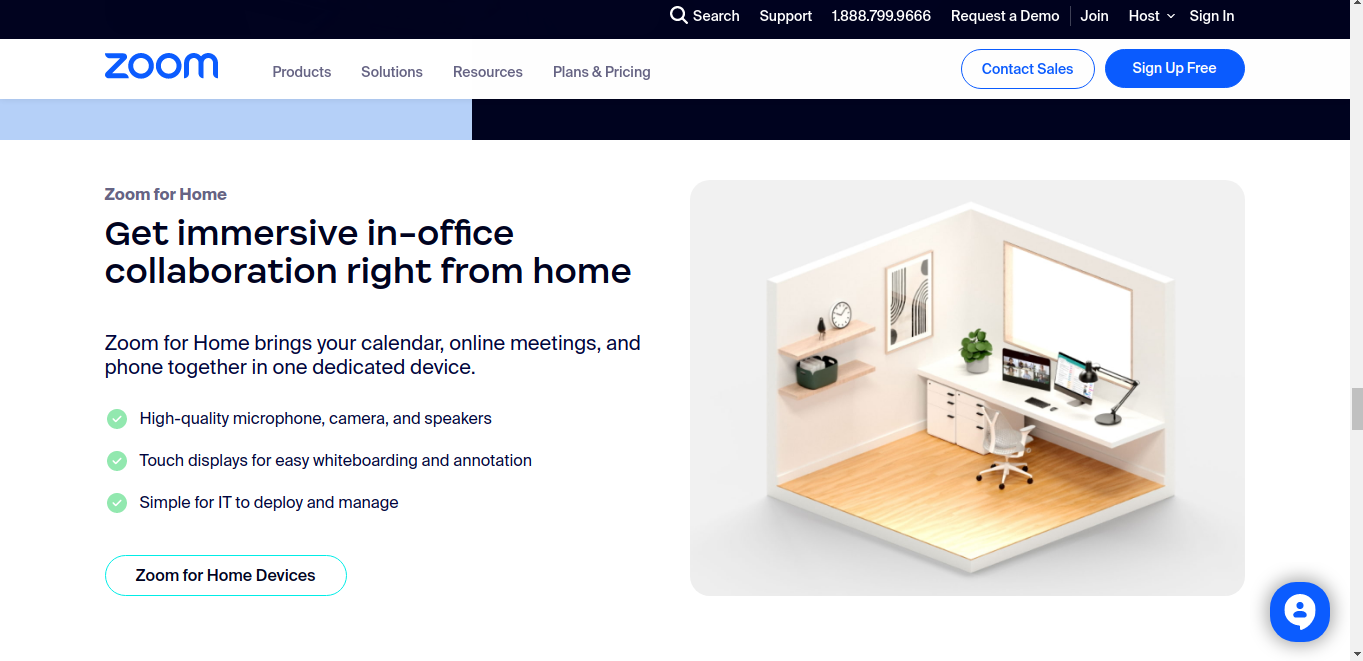 Zoom rose to fame in 2019 - 2020 when COVID forced us to stay inside our houses and there is no looking back from that time. This tool literally revolutionized the whole way we interact with our remote teams. It is used to take interviews, interact, and organize workshops with the help of video conferencing.
Key Features - End to End Encryption, Upto 1000 Participants, are one of the best features of Zoom
Pricing - Free pricing for upto 40 minutes and 100 participants, and then the plans range from $14.99/month to $19.99/month and further in enterprise solutions
File Sharing and Collaboration Software for Productivity
Developers and Programmers often share their code with Github but what should we use? Here are the two best tools for file sharing:
21. Google Workspace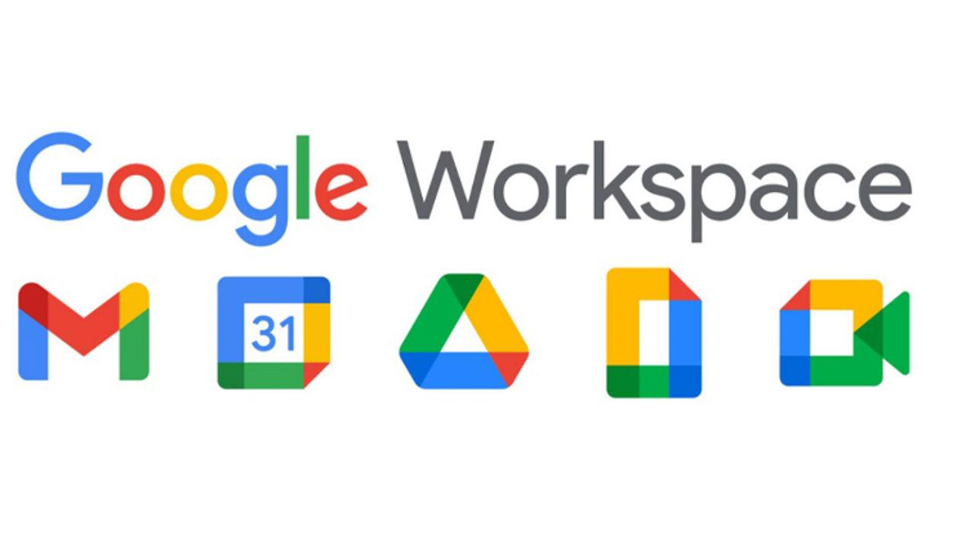 Google Workspace is the best file sharing and collaboration platform ever made. Do you want to schedule a meeting and share it? Use Google Calendar. Do you want to share files with your team? Use Google Drive. Google Workspace revolutionized the online file sharing and collaboration system. Also, you can easily integrate your Google workspace with your CRM software and use it as Google CRM.
Key Features - Gmail, Calendar, Drive, Meet, Docs, Sheets, Slides, Chat, Keep, Forms, Intuitive UI and UX, and Secure Ecosystem
Pricing - Free pricing for a limited time and then it ranges from $6 to $18 per user/month
22. Dropbox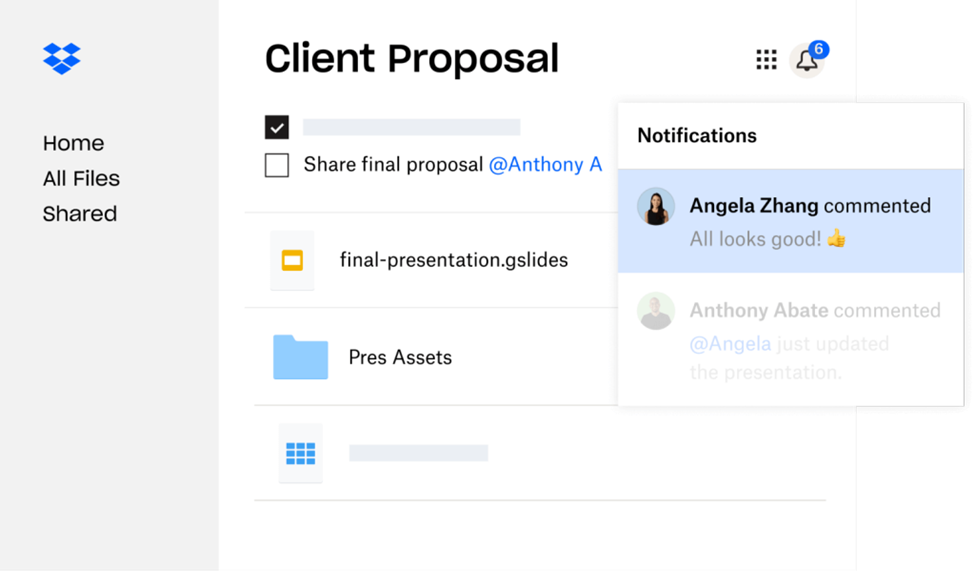 Dropbox is as easy as its name sounds. You can just literally drop any file in dropbox and share it across the internet with a click. It is one of the oldest file-sharing tools that is used to send large files.
Key Features - Secure, Large File Sharing Capacity, and Intuitive
Pricing - Starts from $9.99/month to $16.58/month if billed annually
Note-Taking Productivity Tools
We all have to note things down while attending a meeting or working on a project or just writing down an idea but a lot of times we don't get the opportunity to do so because of the unavailability of resources. Here are the two best note-taking tools that will help you to take notes on the go:
23. Notion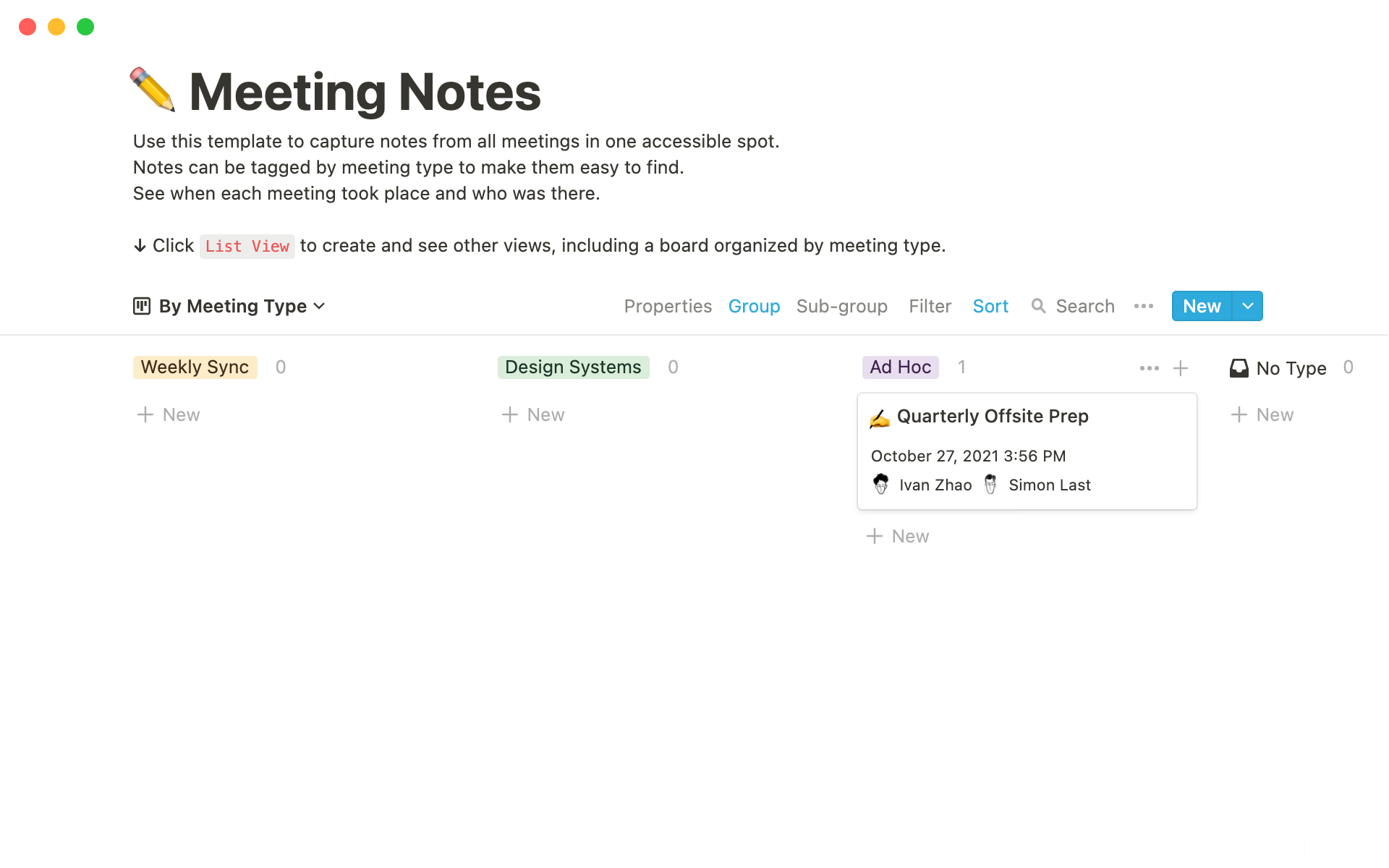 Notion is that kid who took the internet by storm with its creative skills. The best note-taking app ever built. Period. It has great characters, UX, UI, and thousands of templates to choose from. A really fun app to take notes and share with your team with a great interface and integrations.
Key Features - Interactive UI, Great Community, Thousands of Templates, Easily Shareable Content, API
Pricing - Free for limited services and afterward starts from $4 to $8 per user/month
24. Evernote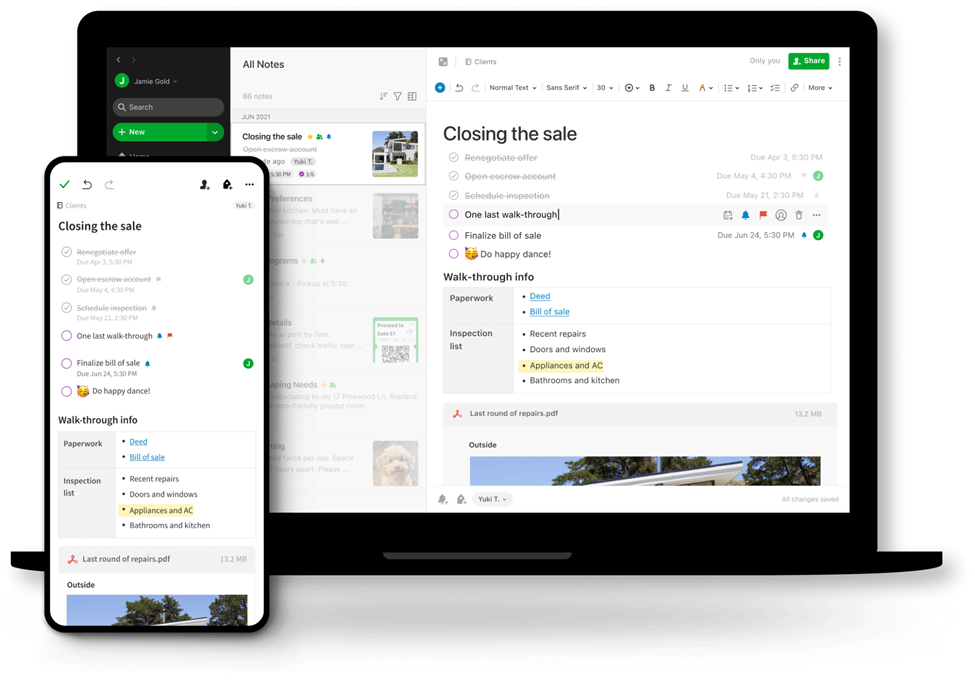 Evernote is the OG of the note-taking world. It is the oldest note-taking tool that changed the habit of taking notes from the internet. You can sync and share the notes from Evernote directly and have a very clean UI.
Key Features - Clean UI, Templates, and Web Clipper are one of the most used features of this app
Pricing- Free plan is available but the paid plan starts from $7.99 to $9.99 per month
25. Bordio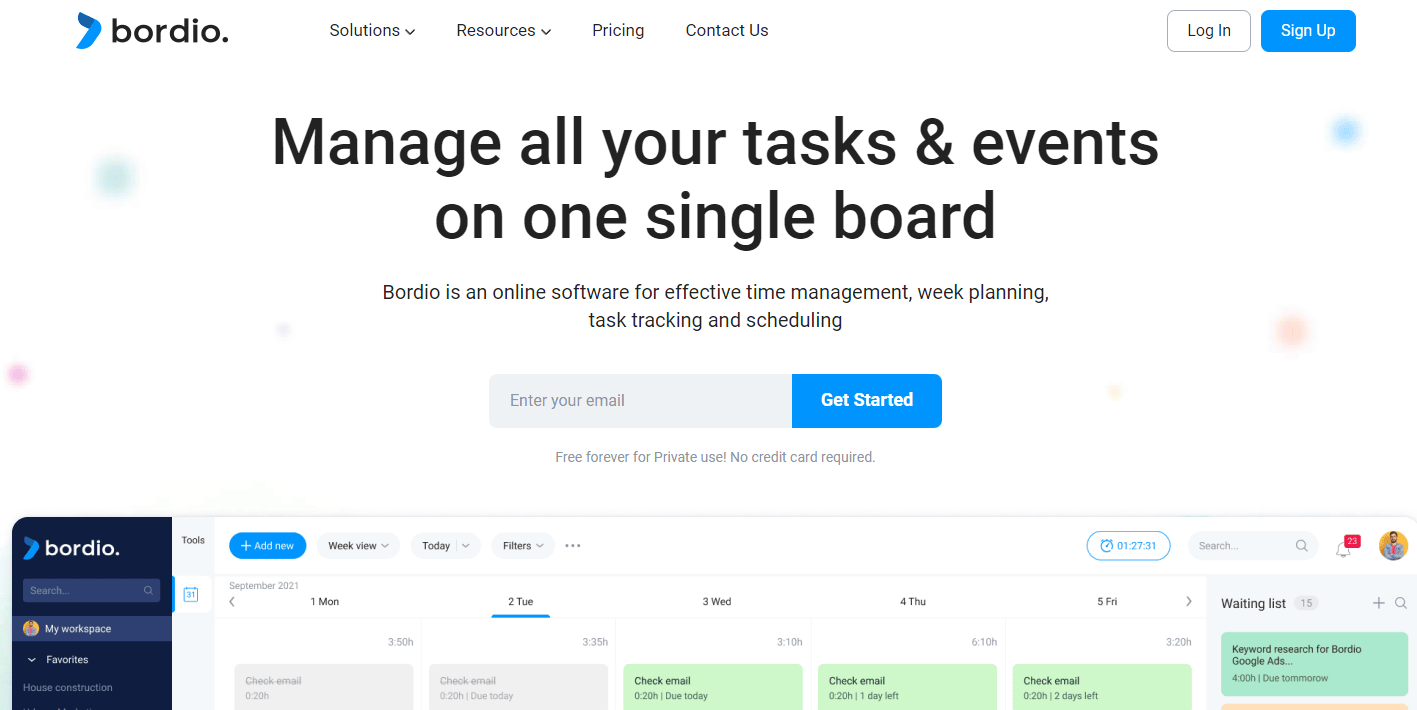 Bordio is your ultimate digital planning partner, helping you organize your life and stay on top of your schedule with ease. With its intuitive and visually stunning interface, Bordio makes it easy to manage your tasks, projects, and events in one convenient place.
With Bordio, you can also set due dates and reminders, and break down larger projects into smaller, more manageable parts. Whether you're a freelancer, a student, or a busy professional, Bordio has the flexibility and versatility to meet your needs and help you keep track of your workload and achieve your goals. With Bordio by your side, you can say goodbye to chaos and hello to a more organized, productive life.
Key Features - Waiting list, Color coding, Task duration estimation, Creating time blocks, Project management, Recurring event organization, Weekly and Daily planners, To-do list, Calendar templates, Blog posts.
Pricing - free for private use.
Remote Desktop and Screen Sharing Tools for Productivity
The two apps that we discuss here have revolutionized the remote work culture. They are widely used across the world to fix any error in the system or to look up any file. They are:
26. TeamViewer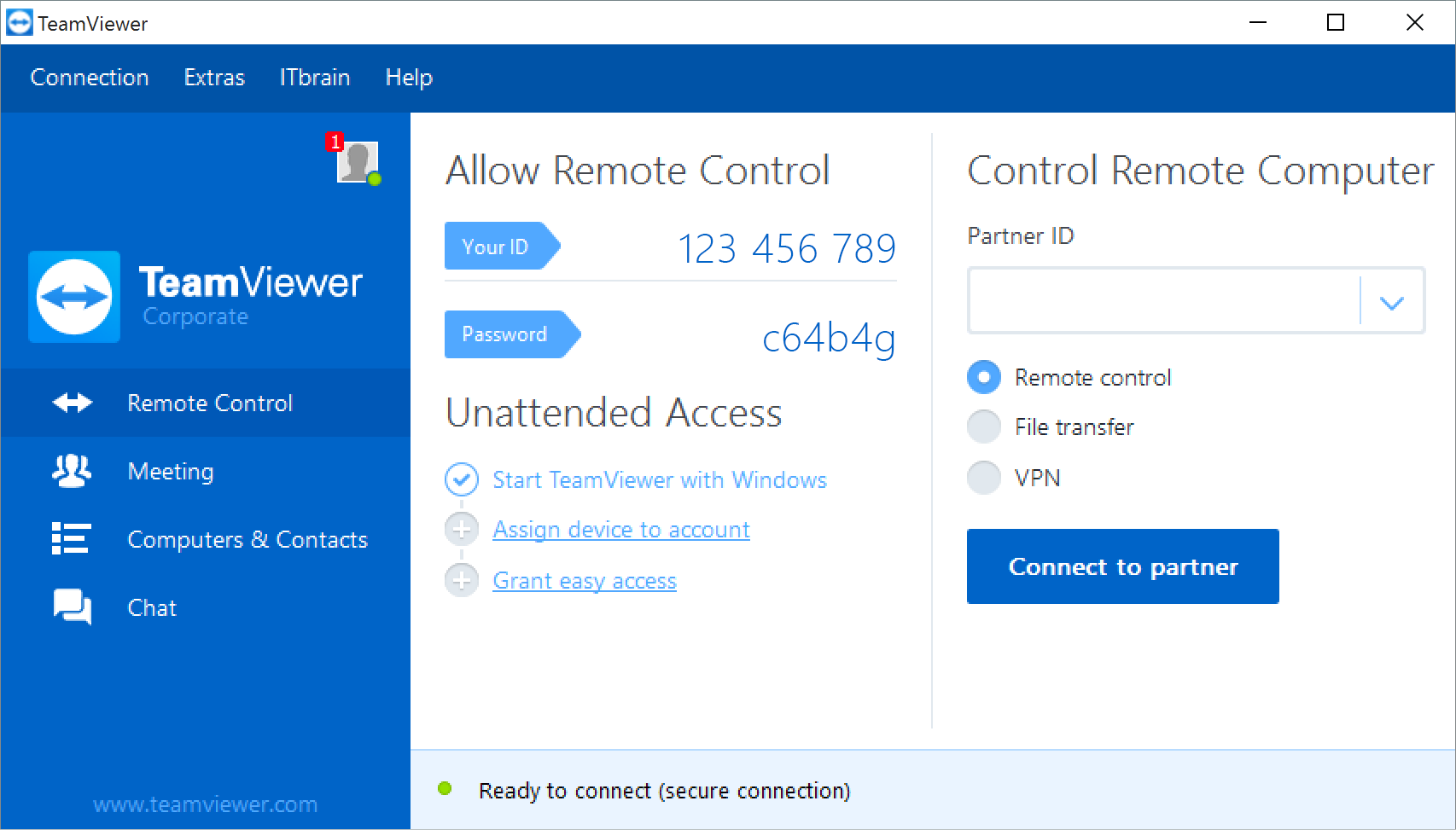 TeamViewer has helped companies to establish remote work cultures across the world. Be it any field, TeamViewer has been a boon for many industries. IT companies that provide software support largely benefit from this tool.
Key Features - One-click connect, Interactive UI, Remote Access
Pricing - Starts from $50.90/month to $102.90/month
27. AnyDesk

AnyDesk is the fastest remote application with the help of which you can give unattended access to any person working remotely from his/her home. It also has Privacy mode with the help of which you can turn your screen black to avoid the other person from looking at your screen.
Key Features - Remote Printing, File Transfer, and Security
Pricing - It starts from $9.90/month to $19.90/month and further for enterprise solutions
Work-Life Balance Tools  for Productivity
The thing that gets affected the most is the Work-Life Balance of the remote employees and the employers too. To avoid burnout and maintain your work-life balance, there is an app called RescueTime.
28. RescueTime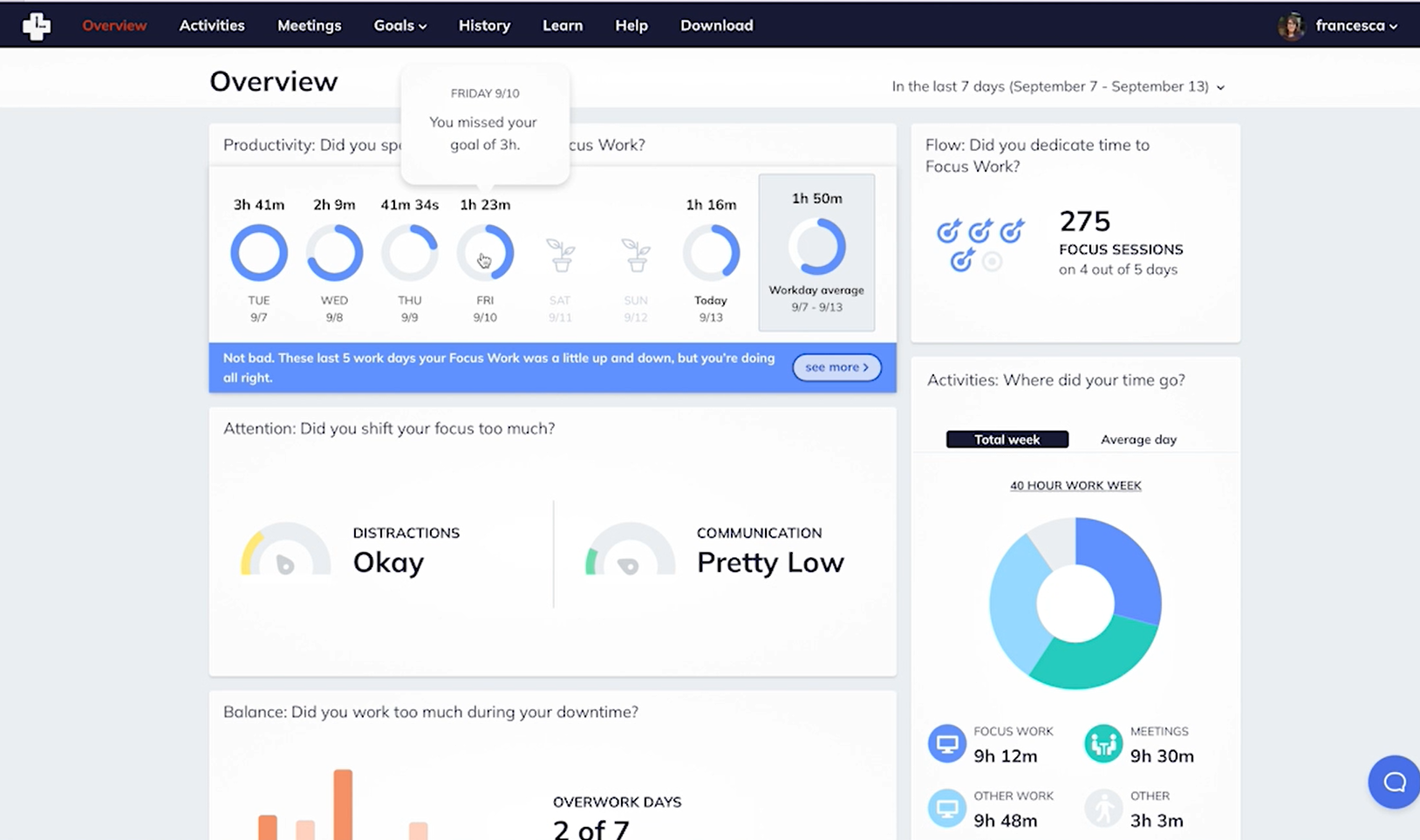 RescueTime is a work-life balance tool that will help you to take full control of your time and eventually your life. It will give you a daily task to focus on and will also guide you while you work so that you don't get distracted. You can also analyze your work by looking at the reports at the end of the day.
Key Features - Real-time data, Focus Session, and Guidance Tips
Pricing - It starts from $6.50 user/month
👉 See our comprehensive list of RescueTime Alternatives in 2023.
29. Vacation Tracker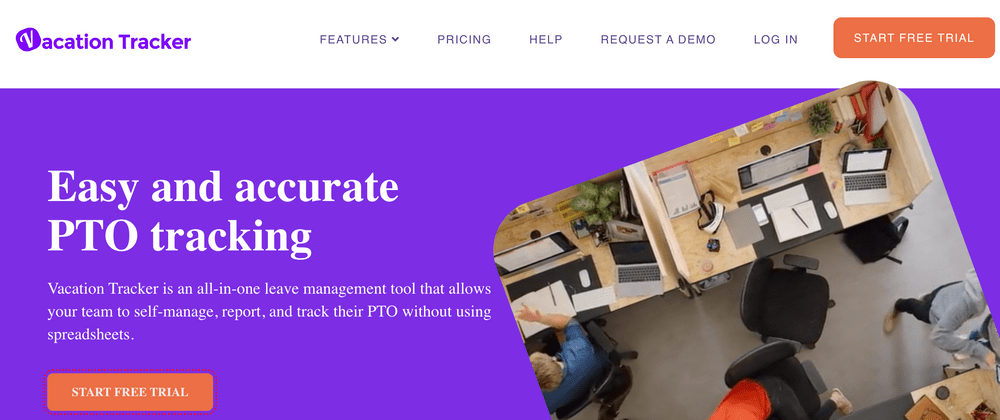 Vacation Tracker is the ultimate leave management solution built for teams of all shapes and sizes. This tool helps you request, approve and manage leaves in just a few simple clicks. Thanks to its completely customizable interface, users can easily build a leave tracker that fits into the way they work.
Key features - You can configure daily/weekly notifications, create different locations, set up leave policies, and customize multiple leave types. The online dashboard also allows you to export reports, integrate with your favorite calendar, and much more.
Pricing - Vacation Tracker offers 3 paid plans starting at $1 per user per month, with a minimum of $25
Expense Management Software for Productivity
30. Fyle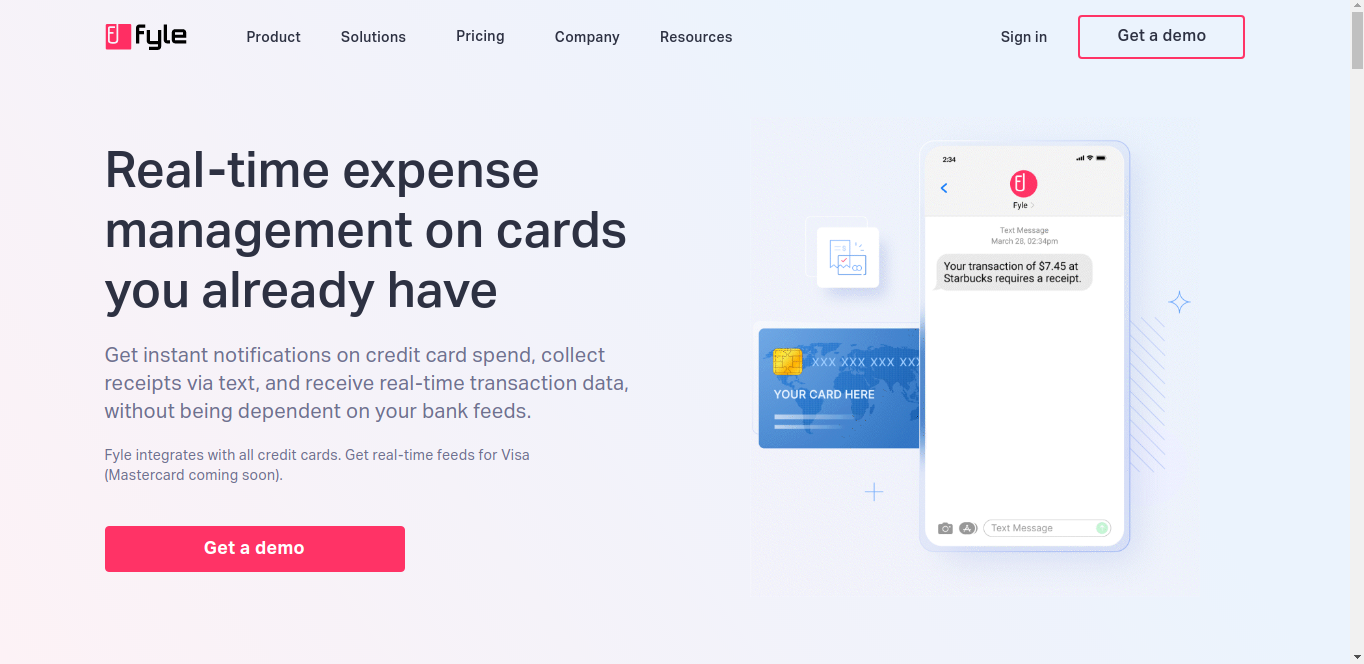 Fyle is a spend management software that enables your Finance teams to regain end-to-end control over company-wide business expenses. It enables employees to submit and track their expenses from applications they use every day like G-Suite, Slack, Outlook, Teams, etc.
Additionally, Finance teams no longer need to verify every individual expense for compliance as Fyle seamlessly enforces it through pre-submission checks. This ensures only compliant expenses are submitted and also helps to keep expense fraud at bay.
Key Features - Easy receipt tracking, automated compliance, custom policymaker, real-time view of expenses.
Pricing - starts from $4.99 per active user/month billed annually.
Bonus Tools for Productivity
31. PDFLiner
PDFLiner is the all-in-one online platform to create, fill out, e-sign, and share documents. It's a perfect solution for those looking for a document management tool to collaborate remotely.
The platform has all the needed tools to manage documents that can be reached on any desktop or mobile device. Just create the doc, make all necessary changes and share PDF online via link or email to colleagues for further work.
Key Features - sharing documents online, editing documents, e-signatures, tracking docs changes, PDF templates.
Pricing - Free plan is available, while the paid plan starts at $9 per month when paid yearly.
32. Internxt
Internxt is a 100% private and open-source cloud storage service and is a perfect file-sharing and collaboration tool for teams handling sensitive and confidential information. Internxt has all the benefits of big-name clouds but far surpasses them regarding security.
All files and photos stored, shared, and backed up with Internxt are end-to-end encrypted, fragmented, and scattered across its distributed network. Put simply, that means no first or third-party access to your information, and you have total control over who has access to your files.
All of Internxt's included services (Drive, Photos, and Send) are available on Linux, Windows, macOS, Android, iOS, and all web browsers.
Key Features - Military-grade AES-256 encryption, open-source and verifiable on GitHub, available on all devices and operating systems.
Pricing - Internxt offers free 10GB plans for everyone, and paid plans with more storage range from $0.89/month to $8.99/month. Business plans are also available.
Final Thoughts
We have tried to compile the best productivity tools that are necessary for remote teams to work in 2023. Do try them and manage your time wisely and start working productively.