15 Benefits of Time Tracking Software in 2023
According to a statistic by Forbes, 9 out of every 10 startups fail, and one fails in the first year of operation. This information tells us how vulnerable startups and small businesses are when it comes to endurance and resilience.
Various reasons are there why small businesses fail to mark their steps into the business world. Lack of financing, unlimited liabilities, and so many other factors are vocal in the brief journey of a small business or a startup.
One of the reasons that are concealed under our ignorance is productivity. The vague and elusive idea of productivity makes the owners of small businesses reluctant to measure the efficiency they are achieving. It's an issue they have no control over.
Why Employee Time Tracking for Small Businesses?
Time tracking can track down the performance time of the employees in an organization. Pretty simple it is to define, but time tracking software can run miles more. The recent surge in time tracking and productivity software is making things easier for organization owners to track down the activities of their employees. A business in its embryonic period might have a lot of enthusiastic workers.
The problem is that enthusiasm doesn't always bring productivity. The business owner of a startup may see that people are working hard, but it's tough to pin down the efficacy of the work.
Suppose you hired a virtual assistants team based in the Philippines or an individual VA from Fiverr for your business. What comes to your mind first? How you can keep track of your remote employees' or VAs' working hours, right?
Time tracking software means you now have far more control over the employees and overall productivity. You can see, evaluate, and compare the performances, which will enable you to set a performance benchmark in your organization. That's how you'll achieve growth in the long run.
Benefits of Time Tracking Software for Small Businesses
A small business can be benefited from time tracking software to the fullest. Here are 15 advantages you can extract from proficient time tracking software as a small business or startup owner.
1. No more micromanagement
Micromanagement is a critical issue found in many small businesses and companies where the managers are too meticulous based on this available information. They try to track down an employee's everything, and sometimes it feels like they are spying on their employees.
So, in a company where micromanagement is prevalent, employees working there don't have considerable flexibility. Time tracking software helps managers to track an employee's performance remotely, which can be scrutinized later.
If you're afraid that your managers might micromanage the entire working ambiance, you should be using time tracking software.
2. Keep the Time Tracked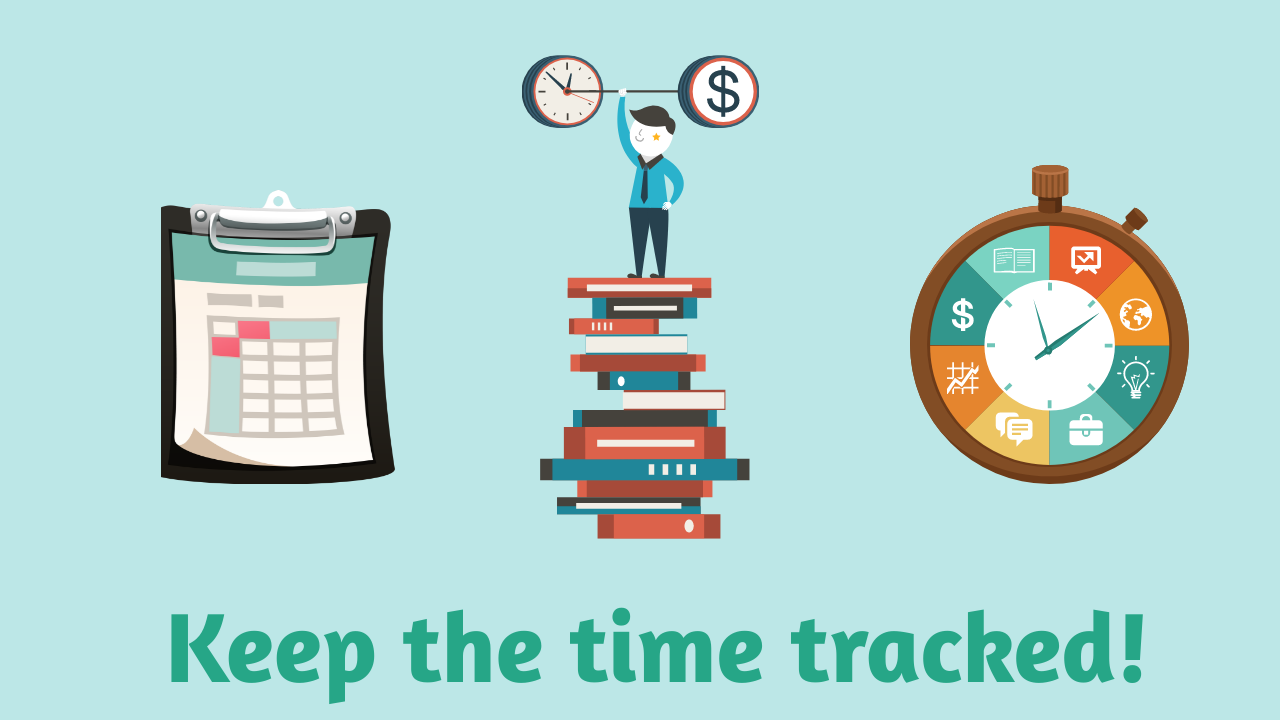 It's not rocket science to comprehend that time tracking software tracks time! Time tracking software can provide you with a plethora of options to track down the performance of the employees in your organization, but the first thing that comes to our mind is that it tracks time!
It helps you see how much time your employees are taking in every project and task they are assigned to. It gives you proper insight into their individual and team performance and helps you create a yardstick to measure, compare and contrast.
3. Task Management Flexibility
Through time tracking software, it's now tremendously simple to allocate tasks and time to the employees. Task management has always been a strenuous job for managers, but tracking software often provides you with this feature to divide the task most sensibly. Division of functions makes the work more accessible and more flexible.
4. New Discipline in the Organization
Once the startup transforms into a small business, it's necessary to have some differentiating criteria to explore and flourish. Work ethic and culture need to be created and enhanced with a new discipline and office code flare.
While ensuring that your employees' performance is tracked, time tracking software makes your employees transparent and accountable for their work.
It makes sure that your employees are more attentive and disciplined in the workplace. Practicing this norm could transform your business and help it place itself as a disciplined line of business.
5. Check the Employee Efficiency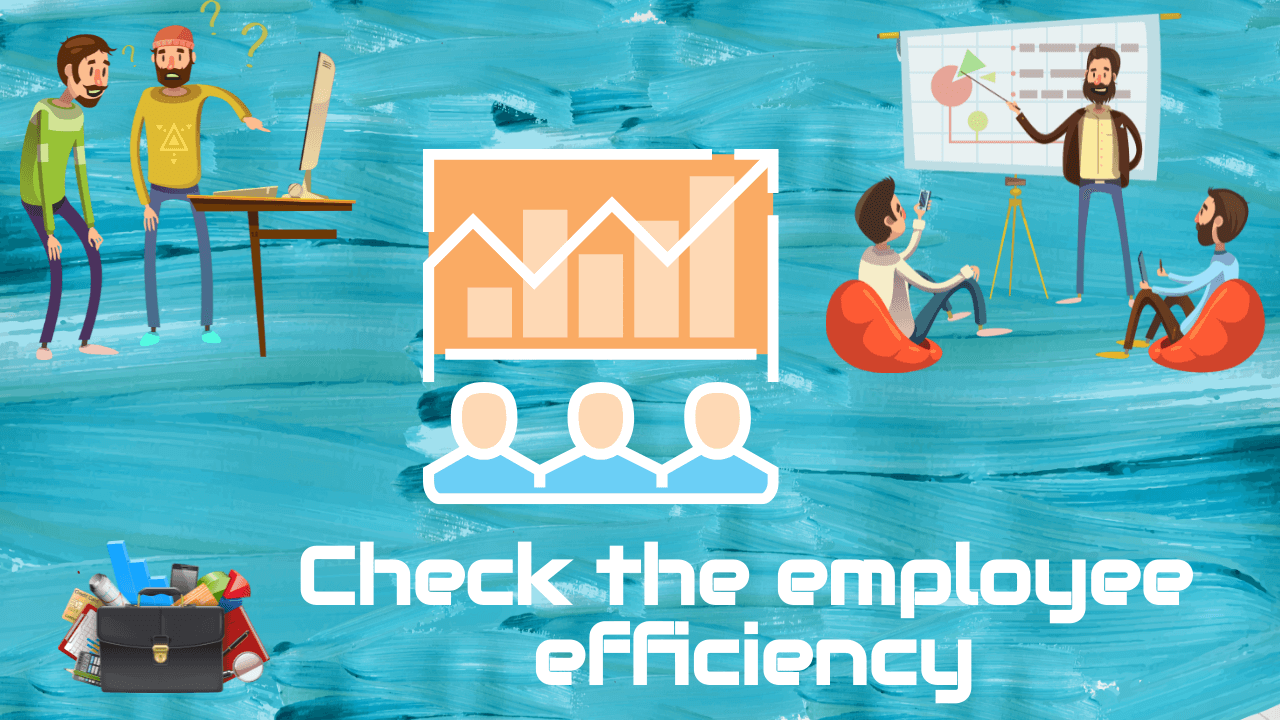 Working hard doesn't always mean that your productivity is flying. Productivity and efficiency are tricky terms that general people could misread.
Time tracking software offers the activity and non-activity time ratio to calculate the productivity of your employees. It gives you an accurate report of how efficient they are at work.
6. Motivation to Keep up the Good Work
The activity and non-activity ratio shown by the time tracking software you're using can encourage your employees to keep up their efficiency. Numbers and stats are fascinating stuff. You love to see them rising unless they are your electricity bill or household expenses!
While working, employees will keep their eyes on the time tracking software installed on their devices too. Time recorder will remind them how long they have been working. It will show them the productivity percentage. These stats can incentivize them to work harder and longer.
7. Integration with Payroll
As the employees' working hours are fully recorded, integrating their performance with the payroll feature of your time tracking software can significantly reduce the pain of HR.
There will be no confusion regarding paying the employees as your software already tracked down your employees' working hours and generated payroll.
8. Save Time While Billing Clients
It has always been tricky to bill clients both project-wise and hourly. But while using the time tracking software, you face zero hassle. As you know, the billable working hours or project billing won't be a hard nut to crack.
9. Lesser Work for HR
Your organization's human resource manager takes the hassle of some tiresome jobs that time tracking software could replace. The days are gone when HR used to call everyone to take attendance. HR needs to pursue the minimalist approach to make things work for the organization in the technology-driven business world.
Time tracking software can offer features like a timesheet calculator, reports of activities, payroll, task management, and even geofence time and attendance! So, that's how you bring respite to your HR's work life!
10. Promote a Sense of Accountability
Whenever your employees are logged into the time tracking software you bought for your organization, almost all of their activities will be monitored via it. This will help them be accountable for each of their actions. The software is not micromanaging the employees, but it is tracking if the employees are taking the chance of any official vulnerability.
The absence of any monitory body might allow them to have some chitchat with friends or Netflix time during office hours. But intelligent time tracking software can dissuade them from doing that. It creates a sense of accountability in everyone's mind.
11. Workplace Transparency
Transparency has always been an issue in the modern-day workplace, where corruption, dodginess, and carelessness are some malpractices. Time tracking software can take control of this stuff most professionally.
The features available in an advanced time tracking software would put everything under question, and people revolving around it should be sure to answer. There is no place for lapses, and you get your workplace as transparent as clean water.
12. Set a Benchmark for Upcoming Projects
Being a small business owner, you don't know how much time it takes to do every project that will constitute your workplace for future days. The most horrendous thing happens when you estimate out of the blue, and your estimation becomes a blunder.
Using time tracking software for the projects you are carrying out is bliss! Now you know the estimated time that helps you to presume the next project's working hours. It will help you create a benchmark for the business, and your business won't any longer seem minor to you!
13. Retain the Best Performers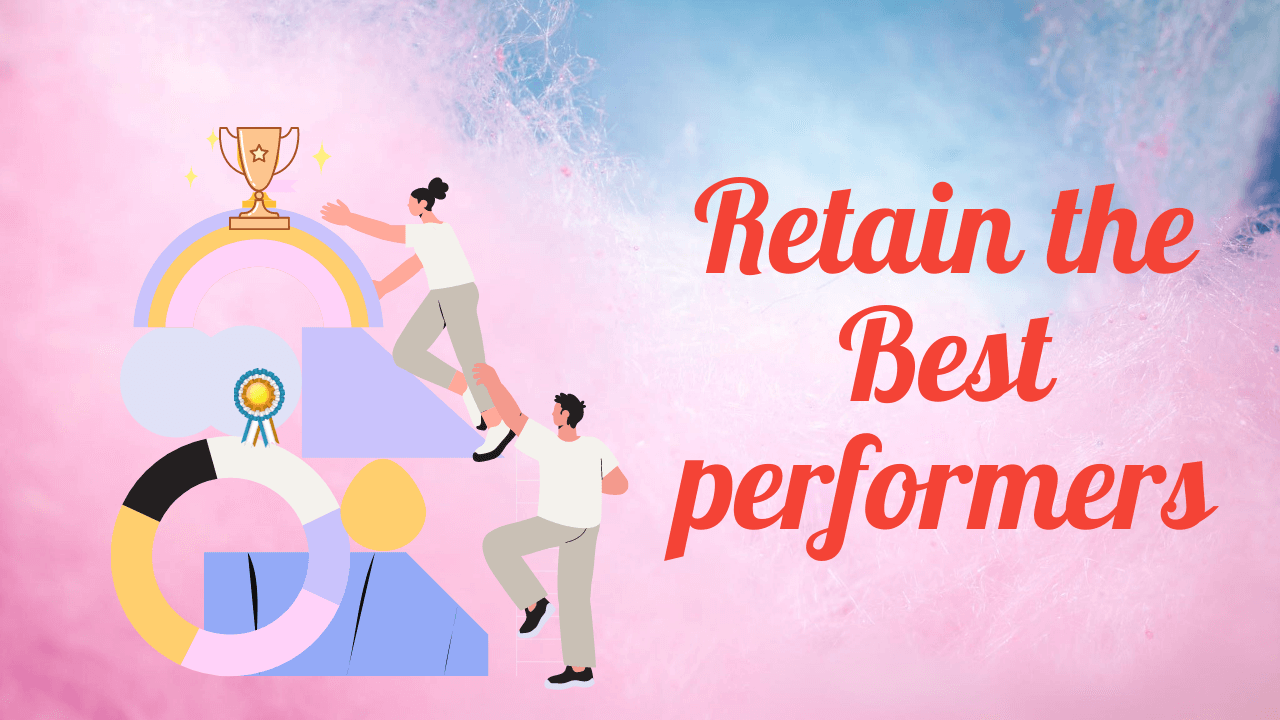 At the very beginning of your business's journey, you were unsure about the performance of the employees. But time tracking software that you are using made things easier for you.
You can see people's working hours, their visited websites, what they were doing at a particular period, or the ratio between their productive and non-productive working hours.
You can quickly determine who is working hard for you and those dodging you out of business. It helps you retain the actual performers, and you have a strong rationale behind that.
14. Get an Overall Review of the Performance
Most advanced time tracking software nowadays shows you the timesheet reports they produce based on your employees' time logged. It gives you a proper walkthrough of your organization. You get to know the overall performance management, and there's a lower probability of making decisions by fits and stars.
A comprehensive review of the performance made things easier for a business owner to get into the true insight of the organization.
15. Create a Professional Image for Your Business
Now you own a business that is small and almost unnoticeable. But you dream and work to transform it into a large one in the distant future. Time tracking software becoming a forerunner of your organization can guide you towards a more productive workplace. But, to add the 'professional' label to the business, its contribution is more vibrant.
Having a time tracking software monitoring your organization means that you already have created a professional image for the brand you are building. It also helps you differentiate yourself from your competitors.
Time tracking software for small business
The list of time tracking software for small businesses in the internet world is quite long, and it's growing every day. To find out the most advanced one that can fulfill your demands requires a little research and comparisons. Make sure that you know everything your organization needs to monitor the employees and then pick up one.
Let's see How the time tracking software Apploye Can help you?
Track Your Employee's Working Hours with Apploye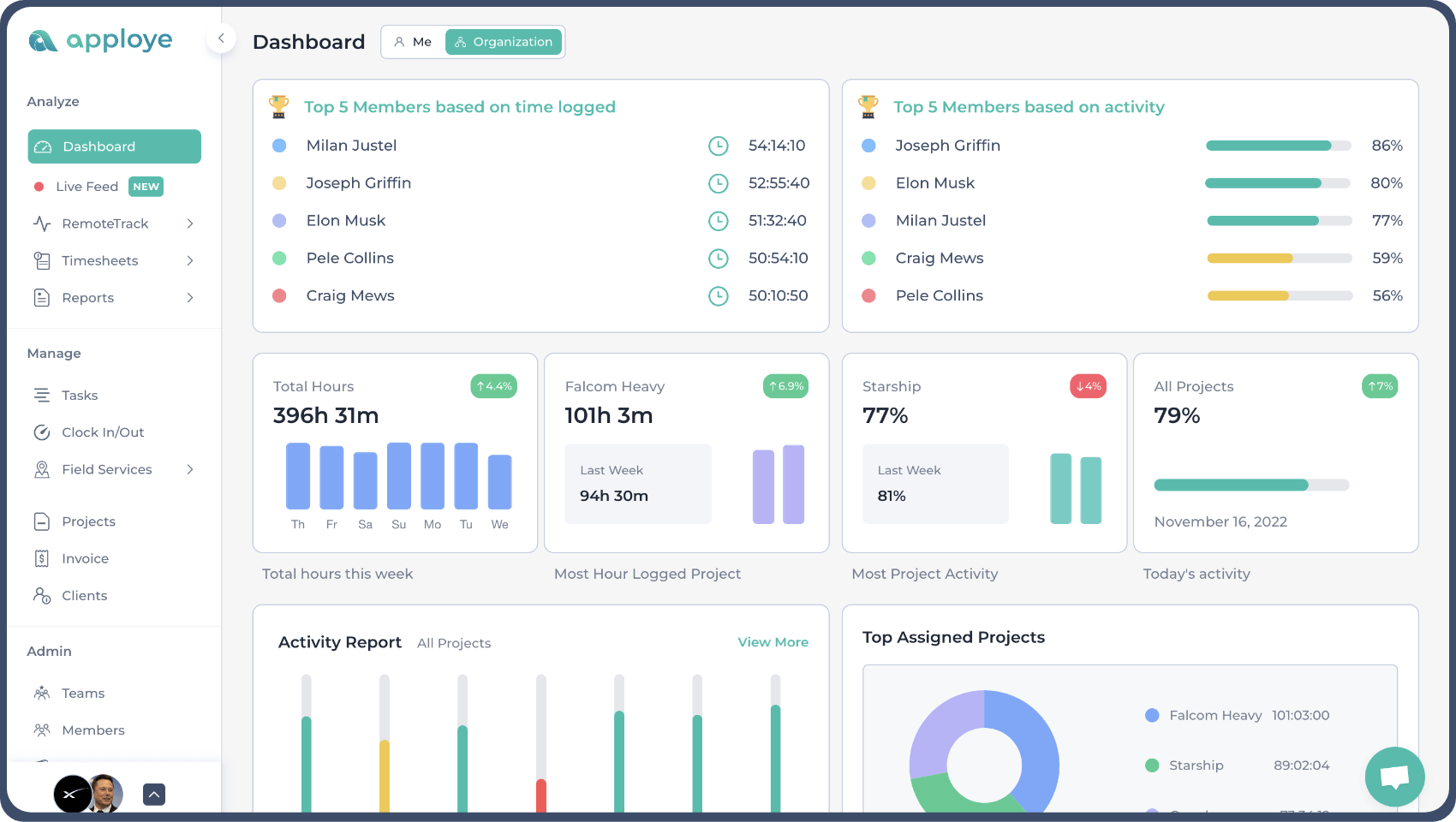 One of the most intelligent, handy, and user-friendly time tracking software, Apploye is undoubtedly a wise choice when you are thinking of bringing time tracking software to your organization. Apploye offers significantly lower prices than its competitors but gives away more than a hundred valuable features. The outlook and interfaces of Apploye are supremely professional so is its onboarding experience.
Have a look at some of the most notable features of Apploye.
1. Employee Monitoring
Apploye provides you with the RemoteTrack option to monitor the employees without the hassle of micromanagement.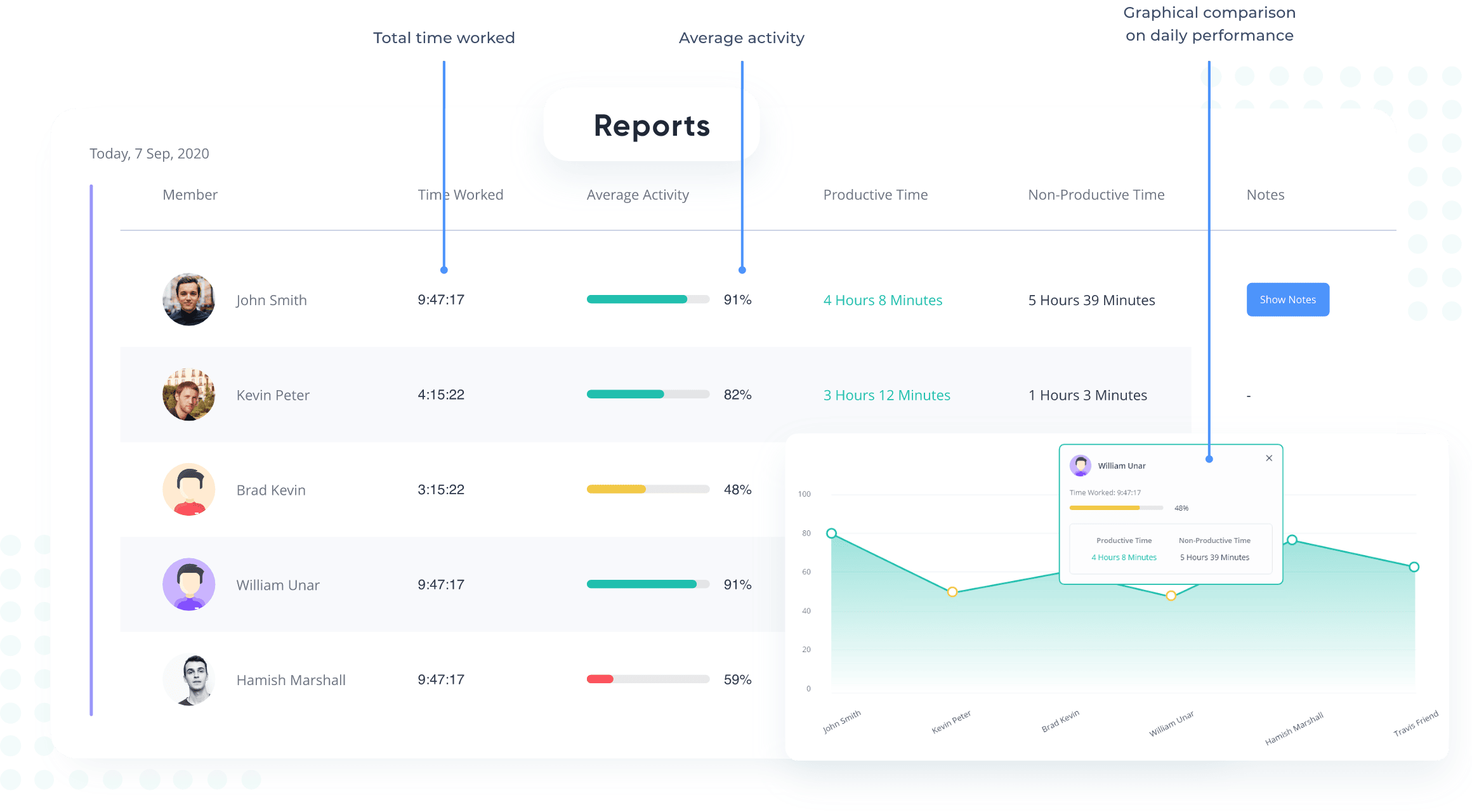 But what exactly does the RemoteTrack feature do?
The RemoteTrack feature of Apploye is composed of three different features, namely Screenshots, Apps, and URL tracking.
The screenshot tracking feature allows you to see the activities of the employees. The software takes a random screenshot in 10 minutes. With this amenity, you can hold your employees accountable for the activities they are in.
Apps are the second part of the RemoteTrack option, which denotes the usage of different apps and software on a particular device. Through this, business owners can monitor whether their employees are sticking to the right kind of apps or not.
The third feature of Remote tracking is URLs. It's the section where you can see the websites your employees are visiting, and you can easily dictate if they are doing something wrong.
2. Timesheet
This is a feature of Apploye that enables you to see your employees' performances from different tenure angles. Daily, Weekly, Bi-weekly, monthly, and custom are five sub-features under the belt of timesheets.
Daily: Shows you the performance time of the employees in different projects and tasks in a specific time zone.
Weekly: Gives you a weekly view of the tracked time of performances of the employees. You can go back to any previous week if you want to see the performance of the employees for evaluation purposes.
Bi-Weekly: It's a double-week approach of timesheets to view performance pertaining to two weeks together.
Monthly: This shows you tracked the performances of the employees monthly. You have all the authority to go back to any previous month to check how much work your employees had done that month!
Custom: Provides you with the latitude to select any time range under any project for any member to check the performances for a particular period.
3. Payroll Management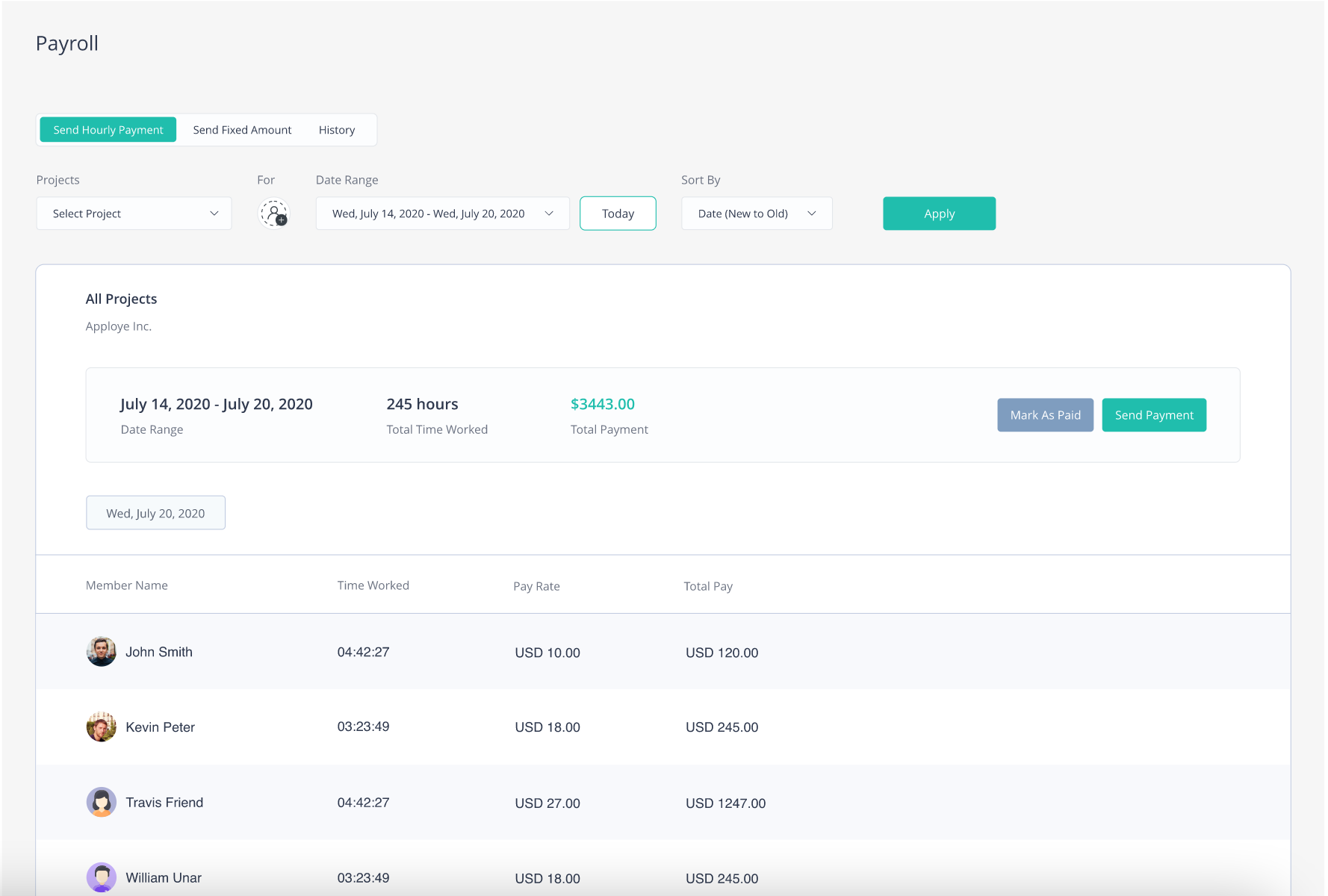 Now, this is important. Integration with the payroll is a must feature-if you bring a time tracker to your organization.
The payroll feature of Apploye is hassle-free, smart, and swift. You can-
Pay off your employees according to the projects they are working on.
Generate your employee's payroll on an hourly basis.
Send them a fixed amount of payment for their work.
Make a one-time payment
See the history of the previous payments.
Can even select different currencies and keep notes of the payments
4. Invoice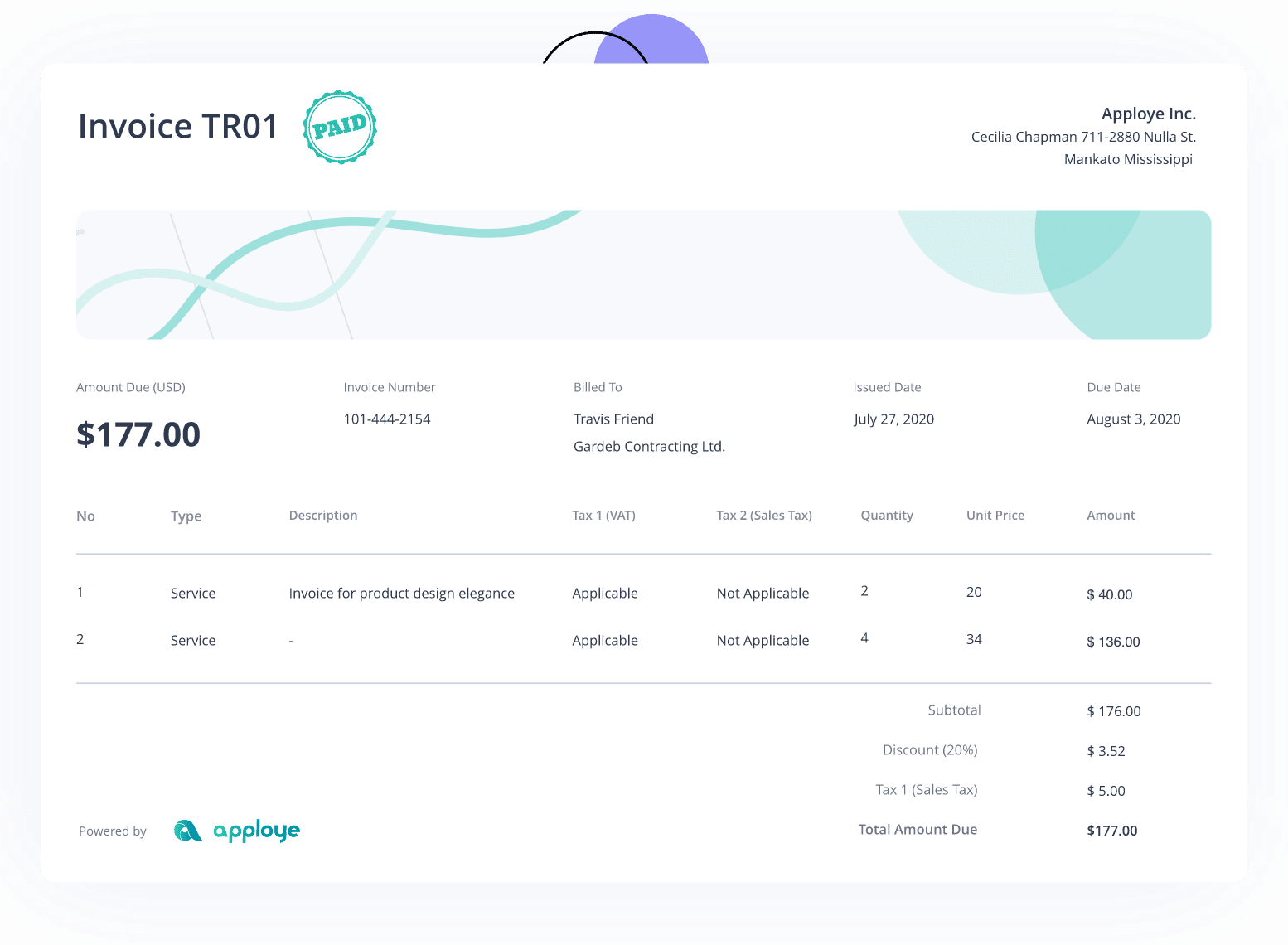 Generating the invoice for your clients should be a feature any advanced time tracking software possesses. Apploye owns the feature that enables you to bill clients and generates invoices for them.
The invoice feature in Apploye is useful as -
It has the slots for the draft, paid, partially paid, and sent invoices.
Tax calculation and adjustment are possible.
Billing is possible in any particular currency you want.
You have the 'Client view' of the invoice.
You can send the invoice by mail and can download it in PDF form.
5. Projects
Apploye offers you a plethora of features, but the 'Project' feature should be regarded as bliss. Creating different projects and tracking employee performance based on that is sometimes a complicated and time-consuming task, but Apploye made it easy for you.
The project features of Apploye should enable you to -
See active, archived, and budgeted projects.
See the progress report by view of time spent.
Create invoice based on any project
See Total Budget, Spent Amount, Spent Hours, Billable Amount and Invoiced Amount.
Assign any person to any task under any project at any point in time.
Create a project based on Fixed payment or hourly payment and add any task whenever you want.
Conclusion
For running a large-scale business, business owners enjoy more flexibility for the work ethic and culture built in the organization. Time tracking software helps small businesses, virtual teams, and startups track and direct productivity upward and create work ethics and regulations.
So, if you are a small business owner or intend to open a new business and want to see the benefits of time tracking software yourself? We recommend you use time tracking software. It would help you to boost productivity, build a work culture, and stay up to date.