Virtual Assistant on Fiverr Outsource your Tasks to Freelancers Online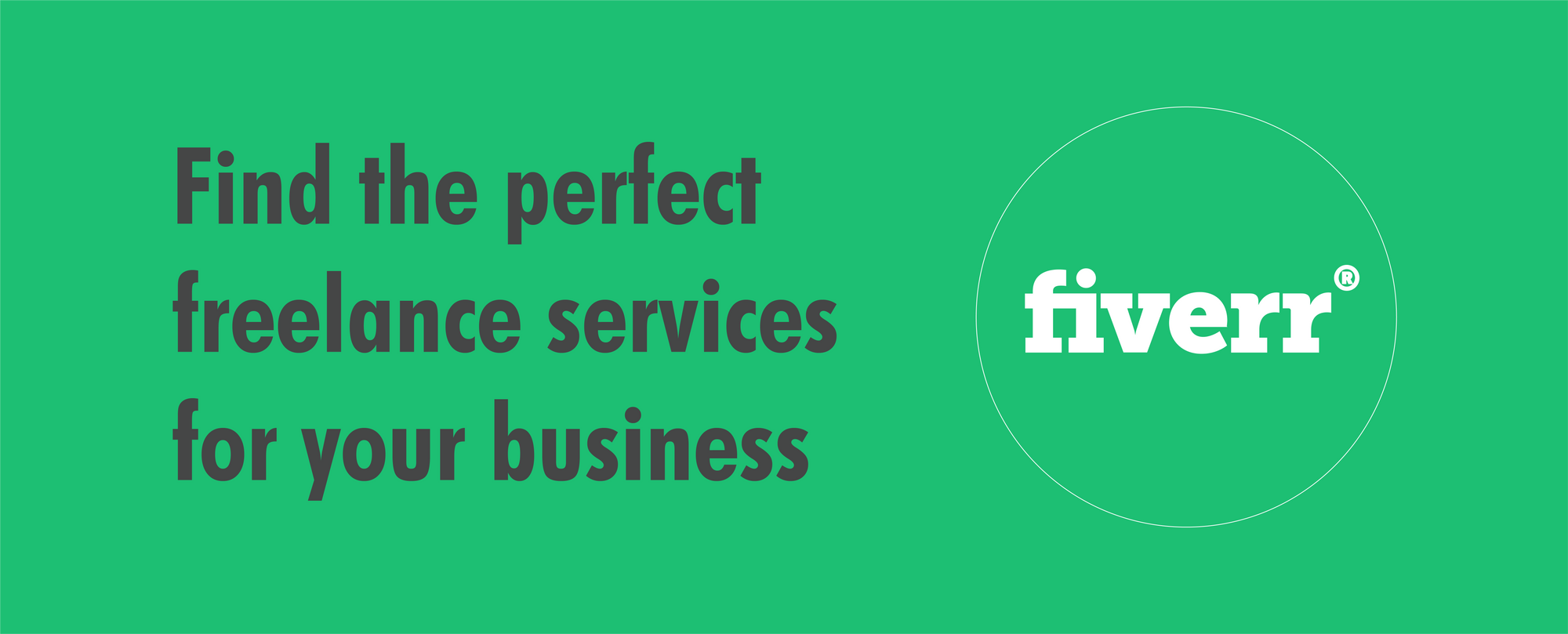 New to finding your virtual assistant on Fiverr?
You are not alone if you landed on the landing page and found yourself at sea. With similar headshots and glossy cover photos, you must be dead confused. Also, add in the highly variant pricing rates.
How do you even find your ideal assistant amid this overwhelming noise?
Luckily, we happened to write a blog on this exact issue. Hence, this short blog will guide you through your hiring process on Fiverr. In case you don't find what you are looking for on Fiverr, we also compared Fiverr to other top hiring platforms.
So, let's get started!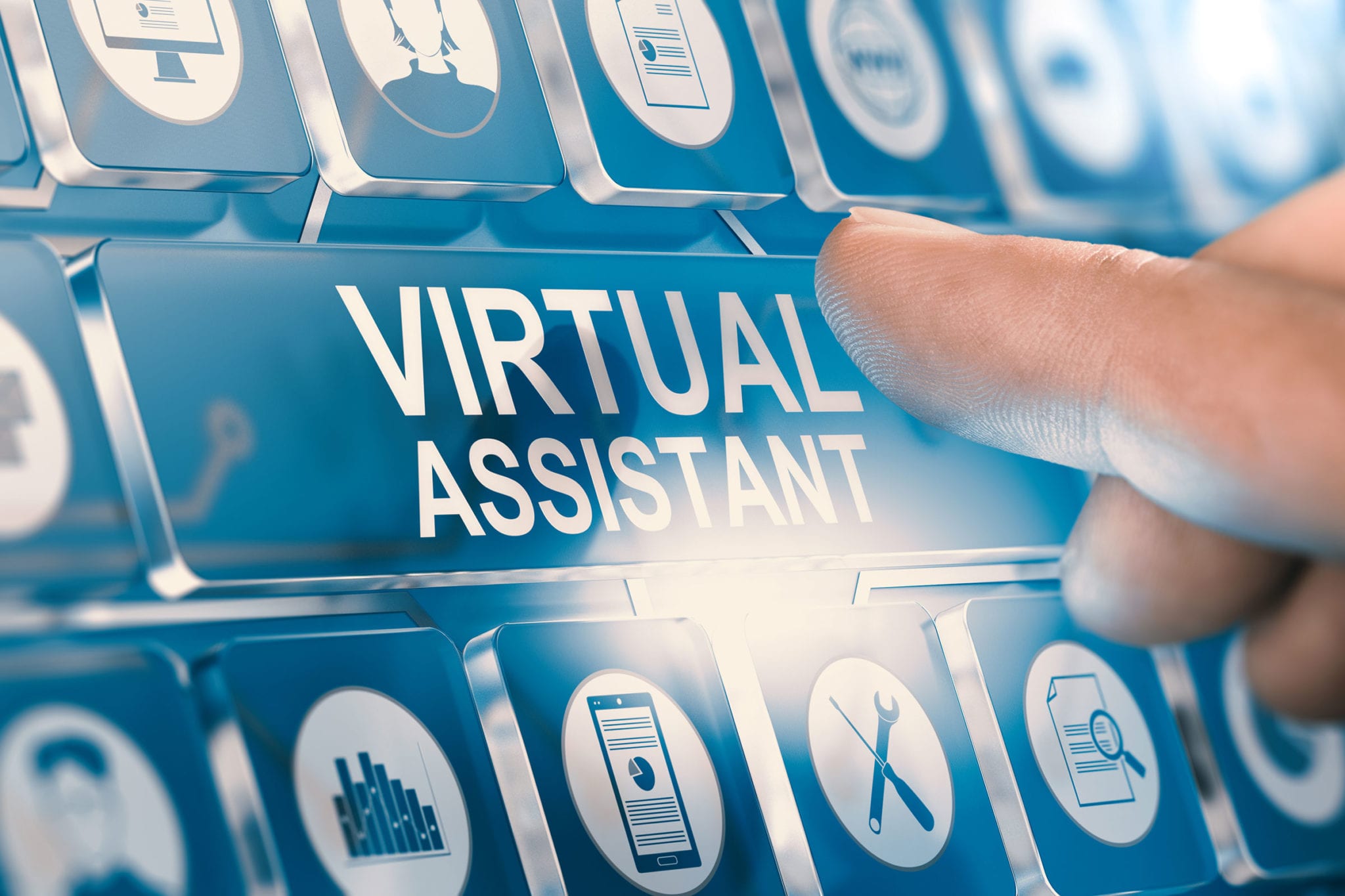 Luckily, we happened to write a blog on this exact issue. Hence, this short blog will guide you through your hiring process on Fiverr. In case you don't find what you are looking for on Fiverr, we also compared Fiverr to other top hiring platforms. So, let's get started!
What is a Virtual Assistant?
Before making a move to hire a virtual assistant, let's quickly go through about a VA.
You can assume a VA as your right-hand man not working in person but working from a remote location.
A virtual assistant is an individual who provides business support like administrative, marketing, schedule with clients, email and phone call handling, etc.
He might be a freelancer or individual contractor who gives you an online personal assistant. You can hire an online assistant full time, part-time or on an hourly basis.
Now an important question is how to find a virtual assistant?
There are several virtual assistant platforms to find your VA. Along with Fiverr, you may search in Amazon, Upwork, Time, etc. Later on, you'll get a comprehensive discussion of these platforms to hire a VA.
What does a Fiverr virtual assistant do?
Virtual assistants are becoming increasingly well-known as small companies and start-ups rely upon virtual office spaces to cut costs. Companies of all sizes expand their use of the Internet to conduct their daily business.
Since a virtual assistant is an individual contractor, the industry is not required to offer all the benefits and taxes like a full-time employee.
A VA provides all kinds of services including administrative virtual assistant services, research, scheduling, travel arrangement, documentation, etc. Here you can get an overall idea of the responsibilities that a VA may need to do.
Formatting and Cleaning up files/documents
Organizing files/schedules
Customer Service Support
Project Management
Maintaining contact lists i.e. phone, email, etc.
Photo/Video Editig
Creating graphs/tables
Writing research summaries
Creating professional bibliography
Making cold calls, calendar management.
Travel Planning i.e. hotel booking, creating itineraries, etc.
Categorizing & Sorting Virtual Assistant on Fiverr
Fiverr has made an easy interface for finding your online virtual assistant. In general, there are three broad services offered in the virtual assistant category on Fiverr.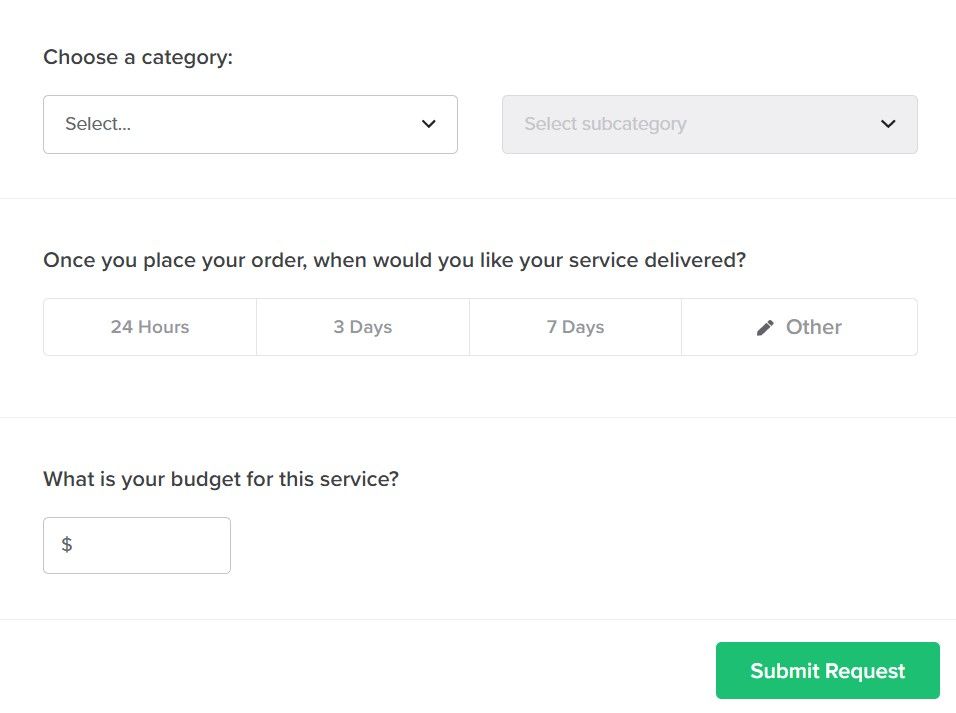 Administrative Services
Research Purpose
File Conversion
Call centre and calling
Administrative Services
There are 7 types of services that you can avail under the administrative services.
Formatting and Cleaning up files/documents
Organizing files/schedules
Customer Service Support
Project Management
Maintaining contact lists i.e. phone, email, etc.
Photo/Video Editing
Travel Planning i.e. hotel booking, creating itineraries, etc.
Research Purpose
Under the research domain, there are primarily 4 types of services offered on Fiverr.
Formatting and Cleaning up files/documents
Creating graphs/tables
Writing research summaries
Creating professional bibliography
File Conversion
This domain is pretty self-explanatory. Anything that can be converted falls under this service category. For example, converting a large number of word files into PDFs.
Each of the broad categories can be further sorted based on the 5 following factors.
1. Expertise Level
A virtual assistant on Fiverr can go up to four levels.

New
Level 1
Level 2
Top-Rated
However, top-rated virtual assistants are the lowest in supply. Therefore, only the highest-paying employer can hire a top-rated virtual assistant. Simply put, the higher the skill level, the more lucrative the pay per hour.
Here is an example of how hard it is to be rated as a master virtual assistant. However, bear in mind that you don't always need a pro. Services provided by a level-one or new virtual assistant can't really be termed as "bad" service. Hence, go up the experience ladder only when absolutely necessary.
2. Language
Language is often a prerequisite in multinational projects. Some employers prefer to communicate with their virtual assistants in the native language. However, the more exotic the language, the fewer people know it fluently.

3. Territory
Ever wondered why employers are so keen on hiring virtual assistants from the East? Because often they charge you less. Hence, territory matters. Moreover, your communication with virtual assistants happen online, it is essential that you both are incompatible time zones. Therefore, Fiverr gives you the option to sort based on territory.
4. Budget
You can find your ideal virtual assistant on Fiverr on literally every budget. This is one of the many perks of hiring online. Starting from $5.00 to even $995.00 a job, you have the flexibility to slide to any figure. Fiverr provides you the option to sort based on your maximum budget.
5. Delivery Time
Finally, you can select your delivery time. An express job to be delivered in 24 hours will cost you a bit more. Besides, you can also select any time you want based on your urgency level.
Things to Remember Before Hiring Your Virtual Assistant on Fiverr
1. Reading is Absolutely Crucial
This is an absolutely fundamental tip: take time to read the full description of the seller. Well-crafted descriptions often translate to better services. It exhibits that the virtual assistant has truly put in the effort. Moreover, you can readily assess whether the VA is a good fit for your job.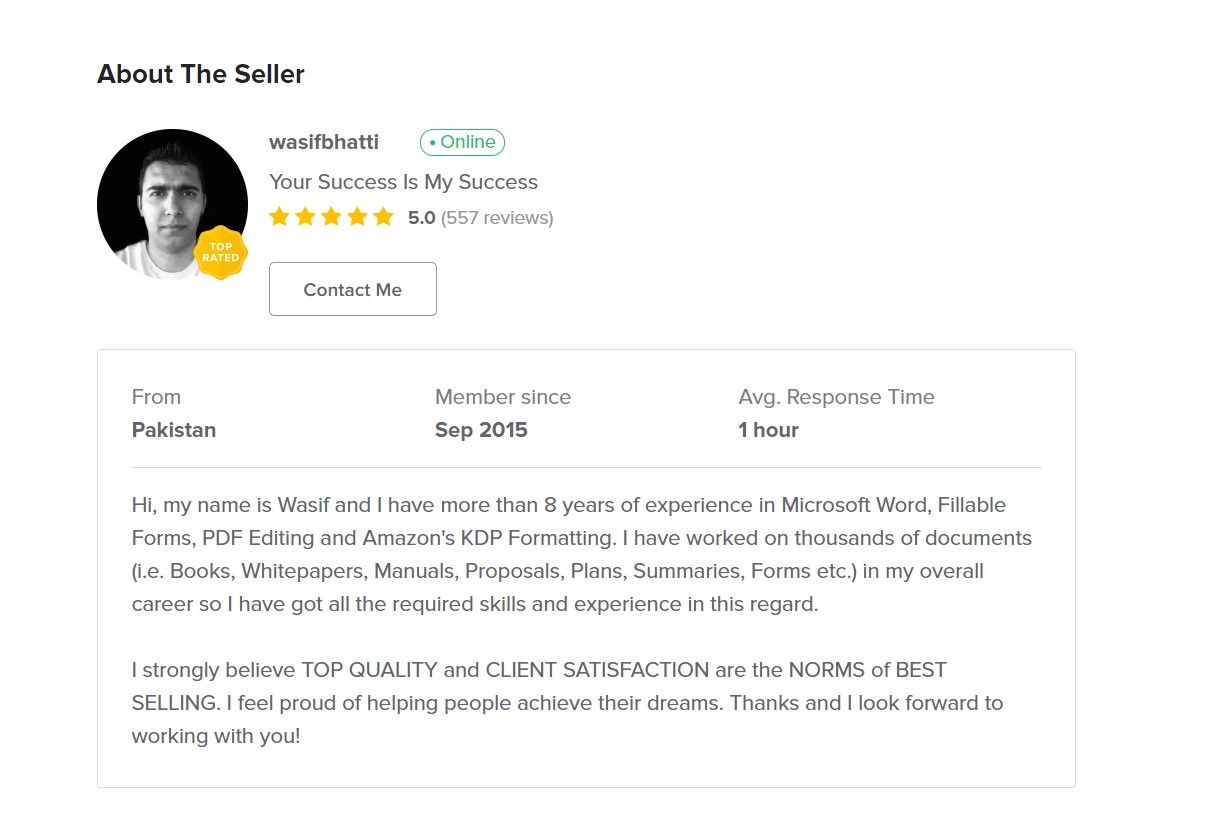 This is a good example from Wasif Bhatti, an Editor's Choice virtual assistant on Fiverr. One read of his profile description gives you an instant idea of whether you should hire him/not.
In case you are still confused, just give the man a knock and make a custom offer.
2. Compile a List
Do not fixate on a single freelancer. Instead, try to make a list of suitable candidates for your job. Then, compare their pricing and offered services. Moreover, you can ask them relevant questions to sort out irrelevant applicants.
3. Post a Request
Instead of manually searching, you can always post a request. Doing so saves you hours of work. Make sure that you post a brief so thorough that it attracts the ideal third-parties. Besides, you can also include references.
Explaining thoroughly is important even if you contact a seller yourself. Remember, they are not psychics! A simple misunderstanding can cost you both time and money.
4. Always Contact Before You Order
It is wise to always contact the freelancer before you place an order. Doing so reduces any unrealistic expectations you might have. Try to be as articulate as possible in your communication. As said before, include visual references to the ideal deliverable.
5. Read Testimonials
Customer testimonials on Fiverr are honest reviews most of the time. Hence, before hiring a virtual assistant on Fiverr, you should always read past testimonials. Furthermore, investigate their portfolio from head to toe. This will give you an idea of what you should expect and if you should hire.
6. Dive into Niches
Some virtual assistants have carved out their niches even in this saturated market. Therefore, use the search filters wisely. Keep on tagging filters until you narrow down your search results to not more than 10 individuals.
How to Post a Request for Virtual Assistant on Fiverr
Log into your Fiverr Account. On the top-right corner, click on your headshot. Then select Post a Request.

You will then be redirected to the following page.

In this section, you have to describe What Service You are Looking For. Despite a 2500-word limit, we suggest that you keep your brief precise but informative to the point that all questions are answered promptly. For better clarification, you can further add a file (max 1 GB) with the briefing.
Moreover, you can specify your industry, delivery time and budget, as said before. Finally Submit the Request. Once submitted, you can check your post request under the Manage Requests section. Besides, you can either pause or reactivate your gig request.
Comparing Fiverr with the Top Virtual Assistant Hiring Platforms
Fiverr vs. Magic
Unlike Fiverr, Magic is an on-demand virtual assistant hiring platform. Having Magic is like carrying in your phone a 24/7 concierge. You don't have to wait a day or run through hundreds of profiles to find the right virtual assistant.
Rules on Magic are simple. You send a text via phone or email. You will be instantly approached by a team of virtual assistants. Then, all you have to do is type the service you require. That's literally it! The rest will be handled by proficient Magic assistants.
So, if you are not looking for commitment and need on-demand assistance, Magic is your go-to platform. The only catch is its price. No matter what you get done, you have to pay 59 cents per minute.
Fiverr vs. Zirtual
If you are looking for virtual assistants for your enterprise-grade team, Zirtual is your best bet. Unlike on Fiverr, you don't hire virtual assistants on Zirtual based on projects. Instead, you get to choose your monthly subscription plan.
Every pricing plan under Zirtual encompasses standard services offered by a virtual assistant. To avail of the service, all you need to do is phone or mail Zirtual. Then, you have full access to the dedicated service from 9 AM to 6 PM (ET/PT).
Fiverr vs. Time etc
As we saw, Fiverr has space for new entrants. However, on Time etc, only virtual assistants with 5+ years of experience are allowed. Hence, the platform is trusted by even big brands in the industry.
Time etc offers monthly subscriptions based on workloads. For instance, they have plans for 10-hour to 60-hour-workload schemes. The higher the workload, the less money you need to pay by the hour.
Fiverr vs. Upwork
In terms of services offered, Fiverr and Upwork are almost in the same category. However, Upwork has positioned itself as the job market for premium services.
If you are willing to pay high and want to retain long-term virtual assistants, Upwork should be your #1 choice. However, search for your virtual assistant on Fiverr if you require high-volume, cheap and repeatable services.
Furthermore, the Upwork time tracking app, a default feature in Upwork, is missing in Fiverr, thus putting Upwork ahead in terms of accurate work hour calculation.
Managing Your Virtual Assistant on Fiverr
Setting Hourly Rate is the most common practice in the industry. However, how do you know that your VA is actually WORKING? In fact, hiring a virtual assistant on Fiverr or any other platform is only half the work. The real problems pop up AFTER you assign them.
We acknowledge that virtual assistants give you an upper hand in cost and time. However, virtual assistants bring with them their unique set of issues. The most obvious one is definitely handling employees online. Without proper monitoring and evaluation tools in place, it is almost impossible to track the service.
Therefore, use time tracking software such as Apploye and make all issues go poof! Managing as well as evaluating and tracking a remote team has never been this simple.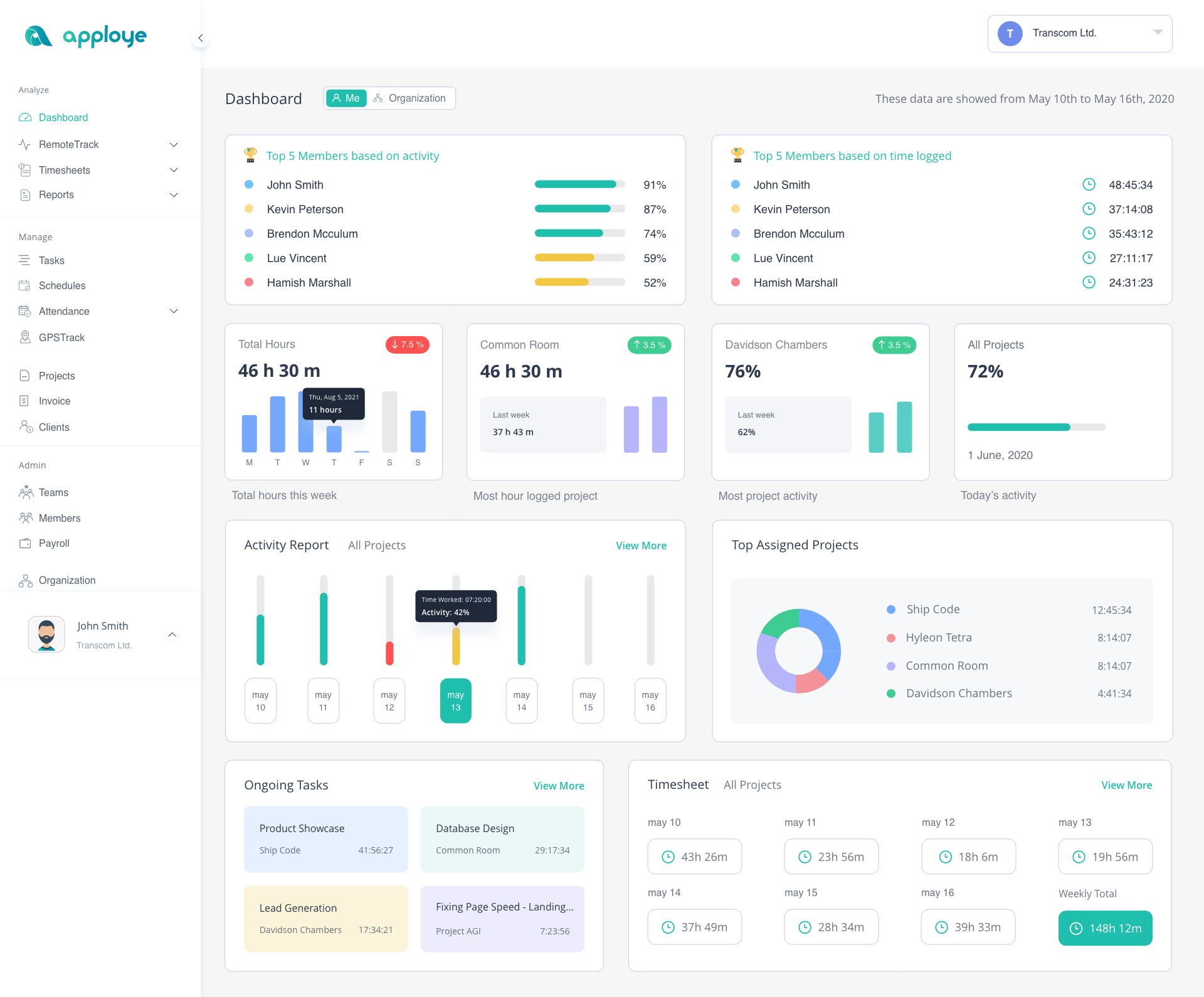 Apploye provides you with an intuitive platform for time tracking, productivity, and remote employee monitoring. It helps you manage and observe your employees' performance no matter where they belong.
Let's check out the main features of Apploye.
Now, one question may come to your mind how do you get benefits from Apploye to manage your virtual assistant? The answer is-
By using the timer, you can track time both automatically and manually. So, you can get a day-to-day overview of how much your VA doing his jobs
The time entry is smartly presented in the employee timesheet where you can see project-based hours logged. You can also customize the timesheet as per your needs.
The employee scheduling feature enables you to observe your team's performance. You can review late attendance, missed shifts, or overtime.
With the help of the Employee Monitoring feature, you can ensure that your VA is not wasting time. Finally, if you have more than one VA, you can track and compare their productivity levels.
Apploye also offers a Graph of Efficiency so that your virtual assistants are always in their A-game.
Conclusion
We hope that you have your ideal virtual assistant on Fiverr or any other platforms we have mentioned. If you are still confused about the pricing methods and channels, read our blog on Everything You Need to Know Before Hiring a Virtual Assistant.
And do you need help managing and monitoring your remote team? It's high time you started your 7-day free trial on Apploye.
Best of luck with your recruitment!