Upwork vs. Fiverr: Here's What No One Tells You About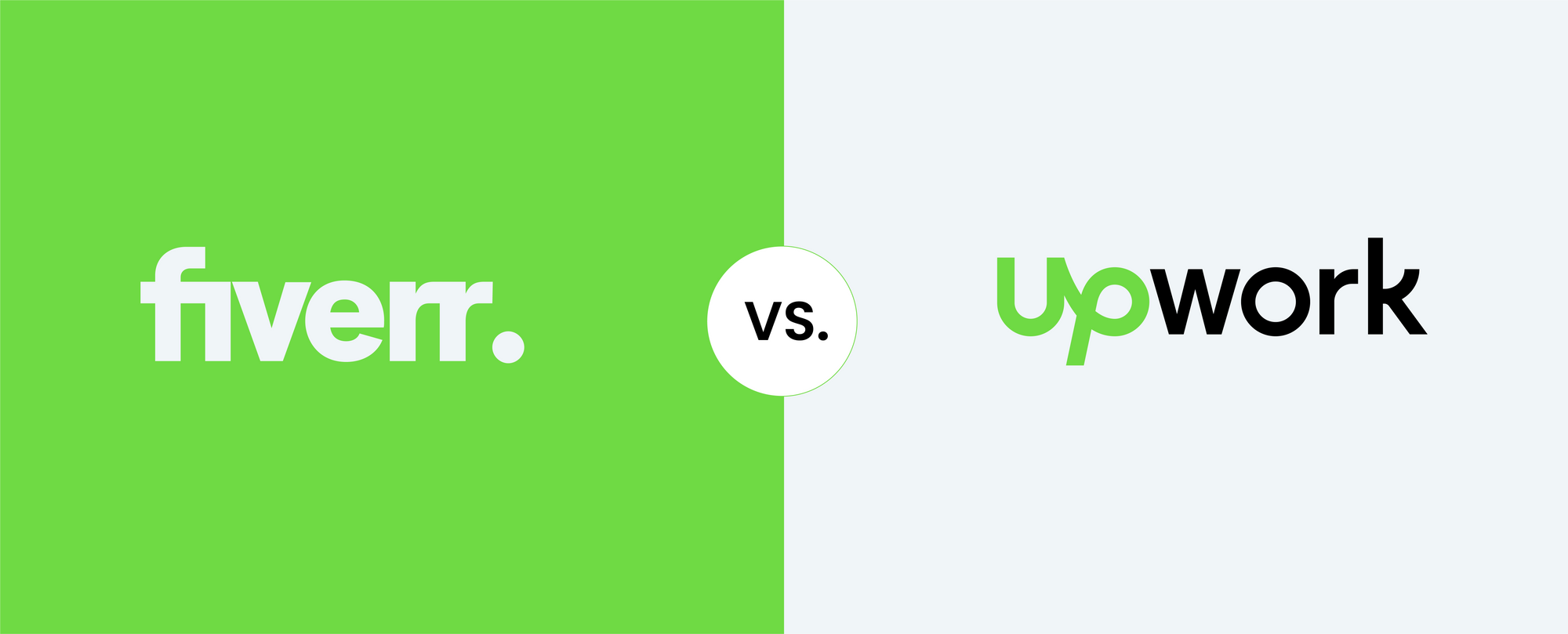 The freelance industry is increasingly growing. In 2020 we saw the revolutionary rising growth rate of all the freelance platforms. Payoneer, in their recent studies, showed the revolutionary growth rates of all the freelance platforms. In 2023 this growth rate will only be rising. The freelance industry's rise comes with benefits for small and medium business owners and provides freedom for freelancers to dive into their passion.
Fiverr vs. Upwork is a bit of a strange comparison because the two sites are so different in their own way. Both platforms have a lot to offer to freelancers looking for a side income and employers searching to add crucial freelance talent to their teams. And this is where the similarities between the two platforms end.
Whether you're coming to this article as a potential employer/client, someone looking for talents in a specific field to get your job done, or as a provider/freelancer who's looking for some side hustle income, understanding how these two freelance platforms work is crucial to picking the right one for your needs.
These freelance platforms will be compared from the buyer's perspective, looking for freelance help, and the skillful freelancer's perspective, looking for some side income working from home. It won't take much time to see just how much of a difference between Upwork and Fiverr.
Fiverr vs Upwork Quick Comparison
Upwork:
43 million monthly visitors
Better for finding established professional freelancers for longer projects
Emphases mainly on the highest in-demand remote work skills
More expensive quality tends to always trend to the high side
Freelancers are restricted from signing up in some "over-saturated' niches
Multiple fees to complete the transaction
Client/Employer focused—employer posts projects and the freelancers compete to work on it
Freelancers have to pay to keep the account in good condition
Fiverr:
35.95 million monthly visitors
Better for short one-time or series of one-time gigs
Extremely versatile, can find about anything here
Very cheap, but quality can vary vividly
Freelancers can offer that can be done remotely
The only fee is a time 20% cut from the provider of paid gigs
Freelancer-focused—buyers come to the freelancers
Freelancers may post for free
Upwork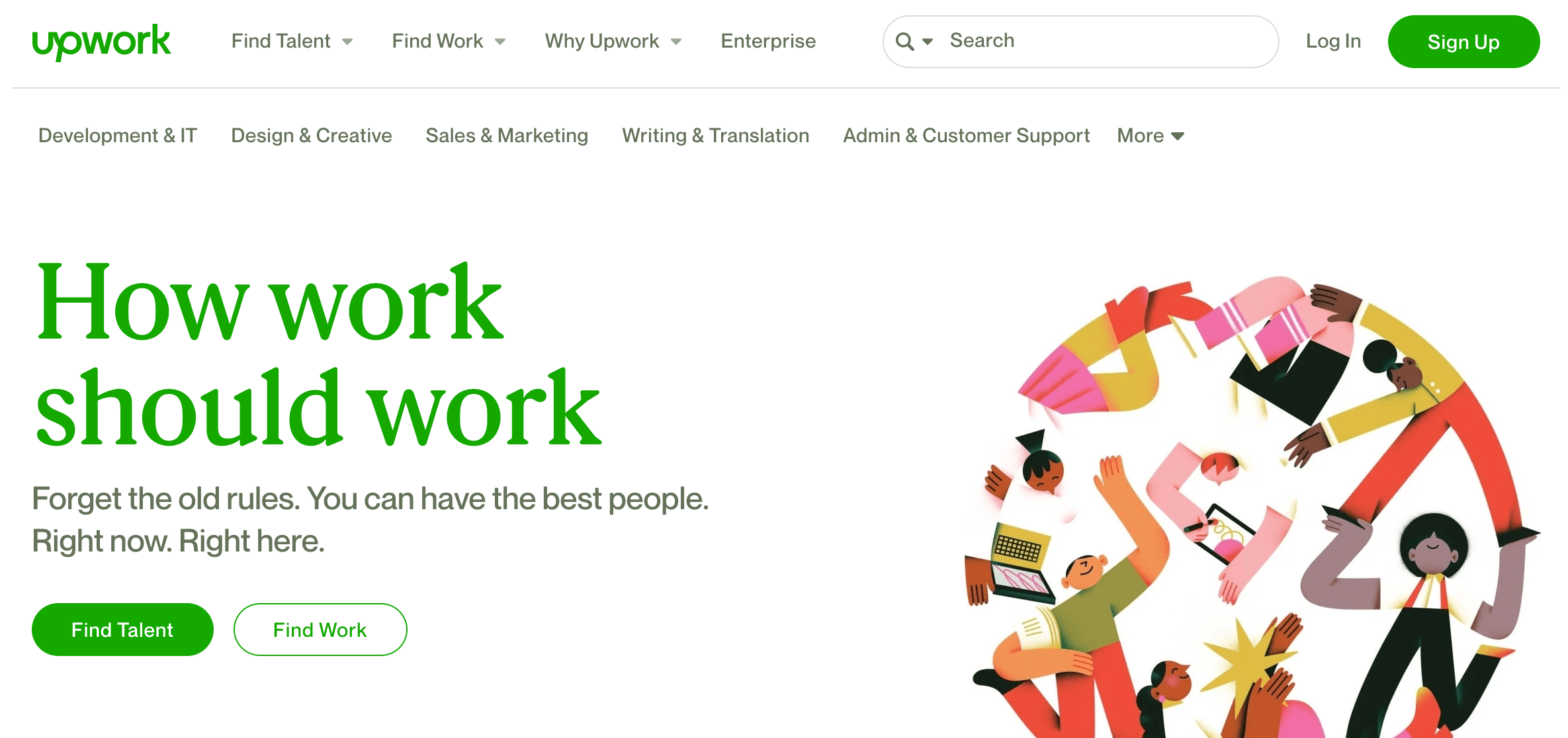 Upwork started in 2015 as a result of the oDesk and Elance merger in 2013. Its headquarters are in California, USA, and currently, it's one of the largest freelance platforms that aims to connect businesses and skillful talents.
This platform currently has five million registered clients and over eighteen million registered freelancers. In 2020 Upwork reportedly had three million jobs worth more than $1 billion posted annually.
If you're looking to hire a freelance worker, Upwork is an excellent place to start. And if you're looking to build a long-term freelance career, then Upwork is the place you need to invest your time.
The Basic Process of Upwork
On this platform, finding work revolves around the buyer or employer. The employer will have to create a posting of the job they're hiring one or more freelancers. If you don't have an account as an employer, you'll have to sign up for one, and it's free. This is extremely easy to do.
Here's how to start up. Step by step, Upwork takes you through the process. If you want one of each as an employer and freelancer, you'll need a separate email address for each account.
Employer Setup
One of the unique things about Upwork is that they offer Getting Started on Upwork:
A guide for clients, 4 short yet complete training modules on what online work is, how to write the perfect details to attract top talents, the best ways to vet profiles, and how to hire good freelancers.
After connecting your payment method for freelancers with your account, you can hire freelancers right away. If you think you need more details on hiring a freelancer and want to learn tips and tricks for hiring a freelancer. While there's no cost for setting up a client account, it's worth noting there is a 3% processing and administration fee on every payment you make.
Basic Packages 3% of the project budget is all the fees you need to pay. More 'upgrades' are mainly designed for more prominent companies or agencies that will consistently hire many freelancers. 95% of the potential employers on this platform are using the Basic Upwork Package.
However, if you think you might need mass hiring and want to look at what the other Upgrade options are, you can check out their upgrade details. There's nothing wrong with the Basic if you just started on this platform to hire freelance talent, as you can always upgrade your account later.
Freelancer Setup
The first thing you need to make sure of is that the skills you offer are offered on Upwork. If you offer commonly required skills such as software development, customer service, content writing services, or graphic design, this shouldn't be an issue.
These categories are some of the major and the most popular. Each of them is a broad term that breaks down into many different skill sets, delivering plenty of opportunities for freelancing on Upwork.
If the service you're providing falls into one of those 12 categories, you're good to go. Go through the sign-up process, which is a straightforward and step-by-step guide. You should take note that if you're applying to a drenched niche like content writing, you may have to go through a vetting process to prove that you hit a certain quality before your account is approved.
As it used to be on the old Elance system, a freelancer using the Upwork platform will have to pay for bids to keep their account in good form. Upwork not only keeps 5% to 20% of what freelancers make, but freelancers will also need to buy the Upwork currency named "Connections" to apply to posted jobs and contact employers.
Connections cost 15 cents each and usually are sold in bundles, though the first 60 Connections are free.
Pros and Cons of Upwork
Here on Upwork tend to be bigger jobs advertised, making it a much better place for freelancers looking to land a bigger paying job.
This is also one of the platforms most likely to find a freelance gig that turns into a full-time remote position. For the employer, this platform is one of the most reliable platforms to find the most skillful freelancers stable in their freelancing careers.
Pros:
Free of cost: Upwork is free to sign up for and also provides free 60 connections to bid for jobs.
Bid for your work: Freelancers can apply for jobs that they are interested in. This bidding system gives them some control over the type of work they get, which allows them to be proactive.
Upwork Premium: As freelancers develop their portfolio on Upwork, they can upgrade to Upwork Premium, which gives them added perks with better support and job recommendations for no additional cost.
Client's rating: In this platform, when bidding for jobs, freelancers can check previous reviews of their potential clients to see how earlier freelancers rate their experience, which provides the freelancers a greater understanding of the client and their work ethics.
Upwork has always been a competitive platform, and this competition has only increased in recent years. For new freelancers, this can make it challenging to get approved on the platform. Even after being approved, there is a lot of competition for the gigs that are live on the platform.
Cons:
Account bans: Upwork has the right to ban an account without any prior notice.
Client's platform: The number of freelancers on Upwork is more than twice the total number of jobs available. This puts clients in an advantageous position to select the freelancers they want. That means that established freelancers have a greater chance of getting jobs than newer ones.
Related Article: Read our complete Upwork Review.
Fiverr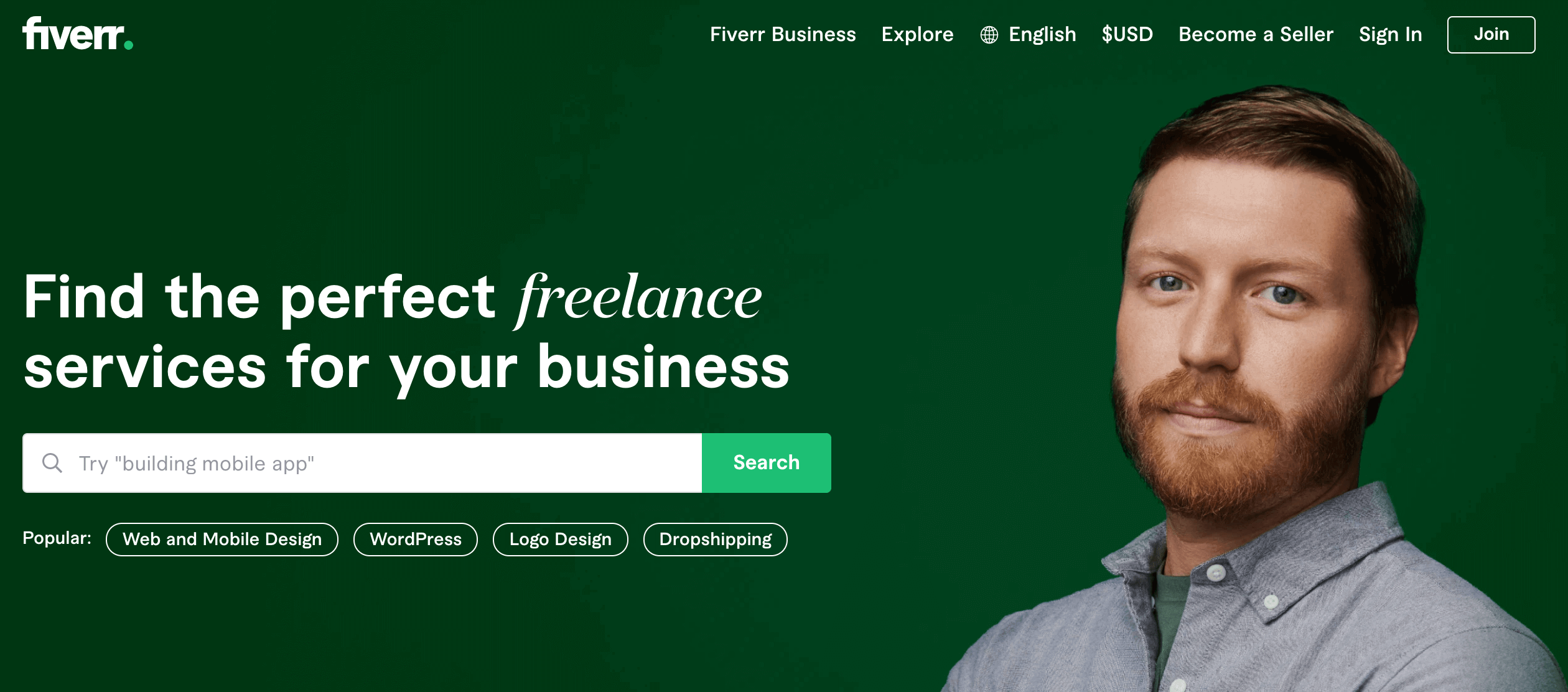 In 2010, Fiverr started as a platform where clients could hire freelancers to complete a project for only five dollars. Since then, it has evolved drastically, as freelancers can now set their prices. In this platform, freelancers can provide a diverse range of services from design to development. The site gets nearly 35 million visitors per month and is known to provide 1 million transactions every month.
The Basic Process of Fiverr
As a freelancer, you sign up for a free account. There's a fee only when you'll sell a gig. After filling out your profile, fill out one or more gigs that you want to offer, and if there's a demand for what you're offering, you're good to go.
As a buyer or employer, you're looking at hiring a Fiverr virtual assistant or freelancer on their terms. As freelancers post the jobs they offer, you start by searching, by finding a group of highest-rated freelancers who seem to fit your budget, see what you're looking for, and then hire that freelancer.
About Fiverr Pro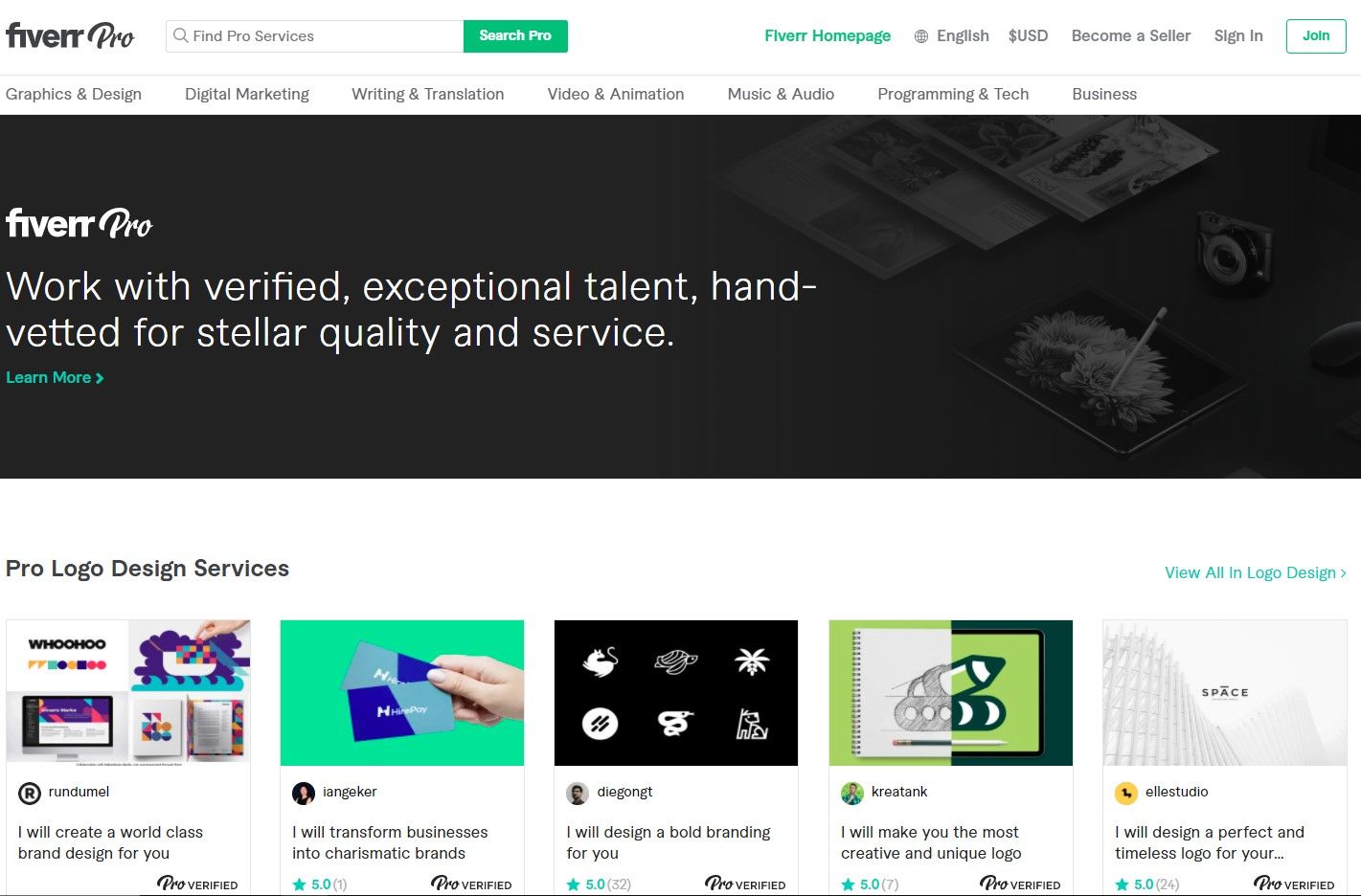 Fiverr also provides a "Pro" program. Over time an established freelancer on this platform who gets a track record of good ratings may get the opportunity to apply for Fiverr Pro. This is a whole new section of Fiverr that offers more high-quality and expensive high-end services. The type of services many employers go to platforms like Upwork for.
Though Fiverr Pro does open up opportunities for some expert freelancers with specific skills, not every freelancer can apply to opt-in for it.
Pros and Cons of Fiverr
Fiverr is easy to sign up for, and there are no skills tests or vetting processes you need to go through. If you have something to offer whatever it's, you can sign up and post your gig. The marketplace will decide whether it's a job worth purchasing or not.
Pros:
Buyers approach you: As a freelancer, your job is to create an attractive gig with a complete profile; once you've mastered that, buyers will start contacting you directly. On this platform, you don't have to hunt for your jobs, which can be a blessing for some.
Free to use: In this platform, you don't have to pay any sign-up fee. It's free to use; you can even set up your gig for free to sell your gig to buyers.
Fiverr Pro: Fiverr has a 'Pro' version of it, which gives you access to a higher professional environment and buyers who are serious about their work. In this version of Fiverr, you have greater chances of making a long-lasting relationship with employers which means more work for you. To join the Fiver Pro, you've to go through a vetting process; only experts in a field are welcomed into the Pro version.
Freelancers set scope: When you advertise your services, you have the option to set the pricing along with extra modifications such as urgent delivery.
Cons:
Buyers approach you: For some, this can be a blessing, but it can be a disaster for some too. If your gig setup is not proper and you don't, you don't really know how to sell your service, and chances are not many employers will approach you.
Commission: Fiverr deducts 20% commission on each payment that has been made, regardless of the project's size or the time you've been working with the same buyer.
Freelancer Verification Standards
Upwork's vetting process is still confusing, while Fiverr only vets certain freelancers. Both of them try to give you some idea of the quality of a freelancer's skill set, but the difference in their approach is enormous.
Nowadays, Upwork is known for "over-verifying" all their freelancers. As freelancers have to apply to the platform, and not every freelancer is accepted. Once on the platform, if freelancers want their profile to get promoted and noticed, they'll have to jump through many steps, which sometimes include skill testing.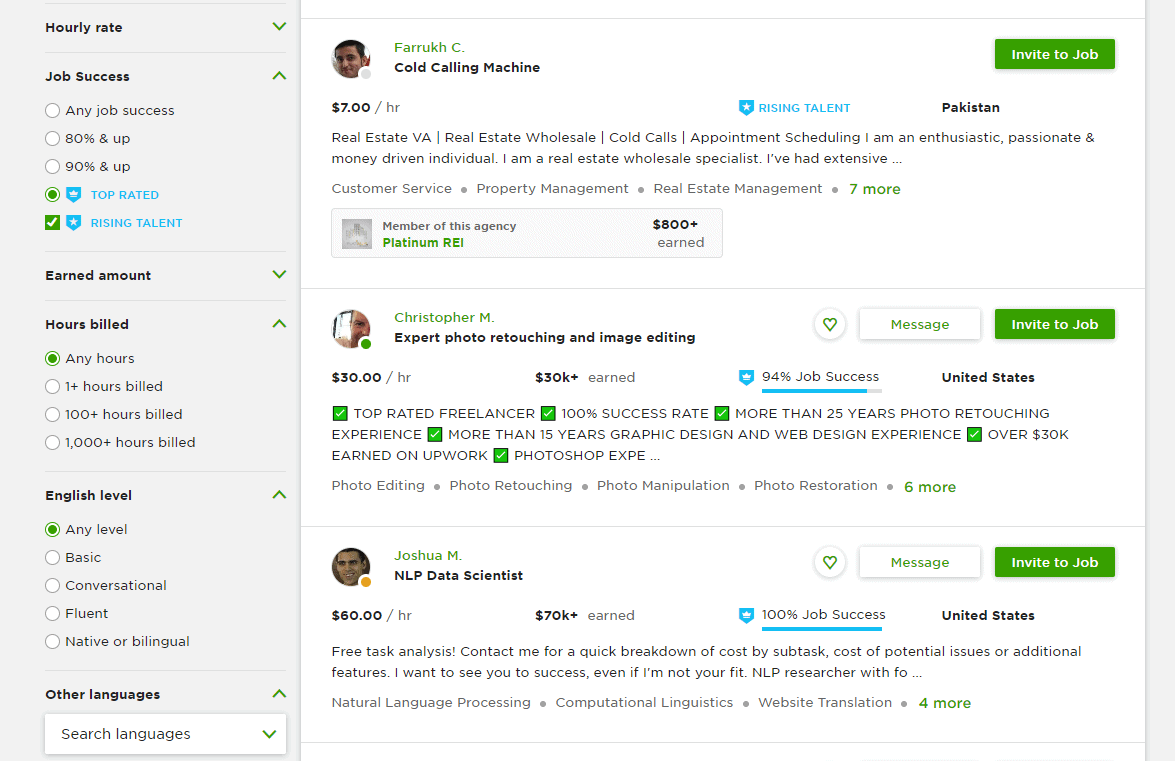 Upwork also identifies and verifies their Top-Rated freelancers. Top-rated freelancers have to have monthly earnings of at least $1,000 with a job success rate of 90% or higher and have to be actively working on the platform for at least three months. Top-rated profiles of the freelancers are indicated by a little blue shield icon with a crown on it. And there's also a category for Rising Talent, who aren't yet Top-Rated but, are on their way, iconized with a blue shield with a star.
Upwork's verification process can be detrimental because the standards of this platform are a bit arbitrary.
On the other hand, Fiverr doesn't actually verify its freelancers – except for "Fiverr Pro" freelancers. Any freelancer with a reliable work history and a solid portfolio can apply for this Pro program, where they have to go through a series of vetting processes. Fiverr Pro only accepts highly skilled freelancers whether they are new to the platform or veterans on the platform.
Fiverr Pro sellers are really good at what they do. The platform itself also takes a specialist in any potential dispute or problems involving pro sellers. Of course, all of these favors come with a price, as Pro gigs are the most expensive on the platform.
You can tell who is a Pro freelancer by their prices and by the "Pro verified" marking on their gig list. You also specifically look for Pros by selecting the "Pro Service" button on: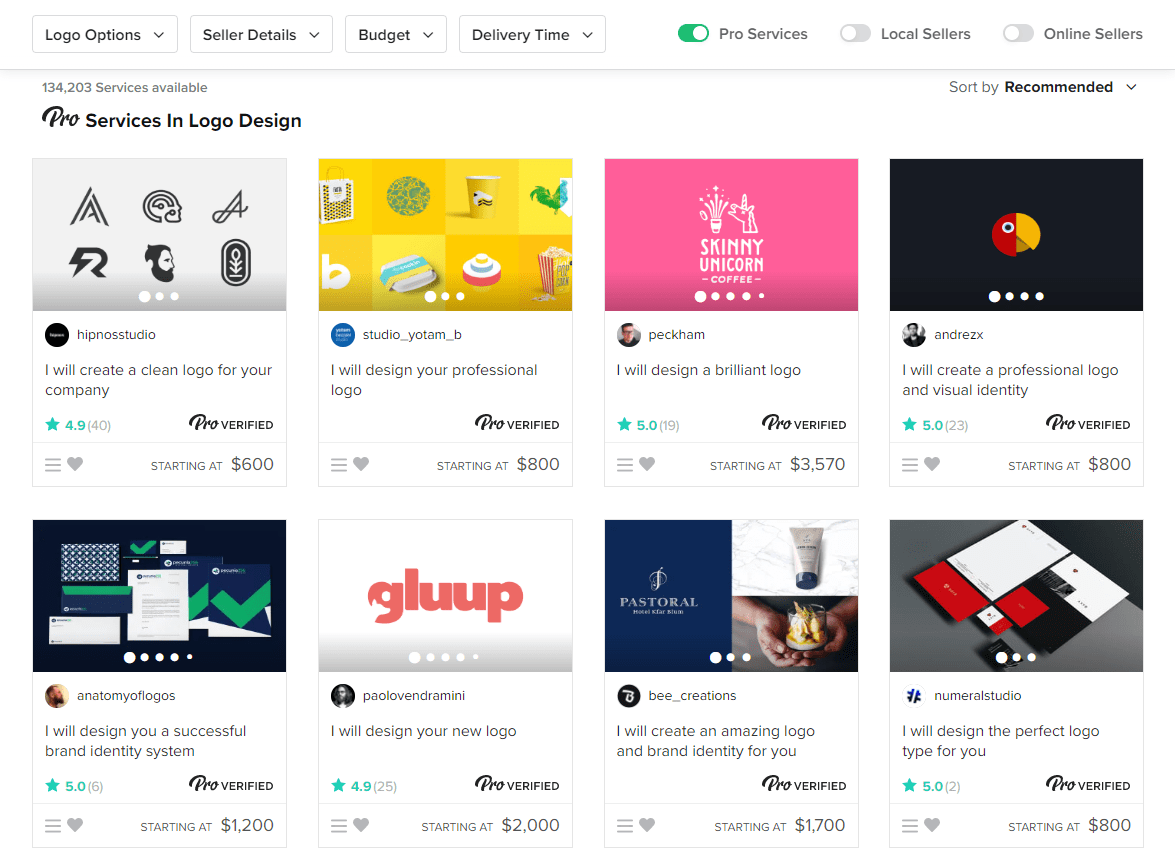 Fiverr's community-based rating system still works like a charm, while Upwork's vetting process seems to have mostly backfired at this point. No matter whichever platform you choose, you should do your research on your potential freelancers either way, as at this point, every freelancing website has problems with fake profiles.
Freelancer Profile
Upwork's profile is resume-based; Fiverr's profile is more visual. Freelancer Profiles of both of these platforms have a lot in common. The difference is in the approach they've adopted.
Upwork's profile reads more like a resume and mostly resembles a LinkedIn profile. There's an emphasis on statistics like how many Upwork jobs the freelancers have successfully finished, how many hours they've worked, how much they've earned via the platform, and other potentially useful information. There is also the usual resume stuff such as the freelancer's education and work history.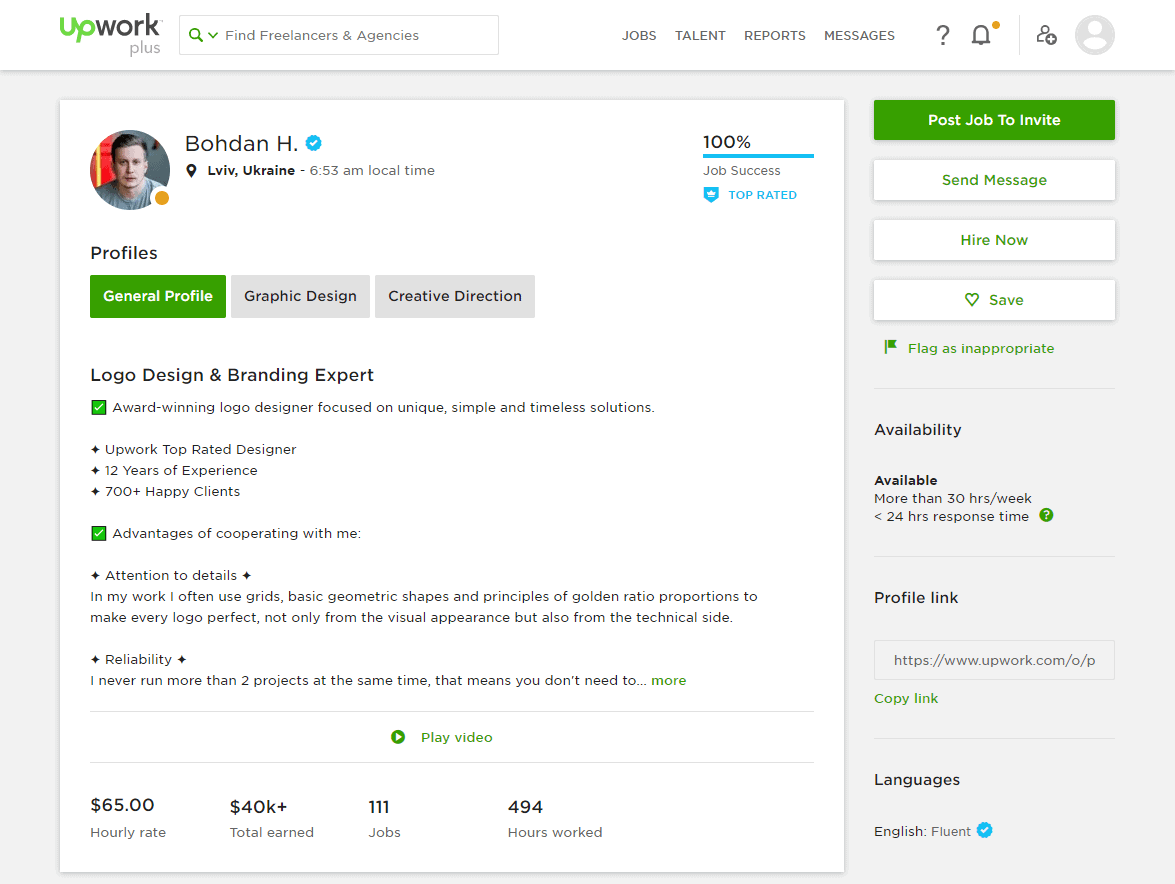 Fiverr's interface is more about directing you to individual gigs rather than freelancer profiles. Even on the profile, the seller's gigs are front-and-center. This design is showing you everything the freelancer can do. From these gigs, you can click through to the gigs to see more examples of past works.
Fiverr encourages everyone to make their portfolio visually appealing. Here's a screenshot of the writer's profile to show you how it works: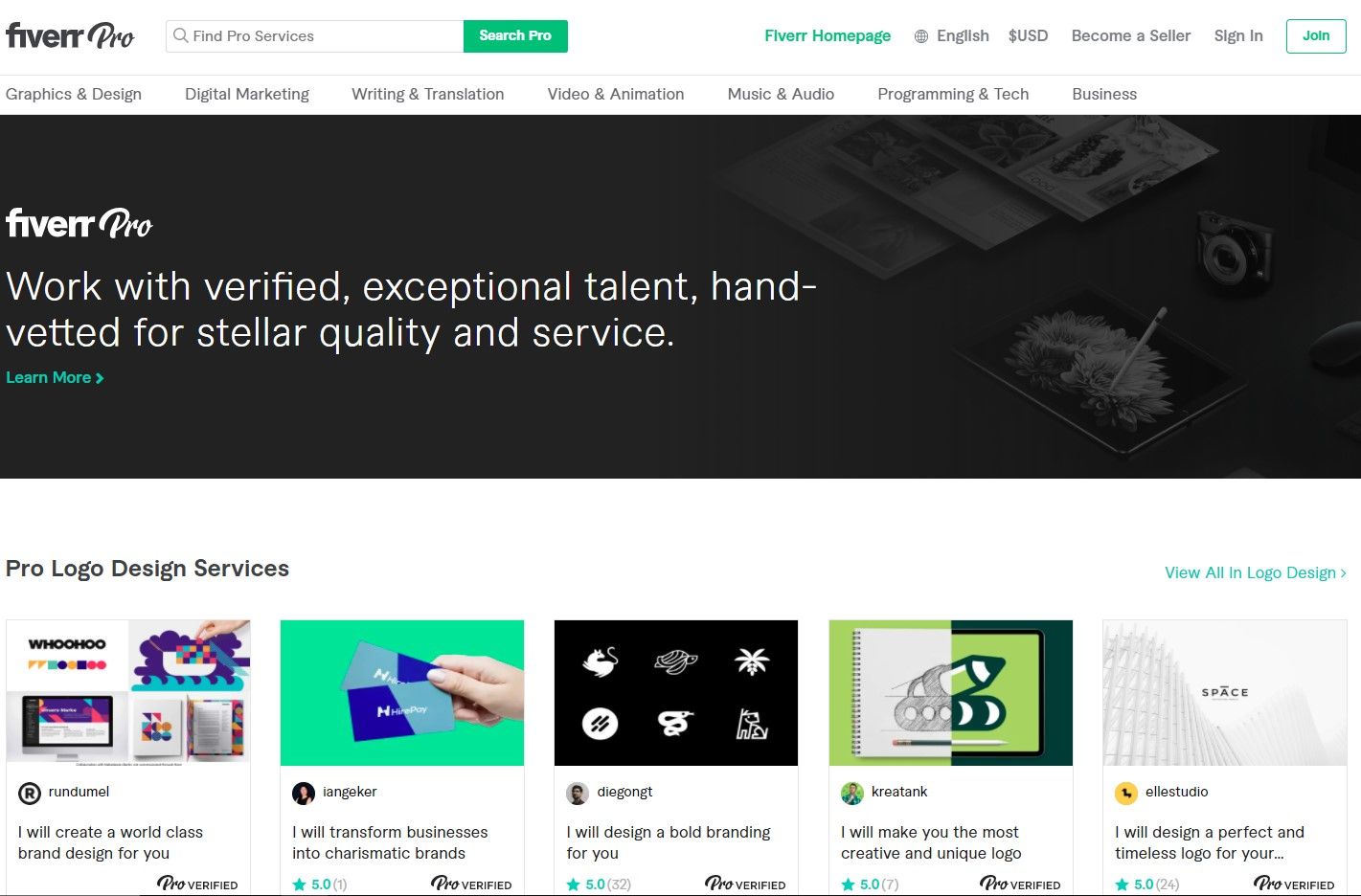 Pricing
Fiverr is cheaper. The system of Fiverr can't help but make it cheaper when many of the gigs are priced at $5 only. However, in this platform, you have to judge the seller by their past work, not by their pricing only.
Though Upwork also has some freelancers who are willing to work for quite cheap, but not as cheap as Fiverr, and it's usually at an hourly rate. Work may take longer than expected, and you may end up with a bill that's higher than your budget. Nowadays, many freelancers also offer fixed-price packages for their services.
On Upwork, most of the fees are paid by the freelancers. As a client, you only need to pay a 3% payment processing fee. However, most of the freelancers of Upwork often increase their prices to cover their fees.
Fiverr has a $2 fee for all purchases up to $40. So, if you buy a $5 service, you'll have to pay $7. Higher than $40, the fee gets up to 5%. So, in this case, if you're going to spend $1,000 on a specific project, Upwork would be a bit cheaper.
None of these platforms advertise any financial incentives for the buyers to keep a relationship with a specific freelancer. Though they make it easy to re-contract the freelancer you've worked with previously. Both of the platforms provide some small measure of security for the clients. For fixed-price services, all funds paid are generally kept by Upwork and Fiverr until the client approves.
Diversity of Skills
Upwork focuses on the main skills that can be delivered through remote workers and are in very high demand. There's a good variety of usually needed skills here. This is also a platform where finding a long-term job or major projects is possible, and sometimes this is even expected.
In this category, Fiverr wins undoubtedly because their setup allows freelancers to define the skills they offer. There are all kinds of unusual offers that you aren't going to find anywhere.
Want a quick 20-second voiceover? A simple 3-D print? Or an attractive model dressed up with a sign of your company logo or name? These examples are just a few of the tens of thousands of different services provided on Fiverr.
Dispute Resolution
This is a contradictory spot to discuss. Neither platform has a very reliable or good dispute resolution setup. Both platforms want you to settle your own business with freelancers by talking to each other.
You can find many reliable terrifying stories of employers screwing over freelancers on both platforms without cause and the freelancer not getting paid even after mediation. There are also a lot of stories that go the other way around with the same result. A "Dispute specialist" on Upwork will make a non-binding recommendation.
On Fiverr, someone at Fiverr will look over your dispute and decide whether or not you deserve a partial or full refund.
Honestly, 98% of the time, it's really easy to figure out the obvious red flags. Everyone with the best intentions' things go smoothly. But when that 2 % rises up, all bets are off.
Upwork vs. Fiverr for Clients
If you're looking for more established and reliable freelancers for a long-term project, Upwork is the best choice for you. Here, the groups of professionals can also be found looking for long-term projects or even remote positions.
For buyers who are searching for a single really quick task or looking for a simple one-off task, then Fiverr is a greater option considering the low price of Fiverr.
Fiverr vs. Upwork for Freelancers
This is going to depend on what you can offer. Upwork will likely provide larger projects and jobs that can be consistent with long-term remote work for skills like programming or writing. Building a reputation here can also help employers find and develop a working relationship with the freelancers.
On the other hand, if you offer a quick one-off sketch, one-shot modeling picture, or a bit of voice work, then Fiverr will be a much better platform for those sorts of skills.
Between these platforms, only Upwork provides its own app for tracking freelancers who are contracted on an hourly basis. Though the freelancers who are being hired by fixed-price projects are encouraged to use an Upwork time tracker, most freelancers don't like to use their app.
Apploye - Best Upwork Time Tracker Alternative
​​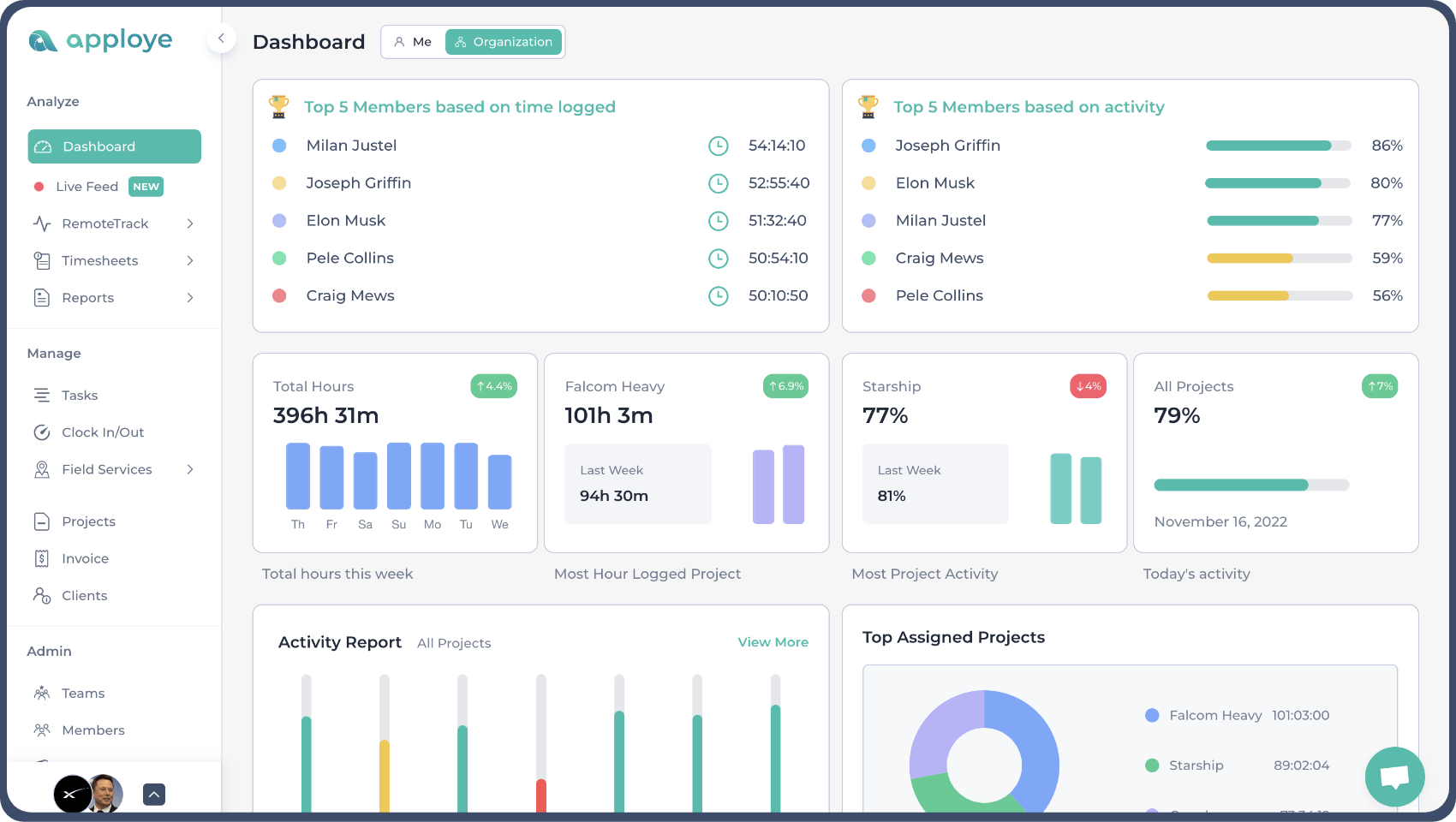 As an employer, if you like to monitor your hired fixed-price or hourly working freelancer, you can use the highly intelligent time-tracking app, Apploye. This app can do much more than time tracking. You can monitor your employees or freelancers through time tracking with screen capture. It generates payroll based on hourly rates and working hours. This app is available on every other Operating System and web, too.
Conclusion
Both Upwork and Fiverr are two of the largest online platforms to find work as a freelancer. Understanding the basic differences between the two can help you figure out which of these sites suits your skillset best.
The big part of the Fiverr vs. Upwork debate is what it is you want. Both platforms have their differences and have their own pros and cons. This goes whether you're searching for a way to make money or want to hire a skillful freelancer to get your job done.