9 Best Electrical Contractor Software in 2023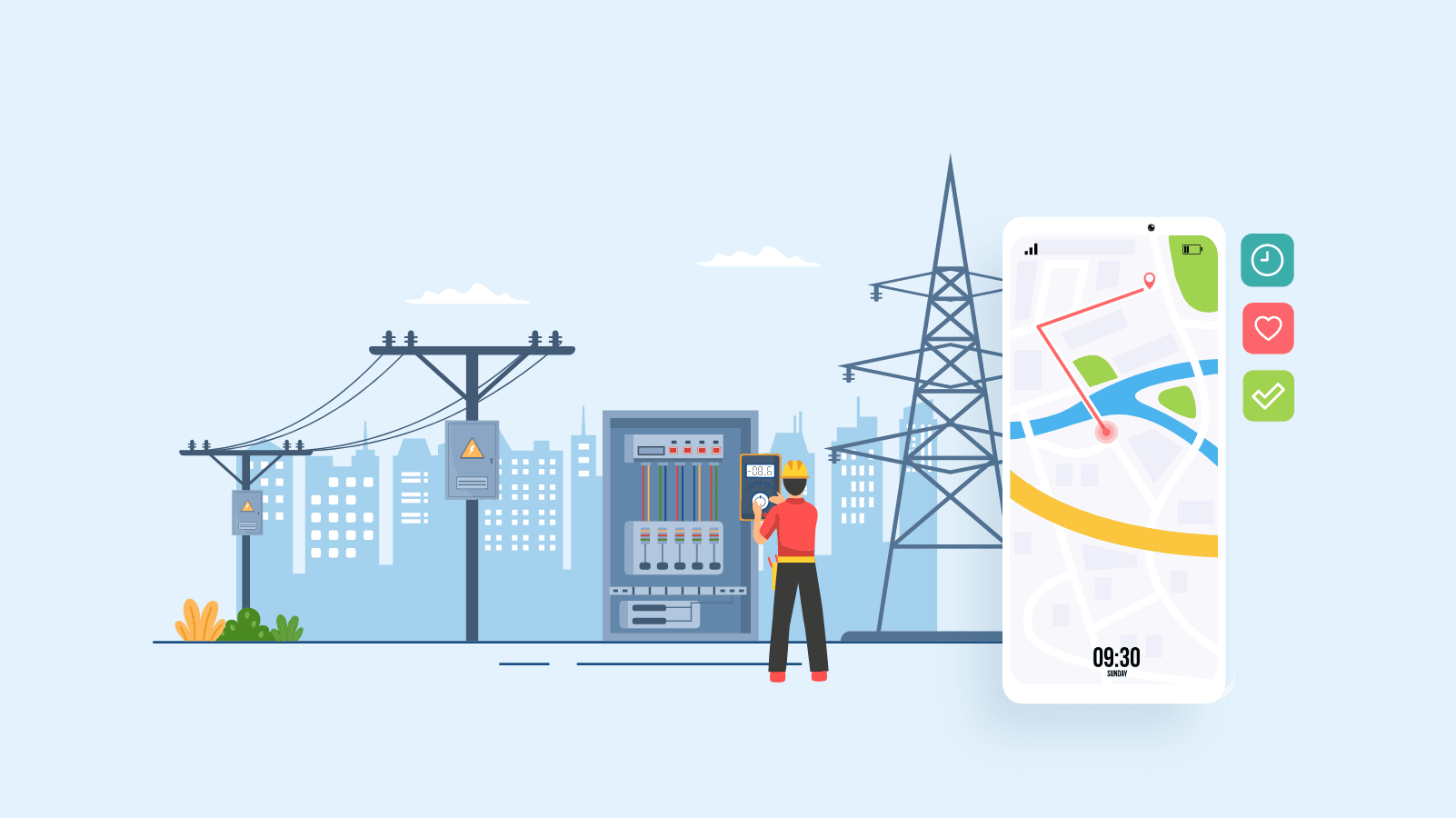 Ever feel like you're navigating through a jungle of electrical cables without a blueprint? Need help keeping track of countless projects, invoices, and employees? We're removing the curtain to reveal the best electrical contractor software list. So, let's shed some light on the software solutions designed to make your business run as smoothly as a perfectly balanced electrical load.
An electrical contractor's day can be tough, needing multiple apps to manage tasks. This article shortlists the best electrical contractor software, each with unique features. Hopefully, you'll find the perfect software to streamline your daily operations by the end.
Top 9 Electrical Contractor Business Software and their Specialization:
ServiceTitan -for overall electrical contracting business
Procore - for electrical contractor project management
Apploye - for electrical contractor time tracking and monitoring
Jobber - for electrical contractor job management
Housecall Pro - for electrical contractor scheduling
SalesForce -  for electrical contactor customer relationship management (CRM)
QuickBooks - for electrical contractor accounting
Knowify - for electrical contractor estimating and bidding
UpKeep - for electrical contractor work order management
Noteworthy Features Provided by the Leading Electrical Business Software Solution
Electrical contractor software solutions offer different features and services. However, Most offer basic services for running an electrical contracting business. Here are the top services provided by this software:
Scheduling and Dispatch: Electrical contractor software offers essential scheduling and dispatch services. You can schedule appointments and assign tasks to employees based on their skills, location, and availability. Send automated reminders and notifications to workers and customers.
Work Order Management: This feature help you create, track, and manage work orders. You can use it to describe the work, give tasks, monitor progress, and document when it's done.
Customer Relationship Management (CRM): This feature can help you manage customer information, track interactions, send automated communication, and provide personalized customer service.
Estimating and Bidding: Accurate estimating is essential for electrical contractors. This makes estimating and bidding for jobs easier and more accurate.
Inventory Management: Effective materials and equipment management is crucial for running an electrical contracting business. These solutions help you track inventory, manage purchase orders, and predict future needs based on usage.
Invoicing and Billing: You can automate billing with this electrical contractor software. Create invoices, track payments, send reminders, and integrate with accounting software.
Reporting and Analytics: This feature will help you to monitor KPIs, track business performance, and make data-driven decisions. You'll get reports on revenue, labor costs, job profitability, and more.
Job Costing: Understanding job costs is essential for managing finances and setting prices. This feature of electrical contractor software tracks job costs for labor, materials, subcontractors, equipment, and overheads.
Mobile Access: Electrical contractor software has mobile apps and mobile-friendly interfaces: access schedules, customer info, work orders, and more from the field.
Compliance Management: These software solutions help with regulatory compliance by tracking certifications, reminding of renewals, and maintaining records for inspections or audits.
Detailed overview of the top electrical contractor software
1. ServiceTitan - Overall best electrical contractor software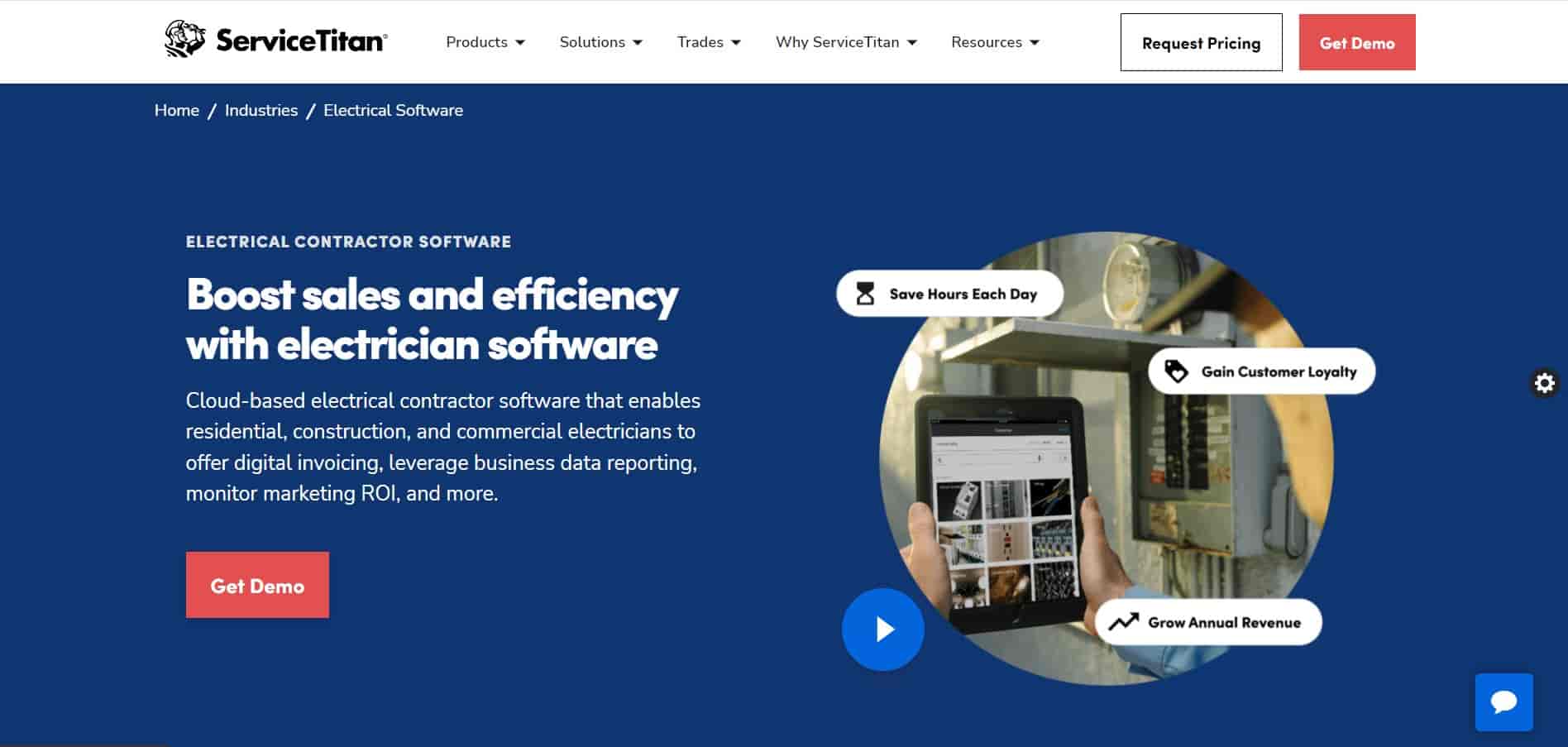 ServiceTitan stands out as the best choice for software for electrical contractors, making the business more efficient and productive. This software was made with the needs of contractors in mind. In addition, It simplifies ordering, dispatching, billing, and sales. Its full reporting features give useful information about how a business is doing, making it an invaluable tool for electrical companies. ServiceTitan helps to give customers better experiences, which leads to growth and more money.
Thus, ServiceTitan is a powerful software option that has changed the way contracting businesses handle their day-to-day tasks. If you're an electrical contractor looking to improve your business, check it out.
Key Features:
Proposal and quotes
Online Booking
Scheduling
Service Agreement
Dispatch
Crew Management
Technician App
Project Tracking
Accounting
2. Procore - Best electrical contractor software for project management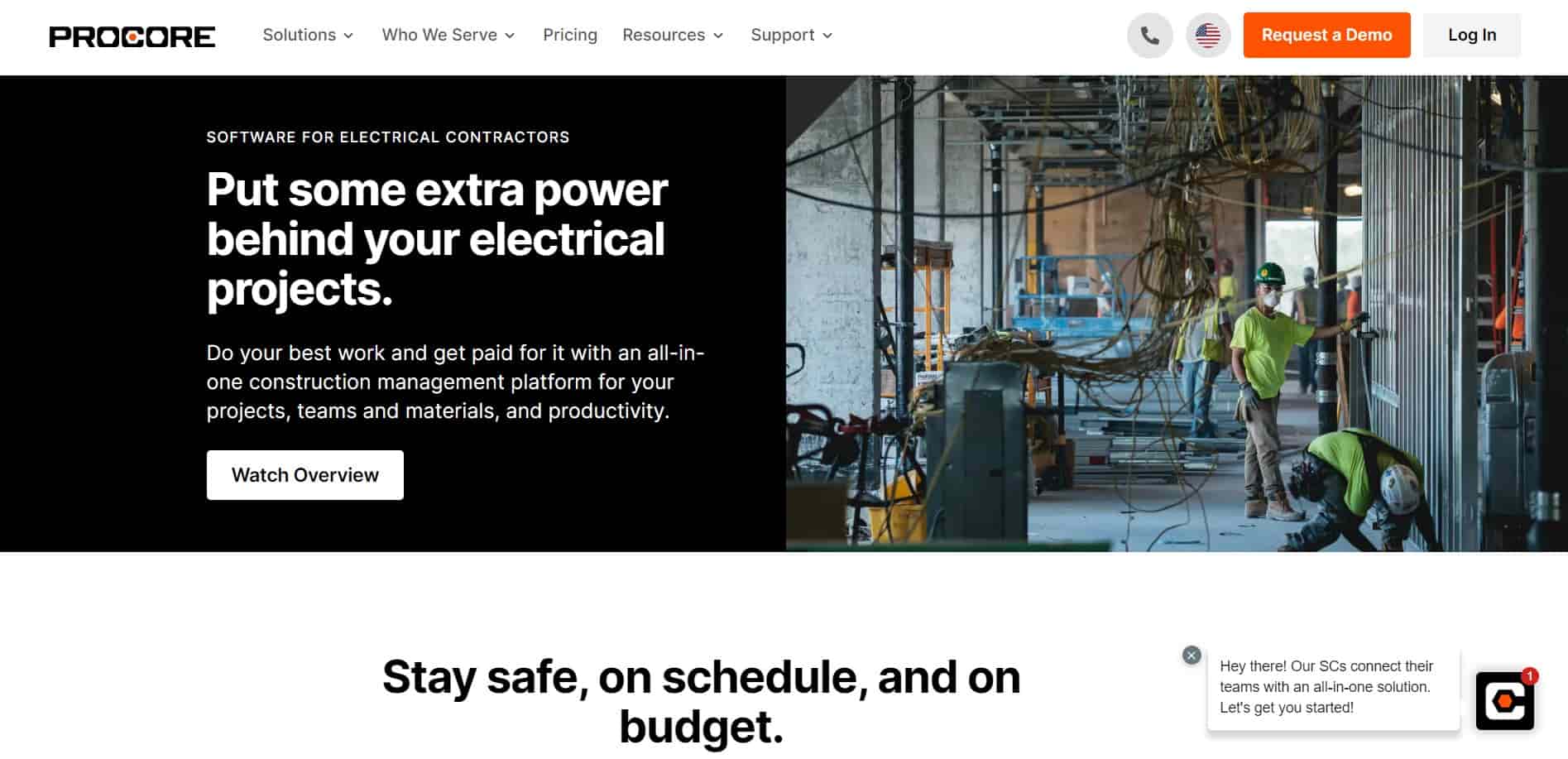 Procore is a powerful project management software for electrical contractors in the construction industry. This platform enables real-time collaboration, so everyone on the team can access the latest project updates and documents, no matter where they are. Procore simplifies project management with scheduling, task assignment, and document management tools. You can stay organized and on track with your electrical projects.
Besides, it will help you manage budgets, bids, change orders, and invoices. They have multiple functionalities, but our analysis says it would be best for electrical contractors' project management.
Key Features
Contact directory
Reports
Transmittal
Documents
Schedule
Task
Daily Log
Centralized Drawing
3. Apploye - Best electrical contractor tool for employee tracking and monitoring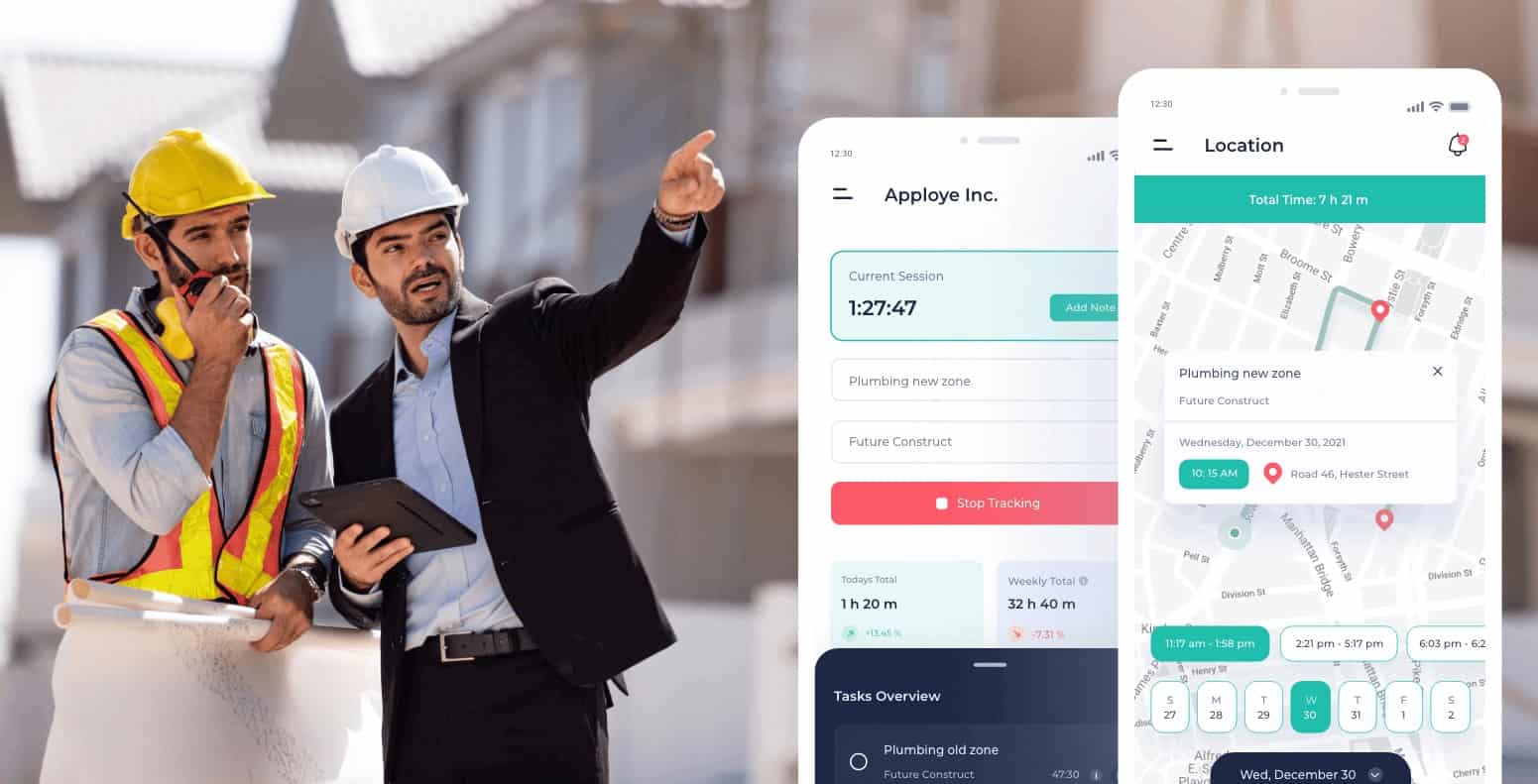 Apploye is a comprehensive time tracking and employee monitoring software well-suited to the needs of electrical contractors. Its features encompass effective project and task tracking, enabling users to track work hours in real time or log them manually.
Moreover, Managers can monitor team activities, assign tasks, and analyze work patterns. Advanced team management features include setting hourly rates, calculating payroll, and overseeing the team's work schedule.
Hence, Apploye is a useful tool for fieldwork, such as electrical contracting. It includes GPS location tracking and geofencing, which means it can provide real-time location data of teams. This feature also allows for automatic time tracking based on geofence boundaries.
Key Features
Time Tracking
Automatic Timesheet Creation
Employee Monitoring
Projects & Budgeting
Geofence attendance
Employee GPS location tracking
4. Jobber - Best job management app for electrical contractor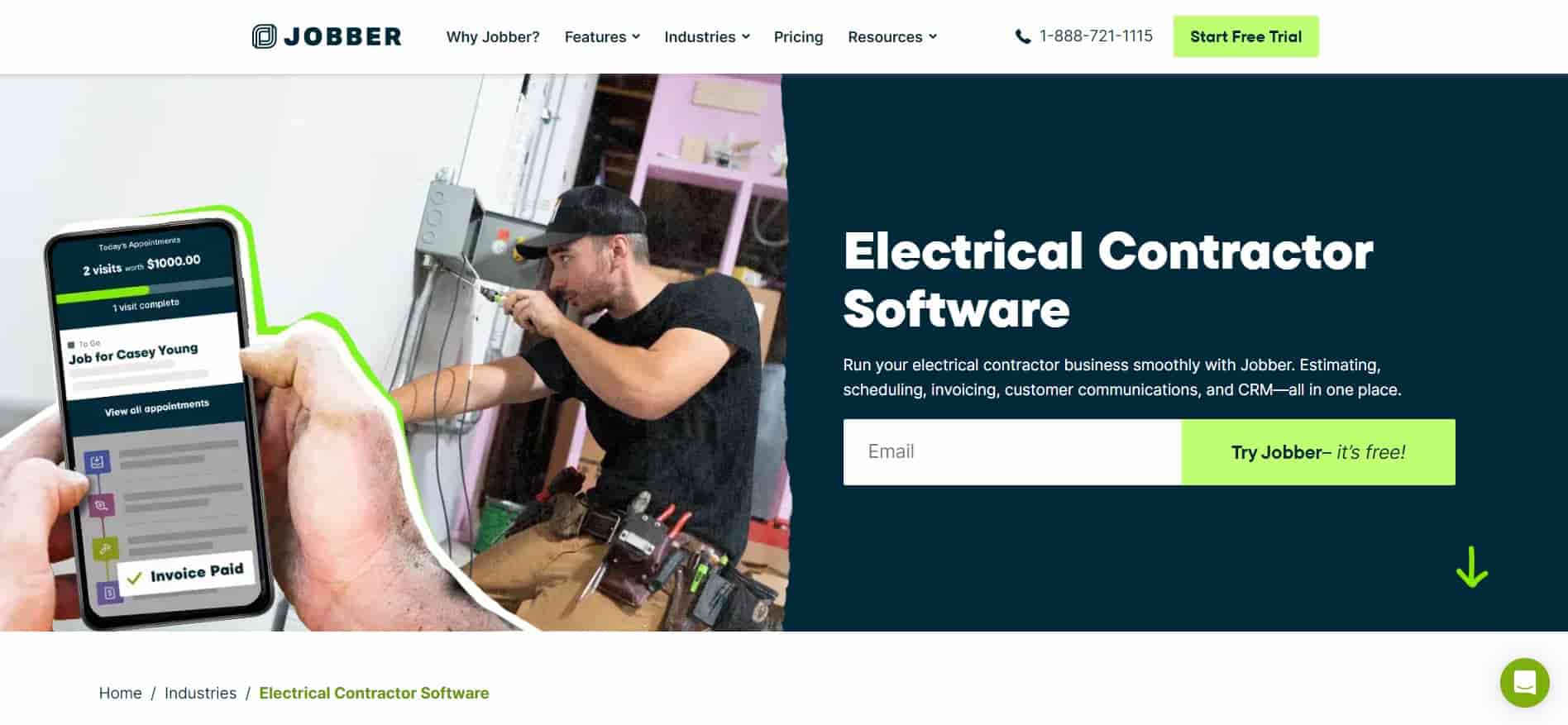 Jobber is another top electrical contracting software, especially for electrical contractor job management. Jobber's scheduling tool helps you manage jobs and track progress in real-time. It enhances operational efficiency through real-time scheduling and dispatching, seamless quoting and invoicing, and effective job tracking.
You can easily integrate Jobber with QuickBooks, PayPal, and Stripe, simplifying financial management. Additionally, its reporting and analytics features provide valuable business insights for growth and improvement. You can easily create, send, and track invoices. Plus, you will get automated payment reminders and secure online payment options. You can also improve customer relations with Jobber's advanced CRM system.
Key Features
Scheduling
Invoicing
Online booking
Client hub
Customer communication management
Job forms
Job quoting
Postcard Marketing
Online payments
Field service reporting
5. Housecall Pro- Best electrical contractor scheduling tool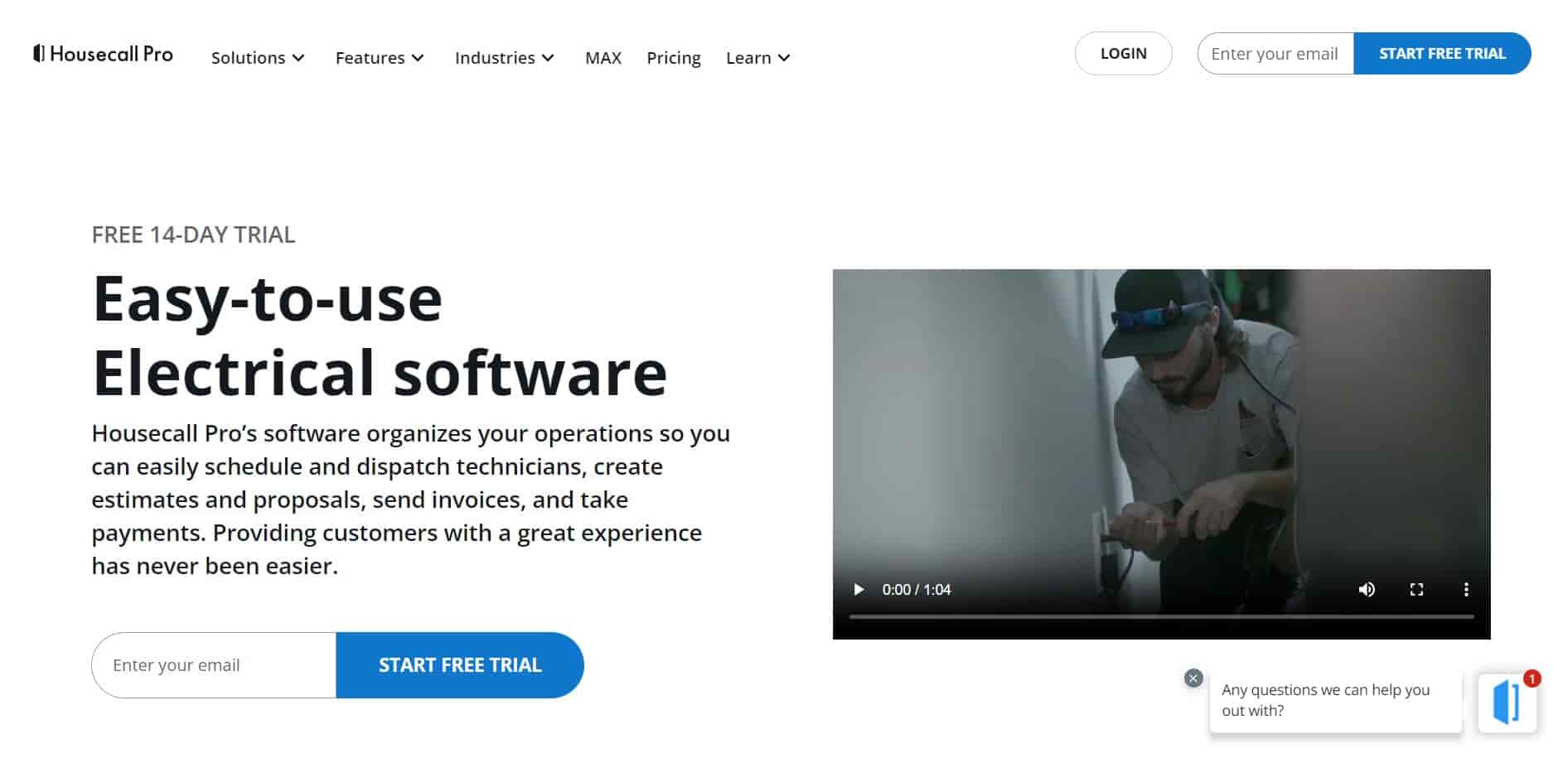 HouseCall Pro is the perfect tool for electrical contractors. This system's scheduling and dispatching features make workflow management efficient. HouseCall Pro ensures seamless service delivery by sending automatic reminders to your clients, eliminating missed appointments. Boost customer satisfaction with our integrated CRM for personalized interactions.
Their platform makes invoicing easy and offers convenient online payment options. Furthermore, their analytics features give valuable insights into your business's performance. Make informed decisions. Boost your business with HouseCall Pro, the ultimate scheduling software for success. Transform your electrical contracting business with HouseCall Pro's seamless management.
Key Features
Scheduling
Invoicing
Accepting Payments
Pipeline
Voice
GPS tracking
Property Profiles
6. Salesforce - Best electrical contracting software for customer relationship management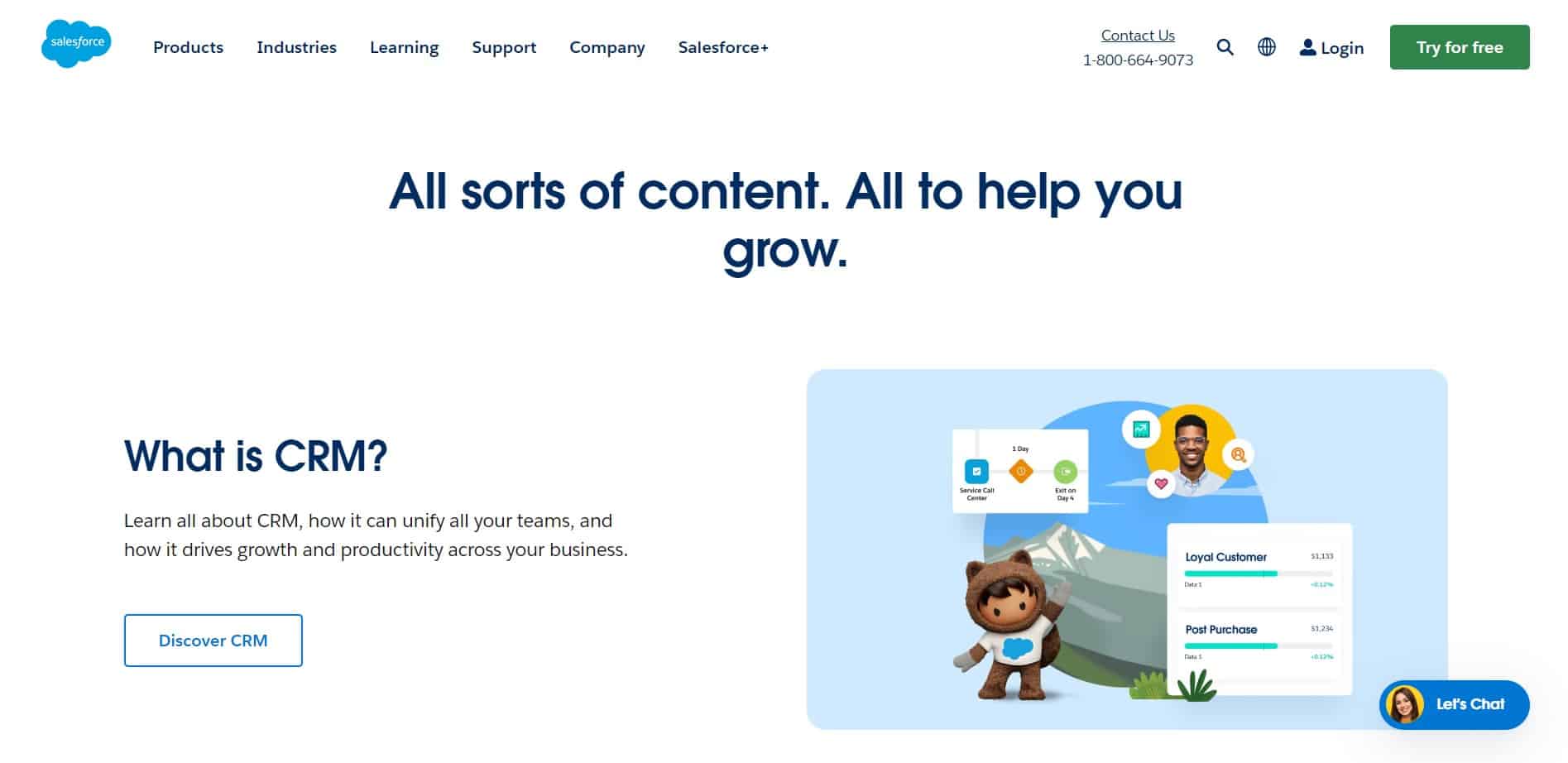 Supercharge your electrical contracting business with Salesforce. It is the leading cloud-based software company. Their CRM system revolutionizes customer relationship management and streamlines business processes.
You can get all your client data, leads, contracts, and job orders in one easy-to-use platform, accessible from anywhere. Salesforce has it all. Their marketing automation tools help you connect with customers in a focused and meaningful way, increasing engagement and loyalty. Therefore, with Salesforce, you can improve customer relationships.
Key Features
Account and Contact Management
Opportunity Management
Lead Management
Sales Data
Workflow and Approvals
Reports and Dashboards
Sales Forecasting
7. QuickBooks - Best electrical contracting accounting software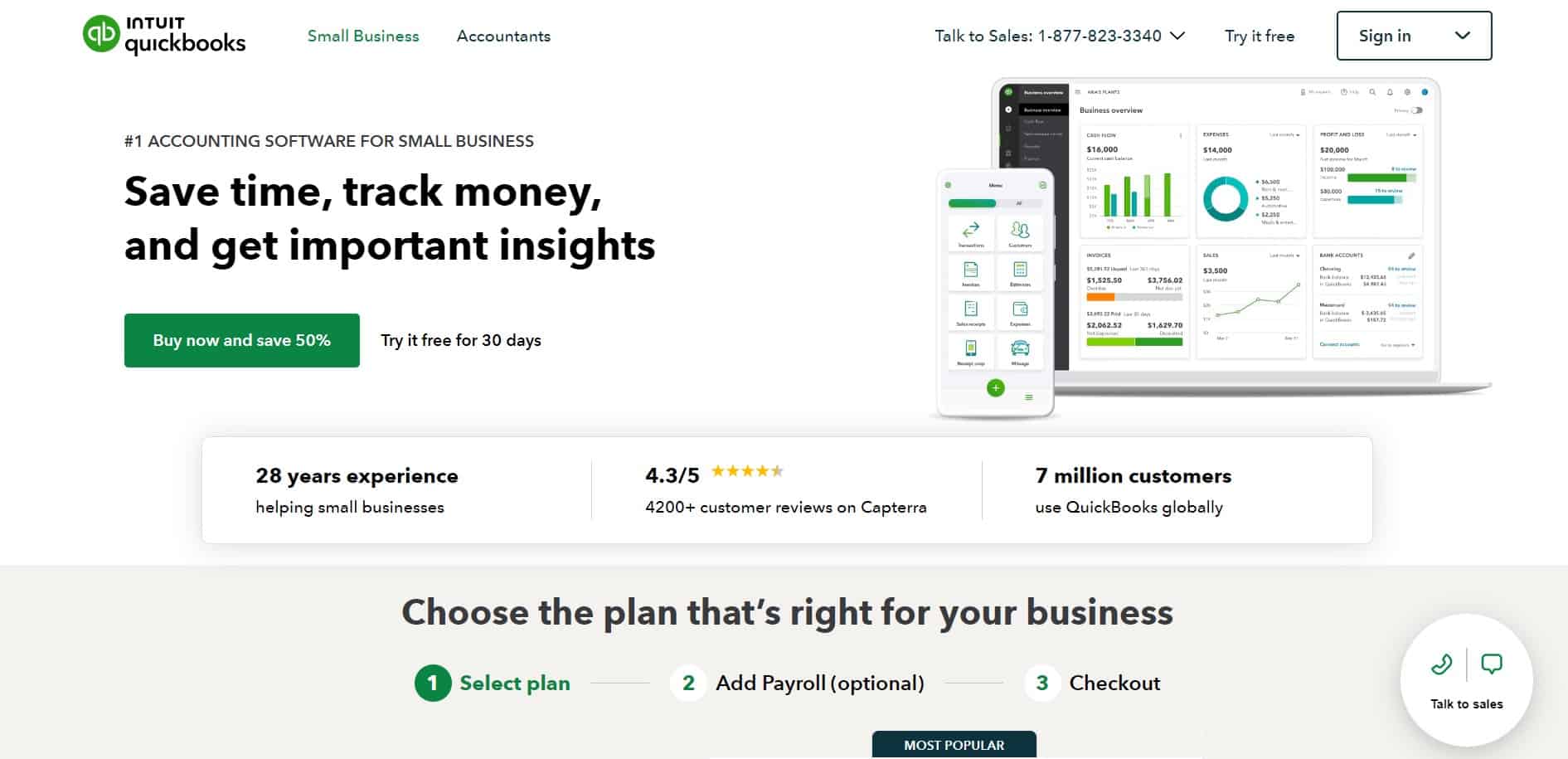 QuickBooks is trusted by electrical contractors worldwide for easy and powerful accounting software. Track job costs, manage inventory, and oversee employee time tracking effortlessly with QuickBooks' intuitive interface.
You can easily monitor your electrical contracting business's financial health with real-time reporting. Get profit and loss statements, balance sheets, and cash flow reports. QuickBooks makes managing payroll and taxes easy for electrical contractors.
Besides, it will enable you to manage your business finances anytime, anywhere, with QuickBooks Online. Choose QuickBooks for better financial management and business growth as an electrical contractor.
Key Features
Income and expenses
Tax deductions
Powerful reports
Cash flow
Sales and sales tax
Project profitability
Data sync with Excel
Employee expenses
Custom access controls
Workflow automation
Revenue recognition
8. Knowify - Best electrical contractor estimating and bidding software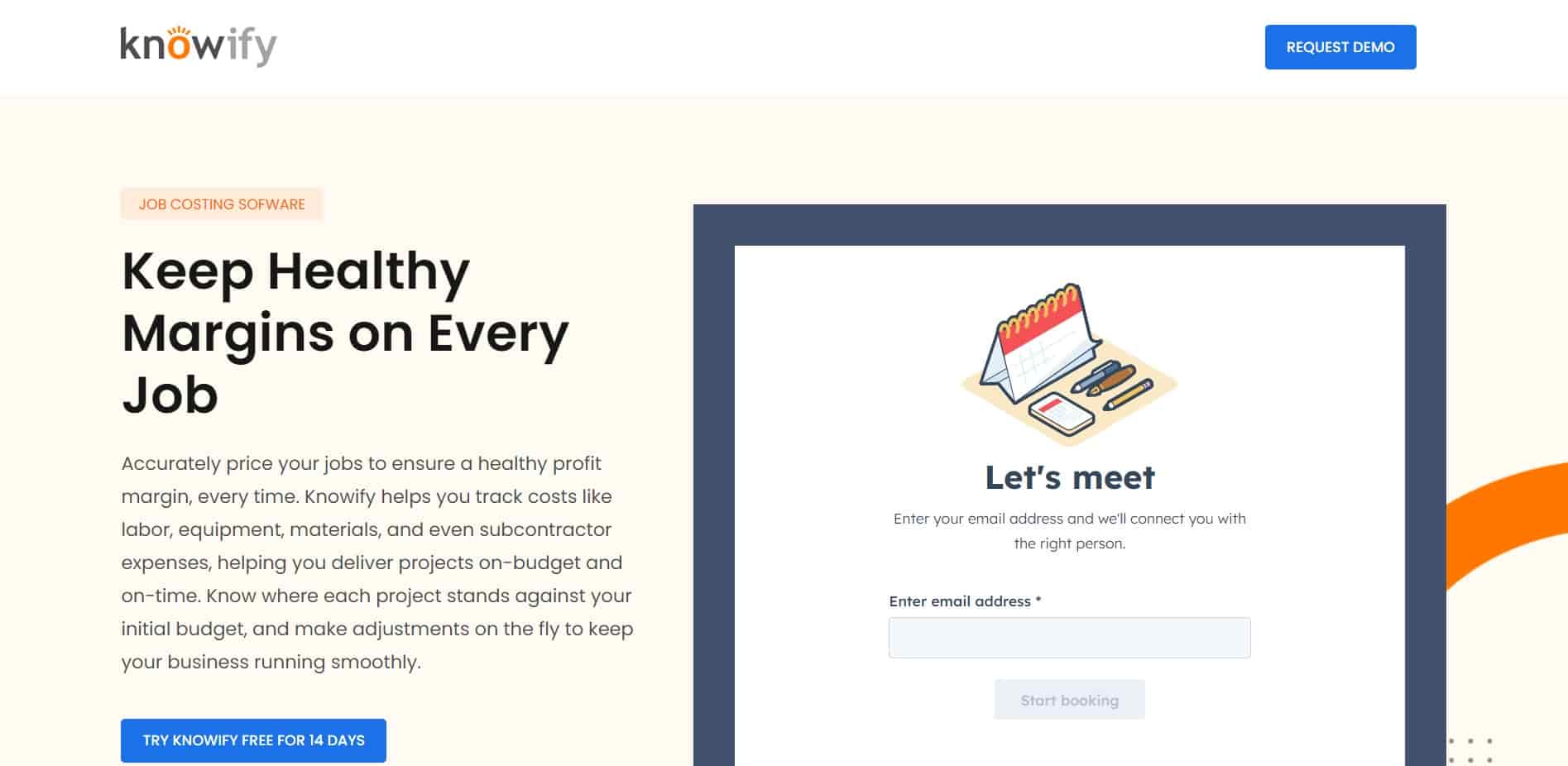 Knowify is a powerful software that helps electrical contractors manage their business effectively. It's one of the best electrical contractor estimating software. Their platform is great for project estimation and bidding. It has all the tools you need to easily create accurate and competitive proposals.
As an electrical contractor, you know how important it is to have accurate cost estimates. Knowify simplifies your work with real-time job costing, materials tracking, and labor rate adjustments. With Knowify, you can easily move from estimating to managing projects, all in one place. Therefore, it can be the perfect solution for businesses of all sizes.
Key Features
Estimates & Proposals:
Bid Management
Job Costing
Time Tracking
Reporting Tools
Contract Management
Integration with Accounting Software
9. UpKeep - Best electrical contractor work order software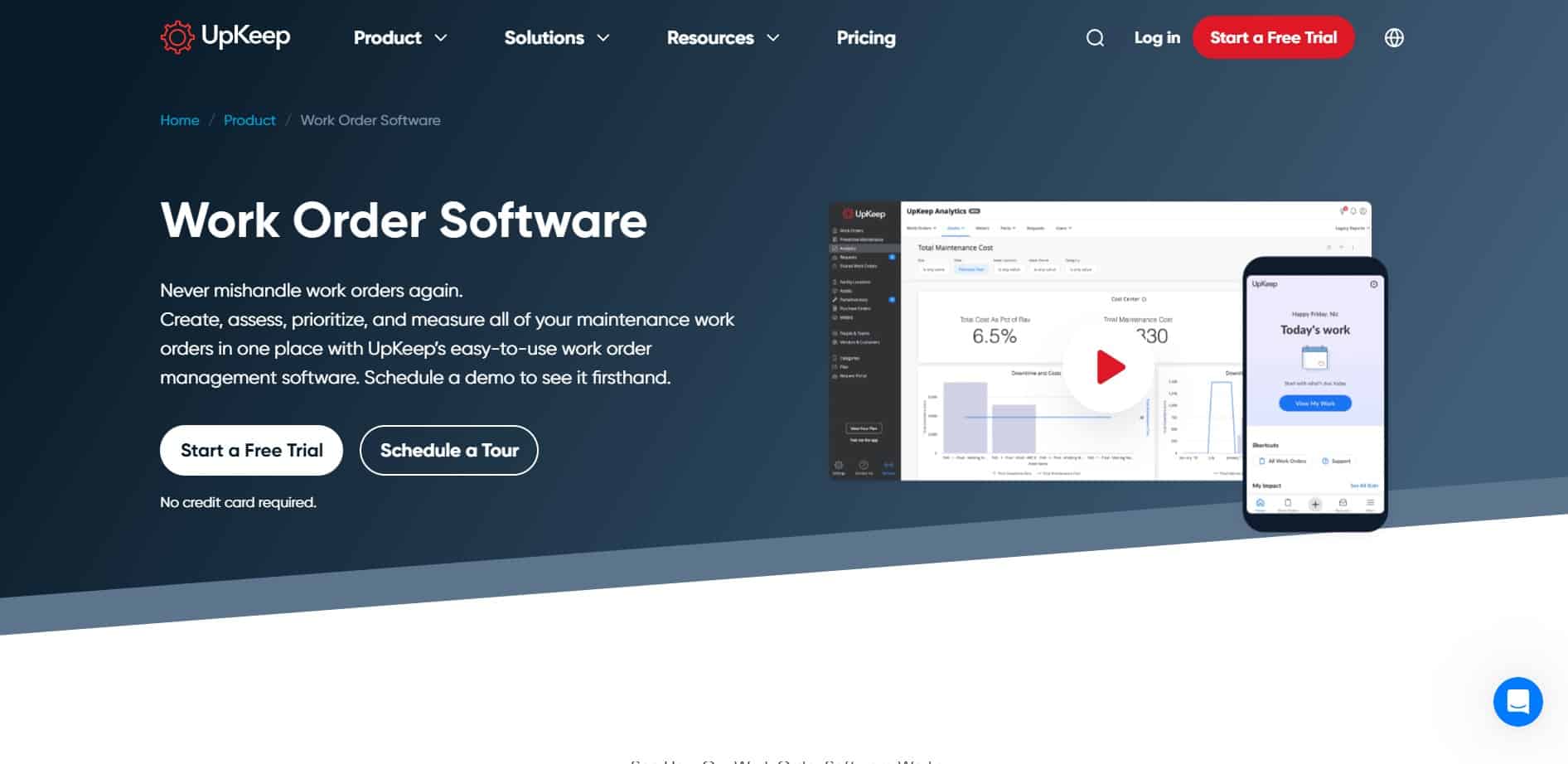 Good work order management is essential for electrical contractors. It boosts productivity and keeps customers happy. UpKeep is the perfect software for you. It's mobile-friendly and designed to meet your needs. Our platform is easy to use and has all the tools you need for efficient task management, quick communication, and streamlined operations.
Create, assign, and track work orders in real-time for a more efficient workflow and faster response times. Automated maintenance tasks prevent expensive breakdowns and missed appointments. With UpKeep, you get powerful reporting and analytics tools. They give you valuable insights to make data-driven decisions for better efficiency and profitability. UpKeep helps you stay focused on delivering excellent electrical services, whether you're managing teams in the field or assets in the office. Upgrade your business with UpKeep for a game-changing work order management system.
Key Features
Work Order Management
Preventative Maintenance (PM)
Predictive Maintenance (PdM)
Materials Management
Equipment Breakdown Reports
Approval Management
Task Templates
Vendor Management
Reporting & Dashboards
Pricing of the Best Electrical Contracting Business Software
Electrical Contractor Software
Pricing Plans
ServiceTitan
You need to request the seller for the pricing
Procore
You need to get a custom quote based on the type of company you work for.
General contractor, specialty contractor, owner/developer and government
Apploye
Solo: $2 one user/month
Standard: $2.5 per user/month
Premium: $3 per user/month
Elite: $3.5 per user/month
Jobber
Lite $9/month (1 user only)
Core 49/ month (1 user only),
Connect $129/month (1 to 5 users)
Grow $249/month (1 to 15 users)
Housecall Pro
Basic: $49 per month (1 user only)
Essentials: $129/month (1 to 5 users)
Max: Contact seller (1 to 100 user)
Salesforce CRM
Salesforce Starter: $25 per user per month
Professional: $75 per user per month
Enterprise: $150 per user per month
Unlimited: $300 per user per month
Quickbooks
Simple Start: US$194.40/yr
Essentials: US$291.60/yr
Plus: US$410.40/yr
Knowify
Essentials: $149/mo
Advanced: $249/mo
Unlimited: Talk to sales
UpKeep
Starter: $45 per user per month
Professional: $75 per user per month
Business Plus: request pricing for more information
What is the Importance of Electrical Contractor Software in Electrical Business Management?
Electrical contracting is challenging, with technical work and administrative tasks. Here are key reasons why incorporating electrical business software is crucial for your business success:
Increased Efficiency: Electrical contractor software automates time-consuming administrative tasks. Automating work orders, invoices, and inventory tracking saves time and effort. Automating processes will give you more time to focus on core tasks.
Cost Management: Running an electrical contracting business is costly. Costs can add up fast. Electrical contractor software saves money in multiple ways. You can improve efficiency to save money, reduce downtime, and maximize resources. This software helps with budgeting, cash flow management, and financial forecasting.
Enhancing Customer Service: Customer service is important because customers expect a lot daily. Electrical contractor software is essential. These solutions improve the customer experience with automated reminders, follow-up prompts, and communication tools.
Data-Driven Decisions and Performance Tracking: Data is power in business today. Our electrical contractor software collects and analyzes data to improve your business's productivity and efficiency.
Safeguarding Compliance: Electrical contractor software keeps records, manages certifications, and generates compliance reports to ensure requirements are met.
Documentation: Good documentation is essential in electrical contracting. Detailed records are crucial for auditing, legal protection, and customer service. They help keep track of work, materials, and time spent.
Resource Planning and Forecasting: Effective resource planning is crucial for successful project management in electrical contracting. This electrical contractor software will help you use resources efficiently, avoid going over budget, and complete projects on schedule.
Mobility: Easily manage your business from anywhere in today's digital era. Electrical contractor software has mobile apps for real-time info, client communication, work order management, and more from the field.
Wrapping Up
To wrap things up, this article shows just how handy electrical contractor software can be. We've looked at some top picks, each with their own special features. They help make your work easier, from managing projects to keeping track of tasks and handling billing. Each tool is different, so it's important to choose one that fits what you need.
Bottom line, these software options can really change the game for electrical contractors, helping to boost your business and keep things running smoothly.