Top 8 Handyman Software in 2023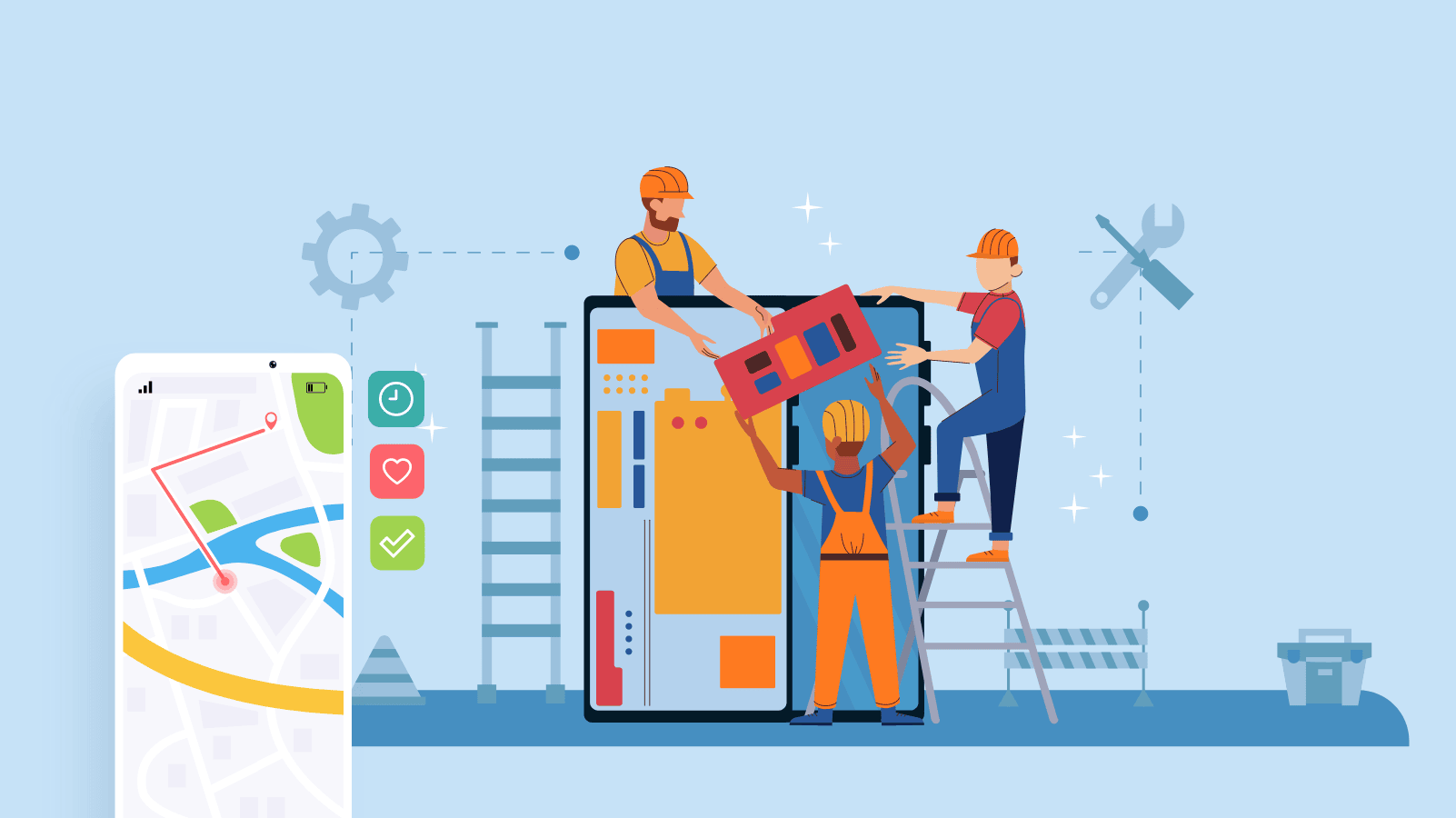 If you're running a handyman business, managing everything can be overwhelming. Handyman software can handle the paperwork, like making bills and setting up work schedules. It also tracks how long your team works, making your life much easier.
It simplifies how you run your business, making avoiding common pitfalls and risks easier. With the right handymen software, you can focus more on delivering excellent service and less on administrative duties. The demand for such solutions is always on the rise precisely because they offer indispensable tools to make your business more efficient and successful.
This article will dive into the leading handyman software solutions, discuss their features, and outline pricing plans. We'll also provide a detailed guide to help you choose the best software to meet your needs.
Core Components, Features, and Base Pricing of the Handyman Business Software
The market for handyman business software is overflooded with a myriad of software that can put you into decision fatigue. To help you get out of this problem, here we will show you the finest handyman software in different categories.
Name of the Handyman Software
For features best in
Starting Price
1. Field Complete
Scheduling and Job management
$29 per member per month billed annually
2. Apploye
GPS location tracking, time tracking
and monitoring
$4/user/month paid monthly
0r $2/user/month paid annually
3. Zoho CRM
Handyman CRM
US$20/user/month billed monthly
or US$14/user/month billed annually
4. Quickbooks
Accounting, Bookkeeping and Payroll
Simple Start: $30/month
5. Jobber
Estimating and Invoicing
Core: 49/month paid annually
or $69/month paid monthly
6. ServiceWorks
Communication and Collaboration
You need to get custom pricing based
on your requirements
7. RazorSync
Inventory Management
$90/month paid monthly
or $85/month paid annually
8. VCita
Reporting and Analytics
$29 per month paid monthly
9. Billdu
Quoting, Estimating and Invoicing
Free trial: 30 days Premium: US$16.99/user/month
Detailed Overview of Best Handyman Software in Different Categories
As you have already get an idea on what are the leading software for handyman. We will now dive deeper into those software and provide a detailed overview for you.
Best Handyman Software for Scheduling and Job management
Field Complete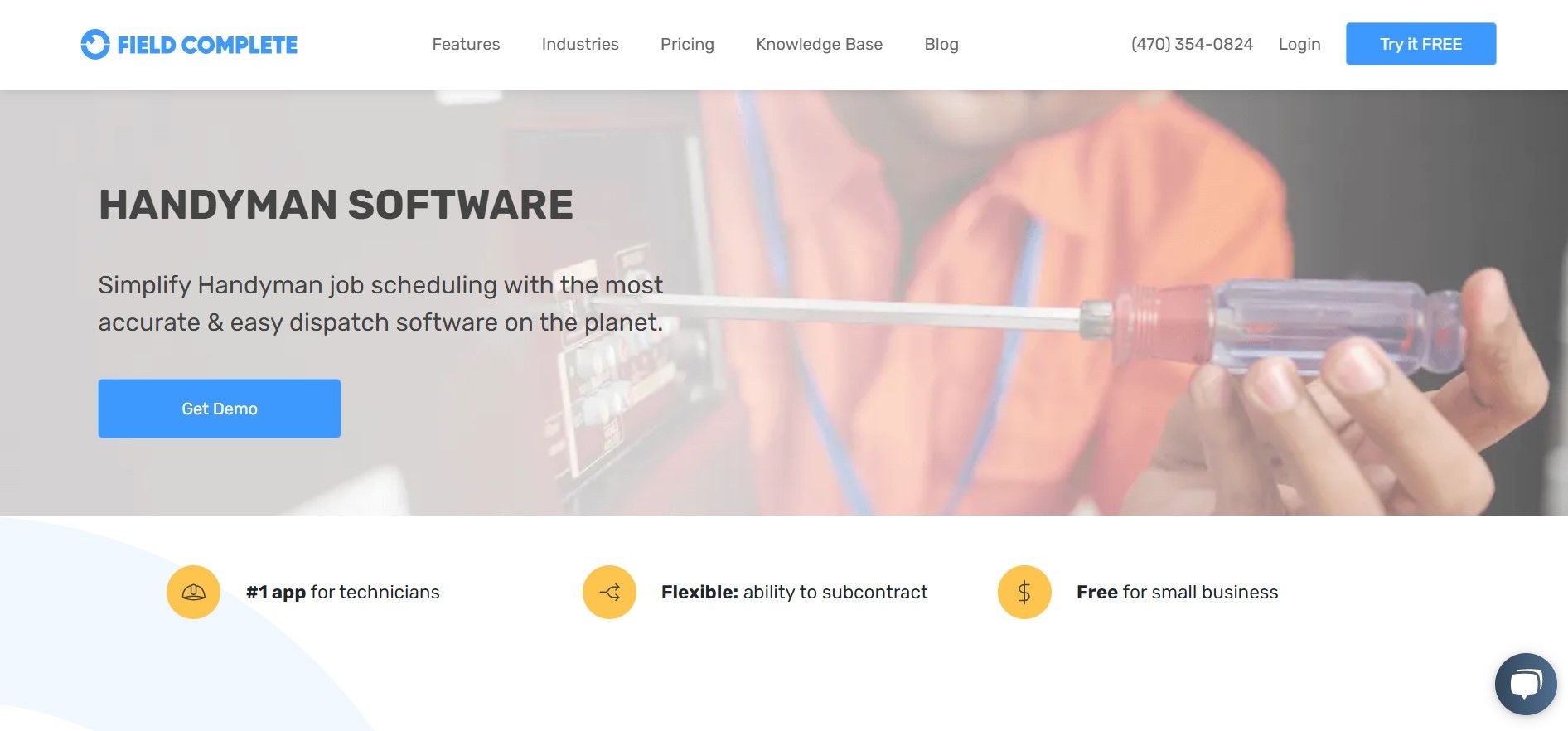 Field Complete is for you if you're running a handyman business the old-fashioned way and want to make things better. It's one of the best handyman scheduling and job management software. This software makes it easy to schedule jobs, keep track of tasks, manage customer relationships, and oversee your mobile workforce.
With real-time updates and easy-to-read reports, you can streamline your business, reduce paperwork, and offer better service. You can say goodbye to outdated systems and accept more efficient scheduling and job management software to run your handyman service.
Key Features
Live Calendar
Route Planner
Track team's location
AI Assistant
Set priorities and emergency status
Create and change orders
Photos and technical documentation
collect ACH
Pricing
$29 per member per month billed annually
*Field Complete has a Free Plan as well.
Best Handyman Software for GPS Location and Time Tracking
Apploye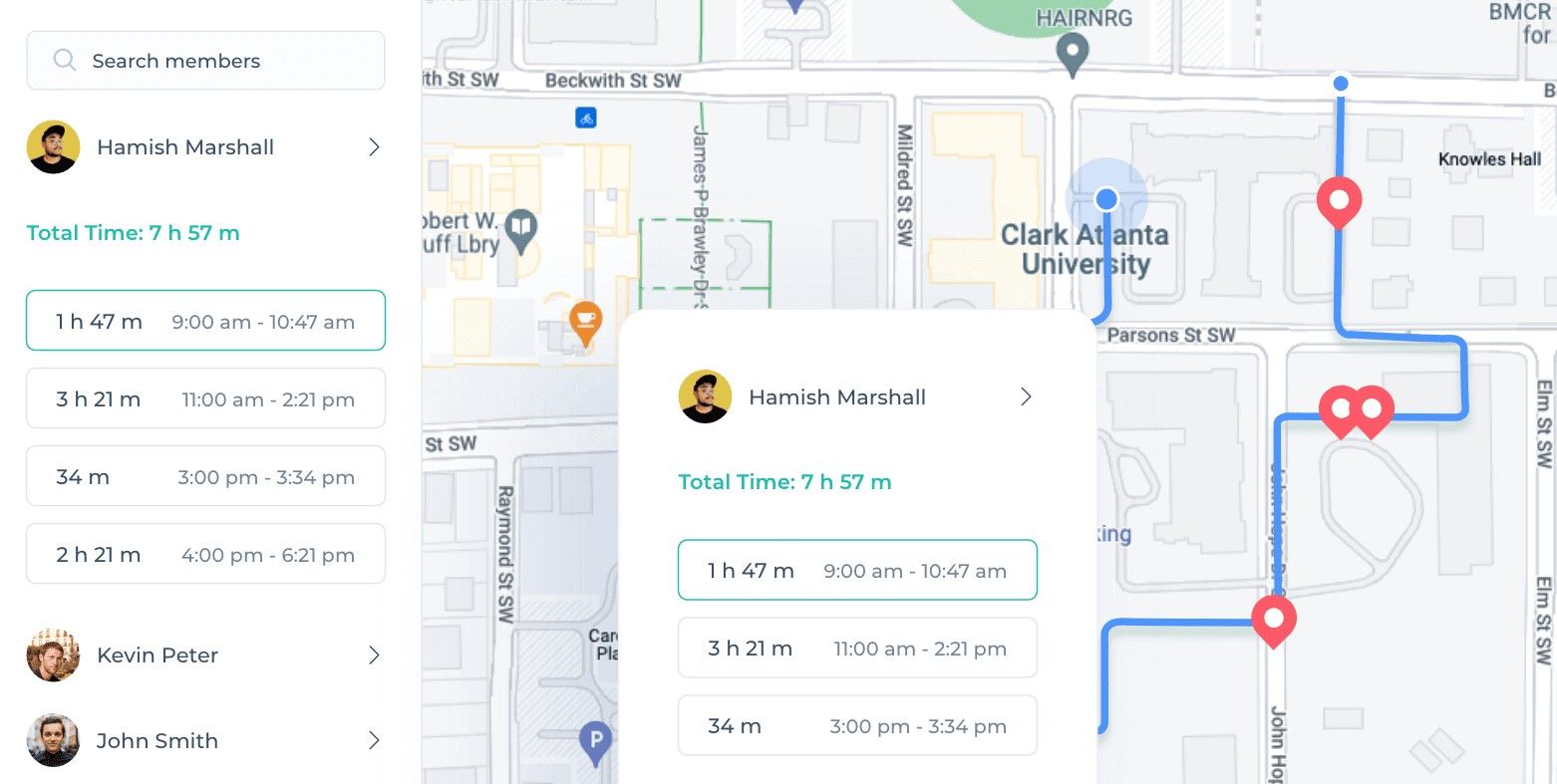 Being an owner who runs a handyman service business will be challenging if you manage your employees' work hours without Automation. Apploye is the go-to solution that helps you fight any time waste issue, minimizing the resources waste and maximizing the productivity bar.
It's a straightforward time-tracking software that helps you track employees' work hours, keep an eye on their attendance, and enjoy top-notch features like clock-in, clock-out, GPS tracking, and geofencing attendance.
Moreover, Apploye helps you manage budgets for your projects. You can also set limits to handyman's' work hours, approve or reject timesheets, and easily calculate the payroll through this software.
Apploye offers more features that can be crucial to your handyman business. However, the pricing plans of Apploye are incredibly affordable for any size of business.
Key Features
Clock-In, Clock-out
Billable and non-billable hours
Project and Task tracking
Route Map
Employee GPS location monitoring
Geofencing Attendance
Track time on job location
Project Billing and Budget
Timesheets Approval and Export
Project progress report - Hours & Cost graph
Pricing
Solo: $2 per user per month
Standard: $2.5 per user per month
Premium: $3 per user per month
Elite: $3.5 per user per month
Best Handyman CRM Software
Zoho CRM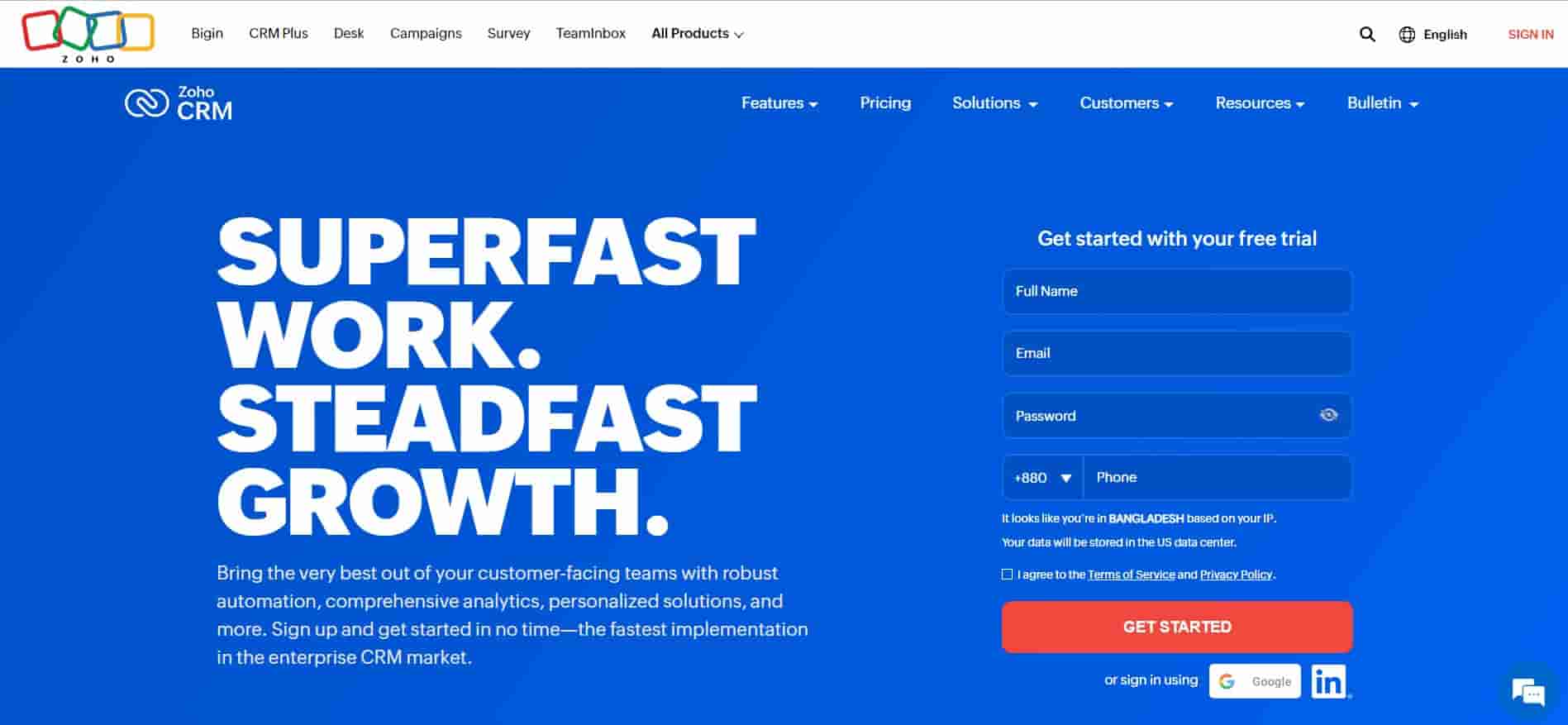 For handyman businesses, Zoho CRM offers a streamlined, cloud-based platform to manage customer relationships effectively.
It's not just about sales and marketing; the software assists with appointment scheduling, job tracking, and invoicing, making it a comprehensive tool for small to large handyman services.
With features like sales automation and analytics, handymen can focus more on the quality of their work and less on administrative tasks, ultimately improving customer satisfaction and driving repeat business.
Key Features
Lead and Contact Management
Appointment Scheduling
Job Tracking
Invoicing and Payments
Marketing Automation
Analytics and Reporting
Pricing
Standard: US$20/user/month billed monthly or US$14/user/month billed annually
Professional: US$35/user/month billed monthly or US$23/user/month billed annually
Enterprise: US$50/user/month billed monthly or US$40/user/month billed annually
Ultimate: US$65/user/month billed monthly or US$52/user/month billed annually
Best Handymen Accounting, Bookkeeping & Payroll Software
Quickbooks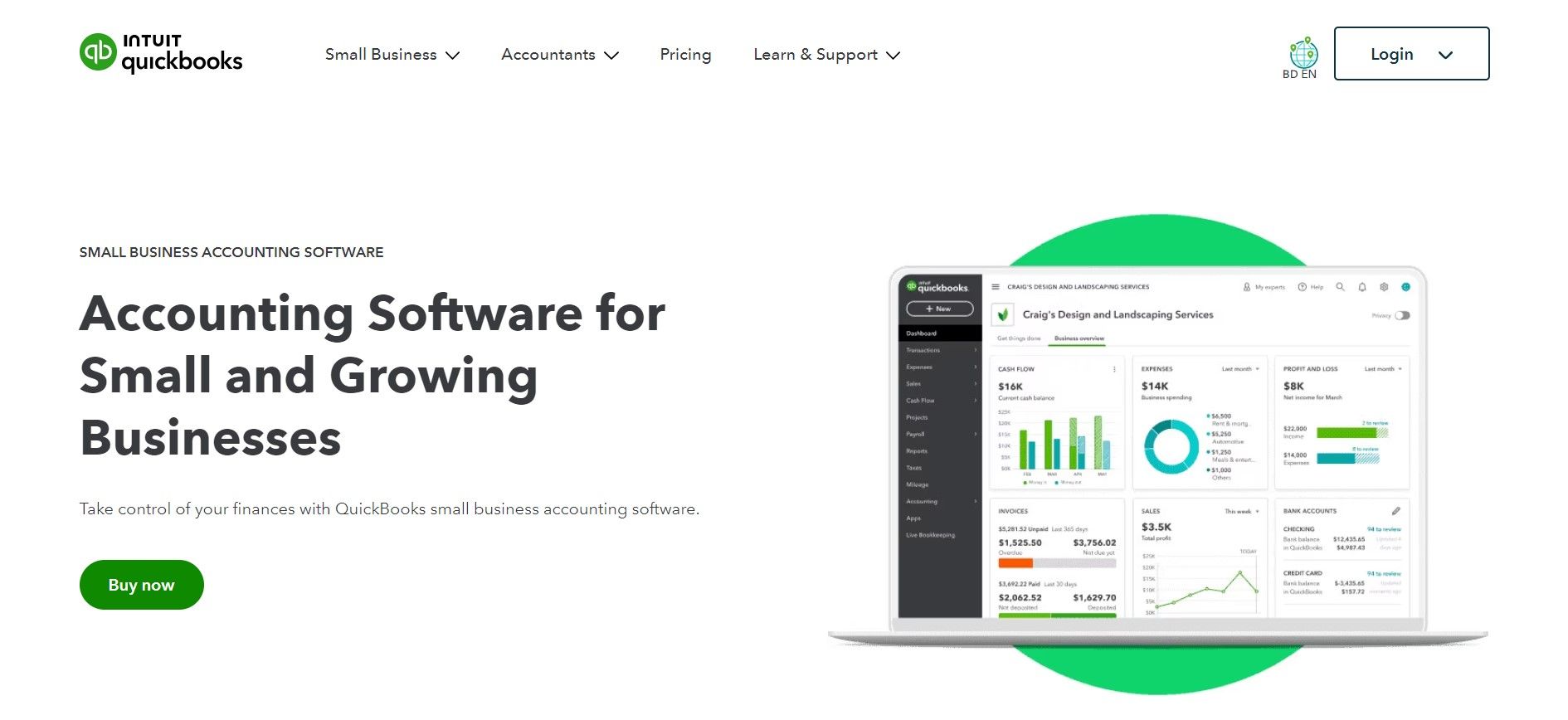 For a handyman, QuickBooks is like your toolbox, but for accounting. It's one of the finest handyman service software for accounting. It makes it easy to send invoices, so you get paid faster.
You can also keep track of your expenses and see how much you're making on each job, all from your phone or computer. Plus, if you have workers, the software handles payroll, ensuring everyone gets paid on time, and the right taxes are taken out.
So, instead of spending hours figuring out your finances, you can focus on what you do best: fixing things and helping people.
Key Features
Direct Deposit
Check Printing
Payroll Management
Payroll Reporting
Tax Compliance
W-2 Preparation
Benefits Management
Compensation Management
Vacation/Leave Tracking
Wage Garnishment
Pricing
Simple Start: $30/month
Essentials: $60/month
Plus: $90/month
Advanced: $200/month
Best Handyman Estimating and Invoicing Software
Jobber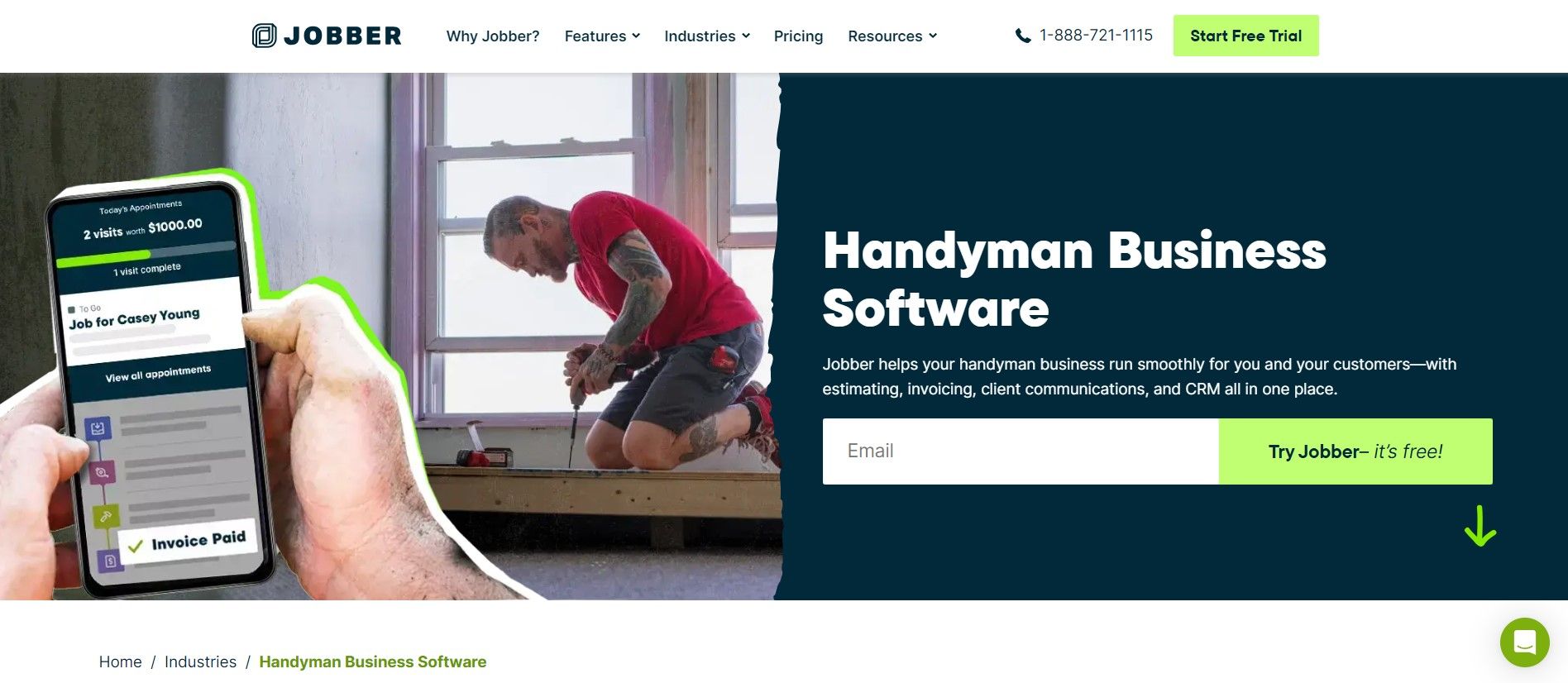 Jobber is an efficient field service software with many cool features that handymen can utilize. It's the best handyman estimating software, besides all of its functionalities.
It automates the process of quote generation and effortlessly converts estimates into invoices. With its customizable templates and easy-to-use interface, Jobber allows businesses to streamline their billing process, improve accuracy, and enhance customer satisfaction.
Additionally, its integration with popular payment gateways will offer your customers convenient payment options, simplifying the payment process.
Key Features
Credit Card Processing
Customizable Branding
Invoice Management
Purchase Order Management
Real-Time Reporting
Time & Expense Tracking
Timesheet Management
Accounting Integration
Activity Dashboard
Activity Tracking
Document Management
Pricing
Core: 49/month paid annually or $69/month paid monthly
Connect: $129/month paid annually or $169/month paid monthly
Grow: $249 /month paid annually or $349/month paid monthly
Billdu
Billdu offers a specialized invoicing, quoting, and estimating software tailored for the unique needs of constructors. This platform simplifies the intricate process of drafting detailed estimates, ensuring accurate quotes that reflect the scope and complexity of construction projects.
With customizable templates, constructors can present their clients with professional invoices that capture all the details of their work. Billdu real-time reporting feature allows construction businesses to track expenses and revenues efficiently, ensuring profitability. The Billdu app boasts an intuitive interface, ensuring that even individuals new to digital apps can harness its capabilities.
In essence, Billdu serves as a comprehensive solution for constructors, helping them manage their financial dealings seamlessly while focusing on delivering quality work.
Key Features
Customizable Invoice Templates
Automated Reminders
Time & Expense Tracking
Purchase Order Management
Mobile App
Document Management
Financial Forecasting
Real-Time Reporting
Accounting Integration
Tax Computation
Data Security
Pricing
Free: 30 days trial
Lite: $3.99/month
Standard: $8.99/month
Premium: $16.99 /month
Best Handyman Communication & Collaboration Software
ServiceWorks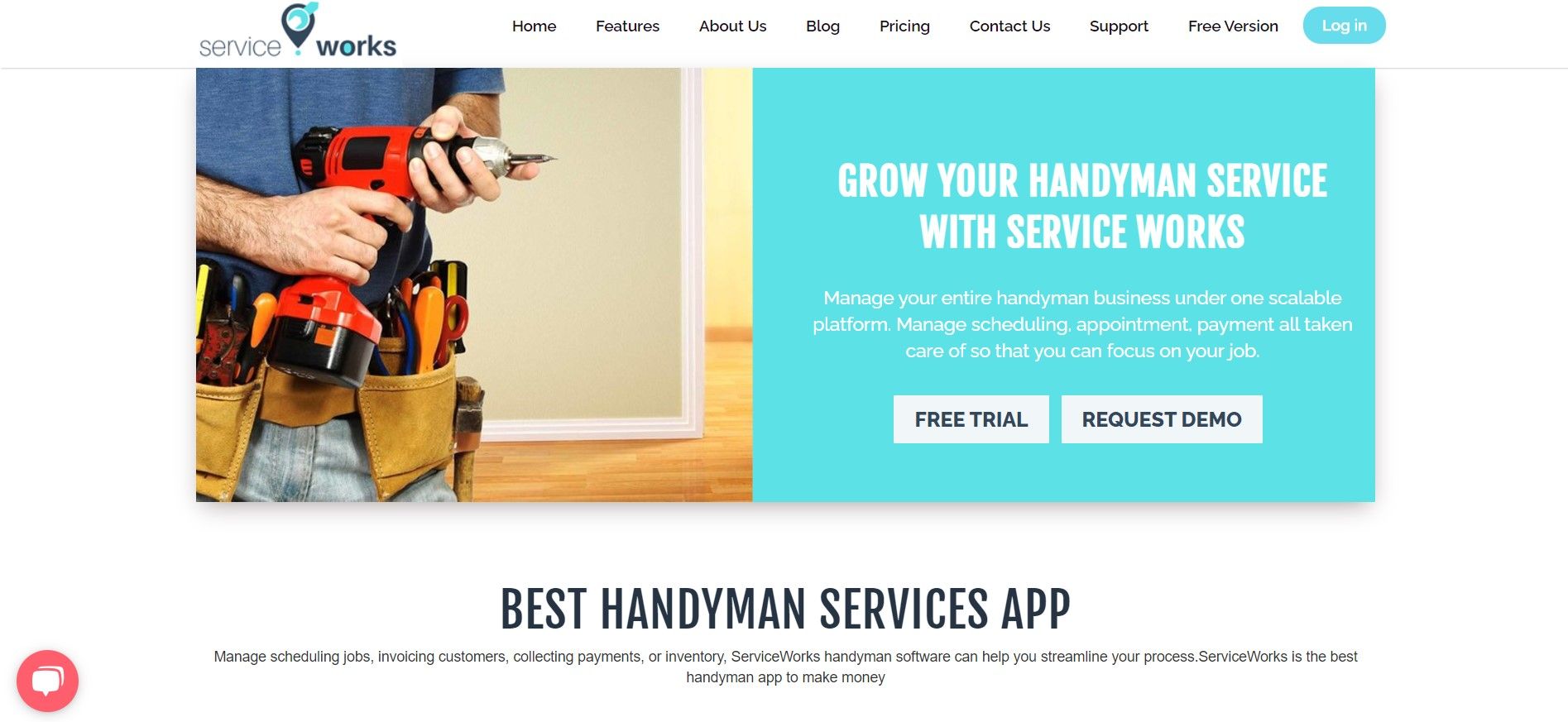 ServiceWorks is a dynamic communication and collaboration platform that enables seamless interaction within teams and with clients. Its features include task management, project collaboration, and real-time messaging, facilitating effective teamwork and boosting productivity.
By consolidating all communication and collaboration tools in a single platform, ServiceWorks allows for more effective team coordination, improving operational efficiency.
Key Features
Appointment Scheduling
Checklists & Inspection
Calendar Management
Communication Management
Equipment Tracking
Import/Export Management
Inventory Optimization
Maintenance Scheduling
Payment Collection in the Field
Vendor Managed Inventory
Pricing
You need to get custom pricing based on your requirements
Best Handyman Inventory Management Software
RazorSync
RazorSync is a comprehensive inventory management software designed to simplify and streamline inventory tracking and control.
With real-time stock updates, low stock alerts, and automatic reordering, RazorSync helps businesses maintain optimal inventory levels and prevent stockouts. Its robust reporting capabilities also offer valuable insights into inventory trends, enabling businesses to make informed purchasing decisions.
Key Features
Calendar Management
Scheduling
Work Order Management
Alerts/Notifications
Dispatch Management
Electronic Payments
Job Management
GPS
Pricing
SOLO: $90/month paid monthly or $85/month paid annually
TEAM: $205/month paid monthly or $175/month paid annually
PRO: $420/month paid monthly or $360/month paid annually
ENTERPRISE: Contact Seller
Best Handyman Business Software for Reporting and Analytics
Vcita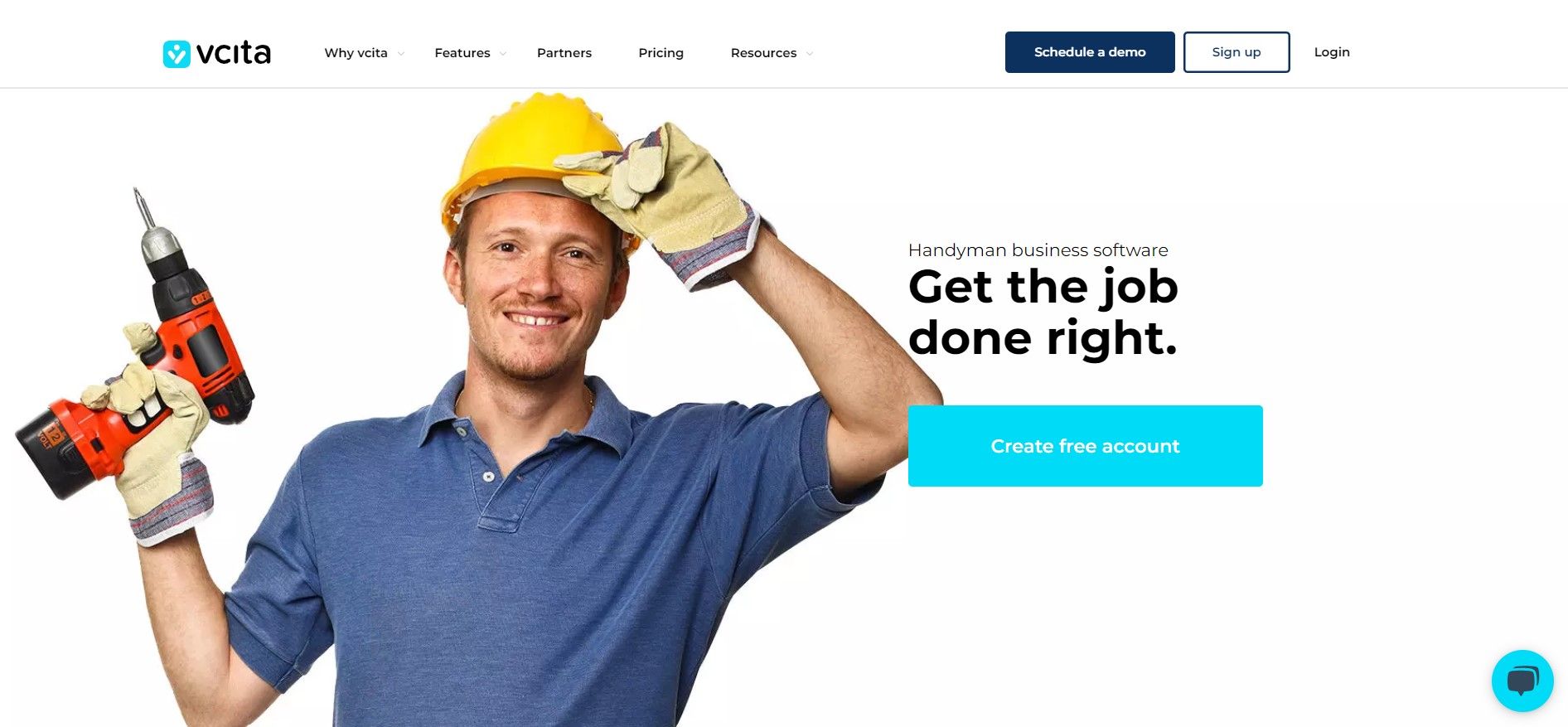 Analytics and powerful reporting are substantial parts of every business service. Handymen are no exception to that. As a handyman business tool, you can trust Vcita, which will provide in-depth data analysis capabilities.
Vcita will allow you to create customized reports, track key performance metrics, and visualize data for better understanding. Its analytics capabilities support strategic planning and aid in identifying areas for performance improvement.
The tool also facilitates real-time data monitoring, enabling businesses to respond promptly to trends and changes, enhancing their competitive edge.
Key Features
Calendar Management
Scheduling
Work Order Management
Alerts/Notifications
Dispatch Management
Electronic Payments
Job Management
Mobile Access
Quotes/Estimate
Job Scheduling
Pricing
Essentials: $29 per month paid monthly
Business: $59 per month paid monthly
Platinum: $99 per month paid monthly
You can get two months free paying annually.
How to Choose the Right Handyman Software
Below are the five things you should consider getting the right handyman business software for yourself.
Define Your Needs: Firstly, determine your specific needs from the software. Do you need help with scheduling, invoicing, customer relationship management, estimating job costs, inventory management, or all of these?
Budget Forecasting: Outline your financial resources for this purchase. Consider the upfront cost and ongoing fees for maintenance, updates, or subscriptions.
Explore Your Options: Research the different software solutions available. Look for software designed for handyman businesses and pay attention to user reviews and ratings.
Compare Features: Evaluate each software option based on its features and capabilities. Does it meet your defined needs? Does it offer additional benefits, like mobile access, real-time updates, or comprehensive reporting tools?
Consider Customer Support: Ensure the software provider provides dependable customer care and technical assistance. Good support can be critical for troubleshooting issues and facilitating software implementation and usage.
Implementing software for Handyman: Best practices
As you are now well acquainted with the best Handyman business software and the guidelines to choose the right one for your business, it's time to learn how to get the best out of them in just three steps.
Master the Software: To maximize the benefits of the new software, a comprehensive understanding of its operations is crucial. You could use training modules from the software vendor, utilize online guides or bring in a specialist for a tailored training session. Effective software utilization is directly proportional to your proficiency in using it.
Phase-wise Adoption: A sudden shift to the new system might cause operational hiccups. Instead, transition stepwise, starting with a few pivotal features. Familiarize yourself with these and then progressively incorporate other capabilities. In this manner, any possible problems can be handled on a small scale, preventing major disturbances to the running of the business.
Utilize Support Services: Maximize the support services offered by the software company. Contact their support team promptly if you encounter technical glitches or need clarity about certain functionalities. Their assistance can significantly streamline the transition process and enhance your experience with the new software.
Wrapping Up
Picking the right handyman software can make life much easier if you're in the handyman business. We've reviewed the 8 top options to help you manage your work, from scheduling to billing.
No matter the size of your operation, there's a tool on this list that can help you work smarter, not harder. So, analyze the options and pick the best one that fits your needs.
Frequently Asked Questions
What is handyman business software?
Handyman business software refers to specialized software specifically designed to support and streamline the operations of a handyman business. It provides tools and functionalities that assist in managing appointments, tracking jobs, handling invoicing and payments, maintaining customer records, and organizing business tasks efficiently.
What features should I look for in handyman management software?
When choosing handyman business software, it is essential to consider features such as appointment scheduling, job tracking, status updates, invoicing processing, customer database and communication tools, task management and to-do lists, reporting and analytics, and integration capabilities with other tools or platforms.
Can handyman service software integrate with other systems?
Yes, many handyman service software offer integration capabilities. These integrations can include accounting software, email marketing tools, customer relationship management (CRM) systems, and payment gateways.
How can handyman service business software help in managing customer relationships?
Handyman business software aids in managing customer relationships by providing a centralized database, communication history, and job details. It allows you to track customer preferences, appointments, and service history. Additionally, the software may offer tools for automated reminders, notifications, and follow-ups.
What are the benefits of using software for handyman service?
Handyman business software enables handyman businesses to automate administrative tasks, including appointment scheduling and invoicing, saving time and reducing errors. The software aids in managing customer information, job details, and tracking work progress.