Ultimate Guide on Team Management Software for Your Business (2023)

Tired of missed deadlines? Duplicated tasks? Lost project documents? Workplace tension?
Well, you are not alone.
These are common problems of many teams, which is a good thing. It means there is a list of proven solutions!
We'll talk about one of the most effective — implementing team management software. In this article, you'll find out why your business needs it, how much it will cost, and the best tool options to pick.
But first, let's check if we're on the same page about the definition.
Team management software is a tool (usually a service) designed to manage the collaboration and communication of a group of people within a company. It provides each team member with a 360 view of team activities and projects.
Team management software benefits
Let's start with the central question: "Why should you invest time and resources in team management software?" There are five reasons your competitors did it:
Instant team collaboration and communication
Teamwork is based on communication when task stakeholders, managers, and executors know its status and progress. If it works right, there is no opportunity to find out that a priority task is on hold for a week because its executor didn't notify the team about an unexpected issue that stopped the entire workflow.
With team management software, you have chat and collaboration features like commenting on a task, mentioning team members, adding task status, and receiving relevant notifications on other channels.
In addition, there are integrations with tools you already use, for instance, your favorite knowledge base software, calendar, etc. Thus, you can:
schedule or start a video meeting,
Share and edit code,
get task notifications in your messaging app,
export and import files, data, etc., without leaving an app.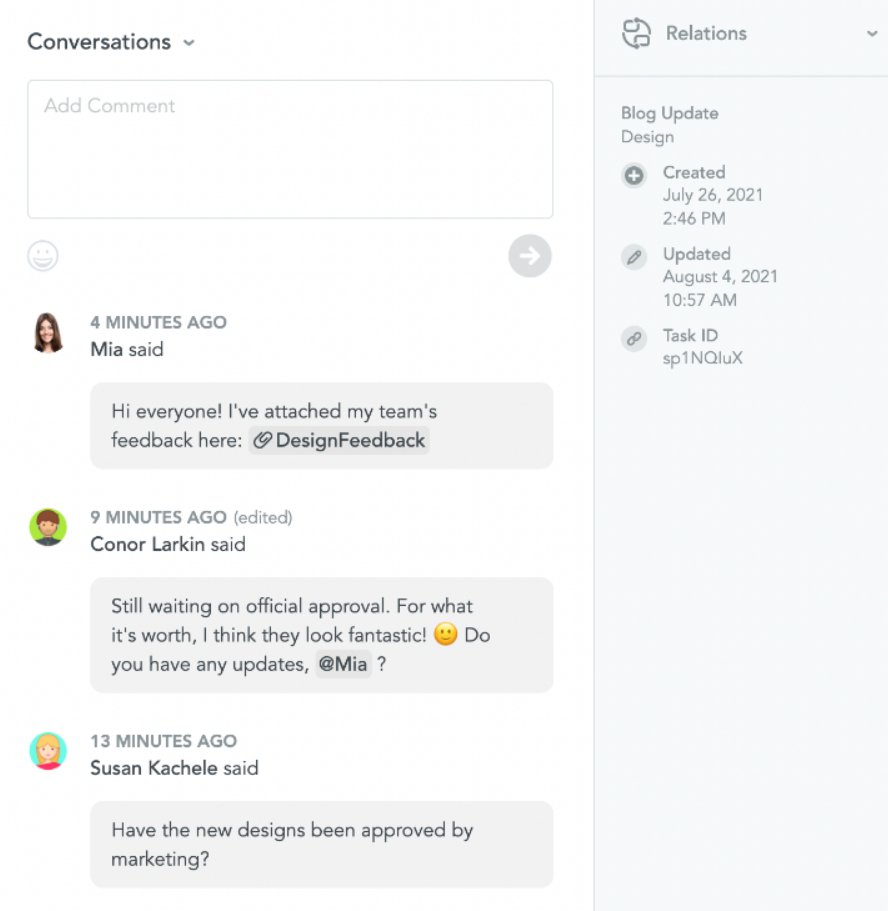 Task planning and tracking
Team management software provides setting deadlines, time tracking, calendar view, KPI, and marketing dashboards. With this toolset, you can:
Overview of how many hours a task takes and fill in unscheduled time slots.
Analyze the team schedule to decide whom to assign an unexpected task.
Set realistic deadlines without overbooking teammates.
Prioritize tasks.
As a result, your team has a balanced tasks sprint and meets deadlines.
Team insights and suggestions
People in your team are the heart of the company. If done right, insights into team communication and relationship can skyrocket your business growth. So think well when choosing a team management software because it will help you:
Find better ways to streamline team communication.
Analyze your team members' behavior.
Define things that hinder a project's progress.
Highlight the contribution of your team to a project's success.
How? It can report dashboards with the number of tasks done during a week, the percentage of hitting the revenue target, etc.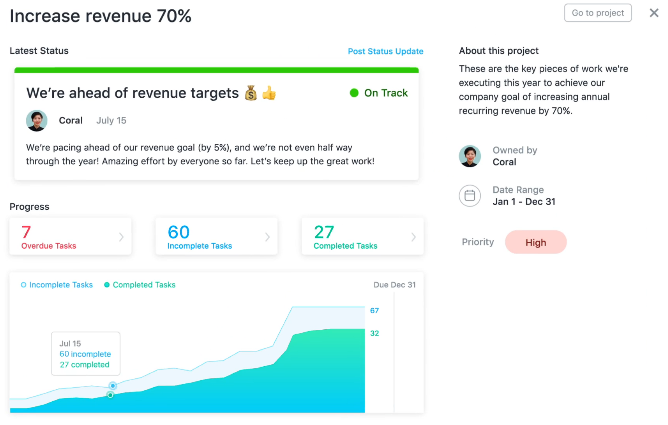 A single place to access data
It is usual when managers do some task and save its results on their Google disk. After some time, a shared link gets lost in many dialogs. And when a new team member requires that info, you find out that its author quit and the relevant Google account is deleted as well as the needed info.
Imagine all data you and other teams produce is stored in one safe place— a team management tool. So every member of your team can easily find it.
Growing team productivity
There are a vast amount of productivity tips on the web. They help with personal things. But regarding the team, a considerable part of the time is spent on manual routines like looking for task info, creating task descriptions, scheduling, discussion, tracking, etc. Now double this time if each action is done with different tools.
Above, we mentioned a list of solutions team management software provides to save time and automate business communication. There are ready-made templates, single task view, easy file storing and sharing, time tracking, etc. — all in one tool.
No more switching between different tabs and tools, no distractions. With team management tools, your team focuses on work only.
15 Best Software for Team Management
It is easy to get lost in the variety of options on the market. But what's more disappointing is when you wasted the expensive time of your team testing a tool that didn't meet your needs.
To avoid that, we have tested the most popular team management software. Here you will find a short review of their best features and plans.
1. Apploye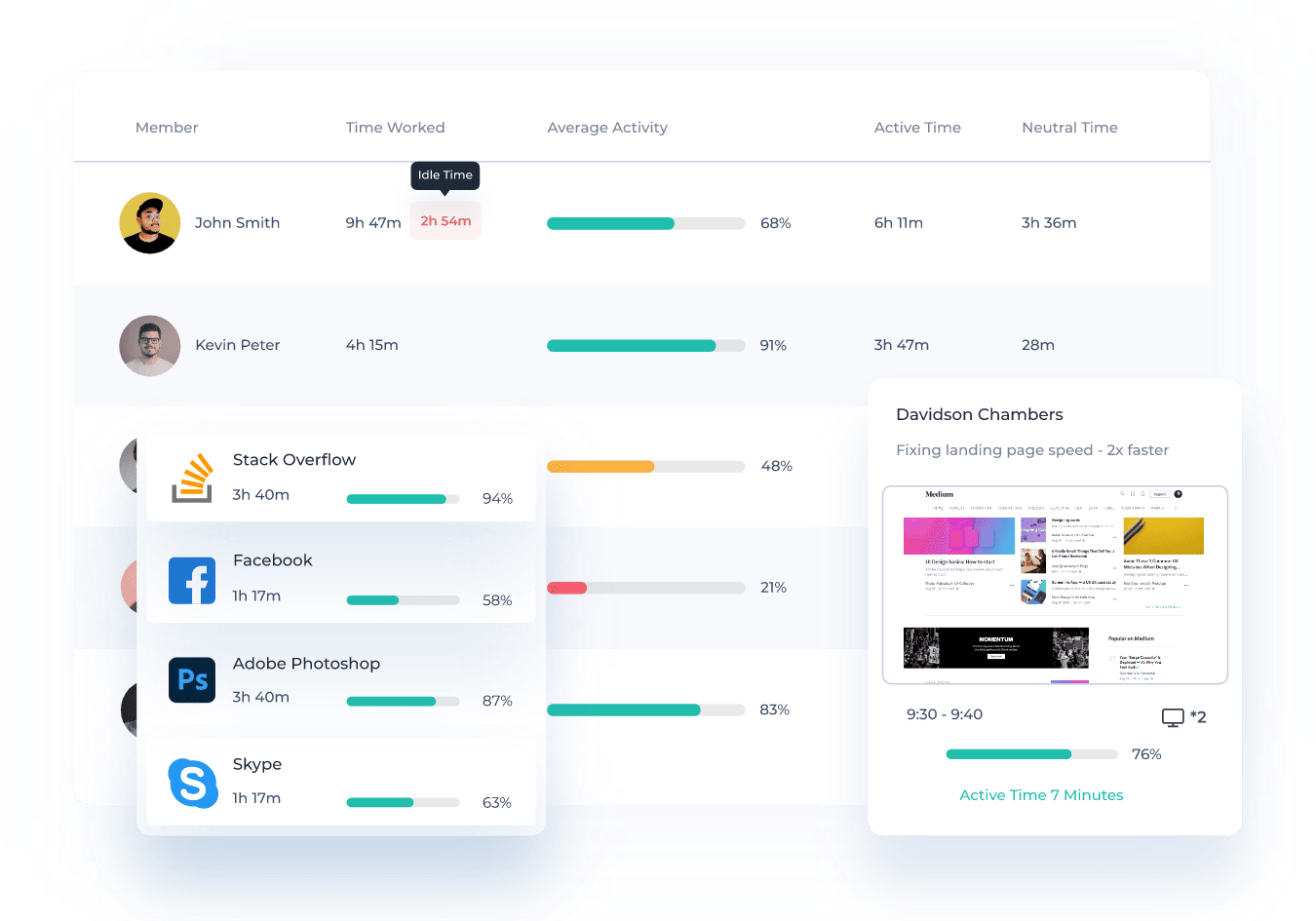 Some startups and big companies use Apploye to increase the productivity of their desk, mobile & remote teams by tracking time. It is one of the proven market leaders in the time-tracking apps industry.
With this all-in-one tracking software, you don't worry about unproductive time waste, inaccurate payroll management or billing, time holes in the employees' schedule, or chaos in project management.
Best features:
time reporting,
timesheet,
task management,
projects & budgeting,
client & invoice.
Pricing
Apploye provides four paid plans from $4 to $7 per user/month. You can test each of them for 10 days free of charge. No credit card is needed.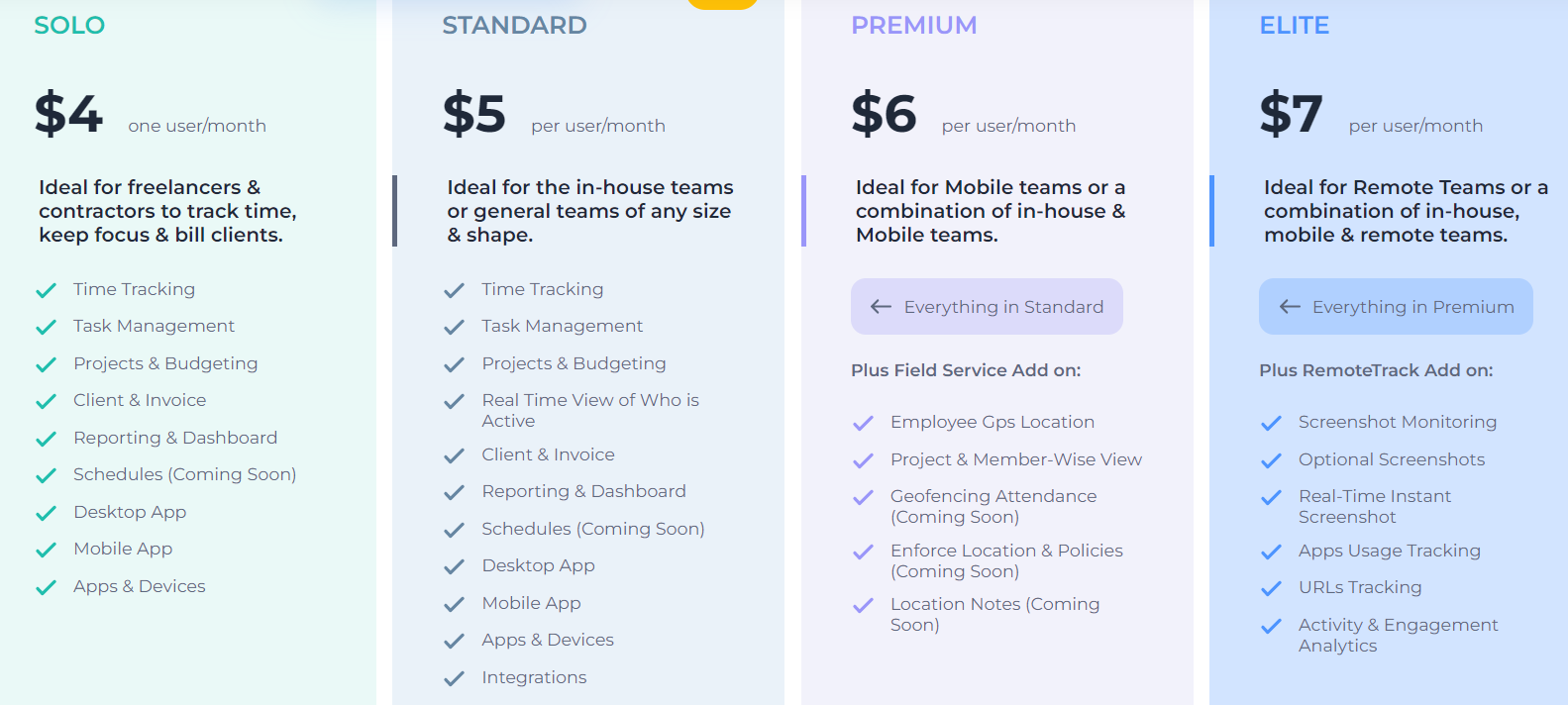 In addition, there is an opportunity to save 50% if paid annually.
👉 See the complete guidelines on how to track employee working hours.  
2. Slack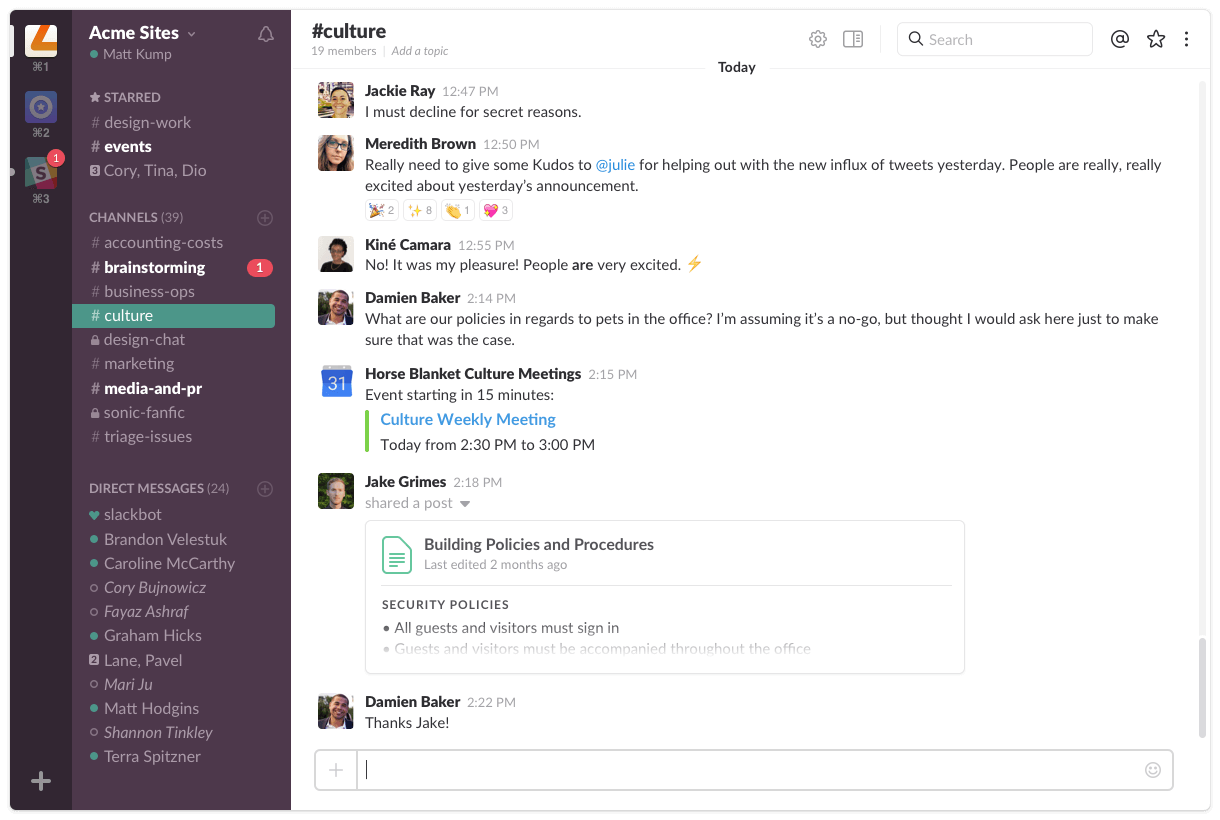 Slack is one of the most famous team collaboration tools. It provides a full-fledged solution set for the virtual collaboration of your team members in a chat. Companies of all sizes use it to streamline task discussion, reports, events scheduling, ideas sharing, etc.
Best features:
to-do reminders,
conversation bots,
system of team members mentioning and tags,
channels,
file sharing,
integrations,
bots,
audio and video conversations.
Pricing
Small teams tend to use Slack-free plans. But there is a limit to data storage. So after some time, the system deletes a history of all your conversations.
To avoid this, choose one of three paid plans starting from $7.25/month.
If you want to access this app's entire functions, there is the Enterprise Grid plan. But to know its price, you should contact sales.
3. ClickUp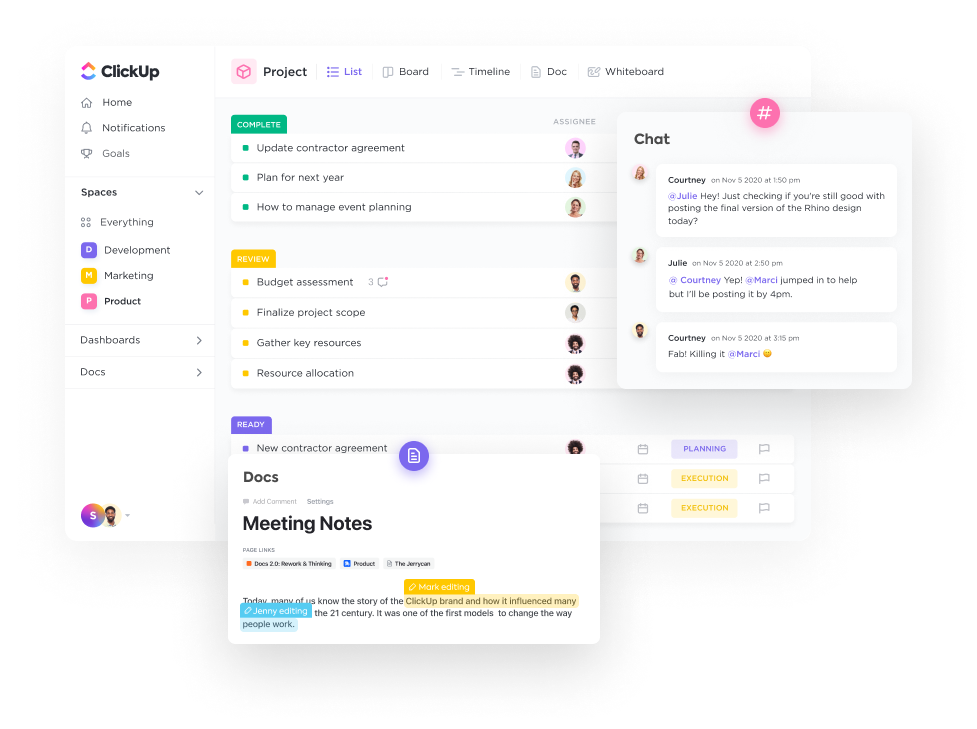 It is a universal solution for personal task management and team collaboration within any company. Booking.com, Samsung, IBM, and many other businesses worldwide choose ClickUp to improve project management and team productivity.
This platform provides all the needed solutions to keep your work in one place: manage project tasks, track their progress according to the set goals, start real-time discussions in a team chat, & more.
Best features:
screen recording,
whiteboards,
mind maps,
customizable dashboard views,
team chat,
time tracking widgets,
tags and mentions,
dashboard templates,
integrations with 1k tools.
Pricing
Usually, companies start using ClickUp with a free plan. Sure thing, it has a list of limitations, such as data storage, dashboards, etc. If you want more, there are four paid plans to switch to: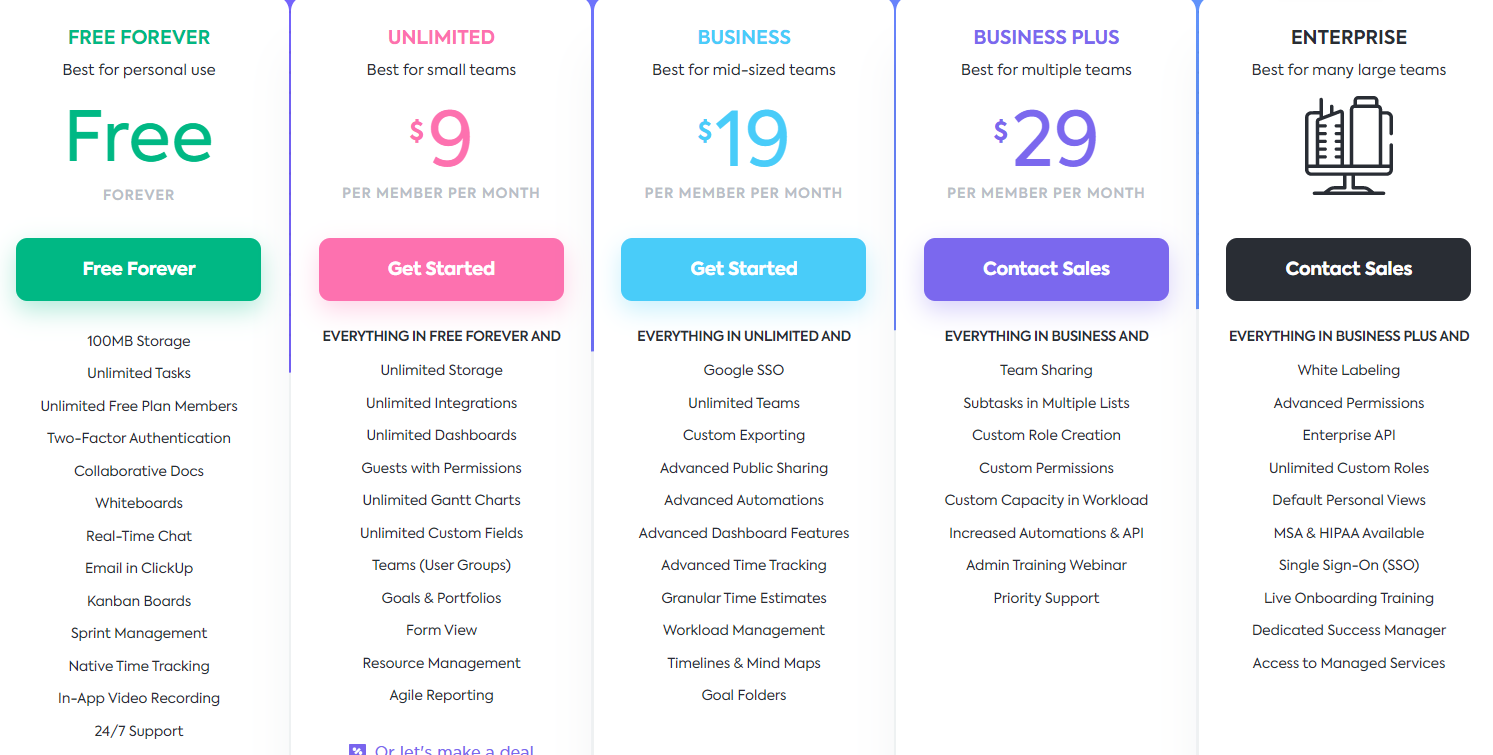 Starting from $9 to $29 per user/month, you can choose what functions you need. For big companies, there is an Enterprise plan. But to know its price, you should contact sales.
4. Asana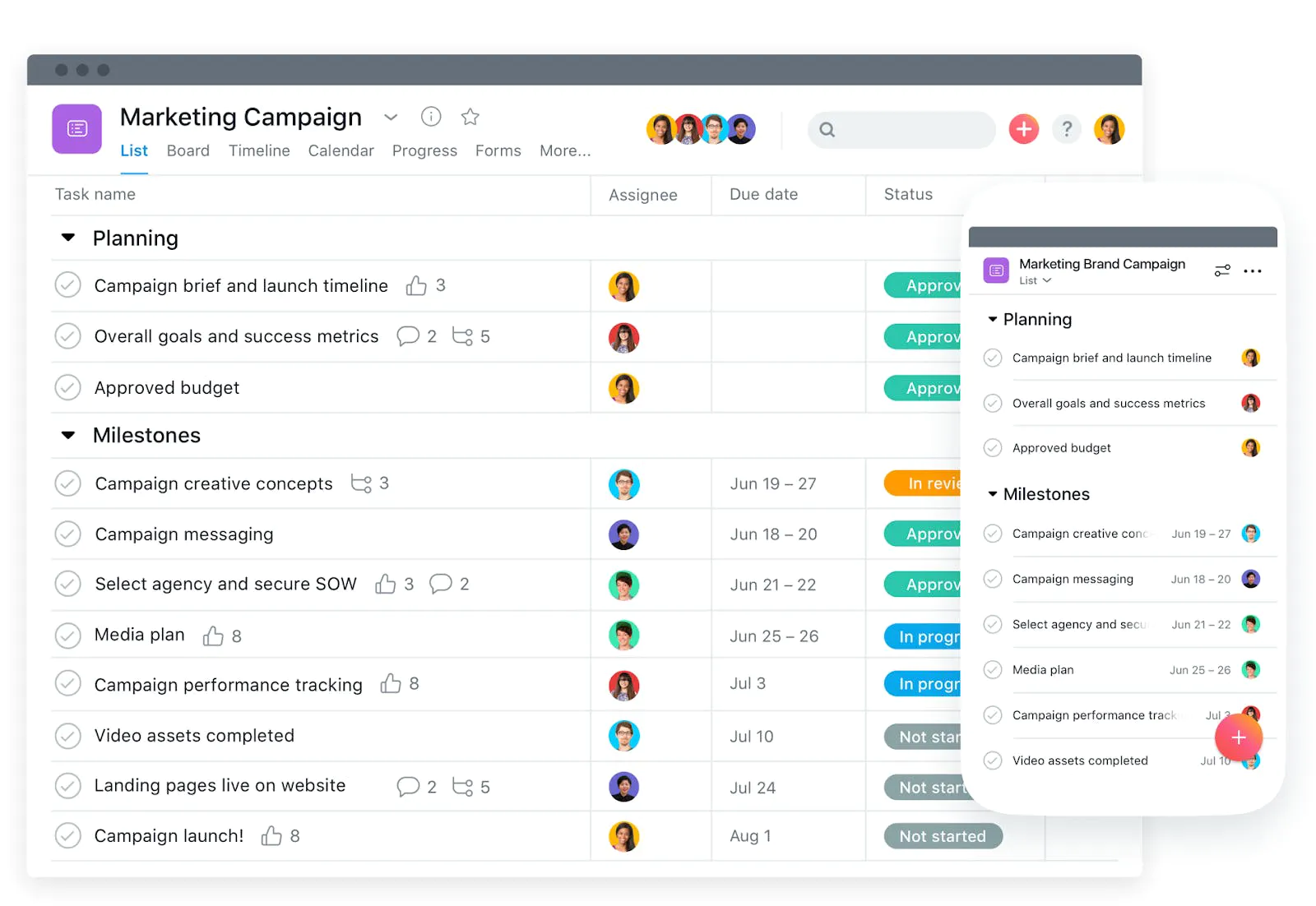 Asana is famous for the variety of its dashboards. It is a favorite app of Kanban board and list view fans because, in both cases, you get the opportunity to assign sub-tasks, add files, milestones, labels, comments, etc.
In addition to task commenting, there are Conversation and Files sections. The first one is designed for your teammates to discuss task progress, share results, etc. The second is to store documents.
Best features:
kanban and list dashboards view,
workflow builder,
team chat,
file sharing,
project timeline,
custom fields,
calendar,
reporting.
Pricing
Asana doesn't provide a free trial. Instead, there is a basic forever free plan with a limited number of teammates or guests, dashboards, etc. For more, there are Premium ($10.99 user/month), Business ($24.99 user/month), and Enterprise plans.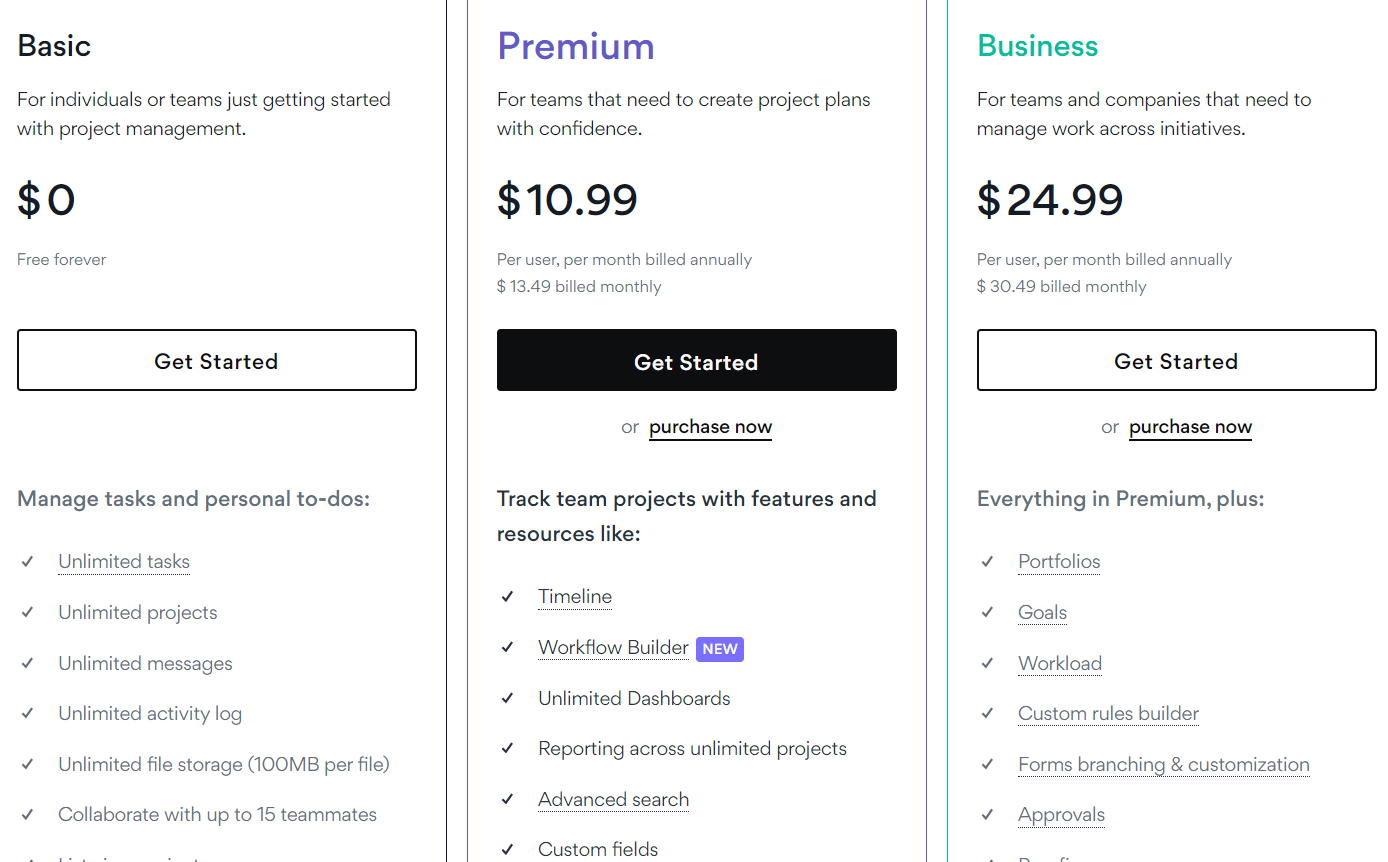 The last one is created especially for large teams. If you want to know the price, contact the Asana sales managers.
5. Trello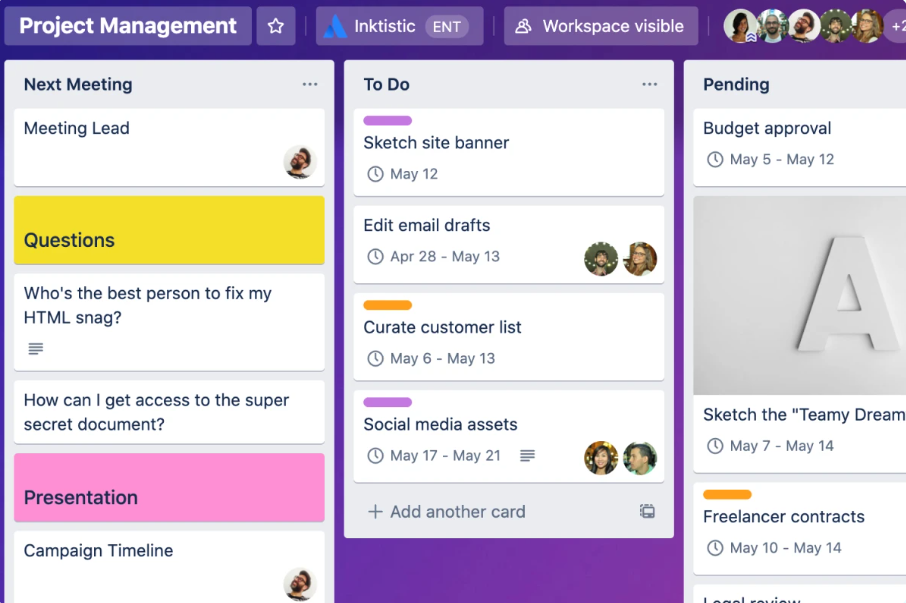 Trello is a classic team management tool that is well-known among small businesses, personal project owners, or enterprise teams for the variety of its free solutions. Sure thing, there are paid plans, but usually, people start working with its accessible dashboards.
Kanban fans appreciate Trello's card system and its flexibility. For example, you can easily assign or track task progress in different view options. There are also easy-to-use tags and team communication features.
Best features:
comments on tasks,
team members' notifications,
mentioning team members,
calendar view,
file sharing,
templates,
reporting,
workflow automation.
Pricing
In addition to a forever free plan, there are three paid plans in Trello: from $5 to $17.50 per user/month.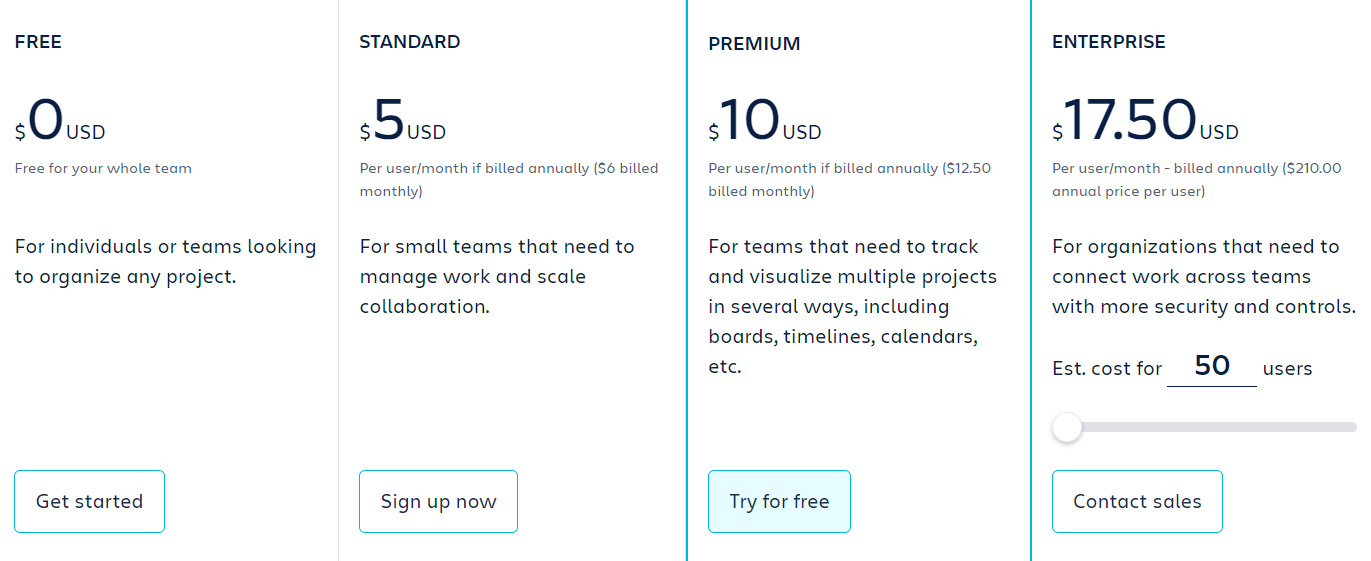 The most noticeable limits in a free plan are the number of boards and data storage. Teams that need custom fields, advanced checklists, flexible dashboard views, etc., choose paid plans instead.
6. Notion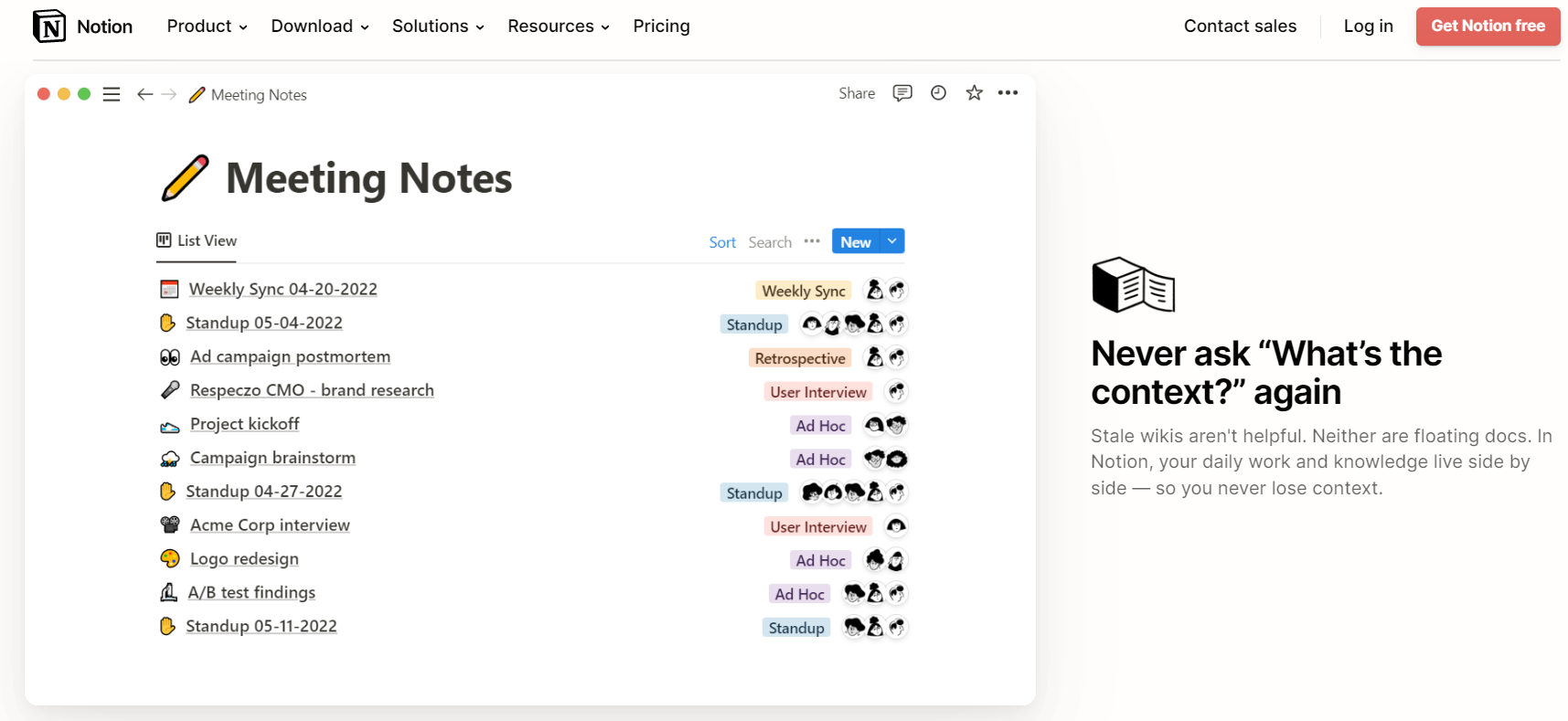 Notion is a team management software that can help you track the goals, manage the team content and various projects, create design systems, and create directories for notes and URLs. It's one of those tools that keep the personal workspace organized and make the best out of your resources to thrive in the workplace.
Moreover, you can use notion as team management software as it propels real-time collaboration and gives users the power to create multiple customized workflows for their own needs.
Best features:
Note-taking and keeping
Project planning for the team
Unlimited pages and blocks
Advanced TeamSpace permissions
Bulk exports
Admin tools
Custom contract & invoicing
Wikis, docs, and notes
Pricing
There are four different pricing plans for Notion. The 'Personal' plan is free, and Enterprise is subjected to contacting the vendor for negotiation.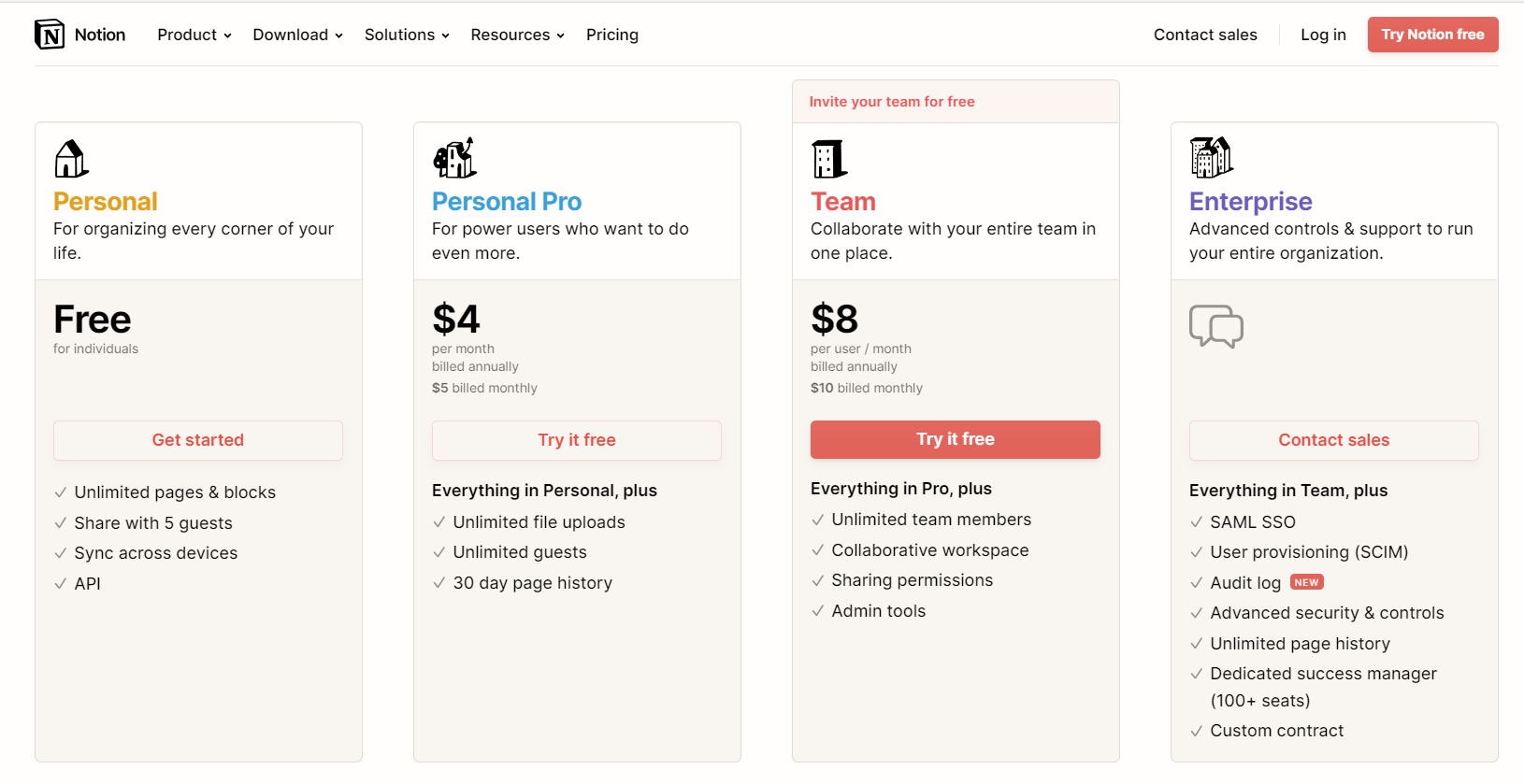 The 'personal pro' plan of Notion is $4 per month when billed annually and 25% more when billed monthly. Again the 'Team' plan is $8 per month on annual payment.
7. Basecamp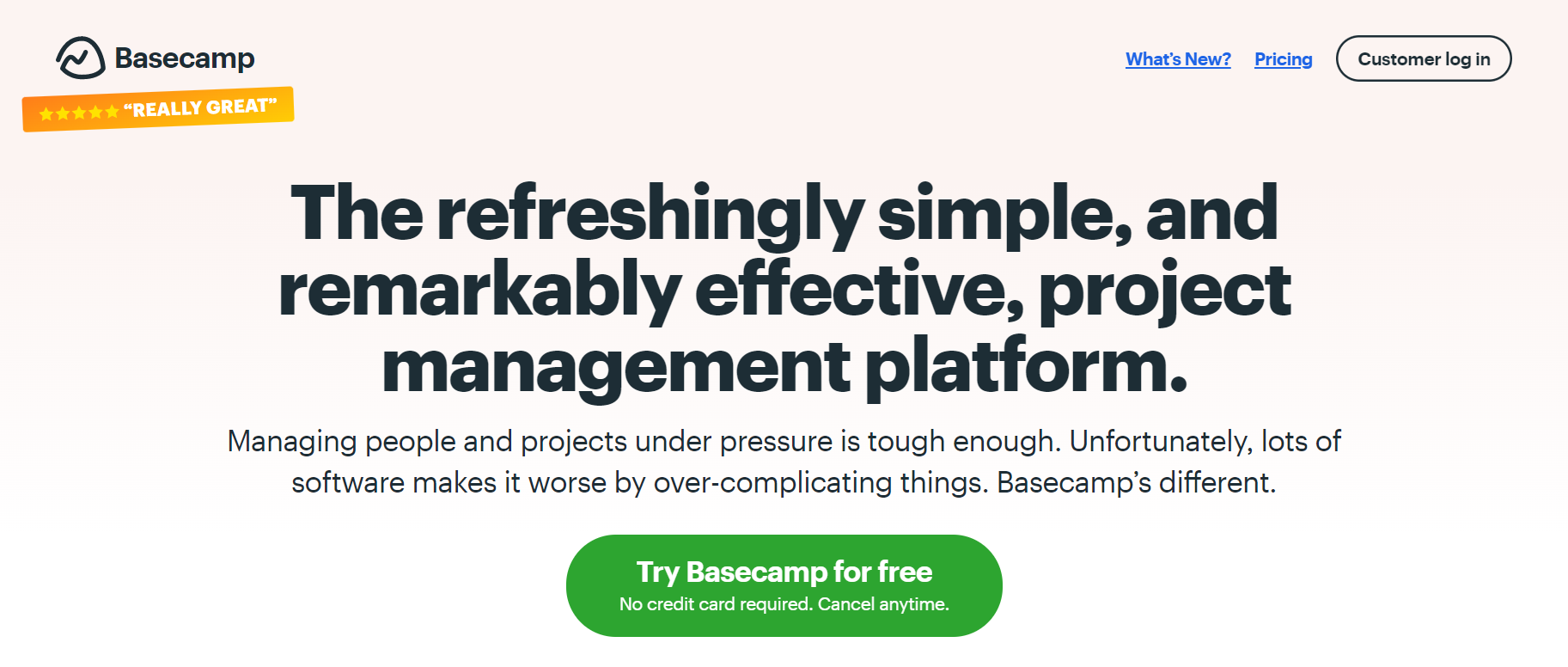 Basecamp is more of a tool for real-time team collaboration than it is for doing typical project management tasks. It is a comprehensive team collaboration and project management program, and it bills itself as an "all-in-one toolkit for working remotely."
Using Basecamp to collaborate on individual projects is where it shines the brightest. Rather than separating various tasks according to the individual teams that will contribute, it would be best if you organized your projects to represent how different departments will collaborate on a particular aspect of the project. This will save you a large chunk of time.
Best features:
Email and desktop notifications
In-app team collaboration with the commenting feature
Advanced client access
Time tested reliability
Workflows on the card table
Seamless collaboration among team members.
Pricing
Basecamp offers a flat pricing of $11 per user per month.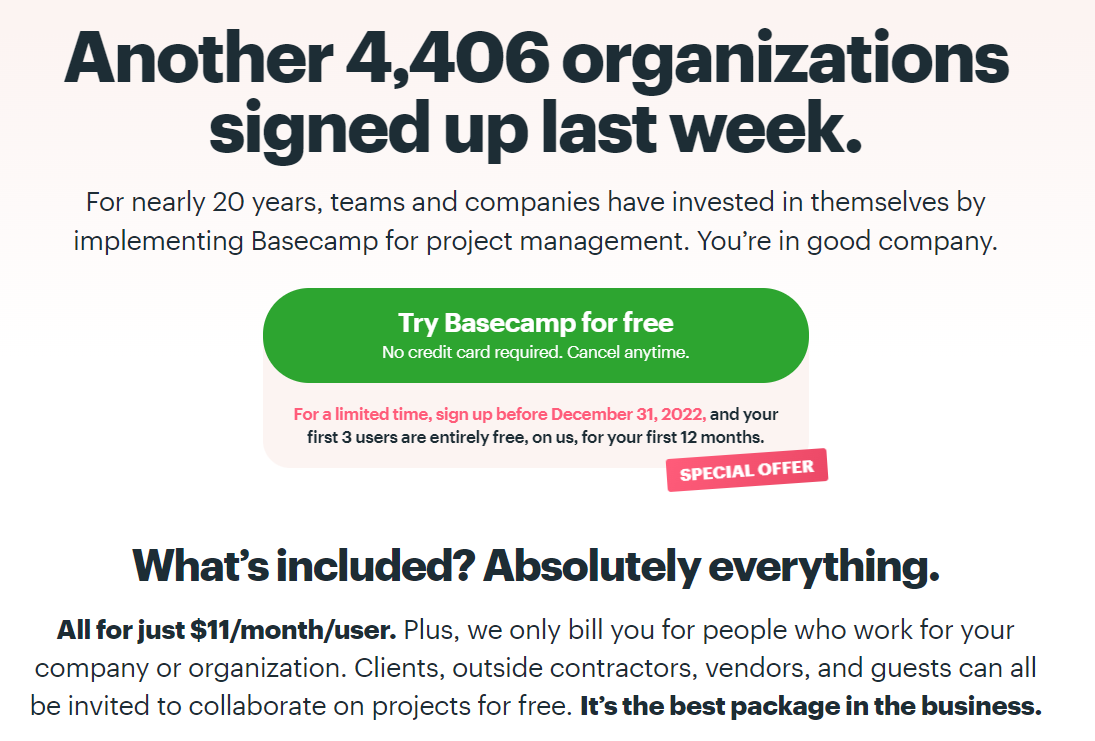 8. MS Teams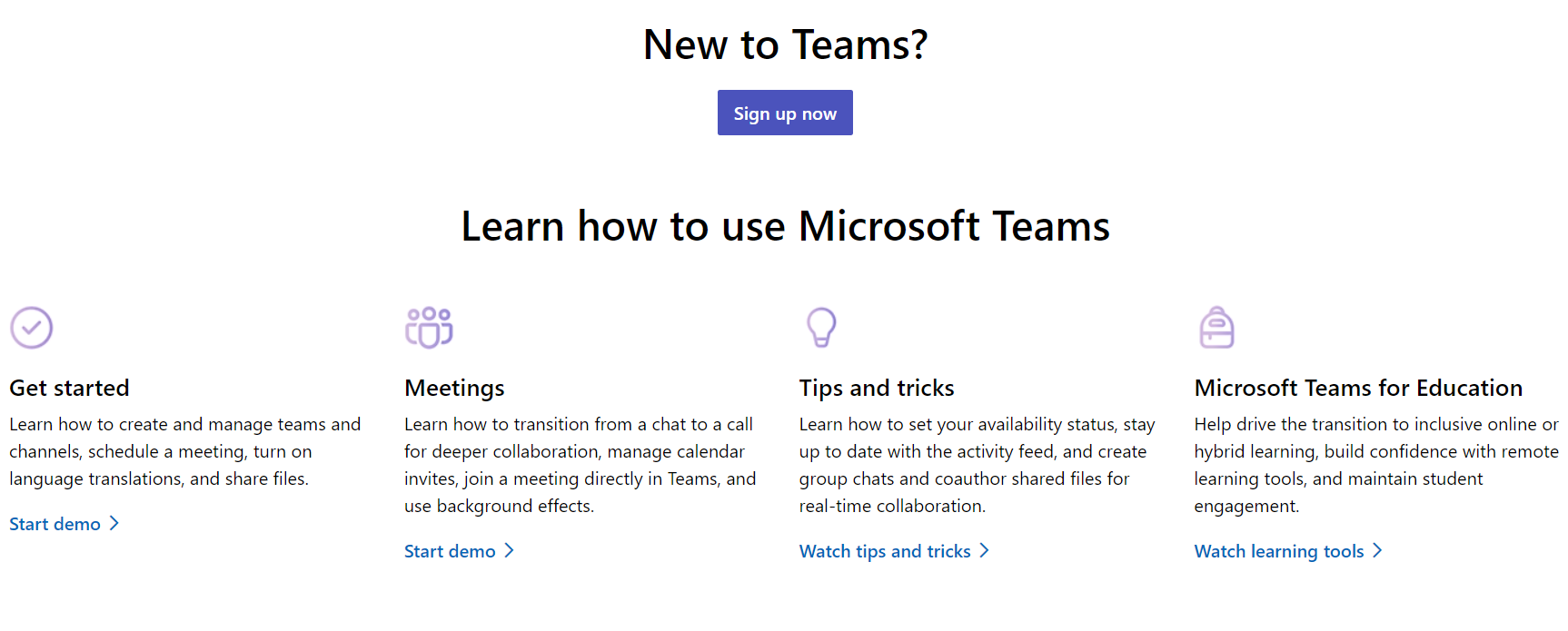 Microsoft Teams is the best messaging app for your business—it's the place where you can collaborate and communicate in real-time, hold meetings, and share files and apps.
The core function of Microsoft Teams is to improve communication. For businesses, this cloud-based platform with integrated Microsoft technologies is transformative. A business communication platform, Microsoft Teams, eliminates the waste associated with conventional office cooperation.
Best features:
Instant chats and reduced email
Fast searching for information
Standard and private channels
App pinning
Manage app catalog
Instant LinkedIn connection
Grid view
Pricing
Microsoft Team offers you four types of pricing plans starting from free features to MS 365 business standard at $10 per user per month on an annual pricing plan.  

The other two pricing plans in the middle of the pricing spectrum are MS Teams Essentials which is traded at $2 per user per month and MS365 Business Basic at $3 per user per month.
9. Jira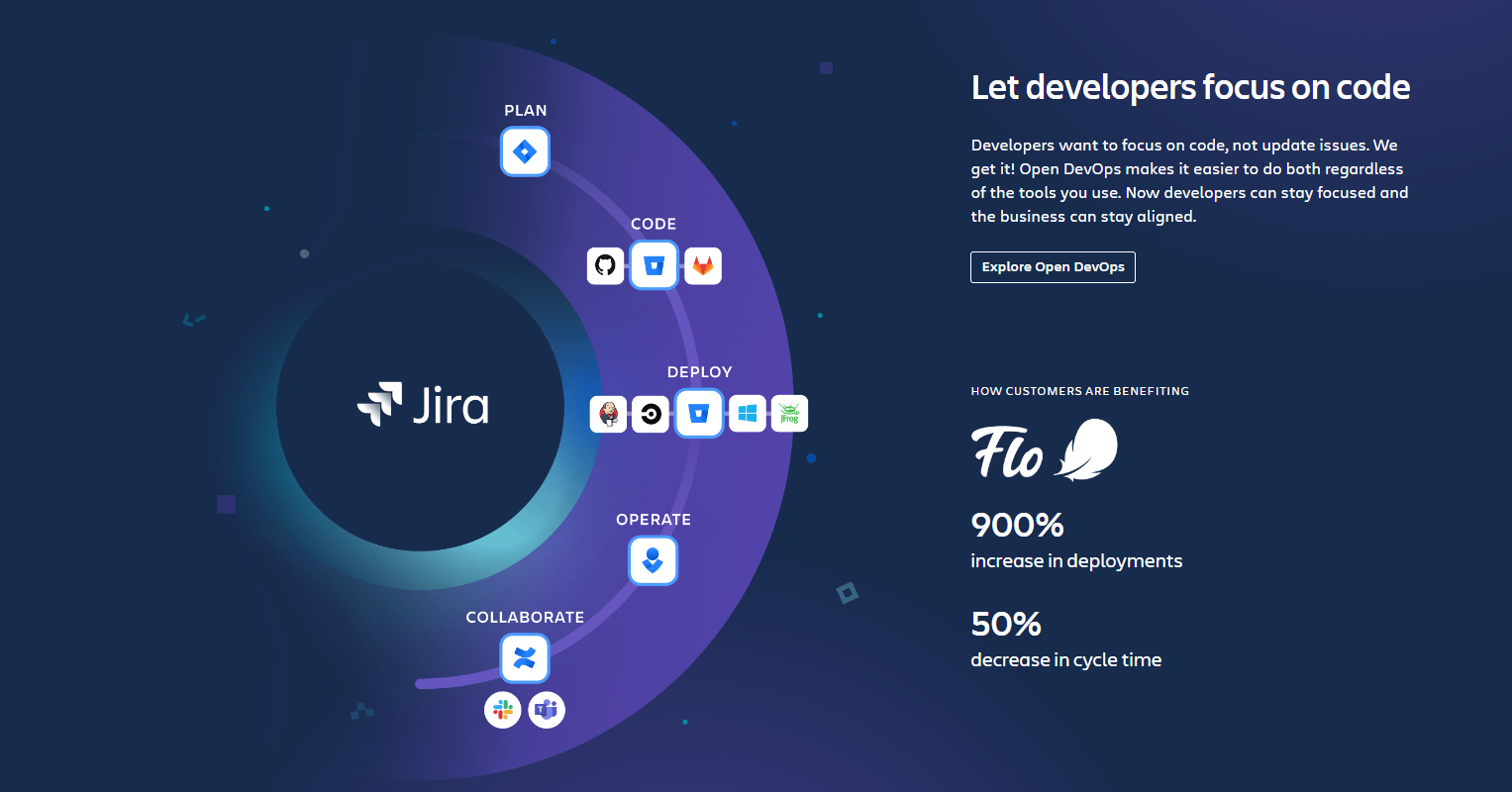 Jira, known for its top-notch team management capabilities, helps teams create structured workflows in order to streamline various work processes in the workspace. You can manage all your tasks with the calendar view. That's how you can keep an eye on the deadlines you have set for your business and workflows.
Using the new roadmaps of Jira, you can find out how to keep control of your workflow in an organized way and communicate plans with your stakeholders. Though Jira was initially used as a bug and issue fixer now, it is widely used as a team management program.
Best features:
Issue tracking and bug fixing
Customizable workflows
Estimation & work logging
Scrum Kanban boards
Project backlogs and Project-level permissions
Roadmaps visualization
Progress reporting
Pricing
Jira offers four types of pricing plans out of them one is a free plan (always free for 10 users) and another one, namely 'Enterprise' is subjected to negotiation.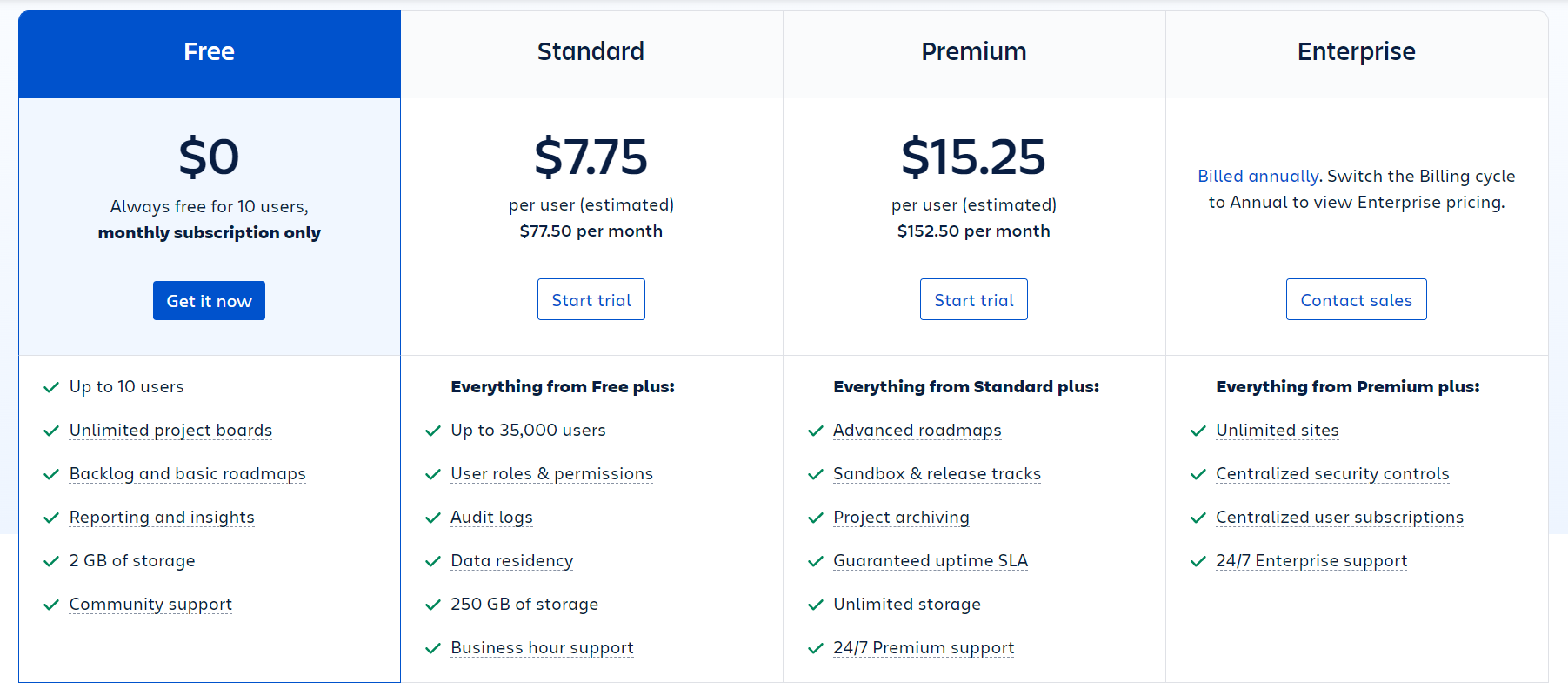 The standard plan of Jira is $7.75 per user per month and the premium plan is $15.25 per user per month.
10. Airtable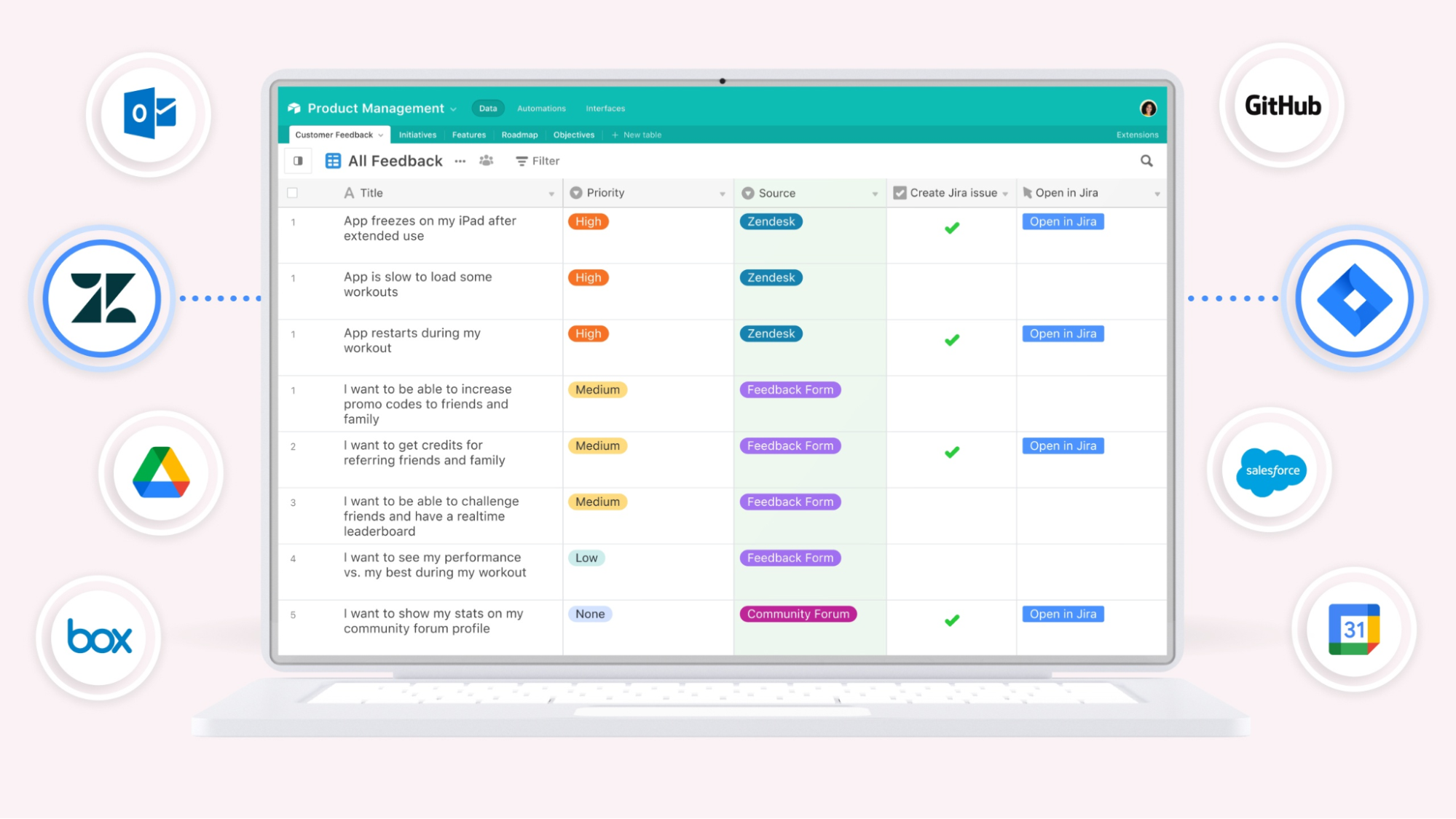 Airtable is a team management software that helps you with advanced extensibility, transformative workflow, and accelerating team performance at all levels. It is a tool that can streamline all the existing processes or workflow, which doesn't require any knowledge regarding coding and programming.
To some users, Airtable is just between Microsoft Excel and Database. There might be some questions regarding the project management capabilities of Airtable. Still, for time management requirements, Airtable can outperform most of the above-par time management software in the market.
Best features:
1-year revision & snapshot history
Granular interface permissions
Personal & locked views
Interface Designer
20GB of attachments per base
Field & table editing permissions
3-year revision & snapshot history
Pricing
Airtable offers four types of pricing plans out of them one is a free plan and another one, namely 'Enterprise' is subjected to contact with the vendor.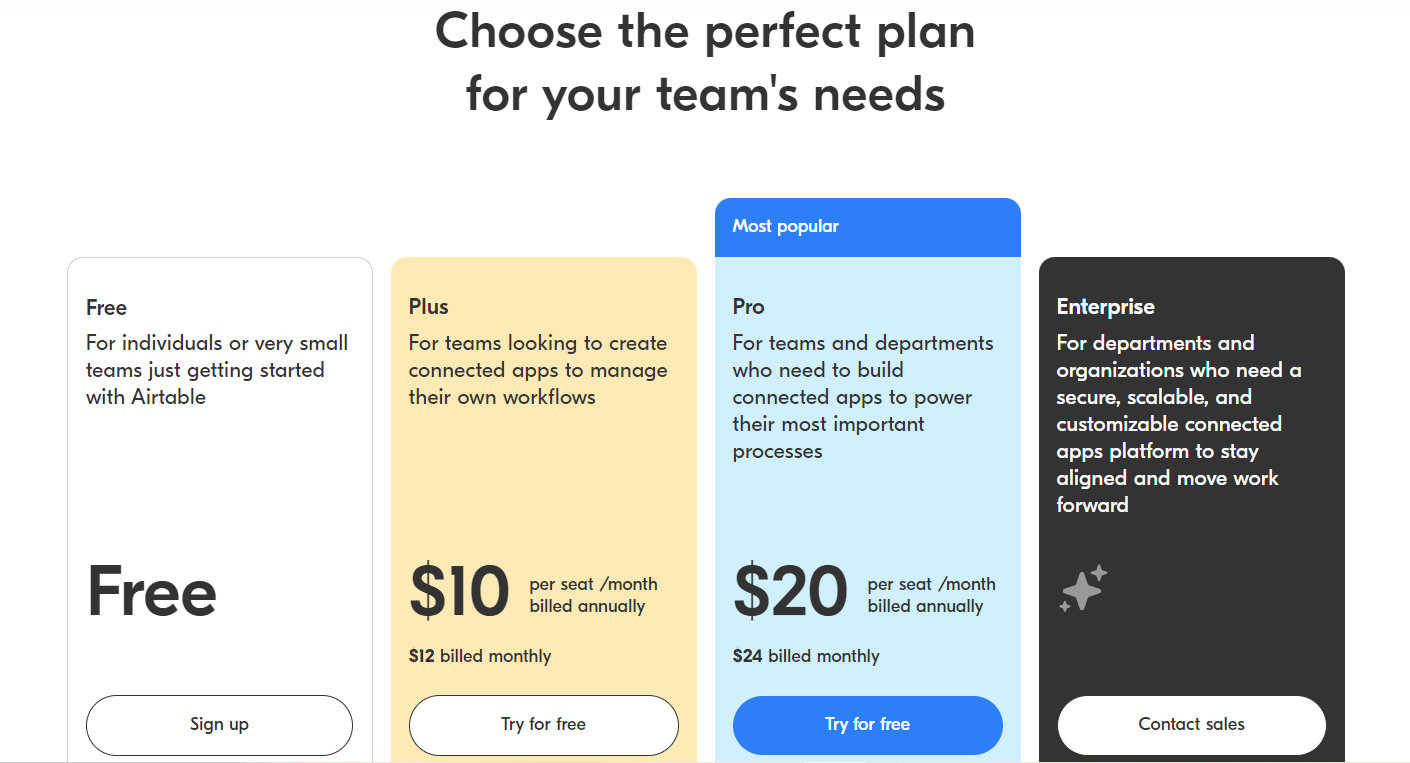 The Airtable Plus plan is priced at $10 per seat per month, and the Airtable Pro, the most popular of the plans, is priced at $20 per seat per month. These pricings are on a yearly basis. You may need to count an extra 20% for the monthly subscription.
11. Wrike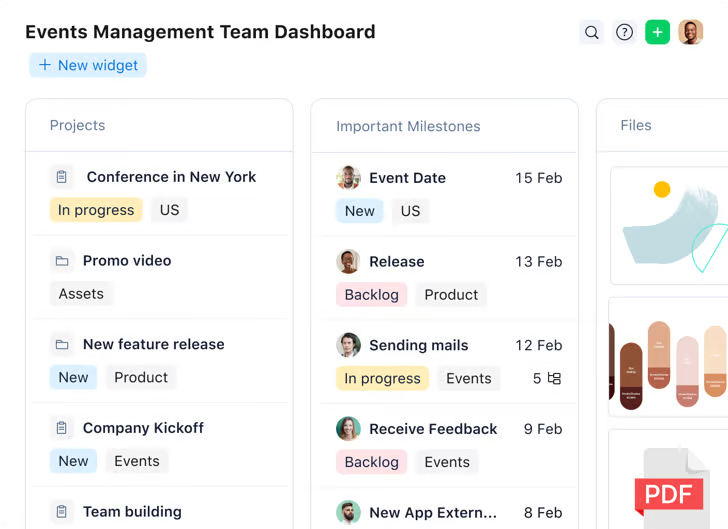 Project management software like Wrike is effective and simple to use. With Wrike's collaborative work management tools, you can do more. It contains features that enable business, and IT teams to collaborate in a single workspace.
As a team management software, Wrike enables you with real-time visibility into the teams' work, document version control, project & team reporting, etc. You may work more productively, collaborate more effectively with your team, and transformatively with this online project management tool. It is a strong platform that is simple to use.
Best features:
Proofing and Cross-tagging
Dashboard and automation
Kanban Board, Gantt Chart
Project Resource planning
Dynamic Request Form
400+ integrations
Pricing
Wrike offers four types of pricing plans out of them one is a free plan and another one, namely 'Enterprise' (for large teams) is subjected to negotiation.  

Wrike Team pricing plan is priced at $9.80 per user per month and its most popular solution namely 'Wrike Business' is priced at $24.80 per user per month.
12. nTask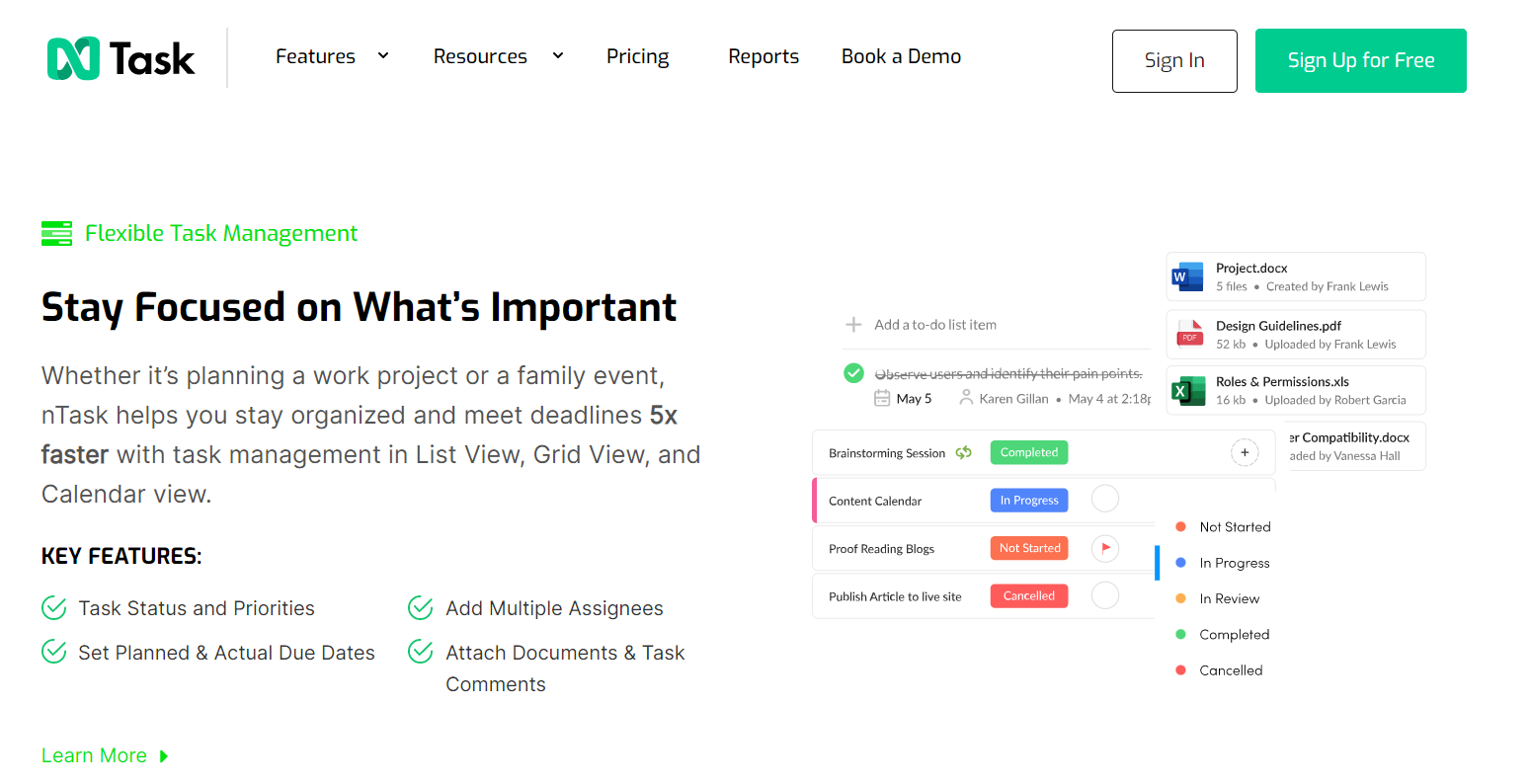 nTask is an online team collaboration and management tool that enables the team to stay connected and collaborate in real-time seamlessly. It offers time tracking and timesheet features such as Manual timesheet, Timesheet approvals, and Time tracking.
Project management is the forte of nTask as it offers project management-based features such as Roles and permission, Dedicated workspaces, etc. Creating a meeting agenda, taking follow-up actions, and allocating roles and responsibilities with nTask is super easy.
Moreover, you can have useful features like Saving custom filters, Bulk actions, Risk management, etc., in nTask, which are crucial in meeting business requirements.
Best features:
Task management and team management
Issue tracking
Time tracking and timesheet
Kanban board
Risk management
Gantt Chart
Pricing
The pricing of nTask is very simple as it offers three pricing plans. The Premium pricing plan is $3 per month for 1 user and the business plan is $8 per month for 1 user.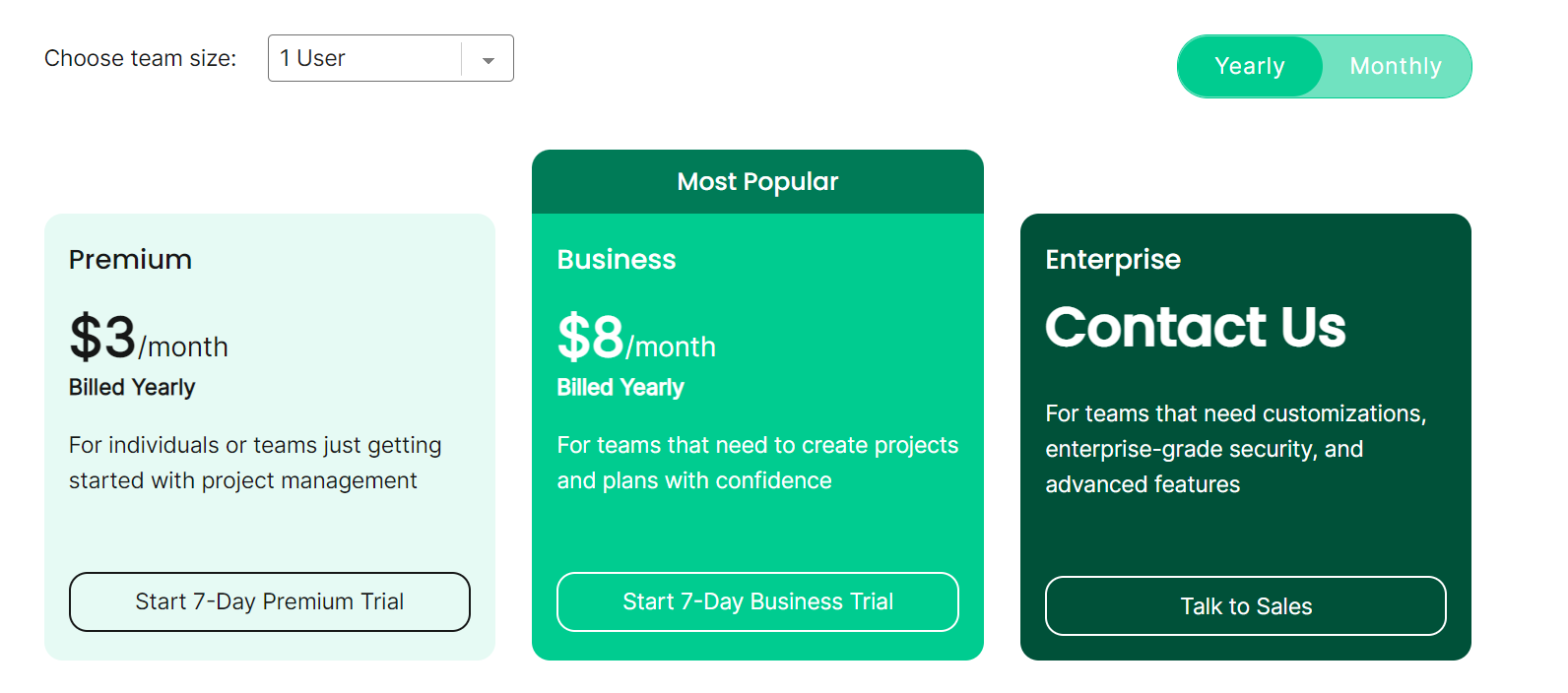 For enterprise-level service and pricing, contact vendors and negotiate.
13. Zoom

Zoom is a video communication platform known for its ever-evolving features and amenities in a large-scale business environment. With the help of this tool, you can keep your team in one knot and get the best out of them through incessant communication and collaboration in the workplace.
Zoom can be used across multiple industries as the features it provides is vital for any sort of business. It provides the team with top-quality video conferencing, team chatting features, Call queues & IVR, etc. which can help the team stay together and collaborate in real-time so that there is no delay in important decision-making for the business.
Best features:
Virtual meetings and team chat
HD video and audio
Participant camera feed
Password protection
End-to-end encryption
Calendar scheduling
Pricing
Zoom offers a diverse and complex set of pricing plans which can be categorized in terms of industry, user requirement, and even types of Zoom amenities. If you are here for the business solution then you will see four different pricing options out of which the first one is free and the last one is an Enterprise solution subject to negotiation.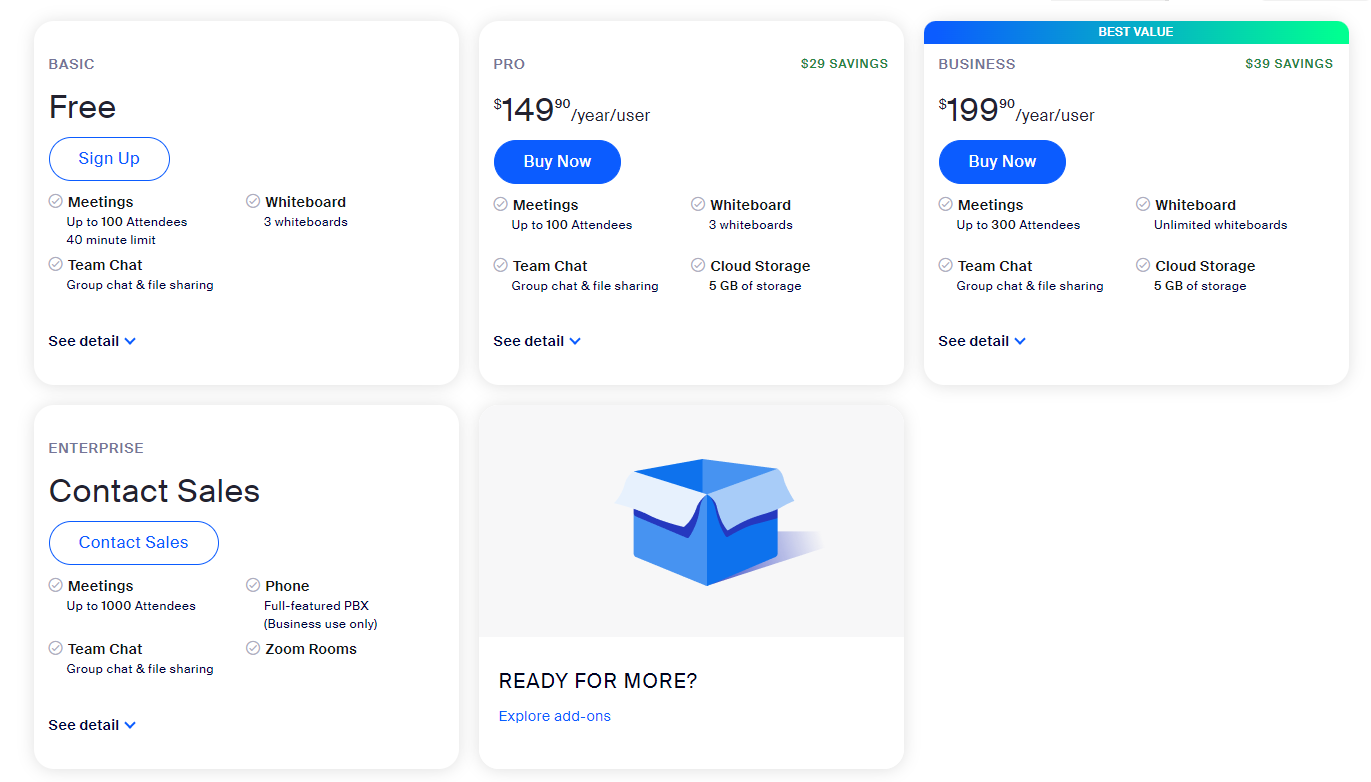 Zoom Pro is priced at $149.99 per user per year and Zoom Business is priced at 199.50 per user per year.
14. Chanty

Chanty is a team management tool that helps the teams to create and manage tasks and propels the teams to have smooth collaboration while working together in the workplace. It helps you share multiple contents in a single app, save innovative ideas by pinning them down in the app and Optimize the workflow by switching to the in-built Kanban board.
You can also set and assign roles and responsibilities to your team members, connect to third-party apps, and even jump over a voice call whenever team members need to collaborate in the middle of the work immediately.
Best features:

Built-in Task management
Roles and permissions
1-on-1 audio call
Searchable history
File storage and data import
Screen sharing
Guest user and Team member options
Pricing
The pricing plans of Chanty are as easy as you like as it offers only the Free and Business solution.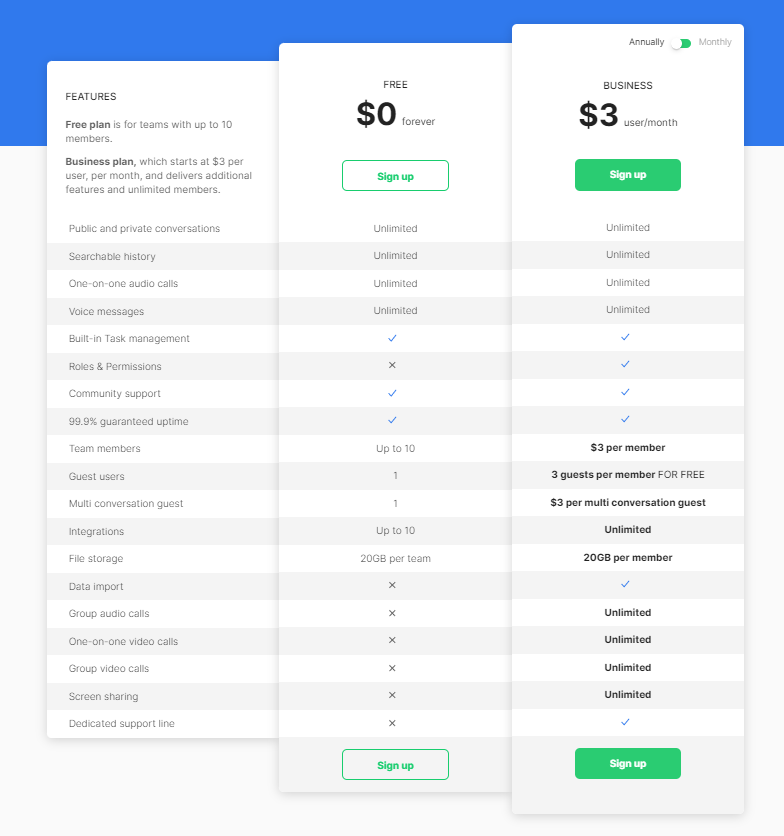 The free plan is for up to 10 team members which is completely out of cost. The business solution is $3 per user per month.
15. Zoho Project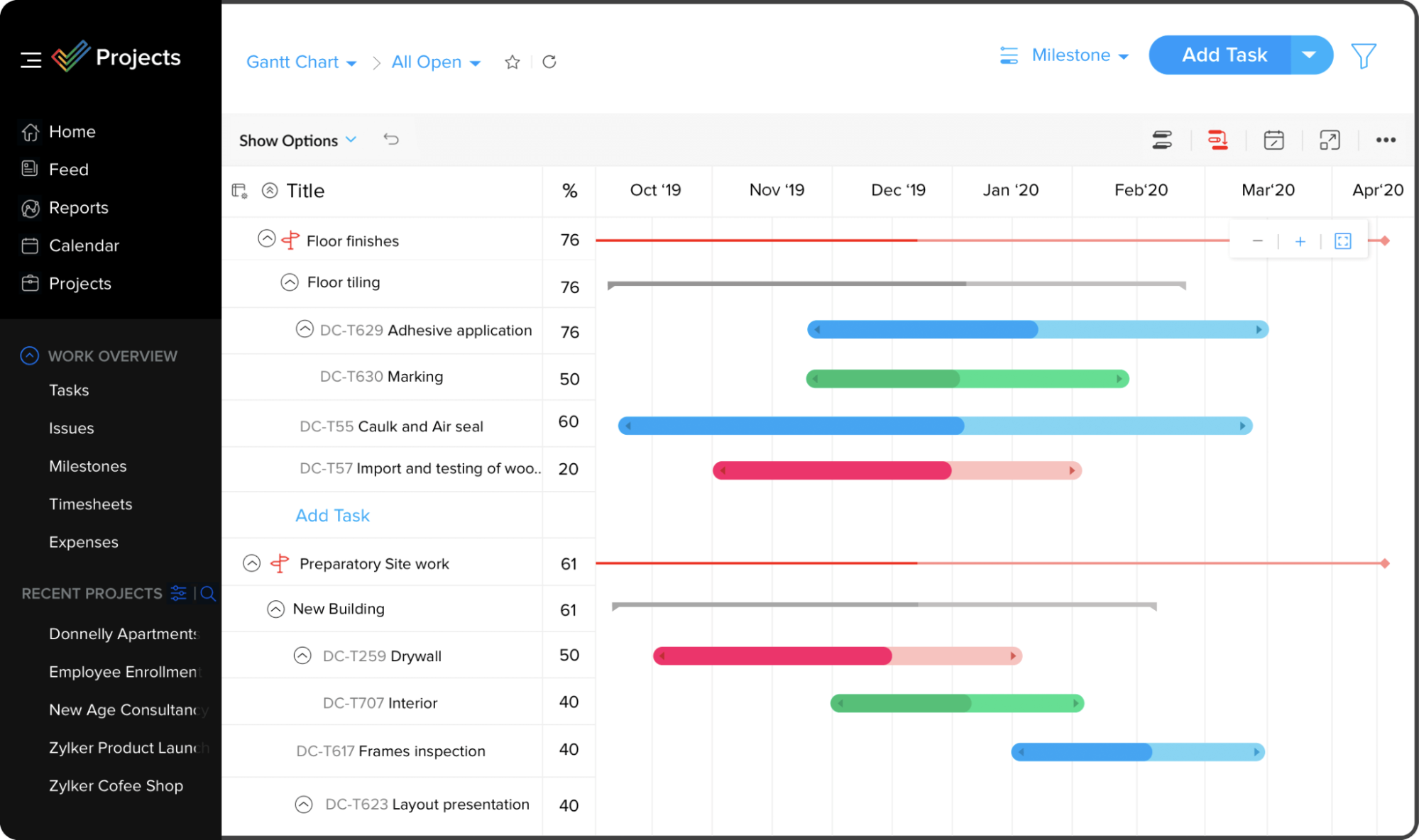 Zoho is an online project management software that offers a plethora of vital features useful for team management in top-level businesses. Various task management features like issue management, different task views, Gantt chart, dependencies are available in Zoho as well as you will get additional features like layout customization, custom views, custom domains, and business automation.
Zoho can offer you a robust time management feature with invoicing and budgeting options. Additionally, you will get chats, forums, documents, email alias, etc. that will make your work decisively easier for the teams and individuals.
Best features:
Time management and timesheets.
Charts and reports.
Work breakdown structure.
Portfolio dashboard.
Budget forecasting, Planned vs. actual cost.
Workflow Rules and notifications.
Pricing

There are three pricing plans for the Zoho project out of which the first one is absolutely free with a member limitation of 3.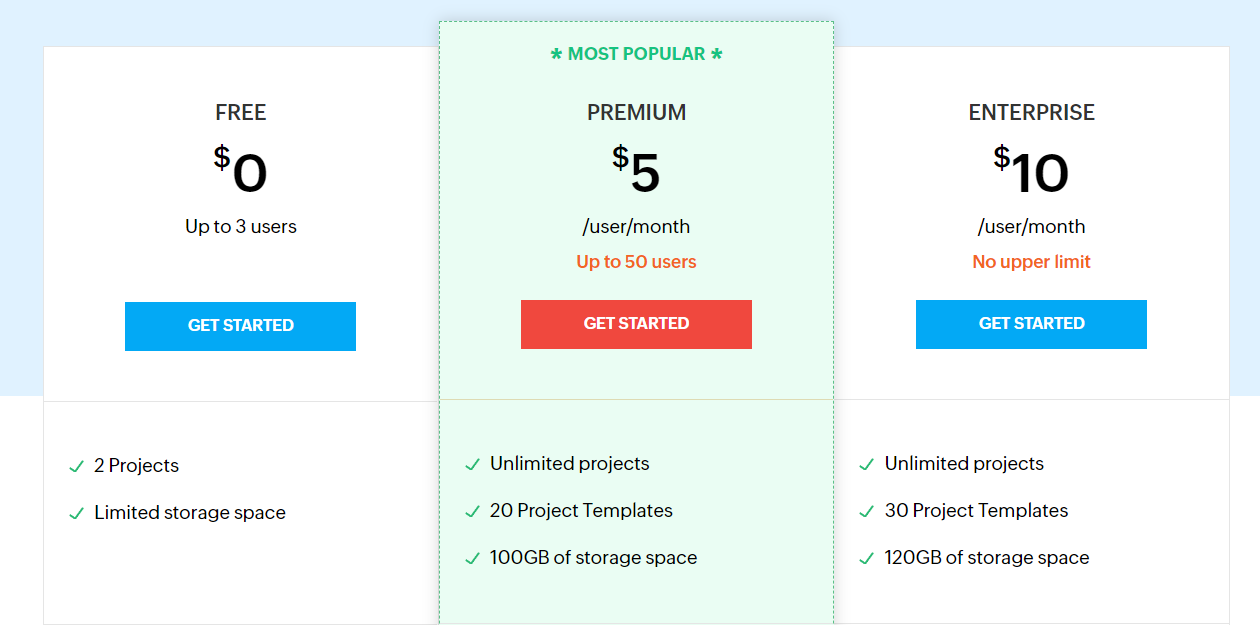 The premium plan is the most popular one with $5 per user per month for up to 50 users. The Enterprise plan doesn't have any member limitations, but it is priced at $10 per user per month.
To sum up: which team management software is right for your team?
Unfortunately, there is no universal answer here. It depends on your team's needs, skills, and budget.
To help you, we've collected a list of things to consider when choosing team management software:
Understand your team's problems to define the tools you require. Here is a list of must-haves:
Customizable boards, templates, and workflows.
Scheduling.
Team chat, notifications, etc.
Tasks deadline and time tracking.
File sharing.
Have a clear understanding of the budget and the tool price model.
Mind your team size because it influences the tool price. What if you hire more people?
Can you integrate a selected tool with services you already use or plan to use?
Is it easy to use?
Answer these points yourself first. Then, let your team test the tool. Finally, don't forget to collect their feedback.
Follow these tips to discover new productivity levels without your team burning out!
Author: Julia from HelpCrunch