How to Track Employee Working Hours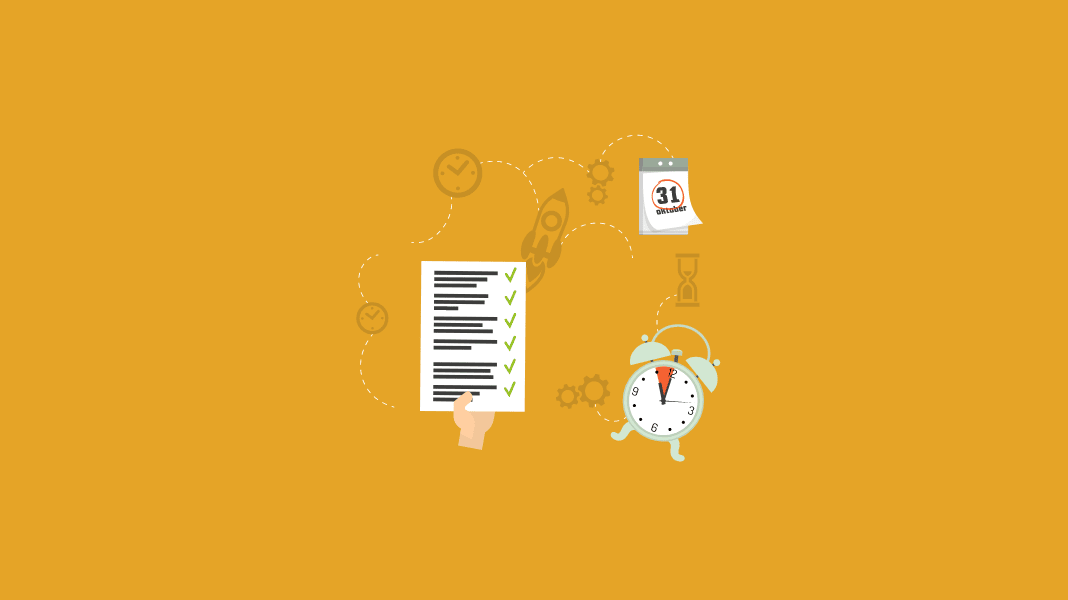 Time is revenue. Your business growth depends on how your employees spend their working hours. From the beginning of the industry culture till now, many processes, rules, and regulations have been made for the employees to track their working hours.
From time to time, employee work hours tracking methods are getting more stable, flexible, and reliable. The CAGR of the time-tracking software market increases by 16.7% from 2023-2032, showing how the marketplace is getting more popular globally.
From the ancient method to the recent trends of employee monitoring, you can check how you can track employee hours and apply the suitable one for your business.
5 Ways to Track Employee Working Hours
1. Manual Time Entry
From the beginning of labor, when people started working under ownership, manual time entry was developed to track employees' working hours with the help of pens and paper.
It is one of the simplest ways to keep track of employee hours for startups and small businesses. Observing the manual time entries and calculating leave, payroll, etc., is hassle-free if you have only a few employees.
As long as your company grows, pen and paper are inefficient in maintaining all the logs. In this process, you can face some trouble.
Eventually, you get stacks of papers and register books and find it hard to maintain all the records.
It would be best to have a longer time to calculate working hours and payroll.
It creates enormous possibilities for manipulating the information and making errors that lead to faulty payroll.
2. Punch Clock
In the late 1800s, the first mechanical time clock was introduced for industrial purposes. This time clock is known as Bundy Clock. In this device, an employee would punch their time cards, and it recorded the date and time of the starting and ending times.
Source: By Andy Mabbett - originally posted to Flickr as Bundy Clock, Birmingham Corporation Transport, CC BY-SA 2.0,
Over the years, it has been updated and brought new technologies, including electronic time clocks, self-calculating machines, mobile time tracking, and biometrics. Biometrics gets immense popularity and has been used worldwide in recent times.
So, the accuracy of time tracking has been updated and improved daily. But still, there rise some problems with this system.
The device is costly and needs maintenance costs. You have to make sure that it functions properly.
You can't automate the timesheet calculation and payroll. There is also the opportunity for time theft and miscalculation.
It is not feasible for the mobile team and remote team management.
3. Manual Worksheet
As calculating working hours should be correct and time-saving, spreadsheets have become more popular. In this process, you can digitalize the work hours calculation. Google Sheets and Microsoft Excel time tracking is the most popular spreadsheets where employees can enter their clock-in and clock-out time.
You can automate the calculation process by using the right program and formula.
But you can experience some limitations in this process.
You can't get precise data as the employees manually fill up some necessary information.
This method is unsuitable for team working hours calculation as each report is allowed for one person only.
Spreadsheet time tracking is good for small teams. It is not suitable for enterprises.
You can't automate other processes. The rest of the information, like holiday tracking and leave management, can be done manually.
4. Time Tracking Tool
The time tracking tool has added a new dimension to the business. It unifies interactions in a solitary global community where employers can hire the best company person worldwide. It makes working remotely, from home, or even in hybrid mode possible. For example, 41.8% of the American workforce has embraced remote work.
This new era of job systems has been achieved only through time-tracking apps and software that allows you to work from anywhere and anytime. You can use it on your desktop or mobile devices. You can oversee how much time an employee works, the ongoing project status, the overall goal status of your company, etc.
With every good, there comes a bad. So, this method is no exception.
Many employees are afraid of being tracked and have privacy concerns. If they are unwilling to use the time tracking apps, it causes productivity degradation.
As you can get thousands of time tracking apps in the market, finding the best suit for your company is challenging.
It is the most suitable for desk-based jobs. If you have a mobile team, more is needed.
5. GPS Time Tracker
More than a time-tracking tool is required if you have a mobile team or field service. You can use the GPS time tracking app to track their working hours and job location. GPS tracker with geo-fencing allows you to spot your employees on the job site and count their clock-in and clock-out time. But
You can not measure their productivity.
Employees always have to be in the network.
How to Keep Track of Employee Hours App
Apploye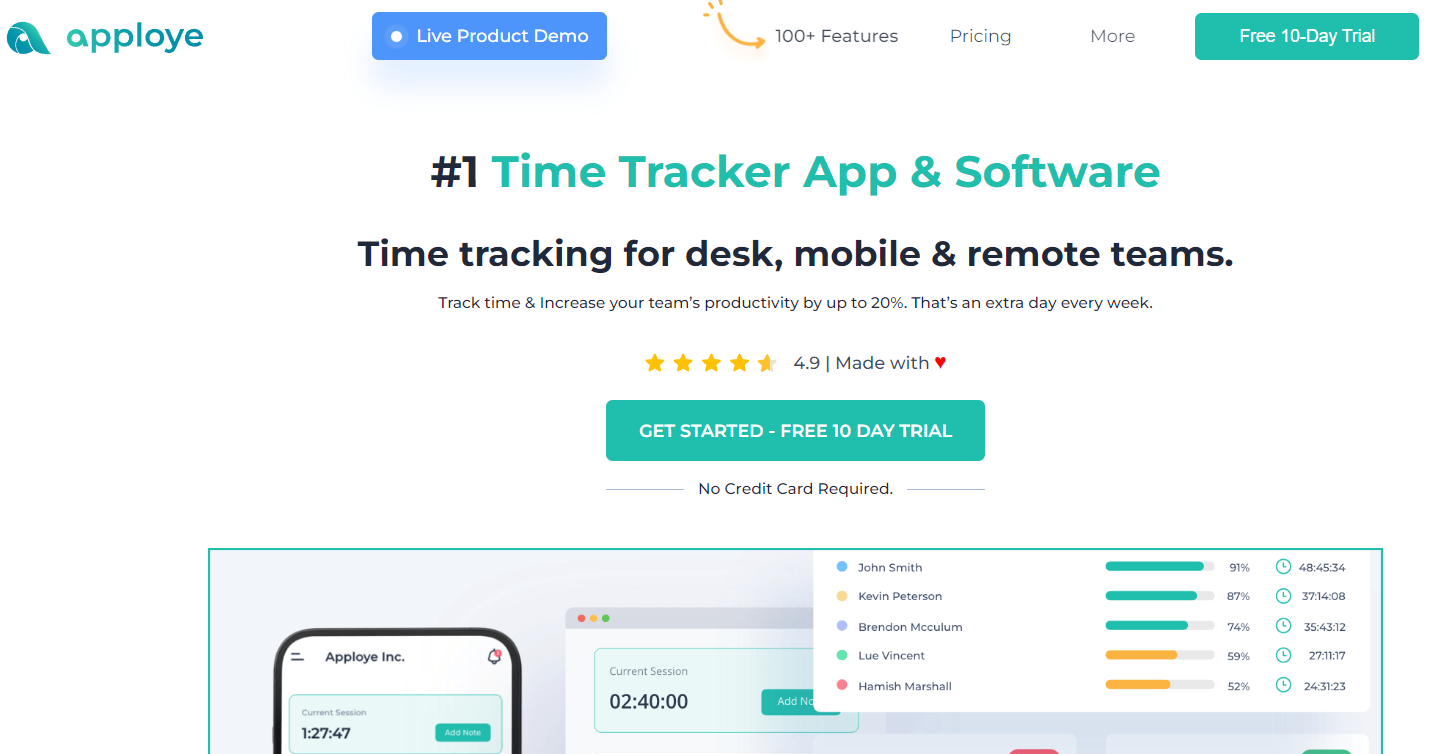 As you can see, the time tracking tool with GPS location tracker is the modern solution for tracking the employee working hours; in the next section, we will introduce Apploye, which will show you how to track employee working hours with a GPS timer.
1. Automatic Time Entry and Clock-in/out
Apploye offers an automatic project and task-based time-tracking system. Here you can find an organized dashboard showing your weekly performance updates. This app has some basic and advanced time-tracking features, including-
Automatic and manual time entry
Pomodoro timer
Clock-in and out
Time off, entry notes
Attendance and leave tracking
2. Customizable Timesheets and Reports
Apploye has a very functional online timesheet app generated on a daily, weekly, bi-weekly, and monthly basis. You can oversee your working hours for specific projects and tasks.
It also generates insightful reports on activity, performance, employee productivity, payroll, etc. All of these reports come in a very interactive interface. These timesheets and reports give real-time proof of your employees' work and efforts.
3. Flexible Employee Monitoring
One of the most powerful Apploye features is the RemoteTrack which includes remote employee monitoring. This feature takes the employee working hours monitoring system to the next level. It has
Application and browsing history tracking,
Random screenshots of desktop monitors
Keyboard and mouse movement tracking,
4. Project and Task Tracking
If you have multiple projects running in your organization, Apploye offers an easy solution to manage them. You can automate your project control by assigning the project manager and members. Here you have
Project status tracking,
Project budget, billing, alerts,
Task management, schedules
5. Payroll and Invoices
Payroll and invoice automation is straightforward with Apploye. As it tracks real-time data, it can create payrolls of employees and invoices for clients. Whether you run time or fixed fee-based projects, Apploye can make the exact billing.
6. GPS Time Tracking
If you have outdoor employees to maintain, you may use the GPS time tracker of Apploye. With the mobile app, you can trace the employee movements. You can assign any job site to the outdoor employees and track the job location. The geofencing attendance also helps you automate the job site attendance.
Some Other Best Software to Track Employee Hours
Here is a list of some other best time-tracking software to track employee hours.  
Apploye
Everhour
Timecamp
Harvest
Hubstaff
Time Doctor
Clockify
Toggl Track
MyHours
You can see our comprehensive list of Best Employee Time Tracking Software in 2023 to learn more.  
Final words
The evaluation of tracking employee hours is fantastic. Every method, from pen and paper to applications, is vital in employee monitoring and management.
If you have a distributed team comprising office, remote, and field employees, Apploye can be the best fit for you.