Top 11 Best Time Tracking Apps for Designers (2023)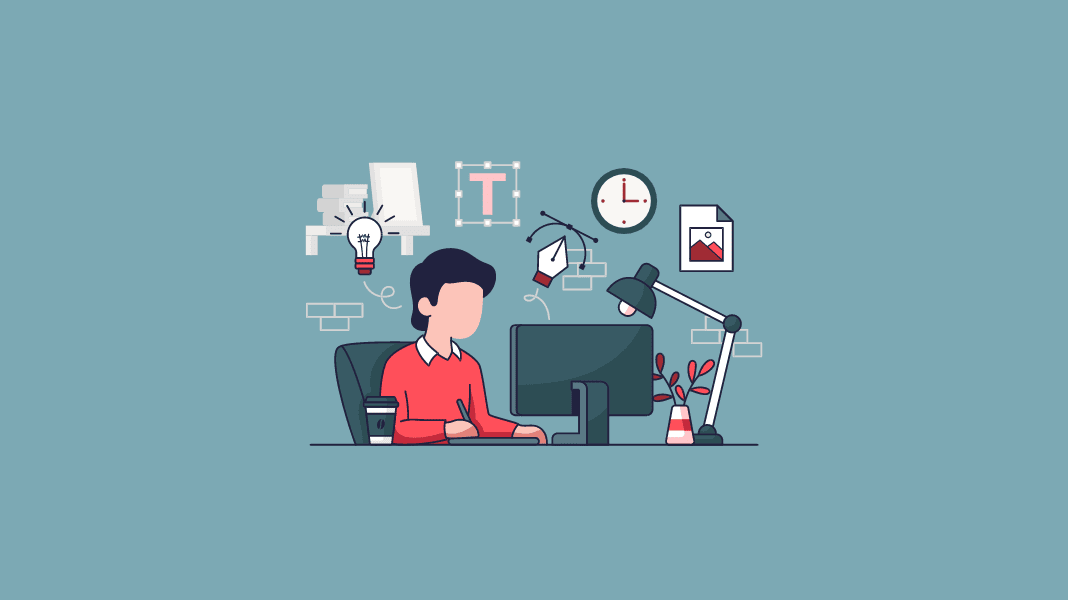 The job of a designer is highly dependent on creativity and innovation. You can't bind innovation and creativity to certain time limits. Rather it needs enough time, sufficient focus, and a positive vibe to think, research, and create.
On the other hand, you can't avoid some important, time-consuming tasks like tracking your clock-in and clock-out and creating timesheets and reports. It is equally important to fulfill official requirements and the employer's confidence and trust. Thankfully you have time-tracking apps that excel in productivity and employee morale.
In this article, we have suggested the 11 best time-tracking apps for designers.
The Importance of Time-tracking Apps for Designers:
Project-wise time tracking: You might have to work on different projects or tasks simultaneously. It takes a lot of work to trace the working hours individually. A project time tracker is handy, so you do not need to count your working hours.
Time budget and cost estimation: Time budgeting is one of the most crucial components for a designer as he has to complete his job within the defined time. For designers, it is more important to focus on creating their architect design brief, as well as scheduling. Time management will be super easy if you use any tracking app, as the app can record your working hours. So, you can easily check how much time you've worked and how much time you have left on a particular task. Thus you can set your payment rate.
Proof of your work: The design profession is famous among freelancers and remote workers. Also, companies are more willing to hire talented and professional designers worldwide. A time-tracking app bridges remote designers and companies to link both parties with trust and transparency.
Proper utilization of working hours: When you are more aware of being chased, you will be more focused and committed to work. The time tracking app gives you the vibe, and automatically you are more concerned about your work. It helps you to avoid distractions and continue your job properly.

The details of the 11 Best Time Tracking Software for Designers

1. Apploye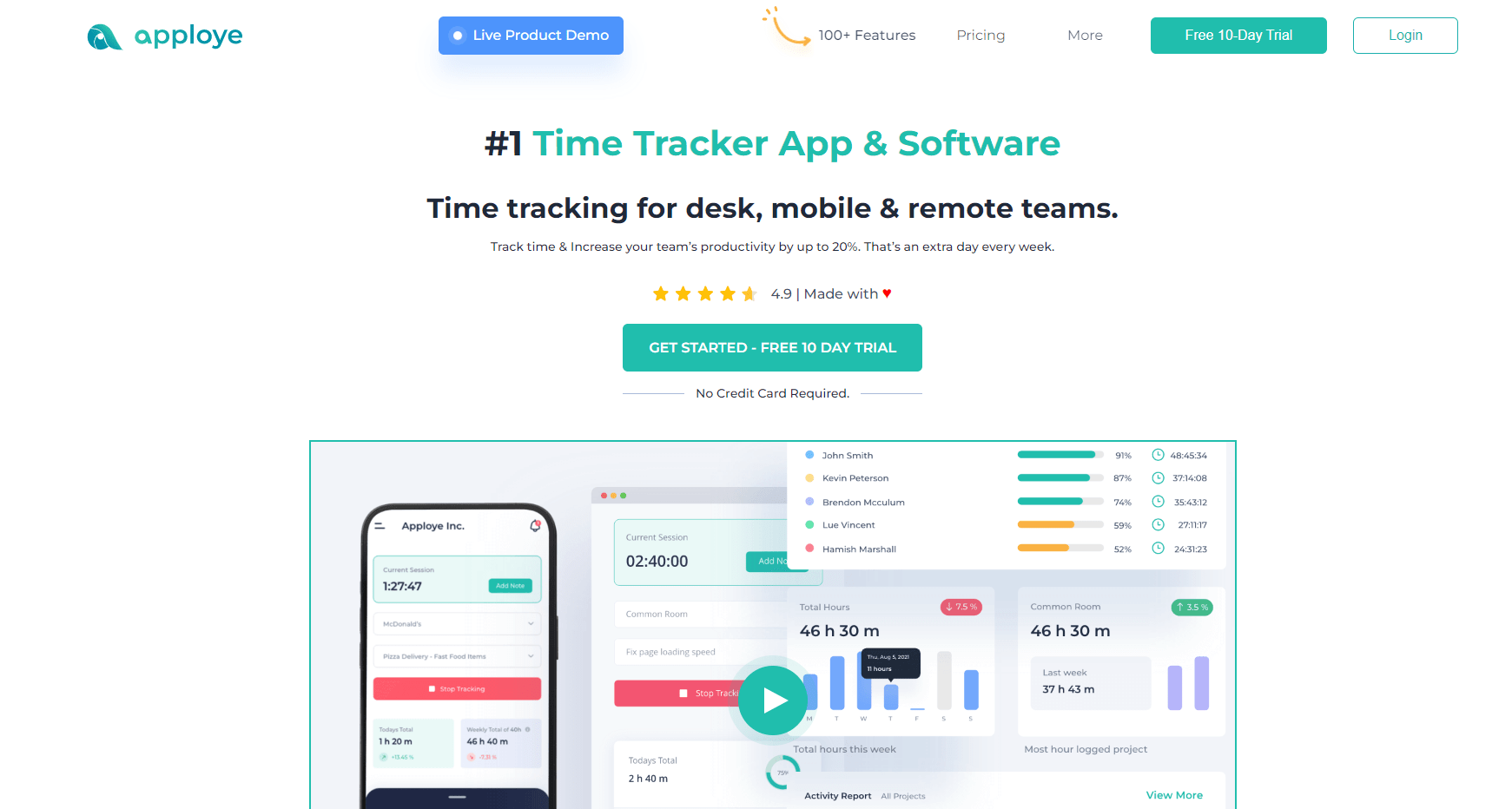 Apploye is a time tracking and productivity software that fulfills the demand of what exactly a designer may like. It provides intuitive automatic and manual time tracking that can work on any device you use. With accurate and real-time data, you can automate error-free timesheets and reports, which are time-consuming and productivity-killing tasks you can not do.
To handle your clients and managers more smartly, you can use Apploye. It would provide the best insights, such as your performance measurement, productivity, etc.
Let's check how Apploye can upturn a designer's skill.
Key Features
Tracking all your activities: Apploye lets you concentrate on your work and trails all your activities. You don't need to worry about how much time you left on a particular task or how much time you have daily.
Apploye time tracking features provide-
Desktop and mobile timers
Automatic and manual modes,
Attendance tracking with clock-in and out
Time off, idle time tracking, Pomodoro timer
Billable and non-billable hours,
Monitoring your movement and productivity: More than time tracking is needed for proof of work. Your employers would prefer to observe your activities more deeply. So, here comes the remote time tracking features of Apploye.
Application and website tracking
Keyboard and mouse movement tracking
Multiple screen monitoring, screenshots,
GPS location tracker and geofencing
Project and task management: Apploye offers unlimited projects and tasks so that you can streamline your workflow. You can assign members and project managers to manage your projects. The other project-related features
Project and task time tracking,
Project budget, alert, cost estimation,
Client and member assignment, project status check,
Online timesheet and reports: Apploye provides a hassle-free timesheet of real-time data. The timesheets are so comprehensive that you can get the clock-in and clock-out time for specific projects and tasks.
Daily, weekly, bi-weekly, and monthly customizable timesheets,
Manual time entry, work notes, active and neutral time calculation,
Timesheet approval, activity reports, apps, and URL usage reports,
Invoice and payroll: One of the most important features for remote designers is automated invoices for clients and payroll from employers. Apploye generates invoices and payroll for its users.
Active and archive view, invoice for fixed fee projects,
Tax and discount, payroll history, hourly payment, one-time payment
Pricing
Solo: $4 for one user per month
Standard: $5 per user per month
Premium: $6 per user per month
Elite: $7 per user per month
User review
2. Everhour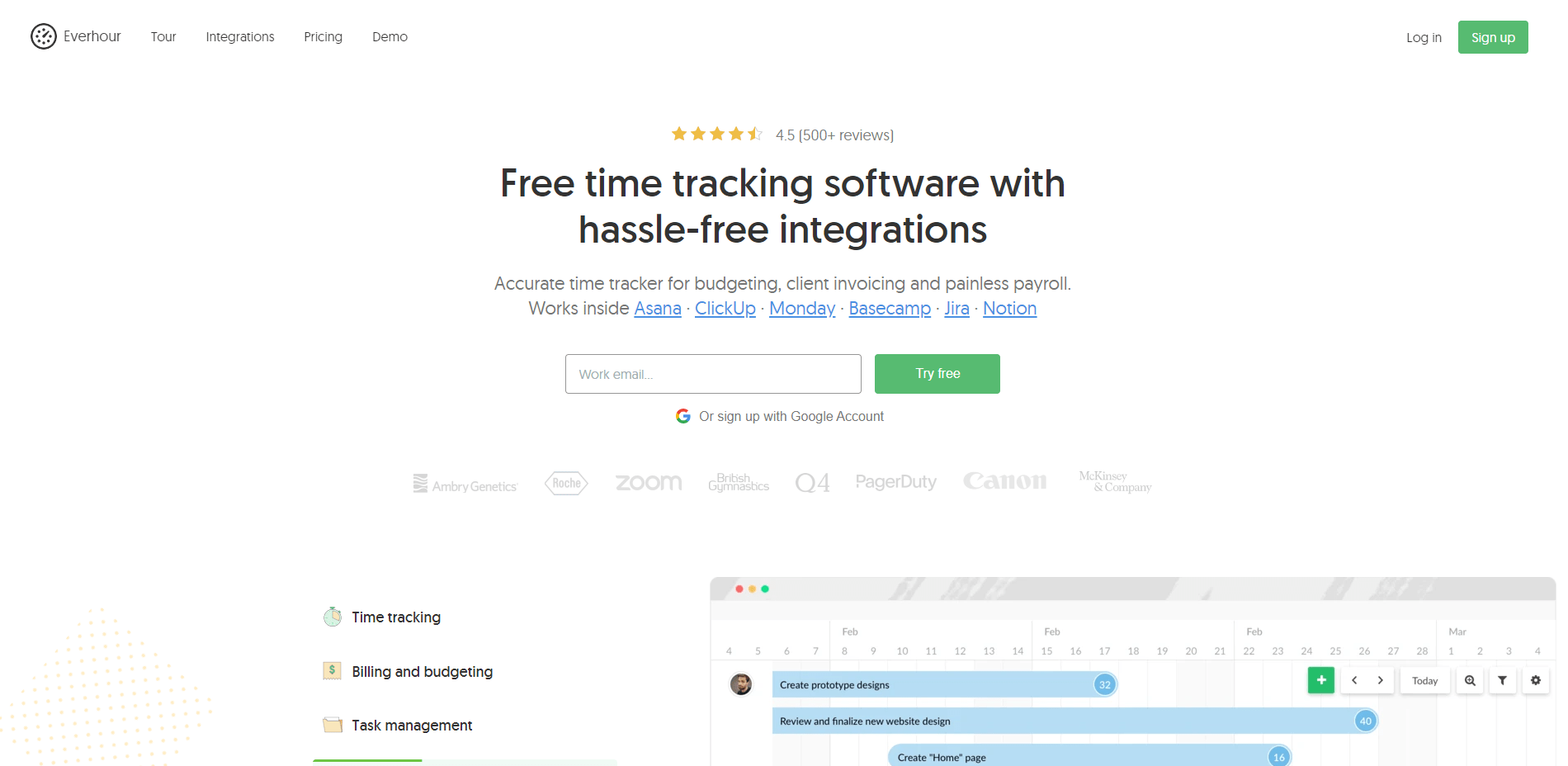 Our next recommendation is Everhour, a time tracking, budgeting, invoicing, and payroll management software. It focuses on freelancers and small businesses of up to 5 users as it provides a free tier of services with some of its basic features. Other than that, it is very decent in pricing for large-scale organizations.
Key Features
Clock-in, clock-out, timer, or manual entry, time off, estimation, reminders,
Auto-stop timer, time log, flexible billing, budgets, alerts, labor cost calculation,
Absence tracking, visualization, time approval, lock time editing,
Integrated with Xero, Jira, Slack, etc.
Pricing
Free: $0 for up to 5 users
Lite: $6 per user per month starting from 2 users
Team: $10 per user per month, starting at 5 users
User review
3. DeskTime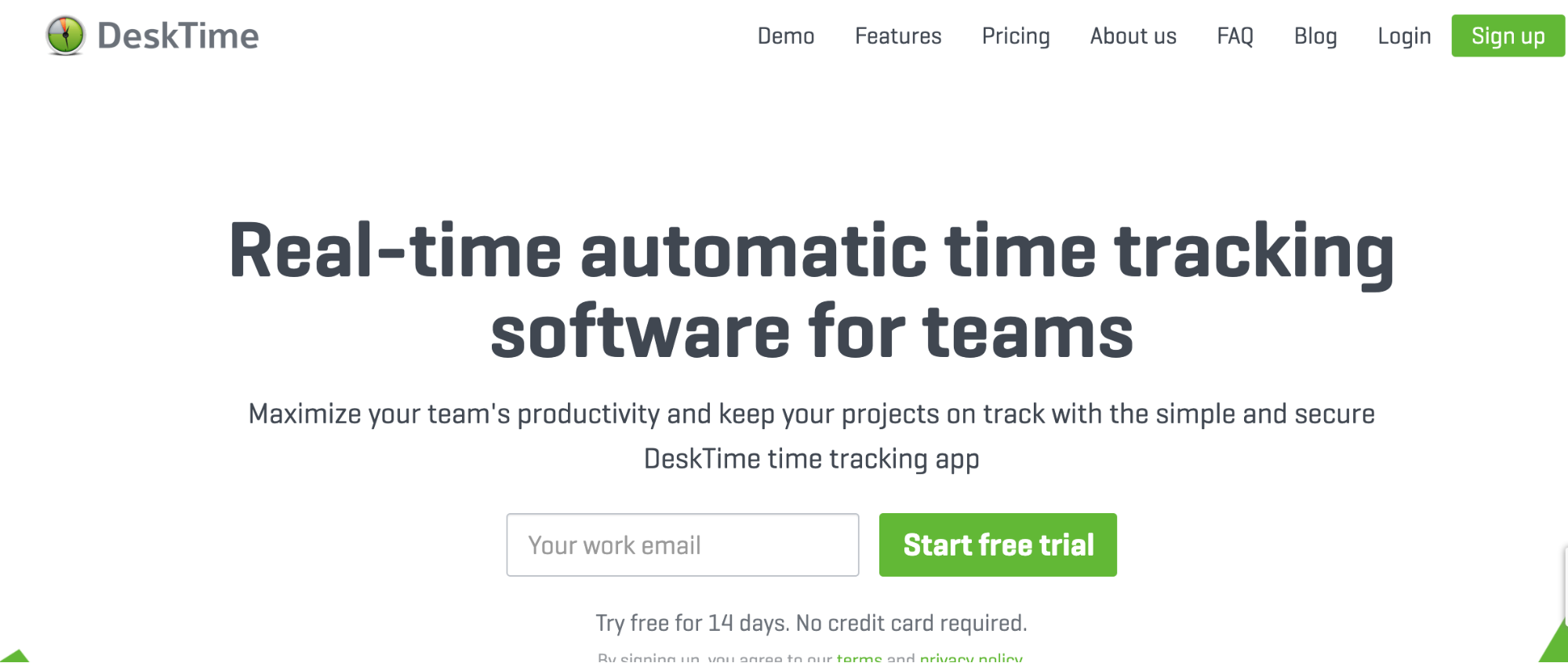 DeskTime is a powerful productivity-increasing software that ensures transparency, liability, and integrity. This automatic time-tracking tool makes your work spontaneous and more focused on your work. It also provides an in-depth overview of how your teams perform and spend their time.
Key Features
Automatic and offline time tracking, idle time tracking, offline time approval,
Document title tracking, productivity calculation, absence calendar,
Unlimited projects, tasks and data history, booking, shift scheduling,
Integrated with Basecamp, Trello, Jira, etc.
Pricing
Lite: free for one user
Pro: $7 per user per month
Premium: $10 per user per month
Enterprise: $20 per user per month
User review
4. Hubstaff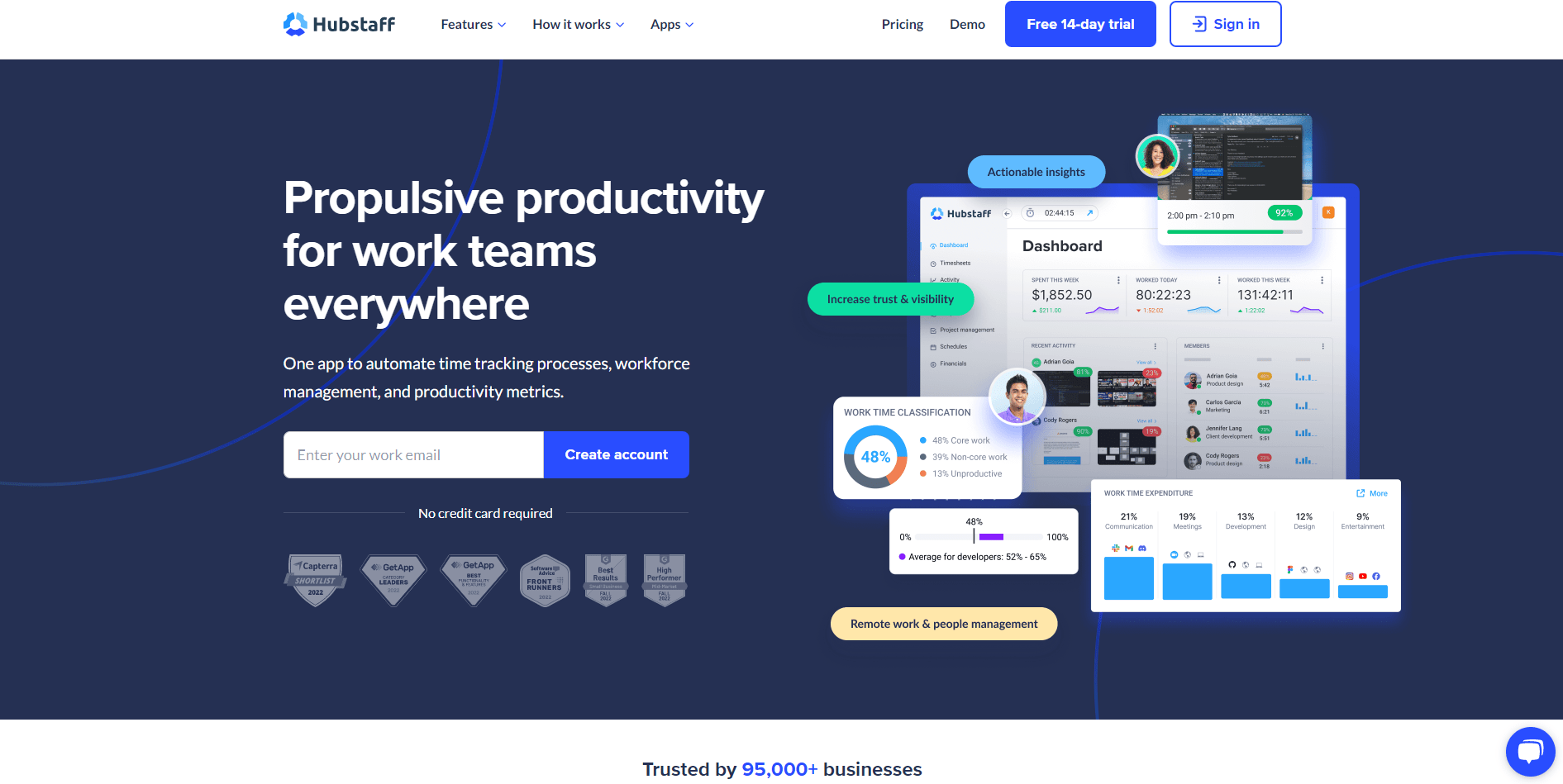 The best part of Hubstaff is sorting the pricing plans according to the job type. It has distributed its features so you can get the desired features of a time tracker for your desired task. As the designer has a desk job, he may choose the Hubstaff Desk category and select the required pricing plan. Under this category, you can get a timer, screenshot monitoring, idle time tracking, etc.
Key features
Time clock, online timesheet, reporting, geofencing time tracking,
Apps tracking, URLs tracking, screenshot, GPS location tracking, employee scheduling,
Payroll and invoice tracking, agile project management,
Integrated with ClickUp, GitHub, Trello, etc.
Pricing
Free: $0 per user
Premium: $5 per user
User review
5. Toggl Track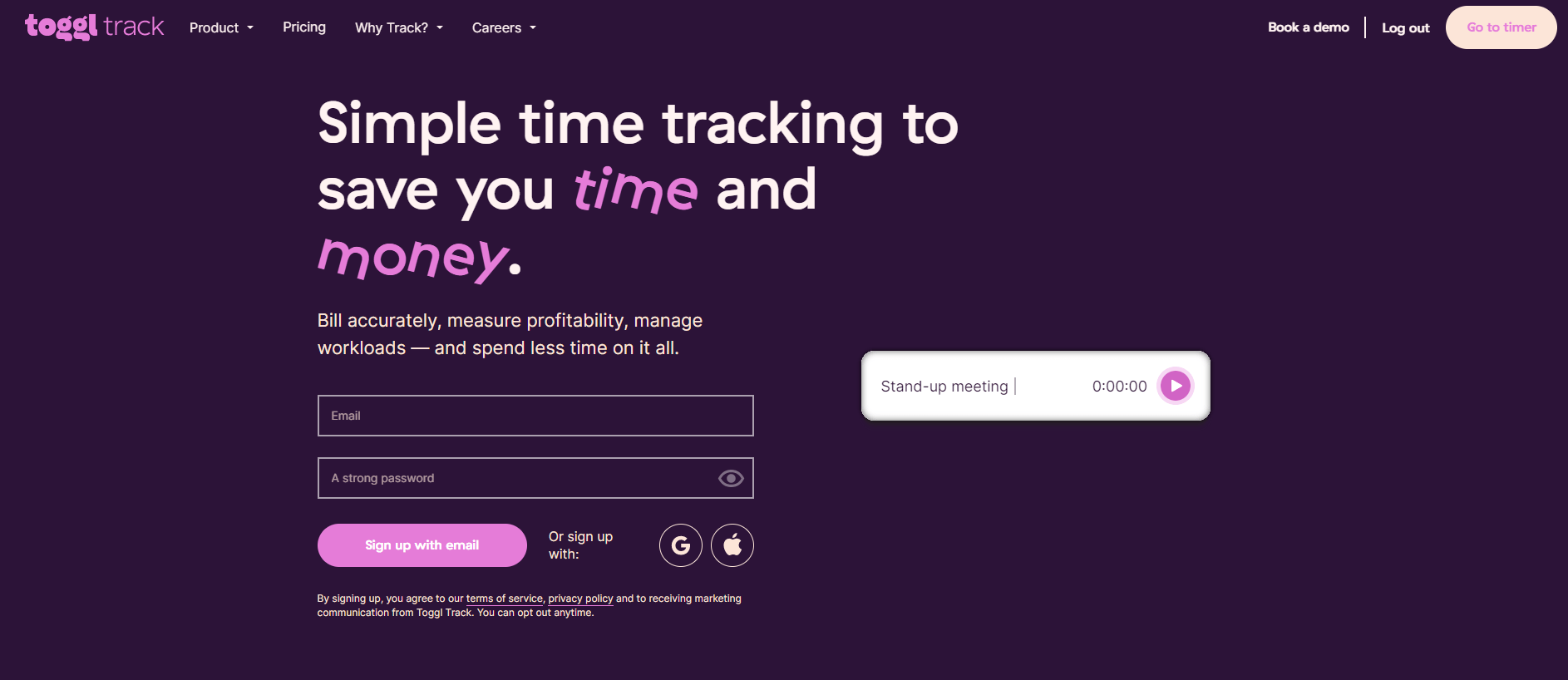 Toggl track provides an intuitive interface for time entries of projects and tasks. It is renowned for its simplicity and ease of use. The one-click timers make you comfortable switching between tasks. You can also pin your most frequent task on the top of your timer. Toggl Track has over 100 integrations you can use in a wide range.
Key Features
Unlimited time tracking, billable rates, triggers, time rounding,
Unlimited projects and tasks, tags, favorite time entries,
Team time tracking reminders, estimation, alerts, idle time detection,
Integrated with Notion, Salesforce, Backlog, etc.
Pricing
Free: $0 for up to 5 users.
Starter: $10 per user per month
Premium: $20 per user per month
Enterprise: Custom pricing. Unlimited users.
User review
6. Clockify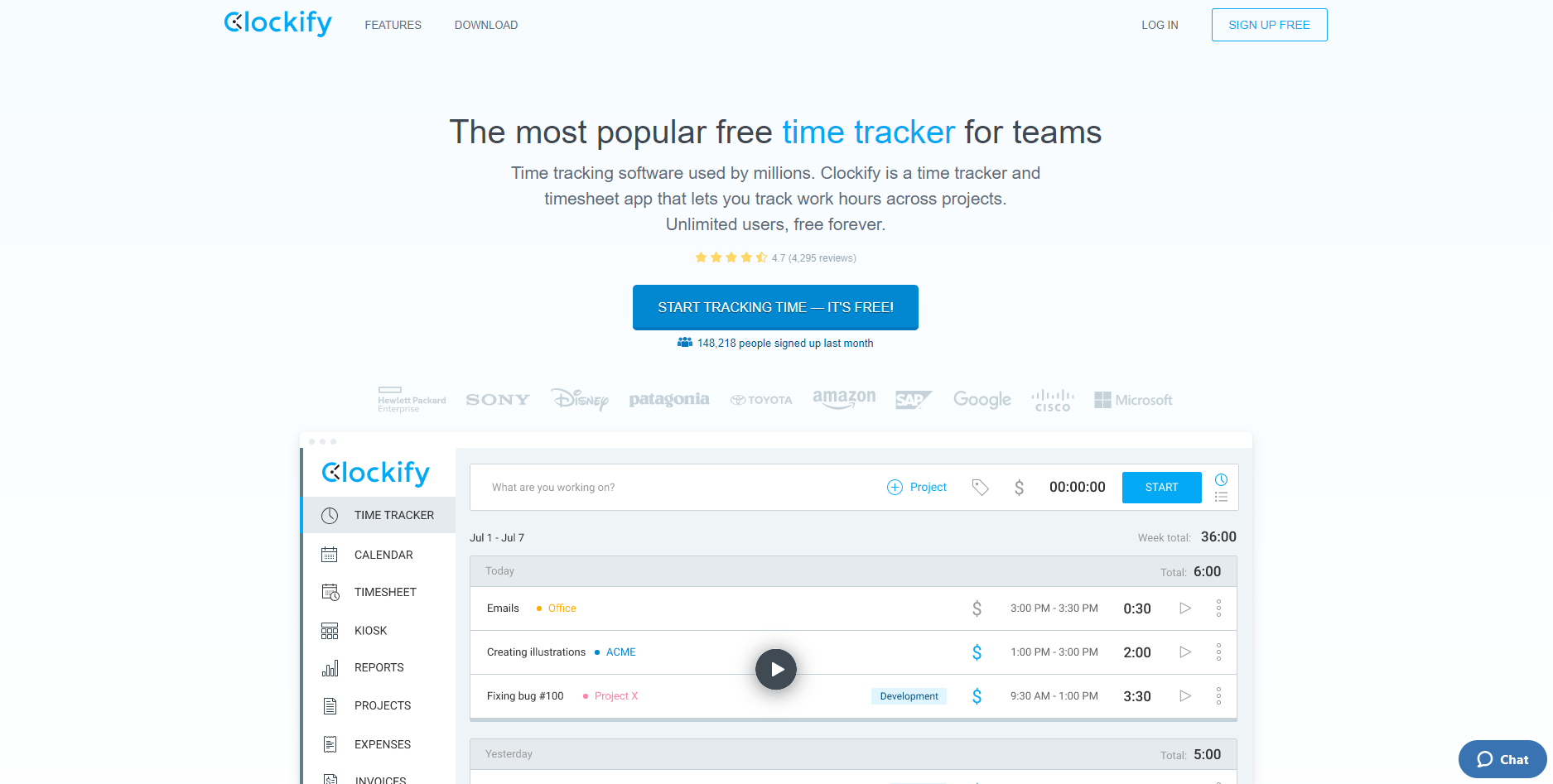 Clockify is tremendous with its free version for unlimited users and projects. Therefore you can use this tool for your team working on multiple projects and tasks. It is very handy for timekeeping, reporting, and management. Though the free version is satisfactory for a team, you can get the advanced features for the paid one.
Key Features
Time Tracker, timesheet, Kiosk, auto tracker, idle detection, time off, breaks,
Team activity reports, billable rates, project status, time audit, forecasting, rounding,
Project and team management, invoicing, scheduling, expense tracking,
Integrated with Asana, Plaky, Todoist, etc.
Pricing
Basic: $4.99 per user per month
Standard: $6.99 per user per month
Pro: $9.99 per user per month
Enterprise: $14.99 per user per month
User review
7. TMetric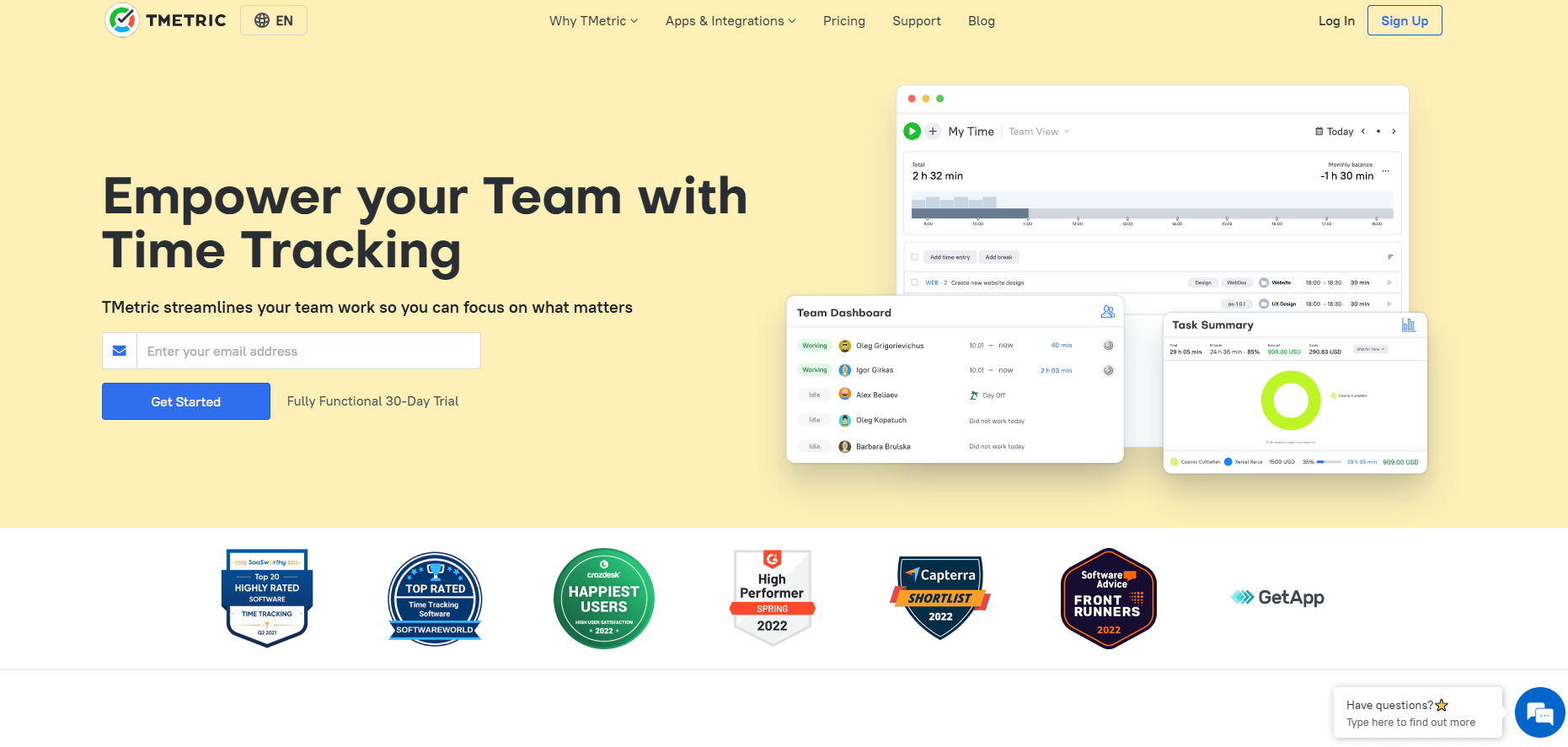 TMetric affirms the empowerment of your team with the proper control of your working hours, progress, and profitability. It mainly focuses on team management. It is free for individuals and SMBs of up to 5 users with very limited and basic features. It helps many IT firms and agencies grow and be efficient with what they have.
Key Features
Time tracking, billable rates, time off, calendar,
Apps and site usage tracking, screenshot capturing,
Team dashboard, work schedule, payroll, invoicing,
Integrated with GitHub, Freshdesk, MS Office, etc.
Pricing
Free: up to 5 users
Professional: $5 per user per month
Business: $7 per user per month
User review
8. TimeCamp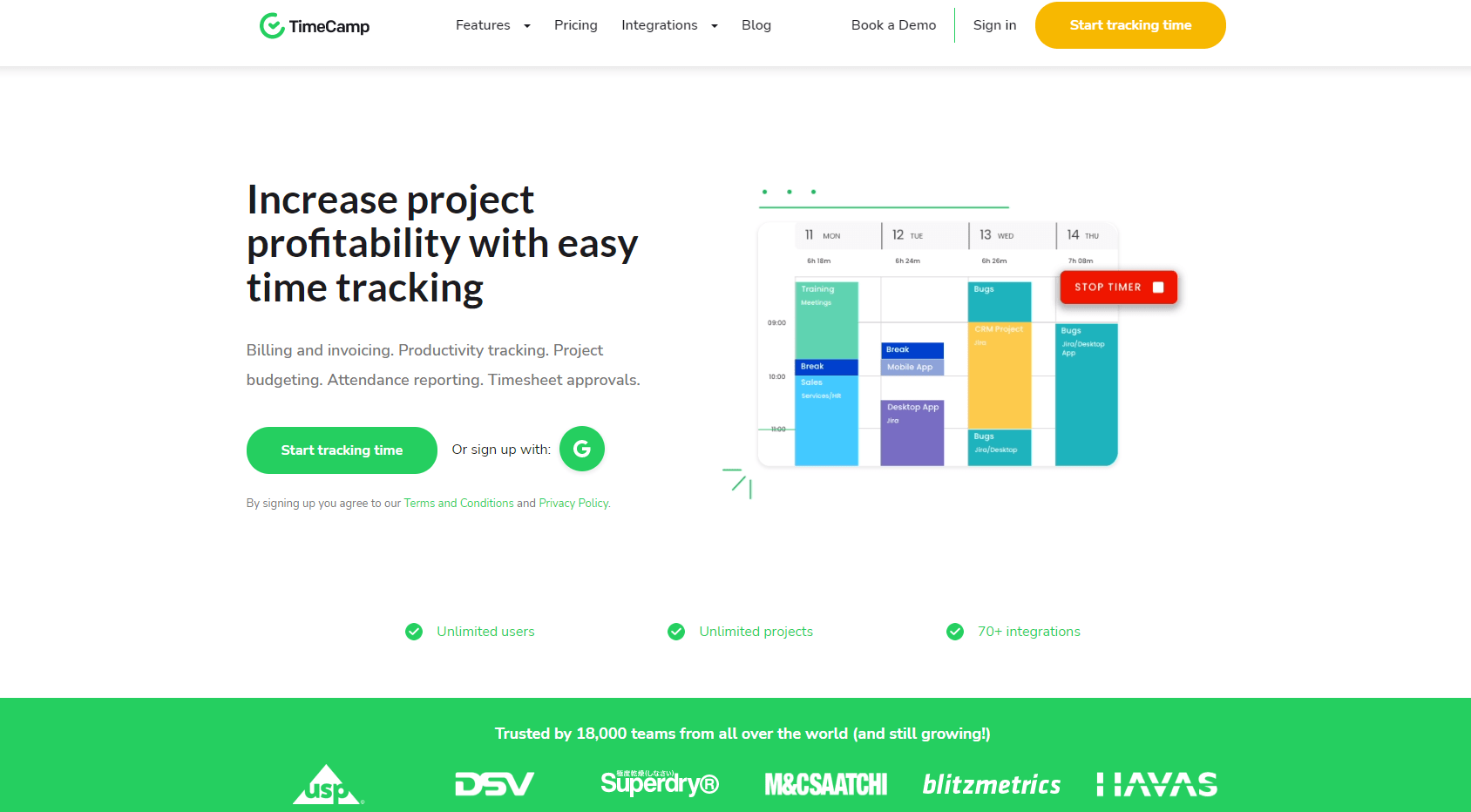 From the employers, managers, and HRs to the employees, TimeCamp makes every aspect of your company workflow bottlenecks. With real-time and detailed timesheets and reports, it helps you to achieve your clients' reliability, project profitability, and high performance of employees. However, TimeCamp has launched a self-hosted time tracker for enterprises and large-scale organizations for simplicity and ease of use.
Key Features
Timer, time rounding, billable and non-billable hours tracking,
Unlimited projects and tasks, timesheet, approval, screenshots,
Team productivity tracking, custom reports, budgeting,
Integrated with Monday.com, Google Calendar, Trello, etc.
Pricing
Free: Free forever plan
Basic: $7.99 per user per month
Popular: $10.99 per user per month
Enterprise: Customize TimeCamp to your custom needs
User review
9. Time Doctor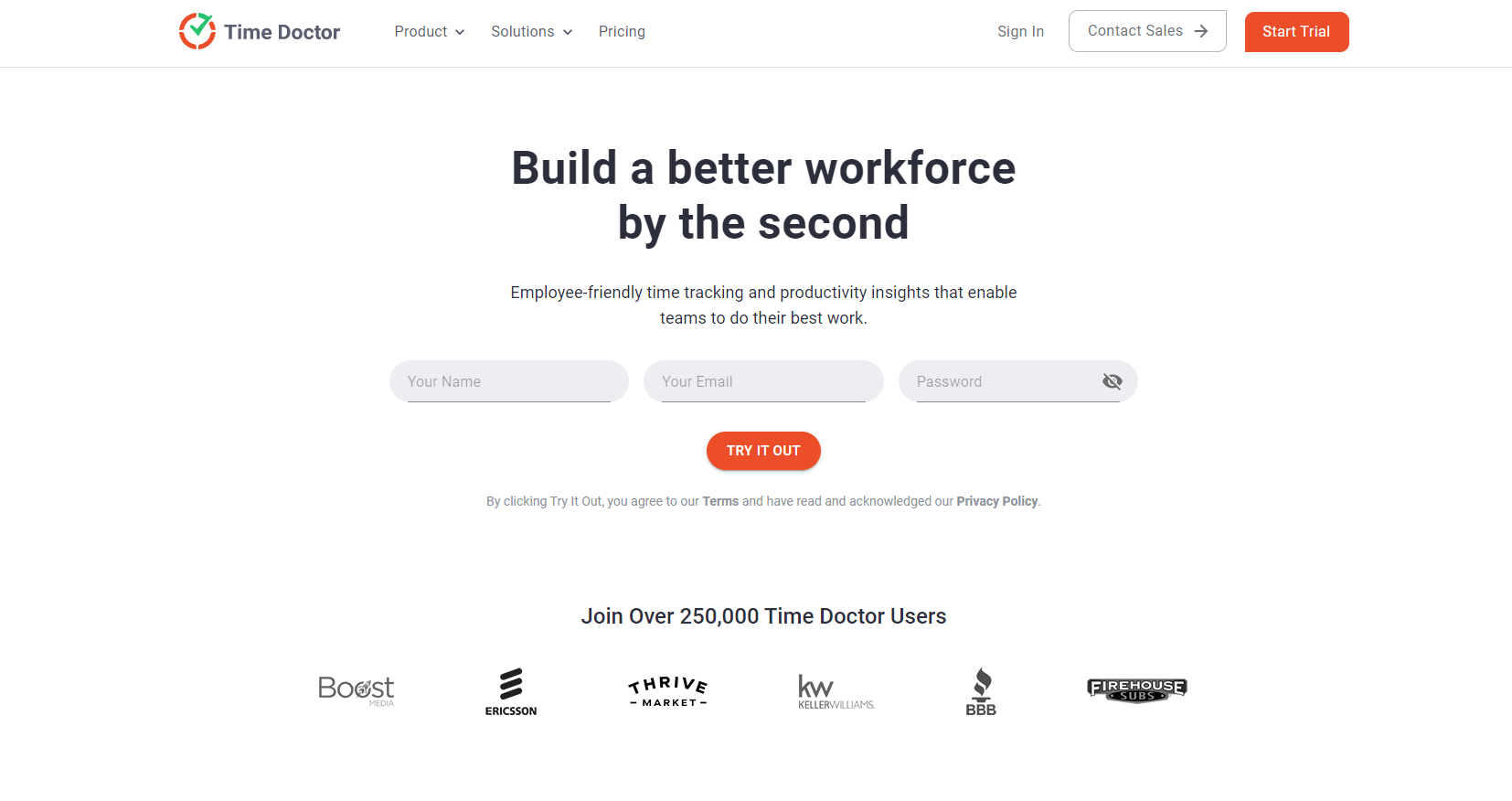 Time Doctor is a productivity analytic tool that helps you improve daily and motivates you to give your best shot. It streamlines your workforce and allows employees to work from anywhere. The interface is very smart and simple. It supports both managers' and employees' demands so that your workplace becomes a happy and healthy workplace.
Key Features
Time and activity tracking, online timesheet, distraction alerts,
Screenshots, screen recording, apps and browsing history tracking,
Project management, budgeting, payroll,
Integrated with Evernote. Flow, Breeze, etc.
Pricing
Basic: $7 per user per month
Standard: $10 per user per month
Premium: $20 per user per month
User review
10. Harvest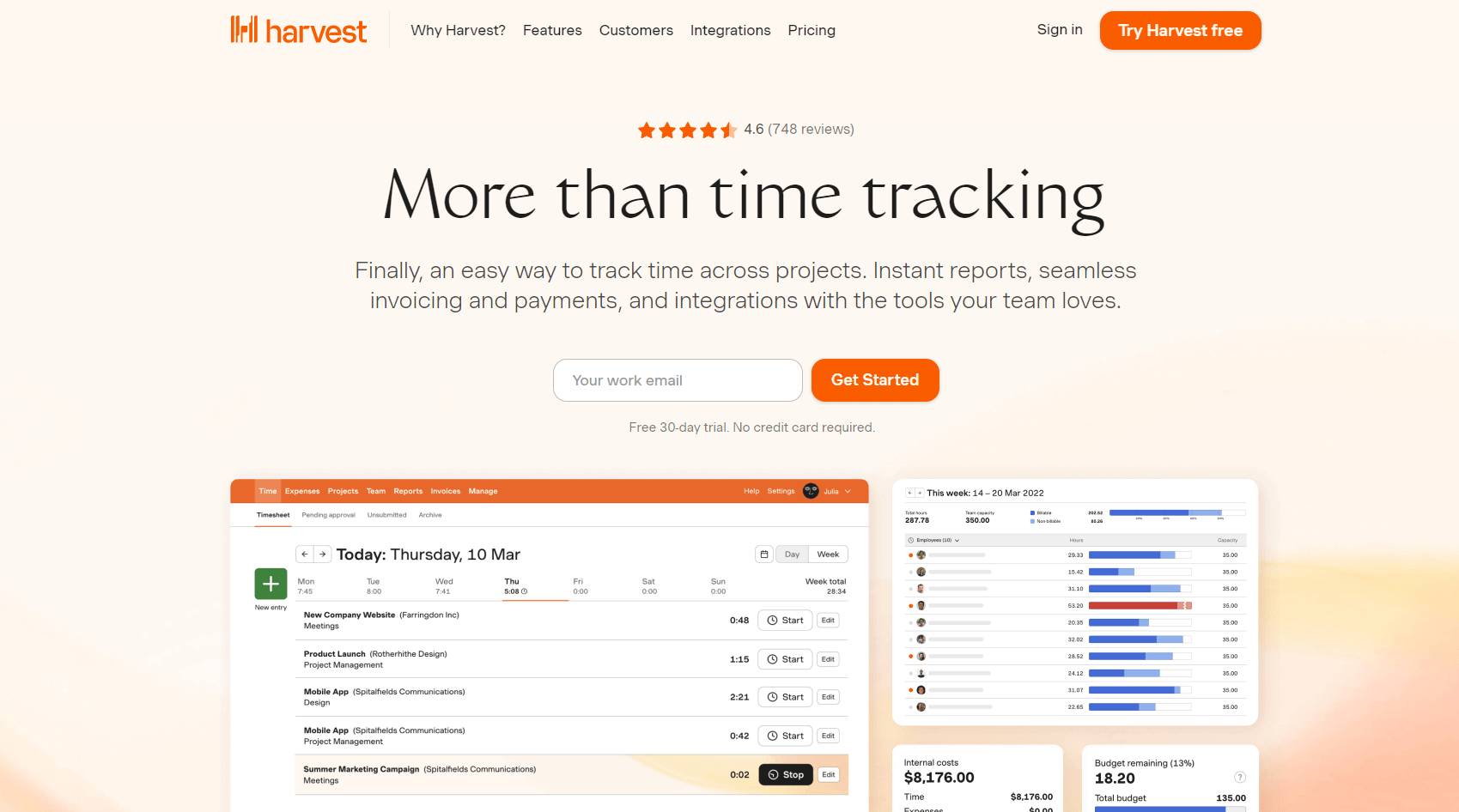 Harvest provides project time and estimation tracking that makes your business profitable. Harvest keeps records of your past activities so that you can analyze your projects and people to improve for the future. The ease of adaptation and integration makes it flexible for better team management and company growth.
Key Features
Start/stop timers, reminders, cost estimation,
Invoicing, reporting, cost calculation, budgets
Integrated with Xero, Stripe, Paypal, etc.
Pricing
Free: $0
Pro: $12 per user per month.
User review
11. My Hours
Our last suggestion goes for My Hours. It is a free-time and project-tracking tool. With billable and non-billable hours tracking, it generates flexible billing and payroll. It generates insightful reports to get deep knowledge of how you and your team spend your time.
Key Features
Timer, manual time entry, timeline view, favorites, reminder,
Bulk editing, expense tracking, monthly budget, budget alerts,
Labor costs, auto-round billable time, invoicing, reports,
Integrated with QuickBooks, Zapier, etc.
Pricing
Free: for unlimited users
Pro: $7 per user per month
User review
Which features should a designer need to consider before choosing a time-tracking app?
Hundreds of time-tracking apps are in the market, and we have suggested some of the best tools. Still, it needs to be clarified for a purchaser to choose the right one.
However, we can suggest some tips before you select any tool.
Research your requirements: what features are mandatory, and what are subsidiaries? Tracking your work hours and progress, providing reports, and monitoring your performance are must features for any designer, whereas project management, payroll, scheduling, etc., are secondary requirements.
Check the feature list of each app carefully and match them with your requirements.
You can see the reviews of the apps or comparisons. For better queries, you can specify your requirements. For example, search for the top time tracking and screen monitoring apps if you need screen monitoring.
Last but not least, the pricing, integrations, and device compatibility are things you must check to use any time-tracking app.
Final Words for Designers
As a designer, you have to take some extra pressure compared to other jobs. At the same time, your employer is more likely to doubt you. That type of negative ambiance may harm your productivity. All these distractions can be eliminated by time-tracking software.
You can choose any of them from our suggestions, but we recommend Apploye. So, are you ready to use the time-tracking app?