Excel Time Tracking Templates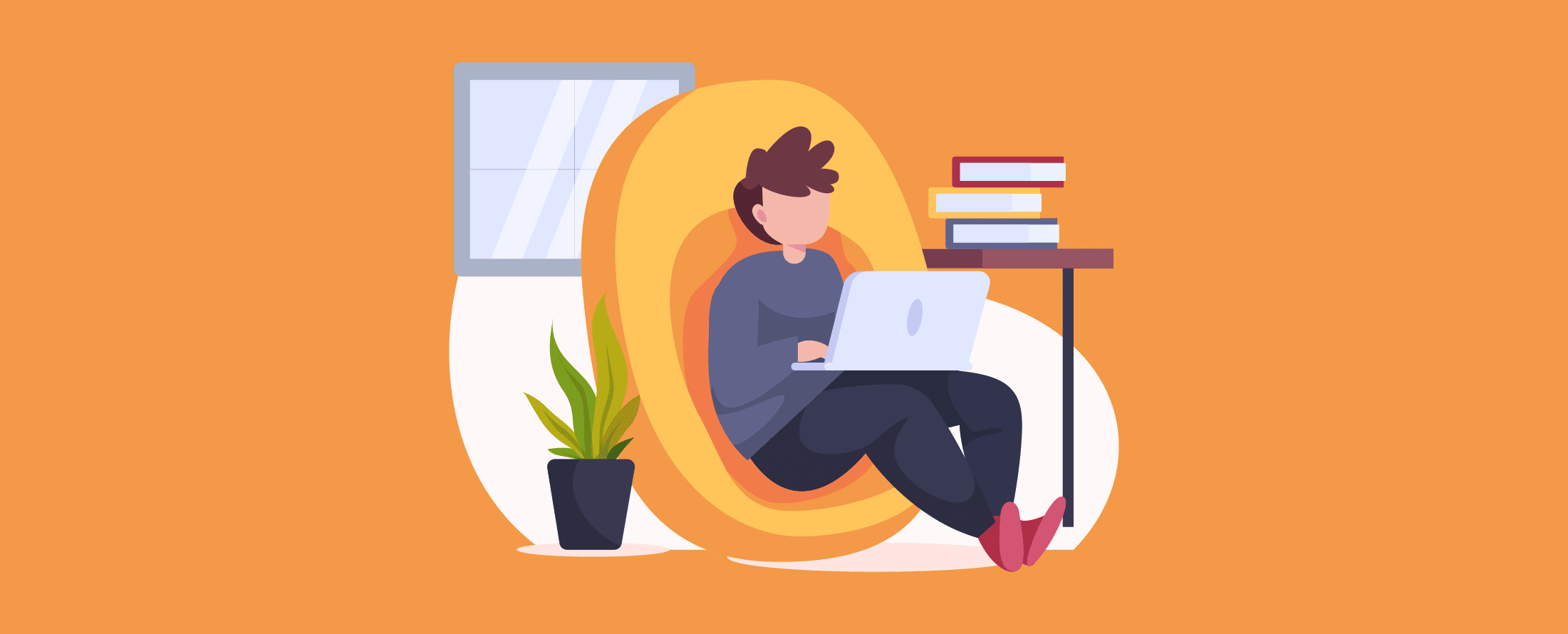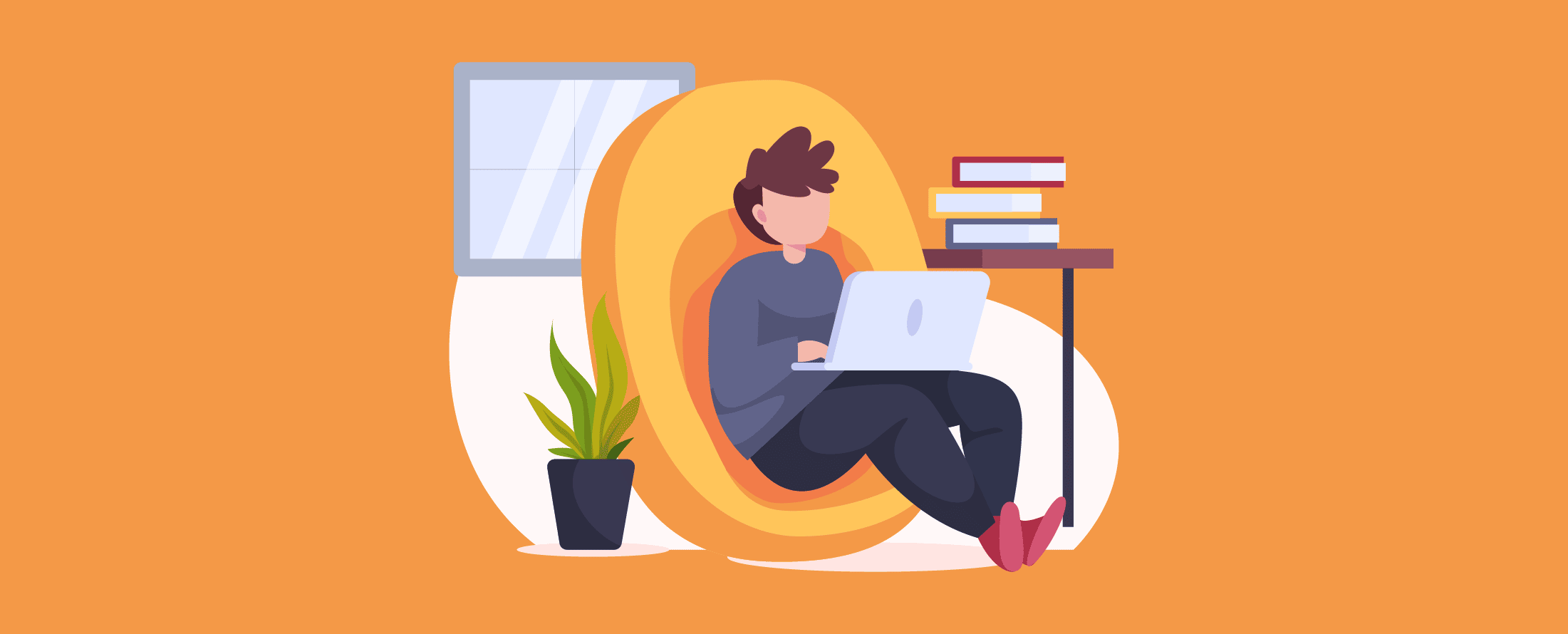 Time tracking is the demand of the age. If you are managing a business that needs to track employee time consistently, then an automated method of tracking time is wise. However, many businesses run on cost-saving mode at the nascent level of their operation. Excel time tracking, which is done through the use of Microsoft Excel, may help these businesses save costs and keep an eye on how employees are utilizing their time.

This article will discuss different ways to track time, everything related to Excel time tracking functionalities, drawbacks of Excel time tracking and how Apploye can help you replace it.
Why Should You Track Time?
Tracking time is necessary because of the following reasons:
To compete, corporations must better manage time. Therefore, freelancers and business owners strive for daily productivity. Time is undoubtedly that magical key that ensures the driving direction of the productivity wheel.
There are some specific requirements to learn how your remote employees are performing. Time tracking is probably the most prominent of them all.
The better you manage time, the wiser you manage your work-life balance. The more proficient you make the best use of time, the greater your chance of excelling in the thorny path of your life.
With the help of proficient time tracking, not only are you able to identify your most productive employees, but you can also conduct an analysis to determine which projects or processes are a waste of time and which are more profitable for your company.
Today we will discuss how corporations track their time with the help of Excel Time Tracking Templates and how you can automate the whole process to get the best out of your ever-precious time.
Different Ways to Track Time
Tracking time is a wonderful way to keep an accurate time record and help your organization get the best out of its working hours. Here we shall show you three different methods of tracking time in an organization.
1. Time tracking with the help of paper Timesheets
Using the paper sheet, you may figure out the hourly rate that should be paid to workers or freelancers. Either manually tabulating the information or utilizing a calculator is a valid method for this task.

Paper time tracking is a procedure that can help track the time a team has spent on a project; however, it is a highly laborious process that requires a lot of manual effort. So, there's not a lot of teams that use this process to keep track of their valuable time.
2. Time tracking with the help of Excel Spreadsheets
The time you spend on various activities is recorded in an Excel template for a spreadsheet, which is prepared using Excel when you use the Excel time tracking method to keep track of your work hours. Excel time tracking is preferable to paper templates because of the reduced likelihood of making a mistake and the fact that calculations are performed automatically.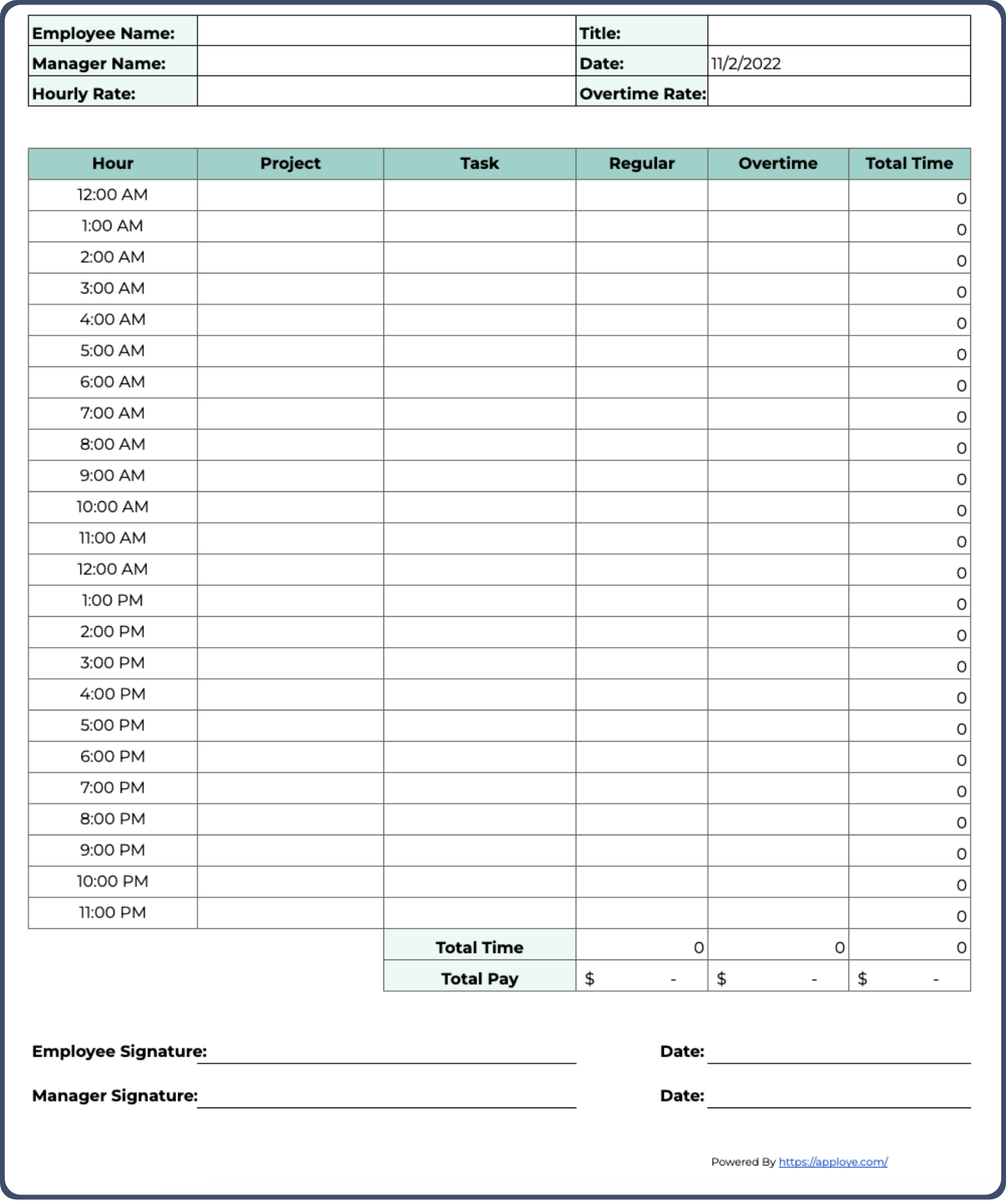 3. Tracking Time through Constant Reporting
Tracking time on a project or task-by-project basis is an example of one of the many time-tracking processes that may be broken down into more manageable parts. There ought to be a manager in charge of supervising the various projects.

When the worker has completed his work, he will submit it to the supervisor, who will determine how much time can be spent on such a task based on the employee's description. It is wholly dependent on the manner in which the supervisor views the passage of time from his end. This method was referred to as the "honor system of tracking time" by a few different companies.
Nevertheless, this is one of the time monitoring methods that may be completed with the least amount of effort. Moreover, it is within the financial means of any firm in the world. However, reliable time monitoring can be somewhat tricky due to the possibility of inaccurate estimations.

Moreover, the relationship between the project manager and the employee might have a negative or biased effect on the computation of the amount of time spent.

Additionally, if you wish to present a client or a project manager with a full report on the assignments you accomplished and the time that was put into them, you will only be able to do so if you have one.
4. Time Tracking Software
You will no longer need to spend hours manually keeping staff timesheets because time-tracking software will do this for you. Time tracking software eliminates the need for paper records because the process does not entail any outmoded procedures.

This top-notch method for tracking time offers features that are easy to use and are designed to assist your team in being productive and making the most of the available time.
In addition, the procedure is entirely hands-free. Once you begin tracking time with the assistance of time tracking software, your timesheet should automatically be updated, and there shouldn't be any hassles for the company managers caused by any threat, such as time theft, time manipulation, or miscalculations.
What Is Excel Time Tracking?
When you use the Excel time tracking method, the time you spend on various activities is recorded in a template for a spreadsheet that is created using Excel.

This recording is done fundamentally. It is one of the methods businesses utilize to keep a comprehensive record of the time employees spend working before ultimately moving to automated procedures.
A time tracking record created in Excel might have columns labeled things like "Start time," "End time," "Rate per hour," "Total hours worked," "Overtime calculation," and "Total payable," among other things.
Before regularly sending the excel sheet for time tracking to your management for final approval, you will need to enter these data manually. Therefore, excel time tracking, even though it assists you in calculating the amount that you have entered, still requires you to put in some human labor to finish the process.

Excel Time Tracking Templates
Even if there could be various templates for tracking time on excel, likely, you're already familiar with a few of the most popular ones.
We will walk you through some of the most well-known time-tracking templates for Excel spreadsheets, which you will then be able to download and use for whatever business purpose you find suitable.
Excel Time Tracking Template - Daily
If you compute the work hours, paid time off, and employees' wages daily, you will need a daily timesheet to keep track of everything. Here you will get an excel template for tracking time daily. This template may include the employee's name, manager's name, date, day, clock in and out time, and total hours worked, excluding breaks.
Download:
Excel Time Tracking Template – Weekly
Calculating your employee's work hours, paid time off, and compensation every week will require you to use a weekly timesheet. You will find an Excel template that you may use to keep track of the time you spend each week. This sample document may contain the employee's name, the manager's name, the date, the day, the time the employee clocked in and out, and the total number of hours worked.
Download:
Excel Time Tracking Template – Bi-Weekly
You must utilize a biweekly timesheet to determine your employee's work hours, paid time off and deliver biweekly. You can record the time you spend each week using the provided Excel template.
The name of the employee, the name of the manager, the date, the day, the time the employee clocked in and out, and the total number of hours worked may all be included in this sample document.
Download:
Excel Time Tracking Template – Monthly
You will need to utilize a monthly timesheet to determine your employee's hours worked, paid time off, and pay each month. You can record your time each month using the provided Excel template. The employee's name, the manager's name, the hourly rate, the date, the time the employee clocks in and out, the total number of hours worked, and the amount paid may all be included in this sample document.
Download:
Excel Time Tracking Template – Project-Based
If you provide services to a variety of customers and need to determine how many hours were spent on individual projects, use this template. It can also be used in businesses where billable hours need to be tracked to charge clients appropriately or when an employee's time is tracked against the projects they are working on.
Download:
How To Get The Best Out Of Excel Time Tracking Templates
To get the most out of Excel Time tracking templates, you need to learn how to use them and how the calculation takes place.
You can record any specific component of your company by downloading the proper Excel time tracking sheet, then modifying or adding any columns, such as employee location, employee number, job code, or any other required information.
Calculations will be performed automatically by these Excel sheets thanks to the formulae that are embedded within the cells of the spreadsheet.
The sum of the total hours is computed automatically. First, you need to enter the data about Clock in and out. Total pay will be calculated in the same way.
You can keep track of employee hours, breaks, overtime, sick time, vacation time, and time away from the computer with the help of these Excel time tracking sheets. We keep a separate time tracking sheet in Excel for that purpose.
If you want to get the most out of the Excel time-tracking templates, you need to make sure that you know what you're using them for and determine which templates genuinely meet your requirements. Once the information you provide is correct on your end, the remaining calculations will be performed automatically.
Why Should You Avoid Excel Time Tracking Templates
There might be some good reasons for you as you may like to use Excel time tracking spreadsheets; however, there are more reasons that might show you the things otherwise.

So here we will show you why you shouldn't be using Excel time tracking if you want to excel in keeping pace with your time.
1. There is a lot of manual efforts that can be avoided
When it comes to filling out the cells of the excel time tracking templates, time is a factor that needs to be considered. After you have finished filling out the spreadsheets, you will have a lot of physical labor that has to be done.

Therefore, you cannot allow yourself the luxury of wasting your time by manually populating spreadsheet cells with numbers and digits when this task is capable of being performed automatically.
2. Microsoft Excel is Crash-prone
It's a concern that you should watch out for. The more you modify and distribute a separate Excel sheet, the greater the likelihood that the file may get damaged, resulting in data loss.
3. Integrations with Project Management tool is not possible
The tools provided by Microsoft could be more consumer friendly. Because if you build a list of Microsoft programs that are easily integrated, Microsoft Excel can end up being at the bottom. You shouldn't thus anticipate that the project management software you use will have any valuable or convenient data already prepared for you.
4. There is no way of generating automatic reports
There are no capabilities in Microsoft Excel that allow for time tracking. To obtain reports that you can evaluate, you must input and process the data manually.

When large amounts of data are displayed in a single Excel worksheet, as is the case with a time-tracking Excel sheet, it might be challenging to recognize trends or derive valuable insights. So, you need reports, and Excel won't produce any of its own.
5. Difficult to update or alter data
Adding new data to spreadsheets or updating existing data takes significant time. Furthermore, anytime you want to make improvements, you will see some annoying challenges, as we have already mentioned that this software should be more user-friendly. This is something that will happen whenever you go to make changes.

In addition, the modifications may only be noticed once it is too late for the payment period, which may result in the worker receiving entirely inadequate earnings.
6. Discrepancy between actual work hours and reported work hours
It is in your best interest to rely on the capability of your workers to clock in and out at the appropriate times. A difference of five to ten minutes may be considered reasonable when reporting the amount of time spent on a project.

However, if these discrepancies are more profound, it may result in a significant financial loss for your company. There must be a way to track how long an employee works on a particular assignment.
7. Employees can trick the Excel time tracking sheets
Your employees can manipulate the process once they have entered the data into the spreadsheet because it will be entirely controlled. As a manager, you may not have the luxury of reviewing your employees' data daily.
8. The possibility of human error exists
Even if the formulas are correct and the total calculations are done correctly, if you need to remember to input the data in a valid format or if the sum calculations leave out necessary amounts, this could lead to significant miscalculations and errors in the payroll.
In addition, the deletion of timesheets by accident is the most frequent human error that manifests itself in excel sheets. Data or complete timesheets that have been destroyed by accident can be difficult to recover a lot of the time. If no backups or processes are in place to recover data that has been erased, this could have severe consequences.
Apploye – Tool That Can Replace Excel Time Tracking Templates
Time tracking software nowadays made it easier for company owners to skip the paper timesheets and Excel time tracking and go for something that an automated system can do.
Apploye is a tool that can help you stay precise in managing the organization, ensuring the best use of time. It enables companies to keep themselves focused on their tracks and utilize the time in the most professional way possible.
What Is Apploye?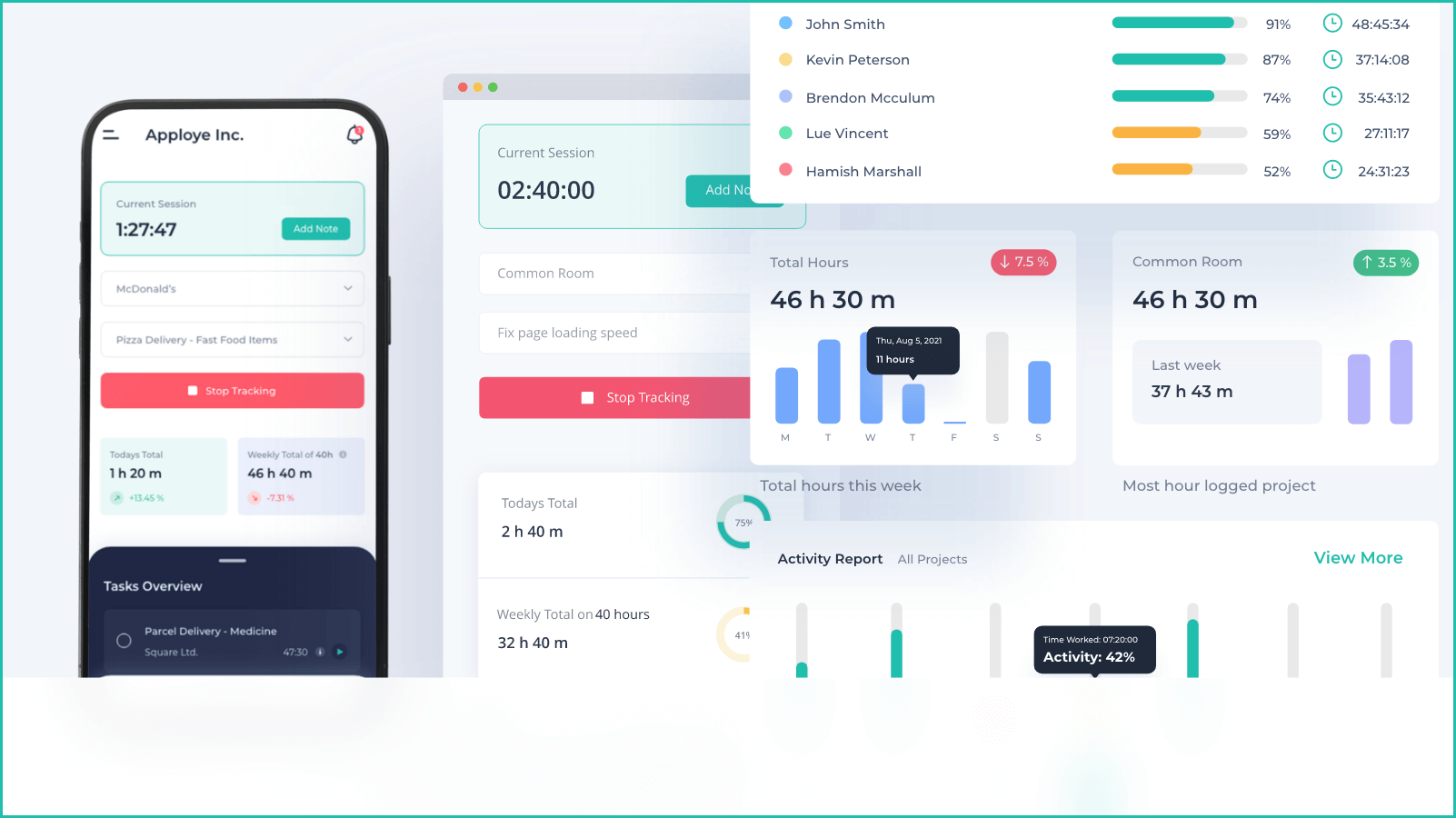 Apploye is among the time monitoring systems accessible to be one of the most accurate. The entire growth potential of a company can be unlocked by its owners and management through increased productivity brought on by systematic monitoring and control carried out with the help of Apploye. It's one of the best employee time tracking apps that can change your game in the long run.
Apploye gives you access to the most sophisticated capabilities while maintaining a user-friendly interface. You can work whenever and wherever you choose so long as you have the desktop and mobile app.
The features that Apploye provides to its customer base make it decisively simple for users and managers to track the time and keep a record of it. These records would help maintain an organization's overall operative efficiency, manage the employees' payroll, and retain the best employees based on their logged time and relative productivity.
Why Should You Choose Apploye?
You can take advantage of Apploye due to its many benefits. This time tracking software is top-notch, but in addition to that, it can also serve as a valuable tool for managing your workforce and keeping an eye on your employees. In addition, Apploye offers a wealth of tools that can simplify your life as a manager.
Apploye offers advantages that are difficult to find in other time tracking methods, such as Excel or any other that you may have used in the past. These advantages range from Apploye's time tracking functions to its state-of-the-art amenities. Once you've gotten used to how the system works, we'll go over some of the best features that Apploye offers so that you can make an informed decision about whether or not to use it.
The time tracking features provided by Apploye are shown below with their functions.
Timer - Automatic & Manual: You can keep track of the time you spend using the Apploye timer by providing basic instructions such as "start" and "stop," or you can manually enter your time at a later time using the app.
Timesheets with customized views: By seeing your employees' timesheets in daily, weekly, biweekly, monthly, or custom intervals, you can immediately determine how many hours they have worked.
Time entry notes: When you manually add your time entry, you may leave any critical notes for your administrator.
Clock-In, Clock-out: When the time tracker begins, desktop users will be immediately clocked in. They will be automatically clocked out. Users will only need to exert themselves as much. Clock-in and clock-out timings will just be tracked from the desktop software, and they won't need to be manually entered.
Track time across projects & tasks: Keeping track of your work in the most productive manner possible requires logging your time against several projects and tasks.
Billable and non-billable hours: When calculating the total amount billed to your client, you have the option to include or exclude particular projects.
Idle time: If you want to be more efficient with your time, you can erase any periods of inactivity (which we refer to as idle time) from your timesheet.
Timesheet Approval: In this section, you will approve the timesheets submitted by employees and then pay them for the work they have provided you.
Weekly Limit: To keep the workload and the time budget under control, many businesses must set a maximum number of hours workers can work in a week. When your employees have reached the weekly time limit, they will no longer be able to track time for the remainder of the week.
Timesheet export: You can export the timesheet of your employees in pdf, CSV, or excel format.
Pomodoro Timer: A Pomodoro timer reminds you to take breaks and re-energize, Set work, and break times. Generally, a Pomodoro timer is set to have breaks every 25 minutes but can be customized depending on your work habits. Apploye notifies you when you need a break.
Manual Time: The manual timer is available for employees if and when they remember to start it while working. Look at the reasons for the manual time entries made by your employees and the entries themselves.
Reporting & Dashboard: The performance-based dashboard of Apploye offers features such as Total hours logged during the week, Most hours logged project report, Brief Timesheet, Weekly activity analytics report etc.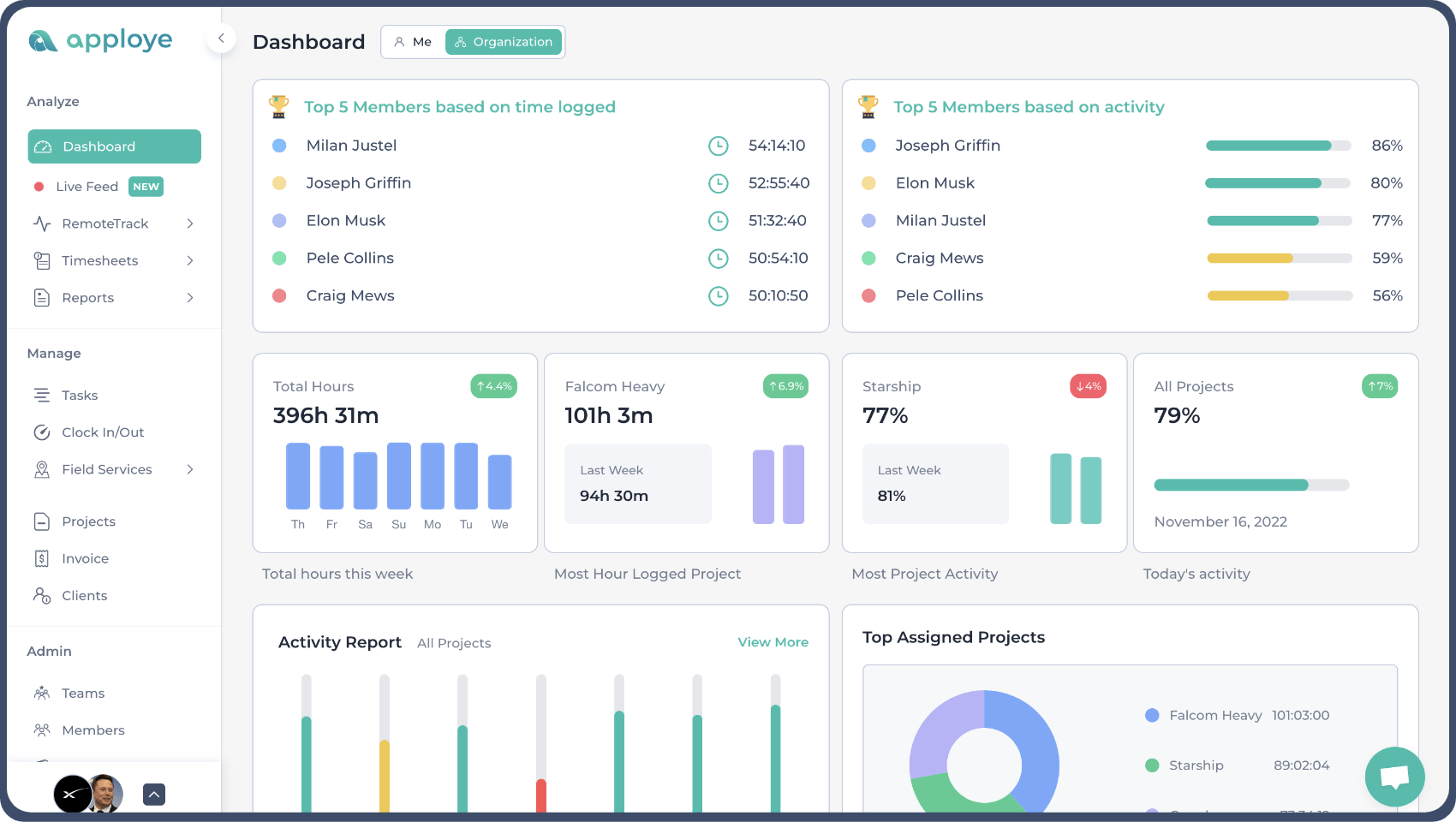 How Apploye Tracks Time?
Apploye tracks employees' desktops, including computers and laptops, along with a few other functions like employee GPS time tracking,  Application tracking, and URL tracking because it is a time tracking and employee monitoring program. It needs an internet connection to upload and sync its data from the desktop application to the web application during tracking.
On the Apploye Premium plan, tracking the outdoor employee works more effectively because running or starting the app doesn't require any connection, such as a field worker installs apploye on the mobile app and doesn't have any connection on a mobile phone, he can immediately begin the mobile app and can do all his duty. He can connect to connections at any time, and the application will automatically synchronize the offline data. The data will be uploaded to the web application and the admin panel.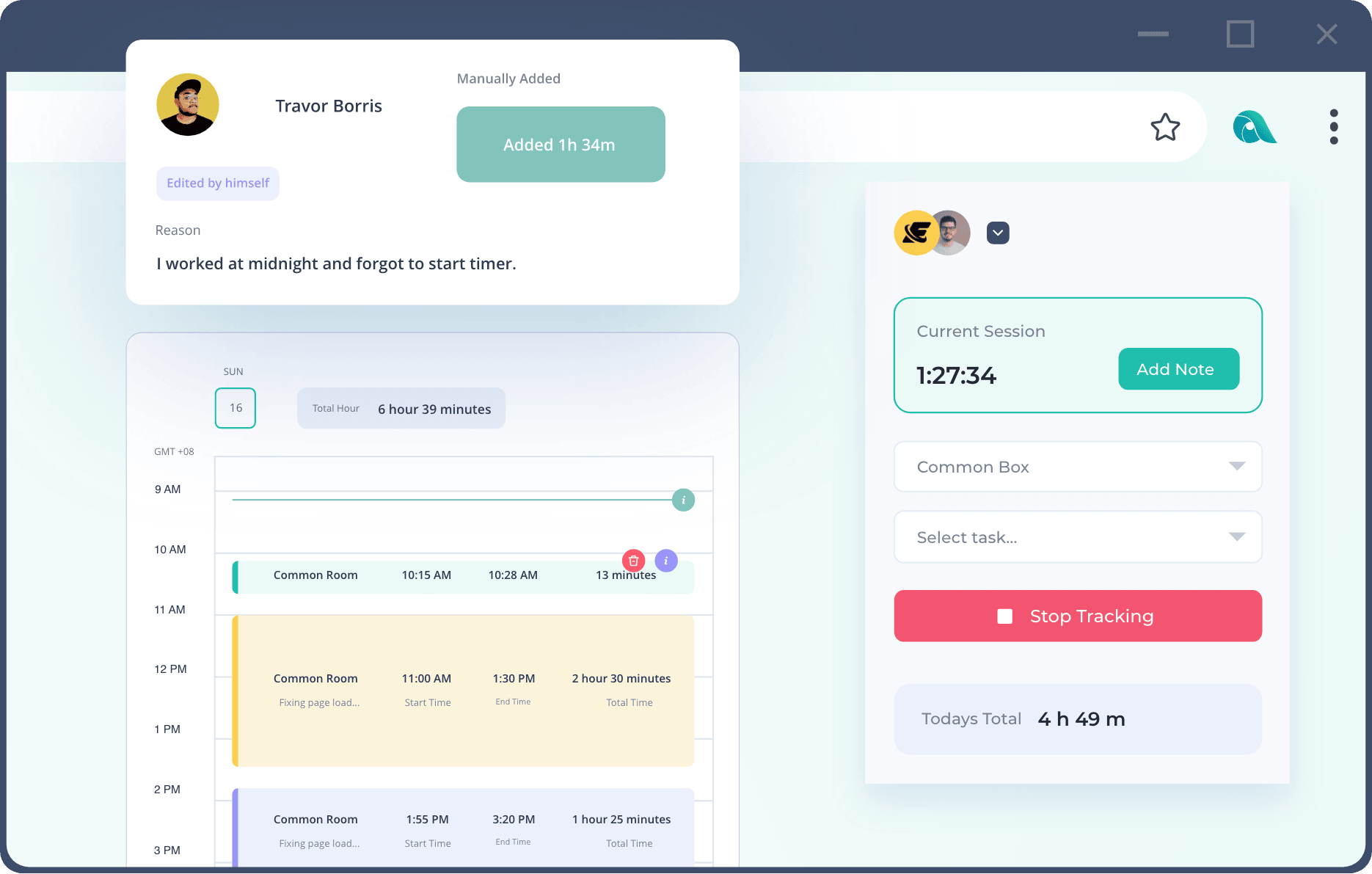 By following the steps below, you can use Apploye to replace the time tracking you do with Excel and keep track of your valuable time.
Step 1: Apploye Account Creation
You are able to initiate the formation of a new organization once you have registered and shown your identity. However, employees should begin by selecting "Join An Existing Organization" as their first step.
Next, determine your organization's Timezone, then give it a name. Click the "Next" button. After adding a new project, select "Next" to continue.
Pick a course of action. Then you need to invite folks (You can add them later too). Click the "Start" button.

Step 2:  Creating projects and assigning members
From the side panel of the Apploye web app, go to the "Projects" page. Click "Save" after assigning the project a name and other details. Your project will be visible, and your team members might start tracking time. Later, you can edit.

The "Actions" drop-down menu contains the option "Edit Project." Hourly rate/fixed salary should be added under "Add Billings & Hours." Decide on the project's budget. From the Project area, you have the option of adding a task. Save the settings.

Step 3: Download Apploye App
To download the Apploye Desktop app, go to the website for Apploye and click on the "More" button, followed by the "Download" button. You can also click straight to this Download link. You will notice that Apploye automatically identifies your operating system. Download by selecting "Get Apploye for" from the drop-down menu. Set up the application after that which is absolutely simple.
Step: Create Project & Assign
Step 4: Time tracking with the App
You may begin tracking your time by clicking the Apploye app's 'Start Tracking' button. You must first choose the project for which you will record the time. With the aid of the Desktop app, tasks can be added under projects.
Step 5: Time will be automatically entered into the Timesheet
Utilize Apploye Time Tracker to gain access to information on the daily, weekly, monthly, and custom timesheets of your employees. You will be acknowledged for the amount of time you have spent working each day. It will be a fully automated process.
Step 6: Reports on Tracked Time (CSV, Excel)
You can export the report on your employee's tracked time record from the Reports section of your dashboard. Additionally, it is broken out into three subsections: "Time and Activity," "Manual Time," and "Apps & URL Usage."
Conclusion
Excel time tracking is becoming increasingly outdated as automation is being adopted at an increasing rate in the workplace. Time to take charge and make the workplace more automated, eliminating the need for human labor altogether.
Make the most of your time using Apploye's time tracking features and give yourself a competitive edge in the workplace.