8 Best Plumbing Business Software in 2023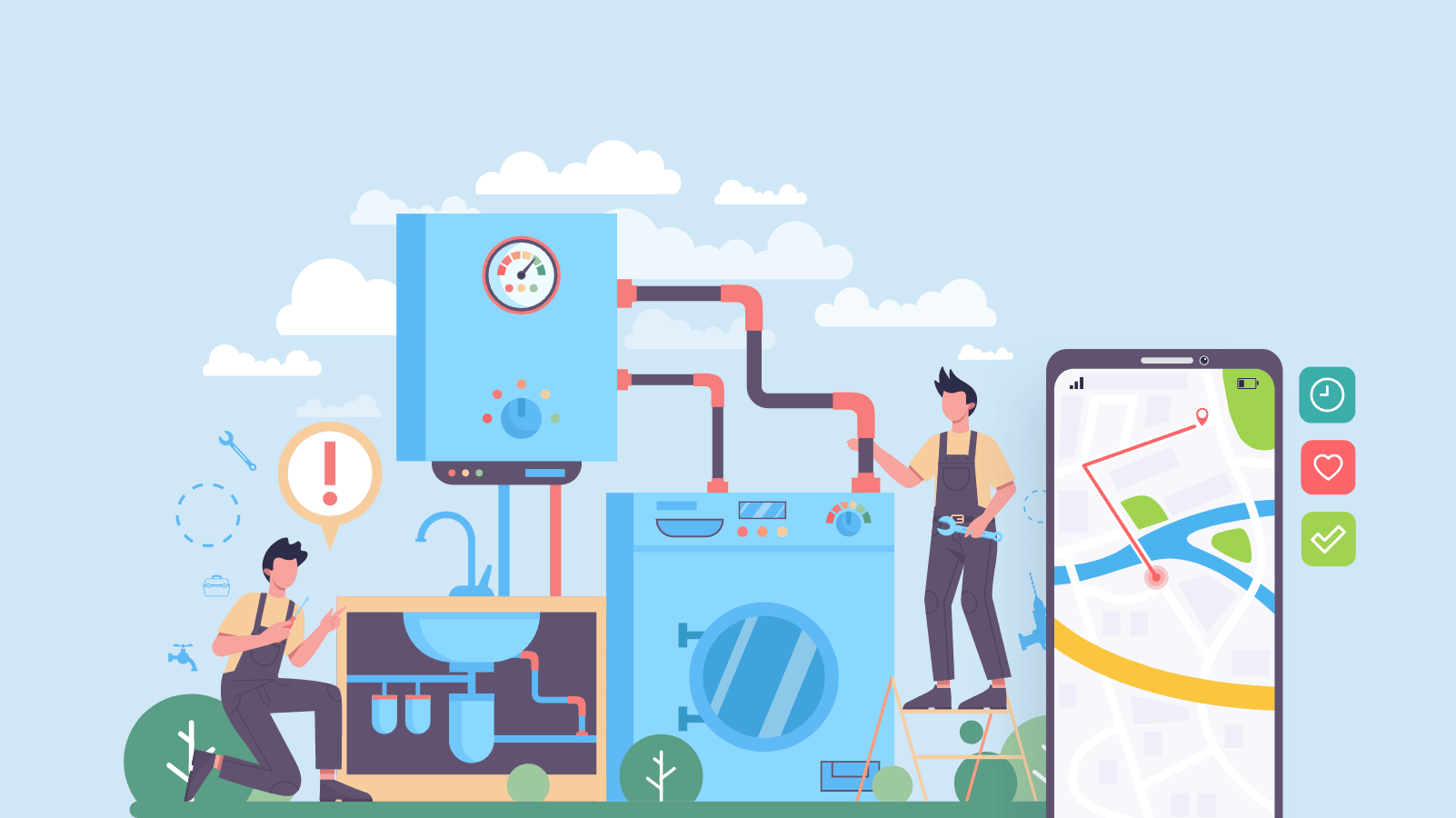 A plumbing business in the era of modern technology is more challenging than it used to be a few decades ago. Plumbing business software has significantly transformed this business genre, backed by the magical touch of digital and mobile tools, augmented and virtual reality, the Internet of things, advanced diagnostic tools, etc. This software helps you get insight into performance metrics, high-level data analytics, and reports.
This article will teach you about the best plumbing software, its prices, and its features. You'll also learn their benefits and how to choose the best of them in the market.
Plumber's Software: What you need to know
A plumbing business involves services about plumbing, such as installation of the facilities, several types of repairs and maintenance, etc. This is a service that can encompass more minor activities like fixing certain kinds of leakages or installing different types of plumbing facilities in residences and offices.
Activities such as Marketing and Customer Acquisition, Billing and Payment, Follow-Up and Maintenance, Customer Service and Reputation Management, Business Management, and Growth are all parts of this plumbing business.
This must feel like a pile of work and activities at first glance. However, the work is simple nowadays as most of the work is being done by sophisticated software and tools that involve cutting-edge technology.
If you intend to purchase the plumber business management software for yourself, below are the features you must look for to make it worthwhile.
Employee Time Tracking: Tracking employee work hours at job sites and boosting employee productivity by making the best use of time.
Scheduling and Dispatching: Manage appointments, schedule tasks, and delegate roles.
Inventory Management: Keeping records of machinery, parts, and tools, ordering new supplies and replenishments.
Customer Relationship Management: Keeping track of customer details, interactions, and feedback, improving their experience and retaining them.
Project Management: Track the project's progress, creating tasks under them, and delegating roles to suitable employees.
Reporting and Analytics: Generating reports on various aspects of the business, such as revenue, expenses, productivity, etc., and making the best use of those insights.
Payment Processing: Faster and smoother employee and client payment solutions after several projects are done.
Accounting Solutions: Streamlining the company's financial processes and monitoring profitability.
If you want to transform your plumbing business, these features are necessary for the software you intend to purchase.
Detailed Overview of The Best Plumbing Business Software
Below are the best software for plumbing business categorized according to the problems you want to solve.
Apploye - Best for Employee Time Tracking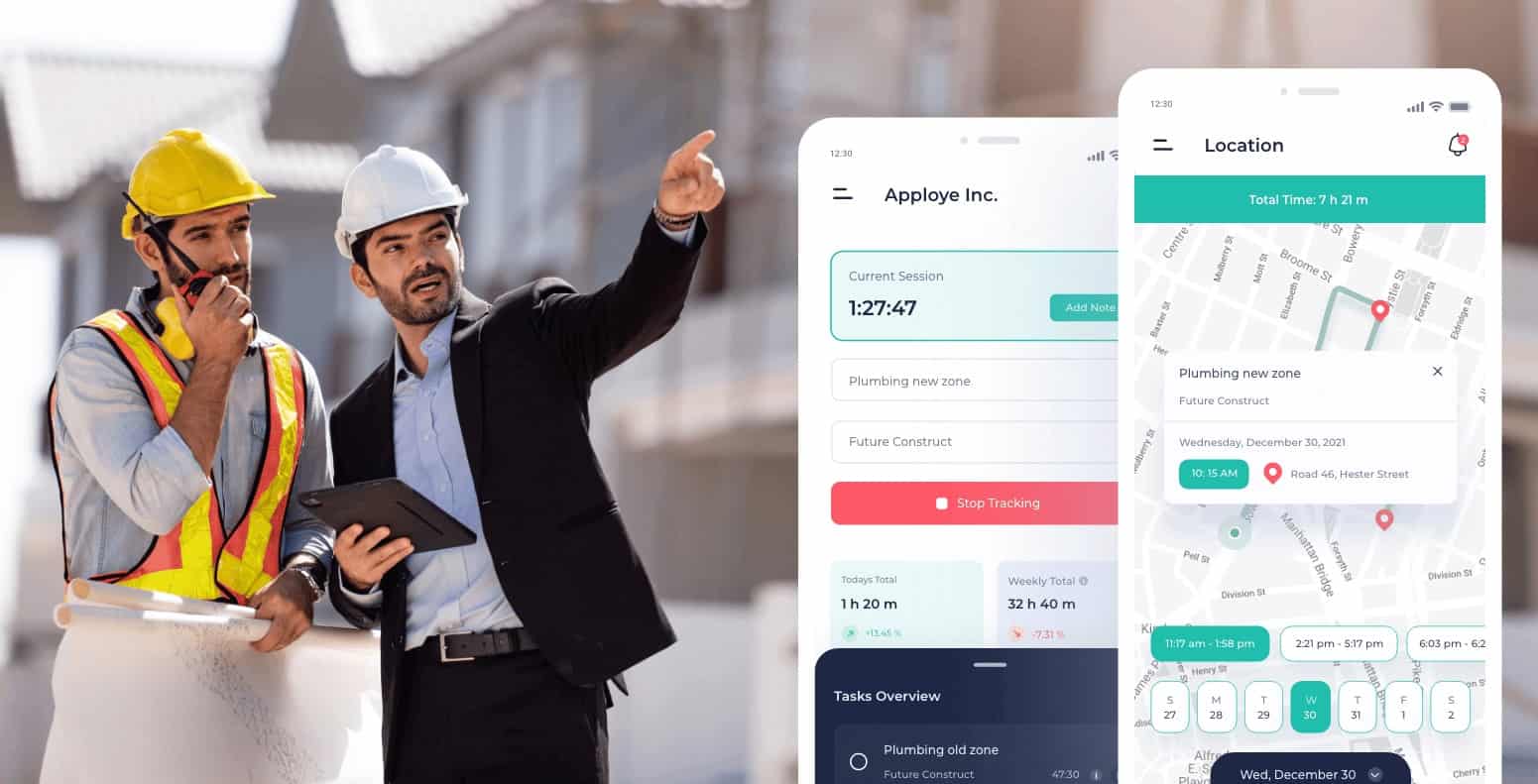 Plumbing businesses must keep an eye on how the employees utilize their time on the job sites. That's why tracking time is indispensable for companies that send their plumbers to the field daily.
The one-stop solution is Apploye, the ultimate time-tracking software that enables you to keep track of the employee's work hours and make the best use of the available time.
Apploye is effortless at managing your time with its clock-in and clock-out feature that keeps an eye on the attendance of the plumbers, customized timesheets to see employee's tracked time at a glance, and tracking time against all tasks and projects to calculate billable and non-billable hours.
This exceptional software provides field service solutions from GPS location monitoring to geofencing attendance. The pricing plans of Apploye are decisively affordable, but the amount of features it offers is unbelievably high and valuable.
Key Features
Time Tracking of Plumbers
Customizable Timesheet
Project Billing
Project Budgeting
Manual time entry
Timesheet approval
Payroll calculation based on the timesheets
Geofencing Attendance
Clock-in, Clock-out
Advanced Reporting
Employee GPS location monitoring
Pricing
Solo: $4 per user per month
Standard: $5 per user per month
Premium: $6 per user per month
Elite: $7 per user per month
RazorSync - Best for Scheduling and Dispatching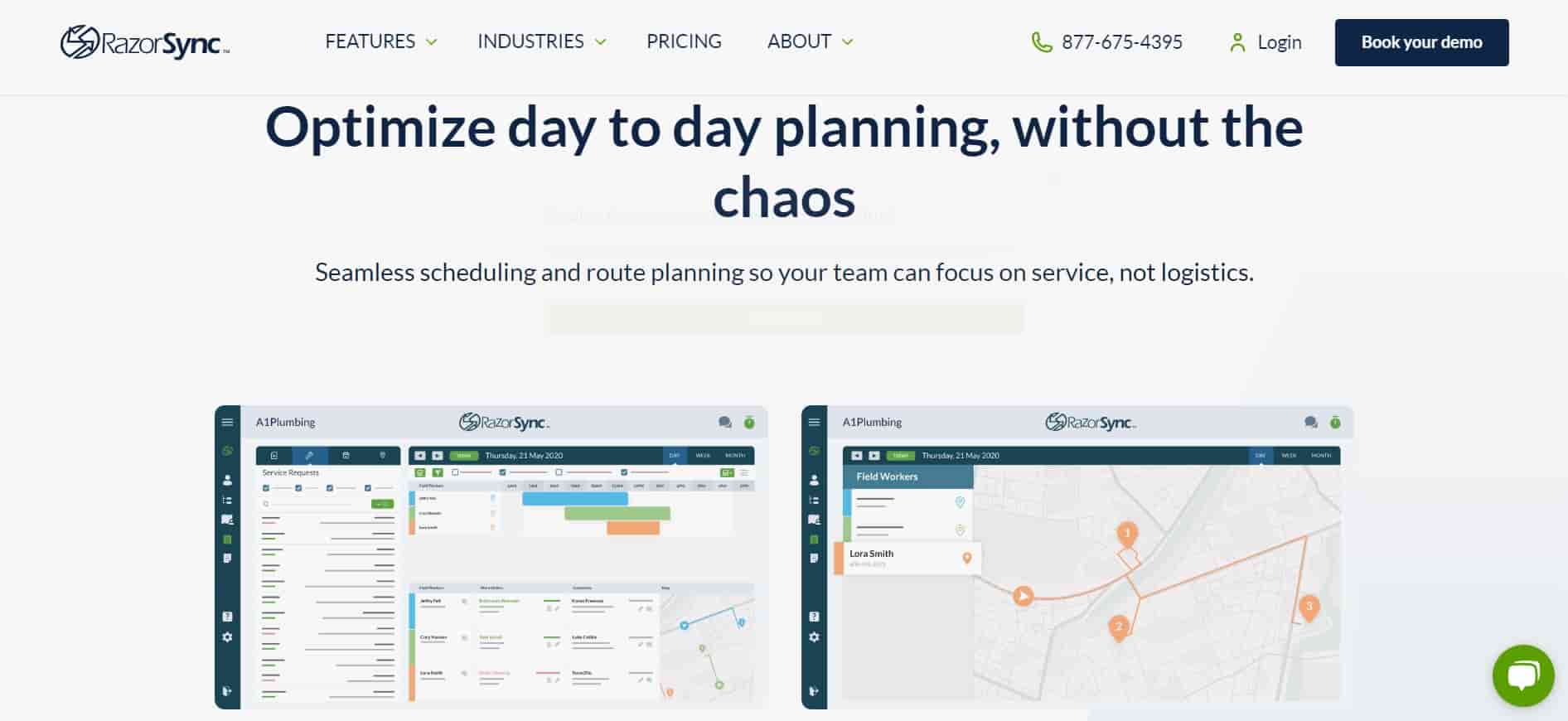 RazorSync is an outstanding plumbing service software for small businesses, primarily known for its scheduling and dispatching capabilities. The software allows plumbing businesses to automate their work schedules and dispatch processes, thus saving significant time and enhancing efficiency.
Using RazorSync, technicians can be quickly scheduled for jobs, and real-time dispatching can be achieved seamlessly from anywhere. Furthermore, the software allows tracking technicians in the field, enabling better coordination and productivity.
RazorSync helps minimize delays and improve customer satisfaction by optimizing schedules and dispatching.
Key Features
Resource Scheduling
Routing
SMS Messaging
Scheduling
Self Service Portal
Automated Scheduling
Automatic Backup
Group Scheduling
Hourly Billing
Interaction Tracking
Work Order Management
Workflow Management
Pricing
Solo, up to 2 users, $85 per month (annual plan)
Team, up to 7 users, $175 per month (annual plan)
Pro, up to 15 users, $360 per month (annual plan)
Enterprise, unlimited users, Contact the vendors for pricing
BigChange - Best for Customer Relationship Management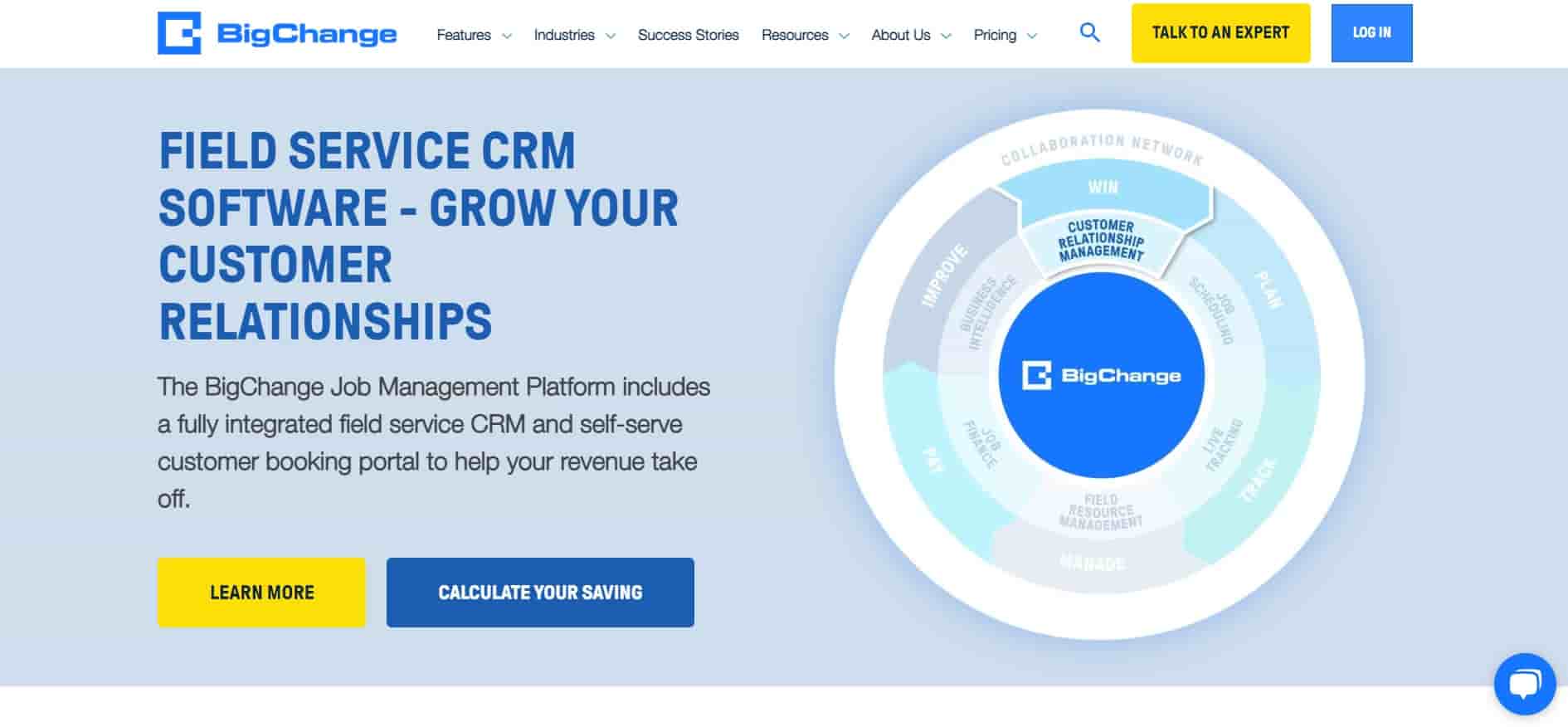 BigChange helps plumbing companies make their mark by managing customer relationships with customers with all-out efforts. A robust tool that stands out with all its customer relationship management features.
BigChange allows companies to maintain detailed customer profiles, track interactions, schedule appointments, and generate automated reminders. Its CRM features also facilitate businesses to manage sales opportunities and generate estimates, ensuring a seamless flow from lead capture to conversion.
By providing an organized and systematic approach to managing all customer-related information and processes, BigChange significantly contributes to improving customer engagement and loyalty.
Key Features
Calibration Management
Check-in/Check-out
Job Management
Scheduling
Client Management
Customer Database
Customer Portal
Equipment Tracking
Estimating
Job Tracking
Pricing
JourneyWatch = £14.95 per vehicle per month
JobWatch = £69.95 per vehicle per month
JobWatch Plus = £99.95 per vehicle per month
ServiceTrade - Best for Inventory Management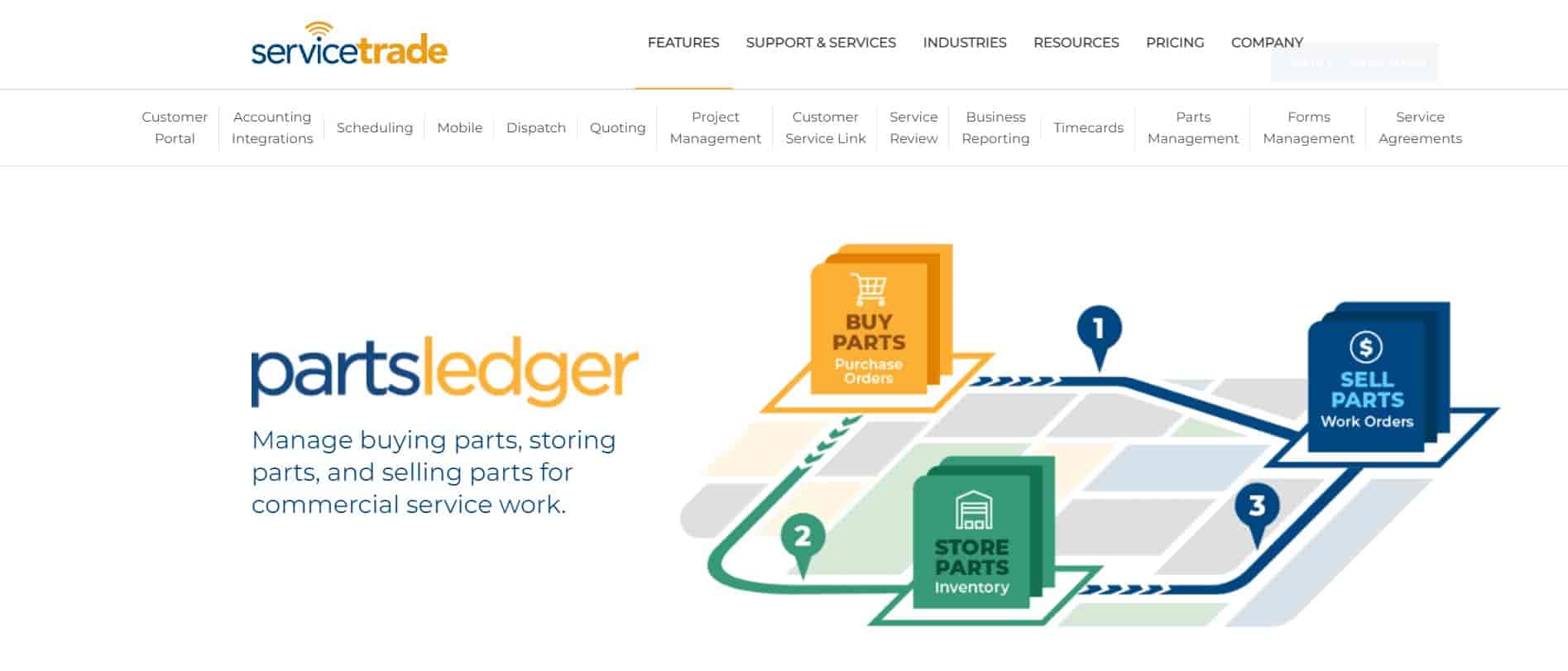 ServiceTrade is a powerful tool that is particularly effective for inventory management. It helps plumbing businesses to keep track of their inventory, including tools, equipment, and supplies, ensuring they are always in stock when required.
With ServiceTrade, businesses can manage multiple warehouses, transfer goods, and maintain records of all transactions.
The platform also offers real-time alerts for low stock, automatic re-ordering, and detailed reports on inventory status. Such efficient inventory management contributes to reducing costs associated with overstocking or understocking, ultimately improving the overall profitability and efficiency of the business.
Key Features
Inventory Control
Inventory Tracking
Invoice Management
Reporting & Statistics
Reporting/Analytics
Routing
Technician Management
Third-Party Integrations
Time & Expense Tracking
Time Tracking
Workflow Management
Pricing
Select $89 per month per technician paid annually.
Premium: $139 per month per technician paid annually.
Enterprise: $189 per month per technician paid annually.
Workiz - Best for Project Management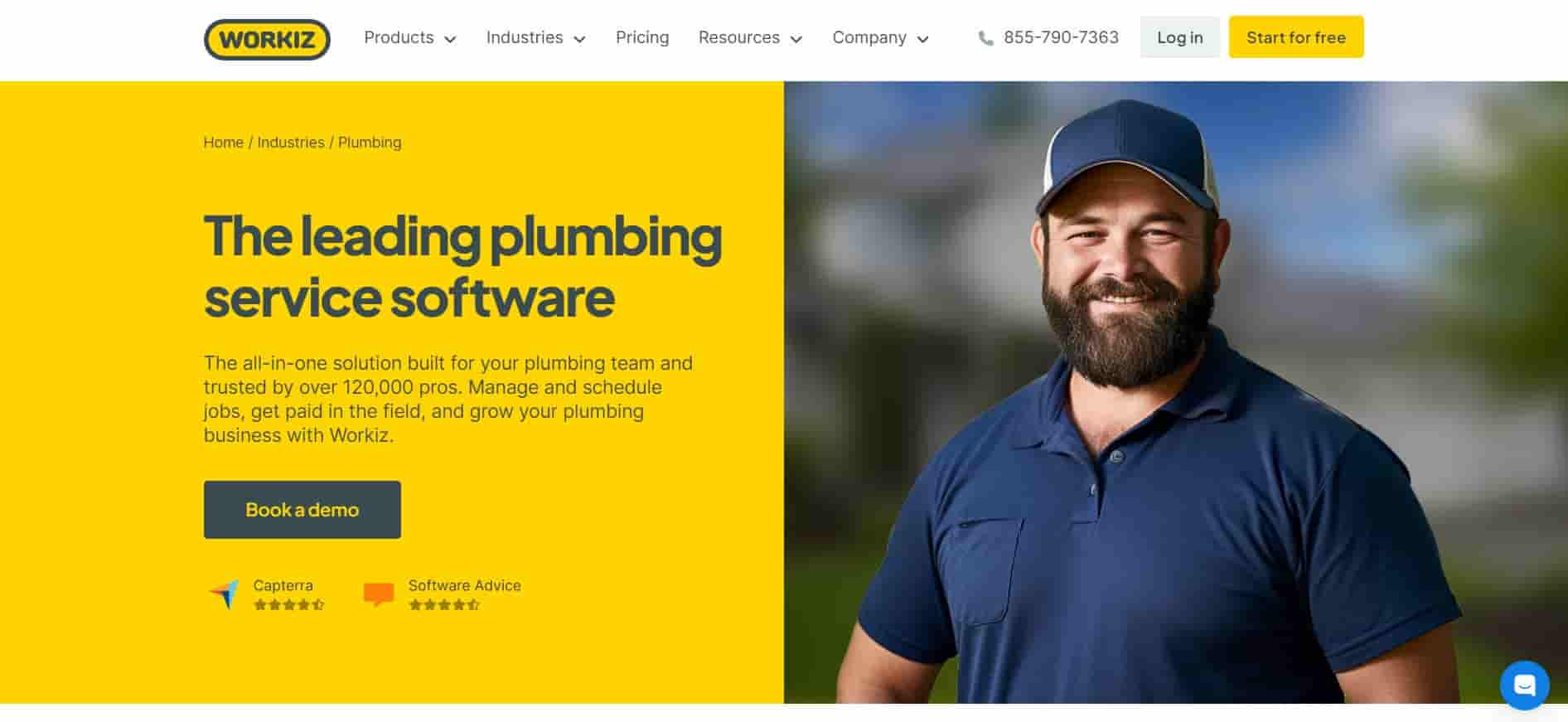 Workiz is a top-tier tool best suited for project management within the plumbing industry. It provides a suite of features that allow plumbing businesses to plan, manage, and monitor their projects effectively.
Workiz offers robust task scheduling, assignment, tracking, and collaboration features that aid in streamlining project workflows. Moreover, the tool's real-time visibility into project status and progress help businesses identify potential bottlenecks and address issues promptly.
By offering comprehensive project management capabilities, Workiz ensures projects stay on track, on budget, and are executed as planned, contributing to business success.
Key Features
Project Management
Scheduling
Project Time Tracking
Projections
Purchase Order Management
Status Tracking
Subcontractor Management
Surveys & Feedback
Electronic Payments
Electronic Signature
Pricing
Lite Free Forever (2 pro users)
Standard: $45 per user per month (minimum 5 pro users + unlimited free users)
Ultimate: Contact the vendor (unlimited pro users)
Powered Now - Best for Reporting and Analytics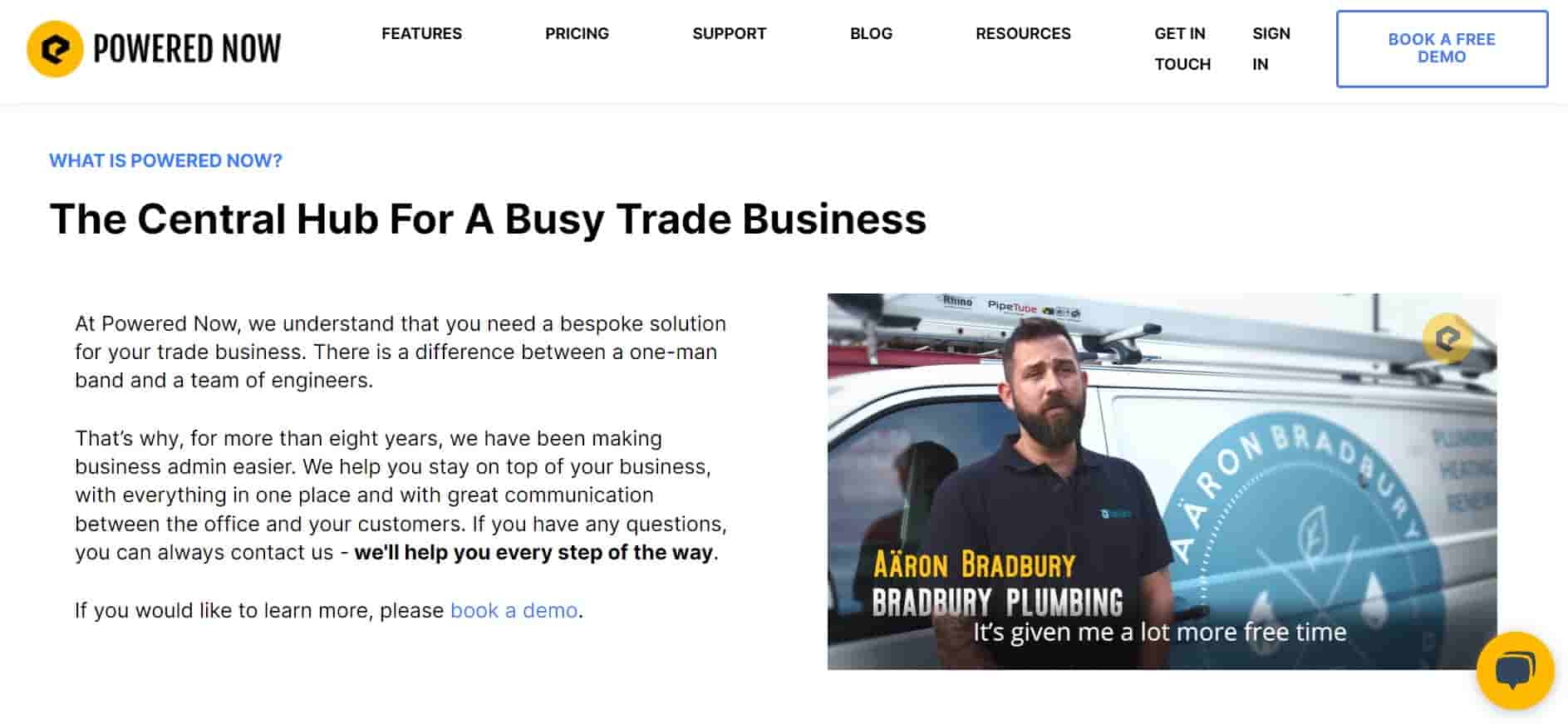 Powered Now is a remarkable plumbing business application with sophisticated reporting and analytics features. The platform provides real-time insights into various business operations through visually appealing and easy-to-understand reports and dashboards, like sales, costs, performance metrics, and more.
The tool's sophisticated analytics function helps businesses to identify trends, patterns, and opportunities, facilitating data-driven decision-making.
With Powered Now, plumbing businesses can track their progress, evaluate their performance, and strategize their future business plans effectively based on tangible data and insights.
Key Features
Real-Time Notifications
Real-time Scheduling
Reporting & Statistics
Reporting/Analytics
Resource Management
Expense Tracking
Financial Management
Compliance Management
Contact Database
Contact Management
Approval Process Control
Automated Scheduling
Pricing
Business plan: £15 per user per month (billed monthly) or £12.50 per user per month (billed yearly)
Professional: £25 per user per month (billed monthly) or £20.80 per user per month (billed yearly).
Synchroteam - Best for Payment processing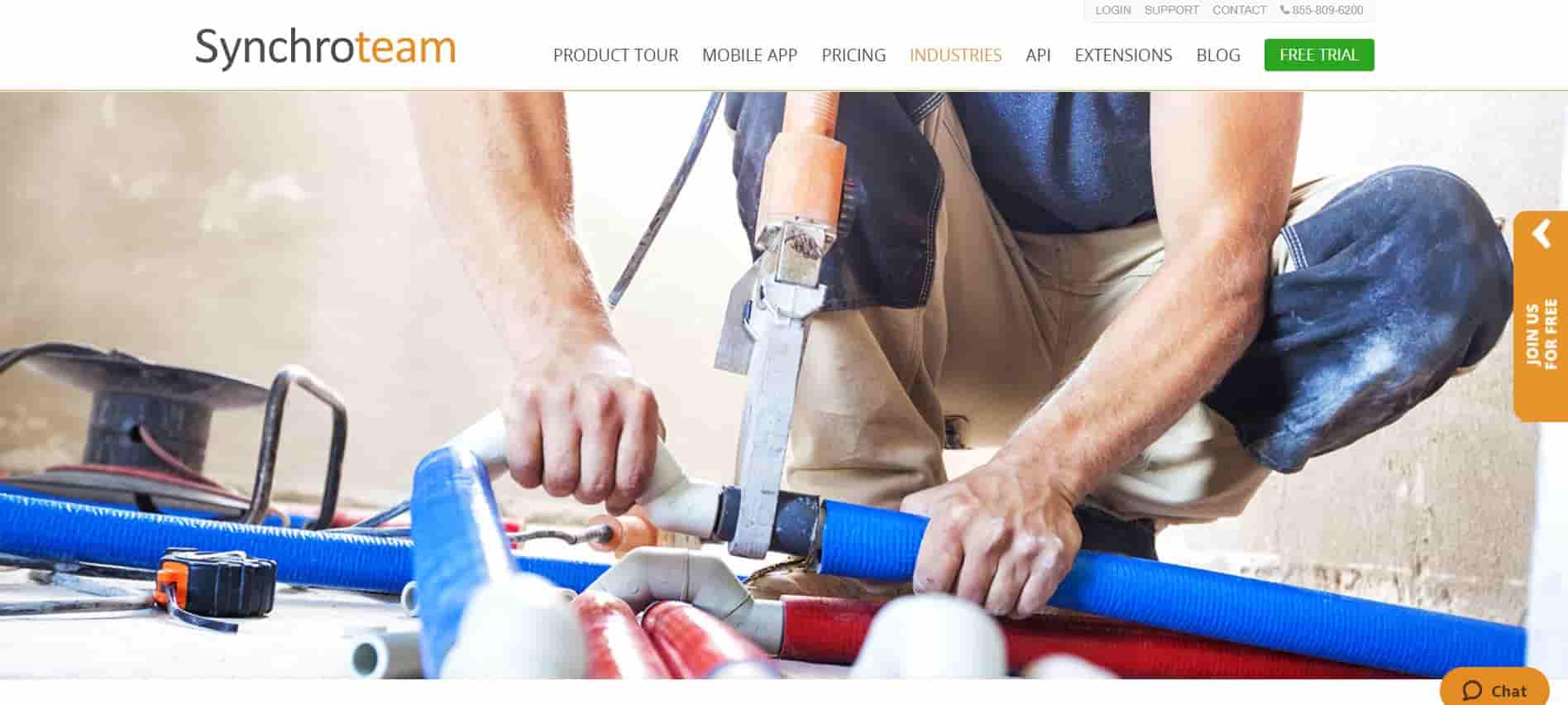 Synchroteam is an excellent tool designed to streamline payment processing for plumbing businesses. Because it allows such a wide variety of payment methods, it makes it simpler for clients to pay for the services they purchase.
Synchroteam integrates with various payment gateways, enabling secure and fast transactions. It also simplifies invoicing by auto-generating invoices after each job completion and sending them directly to customers.
By automating payment processing, Synchroteam eliminates manual errors, accelerates cash flow, and improves the overall payment experience for the business and its customers.
Key Features
Overtime Calculation
Payment Collection in the Field
Payment Processing
Payroll Management
Preventive Maintenance
Project Management
Team Calendars
Technician Management
Mobile Signature Capture
Mobile Time Tracking
Timesheet Management
Pricing
Annual (21% off): $26 per user per month
Monthly: $33 per user per month
YourTradebase - Best for Accounting Solutions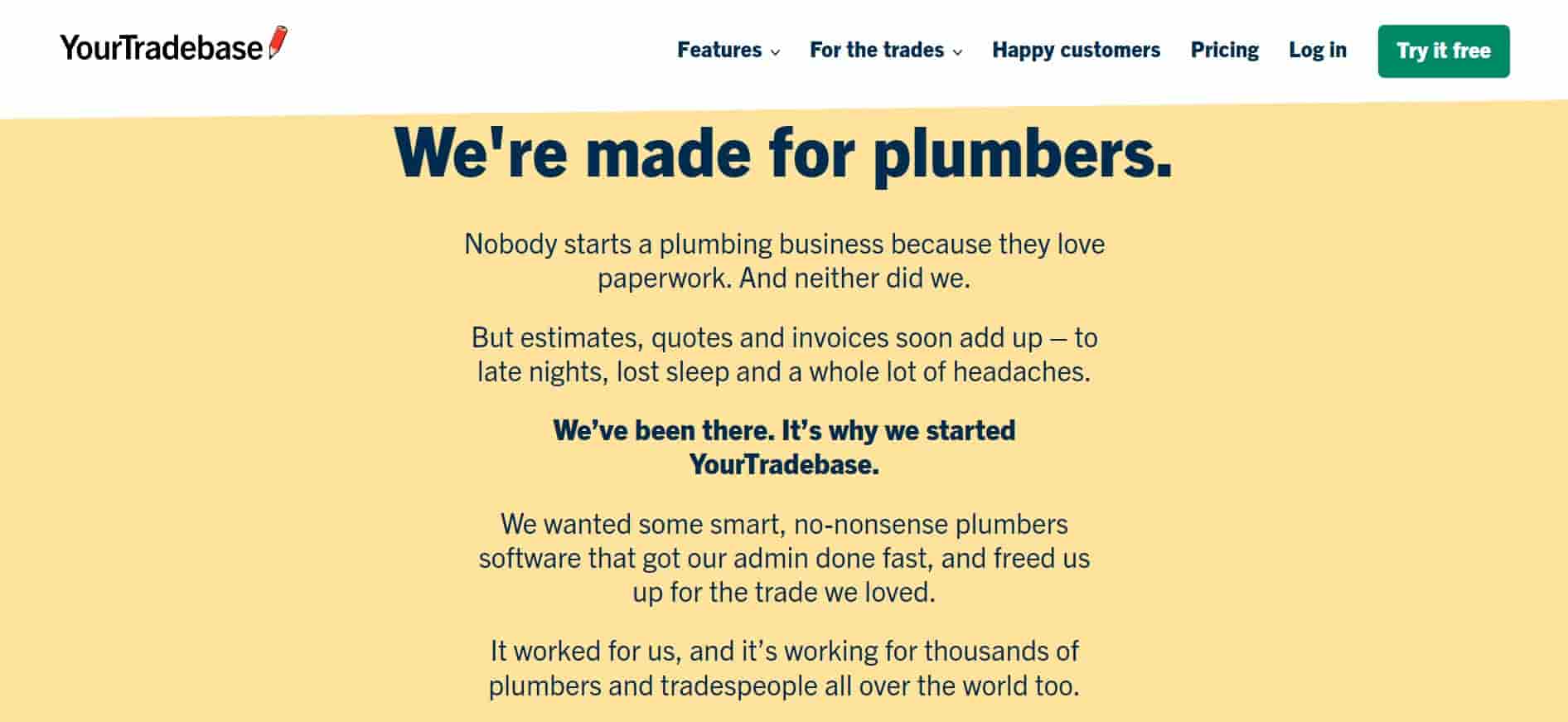 YourTradebase is a renowned tool specifically developed to offer efficient accounting solutions to plumbing businesses. It simplifies financial management by providing features like automated invoice creation, expense tracking, tax calculations, and financial reporting.
YourTradebase provides a centralized platform where all financial data can be stored, managed, and retrieved effortlessly.
The tool ensures accurate bookkeeping, compliance with financial regulations, and smooth cash flow management. By providing a comprehensive accounting solution, YourTradebase aids plumbing businesses in maintaining financial health and achieving their financial goals.
Key Features
Accounting Integration
Automated Quoting
Billing & Invoicing
Dispatch Management
Electronic Signature
Employee Management
Project Billing
Project Management
Quotes/Estimates
Electronic Signature
Employee Management
Change Order Management
Pricing
Selecting the Right Plumbing Business Software
Though the tools mentioned above are well-functioned for any plumbing business, you must go for a cost-benefit analysis to select the most suitable ones. You need to remember the four things below to get a good return from your investment in these tools.
Customer Portal Functionality: Look for software with a customer portal where clients can make appointments, view service history, pay bills, and leave feedback.
Integration with Current Systems: If the system doesn't support the tool, eliminate it.
Scalability: Your business will grow, and so will the system. See if your tools can keep pace with that progress and handle more customer, user, and information flow.
Mobile Accessibility: As most of the work takes place on the job site outside the office, the mobile accessibility of the selected tools should be A1.
Taking care of these four things will help you choose the most suitable types of software for plumbers for your venture.
Wrapping Up
Plumbing businesses worldwide use plumbing business software to streamline business processes and eliminate the obsolete practices they have been practicing over the years. Yet, being choosy while selecting the tools according to the need is paramount.
According to their specialty in solving problems, the list of tools above should be enough for you to transform your business radically. Make the best out of the list to take your business to the next level.
FAQ (Frequently Asked Questions)
What is plumbing business software?
Plumbing business software refers to specialized software that streamlines plumbing operations. It offers features tailored specifically to the needs of plumbing contractors, such as managing job scheduling, tracking work orders, handling invoicing and payments, maintaining customer records, and organizing inventory and supplies.
What are the benefits of using plumbing business software?
Plumbing business software helps businesses automate and streamline administrative tasks, such as job scheduling, dispatching, and invoicing. It also assists with inventory tracking, purchase orders, and handling equipment and supplies. Plumbing business software improves operational efficiency, customer service, and business profitability.
What features should I look for in plumbing software?
When selecting plumbing software, consider features such as job scheduling and dispatching tools, work order management, invoicing, and payment processing capabilities, customer database and communication tools, reporting and analytics, and integration with other systems like accounting software or CRM solutions.
Can plumber's software handle service agreements and contracts?
Yes, plumbing business software can handle service agreements and contracts. It allows businesses to create and manage customer service agreements, outlining terms, pricing, and services provided. The software can automate recurring maintenance tasks and service reminders based on the terms of the arrangements.
How can plumbing business software improve customer communication?
Plumbing business software improves customer communication by providing tools for capturing and managing customer information, including contact details, service history, and preferences. The software often includes features for sending automated appointment reminders, service updates, and follow-up communications.
How can I ensure customer satisfaction and generate repeat business?
Using plumbing software, you can ensure customer satisfaction by efficiently scheduling and tracking jobs for punctual service and transparent communication. Continuously refine services by analyzing client feedback and service histories within the software.