14 Google Tools You Need for Project Management in 2023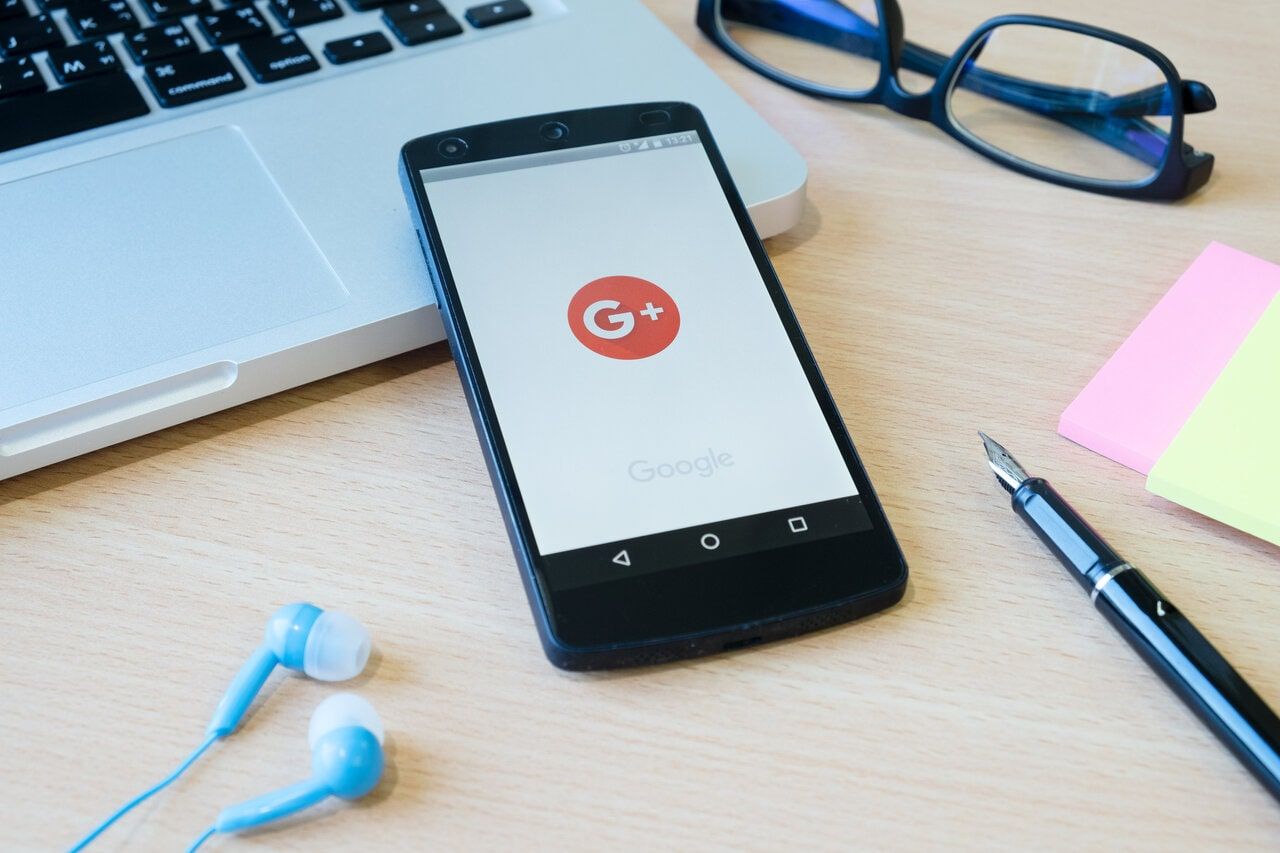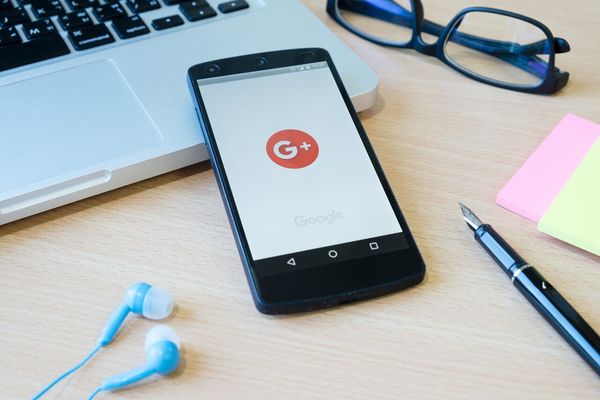 Every time I work on this content in Google Docs. Meanwhile, around 4.3 billion people are using Google worldwide now. That gives you an idea of how Google is blended into our day-to-day life.
Google has accommodated your personal and professional arena. You'll find most offices and businesses use any of the Google tools. What makes the massive surge of the users of Google is the super easy access, lightweight, ease of use, interactive UX and UI, interconnectivity, cloud platform, and many more important reasons.
Unfortunately, Google has no specific package or tools that could help you manage your projects entirely. But you can optimize its tools to get the best output for successful project management.
How can you master the Google tools for project management?
Well, the answer is right below.
The project management features need for running projects smoothly
Before going to Google's project management tool, let's talk about some core project management features that PM software must ensure to provide you the support for handling the undermentioned criteria.
They are:
Project planning
Project progress tracking
Task and file management
Communication and Collaboration
Reports and analytics
Now, let's figure out to what extent Google has excellence and the failings of Google's project management tools.
Google apps in project management
From project initiation to closing, Google can support you in every project management step.
We've tried to create a simple list of apps associated with the project management steps.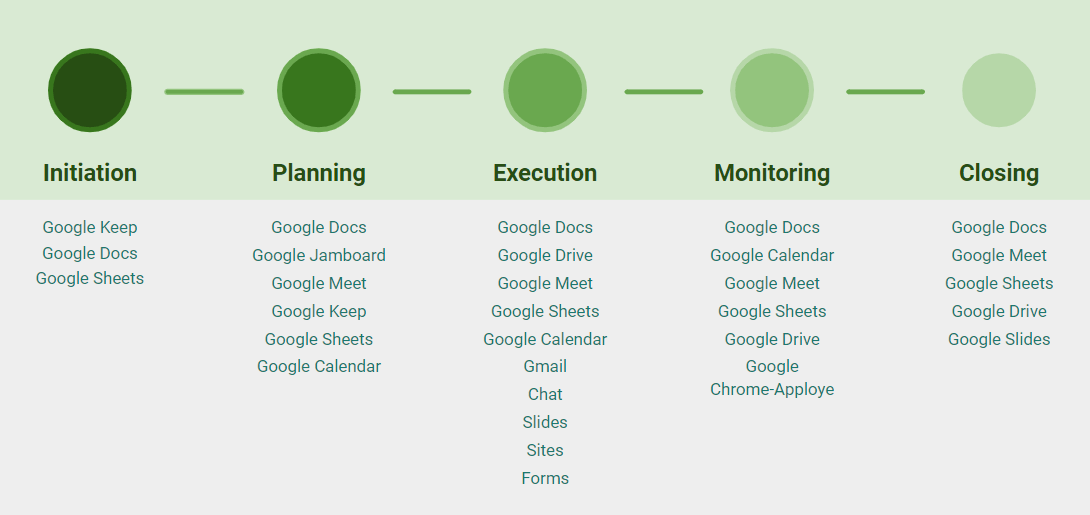 Initiation
The very first step of project management is where you generate your ideas and evaluate them. You have to define your purposes, values, and benefits broadly. In this phase, the given Google tools can be the best fit for the project charter and feasibility study.
Google Keep
Google Docs
Google Sheets
Planning
The next stage is project planning. Project planning defines how to complete a project in a definite time and resource. You must clarify your project scope, objectives, deliverables, risk management, scheduling, and task management.
For proper project planning, you can use the tools below.
Google Docs
Google Jamboard
Google Meet
Google Keep
Google Sheets
Google Calendar
Execution
In this stage, you implement all your planning and resources to accomplish the project. The main objective of this phase is to complete the planning and meet the goals within the defined time.
You might need maximum onboard apps to accomplish the project during this process. So, check the list below.
Google Docs
Google Drive
Google Meet
Google Sheets
Google Calendar
Gmail
Chat
Slides
Sites
Forms
Monitoring
Project monitoring is one of the most critical phases in determining the project's future. It adds positive feedback to the project cycle.
It gives you a thorough overview of the project status, the success, and failure of planning, and checking efficiencies, budgets, quality, and time for completion. It helps you to measure productivity, research project scope, point out and eliminate the limitations, and hope for successful project completion.
The Google apps used in this phase are.
Google Docs
Google Calendar
Google Meet
Google Sheets
Google Drive
Google Chrome-Apploye
Closing
The last phase of project management. In this stage, you must ensure your project has met the goal. When all project deliverables are ready, and you get clearance from clients and stakeholders, your project is near the end.
With formal acceptance, paperwork, reports, and other official preparations, you can sign off the agreement and complete your project.
Here, you can get assistance from the apps below.
Google Docs
Google Meet
Google Sheets
Google Drive
Google Slides
The Google project management tools are on board.
As per the demand trends, Google has brought some fantastic tools with unique functionalities. Some provide fundamental support, while some are average. But one thing that is common for Google tools is user-friendliness and free of cost.
However, the following list of tools can be your project management software
Google Drive
Google Sheets
Google Docs
Gmail
Google Meet
Google Chat
Google Calendar
Google Slides
Google Forms
Google Keep
Google Contacts
Google Sites
Google Jamboard
Google chrome extension
1. Google Drive- file storage and centralization
One essential project management tool that millions of organizations use is Drive. This cloud-based storage solution provides a free space of 15 GB, enough for individuals and small businesses. However large enterprises can switch to paid plans.
Apart from the interconnectivity with other tools, it can serve as
File management and storage solution
Data and document centralization
Sharing and data loss prevention
Collaboration and file arrangement
Google AI has facilitated Drive in recognition of the essential content that a user may need.
2. Google Sheets- planning and tracking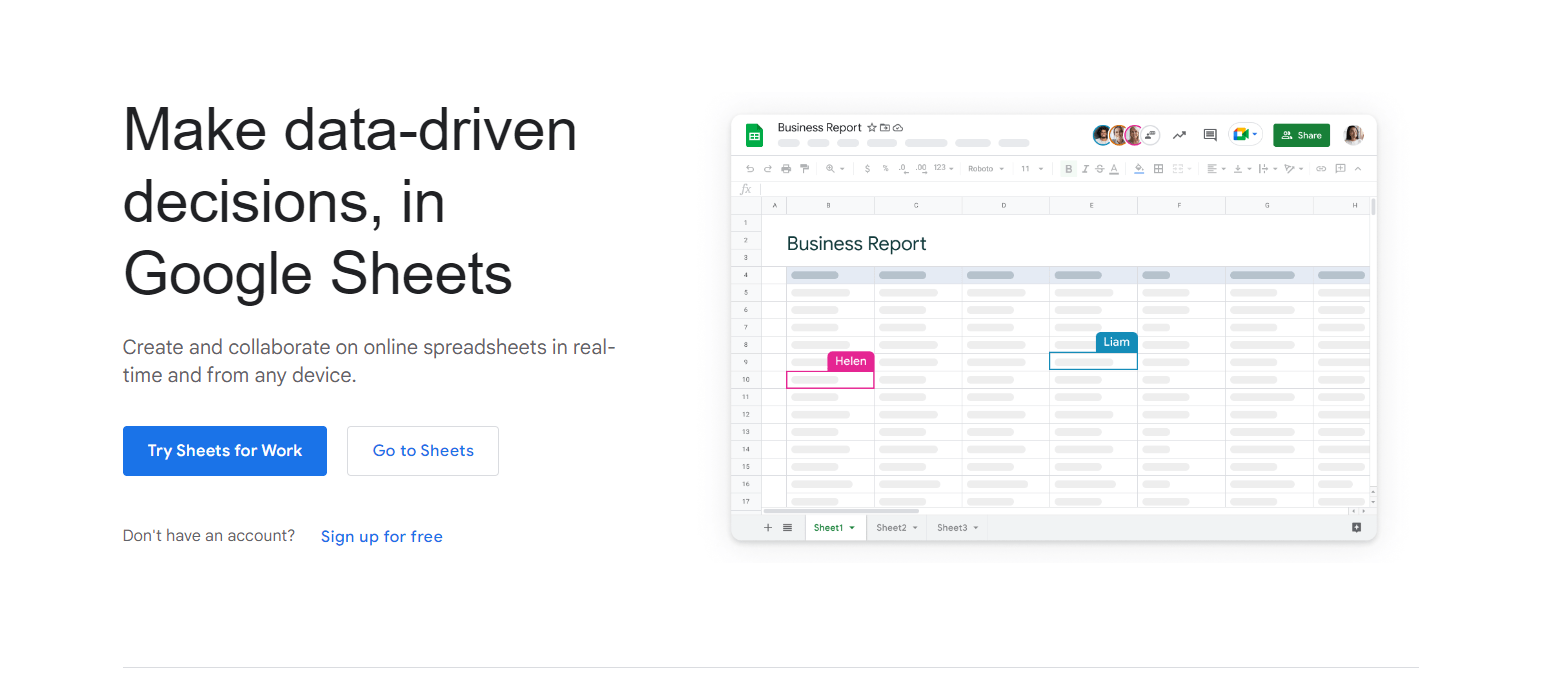 Google Sheets provides a highly customizable spreadsheet for project planning, analysis, budgeting, and other important things. This user-friendly tool has several templates for expense tracking, scheduling, project tracking dashboard, etc. What makes it useful for project management are-
Seamless information sharing
Visualization of project progress
Templates, charts, Gantt charts, pivot tables
Real-time collaboration and validation
3. Google Docs- Document processing and management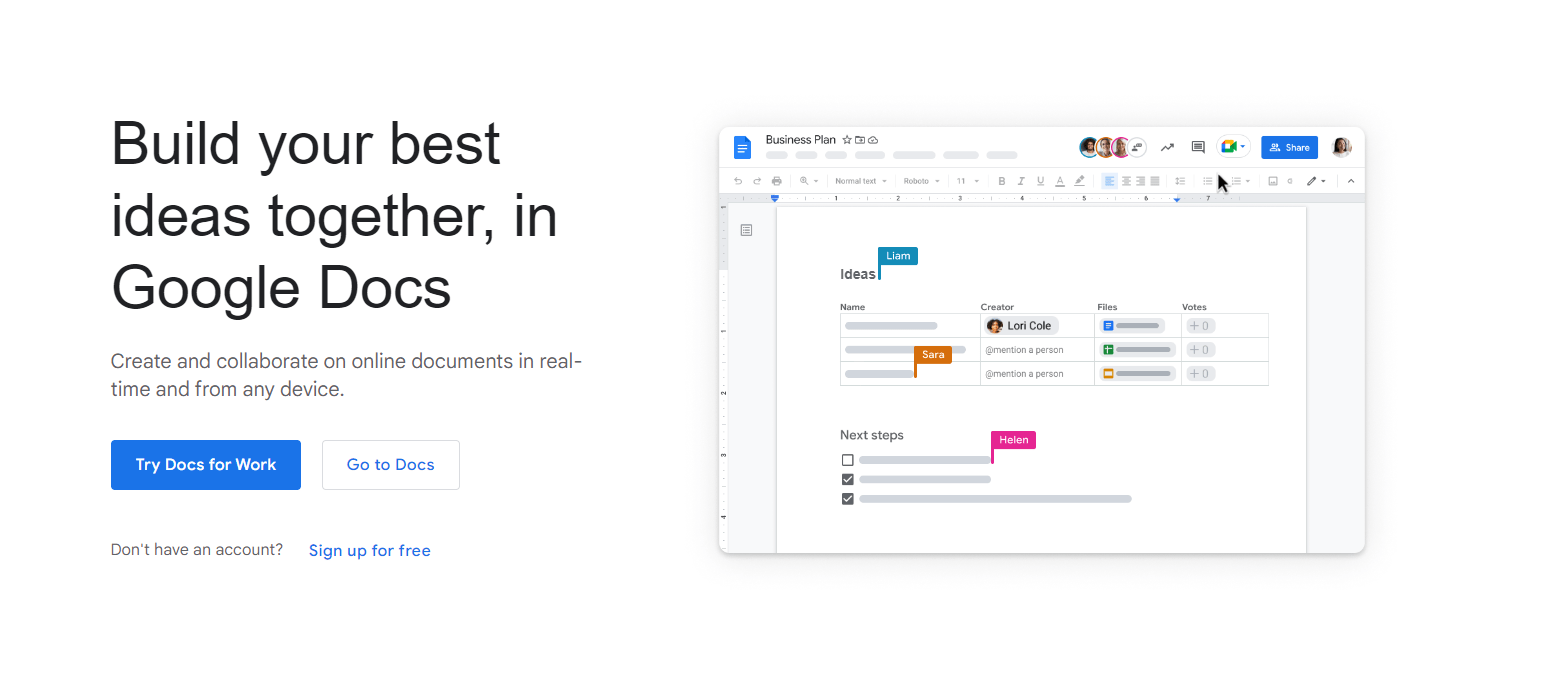 Google has developed Docs as a document management tool. This cloud-based word-processing tool allows you to work with any device. The super-fast synchronization gives you the flexibility to work offline.
The advanced features are comment, chat, and editing. This helps you to interrelate your team with each other and work in a single frame.
Create and edit a text document
Dropdown, table templates
Notes, email draft,
Document outline and summary
4. Gmail- Email management for communication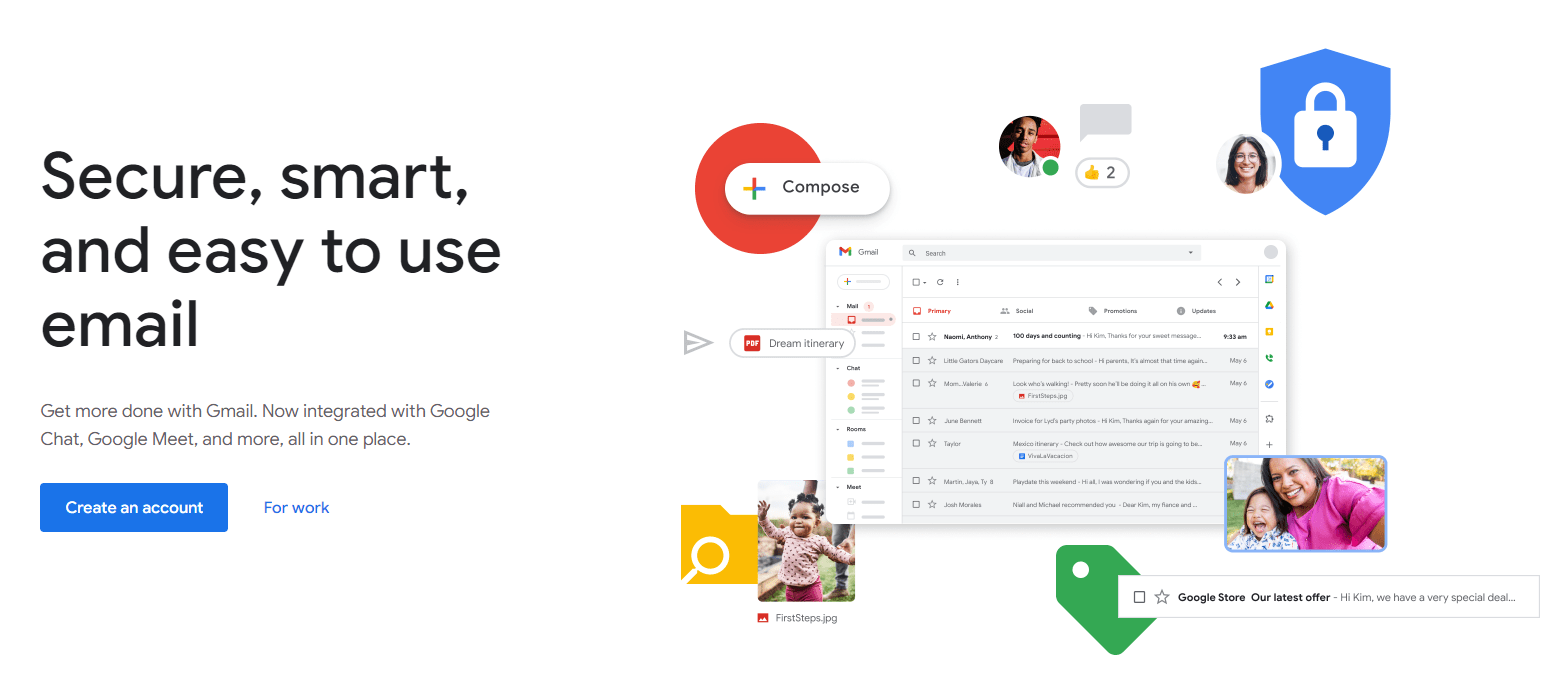 Gmail provides you with personal and business email services. It provides top-notch security and email arrangement. You can customize your company email at your domain. The intelligent interface helps you organize your emails. The more you could do-
Great integrations and ease of use
Grouping the email folders
Mail merge, smart compose, and reply
5. Google Meet-Video conference and meetings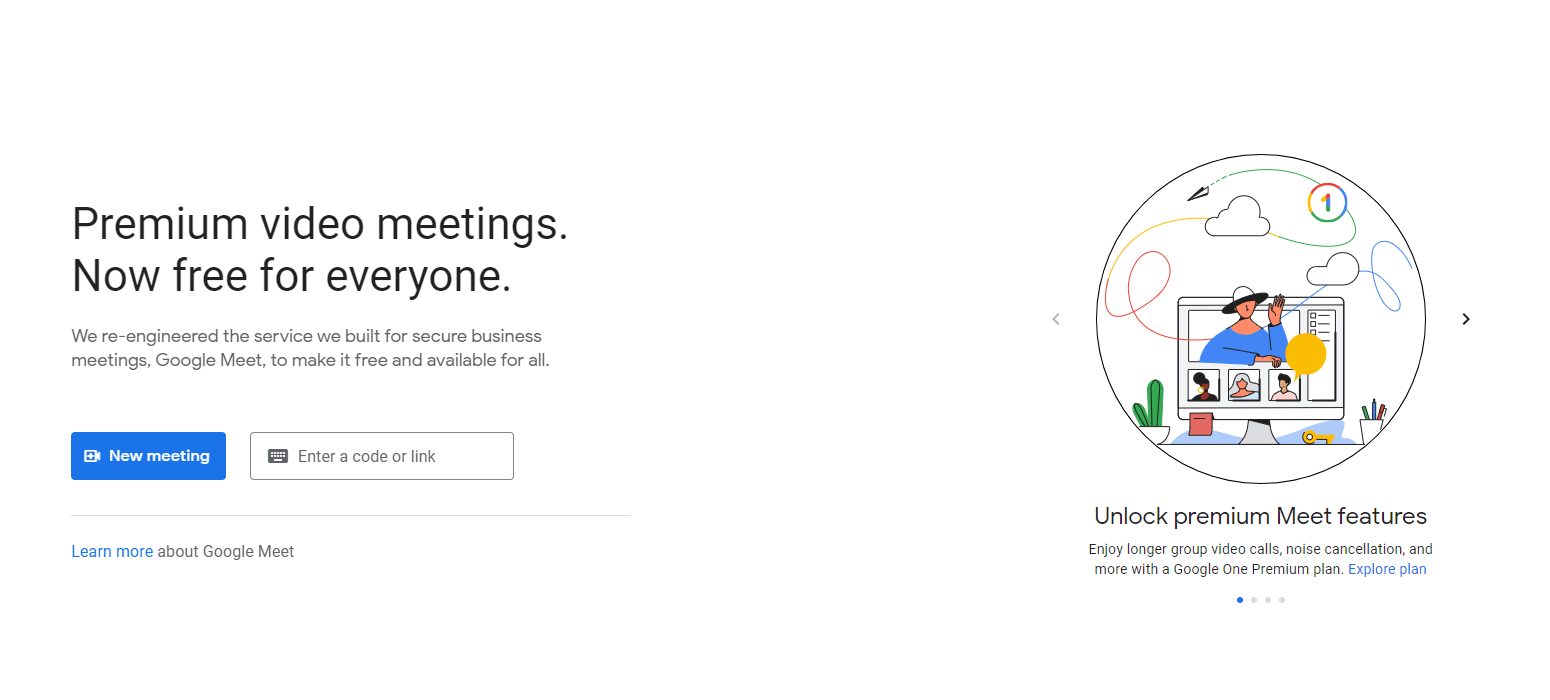 While working with a hybrid or remote team, Google Meet gives you an intuitive platform for video meetings where you can hold meaningful meetings connecting all your team members anywhere, anytime. With a simple link, you can collaborate with all of your mates. Here is what else you can do-
Schedule video meetings
Meet in Jamboard and Doc Editors
Breakout rooms, hand rising
6. Google Chat- instant communication and space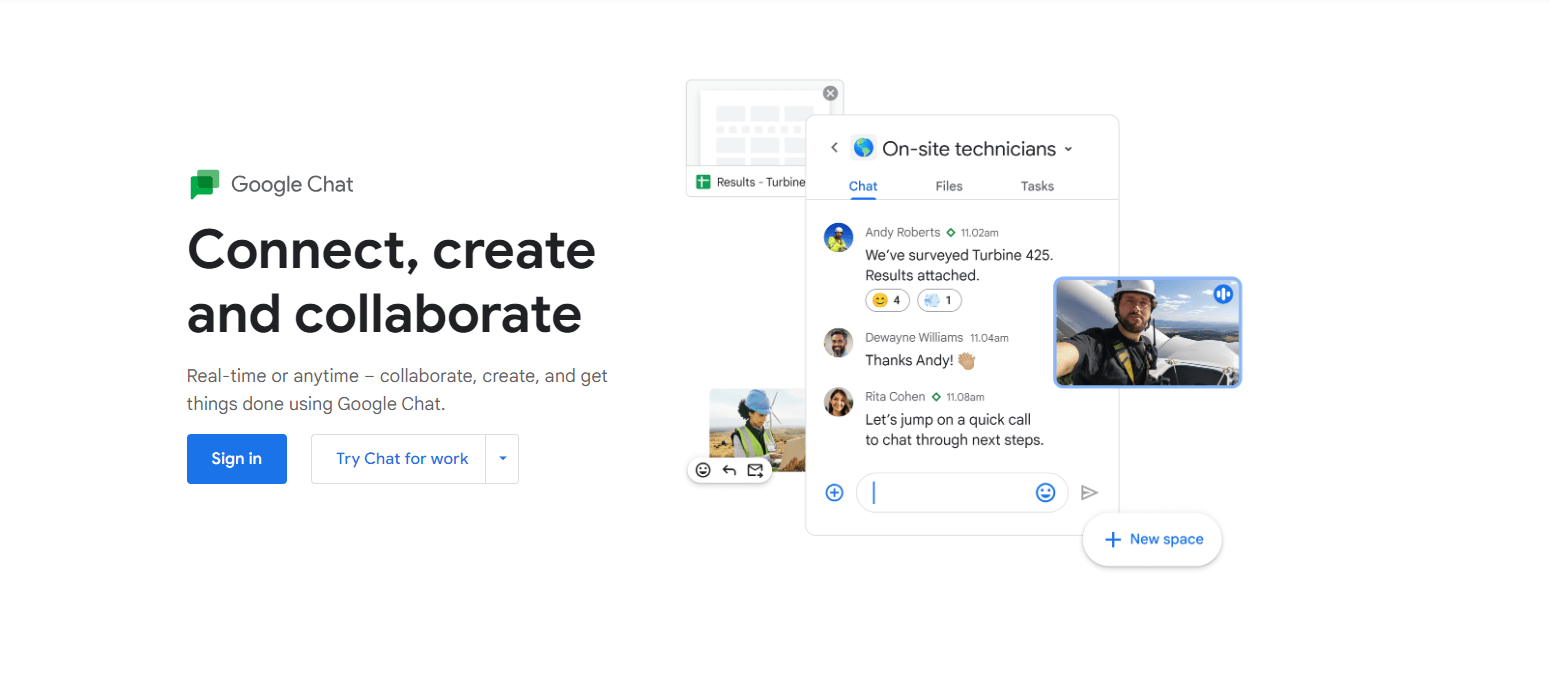 Google chat is very feasible for instant messaging and real-time communication. It provides team chatting that helps you keep peace with teamwork and updates. You can also communicate directly with individuals. Moreover, you can create spaces for organizing your multiple projects.
Smart compose, link directly,
Read receipt checking,
Hide interactive conversation
7. Google Calendar-planning and scheduling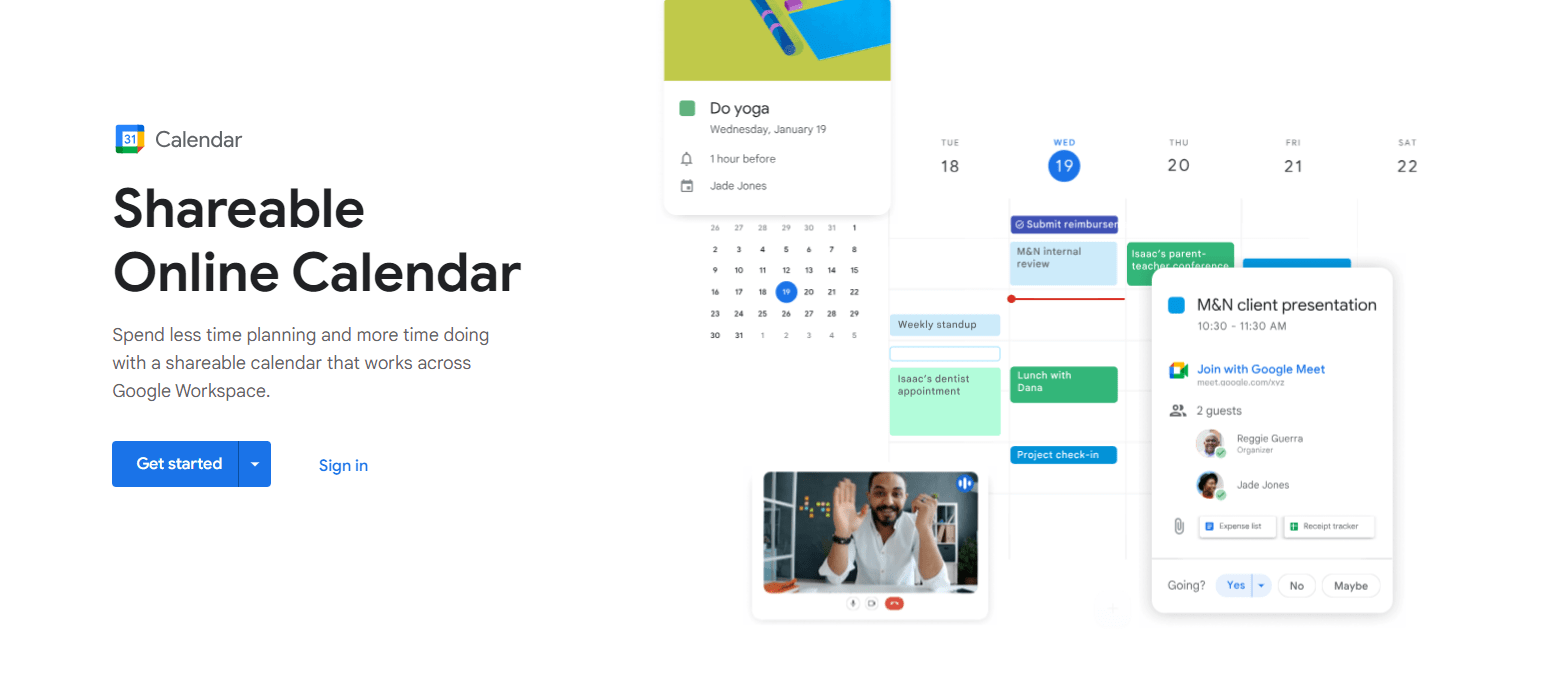 Another most used Google app for project management is Google Calendar. It is highly recommended for project planning, scheduling, checking members' availability, and integrating with Google Meet, Gmail, and other essential apps. You can organize your project or team calendar separately.
Event management, group scheduling
Task management, notification,
Availability Management, appointments
8. Google Slides- Presentation software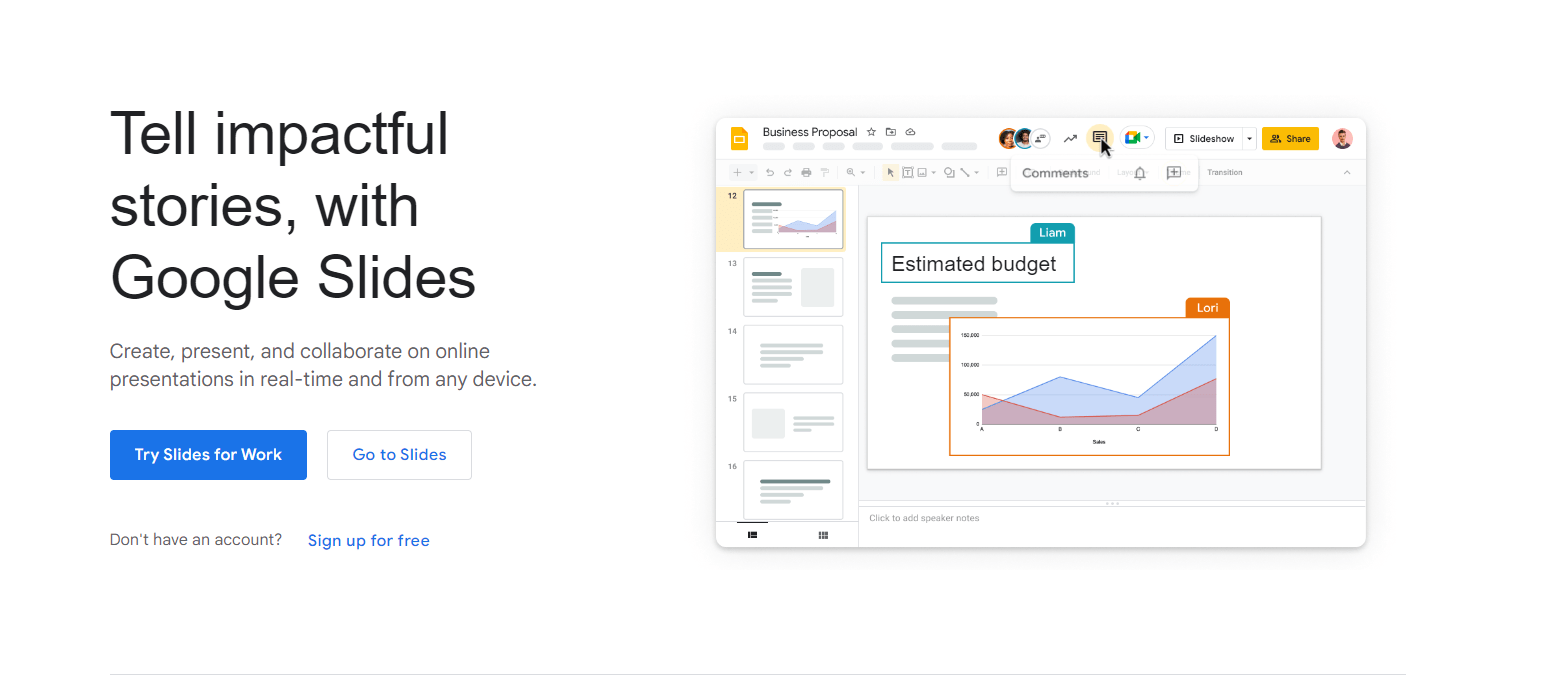 Presentation is compulsory for meetings, representing project planning, thoughts, and overview. Google Slides offers you the interface to work together as a team. Not only for the team but also, you can represent your presentation to your clients online faster and without any hassle.
Creating online and offline presentations,
Real-time editing, live captioning, notes
Smart compose, auto-correct,
9. Google Forms- Data collection and analysis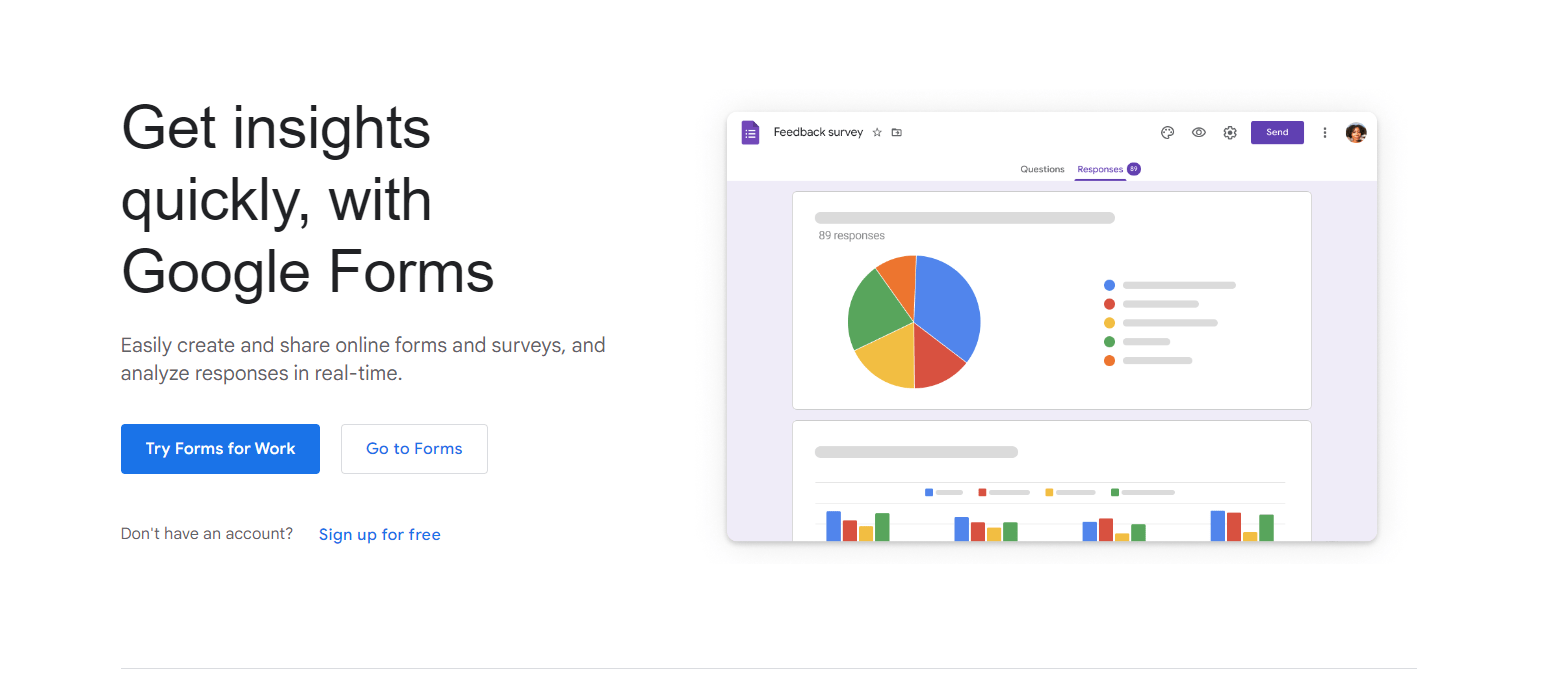 You can collect and centralize your necessary data and information in Google Forms. As a part of a project, you can gather feedback and progress of your team members by arranging some queries.
Event management registration,
Data summaries, drag and drop,
Chart and diagram for response observation
10. Google Keep- Note-taking and task management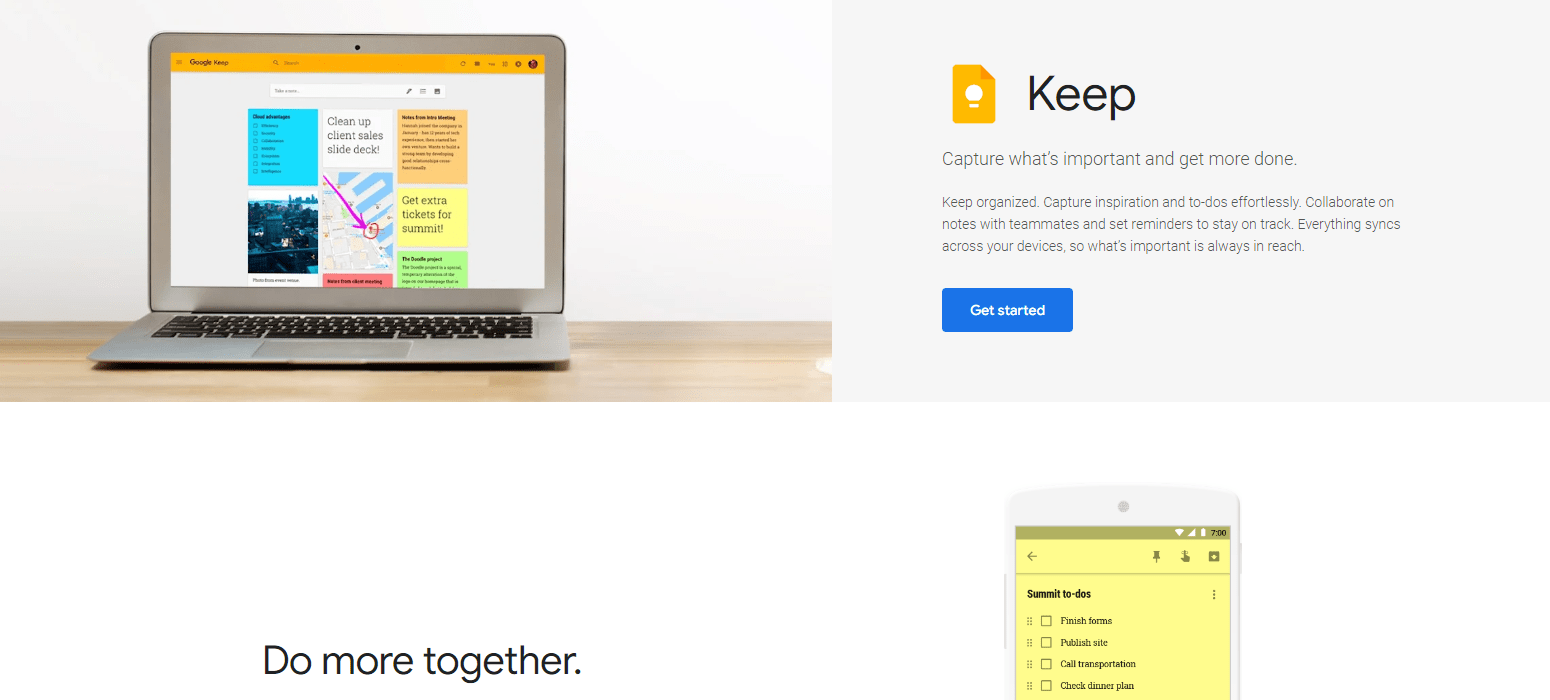 Project management is a dynamic process where you must update your plans, bring new ideas, make to-dos, etc. Google Keep is more handy than a pen and notebook and carries out crucial project management work.
Note-taking, voice notes,
Time and location-based reminders
Faster synchronization with other Google apps
11. Google Contacts- Storing contact information
Project management needs functional team management. So, to improve your team management, you can use Google Contacts more efficiently. It can save basic contact info like names, phone numbers, and emails. But you can classify your clients and members with departments, job titles, etc.
Merging contacts,
Contact directory
Grouping contact
12. Google Sites- Customizable sites for projects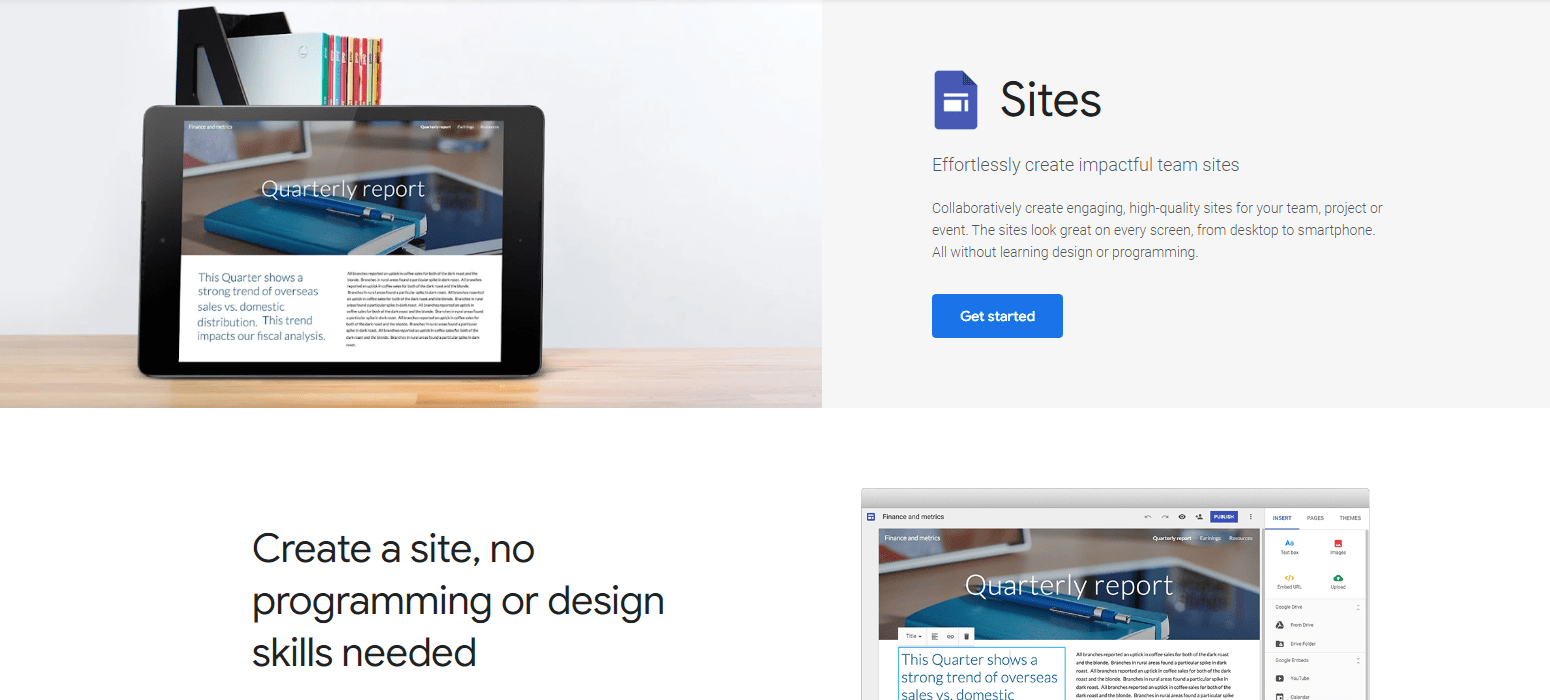 Google Sites can be your hub for arranging any project's updates, details, status, and progress. The best part of Sites is you don't need any programming knowledge to build any site. It has inbound templates for creating and organizing project components. Also, it is all platform friendly. You don't need to optimize it separately for mobile or desktop
Section layouts, Buttons
Collapsible text
Content management
embed widgets
13. Google Jamboard- whiteboard for brainstorming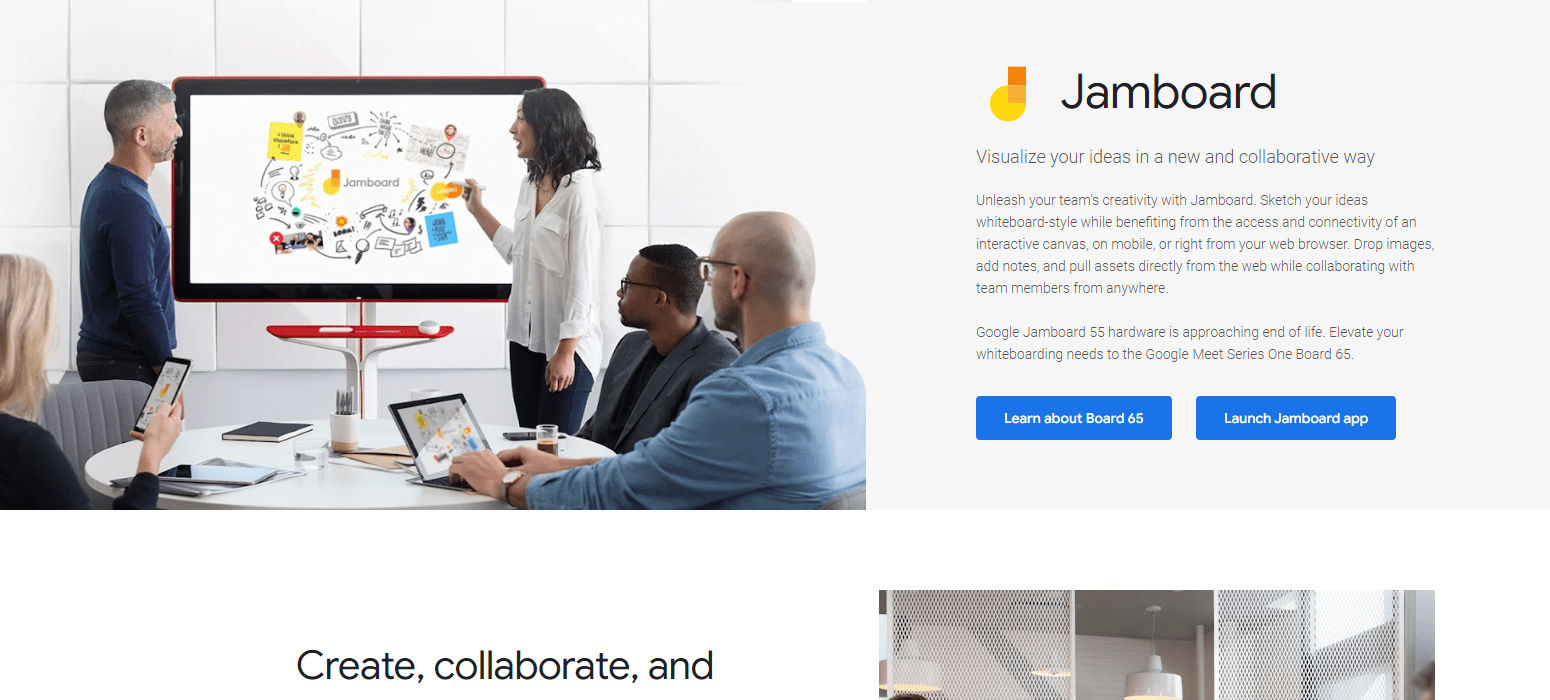 Jamboard is Google's whiteboard that gives you an intelligent display to bring out your ideas and plans. You can attach images from Google for smooth operation. The presentation can be more interactive and sharable with this unique canvas.
Write and draw with the stylus
Image and website addiction
Google Meet presentation
14. Google Chrome extension
Last, the Google Chrome extension allows you to create a more personalized and functional setup for running your project smoothly. You can use your desired software as a Chrome add-on if the software provides a Chrome extension.
You can combine all the Google tools and extensions for proper project management or choose the needed ones.
For example, Google has no dedicated app for time tracking and automatic productivity management. For this reason, you can use the time tracking tool with other Google tools.
Fortunately, Apple provides a flexible Chrome extension that integrates easily with your browser.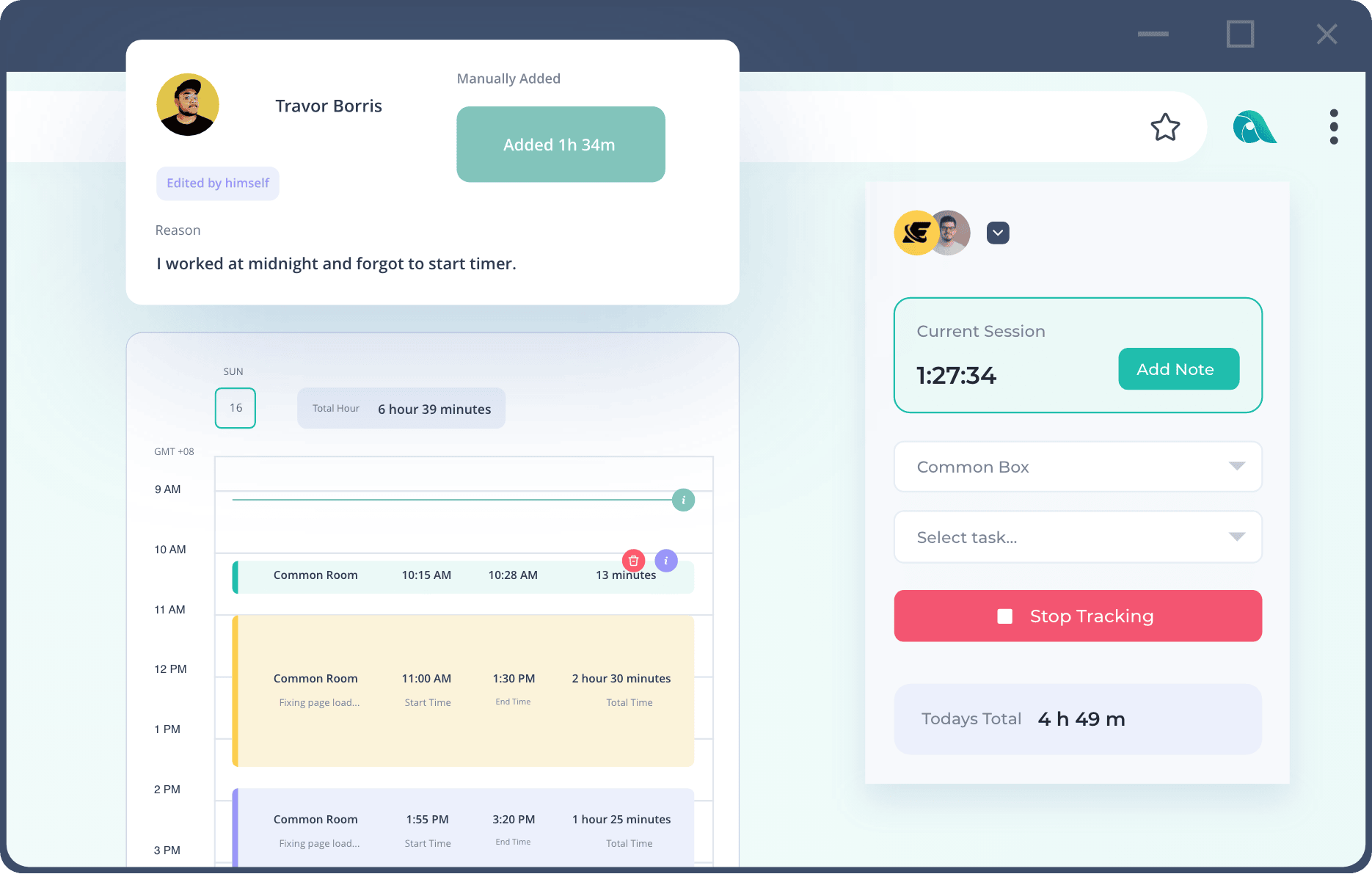 Apploye is a project time tracking, productivity, and employee monitoring tool. It has over 100 features that help you move forward to productivity.
It can track project and task time and estimate the budget and billing. You can assign a project manager and members to a specific project, split the project into several tasks, and oversee the performance of the employees in the project.
Also, you can add clients, set deadlines, and review the project status to meet the deadline.
It can automate payroll, invoices, and timesheets. So, align your people, projects, and clients with the Apploye Chrome extension. Use the Chromebook, Windows, Mac, Linux, Android, or iOS app for more convenience.
Google Workspace for project management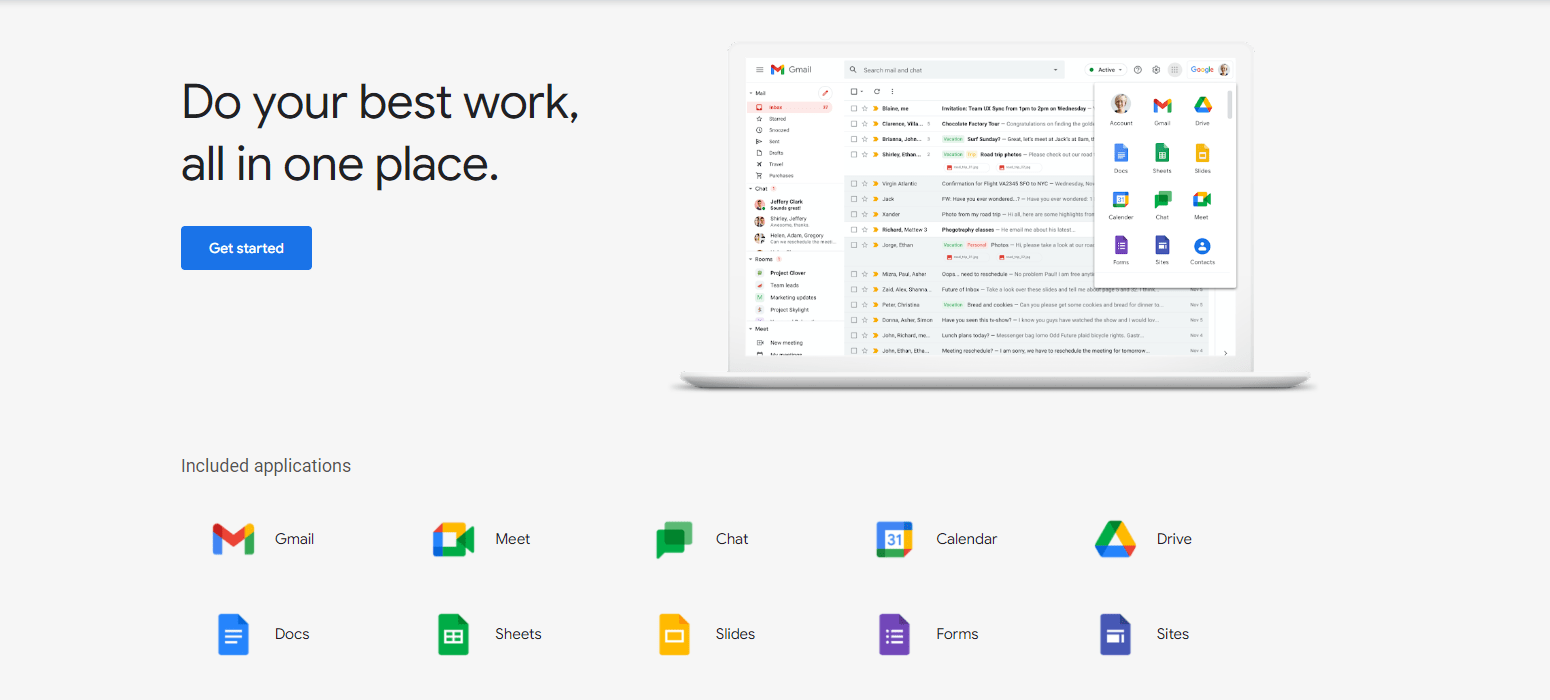 Taking the business into consideration, Google has brought all its productivity tools into one arena, known as Workspace. It flexibly integrates all the Google apps so that you can run your business without any hassle.
It provides customizable emails for your business. Creating documents in Docs, Sheets, and Slide, sharing them in Drive, and communicating and scheduling with the team members are easier in Workspace.
Workspace offers advanced data retention, privacy control, and an audit management system. For administrative purposes, Workspace offers Google Vault to retain, search, and export Workspace's data from Gmail, Drive, Chat, Sites, Meets, etc.
The pricing plan for Workspace
Though you can use the individual app for free, Workspace initiates with a starting price of $6 per user per month and ends at the enterprise level.
Starter: $6 per user per month
Standard: $12 per user per month
Plus: $18 per user per month
Enterprise: Contact vendor
The limitation of Google Workspace
The Workspace facilitates businesses; still, it is not a robust and powerful project management software like other powerful project management tools.
Starting with Google Workspace is complex. The app is not automatically updated unless you use the 'Rapid release' option.
Tracking project updates and employee productivity is not direct and smooth. It can't generate real-time reports. For all these features, you have to rely on the extensions.
Workspace is very costly though the individual tools are free. Small businesses are like to head toward personal tools rather than Workspace.
Final Words
Google gives you more than 270 products, meaning it is not meant to be a project management tool. Rather you can avail impressive services that are convenient for project management purposes.
You need to tailor it according to your requirements. The integrations and extensions make it more functional.
So, set up your management with the Google project management tools.