2020 Standard Schedule - Complete Design Process Case Study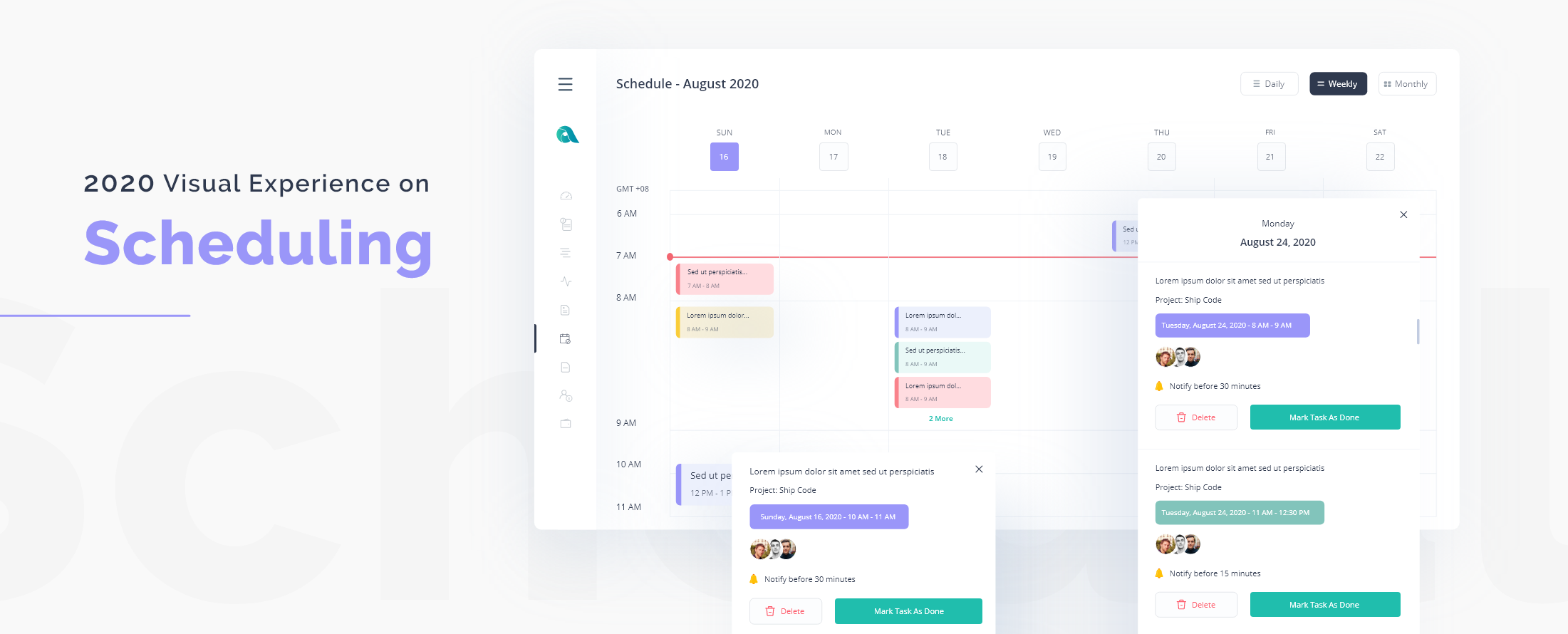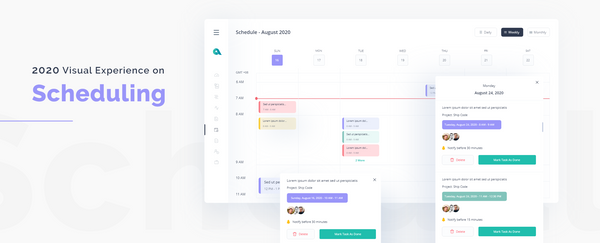 At Apploye, I have designed a feature of schedule that can manage tasks for the individual employee on a different period. This short case study will elaborate on a detailed story of how I touched the last pixel of this schedule.
Let's not wait here, but rather jump on the processes I went through while designing the UX for this amazing feature.
I started gathering stuff before I made the affinity diagram. I used this affinity diagram to generalize all my thoughts and things I prepared to start with. To be honest, in my sense: the affinity diagram looks very simple but the effectiveness of the charts it creates helps the most out.
Let's keep our eyes on what this schedule can solve.
This feature is available on Apploye an amazing time tracking application ( to know about that app, read another article here ). This schedule helps an organization owner to handle all kinds of tasks he/she assigned to his/her employees. The owner can assign his/her employees on a daily, weekly, or monthly basis on different periods.
Problems and identifications
Life today has become competitive than ever before. In all areas of life, things are getting busier with all the stuff people use in their life. Like life outside, everything got busier in the four wall room also and to maintain better task management, a dynamic well-developed schedule is a much-needed feature.
Let's not go further with words. Dive to my affinity diagram which I used to generalize my thoughts and things to start with the UX design process.
Affinity diagram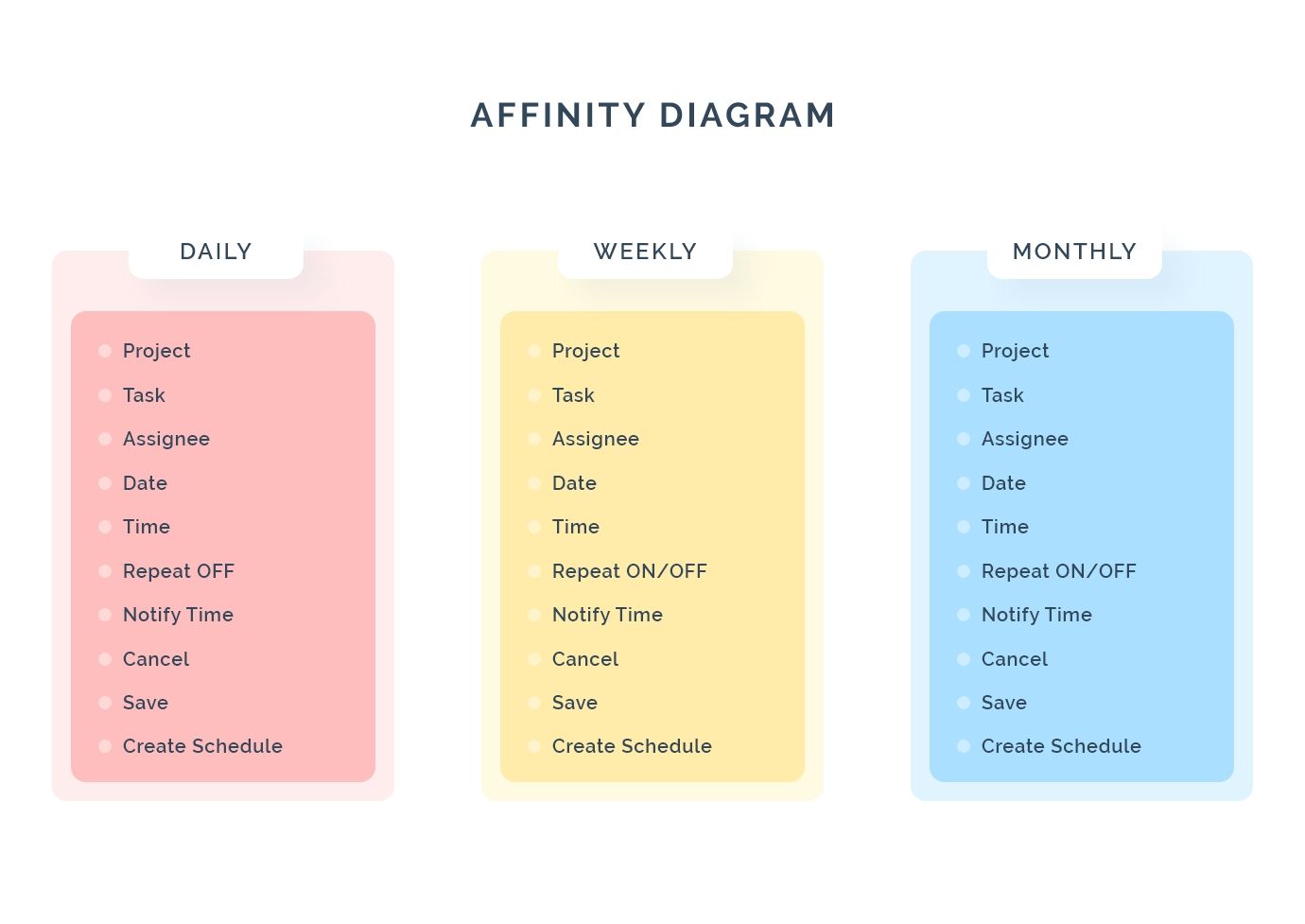 The charts display the periods of schedule on a daily, weekly, and monthly basis. Each period consists of the elements it needs. Here is the diagram shared below.
User flow
I needed to map and visualize what is coming out next. Thus, I used to draw the user flow to figure out the flow of this feature.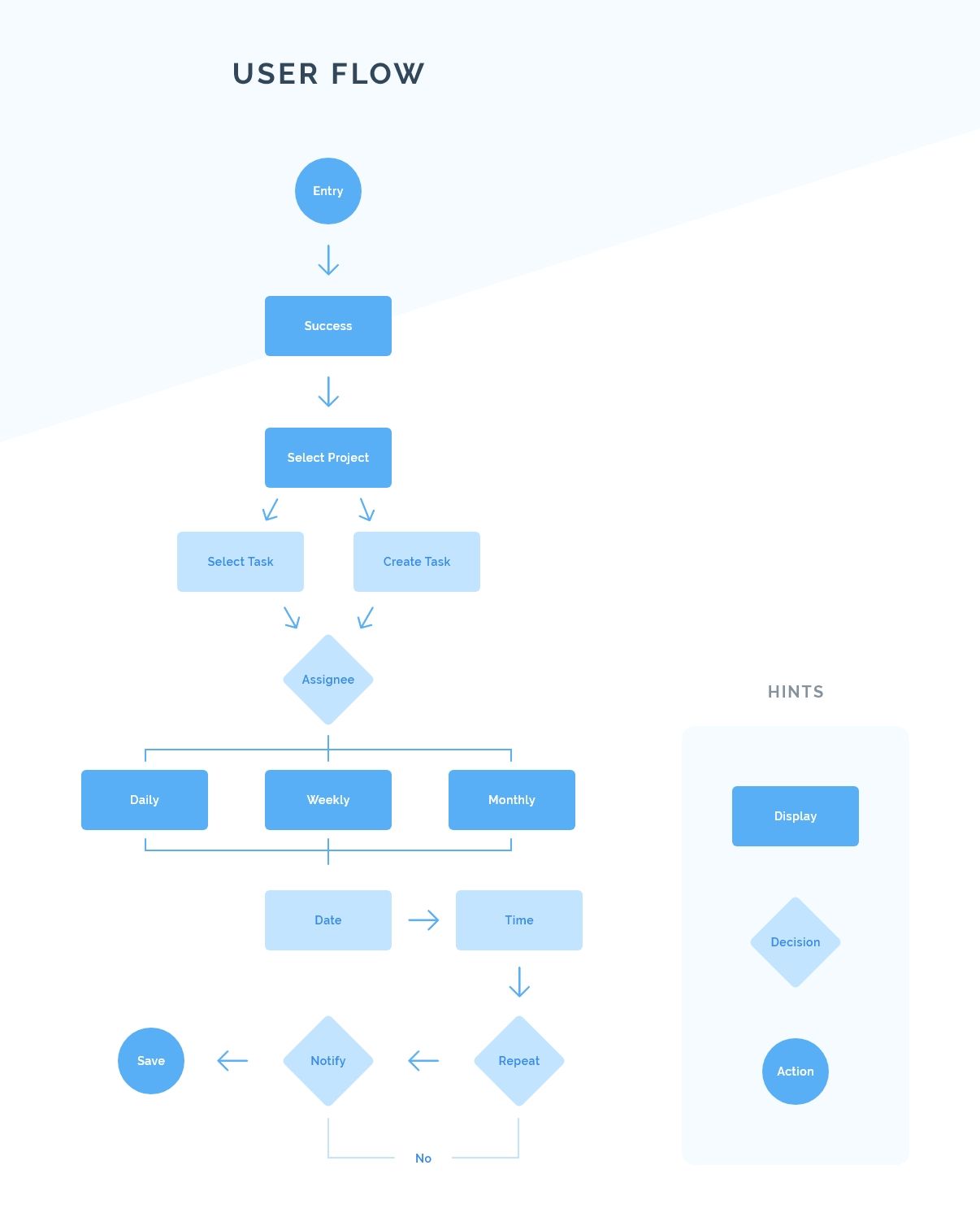 Sketches
On my sketch board, I drew the layout for daily, weekly, and monthly schedules. It needed some popup messages to be displayed. I sketched them too.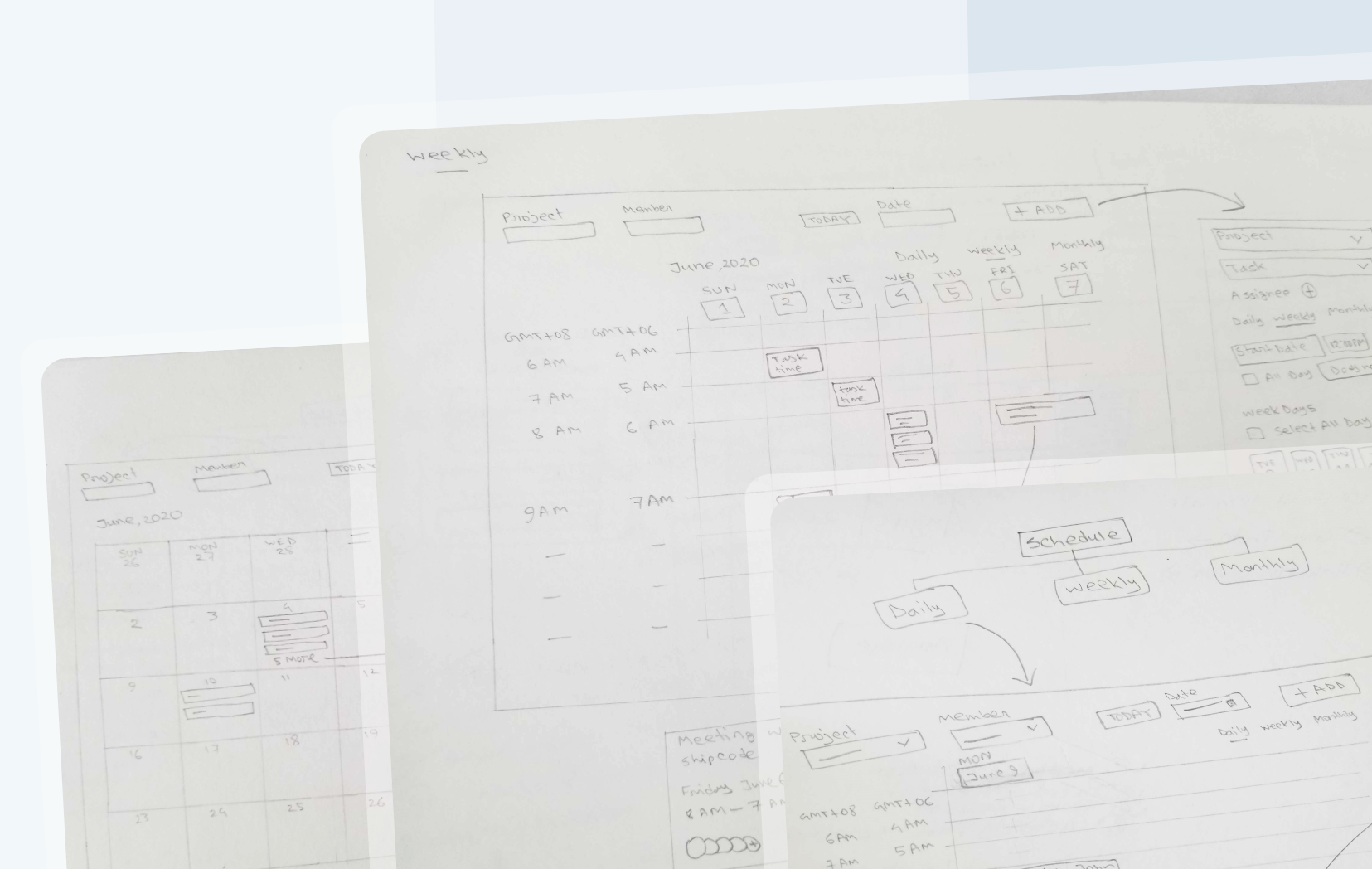 Daily Schedule
The daily schedule can be created on a specific date. You will be able to select or create a new task and assign your employees to that task. On the dashboard, the tasks will be displayed with the digital calendar view. A time tracking line will be displayed on the time axis on the left side, to track the current time so that you won't need to see time and most importantly, you won't miss any assigned schedule. I'm sharing an image below here for a daily schedule.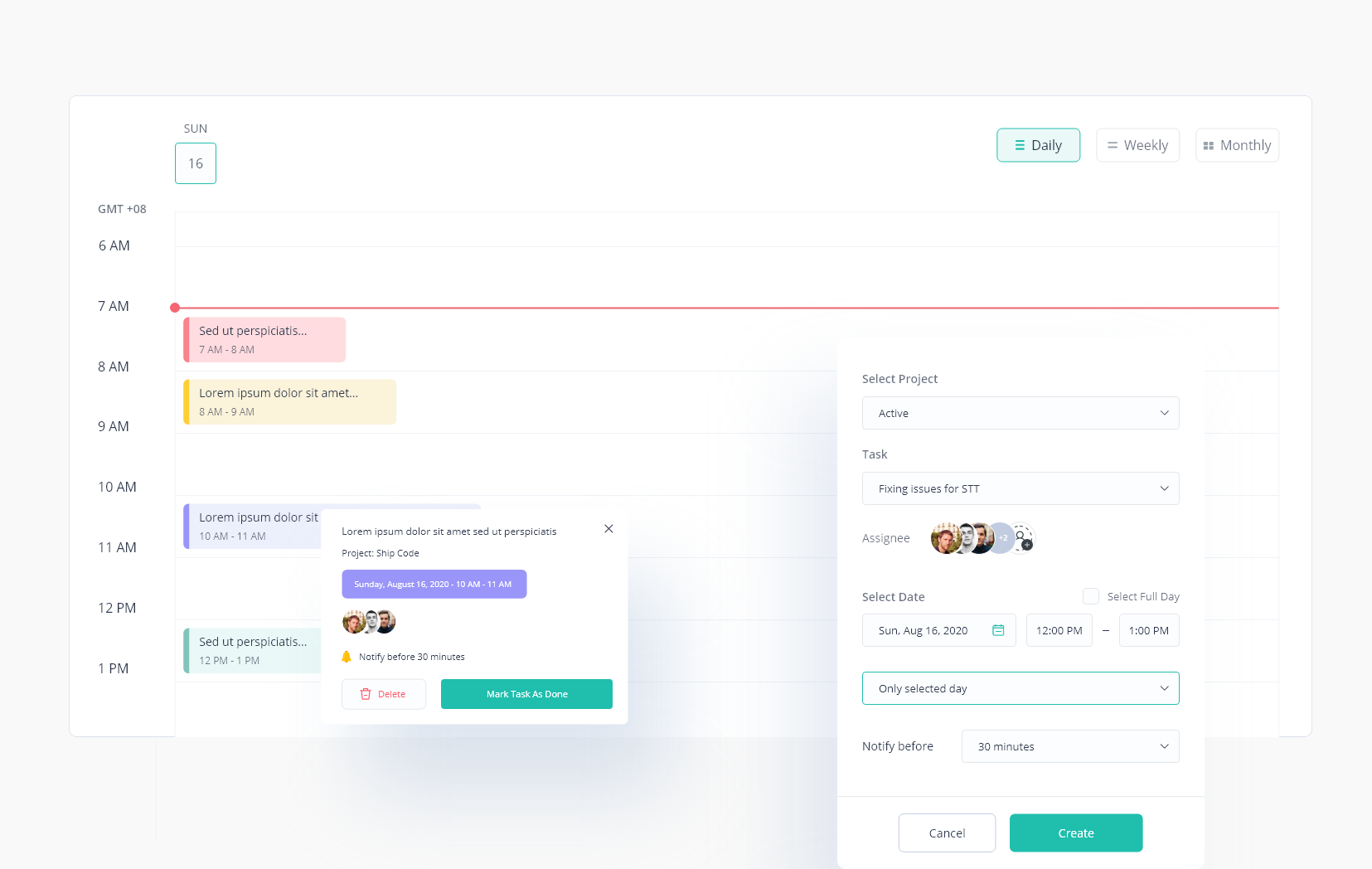 Weekly Schedule
The Weekly schedule covers all the tasks which are scheduled every week's time range, on 7 days. If you see the details of a task, it will show you the time it needs to remind you.
Users will be able to change notification alert time based on their timezone. I believe people feel relaxed when they have some accessibility on their hands.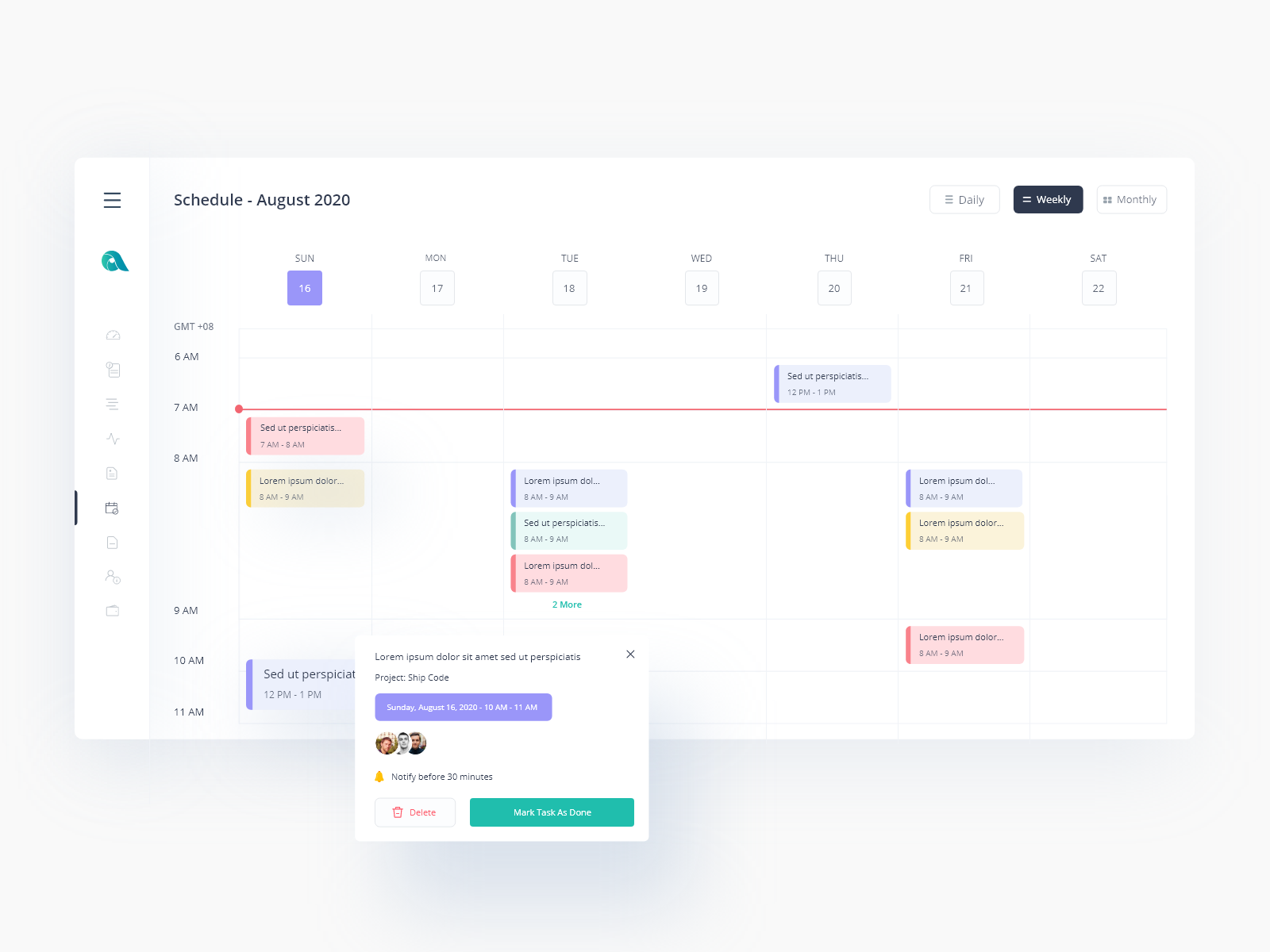 As a user, you are assigned to a specific task and you can finish the task from the detail screen so that the workspace owner knows that the task given has completed.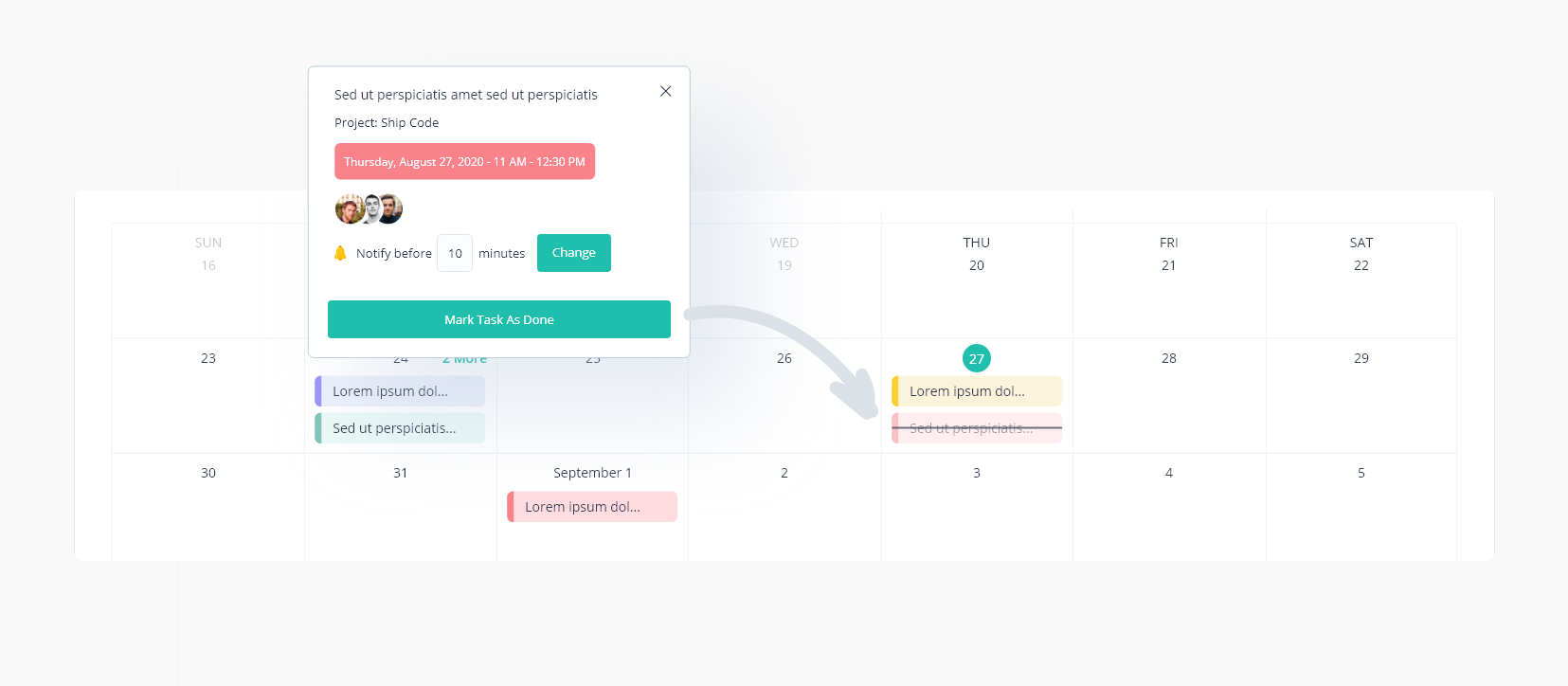 Monthly Schedule
What happens if you create 7 or 8 schedules or maybe more, on a specific date of your month? I have put a clickable dynamic text that looks like "2 more". This will show all the tasks assigned on that date. Again, people are used to viewing the calendar view on their eyes. So that I remained the same as it should be.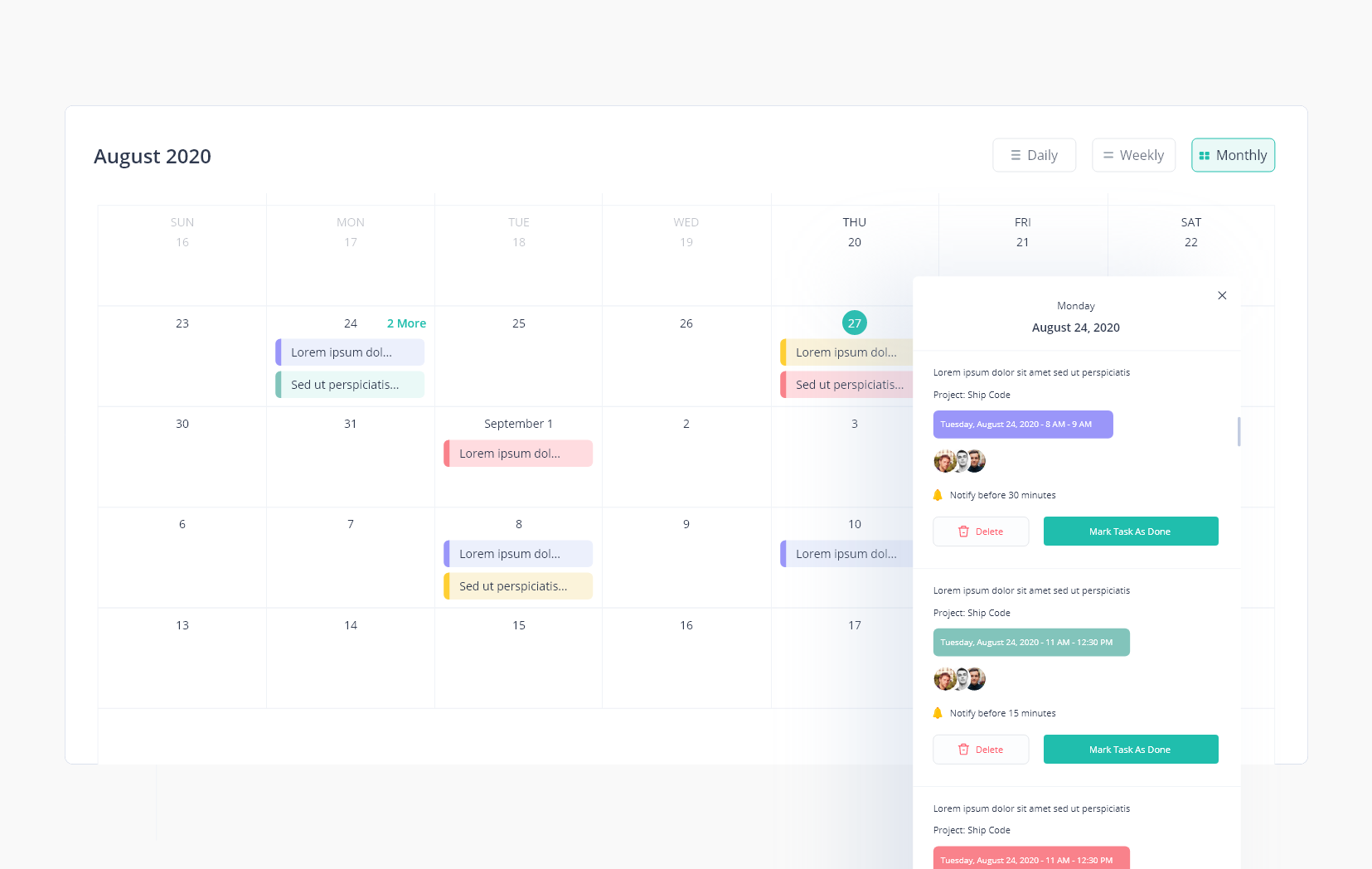 As an administrator or organization owner, you have access to create a schedule for your employers. You can schedule any event on a daily basis, on a weekly basis, or on the same day every month. Events can be scheduled on days of interval or weeks of interval. It can be repeated unless you set an end date for that event.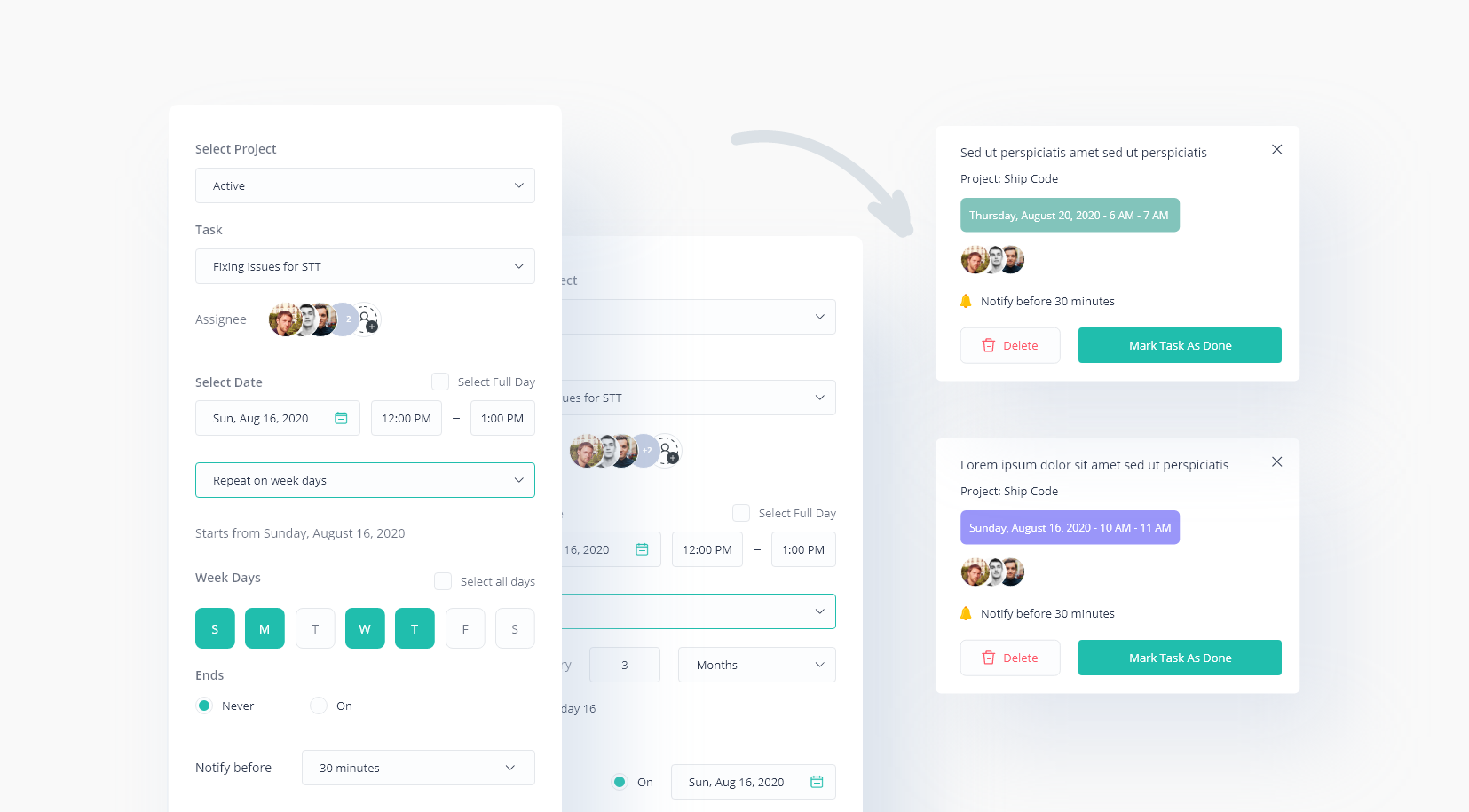 People these days are light-sensitive, in that case for them, I have designed a dark theme for this feature. I'm sharing the dark theme interface below.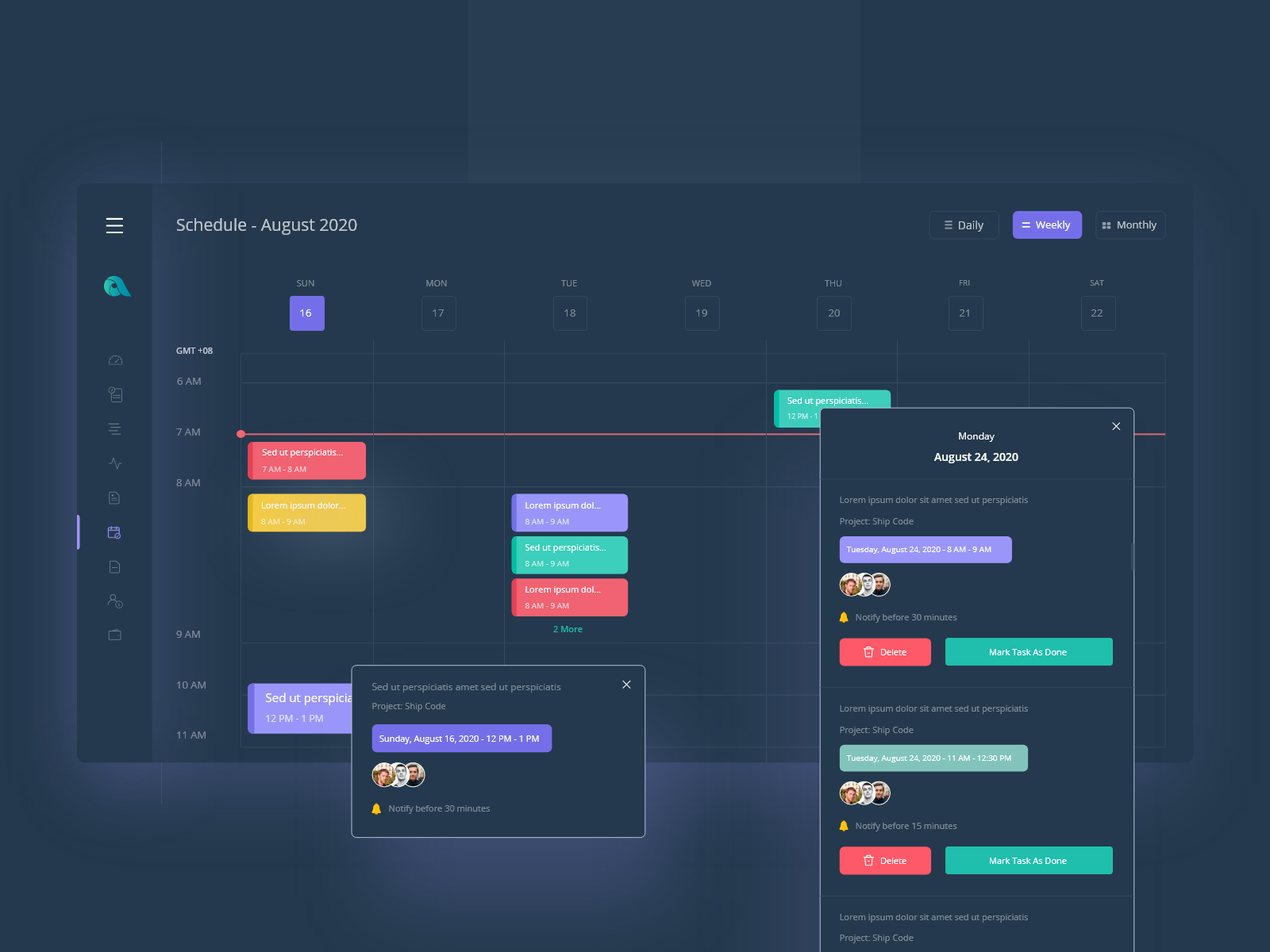 Like schedule, Apploye has many more amazing features and I will share them too here. I wish my research and design will help people to bring the best of their work-life balance. Let's enroll in the future generation task managing schedule now.
Thank you for taking the time to read all of these!