RescueTime vs Toggl Track Comparison (2023)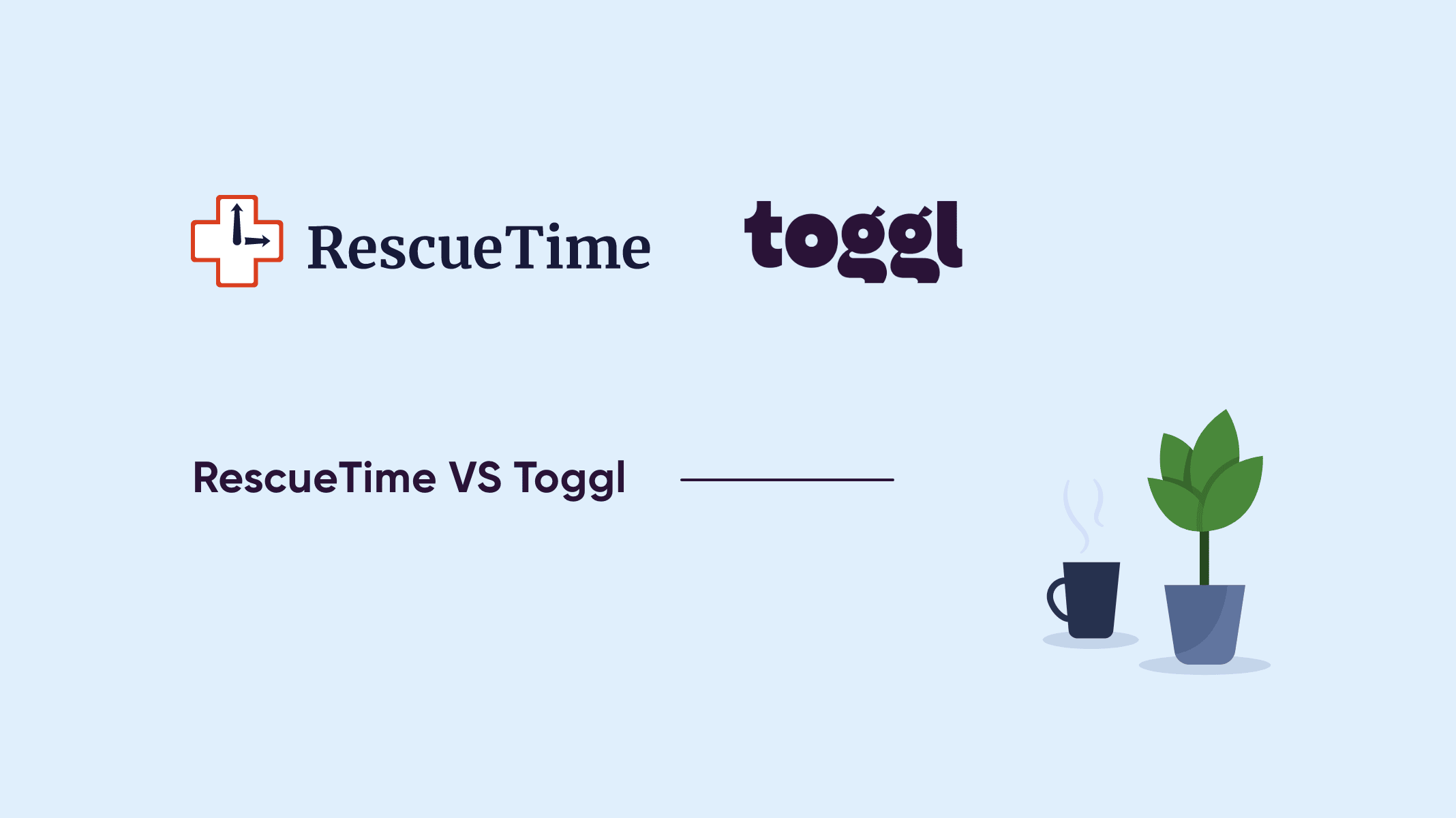 Are you in a dilemma choosing between RescueTime and Toggl Track? Both apps are ruling the time-tracking apps market with their features and services. Being in the same field, they have the same intention of time management. But they have some distinguishing features that make them unique and compliant to the users.
However, are they useful for your company? Being a productivity chaser, you might get confused about choosing the right one. To eliminate your dilemma, we have brought this detailed comparison of RescueTime vs. Toggl Track.
In the end, you may get an alternative solution and a quick comparison of these time-tracking tools. So, continue to the rest of the article and get the details.
Toggl Track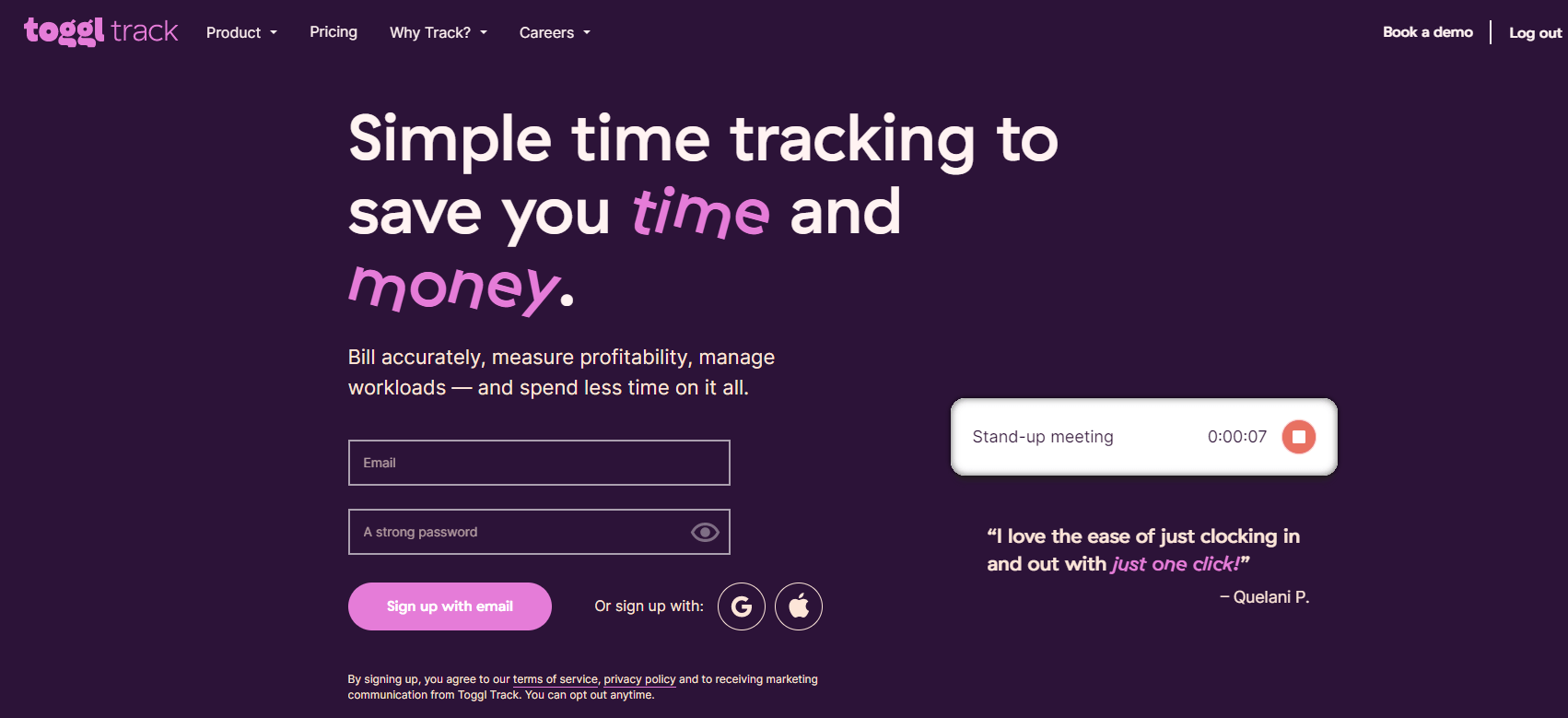 Toggl track is one of the renowned employee time-tracking apps that is mostly liked by freelancers, agencies, and small businesses for billing and payroll purpose. It helps you to bill your clients for the exact working hours and the project you completed.
The simple interface makes the user relaxed and comfortable working without being stressed about running the timer.
The features are-
Automatic, online and offline time tracking, Pomodoro timer,
Idle time detection, triggers, exportable reports, time rounding,
Billable rates, payroll, project time estimation, alerts, task management,
Integration with over 100 apps, including Zapier, Trello, Xero, etc.
Unique features:
It offers a favorite bar which is a shortcut to use the most used time entries so that you don't need to look high and low every time you open the timer.
You can notify your team if it can not meet the target. It is convenient to send reminders as a whole rather than sending them individually.
You can round up the time entries to the nearest value to get a polished report to pursue bills.
RescueTime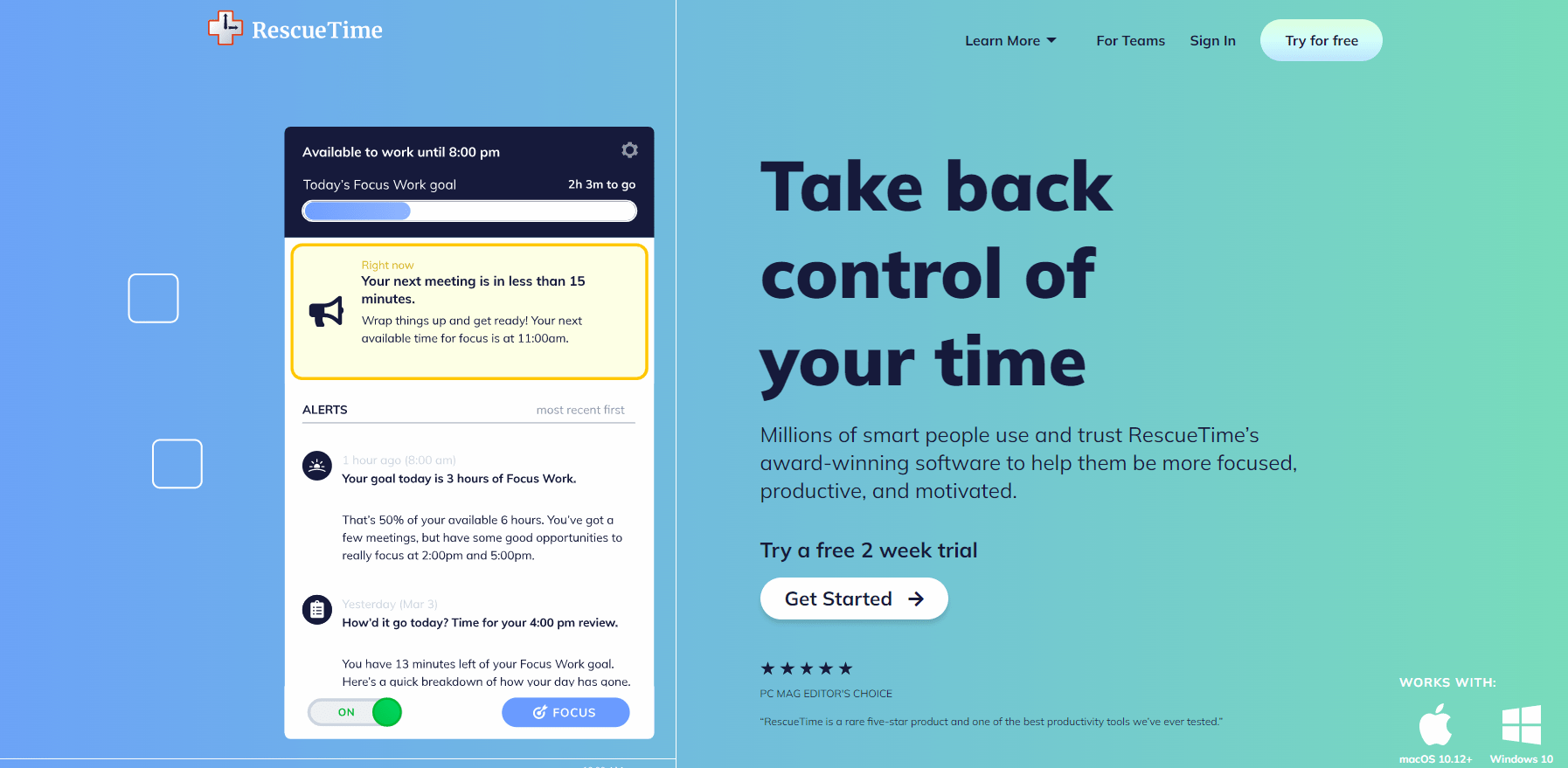 RescueTime has landed with the name of 'Rescue' is its users' time waste and get more productive, focused, and motivated. This fully automatic time-tracking tool records your activities and learns your working pattern. It can give automatic suggestions, reminders, and alarms. The quality that makes RescueTime unique and useful is the blocking of all distracting apps and websites during work.
The features are-
Automatic time tracking, manual time entry, idle time tracking,
Detailed reports, apps, browser tracking, focus boosting,
Block distractions, goal setting, RescueTime assistant,
Integrated with Google Calendar, Office Outlook Calendar,
Unique features:
RescueTime only measures the active time means only the keyboard and mouse movements are counted and automatically deletes the idle time from the tracked hours. So, it helps you to get exact data about your work. RescueTime assistant.
You can set the goal for the day of how much time you will be in your focus work. Other than that, you can use the 'Focus Session' to get a distraction-free ambient of work.
RescueTime assistant is an app and a digital coach providing you the daily progress, goals, focus time, and more.

The detailed comparison of Toggl vs RescueTime.
Starting Up
Toggl
Toggl's sign-up process is fairly simple. Your Toggl dashboard can be launched using only your email address and password. To track and edit time entries, utilize the applications or the web timer. The web dashboard is well-organized and simple to use.
Both list and calendar views are available in the desktop app. You can access your activities and add tasks with this app. You can use the tiny timer or set the timer to run automatically for greater flexibility. It contains a reminder and Pomodoro timer. It can also monitor idle time.

RescueTime
Joining the RescueTime is way more complex and needs time to understand the whole process. With the basic information, you need to add more information about your team and work. After that, you can get access to the RescueTime dashboard.
You must install the app on your device(mobile or desktop) to run the timer and RescueTime assistant. The assistant provides daily insights, focus goals, and many more important things.

Time Tracking
Toggl
Toggl provides you with intuitive time-tracking features. You can add your working hours in many ways. Running the timer or the device app is one of the most convenient and well-known ways of tracking time. It has a manual mode if you forget to start your timer.
You can use the automatic timer if you feel bothered by the start/stop button. It offers calendar-wise time entry. You can add the entries to the calendar and observe overall performance throughout the week. You can enumerate the billable rates for proper billing. It also notifies idle time and reminders to alert you for time tracking.
RescueTime
RescueTime is a fully automatic time-tracking tool that works completely background once you install the app on your mobile or pc. RescueTime has a different purpose for time tracking from Toggl or other time-tracking apps.
It considers where you spend your work hours rather than how much time you've been at work. You can add offline work entries.

Activity Tracking
Toggl
The main concern of Toggl Track is to provide compact and solid time tracking for invoicing. However, It can track the computer activities like the website you visit during the running time. It is only available in the desktop app.
The data is not available for the admin. This is because Toggl wants to help the user improve the user experience, not to scrutinize the user's activities.
RescueTime
RescueTime, on the other hand, has a different working policy for tracking the user's activities. This app is designed to block distractions, so it must know what is for and against your productivity. So, tracking applications and websites are mandatory for RescueTime.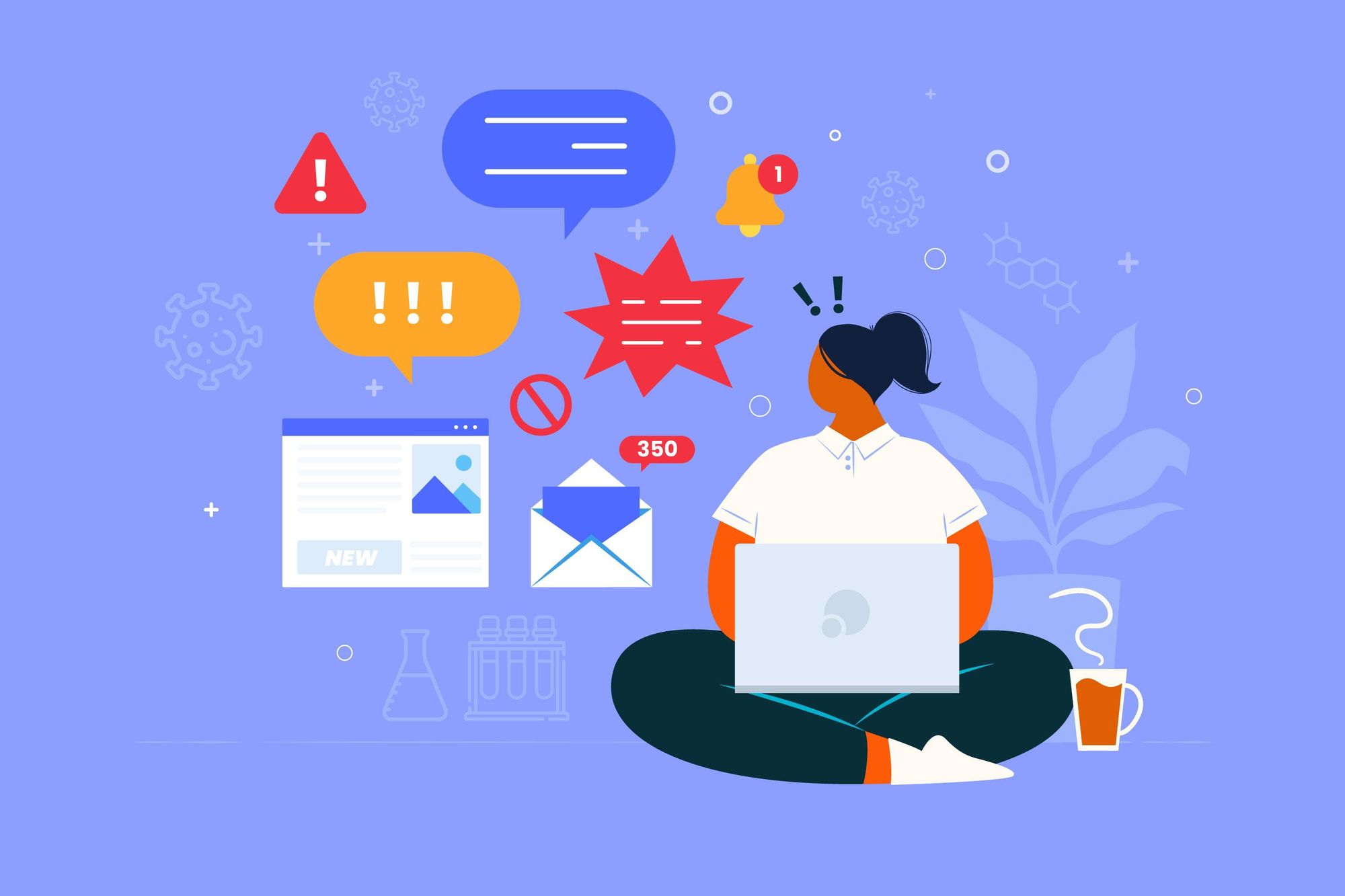 With the help of the assistant, Rescuetime tracks all your computer activities and organizes them into 3 categories; general, communication, and meeting. It also ranks the activities into focus, personal, and other work.
RescueTime rates your tasks based on the job you choose during onboarding and years of data analysis, so you shouldn't need to adjust a task's ranking too frequently.

Focus Mode
Toggl
Toggl offers focus mode from its timer page. You can work on this mode if you need to avoid litter. It has a separate timer that starts when you set up the focus mode. You can work offline in focus mode. If you are away from the computer, it will detect idle time. That means if you forget about your work, it will pop up a notification to remind you how much time you have not worked.
RescueTime
As stated earlier, the focus mode is the unique property of RescueTime. The RescueTime assistant gives you the environment of focus work by blocking disturbing apps and sites, tracking the focus time, and making reports on them.
You can set aside time on your computer for Focus Work during a Focus Session. Your Assistant's Focus button will take you to optional Focus Session preparation and warm-ups before sending you on your way.
Websites and desktop applications you've ranked as Personal Activities are blocked during a Focus Session. Your Focus Work objective will be affected by the activities you've scored as Focus Work.

Reports
Toggl
You can get your insightful reports in Toggl Track. The reports are generated comprehensively and organized with resources so you can filter out your desired and shareable data. The reports contain time entries, billable hours, projects, and tasks.
A summary of the time tracked is provided in the Summary Report. This report's grouping options make it ideal for sending to clients who only need a brief overview. The Detailed Report gives a chronological list of all time entries depending on the selected filters.
RescueTime
Based on your activities, RescueTime creates several goal reports such as distractions, communication, focus session, focus work, and balance. These reports help you understand how well you have dealt with distractions, personal focus, and goal achievement.
The main reports include the application and website usage reports. You can sort out the reports into activities by hours and trending. The activity reports are marked as the productivity level. Also, the reports are distributed into different categories.

Platform Compatibility
Toggl
Toggl has apps for most of the popular operating systems. You may get the desktop app for Mac, Windows, and Linux. The mobile apps are available on Android and iOS. It has web extensions for Chrome and Firefox too.
RescueTime
Like Toggl, it has apps for desktop and mobile. It is compatible with Windows, Android, iOS, Mac, and Linux. The extensions are for Chrome and Chrome OS.

Pricing
Toggl
Toggl has a free tier of services with basic time tracking, reports, projects, and tasks. The full plans are as follows-
Free: up to 5 users
Starter: $10 per user per month
Premium: $20 per user per month
Enterprise: Customizable
30 days free trial
It offers 10% discounts on the annual plan.
RescueTime
RescueTime has two categories of service, RescueTime Lite, and Premium. The Lite is free with very limited features. The premium is paid. The price is-
12-month price- $6.50/month
1-month price- $12/month
14 days free trial
Summary
Let's sum up all the analysis above. Starting with setting up each app, we have found Toggl easier. Toggl has more time-tracking properties than RescueTime. The interface is more flexible in Toggl, whereas RescueTime works differently. That depends more on your activities.
So, RescueTime concentrates more on apps and browsing history tracking. Not only that, it helps you to be consistently focused on your task. Considering the price, both tools are pricey. In brief, RescueTime serves the very specific purpose of focusing on work and blocking distractions. Toggl is more efficient with billing and invoicing.
You can consider other substitutes available on the market. We have suggested Toggl alternatives and RescueTime alternatives individually. However, observing the best and most common alternatives of both tools is convenient.

An alternative to Toggl Track and RescueTime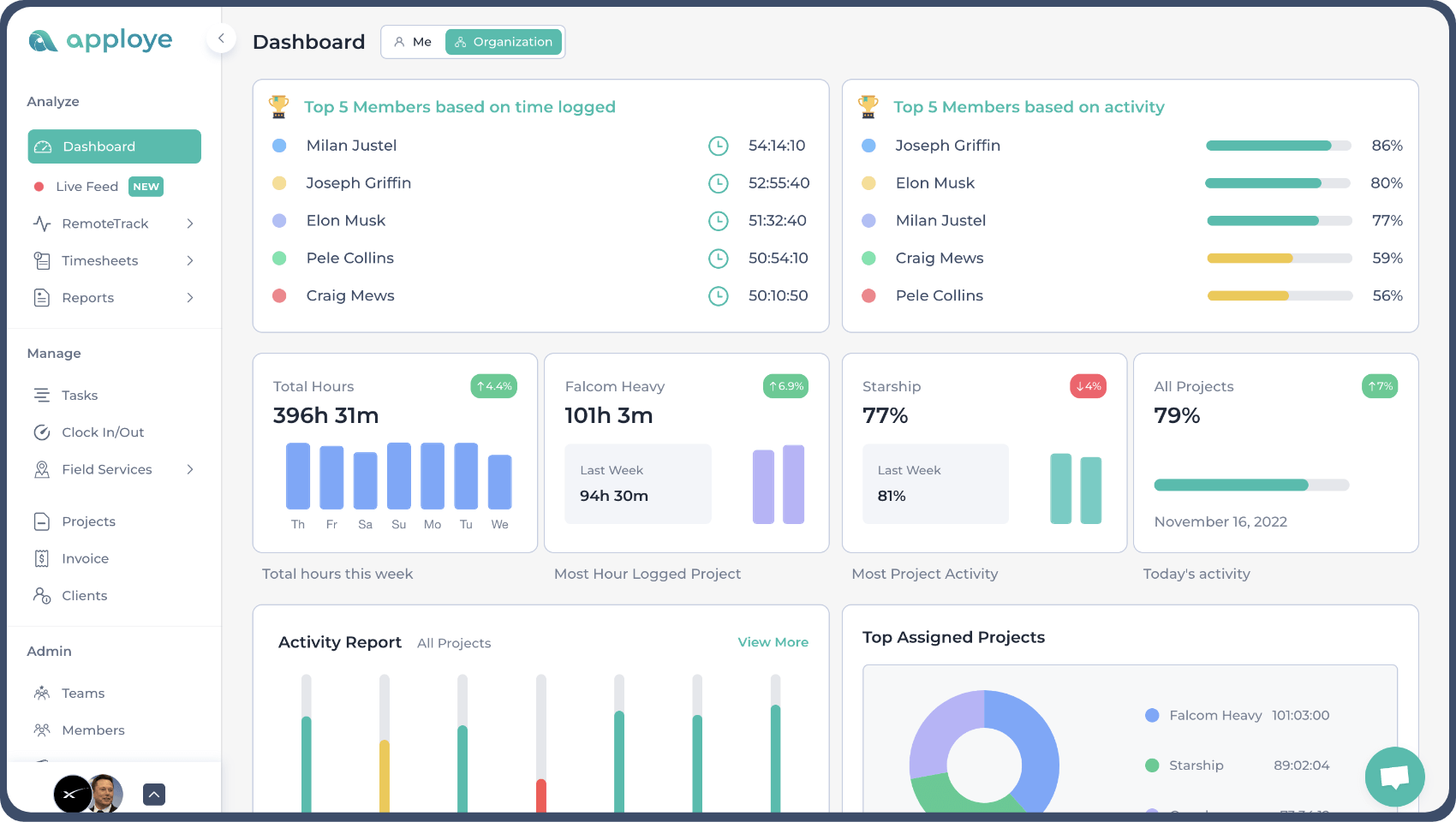 A powerful alternative to Toggl and RescueTime is Apploye. Like the tools, Apploye is renowned for time tracking, productivity measurement, and employee monitoring. With this proper employee time-tracking tool, you can coordinate your in-office, remote and outdoor employees at once. The features are-
Time tracking: Automatic time tracking, manual entry, idle time tracking, Pomodoro timer, clock-in and out.
Timesheet: Customizable timesheet with daily, weekly and monthly view, timesheet approval.
Project: Billable and Non-billable hours tracking, project budget, hourly and fixed billing.
Reports: Time and activity, performance-based comparison, manual time tracking, apps and URLs tracking reports, payroll reports.
Employee monitoring: Screenshots, multiple reports, apps, and URLs tracking, GPS location tracker.
You can observe a quick comparison of these three apps.

| Features | Apploye | Toggl | RescueTime |
| --- | --- | --- | --- |
| Time tracking | ✅ | ✅ | ✅ |
| Multiple organizations | ✅ | ✅ | ✅ |
| Application and website tracking | ✅ | ❌ | ✅ |
| Project details by cost | ✅ | ✅ | ❌ |
| Project details by time spent | ✅ | ✅ | ❌ |
| Pomodoro timer | ✅ | ✅ | ❌ |
| Focus Mode | ❌ | ✅ | ✅ |
| Payroll management | ✅ | ✅ | ✅ |
| Employee GPS location tracking | ✅ | ❌ | ✅ |
| Screenshot monitoring | ✅ | ❌ | ❌ |
| Employee ranking based on activity and time log | ✅ | ❌ | ❌ |
| Integrations | Limited | 100+ | Moderate |
| Initial price per user | $4/Month | $13/Month | $5/Month |
Final Verdict
Toggl and RescueTime, are both promising in their services, but as described above, they serve slightly different purposes from each other. While RescueTime is a personal productivity developer, Toggl makes time tracking easier and more meaningful.
If you need more than personal productivity and effortless time tracking, try Apploye. It not only boosts individual efficiency but also helps the team to get motivated and on track.