The Best SEO Agency Tools in 2023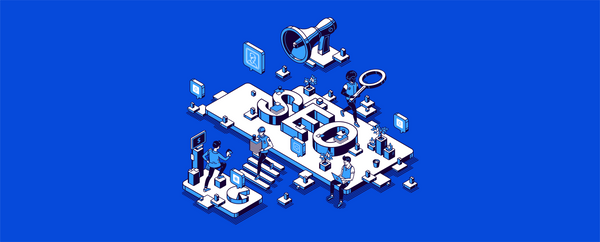 Search Engine Optimization (SEO) is an effective marketing strategy and has a long-term positive impact on your business. It helps your website get more visibility. More visibility helps to get more website traffic, more leads and creates more opportunities. SEO is cost-effective. Without paying anything to google, it helps drive high-quality traffic to the website.
This article will give you an overview of the best SEO agency tools with experts' recommended SEO agency tools for SEO in 2023. You don't need to use all of these tools, but you need to figure out which one works best for you.
Let's get started!
Most Popular SEO Agency Tools recommended by most of the SEO Experts.
Ahrefs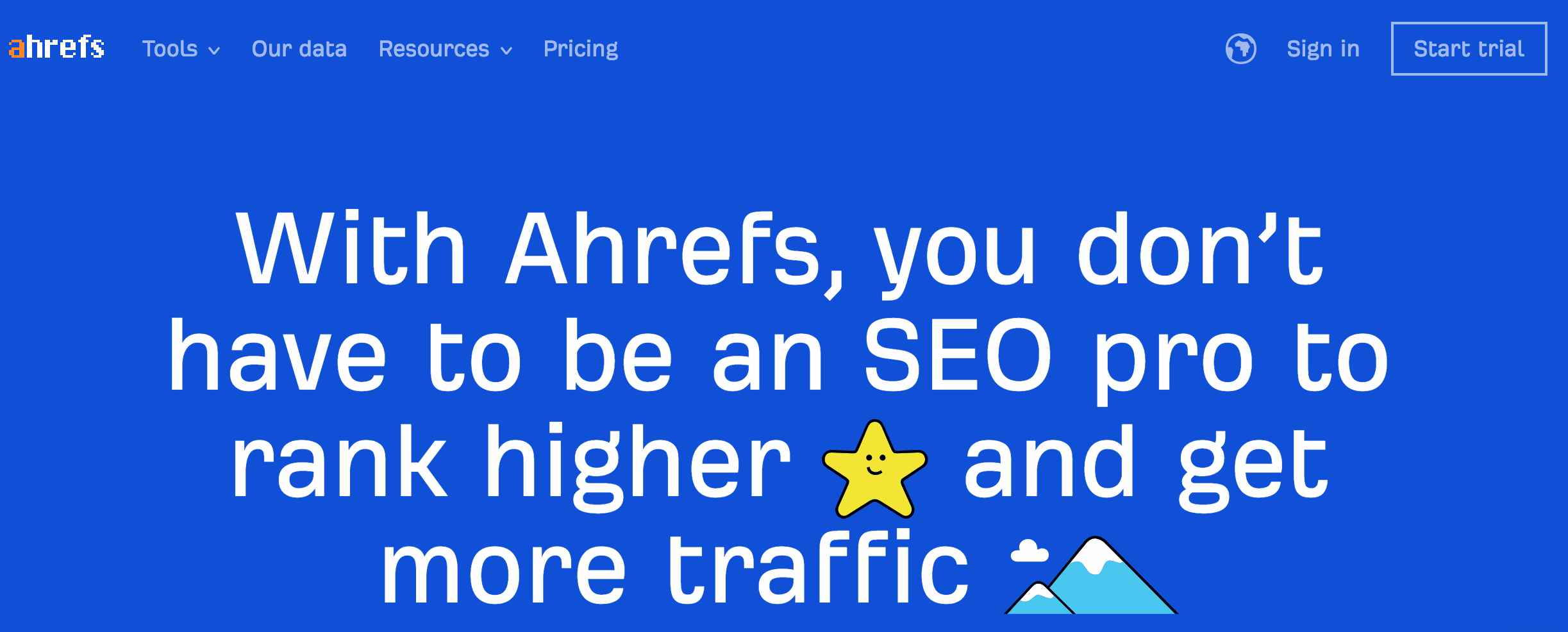 Ahrefs is an all-in-one and one of the most popular SEO software. Most SEO agencies, SEO reseller services, and marketers are using this software. It contains tools for site explorer, site audit, link building, keyword explorer, content explorer, rank tracker, domain comparison, and many more. Agencies and marketers are using Ahrefs to get higher google rankings. You can start with a 7 days trial.
Pricing
Lite - $99/month
Standard - $179/month
Advanced - $ 399/month
Agency - $ 999/month
Semrush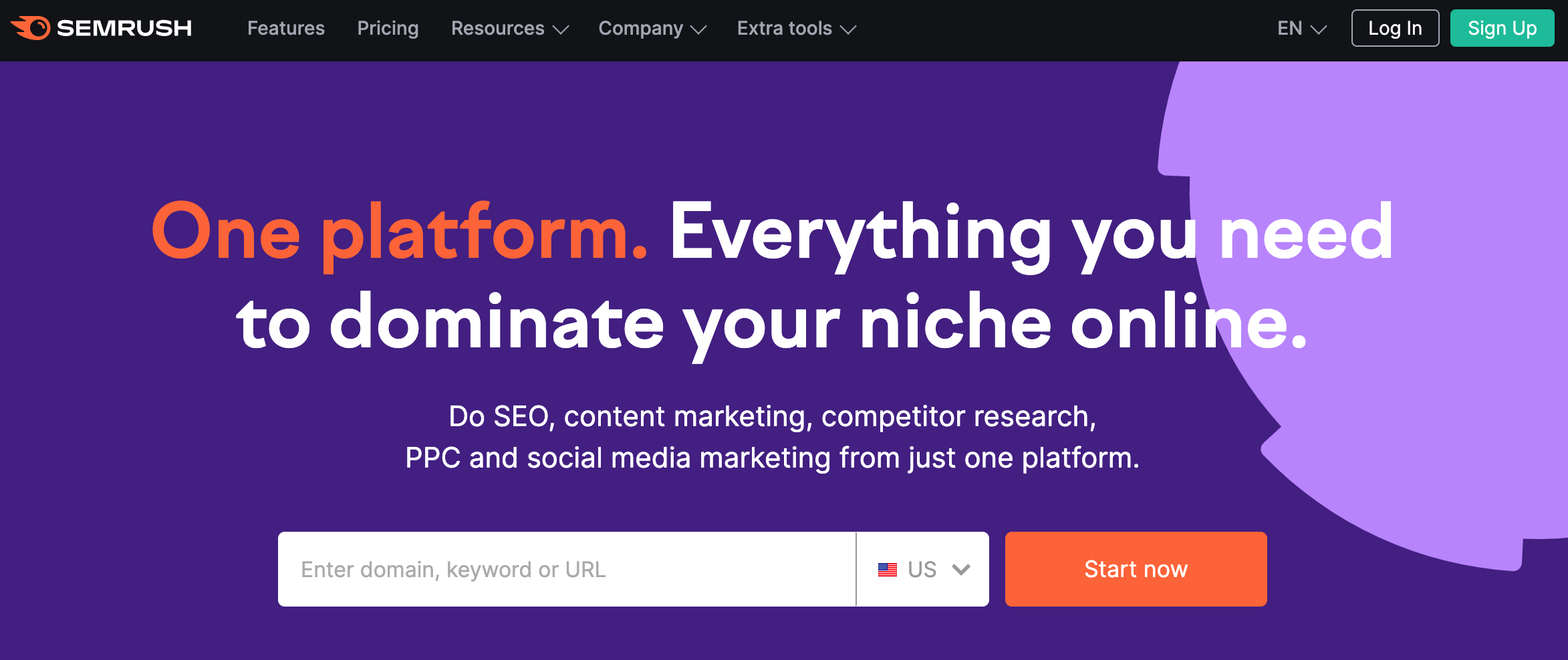 Semrush is another well-known SEO tool among marketers and agencies. It is an all-in-one marketing tool that helps marketers/ social media marketing agencies identify valuable keywords for SEO campaigns. You can see the domain overview of your website. Along with the domain overview, it accommodates SEO tools for Position Tracking, Organic Research, Backlink Analytics, Backlink Audit, Traffic Analytics, Advertising Research, On-page checker, keyword gap analysis, and more that you need.
Pricing
Pro - $119.95/month
Guru - $ 229.95/month
Business - $ 499.95/month
Moz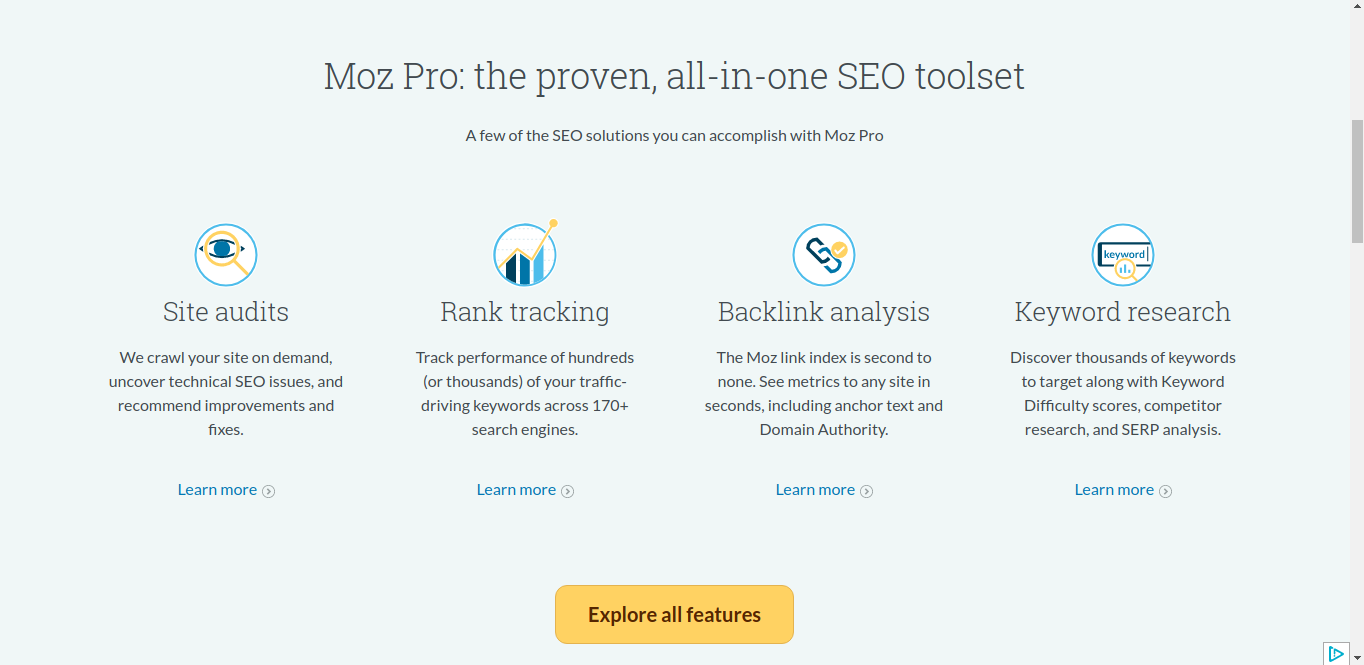 Moz is another popular SEO agency tool that contains features such as Keyword Research, Rank Tracking, Site Crawl, One Page Optimization, Link Research, and Custom Report. The uniqueness of Moz is you can see the spam score of your website by using Moz. Start using Moz with a 30 days free trial.
Pricing
Standard - $99/month
Medium - $149/month
Large - $249/month
Premium - $599/month
Spyfu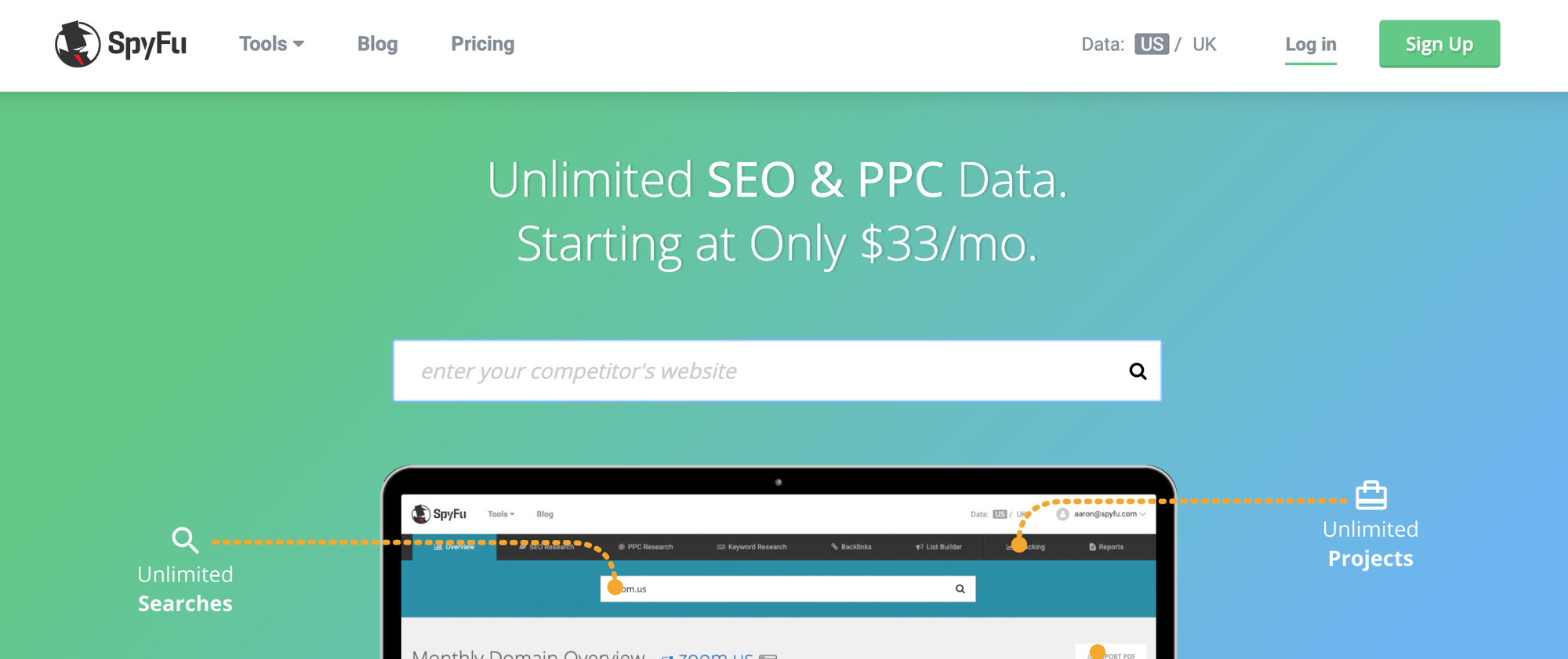 Spyfu is a popular research tool that offers Keyword Research, PPC Research, and SEO Research. Using Spyfu, you can understand what your competitors are doing. According to the competitor analysis, you can set your strategy and take a better approach than competitors.
Pricing
Basic - $39/month
Professional - $79/month
Team - $299/month
KWfinder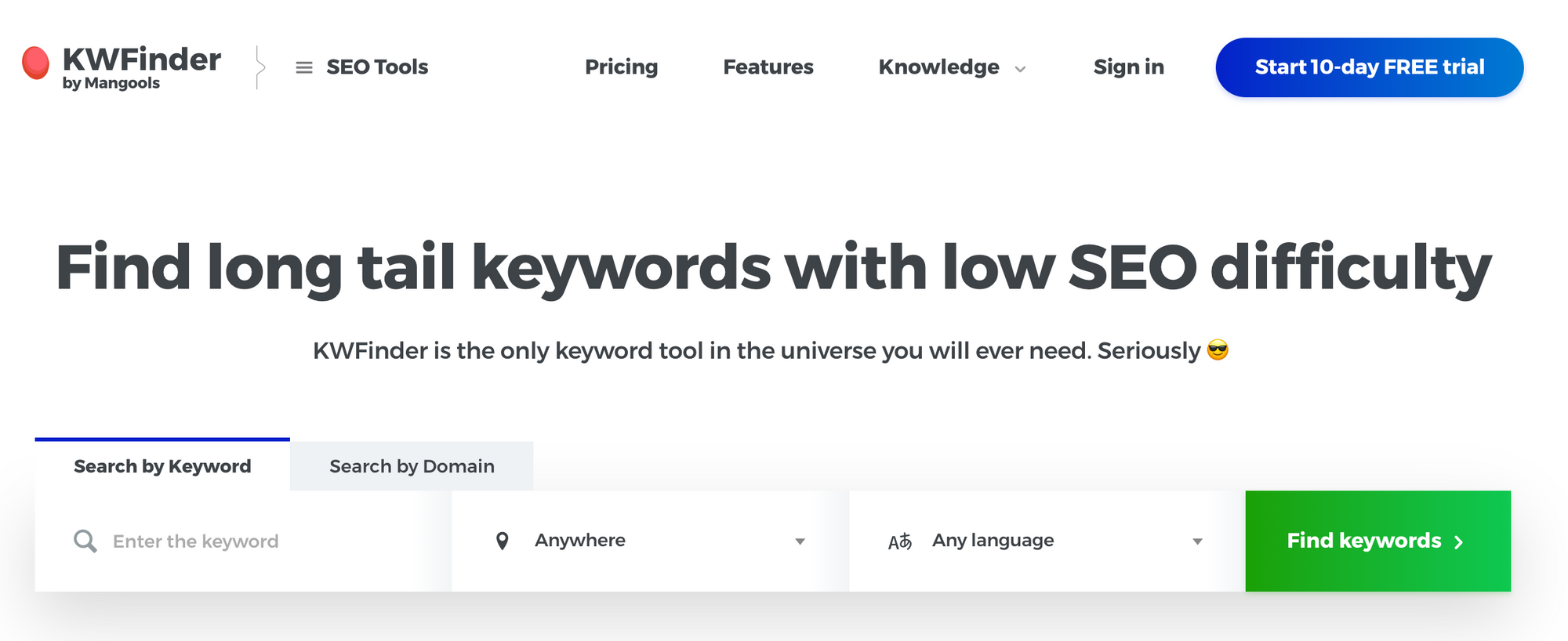 KWfinder is one of the well-liked keyword research tools among agencies and marketers. You can find out long-tail keywords with lower difficulty that can rank easily. The tool provides the search volume rate, estimate clicks, keyword difficulty, PPC that helps you choose the best keywords for ranking in google. KWfinder makes the way easier to find keywords, and you can find thousands of relevant keywords for your business.
Pricing
Basic - $49/month
Premium - $69/month
Agency - $129/month
Majestic

Majestic is the only SEO tool that 100% focus on backlinks. It will help your link-building process easier and faster. Most of the SEO experts recommend majestic for backlink analysis. Majestic can help you to find out where your competitors are getting backlinks for their website.
Pricing
Lite - $49.99/month
Pro - $99.99/month
API- 399.99/month
Google Analytics

Google Analytics is a free tool offered by Google to help you analyze your website traffic. It allows you to measure your marketing effectiveness by exploring the website traffic's behavior. It's a highly recommended SEO tool by every marketer and agency. Millions of websites around the world use Google Analytics.
Pricing
Google Search Console

Google Search Console is another free tool offered by Google that helps you monitor and maintain your site's presence in Google search results. You can track your website visitors for running a retargeting ad campaign. It allows you to improve your site's performance in google's eye.
Pricing
SEO Chrome Extension Tool - SEOquake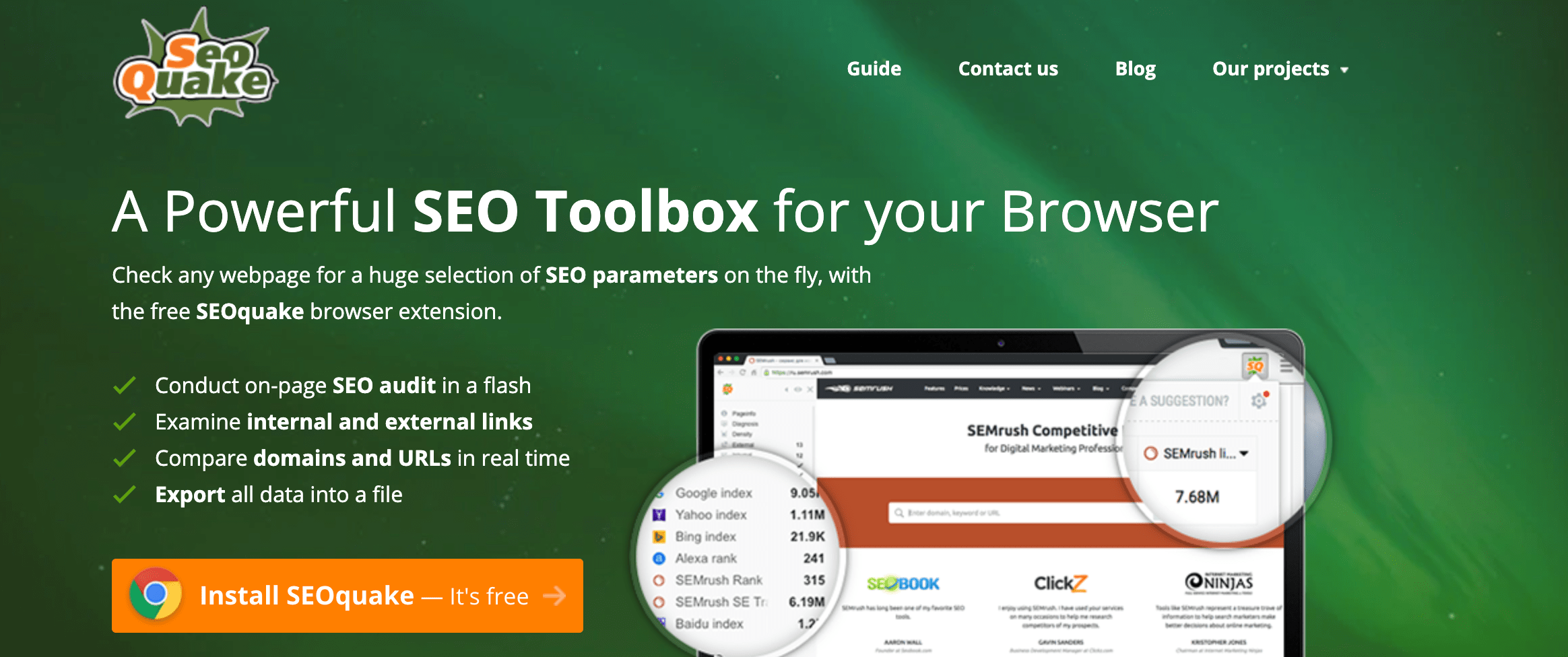 SEOquake tool to add to your chrome extension list because it gives you a glimpse of all websites in SERP itself without even visiting that website. It integrates with your SEMrush account and provides metrics like DS (Domain Score) and KD (Keyword Difficulty), which can often be very helpful and time-saving.
Another fantastic feature of SEOquake is that it allows us to see the results of different countries. That's useful for those who frequently check the ranking results of particular countries and involve in local SEO activity. So, by using this tool, they can shift to another country with just one single click.
Pricing
Netpeak Spider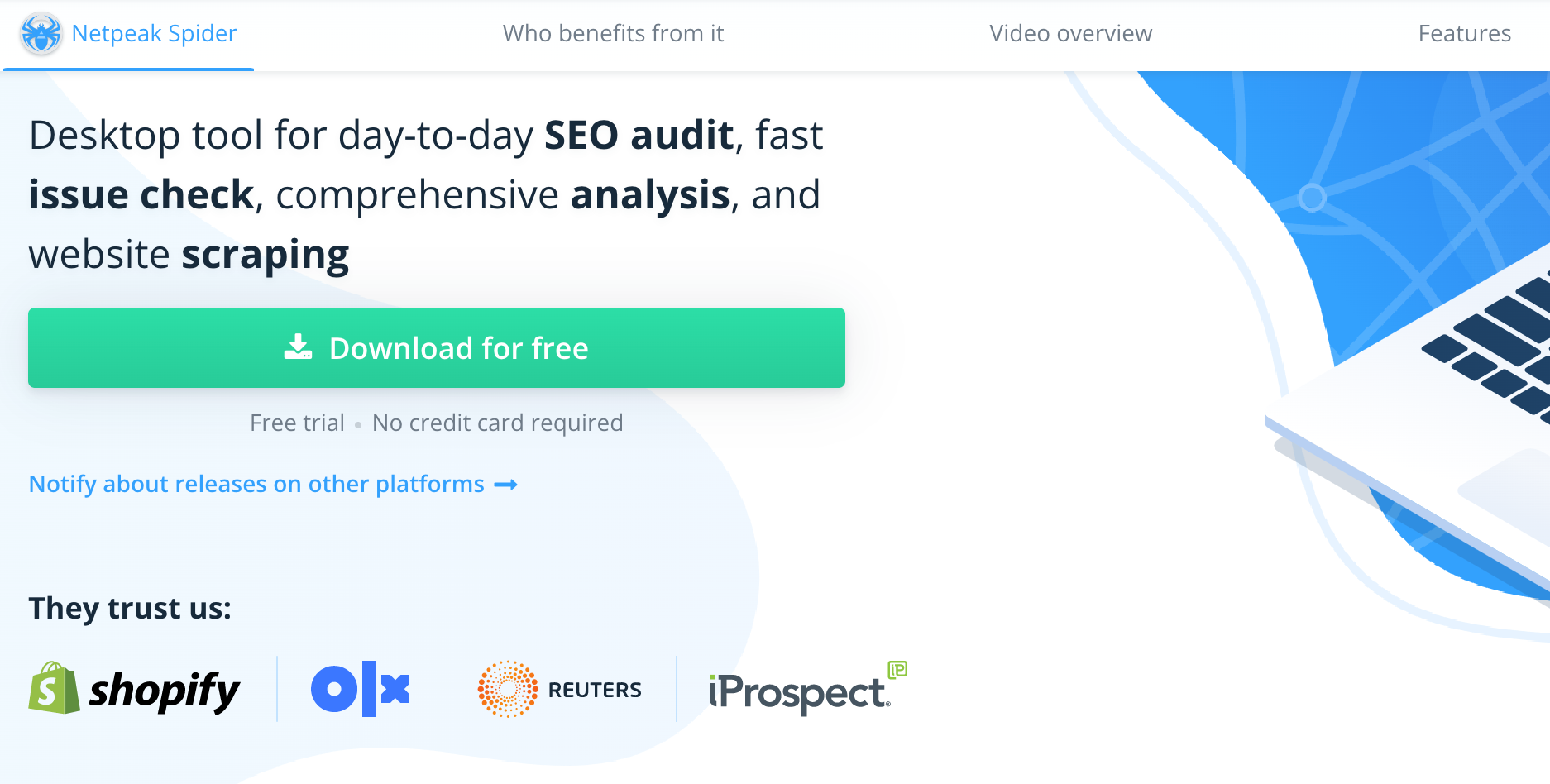 Netpeak Spider is a desktop platform for SEO audit, comprehensive advanced analysis with fast issues checking, and website scraping. It can find broken links, duplicate pages, texts, missing meta tags, errors in redirects, and much more.
For easy data importing, Spider can integrate with Google Drive and Sheets. Thus, it is possible to quickly share reports with your team or upload PDF files to Google Drive.
In addition, this software allows you to generate and validate sitemaps with HTML, TXT, and XML validator. Google Analytics and Google Search Console are also integrated.
Pricing
Trial - crawl up to 500 URLs for free.
Starter - $7/month
Advanced - $12/month
Pro Bundle - $22/month
Expert's Suggested - SEO Agency Tools
Andre Oentoro, CEO and Founder of Breadnbeyond
Since we're a small business with a tight budget for SEO campaigns, we focused on leveraging affordable yet robust tools. Here's the list of them that we use in 2023:
Google Analytics: I believe this is a one-size-fits-all tool for millions of websites. We use this tool to monitor and measure how well our SEO campaigns are performing. The reports and insights help us to better understand our audiences.
KWFinder: We use KWFinder to find long-tail keywords that have a lower level of competition. Its rank tracker also makes it easier for us to monitor and determine our keyword ranking.
WooRank: This tool helps us with the website audit. It analyzes title tags, and meta descriptions, discovers missing alt attributes, and other technical SEO problems that occur on our website.
Siteliner: We rely on this tool to detect any duplicate content and broken links.
Google PageSpeed Insights: This tool comes in handy for us to measure the overall performance of a page or website on both mobile and desktop devices.
Ebnu Sudarso, Co-Founder of Milkwhale
As a small business, we're constantly on the lookout for affordable tools and try our best to minimize costs. However, there are a few SEO tools that are worth the splurge. Here are some of our favorite tools we use for our agency in 2023:
Google Search Console: Google Search Console allows us to spot any site errors and lets us know how our site is doing performance-wise. It's a must-have tool for any small business owner looking to increase their online presence.
Ahrefs: This tool is fantastic for keyword research and site analysis. It's our go-to tool for when we want details and insight about our site and whether or not our SEO efforts are worth it.
Google Analytics: Google Analytics is the type of tool that's ideal for any site on the web right now. It allows us to see who our visitors are, which helps us craft our SEO strategy to best fit our target audience.
Natasha Rei, Digital Marketing Manager of Explainerd
Since we're a small design team, looking for the most affordable SEO tools is essential to maintain our budget as planned. Moreover, we always strive for the utmost outcome. Choosing the best SEO tools isn't just about the cost but their functionality. Here are the SEO tools of our choice:
Ahrefs: This tool is excellent in determining our SEO effort. We can check whether our site performs well and how it compares to our competitors. With Ahrefs, we can run audit sites seamlessly as the tool provides in-depth analysis. We can also check our competitors' backlinks to define our next strategies.
Google Search Console: This tool allows us to track and monitor our site's search engine page results (SERP). We use it to check how users view our page and find a possible error when the queries are performed. It's best to use for a small budgeted company looking for a way to track their page.
SEMRush: SEMRush enables us to analyze our site while comparing it to our competitors. We can check our domain analysis, compare keywords' performance and analytic reports like website traffic and search. There's also the on-page SEO checker, which allows us to consistently optimize pages for better search results.
Google Trend: Google trend is great for online businesses to perform keyword checks. With this tool, we can understand the popular queries between specific times. This helps us conduct market research before we launch products.
SEO for the Rest of US is the SEO agency that provides complete SEO service for SAAS companies. Brendan teaches SEO, digital marketing at the University of Chicago. He says, my favorite SEO tool is Frase.
Frase: Frase is the all-in-one SEO tool that helps to produce high-quality content that ranks on google. It helps optimize content based on keywords or topics and identify the questions your audience is asking online. It has google search console integration.
We are a web design and development agency focussing on local businesses that need local SEO as a focus. He says, my favorite SEO tools are-
Sitemap Generator - Octopus. Do: This tool allows us to create a sitemap visually, accurately mapping out keywords and content silos before the project is even started.
Keyword Research - Answerthepublic. com: Find out what people are actually searching for around any keyword.
Search Engine Inspector - Browseo. net: See your website exactly how a search engine sees it, and check your heading structure and behind-the-scenes metadata.
Writing/Copy Analysis - Textmetrics. com: Check your written copy for everything from keyword density to reading age, heading structure to racial bias. optimizing your copy has never been easier.
Allison Chaney, Chief Digital Training Officer of Boot Camp Digital
We are a digital marketing training company. We have an online course library of over 20 courses on digital marketing and social media. We have online certification courses as well. All of our courses are accredited by OMCP/OMCA and CPD. We offer customized training for individuals, organizations, and teams and train large and small businesses and organizations. We also have a team of professional speakers who speak on digital marketing, social media, and personal branding.
Her recommended SEO tools and courses to learn more about SEO.
Bruce Clay's SEO ToolSet bruceclay .com
Moz
Boot Camp Digital SEO Certification Course
Conclusion
SEO software is an essential component of the SEO business. When you are thinking about starting your SEO agency, you need SEO software. I hope this article will help you to choose the best SEO agency tools.
Or do you have a recommended list of SEO agency tools that you want to see in the list?
Leave a comment below or reach out to me here: partner@appoye.com