Clockify Vs. Toggl: A Detailed Comparison in 2023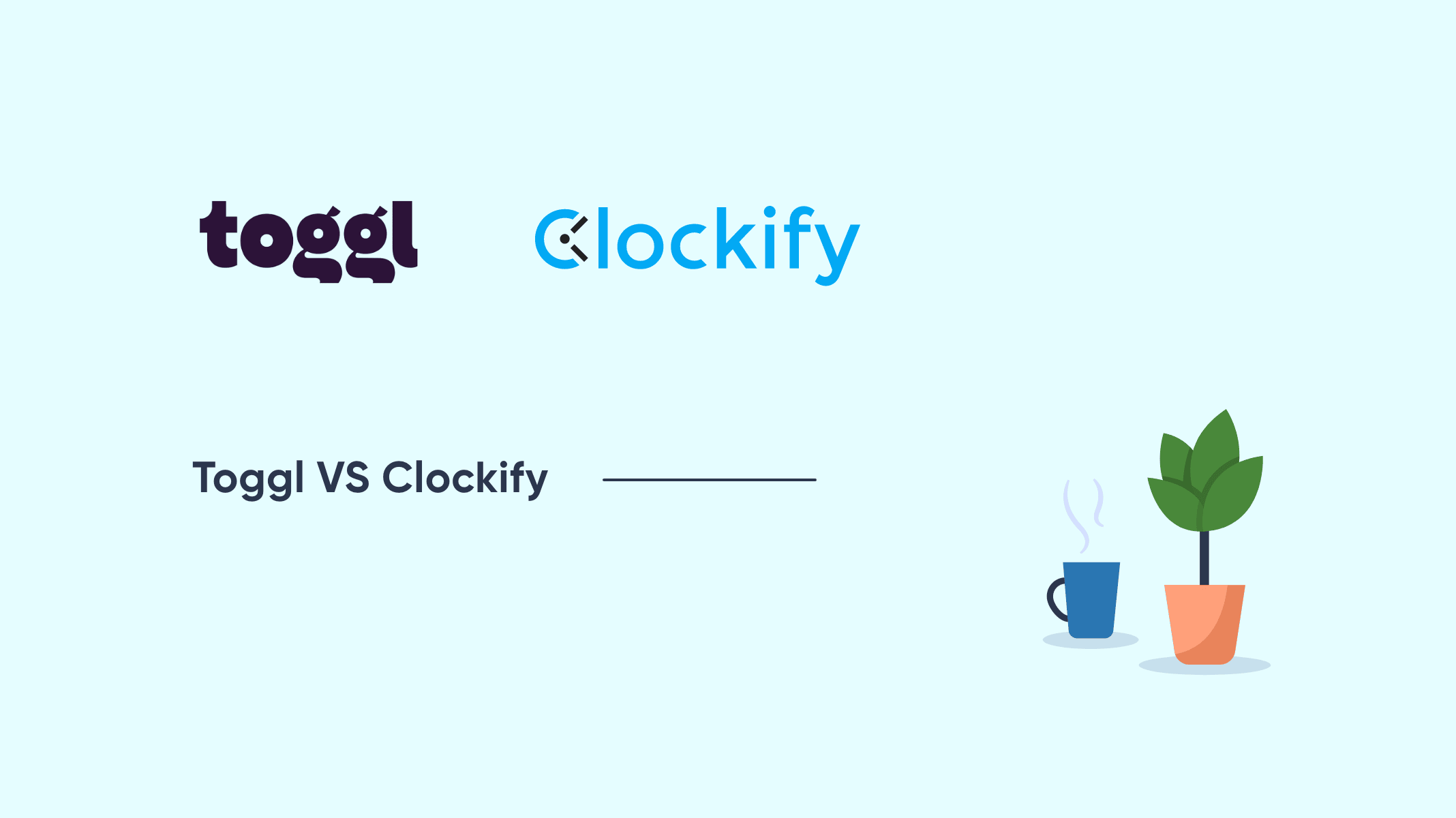 You may know the names 'Clockify' and 'Toggl' in searching for time-tracking software. Indeed, both of the apps are known for being powerful time management tools. But wondering what you need for your organization.  
Clockify is famous for its free time tracking and timesheet management tool. It is a useful tool for keeping track of employees and their duties, personalizing projects, providing a simple view of processing, efficiently assigning employee projects, and enhancing team visibility.
Whereas small teams can benefit from Toggl's many useful features, freelancers can also use it as a free-time monitoring tool. Toggl offers a simple user interface. It is simple to use and doesn't require much training.
So, Let's crack in Clockify vs. Toggl to determine what's worth your priority.
What is Clockify?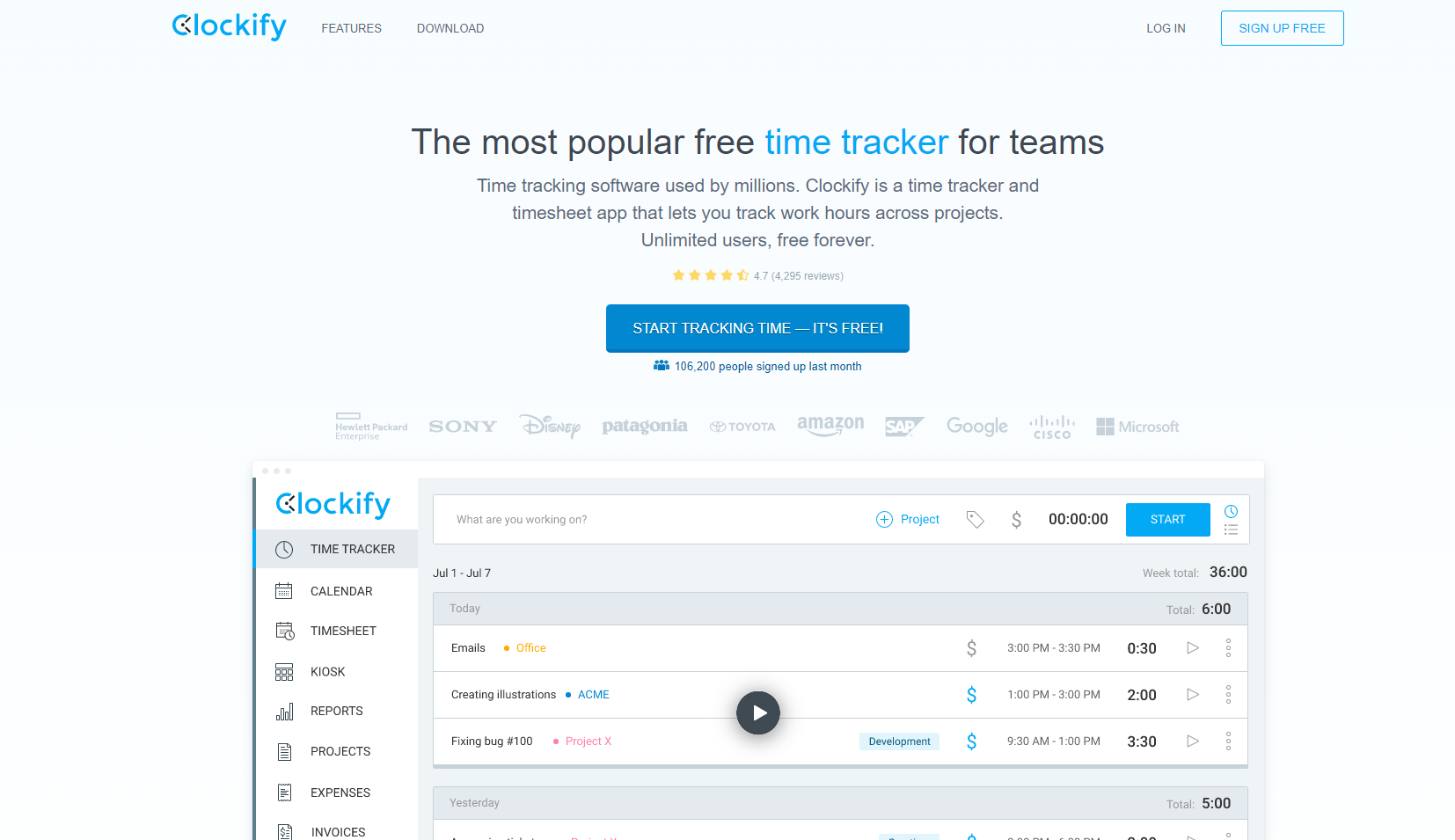 Clockify is great as a free time tracking solution that provides a moderate set of time tracking, managing, and reporting features. It targets small businesses but suits all fields. Advanced features like timesheet locking, forecasting, customized kiosk, scheduling, audit log, etc., are available in the paid version.
Clockify offers a smooth subscription process in that you can modify your pricing plans. From checking the company status to managing clients, it helps you to control your crew. The main features are-
Time tracking, auto tracker, timesheet, Pomodoro timer, idle detection, import time.
Time off, team activity, billable rates, time audit, rounding, GPS tracking, screenshots.
Billable rates, task rate, budget, estimation, alerts, bulk edits, kiosk, invoicing.
What is Toggl?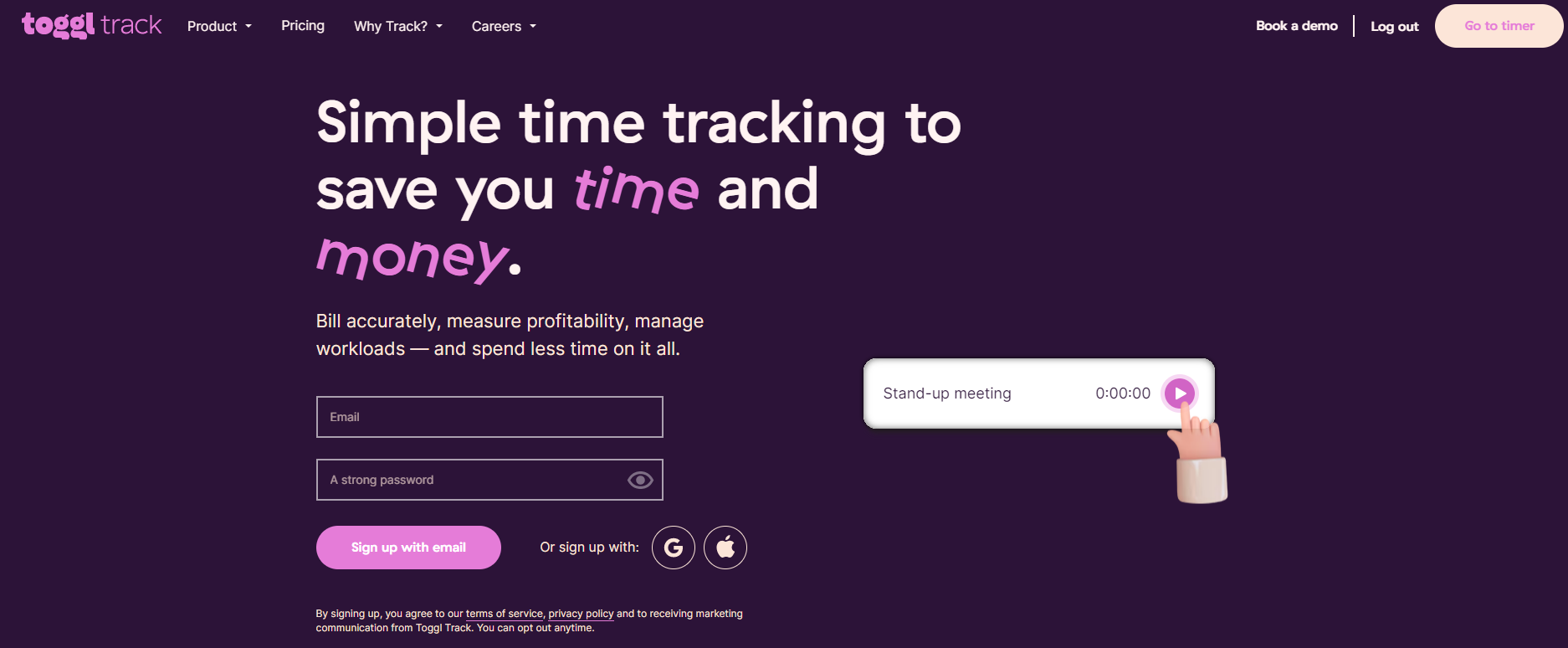 Toggl's goal is to offer simple time tracking and thorough reporting. It ensures flawless time tracking to raise team intelligence. It is simpler to work anywhere and whenever you want with applications for PC, mobile, and browser extensions.
The time you spend working on tasks, clients, and projects should be divided. Focus more on your forward-moving work and less on overseeing your team. The features-
Time tracking, offline time tracking, one-click timers, favorites, timeline,
Summary, detailed, weekly reports, billable rates, time rounding, schedule reports,
Project dashboard, task, estimation, alerts, recurring projects, billable rates.
The details of Clockify and Toggl comparison
Setting Up
Clockify
Setting up Clockify is super easy. It offers access to an account. You can directly access the web time tracker by email without personal or organizational information. You can use Clockify dedicated apps, or you can use the web timer. Pretty easy, isn't it?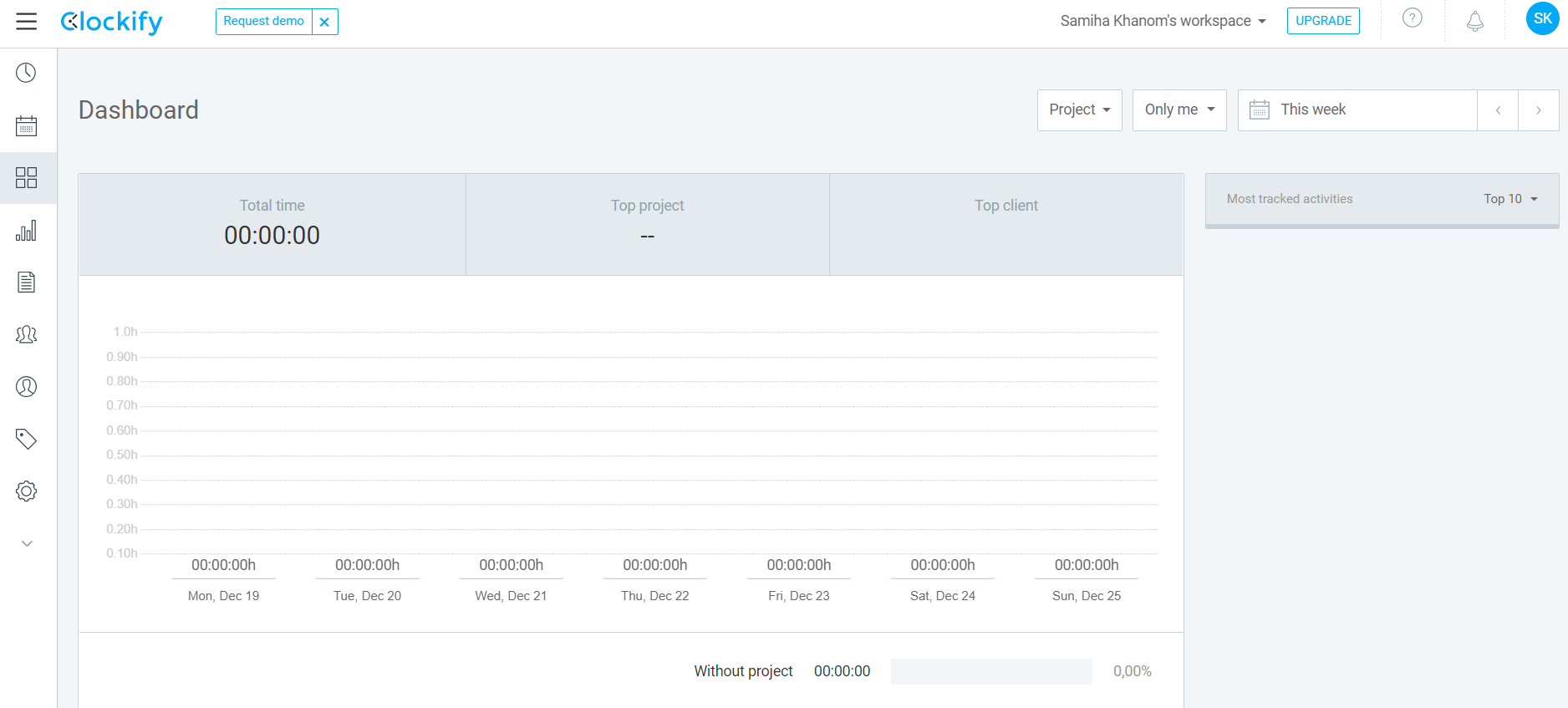 You can start tracking time without entering the project details. This time tracking tool has a simple interface that is readily applicable to your organization, and you can use it for free. For more flexibility, you can work on a desktop or mobile app. It offers a timer with a start/stops button. You can add time manually or edit details like projects and tasks, change tags, add descriptions, etc.
Toggl
Like Clockify, the sign-up process for Toggl is quite similar and straightforward. With your email address, you can launch the Toggl dashboard. Toggl has desktop and mobile apps that synchronize to the dashboard very rapidly.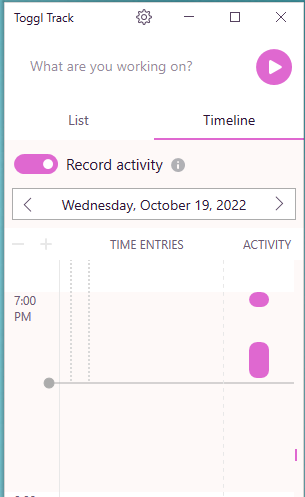 All apps are intuitive for tracking your working hours. Toggl desktop app has two modes for time entry. One is the list, and another is Timeline. The desktop app can store data locally, allowing you to work offline. You can also add time manually for bulk editing.
Impression: Both tools are straightforward to set up and have no complexity. They are easily approachable to the user.  
Time Tracking
Clockify
Time tracking with Clockify is so amusing that it provides a versatile time-tracking system for you and your employees. The time tracker includes a timer, auto tracker, and manual time entry. The time tracker has a start/stop button that improves project time tracking.
The auto tracker is for the user who is not so embraced with the start/stop button but loves to run the timer in the background. You can add the time details with the time entries. You can use the Kiosk for remarking the clock-in, clock-out, and break.
Toggl
Toggl time tracking is seamless with the auto tracker, timer, and manual edit. You can track your project and task time, billable and non-billable hours. If you need to track the random work, you can track the hours too. Just start the timer and add working details after stopping it.
If you are tired of juggling to manage several projects and tasks, use the favorites to create shortcuts of your most used time entries. You can also have the Pomodoro timers, alerts, idle time tracking, and reminders.
Impression: Toggl and Clockify have similar functionalities for tracking timers. Both of the web timers don't stop and run until you stop them. This is a downside for two as we don't want to get tracked all the time though our computers are shut down.
Timesheet
Clockify
Clockify creates timesheets to review the work activities weekly. Timesheet offers a quick process for adding the time entries but you have to enable the timesheet from settings. The timesheet needs project and task time entries.
So, you can't work without any projects. It shows you the project billability status. The timesheet is extremely helpful for payroll, invoicing, project cost calculation, activity recording, etc. You can lock and export the timesheet.
Toggl
Toggl offers daily, weekly, and biweekly timesheets which are shareable and exportable. The timesheet shows the time entries along with all the important data such as starting/ending time, billable and non-billable hours, details of project time, etc.
Impression: The function of the timesheet of Toggl and Clockify is nearly the same. But, the complex part of the Clockify timesheet is, it needs to be activated and you have to use the project time tracking.
Reports
Clockify
Clockify creates several vital reports for individuals and teams. These include summary, detailed, weekly, assignment, and expense reports. The summary reports are for short and quick reviews on the client, user, group, project, tag, and date. The detailed reports show comprehensive time entries. You can edit the time entries.
Apart from the regular reports, Clockify generates scheduled vs. tracked reports that represent the percentage of completion of scheduled vs tracked time. It mainly measures employee performance. All the reports are exportable.
Toggl
Toggl also creates insightful reports. With basic reporting features like summary, detailed, and weekly reports, it represents all the important information in bar charts and pie charts. Summary reports show the time entries whereas detailed reports are useful for time audits.
You can round your time entries. The reports show the billable and non-billable hours and billable rates.
Impression: Toggl and Clockify have similar reporting systems. But Clockify has more options and categories.
Project Management
Clockify
Clockify allows you to work with projects and tasks for specific clients. Projects are of two types, public and private. Public projects are accessible to all workspace users. Private projects are available for the admin and specific users.
The project progress is easily visualizable with forecasting. You can plan your projects and assign them to the members.
Toggl
Till now, Toggl and Clockify features are compatible with each other. Toggl project management is also similar to Clockify. Apart from public and private projects, it offers fixed-fee or task-based projects so that you can work smoothly with freelancers or regular employees.
You can save your reports and schedule them for sending emails to the users. It has time audits functionalities that help you identify and correct time entries. It is available in the summary and detailed reports.
Impression: Clockify and Toggl have similar project management tools.
Employee Management
Clockify
Clockify more focuses on team productivity and the distribution of work showing who is involved with which task. With the internal total project time completion, you can remark the actual project completion rate and the estimated time. It will help you to cut or engage team members in the upcoming project.
Also, it has a GPS tracking system for the employees who work on the road or on the site. It can generate screenshots every 5 minutes. It provides a surveillance system that helps you to monitor your employees.
Toggl
Toggl has some special support for team management. It has a separate team activity screen showing the most active members and team activities. You can send reminders for team time tracking. Assigning in the relevant project, you can see the team's performance.
Impression: Employee management is not enough with Clockify and Toggl. It needs to be mentioned that Toggl doesn't provide any type of employee monitoring tool. It tracks the usage of the app but it is only for the users and not available for the admins. So, you should think about choosing Toggl if you need to monitor your employees.
Pricing
Clockify
Basic: $3.99 per user per month
Standard: $5.49 per user per month
Pro: $7.99 per user per month
Enterprise: $11.99 per user per month
Toggl
It has a free plan for small teams and freelancers with limited-time tracking features.
Free: up to 5 users
Starter: $10 per user per month
Premium: $20 per user per month
Enterprise: Customizable
30 days free trial
It offers 10% discounts on the annual plan.
The Alternative to Toggl and Clockify
We have already provided various alternatives to Clockify and Toggl on their own. You can check the alternatives of Clockify and Toggl separately. Among them, we can suggest one promising alternative and this is Apploye.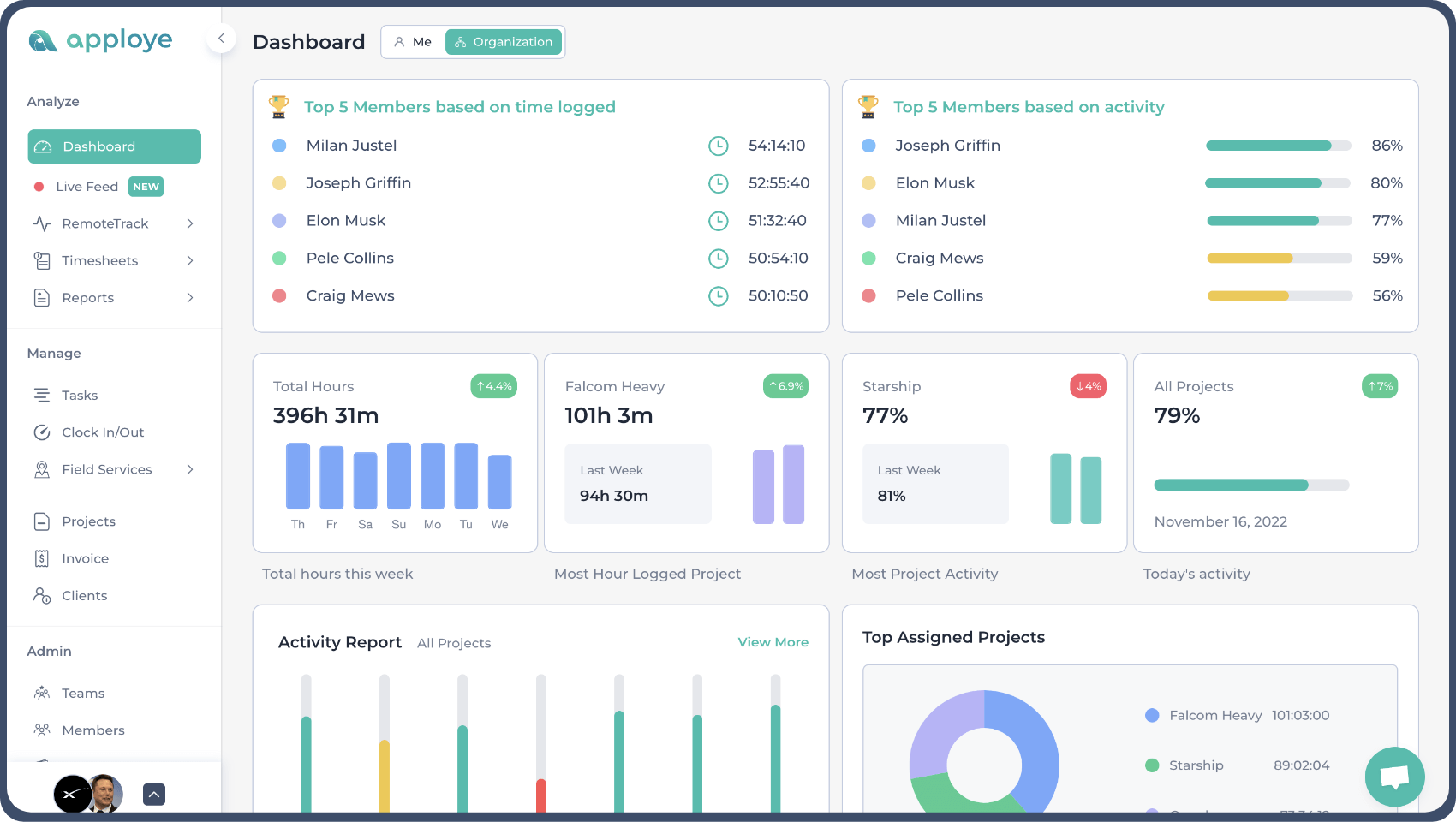 On all the data, you will receive thorough reports that you can download in PDF or CSV format. It provides comprehensive timesheets, a range of reporting, payroll administration, and more. You can also approve the timesheets before sending them to the payroll system.
Employee monitoring is easy and efficient with Apploye. In addition to analyzing individual productivity, it also examines team productivity. The features are-
Time tracking- automatic and manual timer, clock-in, clock-out, Pomodoro timer, idle time detection, time off, billable and non-billable hours.
Timesheet- daily, weekly, bi-weekly, monthly timesheet, custom timesheet, timesheet approval, and work notes.
Reporting- time and activity report, project report, app, URL usage report.
Employee monitoring- activity monitoring, apps, URL tracking, screenshot, GPS tracking, geofencing.
Project and task- project and task time tracking, project budget, alerts, hourly and fixed fee billing, and alerts.
Client and invoice- client database, automated invoice, status-wise summary view, tax & discount.
A comparative review of all of the apps is given for your convenience-
| | | | |
| --- | --- | --- | --- |
| Features | Apploye | Toggl | Clockify |
| Initial price | $4/Month | $13/Month | $4.99/Month |
| Time tracking | ✅ | ✅ | ✅ |
| Payroll management | ✅ | ✅ | ✅ |
| Multiple organizations | ✅ | ✅ | ✅ |
| Screenshots | ✅ | ❌ | ✅ |
| GPS tracking | ✅ | ❌ | ✅ |
| Apps tracking | ✅ | ❌ | ❌ |
| Website tracking | ✅ | ✅ | ❌ |
| Employee ranking based on activity and time log | ✅ | ❌ | ❌ |
| Integrations | Limited | 100+ | Moderate |
| Overall Rating in Capterra | 4.9 | 4.7 | 4.7 |
| Overall Rating in GetApp | 4.5 | 4.6 | 4.5 |
More specifically, Apploye can surely beat them with many extensive features. The notable site of Apploye is its simplicity of the interface, easy setting, proper features of employee monitoring, and many more. It offers you to manage your in-house and outdoor employees at a time which is not possible with Clockify and Toggl.
With the intuitive mobile and desktop app, your organization and employees are all under control. So, why don't you try Apploye once?
Final Thought
We have tried to compare Clockify and Toggl on a broad scale. They each have certain advantages and disadvantages. We don't want to favor any particular tool. We have instead given you the final say on which app has won. Please tell us which app you like best.