Best HR Software in the United Kingdom: 2023 Top 6 Picks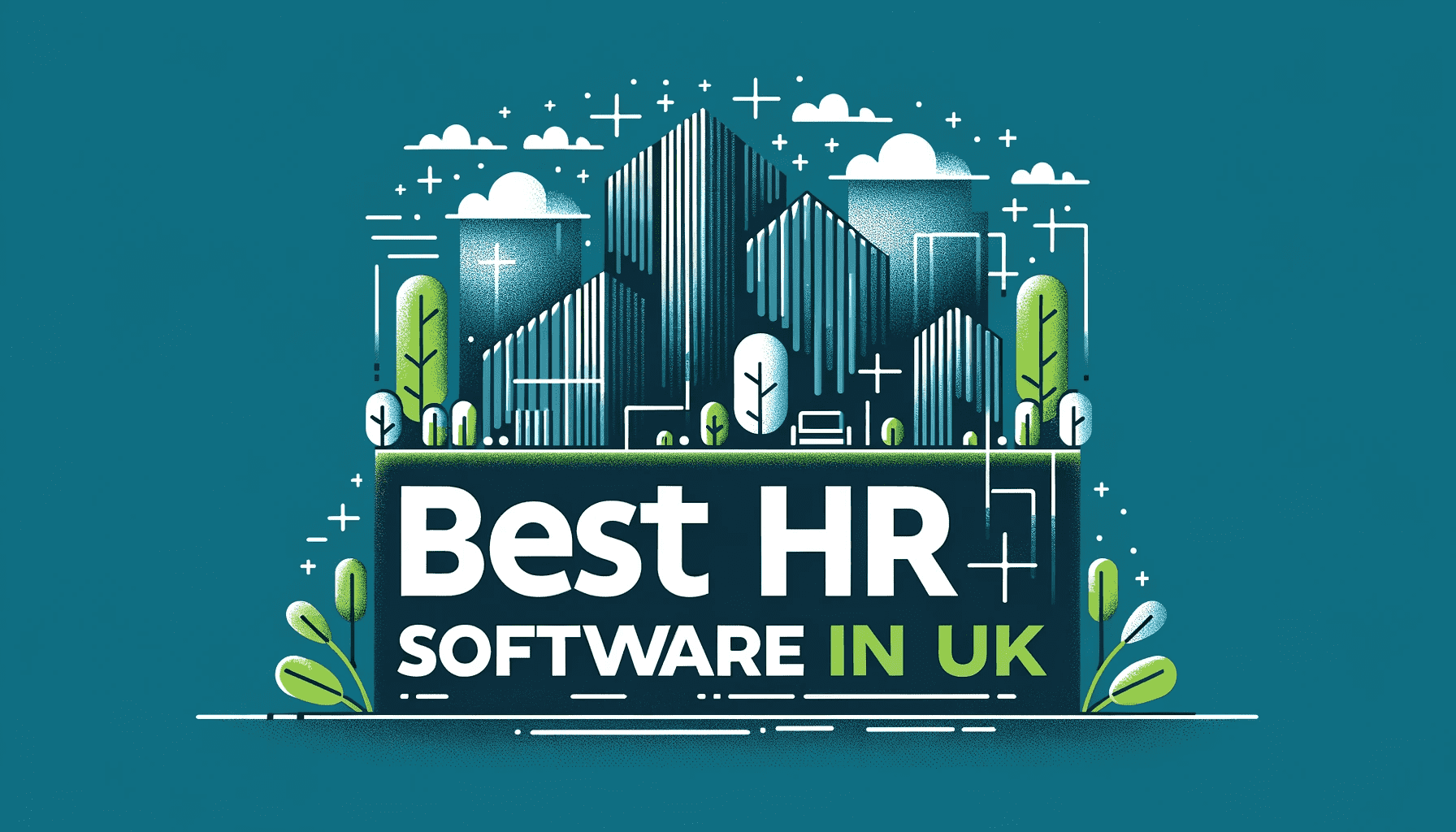 UK businesses are changing quickly and their HR needs are changing too. Say goodbye to the days of never-ending paperwork and time-consuming human resource management tasks. HR systems is a game-changer that makes everything from hiring to payroll much easier and more efficient. Going digital is important, but it's equally important to choose the best HR software in UK that suits you unique business needs.
In this article we have chosen the top HR software for UK businesses. We reviewed their features, ease of use, pricing, and compatibility with different business size. Let's explore and discover the ideal solution for your business requirements!
Why Businesses Need Quality HR Systems in UK
HRIS systems can reduce paperwork and the time required to track employees manually. Imagine having an extra pair of hands that never gets tired, ensuring everything runs smoothly and efficiently.
Moreover, this tool's analytics empower businesses to make better decisions based on solid data instead of relying solely on intuition. The insights are very valuable. It will help you understand employee performance and identify patterns in different behaviors that can be tracked through the software.
In short, UK businesses must have high-quality HR software to maintain a competitive edge. It's not just something nice to have, it's something you absolutely need.
Top Human Resource Software: Business Size and Pricing Overview
Below is a table outlining various HR software applications, their suitability for different business sizes, and their starting prices
| Name of HR Software | Business Size | Starting Price |
| --- | --- | --- |
| 1. CitrusHR | Startups | £2.50 per employee per month* |
| 2. Zenefits | Small Business | $8/month per employee |
| 3. Paycor | Medium Business | Contact Sales |
| 4. Workday | Midsize to Scaling Firms | Contact Sales |
| 5. ADP Workforce Now | Enterprise | Contact sales |
| 6. SAP HR | Large Enterpris | Contact Sales |
Detailed review of the Best UK HR Software
Since you've already explored the needs and matched business sizes to different software, we will now highlight the top human resource software in various categories, along with their core features.
Best HR Management Software in the UK for Startups
CitrusHR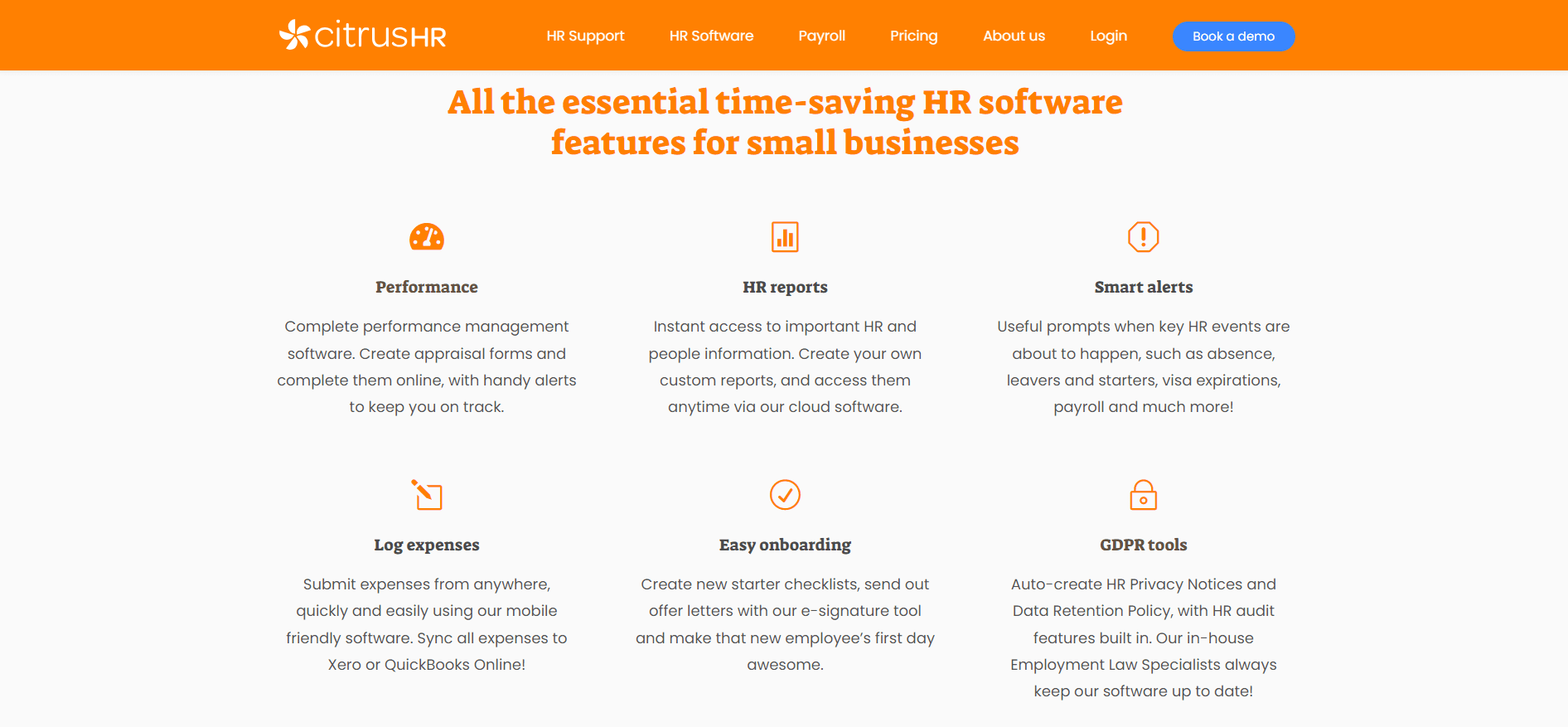 CitrusHR is highly regarded as one of the top HR software solutions in the UK, particularly for startups and small businesses. This is because it offers a wide range of features and has an easy-to-use interface.
The software is designed to be user-friendly, so you don't need any special training to use it. It will save you time and make HR processes easy to understand. CitrusHR's official website highlights its ease of use as a key reason why it is considered one of the best HR software solutions for UK small businesses.
CitrusHR has received positive reviews from different sources for its cloud-based system, which makes employee management quick and easy.
Key Features
Employee performance management
HR reports
Smart alerts
Log expenses
Easy onboarding
GDPR tools
Recruitment reports
Staff Engagement
Simple Payroll
Best Human Resource Management Software in UK for Small Business
Zenefits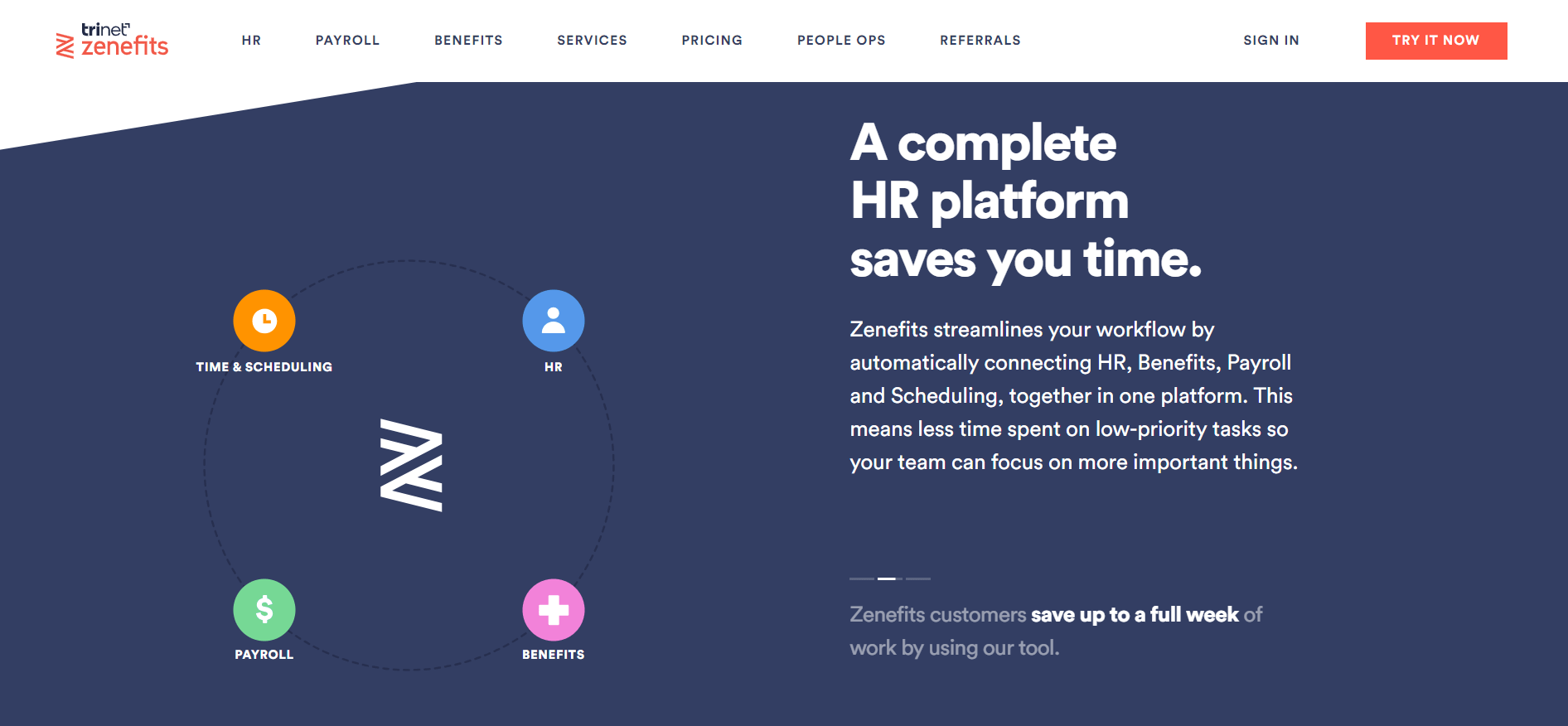 Zenefits is another top notch HR software options in the UK. This HR SaaS platform is perfect for small businesses. It offers a user-friendly HR experience through our cloud-based platform.
Zenefits offers a range of services with great features and benefits. While payroll services are an additional option, they are still much more affordable than what competitors offer.
This software will help small companies by making it easier for them to empower their workforce, manage change, and ensure compliance. Overall in this platform, you will have a powerful combination of HR, Benefits, Payroll, and Performance apps, as well as advisory services and integrated partner applications.
Key Features
Centralized Dashboard
Comprehensive HR Functions
Payroll Administration
Benefits Administration
Mobile Accessibility
User-Friendly Interface
Automated Onboarding and Employee Management
Compliance and Regulation Management
Engagement Surveys and People Hub
Best HR Systems Software in the UK for Medium Sized Businesses
Paycor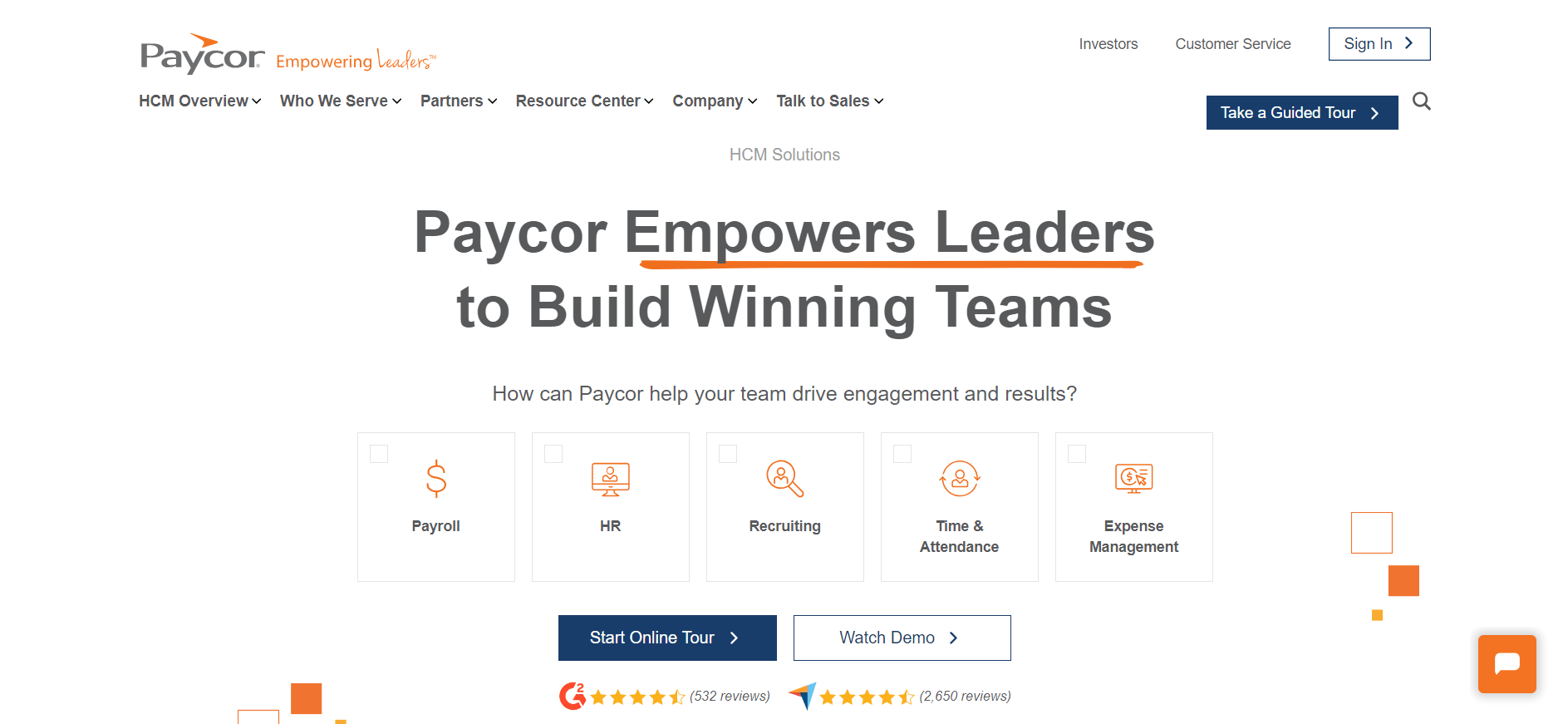 As part of an elite HR platforms, Paycor brings a well-rounded suite of services to the table. It has features ranging from seamless payroll processing to robust recruiting and onboarding. It also includes expense management modules essential for any thriving business.
What sets Paycor apart is its ability to centralize employee data, automate regular tasks, and ensure stringent regulatory compliance without breaking a sweat. It is cloud-based, which provides flexibility and accessibility. This makes it useful for HR teams in healthcare, manufacturing, education, and other sectors.
The platform's competitive pricing further cements its position as a go-to HR software solution for medium-sized companies in the UK.
Key Features
Payroll Management
Recruitment and Onboarding
Learning and Development
Expense Management
Time and Attendance
Compliance and Reporting
Data Security
Analytics
Employee Self-Service
Benefits Administration
Best Software for HR in UK for Midsize to Scaling Firms
Workday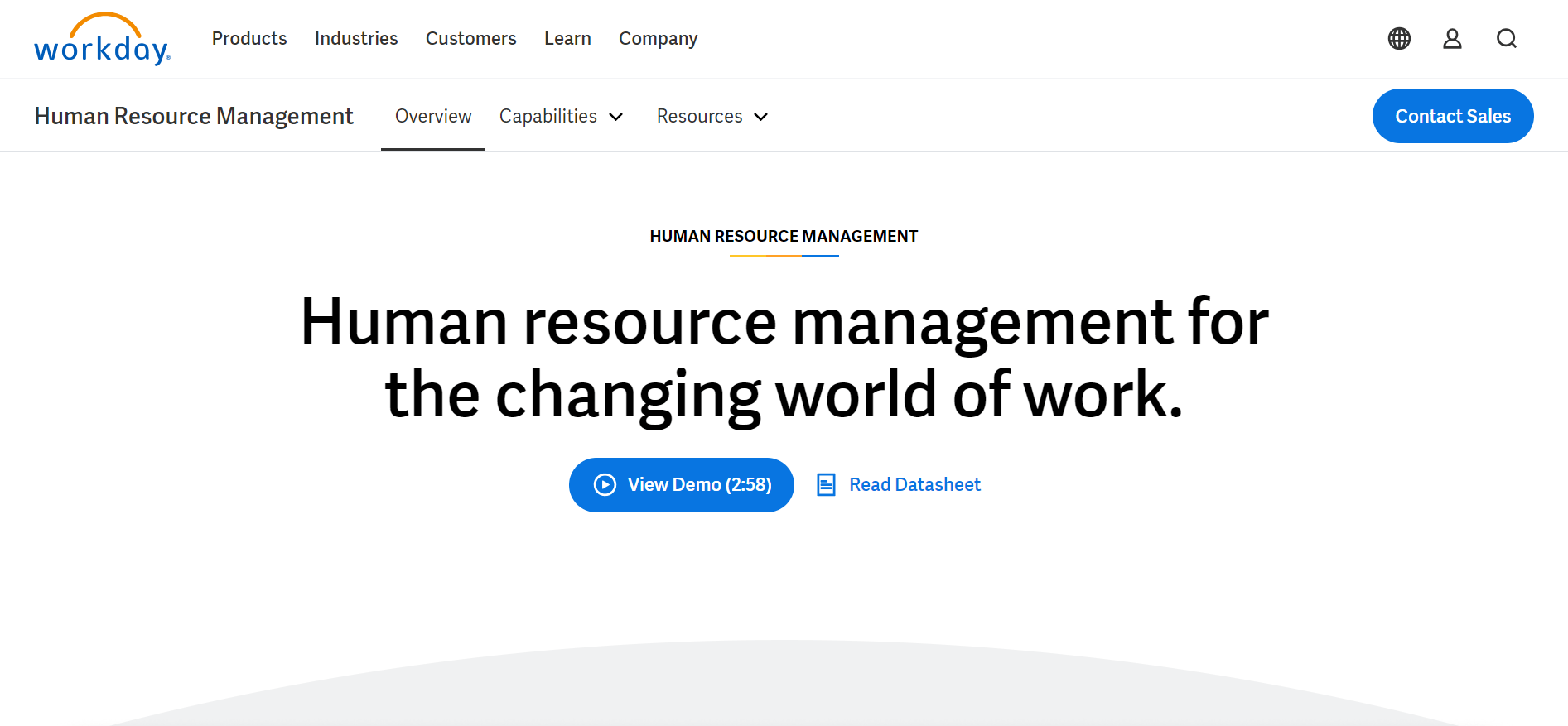 Workday is a top cloud-based human capital management (HCM) solution that seamlessly integrates with different business applications to provide comprehensive workforce management.
This software is designed for big scaling businesses and helps with various HR tasks such as hiring, onboarding, and time tracking. It's perfect for streamlining these processes. Workday has become a popular choice for HR management systems since it started in 2005.
You can manage your global workforces effectively with workday. You can brings together all HR services in one place, making it easier to manage every aspect of your workforce.
Key Features
Employee Administration
Talent Acquisition
Performance Evaluation
Learning Development
Compensation Planning
Benefits Administration
Payroll Processing
Time and Attendance Monitoring
Recruitment Coordination
Reporting and Analytics
Best Enterprise HRMS software in UK
ADP Workforce Now
ADP Workforce Now is recognized as a notable HR and payroll software provider in the UK. It's particularly lauded for being suitable for big firms, indicating that it can grow alongside businesses and adapt to their evolving needs​.
ADP Workforce can be highlighted for its robust security features, which is an essential aspect of HR and payroll processing due to the sensitive nature of the data handled​.
With ADP's human resource and payroll software you can comply with HM Revenue and Customs (HMRC) regulations in the UK, ensuring that it adheres to local statutory requirements.
This software will help you automate various manual tasks such as year-end reporting, payroll calculations, and disbursements, which significantly alleviates the administrative burden on your HR department.
Key Features
All-in-One Suite
HR Security
Employee Engagement and Self-service
Data-Driven Insights
Benefits Management
Cloud-Based Solution
Best HR Software UK for Large Enterprises
SAP HR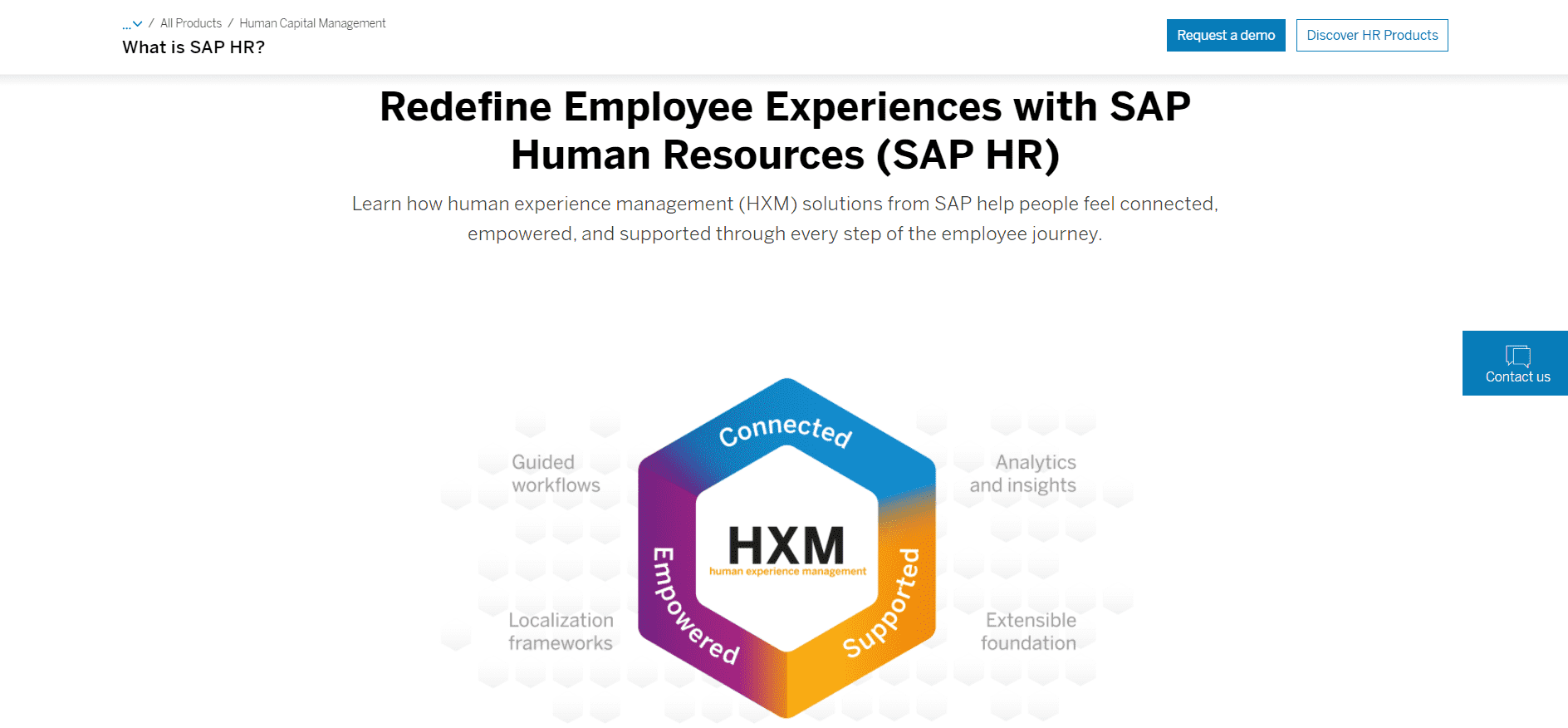 SAP Human Capital Management (HCM) is the leading HR software in the UK. It's advanced, effective, and easy to use. It's a crucial component of the SAP Enterprise Resource Planning (ERP) suite. SAP HCM automates and simplifies HR tasks. It can be an essential tool for your businesses in today's world.
SAP HCM stands out because it takes a comprehensive approach to HR management. This system goes beyond managing employee data and payroll. It creates an environment where organizational structures flourish, talent is developed, and HR decisions are backed by data.
Their modules will cover everything from Personnel Administration to Recruitment, Time Management, Payroll, and Analytics. This gives enterprises a complete view of their human capital.
The Employee Self-Service (ESS) and Manager Self-Service (MSS) portals make the user experience even better. These portals will help you create a transparent, self-managed, and engaged culture throughout the organization.
Key Features
Integrated Business Processes
Modular Structure
Real-Time Data Analysis
Scalability
Global Capabilities
Regulatory Compliance
User-Friendly Interface
Robust Security Features
Automated Workflows
Mobile Accessibility
Custom Development
Cloud or On-Premise Deployment
Advanced Analytics and Reporting
Ecosystem of Add-Ons and Extensions
Essential Features Provided by the Top HR Software Companies
Choosing the best HRMS software can be overwhelming due to the wide range of features available. Now, let's discuss the essential items:
Employee Database and Record Keeping: This is the foundational feature of HR software. It ensures that all employee information, from personal details to employment history, is stored securely and can be accessed easily. It eliminates the need for physical files and reduces the risk of data mismanagement.
Payroll: Think of this as the heart of HR tool. It ensures everyone gets paid accurately and on time, eliminating manual errors and late-night calculations.
Recruitment: Modern businesses can't afford lengthy hiring processes. With recruitment features, you can track applicants, schedule interviews, and even onboard new hires—all in one place.
Analytics: Ever wished for a crystal ball to predict business trends? Analytics is the next best thing. Dive deep into employee performance, retention rates, and more to make informed decisions.
Mobile Access and Integration: In an age of remote work and on-the-go operations, having mobile access is crucial. This feature ensures that HR managers and employees can access necessary information from anywhere, anytime. Integration, on the other hand, allows the HR software to seamlessly work with other business tools, ensuring streamlined operations and better data flow.
Tips for choosing the right HR Software in UK for your business
Finding the ideal HR software might seem challenging. However, with the correct guidance, you'll be well on your way to the perfect solution. Here are some factors to consider:
Scale is Important: The needs of a startup differ from those of a multinational. Choose software that aligns with your company's size.
Determine Specific Requirements: Do you require comprehensive analytics? Or is recruitment your primary concern? Pinpoint your core needs.
Budget Smartly: A higher price tag doesn't always equate to better quality. Aim for a balance between cost and functionality.
Plan for Growth: As your business expands, your HR requirements will too. Invest in software that can adapt and grow with you.
Prioritize Support: Challenges are inevitable. Ensure the provider delivers dependable after-sales support.
Stay Current: The corporate landscape changes frequently. Regular software updates will keep you aligned with contemporary trends and tools.
How to get the most out of the HR software platform you are using?
Begin with training sessions to gain a thorough understanding of its features. Make the most of all the tools it provides and ensure it stays synchronized with your other systems.
Make sure to regularly update your device to access the latest features and enhance security. Take the time to listen to your employees' feedback and make necessary adjustments to align with your company's rules.
It's a great idea to regularly back up your data and join online groups to learn from others who use the same software. Lastly, it's important to stay open to learning as the software continues to update and improve.
Wrapping Up
Choosing the right HR software platform is extremely important. We have thoroughly researched and found the top solutions available. Every business is unique, so what works for one may not work for another. The key is to find a tool that meets your needs and is affordable.
Our curated list of HR software can help you choose the right one, leading to better work dynamics and happier employees.
FAQs (Frequently Asked Questions)
What is HR in Software?
In software, "HR" usually stands for "Human Resources" software solutions. These tools and platforms are made to help businesses with HR tasks like recruiting, onboarding, payroll, benefits, time and attendance, performance reviews, and employee data management.
How does HR software benefit small businesses?
HR software is great for small teams. It automates tasks, reduces errors, and gives valuable insights. This helps small businesses focus on growth and help comply with human resource policy in UK.
Is HR and Payroll software expensive in UK?
Prices can change depending on the features and size. Although premium options may have higher prices, there are also many affordable HR and payroll solutions available that can meet various business needs and budgets.
Can I integrate HR software with other business tools?
Absolutely! Most modern HR software solutions offer integrations with accounting tools, communication platforms, and more.
How secure is my data with HR software?
Reputable HR software providers prioritize data security, ensuring compliance with GDPR and other data protection regulations in the UK.
Is HR software compliant with UK data protection laws?
HR software vendors comply with UK data protection laws like the GDPR. But it's important to confirm this with the vendor and fully understand how the software will assist in maintaining compliance.