Best HR Software in Dubai, UAE (Top 16 HRMS - 2023)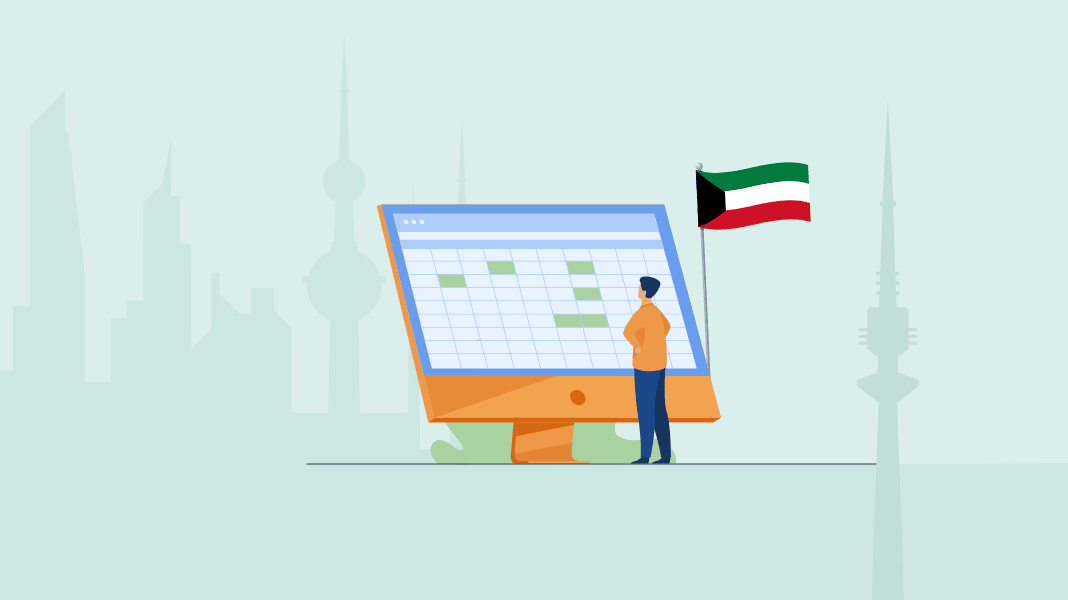 Technology has made HR software crucial for managing employees. In Dubai's highly competitive corporate environment, the best HR software in Dubai, UAE can optimize HR operations and improve business performance.
If you are in UAE, you must know by now that the country has a very diversified workforce comprising workers from different parts of the world. As a result, HR managers in this region must manage a varied workforce that speaks different languages, follows different traditions and has different levels of education and experience. Many organizations from the United Arab Emirates use HR software to tackle these difficulties and stay competitive, enabling business owners and employees to focus on strategic efforts by automating various HR activities.
This article discusses the best software for HR. We have tried to identify the best HR and HRMS software in Dubai, UAE, along with features, services and pricing for you.
Importance of HR & HRMS Software for Businesses in Dubai, UAE
HR software is now a must-have for businesses in Dubai and the UAE for several reasons. Few of them are mentioned below:
Manage Diverse Workforce: Dubai and the United Arab Emirates are known for having a diverse workforce, with many ex-pats from different parts of the world. Around 6.5 million people from diverse backgrounds work in Dubai and the UAE combined (based on data from International Labor Organization and United Nations Population Division). HR software can help companies manage this diverse workforce by allowing them to communicate with effectiveness, follow local rules and keep track of employee records.
Follow Laws and Regulation: Dubai and the United Arab Emirates have some of the world's strictest laws about working conditions. HR software can help businesses follow these laws and rules by automating things like the processing of visas, the management of payroll, and the management of leaves. Additionally Dubai's HRMS software can help companies avoid legal problems by decreasing the possibility of error for HR departments.
Cope with Rapidly Growing Economy: UAE have more firms coming in due to their fast-growing economy. HR software provides tools for hiring, onboarding, and engaging people to help firms flourish. In a competitive market, these technologies can help organizations hire and retain top talent.
Neutralizing Impact of the Pandemic: COVID-19 has altered company operations. For many companies, working from home has become the norm. UAE's HR software gives remote workers capabilities for communication, time monitoring, and performance management. This can help firms keep remote workers productive and engaged.
List of Top HR software in Dubai, United Arab Emirates (UAE) and their Base Pricing
Before we get into the details, here is a list mentioning the cost of 16 HR software in UAE to give you a brief idea of how much you will have to pay.
| Name of HR software | Base pricing |
| --- | --- |
| Bayzat | Contact the seller for the price |
| Apploye | $2.5 per user/month |
| Microsoft Dynamics 365 | $4 Per user/month |
| Sage HRMS | $5.5 per employee |
| Gulf HR | Contact Seller |
| PeopleHum | $2 per employee per month |
| Elate HRMS | Contact seller |
| GreytHR | USD 50/month |
| EmiratesHR | 3,500 AED |
| Oracle HCM | Contact Seller |
| Dots HR | Contact Seller |
| Zimyo | $4 per user per month |
| EasyHR | Contact Seller |
| Artify360 | Contact Seller |
| Paylite | Contact Seller |
| Humantiz | Contact Seller |
Detailed overview of Best HR software in UAE and Dubai
In this part of the article, we'll talk in detail about the best HR software solutions in Dubai, UAE.
1. Bayzat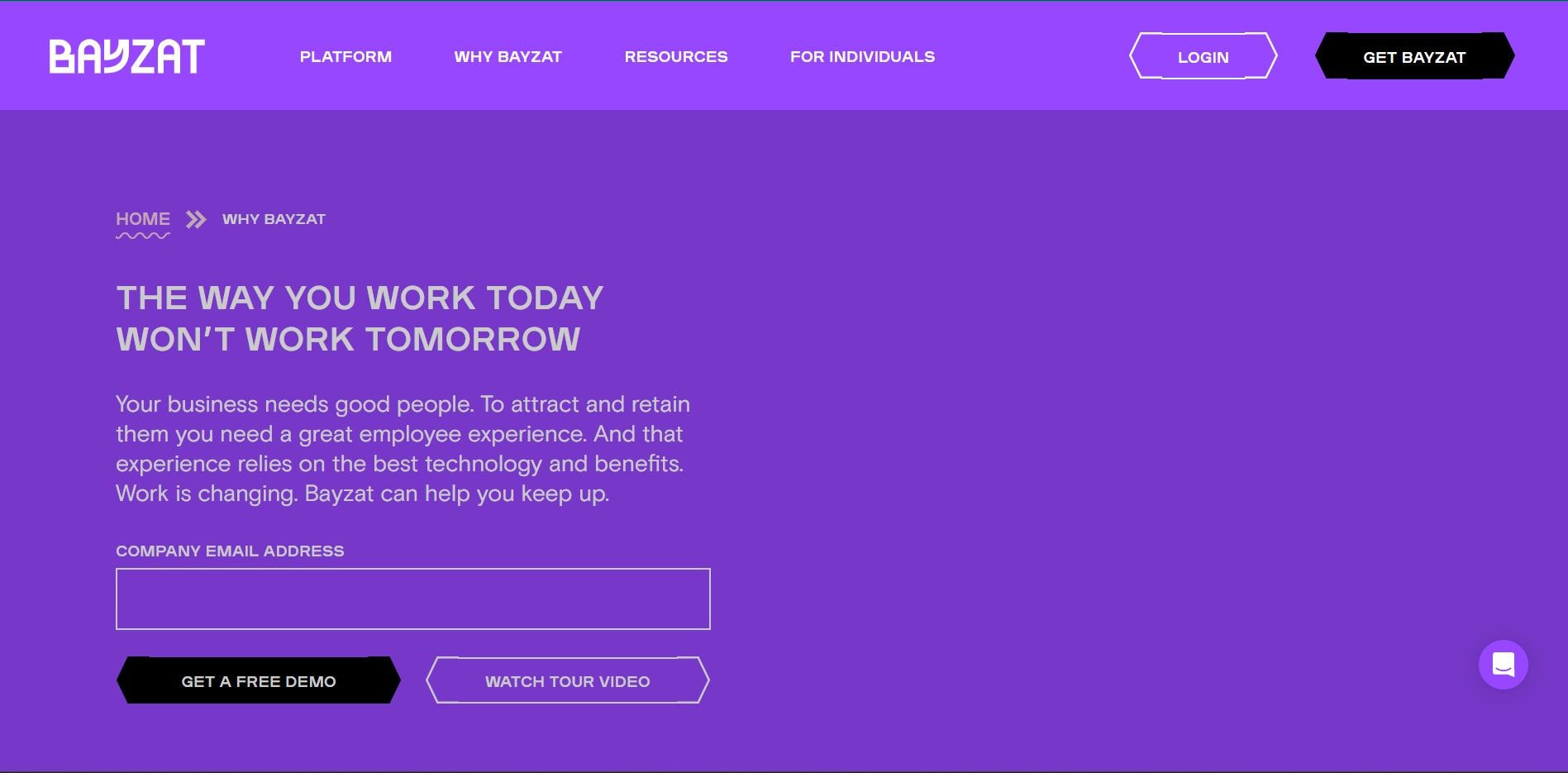 Bayzat, a UAE software business, offers high-quality HR and payroll solutions. Their cloud-based payroll software is simple and reduces computation errors. It eliminates the need to find pay records and calculate. Bayzat's UAE-specific software sets them apart. The software lets you regulate payroll variances, spending tracking, personnel scheduling and more. Moreover, Their performance management function lets you track staff performance and set goals with automated reminders.
Bayzat simplifies HR and payroll operations so you may focus on business growth. No more headaches or stress!
Key Features of Bayzat
Employee Survey
Attendance Management
Shift Scheduler
Employee Records
Letter Request
Pricing of Bayzat
Contact the seller for the price
2. Apploye - Specialized HR software for time tracking and employee monitoring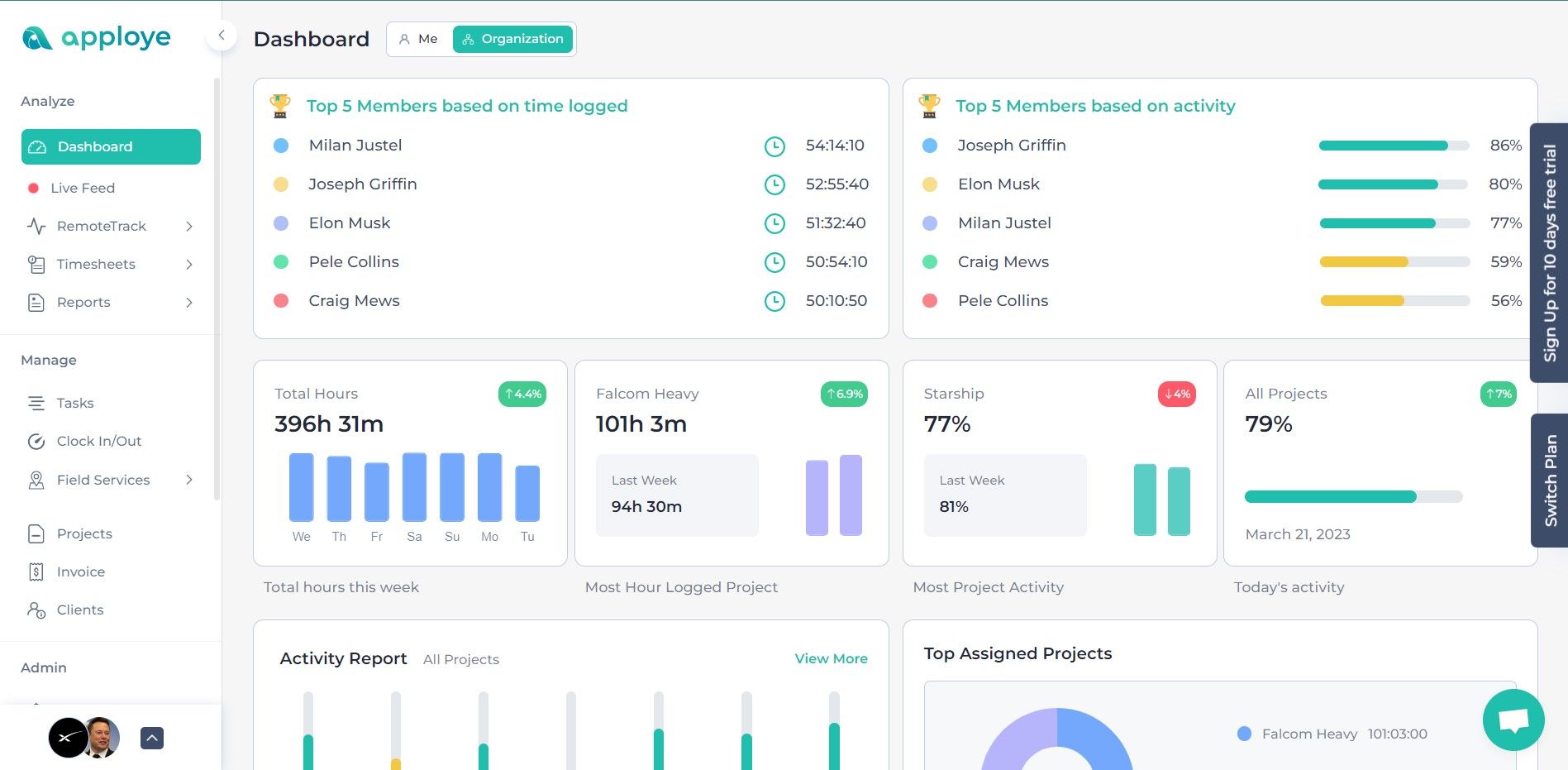 Dubai and UAE firms can utilize Apploye's versatile time-tracking software for HR. It helps optimize HR procedures and make data-driven decisions by tracking employee time and attendance, project timeframes, and productivity. Besides, Apploye's reporting tools can help managers identify areas where staff need training or assistance and make changes to enhance productivity.
Apploye can also help in managing field and remote workers in Dubai. As more organizations allow workers to use advanced HR software, tracking their time and attendance becomes easier. This ensures home-based workers accomplish their targets and helps management track productivity. Apploye can help UAE organizations improve HR operations, gain insights, and manage remote workers.
Apploye can track construction worker's time in addition to remote work monitoring. Managers can track project timeframes and personnel hours with the software to discover inefficient time use and resource needs. Apploye can help enterprises reduce construction procedures cost and increase project results.
Key Features of Apploye
Time Tracking
Attendance & Leaves
Employee GPS Tracking
Timesheets
Clock-In & Clock-out
Weekly activity analytics report
Pricing of Apploye
Solo: $2 one user/month
Standard: $2.5 per user/month
Premium: $3 per user/month
Elite: $3.5 per user/month
3. Microsoft Dynamics 365 Human Resources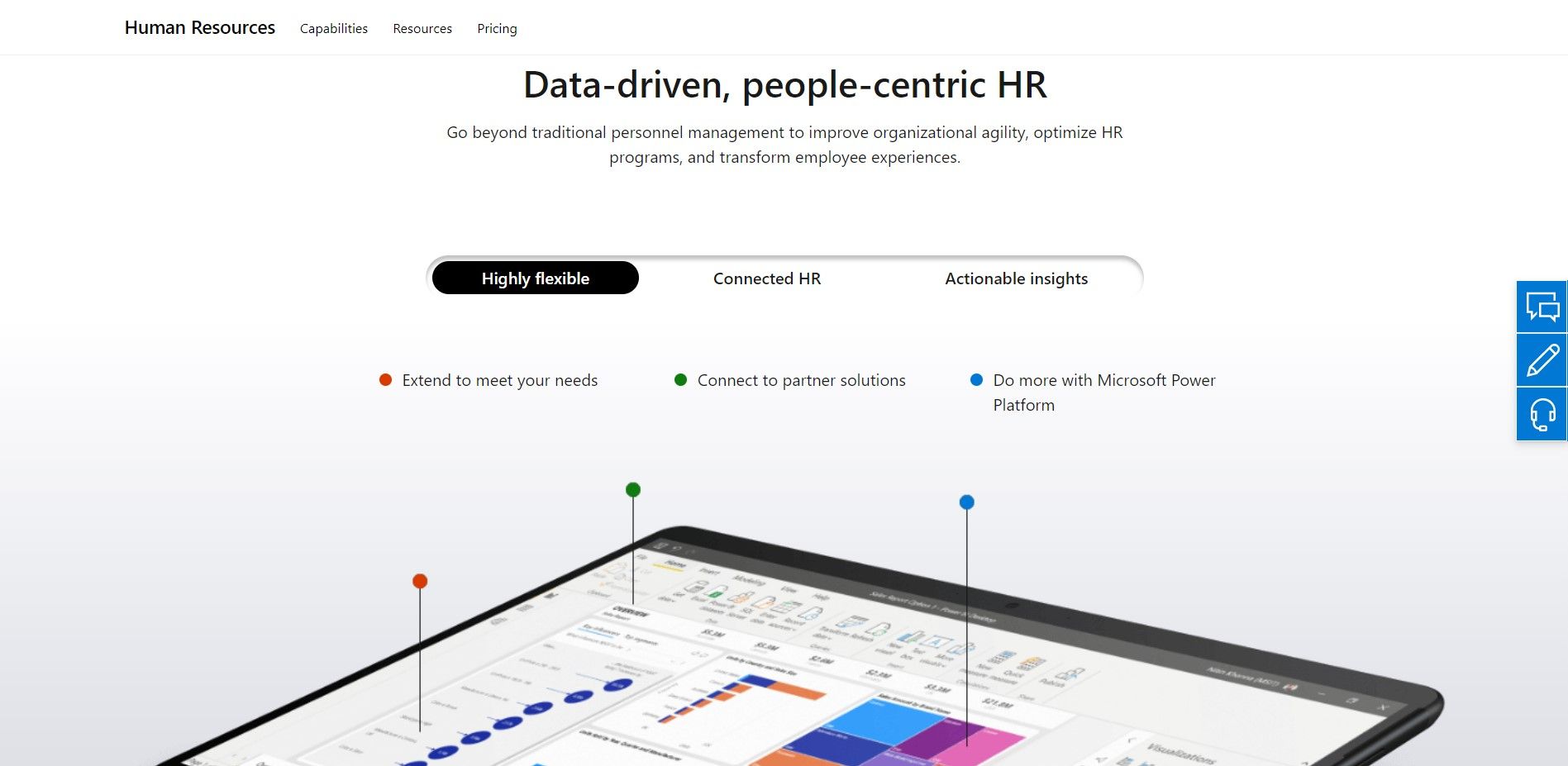 UAE organizations may improve personnel management using Microsoft Dynamics 365 Human Resources. It organizes HR data and eases processes like a personal HR assistant. Firms can handle time-off requests and benefits enrollment forms online with Dynamics 365 Human Resources, eliminating paperwork. The program helps HR professionals monitor employee performance, training and compliance.
Moreover, Dynamics 365 HRMS software can be customized for UAE organizations. The program can be customized for startups and corporations. Hence, Microsoft Dynamics 365 Human Resources may be ideal for UAE business owners that want to streamline HR.
Features of Microsoft Dynamics 365 Human Resources
Employee Self-Service
Performance Management
Talent Management
Benefits Management
Compliance Management
Pricing of Microsoft Dynamics 365 Human Resources
Dynamic 365 Human Resources: $120 per user/month. Includes full application capabilities
Dynamic 365 Human Resources: Self-service $4 Per user/month Employee and manager self-service capabilities
4. Sage HRMS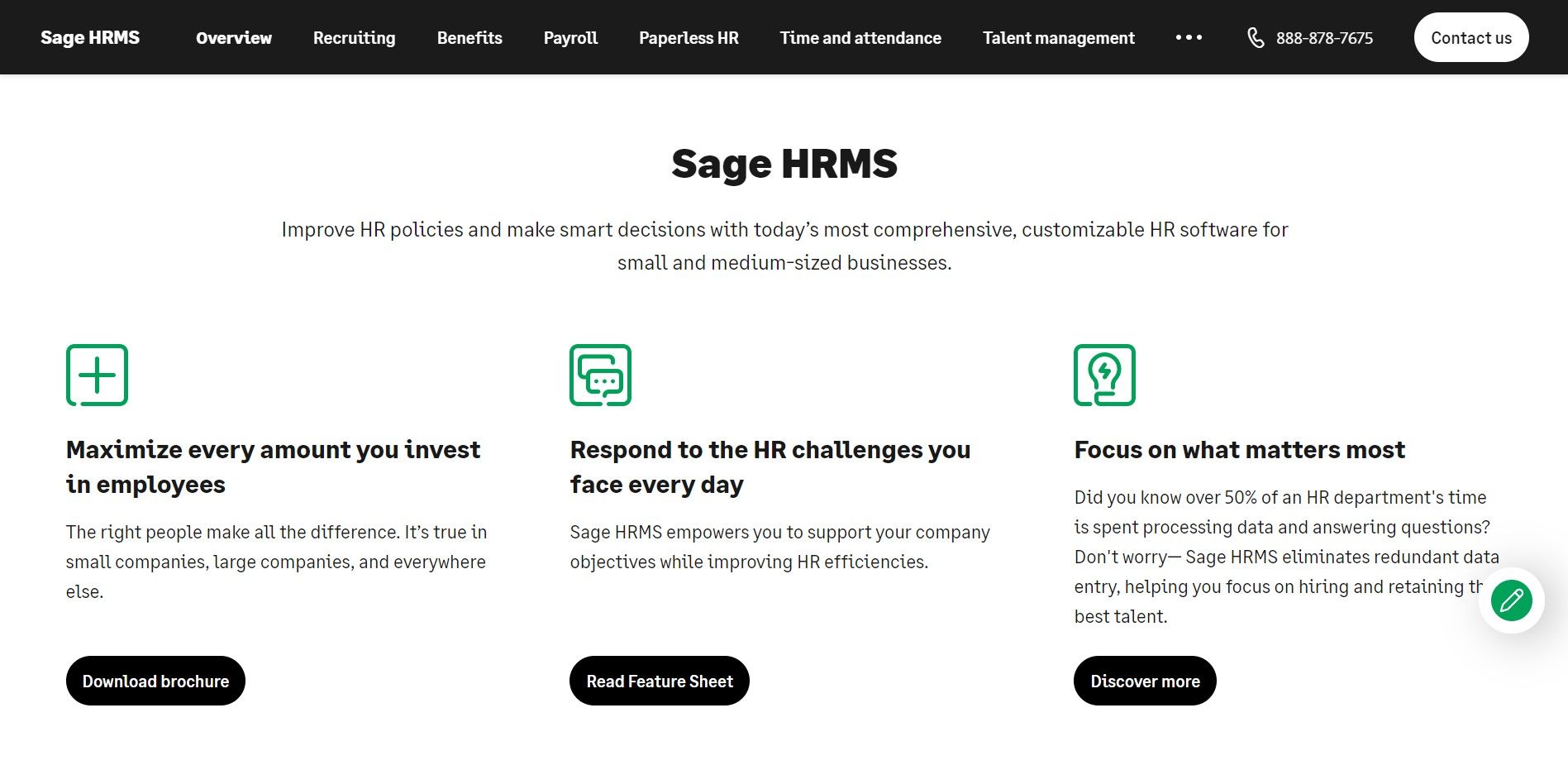 Sage HRMS is cloud-based HR management software for UAE's organizations. Its user-friendly interface and self-service portal allow employees to access information and manage HR activities independently. This allows professionals to focus on strategic duties and boosts efficiency.
Sage HRMS may be customized for every firm. Automated HR workflows in the program save time and prevent errors. In conclusion, Sage HRMS simplifies HR, educates staff decisions, and competes in today's business climate.
Features of Sage HRMS
Talent Management
Payroll Management
Employee benefits management
Decision Support
Pricing of Sage HRMS
With core HR + leave management: the pricing of sage HRMS starts from $5.5 per employee.
Additional features increase the cost per employee as well

5. Gulf HR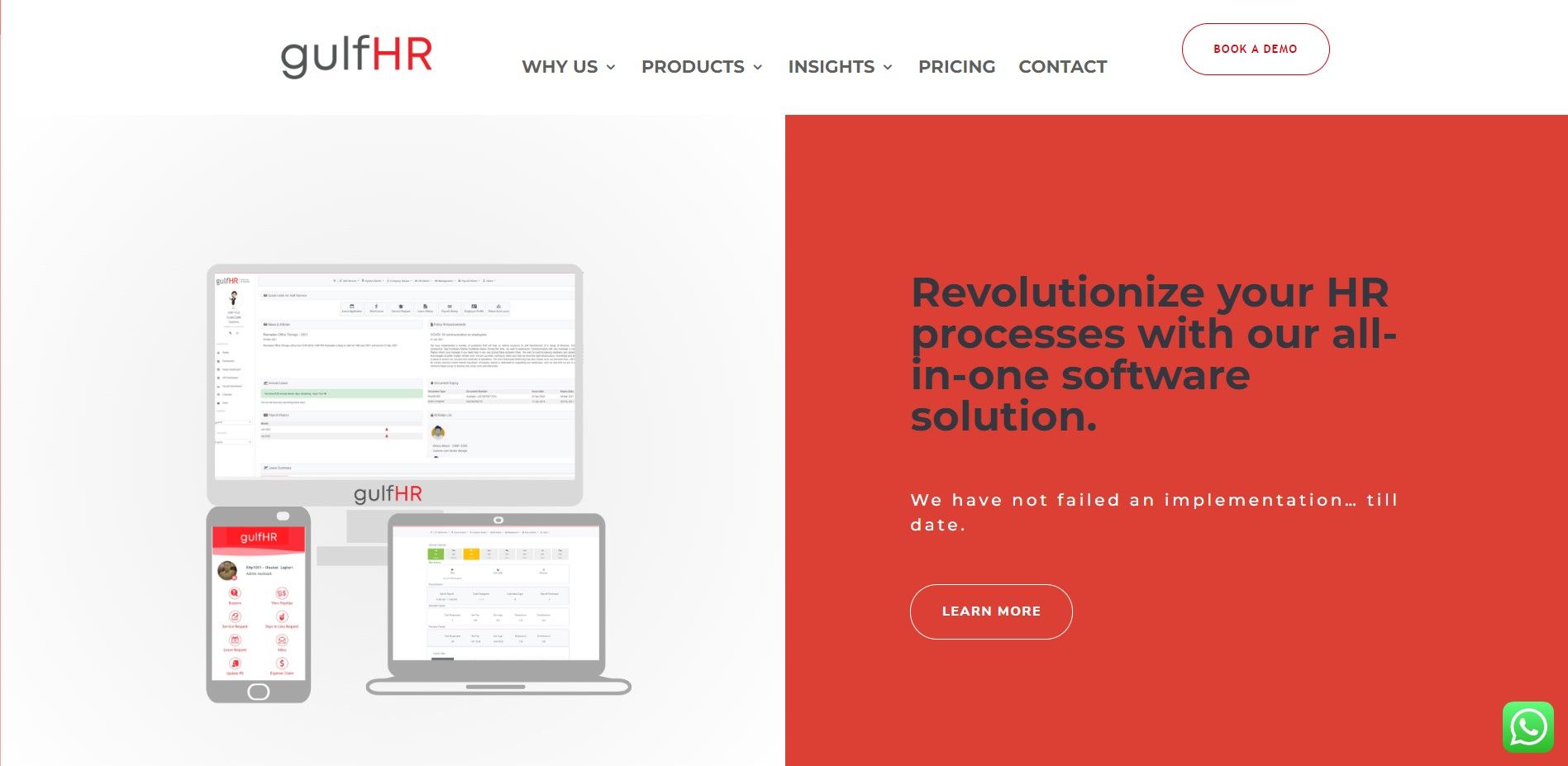 GulfHR is a famous Middle Eastern HR management software. It optimize human resource operations and boosts team productivity. The program is customized for the Middle East and UAE. It manages visas, work permits, and employee perks for regional HR operations. The program also meets local labor standards, making it easier for enterprises to comply.
GulfHR helps UAE firms streamline HR processes. Onboarding and payroll management are faster and more accurate with the program. Employee self-service lets employees access their data anytime, anyplace.
Features of GulfHR
Payroll Management
HR Admin
System Admin
Manpower Planning
Training Management
Performance Management
Recruitment
Analytics Dashboard
Pricing of Gulf HR
Starter: Designed for companies with more than 30 employees who want best practice support and increased efficiency.
Growth: All the tools you need to manage your workforce more effectively and efficiently.
Enterprise: Enterprise-level HR and payroll management software that enables you to customize and manage your global workforce more effectively and efficiently
You need to contact them for details about pricing.

6. PeopleHum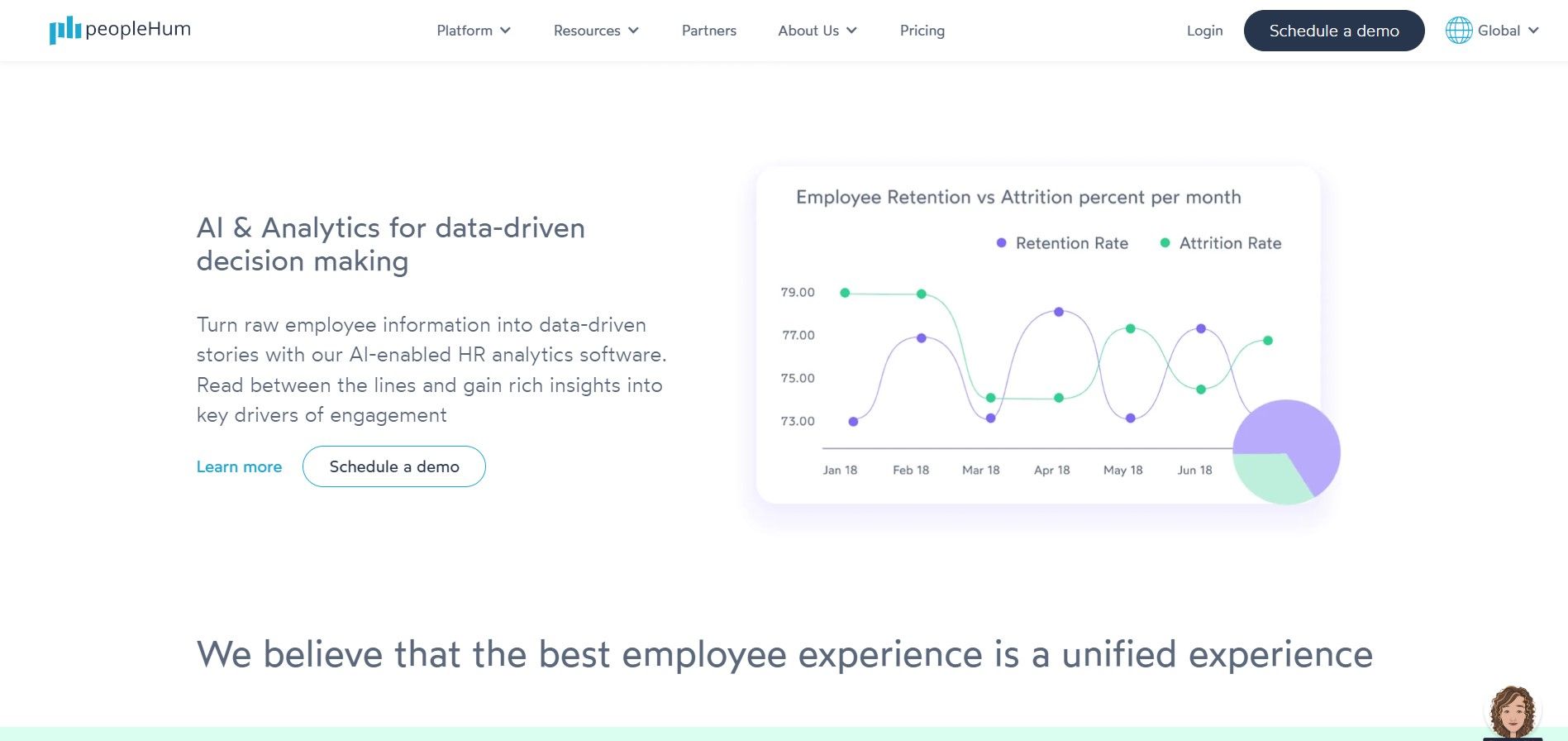 PeopleHum is a simple but full HR software. Its performance management is amazing. This functionality lets you evaluate, set, and measure employee progress. Another great PeopleHum feature is employee engagement. This element aids in employee satisfaction and workplace positivity.
PeopleHum's talent management system is great. You can identify and develop your best achievers with this module. This software lets you customize development plans for each employee to maximize their potential. Finally, PeopleHum's candidate tracking technology speeds up and improves recruitment. This service finds and hires the best candidates, ensuring your success.
Key features of PeopleHum
Financial recording
Insurance recording
ESOPs recording
KPI tracking
Performance cycle creation
Interviews scheduling
Recruitment Insights
Surveys
Recognition wall
Pricing of PeopleHum
All you need for recruitment, core HRIS, performance, engagement, and analytics starting at $2 per employee per month
7. Elate HRMS
Elatesoft provides excellent HR and Payroll Software to organizations in Dubai, UAE, Abu Dhabi, Oman, Bahrain, and Saudi Arabia. They can tailor their software to your business's needs because they're versatile.
Elatesoft offers one of the best Dubai HR and Payroll solutions. They recognize the value of good employee relations. Their HRMS records critical information accurately.
Managing personnel data and documentation becomes difficult as your organization grows. Elatesoft's UAE HRMS software is a great way to reduce stress and take care of employees. Elatesoft is a trustworthy partner that can help your Middle East business succeed.
Key features of Elate HRMS
Automate Design for recruitment Process Payroll Software Dubai
Transfers Management
Inter-Company and Location Transfer
Promotions
Record Promotion Business case and Justification
Manage HR Performance very easily
Training
Pricing of Elate HRMS
8. GreytHR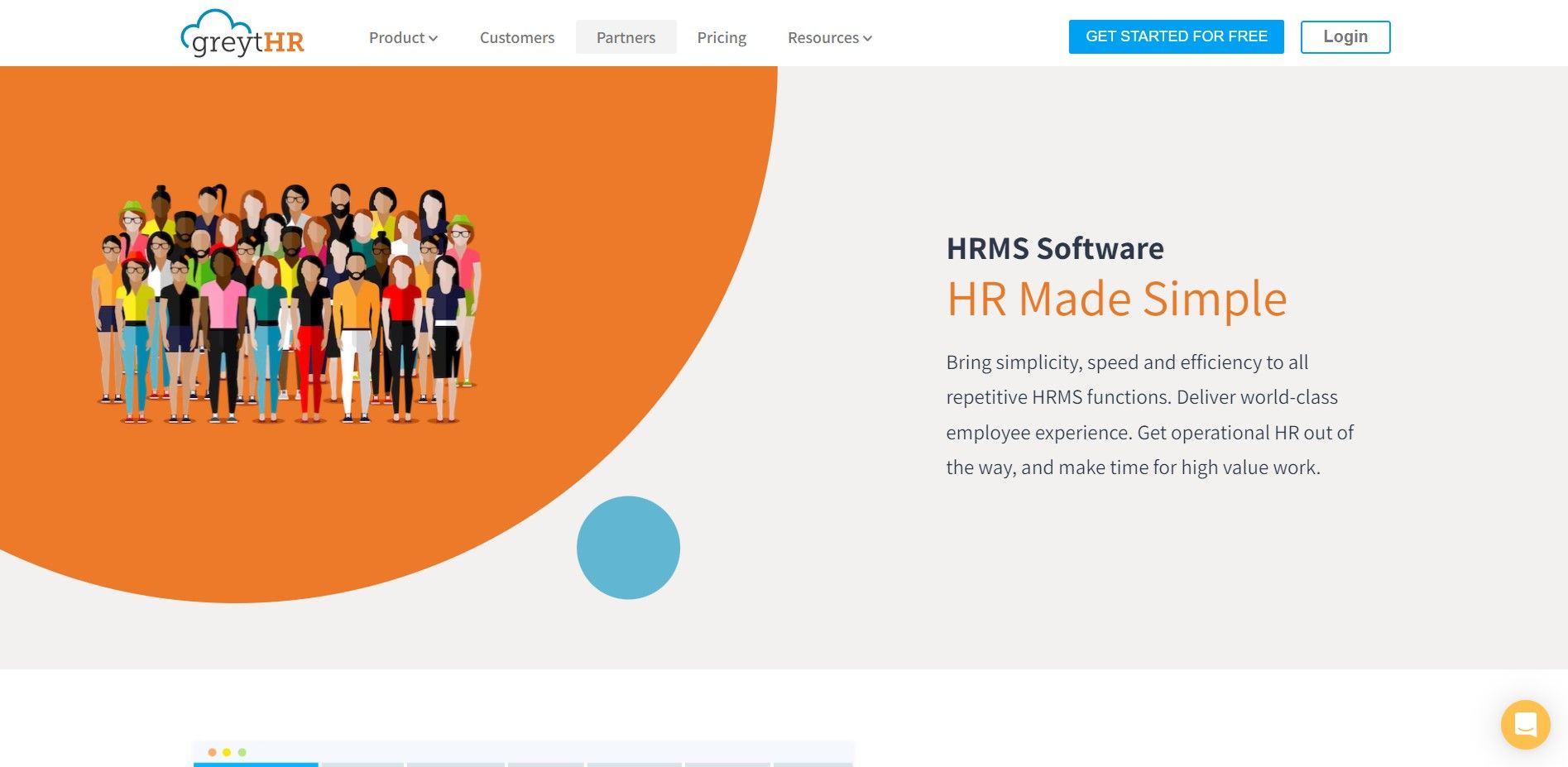 GreytHR helps HR and payroll management, which are difficult for small and medium-sized business owners. Cloud-based HR and payroll software streamlines and ensures accuracy and compliance. GreytHR manages attendance, leave, cost reimbursements, and payroll for your employees. The software's simple interface lets anyone use it.
Customer service distinguishes greytHR. The software team provides excellent support and assistance, so you can quickly receive needed aid. Suppose you have an organization in Dubai and are searching for HR software. In that case, greytHR is one of the best human resource and payroll software for superior technology and individual service.
Key features of GreytHR
Core HR
greytHR Onboard- A Pleasant Onboarding Experience
Employee Communication, Reminders, and Alerts
HR Reports and Dashboards
Employee Document Management
Pricing of GreytHR
Starter: USD 0/month (Includes ten employees)
Essential: USD 50/month (Includes ten employees)
Growth: USD 60/month (Includes ten employees)
Enterprise: USD 80/month (Includes ten employees)
9. EmiratesHR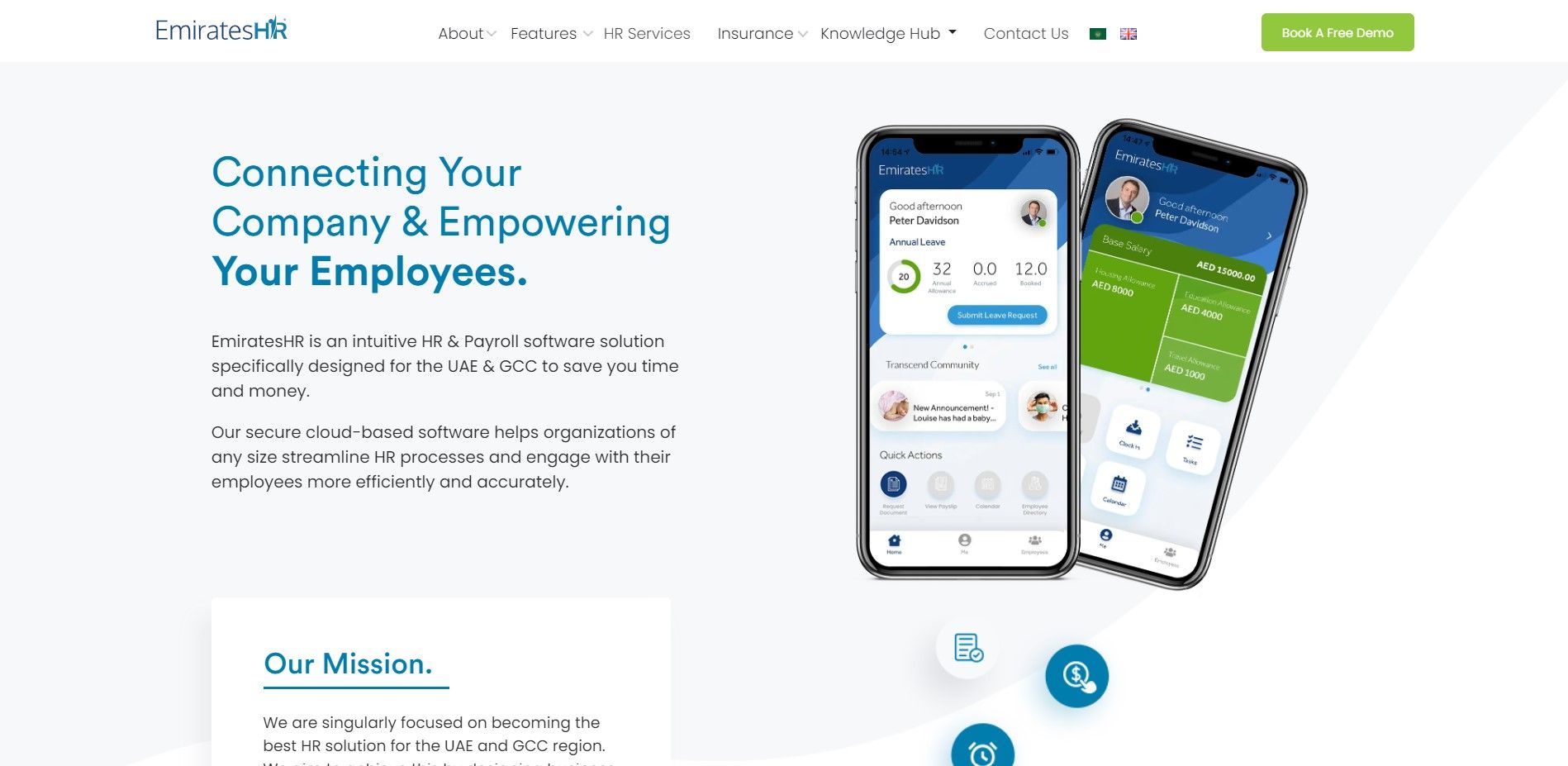 HR and payroll management is complicated and time-consuming for UAE business owners. Emirates HR, a cloud-based HR and payroll software, simplifies your life. It handles payroll and staff management. The program is easy to use and customizable to your business's workflows.
Emirates HR prioritizes UAE labor legislation compliance. The program updates you on labor rules, reducing compliance concerns and hefty penalties. They prioritize customer service. They can advise businesses on their particular difficulties. Emirates HR is among the UAE's best HR and payroll administration software for businesses that want superior technology and individual assistance.
Key features of EmiratesHR
HR Admin
Document Management
Mobile Application
Employee Benefits
Performance Management
Organizational Charts
Applicant Tracking System (ATS)
Pricing of EmiratesHR
1-10 Employees - Plan A: 3,500 AED
11-25 Employees - Plan B: 4,500 AED
26-50 Employees - Plan C: Contact Seller
51+ Employees - Plan D: Contact Seller
10. Oracle Human Capital Management (HCM)
Oracle HCM Cloud is a prominent HR management software in Dubai, UAE. Dubai draws international enterprises, many of whom utilize Oracle HCM Cloud to manage their employees. Oracle HCM Cloud management's customizability suits the country's different company demands. It also helps companies comply with UAE labor rules, including end-of-service benefits, gratuities, and sick leaves.
Oracle HCM Cloud's self-service HR tools and mobile app are especially useful in Dubai, where employees always need HR information. In addition, The tool's social collaboration features let employees collaborate more efficiently, improving productivity and results.
Key features of Oracle HCM
Core Human Resources
Onboarding
Benefits
Workforce Modeling and Predictions
Workforce Directory
HR Help Desk
Work-Life Solutions
Advanced HCM Controls
Pricing of Oracle HCM
11. Dots HR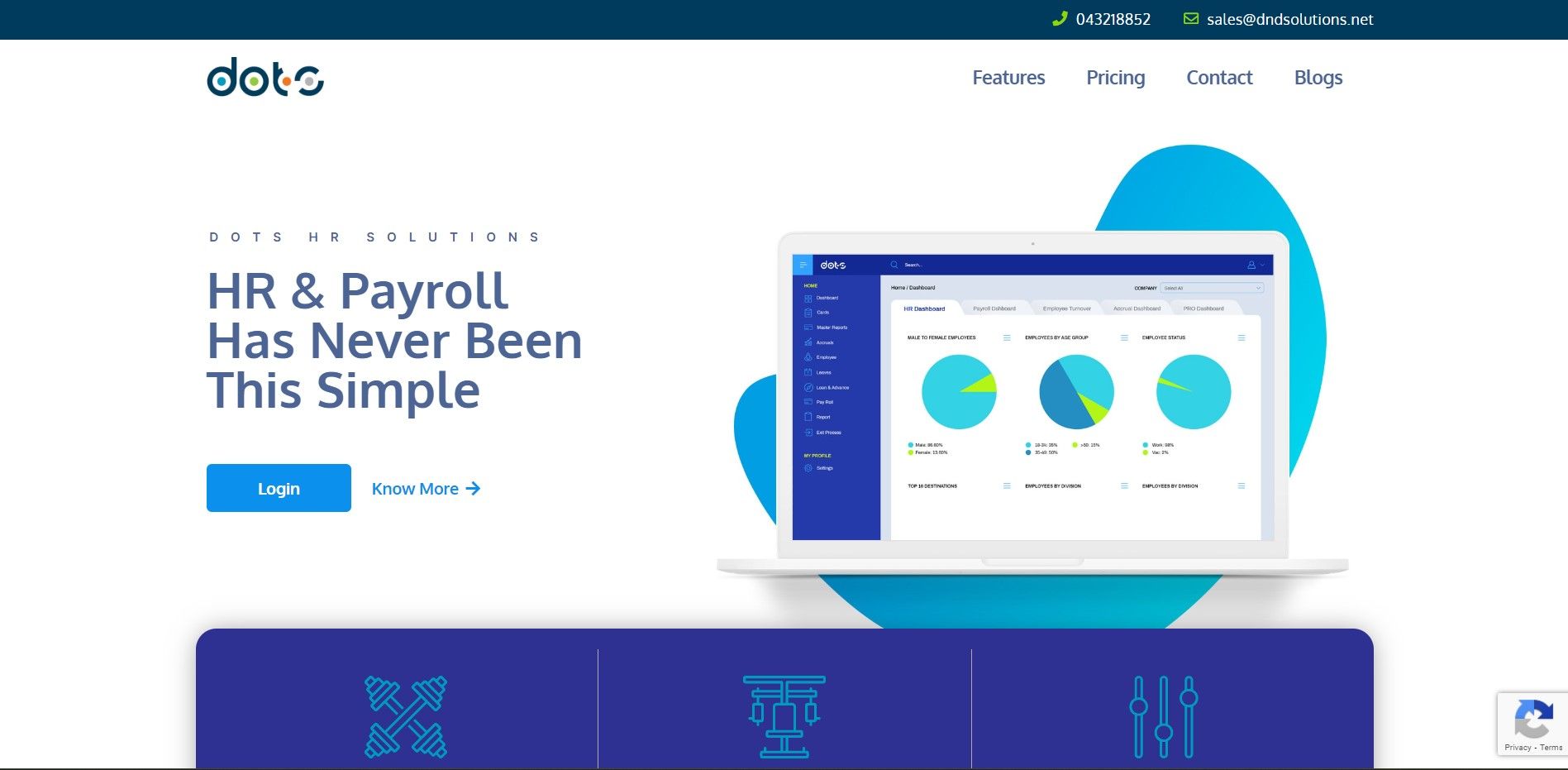 UAE-based DOTS HR provides quality HRMS software. DOTS HR's software can link with biometric sensors to automatically track employee attendance. This aids overtime and absence reporting. DOTS HR's online time off request function is another fantastic feature. Managers can accept these requests at any time, keeping everyone in sync.
DOTS HR's software is highly customizable to match your business's demands. You pay for the modules you use, so you don't waste money. DOTS HR helps you manage HR and operate your business.
Key features of DOTS HR
Attendance
Payroll
Time off
HR on the go
Pricing of DOTS HR
You need to get a quotation from them based on your need

12. Zimyo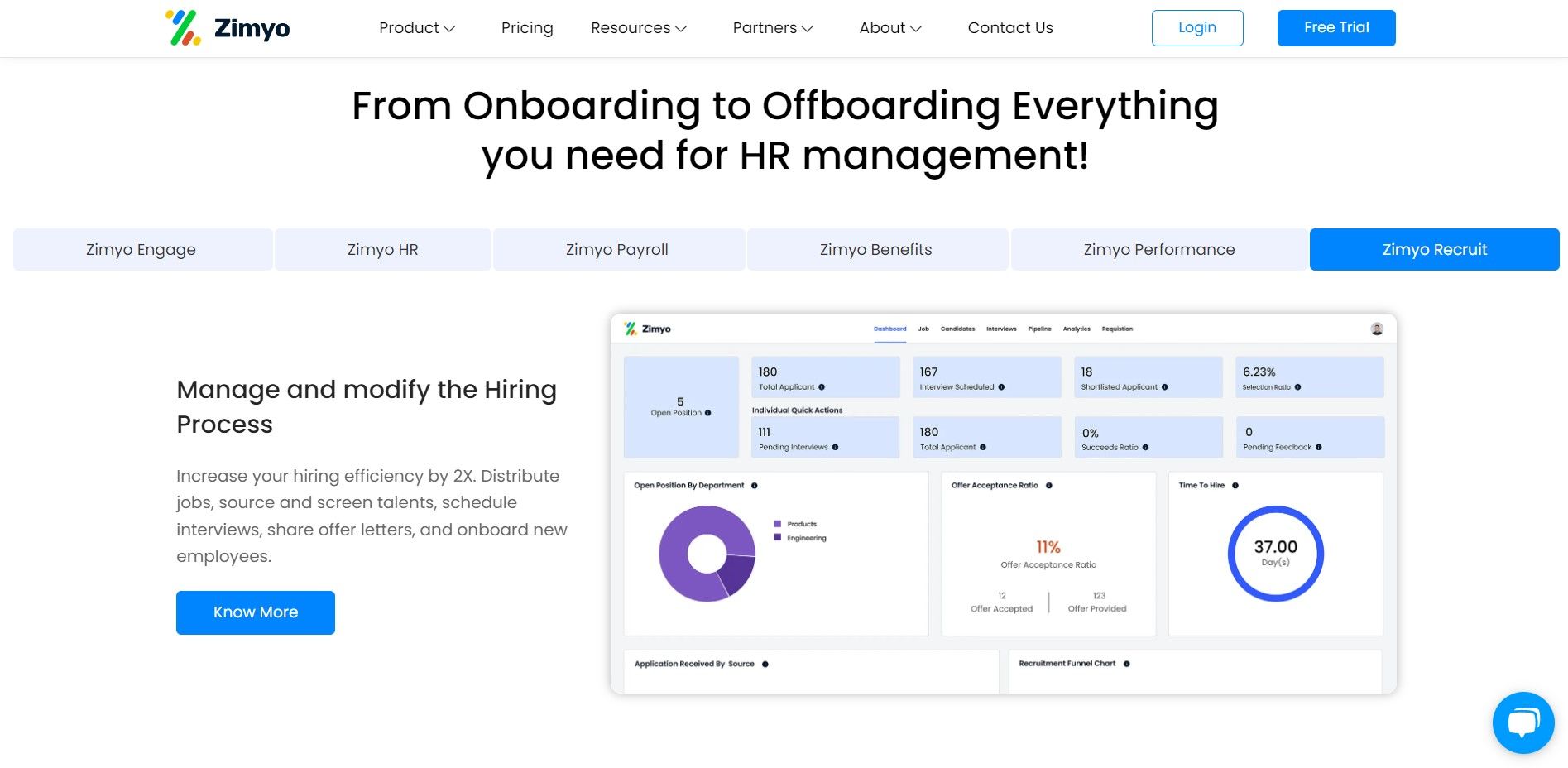 Zimyo is a top HR software company that helps businesses in the Middle East, including the UAE, Qatar, Dubai, and Saudi Arabia, with new and complete HR solutions. It has more than 40 modules that cover all aspects of employee management, such as managing attendance, processing payroll, and managing leaves.
Their cloud-based HR management solutions are made to make Dubai's HR processes more efficient, increase employee productivity, and make the whole employee experience better. Whether you run a small or big business, Zimyo has the tools to help you manage your employees better and more efficiently.
Features of Zimyo
Payroll Management
Employee Self-Service
Attendance Management
Performance Management
Recruitment Management
Training and Development
Pricing of Zimyo
Basic $4 per user per month
Standard $6 per user per month
Enterprise $8 per user per month
13. EasyHR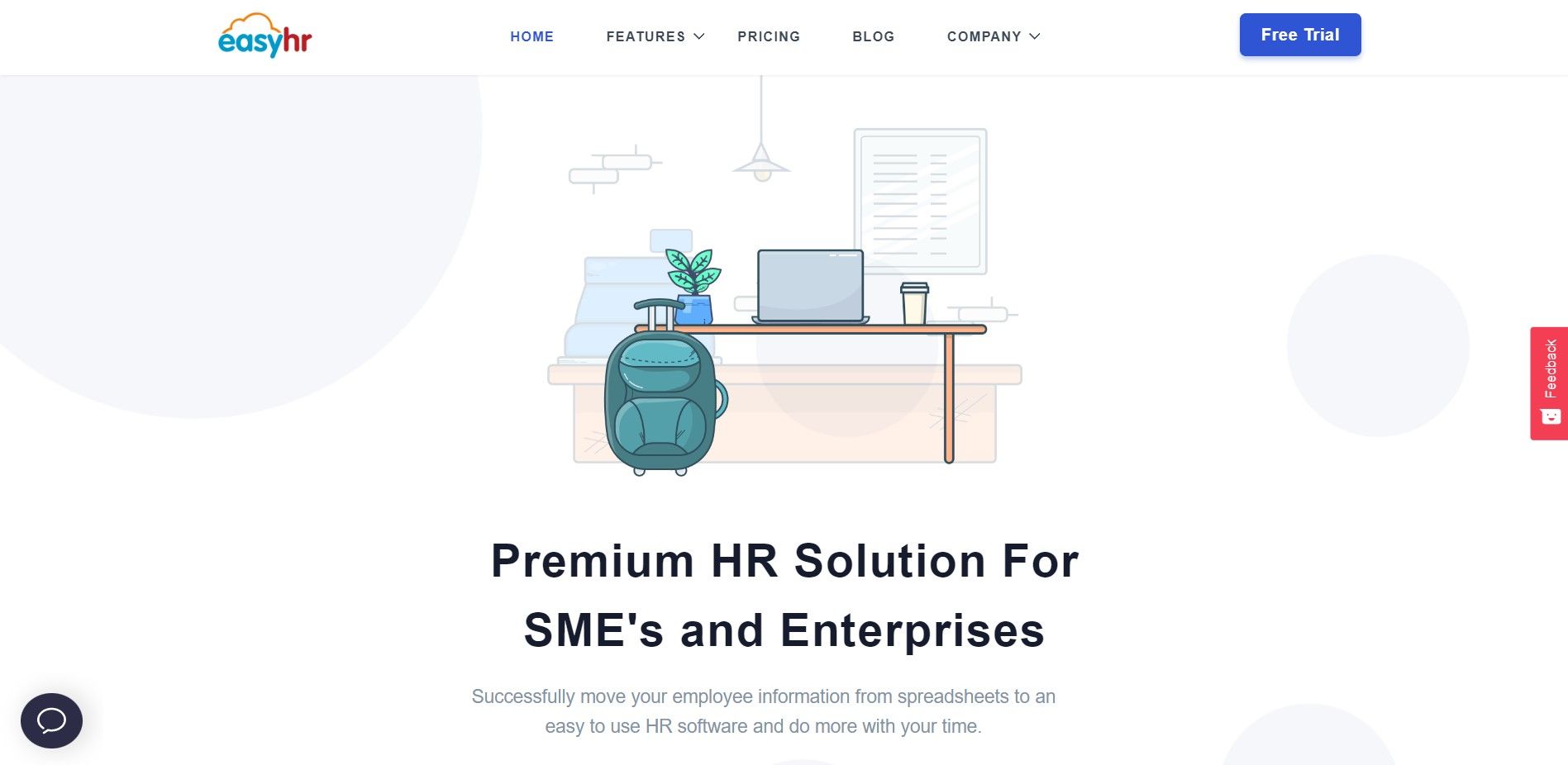 Dubai and UAE firms can benefit from cloud-based HR and payroll software like EasyHR. EasyHR's comprehensive features include attendance tracking, leave management, payroll processing, asset management, claims management, and more. This will help firms simplify and automate their HR management procedures, which is especially vital in the UAE's fast-paced business climate.
Its mobile app and employee self-service feature makes it easy for varied workforces to manage profiles, apply for leave, claim costs, and attend training. EasyHR's all-in-one solution streamlines HR management for Dubai and UAE enterprises, freeing up time and resources for growth and development.
Key features of EasyHR
Claims Management
Helpdesk
Onboarding & Exit
Recruitment
Training Management
Travel & Outdoor
Pricing of EasyHR
Contact EasyHR based on your requirements to get the complete pricing
14. Artify360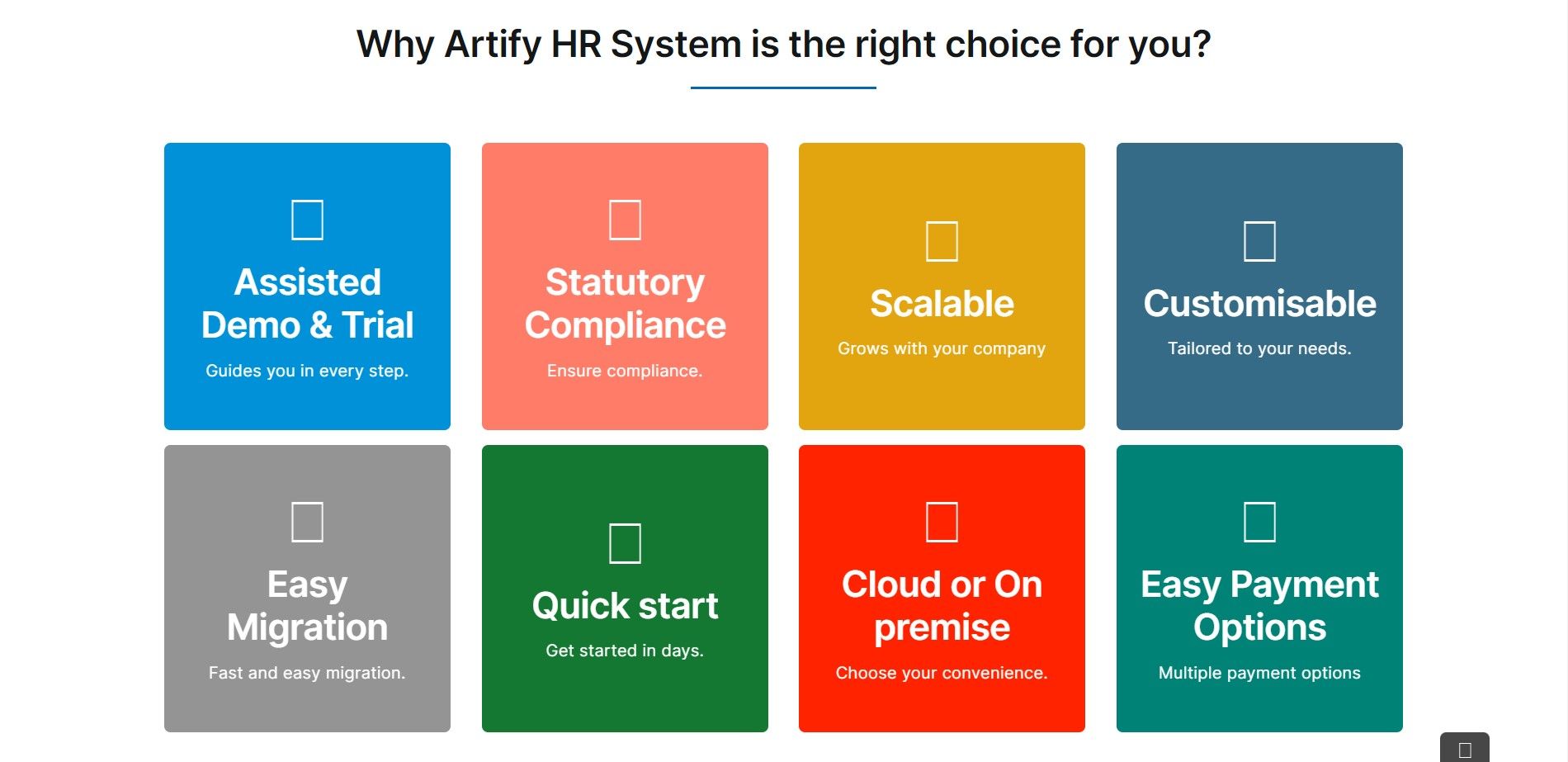 Artify 360 is a powerful HR management system designed to help companies grow quickly and efficiently. With Artify 360, businesses can automate and modernize their HR processes, which frees up more time for other important business operations.
The best part is, Artify 360 is customizable to meet the specific needs of businesses in various industries and countries, including Dubai and UAE. So whether you're a small or large organization, Artify 360 can help you.
Artify 360 is trusted by many top businesses worldwide for its user-friendly interface, affordable pricing, and exceptional customer support. Their team is always ready to provide quick and efficient assistance to HR managers and business owners to ensure a smooth transition to our software.
Key features of Artify360
Payroll Management
Core HR Management
Recruitment Management
Training Management
File Management
Pricing of Artify360
15. Paylite HRMS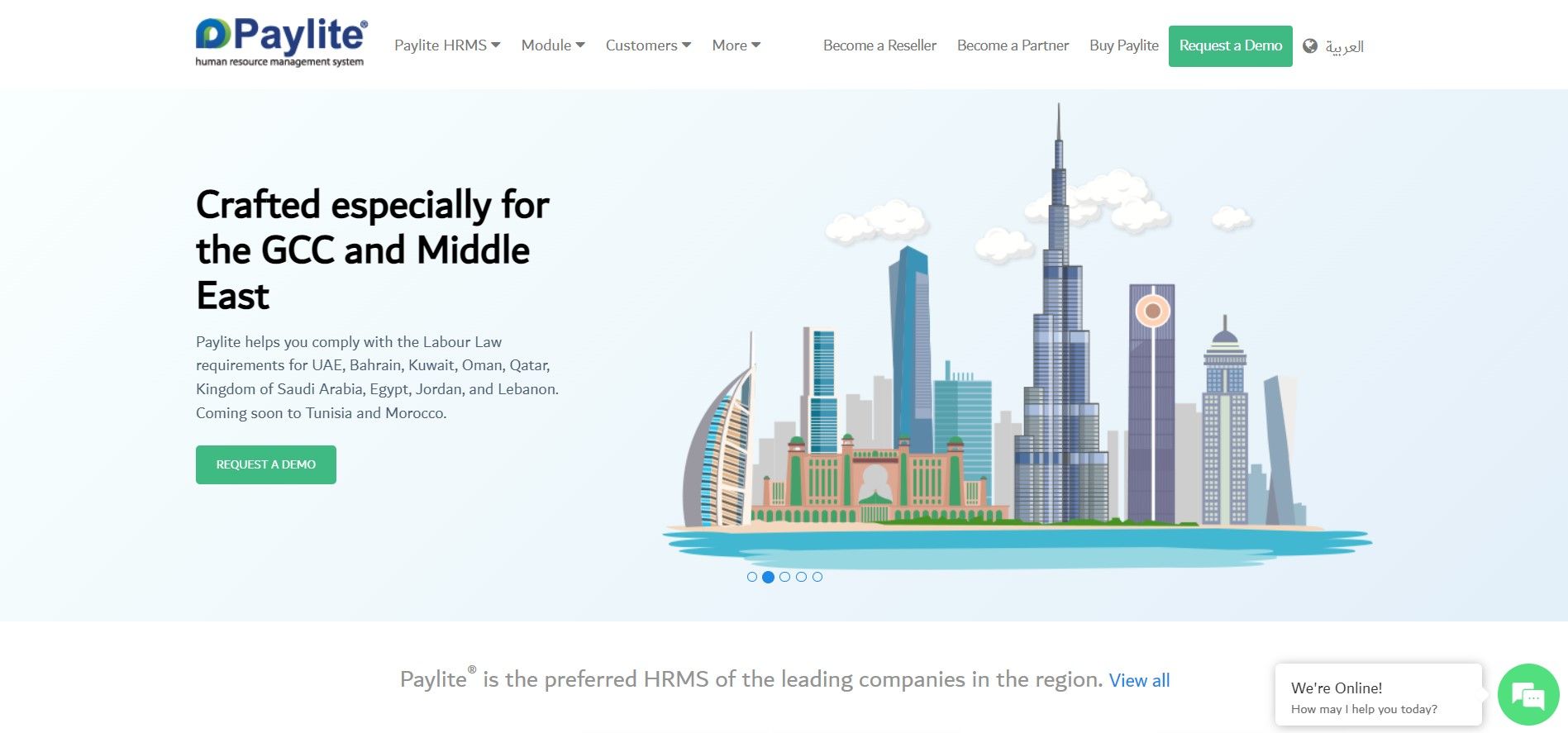 Paylite's cloud-based platform manages employee data, attendance, payment, and benefits. It streamlines HR operations from startups to major corporations and boosts employee engagement. Paylite is amazing since it meets Middle Eastern firms' HR needs, including local laws and regulations. It's crucial because firms don't have to worry about shifting regulations.
Recruitment, onboarding, performance reviews, and training elements in Paylite boost employee happiness and retention. Because it's cloud-based, employees can access their information and request time off from anywhere, making things easier for everyone. Paylite simplifies HR operations and boosts employee happiness for Middle Eastern companies.
Key features of Paylite
Salary calculations and WPS reports for direct credit from Bank to employee
Gratuity/End-of-service calculations
Alerts for expiring documents like visa, passport, driving license, Iqama, etc
Employee Loan accounting and integration with payroll
Supports multi-company/entity setup with Multiple currencies
Pricing of Paylite
16. Humantiz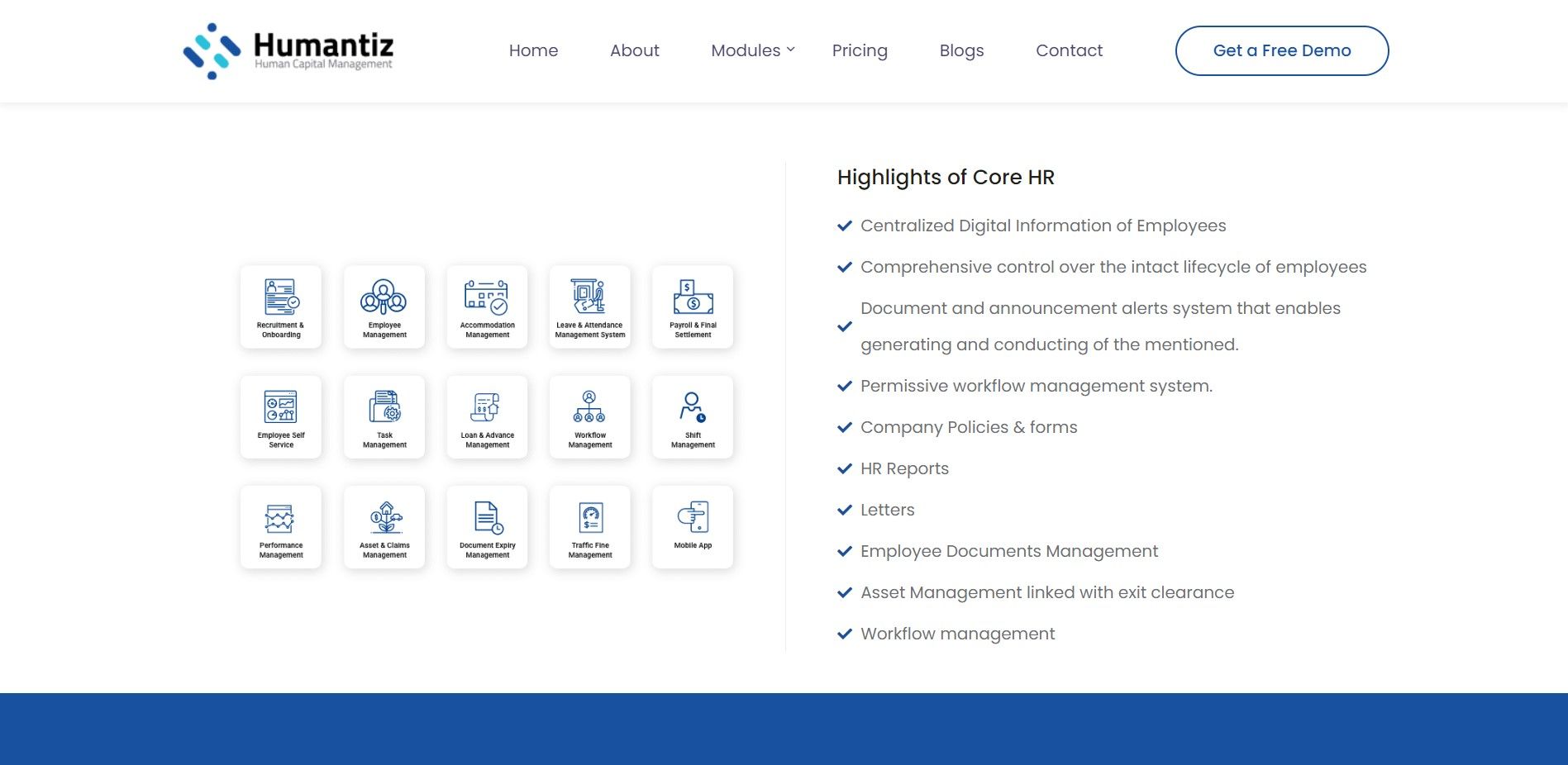 Humantiz provides the world's top organizations with a comprehensive HR management system to boost revenues and cut costs.  They want to be Dubai and UAE's top HR software provider with its revolutionary cloud-based solution.
Humantiz is a world-class human resources management software (HRMS) that increases revenues and productivity by efficiently managing the workforce. This software manages HR, corporate processes, and operations via a cloud-based HR suite. Talent, compliance, payroll, and expense reimbursement are included. The purpose is to provide services and sophisticated solutions that help organizations have a competitive edge in Dubai and the UAE.
Key features
Gratuity Management
Leave Salary Management
Multi-Branch
Workflow Management
Reimbursement & Replenishment
Shift Management
Shift Scheduling
Accommodation Management
Pricing of Humantiz
They have three different pricing packages, and you need to contact them for the detail
How can I choose the best HR software in Dubai, UAE?
When choosing HR software in Dubai and the UAE, there are a few things to consider to ensure it meets your business's needs and follows local rules. Some of the most important things to think about are:
Features and functionality: You should make sure that the HR software you choose has all the features and functions you need. This could include processing payroll, keeping track of time and attendance, managing benefits and letting employees do things on their own.
Cost: The price of the software should be fair and fit your budget.
Security and data privacy: The HR software should have strong security features to protect employee information and follow the rules about data privacy.
User-friendliness: The HR software should be easy to learn and use for both HR staff and employees.
Customer support: The seller should offer customer support and training so that your team can use the software well.
Compliance with local regulations: The HR software should fit with the rules and laws  in Dubai and the UAE. 
Reputation: You should look at the vendor's track record and reputation to make sure you can trust them and that they can give you good support and services.
Final Thoughts
Based on the information given,  this article will help you and your business in Dubai, UAE to choose the HR software. Each software option has different features and functions to help businesses automate and streamline their HR functions. By looking at things like price, ease of use and customer service, businesses can choose the perfect HR software that meets their needs and gives them the best return on their investment.
In the end, a good HR software solution in Dubai, UAE can help businesses save time and money while also making HR management and decision-making better as a whole.
FAQ about the best HR software in UAE and Dubai
What is the cost of HRMS software in Dubai, UAE?
The cost of  Human Resource Management System (HRMS) software in Dubai, UAE, depends on a number of things. For example, features and functions of the software, the number of users and the vendor or provider who is selling the software. Therefore it's totally dependable.
What are the Free HR Software in Dubai, UAE?
If you own a business in Dubai, UAE, and you want free HR software, you might want to look into open source HR software. These software will minimize your HR operation cost. Odoo, Sentrifugo, and Jorani are some of the best free HR tools out there.
What does HRMS do?
HRMS, which stands for "Human Resource Management System," is software that helps organizations manage their human resource functions more efficiently and effectively.
What is the best HR software in Dubai?
Your company's needs and budget will determine which HR software in Dubai is best for you. When choosing the best HR software for your business, it's important to compare the features, costs and customer service of each one. You can also get a demo of the software and ask any questions by calling the customer service department of the software company.