Best HR and Payroll Software in Bangladesh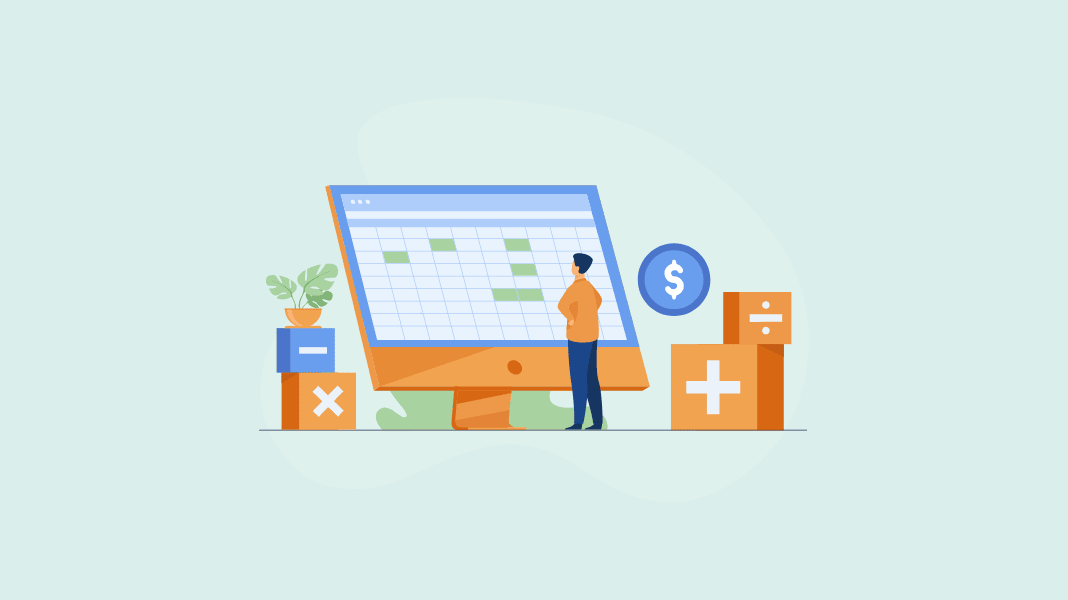 Imagine you're a business owner in Bangladesh with a rapidly growing team of employees. As you hire more employees, managing their information, attendance, leave applications, payroll and other HR-related tasks become increasingly complex and time-consuming. That's where the best HR software in Bangladesh comes in to make your life easier.
In this article we have reviewed the top HR management software available in Bangladesh. We have analyzed many HR software options, features, costs and the services they provide.
Bangladesh's Top 5 HR software and their specialization
Before we get into the details, here is the snippet of the best HR and payroll software in BD and the key services they are best at providing:
Apploye: Best HR software for time tracking and employee monitoring
LinesPay: Best HR software for employee recruitment
PeopleDesk: Best Human Resource Management System (HRMS) software
PiHR: Best payroll software
JibikaPlexus: Best Human Resource Information Software (HRIS)
Why is Human Resource (HR) software important for businesses in Bangladesh?
According to the World Bank, Bangladesh has a sizable labor force, with over 74 million people employed. Because of this, human resources management are crucial to the nation's economic growth and development. While your business in Bangladesh grows and hires more people, it may become harder and take more time to manage HR tasks like employee information, attendance, leave requests and payroll. Because of these, HR software is now essential for speeding up these processes, reducing human effort and improving organizational efficiency.
By implementing HR software, businesses in Bangladesh can manage their HR processes more effectively. Companies can make data-driven decisions to improve productivity and employee satisfaction. Furthermore, HR software can help ensure compliance with Bangladesh's local laws and regulations, reducing the risk of non-compliance penalties.
Major Human Resource Management services provided by Top Bangladeshi HR software
Human Resource Information System: Bangladeshi organizations need HRIS software to manage and analyze HR data. This service simplifies HR duties by centralizing employee data, attendance records, leave applications and more.
Payroll Management:  Bangladeshi companies need this HR service. Payroll management software accurately calculates salaries, taxes, deductions and other payroll activities.
Time tracking and Employee Monitoring: This service lets companies track employee attendance, work hours, timesheets, GPS location and performance. It will enable Bangladeshi companies track and monitor employees.
Employee Database: Businesses can use this service to store and manage employee information, like personal details, work history and information about the job.
Recruitment Management:  Bangladeshi companies can use human resource software to post and hire new workers. This program speeds up the hiring process for organizations.
Customization: Many HR software companies in BD allow businesses to customize the software to their needs. Customization may include adding custom fields, setting up workflows and creating custom reports.
Detailed Overview of Best HR Software in Bangladesh
In this section of the article, we went into details about the best HR software in Bangladesh. Our thorough analysis looks at their services, products and prices. By looking into this information, you can make a better choice about which software partner is best for your HR needs.
1. Apploye - Best HR software in Bangladesh specialized for time tracking and employee monitoring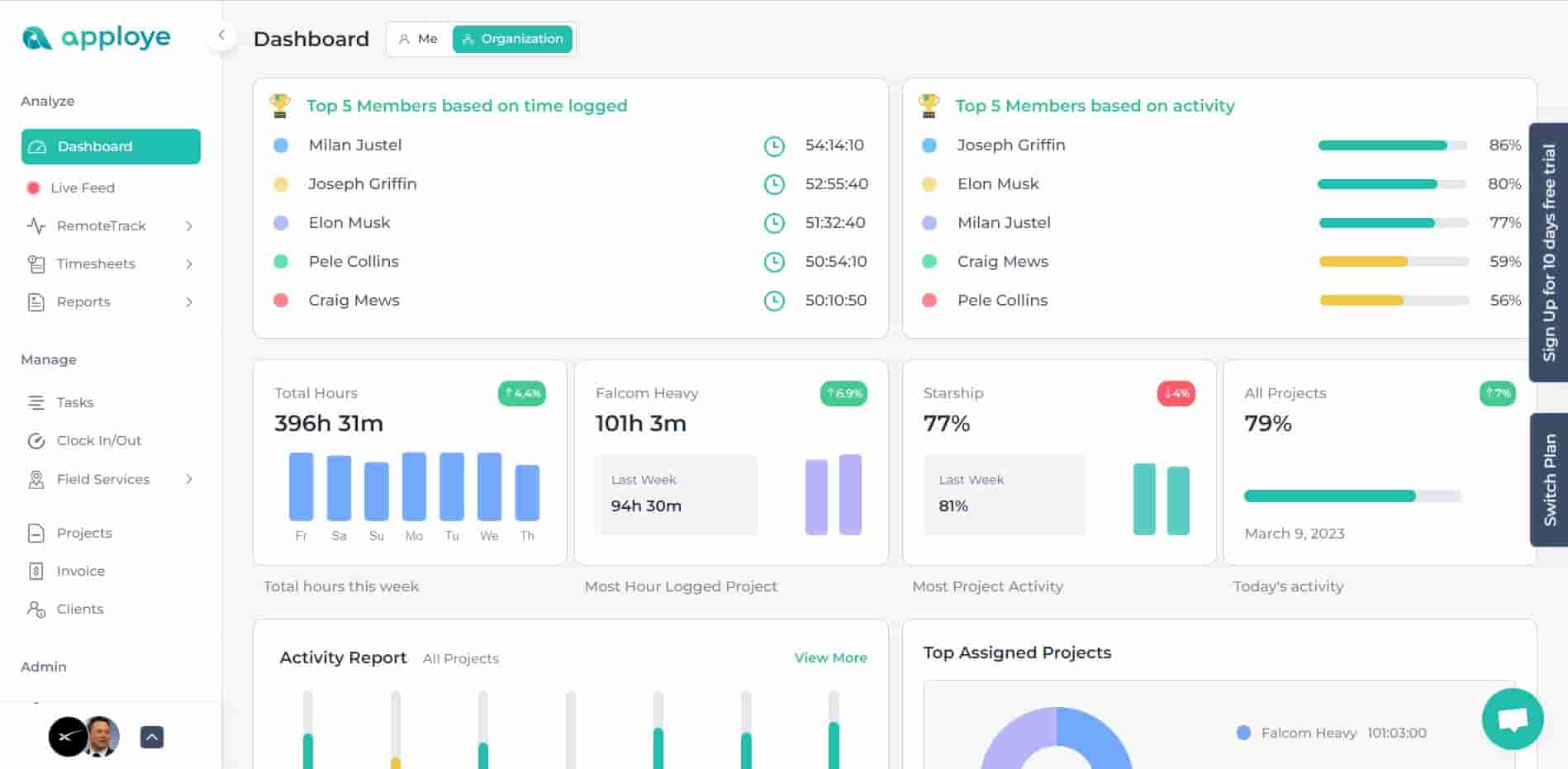 Apploye is a useful software for human resource management in Bangladesh, allowing businesses to optimize their HR processes. Firstly, this innovative time-tracking and employee-monitoring software offers a user-friendly interface and powerful features. Secondly, it enables companies to track employee work hours and monitor their activities accurately. Moreover, with task management, project tracking, attendance monitoring and detailed reporting, managers can comprehensively understand their team's performance and identify areas for improvement.
Effective time tracking and employee monitoring can help HR departments develop more effective work schedules, streamline workflows and identify trends in employee behavior to maximize efficiency. With Apploye's advanced employee monitoring capabilities such as keystroke logging and screenshot capture, managers in Bangladesh can detect and address any issues impacting productivity, including time theft and unauthorized absences.
Overall, implementing effective time tracking and employee monitoring strategies is essential for HR departments looking to manage their workforce more effectively and drive the success of their organization. The Apploye software provides a flexible and cost-effective solution for businesses of all sizes in Bangladesh. Which  enables them to optimize their HR management and increase productivity.
Key Features:
Time Tracking
Client & Invoice
Productivity Tracking
📱
Contact Apploye, Bangladesh +88 01781205050
2. LinesPay - Top employee recruitment Bangladeshi HR software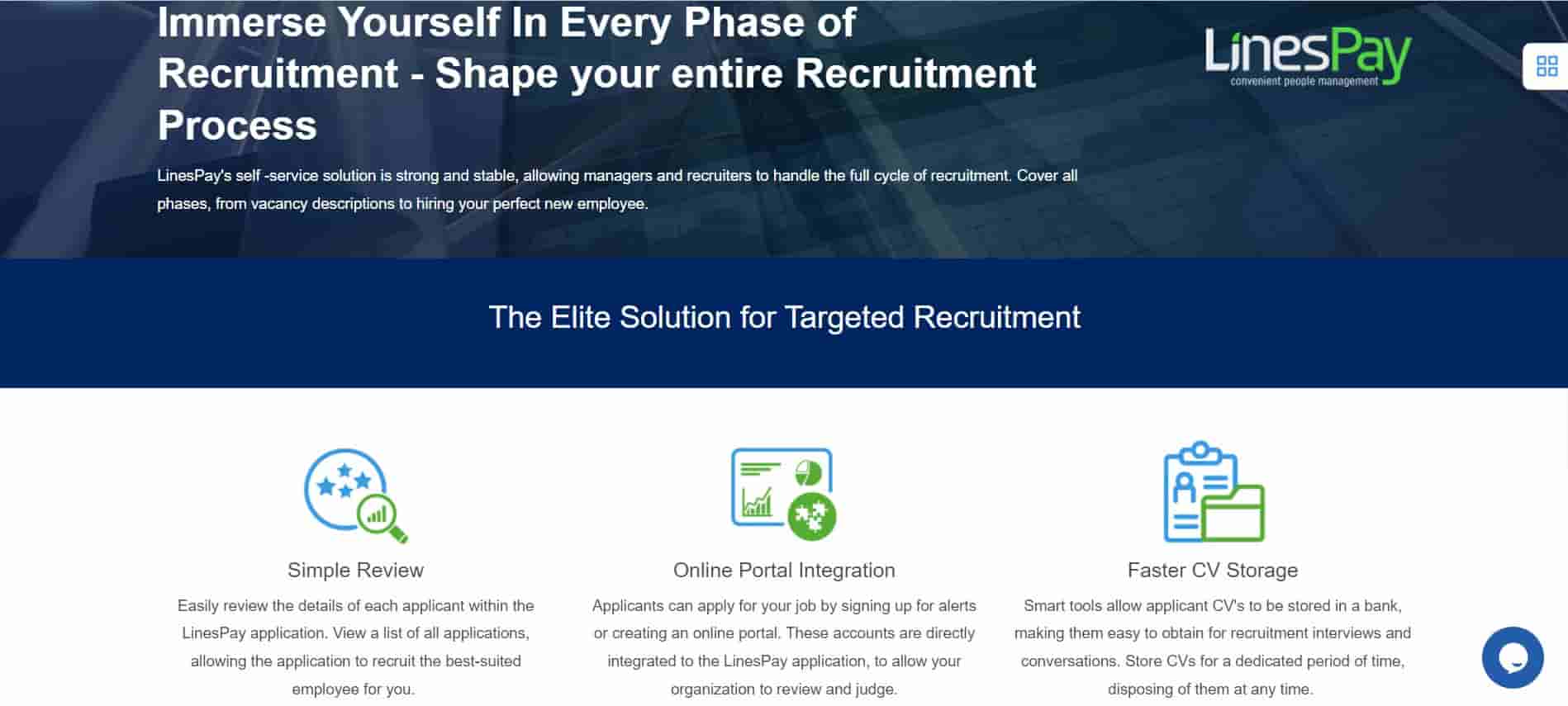 LinesPay is an effective and dependable HR software solution from Bangladesh created to simplify the hiring procedure. It provides end-to-end support for various recruitment processes like job posting, resume screening, and interview scheduling because of its entire human resource management features.
By leveraging cutting-edge technology, LinesPay minimizes manual tasks and streamlines the hiring procedure, cutting down on the time and money needed to discover the best applicants. The HR software's integrated personnel information management features consolidate all employee records into a single platform. It gives recruiters quick access to applicant information and fosters better teamwork and communication.
LinesPay also provides extensive reporting and analytics capabilities, giving managers access to up-to-the-minute information about the hiring procedure and candidate selection. Therefore, LinesPay is a trustworthy and effective option for Bangladeshi companies looking to streamline their hiring processes.
Key Features:
Recruitment & Selection
Payroll Management
PF Management
Disciplinary Management
3. PeopleDesk - Best HRMS software in Bangladesh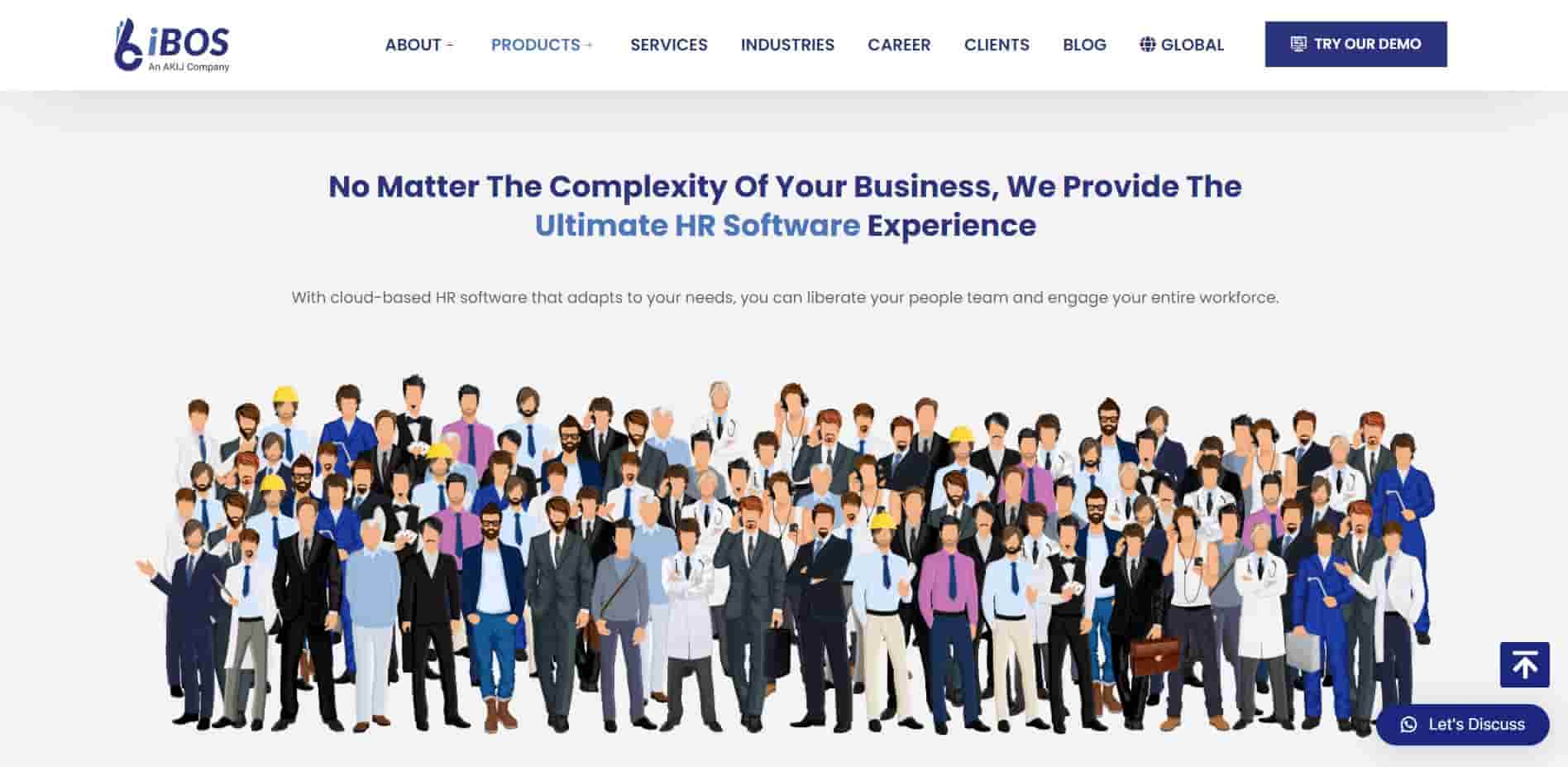 PeopleDesk is a full Human Resource Management Solution made by iBOS in Bangladesh. As an Akij company, iBOS has been providing excellent services for 15 years. PeopleDesk is a tool for managing human resources that includes everything you need. Their HRMS is made to help you run your business and predict how well it will do. In addition, their software streamlines the HR processes.
They have made the hybrid human resource management solution by putting together tools for hiring people and tools for employee management. Also, you can use this HR software on your phone or tablet with the mobile app, so you can take this experience with you wherever you go. Most importantly, with PeopleDesk, Bangladeshi businesses can improve HR efficiency, reduce costs and focus on driving growth.
Key features:
Tax Management
Shift Management
Recruitment
Task Management
Loan Management
4. PiHR - Best payroll management software in Bangladesh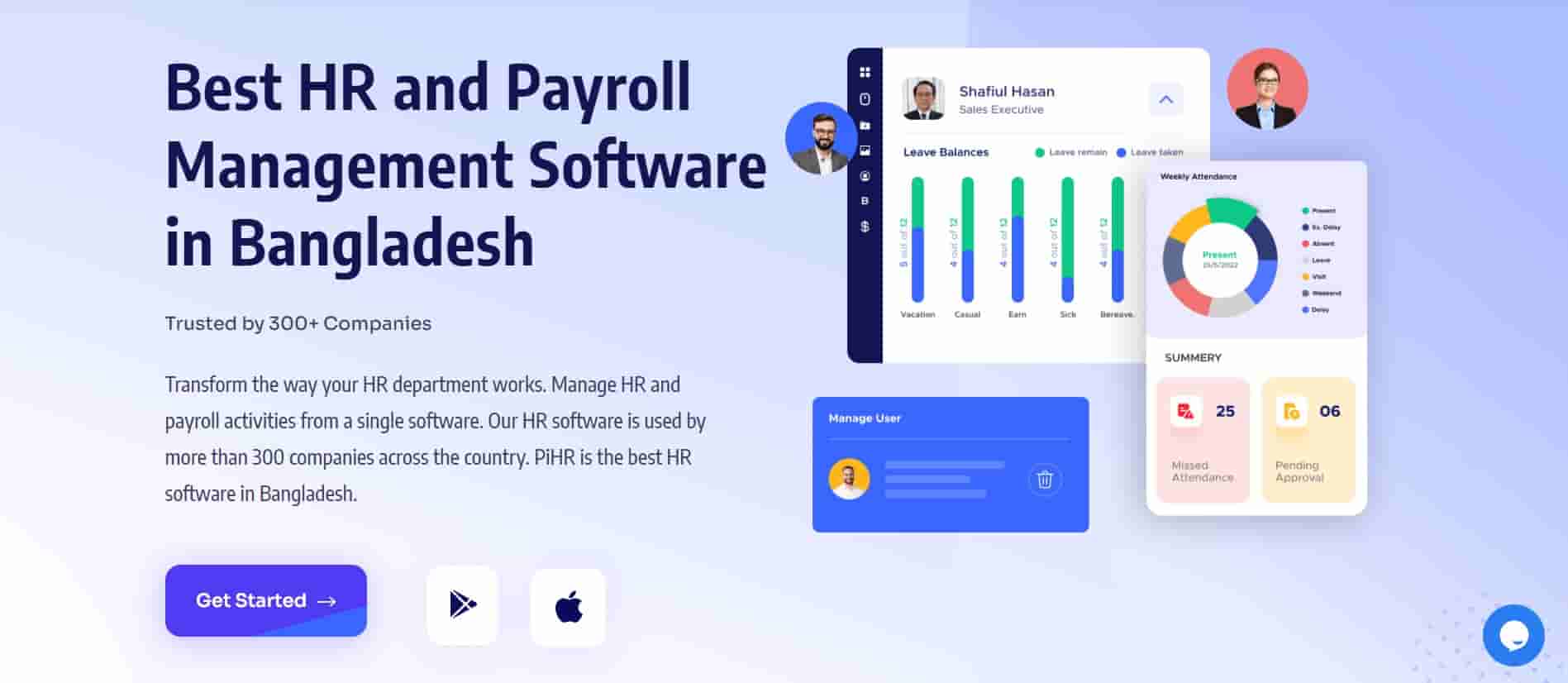 PiHR is a cutting-edge HR software program from focusing on payroll administration. They  simplified payroll management for Bangladeshi companies by automating several tasks, including payroll computation, tax deduction and payment processing, with its cutting-edge features and user-friendly interface. Moreover with less work for HR managers and higher employee satisfaction, this payroll software from Bangladesh ensures employees are paid appropriately and on time.
PiHR Bangladesh also provides robust security measures to maintain the confidentiality and security of employee payroll information. Managers can make wise resource allocation choices thanks to its sophisticated reporting features, which give them instantaneous insights into payroll costs. Bangladeshi organizations can use PiHR, a reliable and effective human resource and payroll solution, to handle their payroll administration.
Key Features:
Payroll Management
Tax Management
Shift Management
Employee Management
5. Jibika Plexus - Human Resource Information Software (HRIS) in Bangladesh

Jibika Plexus is a complete web-based Human Resource Information Software (HRIS) that streamlines their HR operations of business firms from Bangladesh. With the software, businesses may easily manage employee salaries and benefits thanks to its practical and well-organized payroll administration system. Furthermore Jibika Plexus offers a multi-layer system of approval and an insightful view of HR data. It has advanced to be one of the Bangladesh's top HR information software after constant development and refinement.
The software eliminates the need for additional documentation by enabling access to the service through a smartphone or tablet, making it a practical and time-saving alternative. Furthermore, Jibika Plexus offers cutting-edge features such as smart face attendance and a flexible, adaptable payroll system that businesses can customize to meet their specific requirements. In conclusion, Jibika Plexus is a solid and effective HRIS option for companies from Bangladesh looking to automate their HR management processes.
Key Features:
Appraisal
Arrears Manager
Loan Manager
Reports
HR and Payroll Software Pricing in Bangladesh
Here is a list of the pricing plans for HR and Payroll software in BD.
HR Software in Bangladesh
Pricing Plans
Apploye
Solo: $2 one user/month
Standard: $2.5 per user/month
Premium: $3 per user/month
Elite: $3.5 per user/month
LinesPay
Standard: ৳200,000
Plus: ৳400,000
Pro: ৳600,000
LinesPay Custom: Contact the seller
PeopleDesk
Contact Seller
PiHR
Package-Tiny: ৳2000 /month
Package-Small: ৳3500 /month
Package-Mid: ৳5000 /month
Package-Large: Contact Seller
Jibika Plexus
Contact Seller
Wrapping Up
In summary, this article has highlighted some of Bangladesh's best HR software. These HR software will simplify and streamline Bangladeshi HR management practices for firms of all sizes. Organizations may automate activities, save time and increase employee engagement by utilizing these HR and payroll software solutions.
Ultimately, choosing the appropriate HR software  may make all the difference for any business from Bangladesh trying to manage its employees more effectively and efficiently.
FAQ about the best software for HR in Bangladesh
What is HR software?
HR software is a digital solution that helps an organization handle and improve its routine HR tasks and overall HR goals. These software simplifies hiring, payroll, benefits, time and attendance, performance, and employee data.
What are the free HR software in Bangladesh?
Most HR software has some cost, but businesses in Bangladesh that want free HR tools can use open-source HR management software. These platforms have a variety of features and can be changed to meet unique needs. Name of few free HR software in Bangladesh are OpenCATS, Hr.my and  Open HRMS.
How much does software for HR cost in Bangladesh?
The price of HR software in Bangladesh changes a lot depending on the software's features, the number of users it can support, and how the provider prices its services. For accurate, up-to-date pricing information, it's best to call or check the websites of each software company.