Best HR Software in Canada (Top 9 in 2023)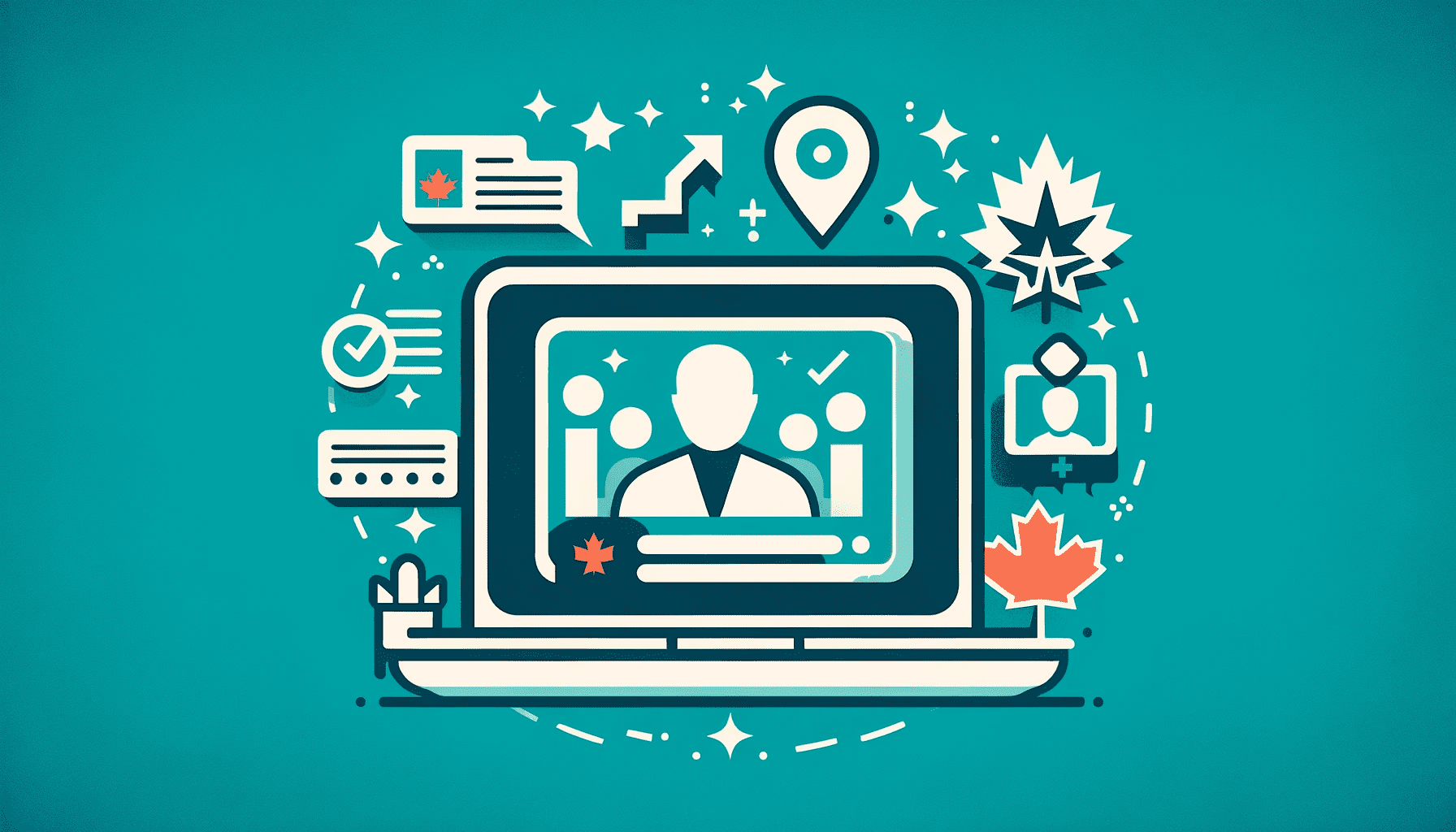 Imagine a typical day for a Canadian or HR professional from any other country: they have to go through lots of paperwork, deal with employee requests, arrange training sessions, and handle benefits. And they have to do all of this without any help from technology. Isn't it challenging? This challenge can be addressed with the best HR software in Canada.
In Canada, the workforce is diverse, just like the landscapes. This situation presents multiple challenges. We need to consider the unique employment laws, cultural factors, and regional differences. HR software is essential for your business. It's not just another tech trend. It's the key to transforming chaos into smooth sailing for many businesses. In this article, we have reviewed the top HR Software available in Canada and also discussed in detail how you can choose the most suitable one for you.
Why Does Your Canadian Business Need Human Resource Management Software?
Canada has its own set of business challenges that make it unique. HR professionals across the country face challenges with different cultures, languages, and employment laws in each province. Are you still handling all of this by hand? Not only is it boring, but it can also lead to mistakes that can save time and money and harm your reputation.
Let's put this into perspective. Here's a question for you:
Quick poll: How many hours a week do you or your HR team spend on manual HR tasks?
a) Less than 5 hours
b) 5-10 hours
c) 10-20 hours
d) More than 20 hours
If you choose options b, c, or d, think about how much time you could save and how many mistakes you could avoid by using the right HR software. Canadian businesses need to focus on adopting the HRIS systems available. The quick adoption can ensure that every aspect of HR is handled accurately and in compliance with National and international standards.

Detailed review of the Best HR Software in Canada
1. Folks - Best HR System for Small Businesses in Canada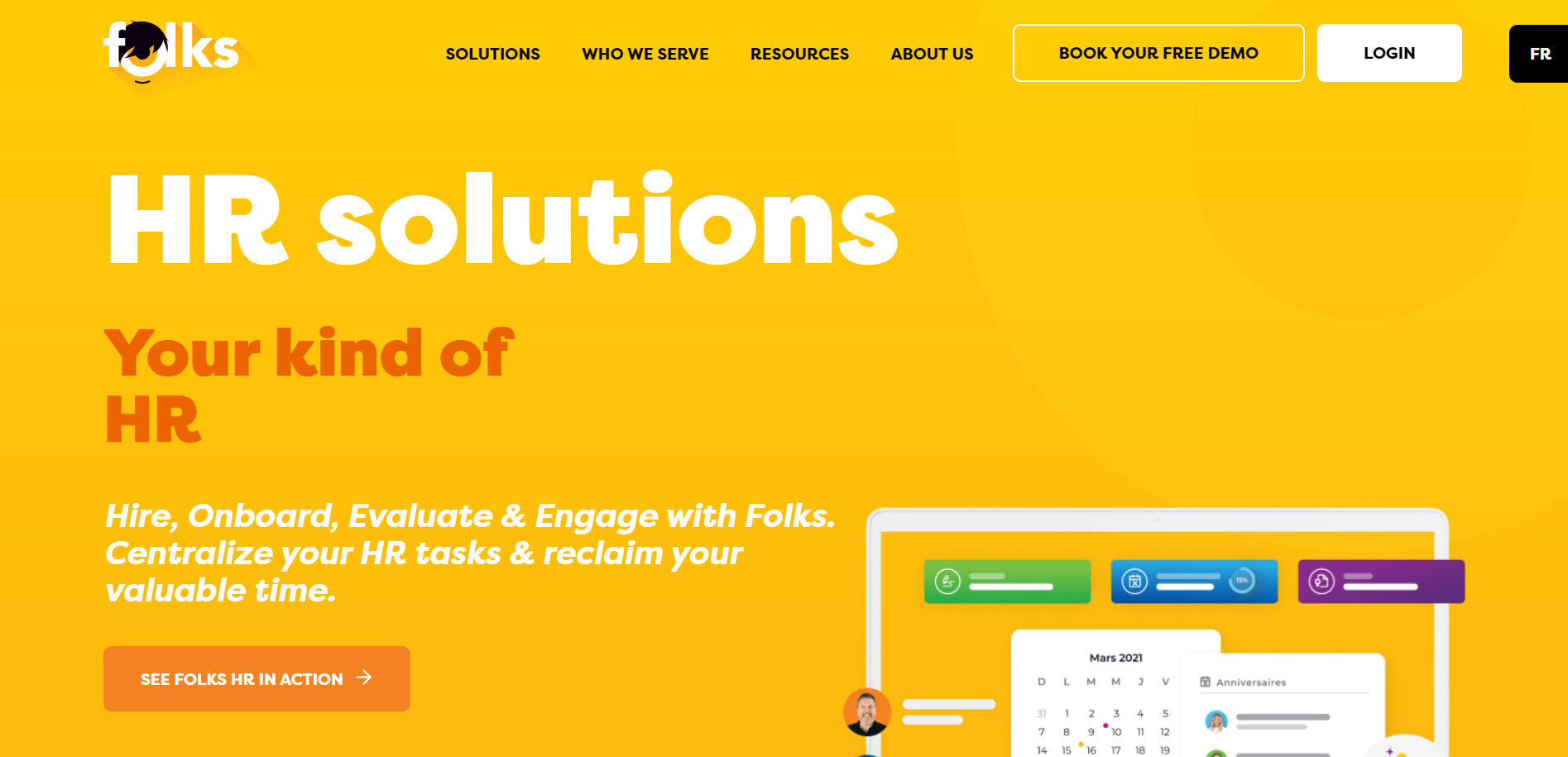 Folks is the top HR Information System (HRIS) software for small and medium-sized businesses (SMBs) in Canada. Their Applicant Tracking System (ATS) improves recruitment by making it easier and more user-friendly.
Folks have reporting and analytics software that helps businesses consolidate HR data. It allows businesses to gain insights and make informed decisions quickly. Folks offers an easy-to-use system for managing employee performance. It supports various evaluation methods that align with your business objectives and helps you track goal progression effectively.
With their innovative HR features, you can save up to a whole day per week. Join us and experience the time-saving benefits for yourself! The software saves time by handling many HR tasks, like onboarding and performance evaluation. Employees and managers love the convenient self-serve feature.
Key features
Employee management
Time management
Onboarding and offboarding
Certificates and training
Applicant Tracking System (ATS)
Electronic signatures (E-signatures)
Integrations
Customizable employee profiles
Performance indicators
Organization chart generator
Expense accounts
Disciplinary measures
Vacation/absence management
Overtime management
Project-based timesheets
Customizable onboarding/offboarding processes
Breakdown of training costs
Report creation
Performance management
360-degree evaluations
Workplace accidents tracking​
2. Collage - Best HRIS Software in Canada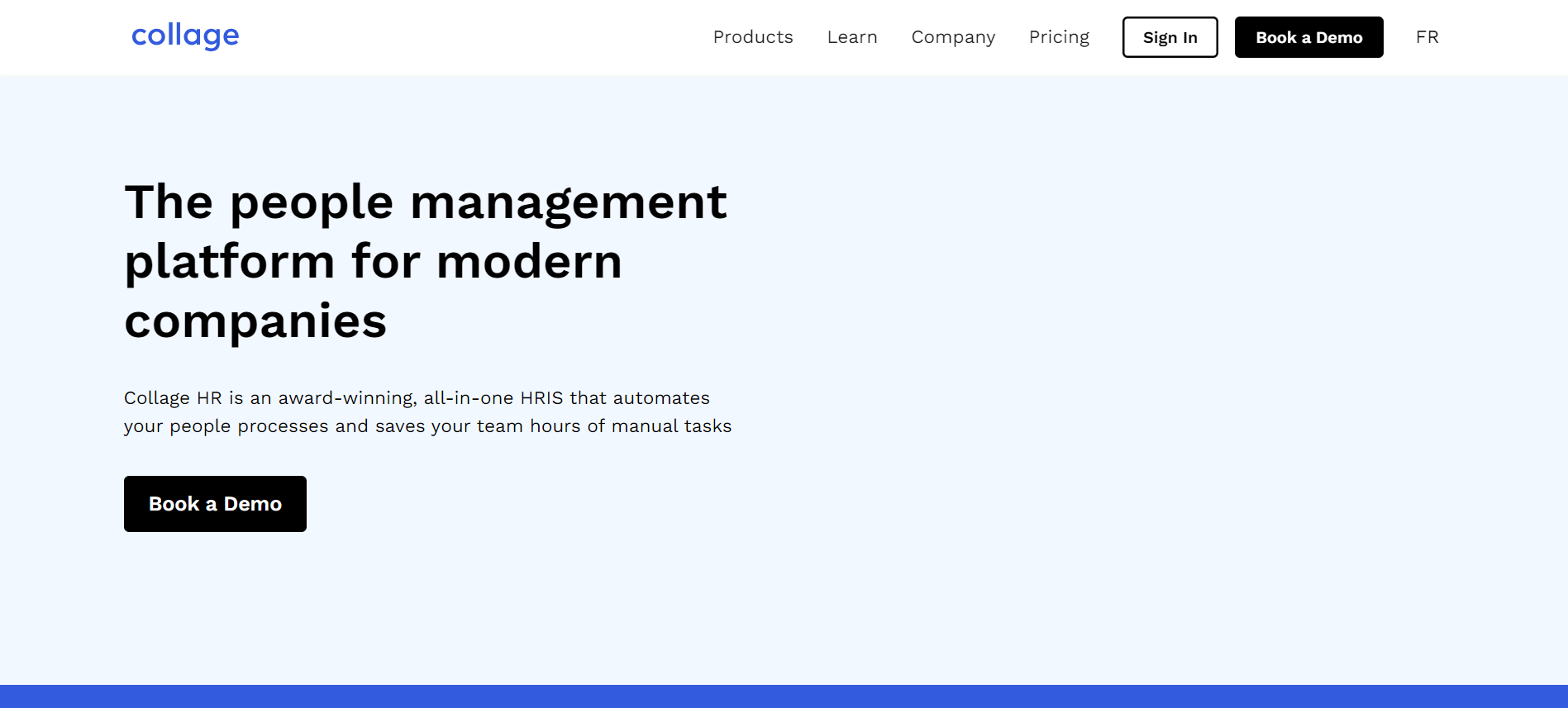 Collage Canada is an amazing Human Resource Information System (HRIS) that has won many awards. It is designed to make things easier for Canadian businesses by automating and simplifying people processes.
With Collage, you can save much time by reducing manual tasks. This platform was founded in 2016. These tools include management, recruiting, benefits, and payroll services. This software works seamlessly with Canada's top payroll providers, saving you time and reducing mistakes.
It also offers a range of solutions that can adapt to your business needs, from Payroll Sync to Full-Service Payroll. We offer a range of online tools to meet all your HR needs, including vacation management, employee onboarding, performance reviews, and more.
Key features
Core HR Management
Employee Self-Service Portal
Digital Benefits Administration
Time Off Tracking
Recruiting (ATS)
Performance Reviews
HR Reporting
Fully-Managed Payroll Service
Document Management
Email Integration
Customizable Data Fields
3. ADP Canada - Best HR Software in Canada for Large Organizations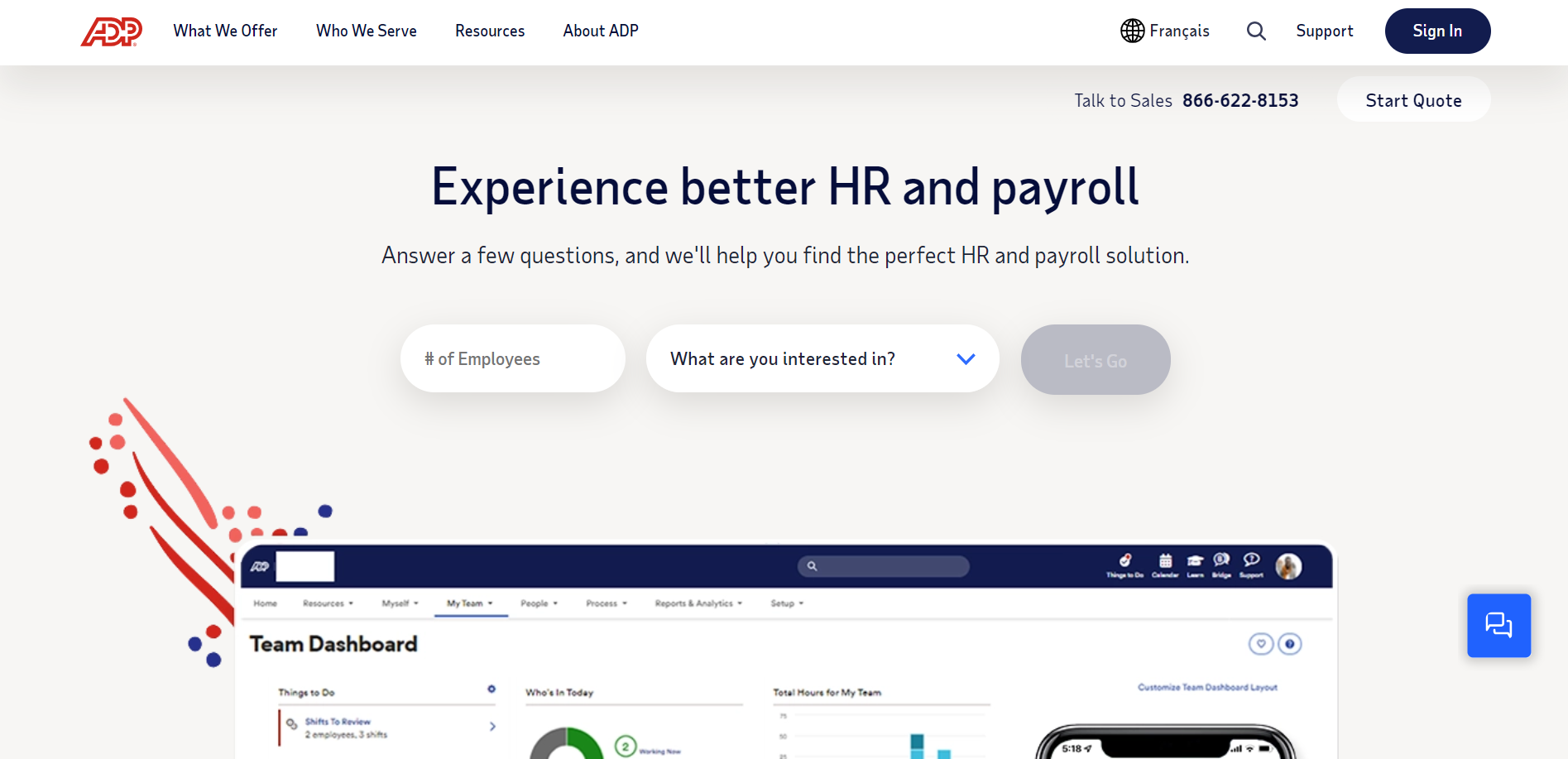 ADP Canada offers powerful cloud-based solutions for managing your human capital, payroll, and taxes. It has a strong track record of solving human resource challenges. They take pride in providing solutions that make work easier and improve performance in businesses. Their HCM is designed to drive performance and adapt to change.
This company has many years of experience and offers a wide range of HR, payroll, tax, and benefits administration solutions. We are committed to providing user-friendly services from a single source. ADP Canada is part of a global organization that provides Business Process Outsourcing (BPO) services, analytics, and compliance expertise.
Key Features
Payroll Services
Time & Attendance
Talent Management
HRIS Software & Systems
HR Services
HR and Payroll Outsourcing
ADP Marketplace
Comprehensive Outsourcing Services
4. BrightHR - Best Easy-to-Use HR Software in Canada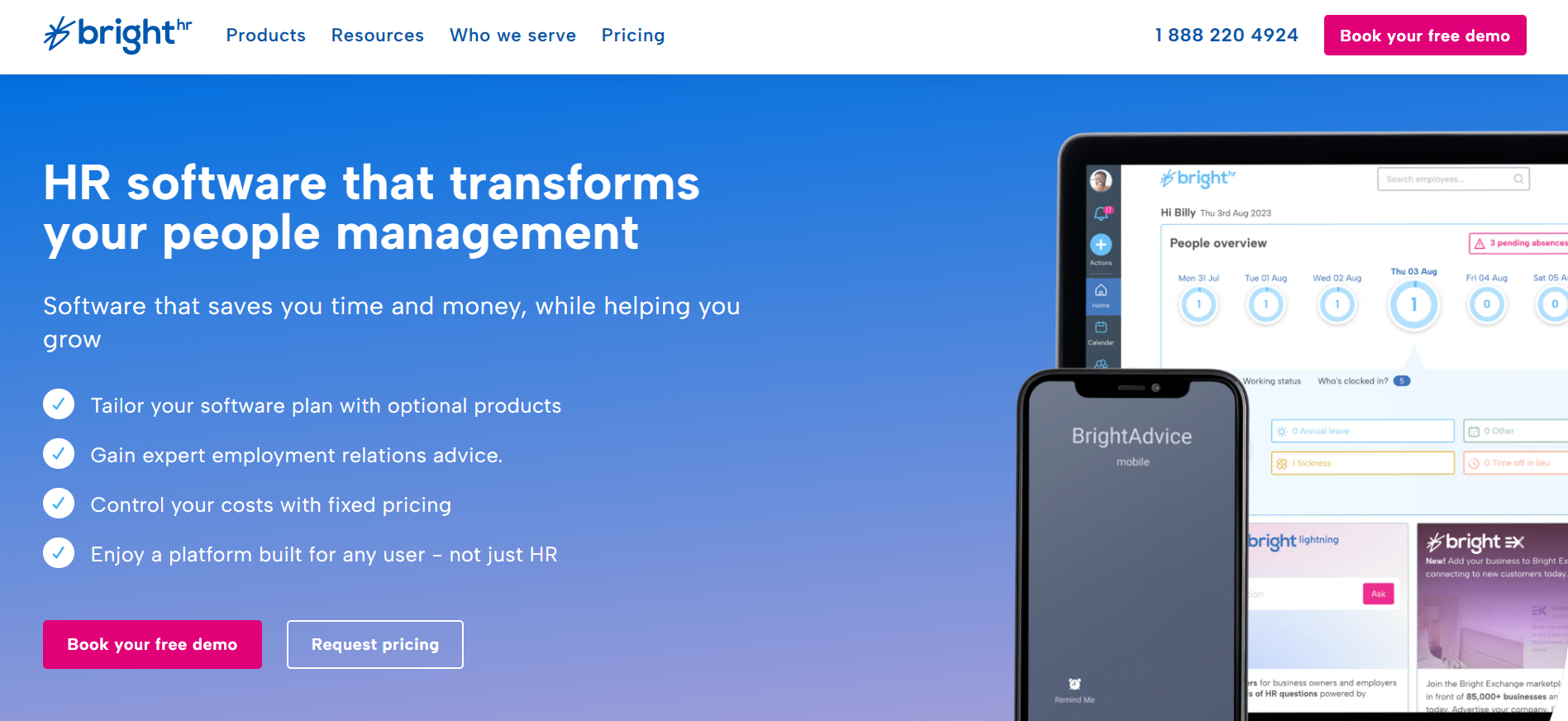 BrightHR Canada provides an easy-to-use HR software solution that helps businesses effectively manage their people and stay compliant, regardless of their size. Our software helps you easily manage staff vacations, track time using a mobile app, log sick leave and lateness, and generate legally compliant HR reports. Our software offers unlimited cloud storage for secure document management.
It also provides convenient features to manage shifts, schedules, and payroll data efficiently. BrightSafe offers comprehensive health and safety software that caters to all industries. With features like risk assessments, incident logging, and compliance training, it provides the necessary tools to ensure the safety and well-being of your workplace.
Over 6,000 Canadian businesses trust BrightHR for its value, customer service, and efficiency.
Key Features
Staff vacations management
Blip (time tracking app)
Sick leave and lateness logging
Unlimited cloud storage
Shifts and schedules planning
PoP app (expenses management)
Payroll-ready data export
Legally compliant HR reports
Overtime tracking
BrightSafe (health & safety software)
5. Knit - Best Payroll Software for HRs in Canada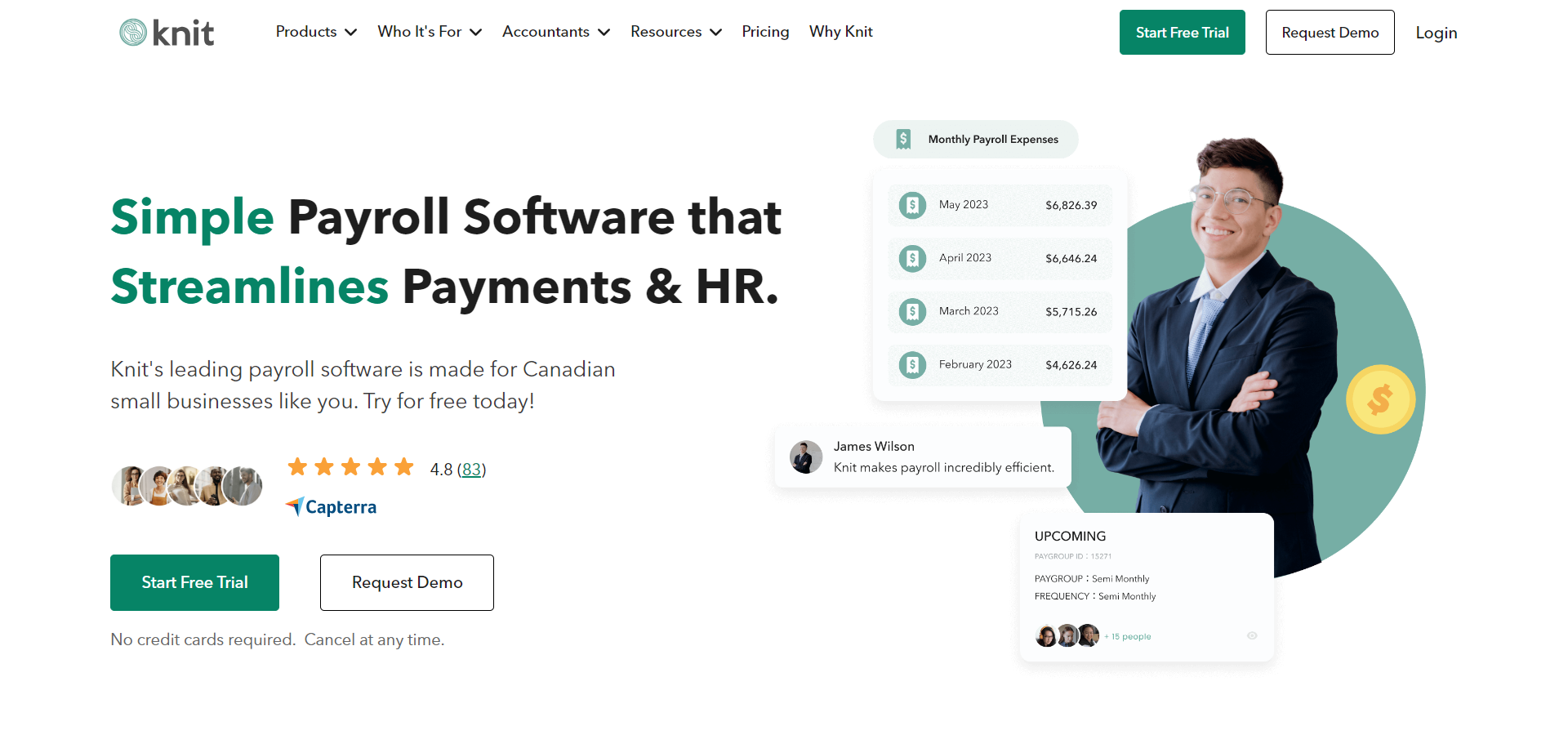 Knit Canada is the perfect solution for Canadian businesses looking to simplify payroll. Its' unified platform seamlessly combines payroll, payments, and HR services to make your life easier. Knit is dedicated to helping small and medium-sized businesses succeed.
It prioritize people and believe that a great workplace leads to great work. They support over 1,500 businesses in Canada, managing payroll for over 10,000 employees and processing over half a billion dollars each year. It shows that they are capable of handling important administrative tasks, allowing business owners to focus on their main operations.
Knit, a proudly Canadian company, has created a payroll and HR platform that automates and simplifies processes. Their goal is to help businesses reduce administrative costs and ensure compliance. Accounting firms in Canada that handle multiple client businesses prefer this platform. Their payroll automation software is effective and makes managing payroll easy and stress-free.
Key Features
Payroll Software
HR & Team
Hiring & Onboarding
PTO Management
Time & Attendance
Talent Management
Compliance Management
Employer of Record Services
Integrations
6. Rise - All in one HR platform in Canada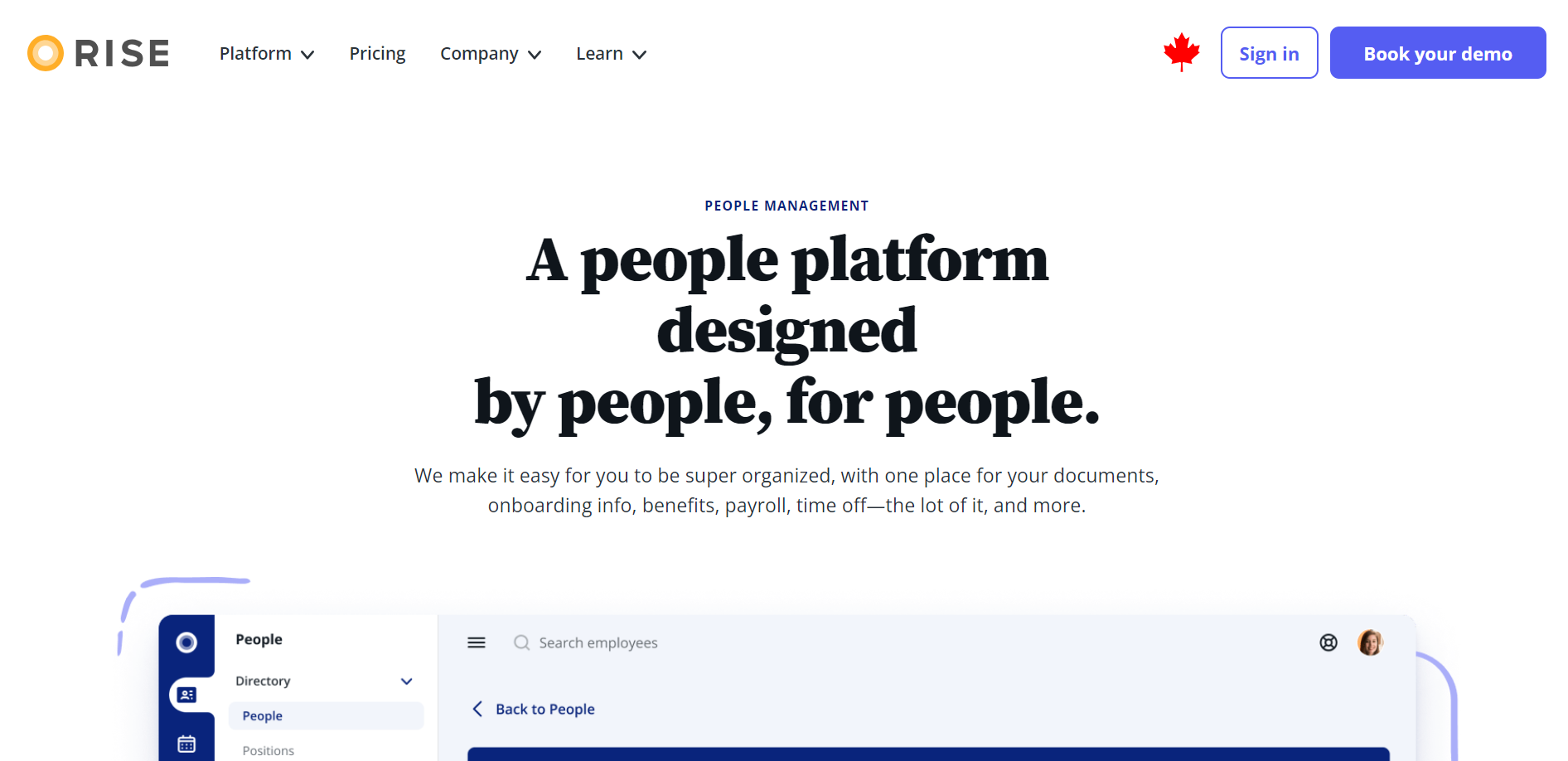 Rise is a prominent company based in Vancouver, BC that has been introduced as Canada's all-in-one HR platform​. Founded in 2011, Rise People has created a comprehensive solution that integrates HR, benefits, and payroll into one streamlined service, aiming to facilitate significant operational savings and enhance employee experiences​.
This platform is utilized by a multitude of employers across Canada, establishing itself as a modern suite of HR solutions, including health and financial wellness services used by tens of thousands of employees.​
Key Features
Employee Benefits
Recruitment
Onboarding
Performance Management
Time Off Management
Scheduling
Time Tracking
Payroll
7. Achievers - Best HR Software in Canada for Employee Rewards and Recognition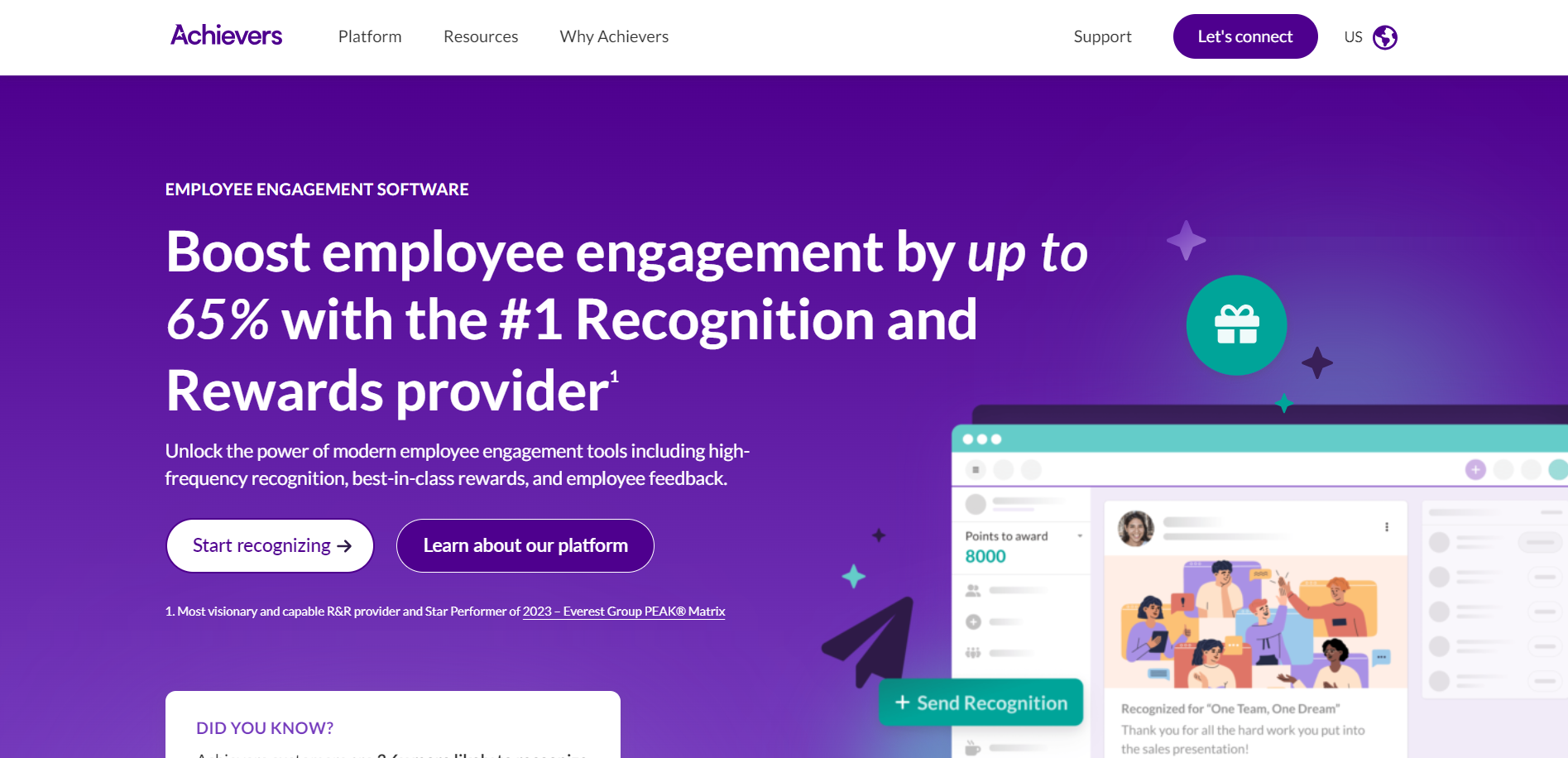 Achievers is a top-notch cloud-based platform for employee rewards and engagement. It's designed specifically for Canadian businesses and HR leaders who want to create a culture of recognition in their organizations. This platform is designed to be inclusive, allowing everyone, including managers and employees, to easily send, track easily, and view recognitions like achievement awards daily thank yous.
Achievers is the best employee recognition software for HRs in Canada. It helps improve employee engagement, productivity, and retention, which are important for business growth. This platform makes it easy for HR teams to improve employee engagement. It has user-friendly features, like seamless integrations and a mobile app. It allows managers and colleagues to recognize and connect whenever they want.
Additionally, this platform has a strong history of boosting employee engagement, providing outstanding customer service and support, and offering top-notch rewards. Achievers is the best way to help employees succeed in multiple ways.
Key Features
Recognize
Reward
Connect
Celebrate
Listen
Measurable Engagement and Retention
8. Avanti - Best HR Software in Canada for Payroll and Human Capital Management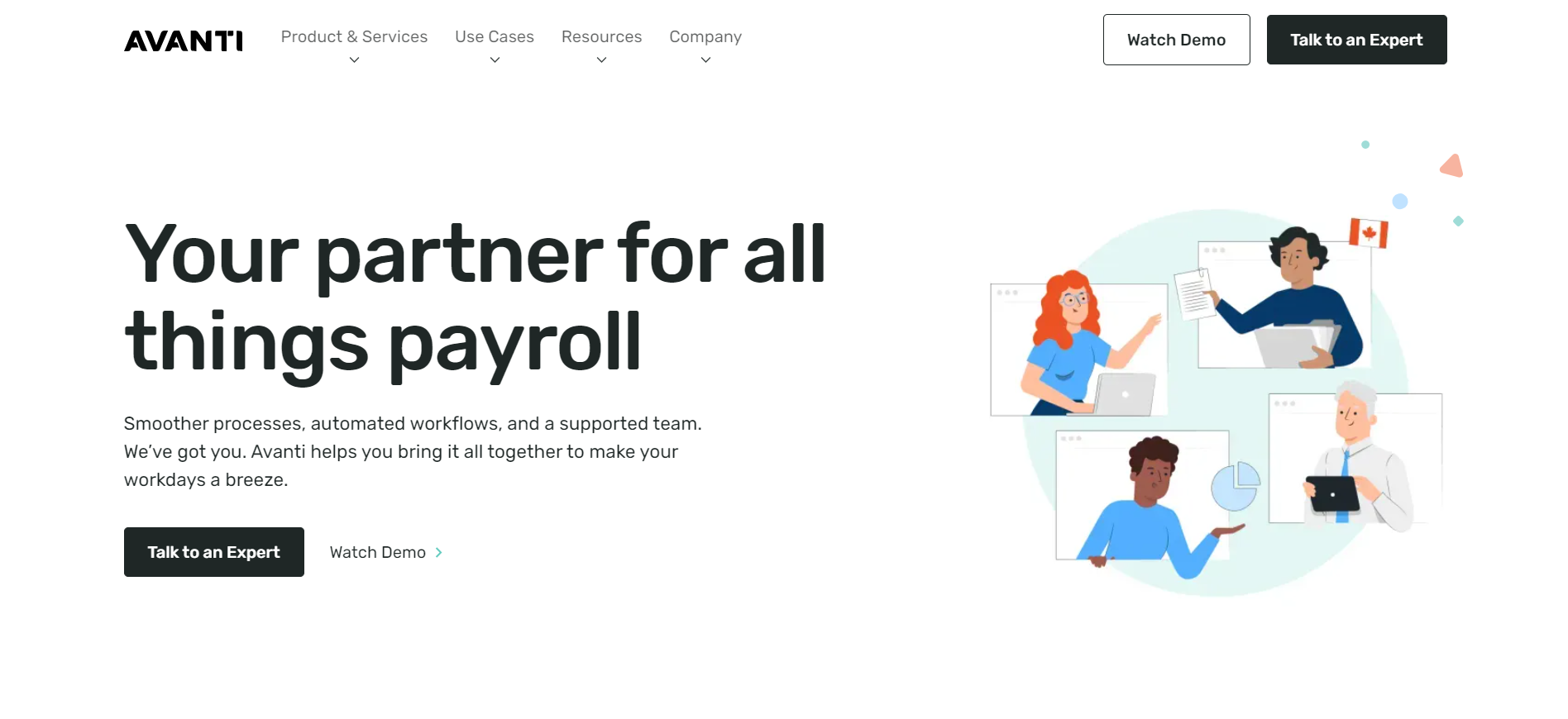 Avanti HR Canada is a trusted leader in Human Capital Management (HCM) with over 40 years of experience. Our mission is to help Canadian businesses succeed at every stage of growth. Avanti HR is a full-service HR consulting firm that specializes in helping small businesses and nonprofit organizations. They understand that each organization is unique and faces different challenges. That's why they offer customized strategies to meet the specific needs of each client.
Their suite offers everything you need for Payroll, Human Resources, and Time and attendance, specifically designed for Canadian businesses. Avanti is a proudly Canadian company. They keep everything within Canada, including their data, development, and team. It allows them to offer a comprehensive approach to managing employees, from hiring to retirement.
Avanti has modern cloud-based solutions made for mid-size Canadian organizations. This platform makes work easier, saves time, and boosts productivity by getting rid of manual HR tasks. Avanti HR is a major player in the Canadian HR and payroll landscape because of its strong emphasis on efficiency and customization.
Key features
People Management
Multi-pay Frequency Support
In-House Payroll
Auto-Rate Levelling
Employee Profile and Document Manager
Monthly Expense Accrual
Multiple Pay Runs & Retroactive Pay
Multi-Union Support
Net Amount Calculator
Roles & Permissions
Standard Report Templates
Advanced Benefits Administration
Benefit Reconciliation
Employee Benefits Viewing
9. Humi - Overall Best HR Software in Canada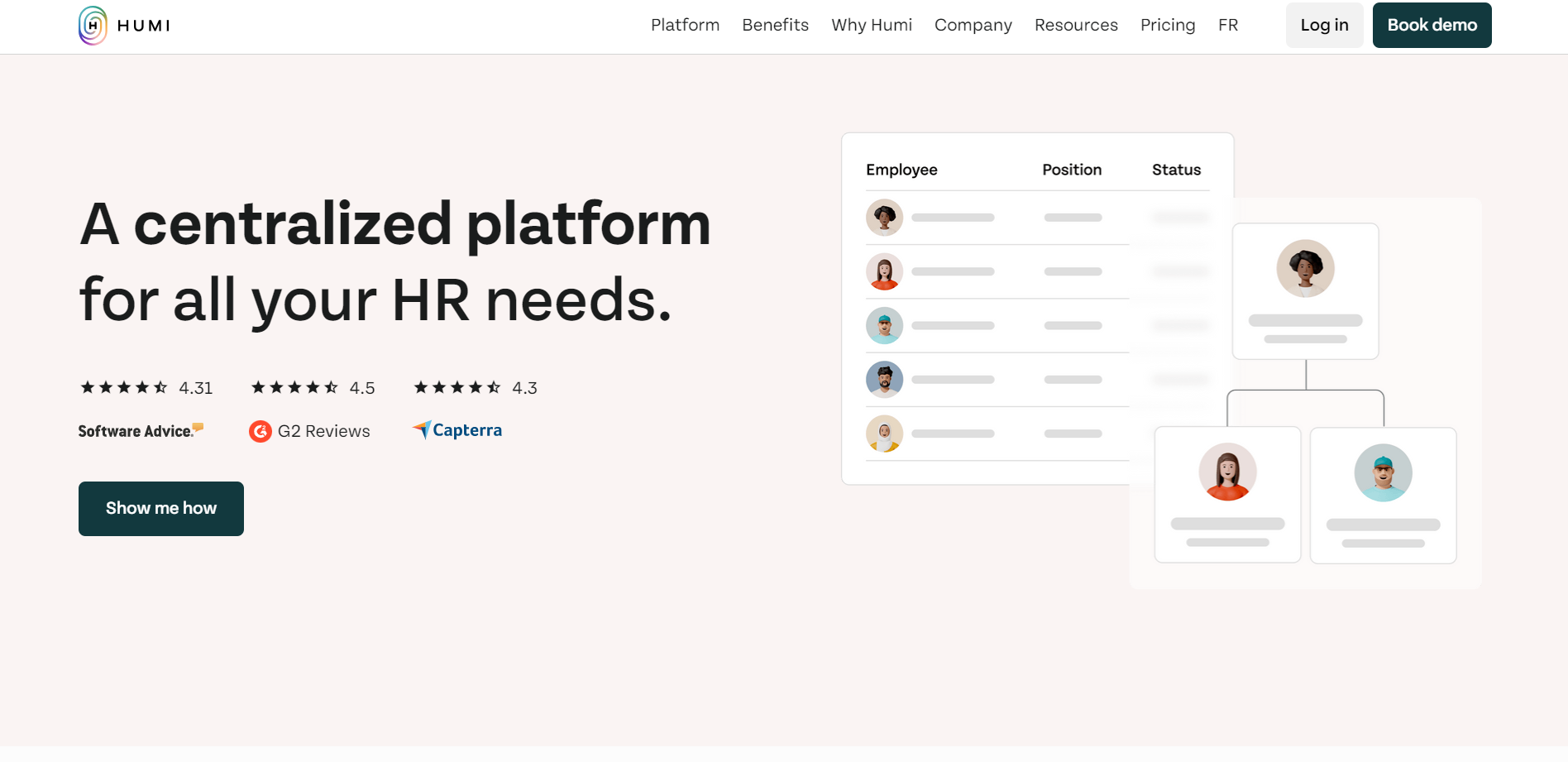 Humi is a user-friendly and one of the best HR software for Canadian businesses. It provides a wide range of services, including recruiting, onboarding, payroll, benefits, and offboarding. Canadian companies love it because it has a time-off system that works well for different workweek schedules. Users really appreciate this feature.
The platform is easy to use, has lots of features, and the support team is responsive and listens to user feedback. Humi's design brings together various HR tools in one convenient place, providing HR professionals with instant access to real-time employee data. This software is incredibly beneficial for HR professionals.
Humi's all-in-one HRIS software simplifies tasks in HR management, payroll, benefits, and insurance. It's a versatile tool that can handle multiple tasks in one system. This software is designed to handle all aspects of people operations. It is a complete solution for HR, benefits, and payroll management in Canada. It offers flexibility and automation to manage tasks like onboarding and reporting effectively.
Key Features
Core HR Processes
Employee Onboarding
Time Off Management
Performance Management
Recruiting and Hiring
Employee Management
Payroll Management
Benefits Administration
Employee Self Service
Data and Analytics
Document Management
Compliance Management

What am I Missing Out On Without HR Software?
In today's fast-paced business world, not having HR software can hold organizations back. It's not just about speed but also about being agile, accurate, and aligned.
Missed Opportunities for Growth: When an HR team is overwhelmed with manual tasks, they may need help to identify important trends such as emerging talent or areas that require staff development. It might hinder innovation and impede potential growth.
Inefficient Resource Utilization: With automation, HR may save resources on administrative tasks instead of focusing on strategic initiatives that directly impact profits.
Falling back in competition: Canada's business environment is highly competitive, which comes with certain risks. Using software to streamline operations gives companies a competitive advantage by enabling faster decision-making and providing access to more data.
What can I gain after Shifting to HR Software?
Switching to HR software can greatly benefit organizations, putting them in a strong position. Here are few key ways, it will help:
Make Smarter Choices: With Data Companies can use analytics and real-time data to make better decisions about hiring, keeping employees, and planning their workforce.
Empowered HR teams: By automating manual tasks, HR teams can dedicate more time and effort to important strategic initiatives such as employee engagement, training programs, and succession planning.
Boosting Employee Happiness: A smoother HR process boosts employee morale. When problems get solved quickly, and everyone can see how things are working, employees feel appreciated and connected.
Key Decisions: Selecting the Ideal HR Software for Canada
Choosing HR software in Canada isn't about selecting the most popular or the most expensive option; it's about finding the tool that resonates with your unique business needs. Before diving into specific software options, consider this checklist to help clarify your priorities:
Integration Abilities: Can the software integrate with other tools and systems you already use?
Scalability: Will the software grow with your business, accommodating more employees as you expand?
Customizability: Can you tweak features to suit your specific industry or company culture?
User-Friendliness: Is the interface intuitive, ensuring a short learning curve for your team?
Security Measures: Does it offer robust data protection, especially for sensitive employee information?
Cost Efficiency: Does the pricing model make sense for your business size and budget?
Customer Support: Is help readily available when you encounter challenges or have queries?
Ticking off these points will give you a clearer idea of your essential features and deal-breakers.
How Canadian-ready is my chosen HR software?
With some quizzes, let check how good or preferable is the HR software you want to have or have.
Quiz about HR Software Compatibility in Canada
Compliance with Laws: Does your software automatically update to stay in line with each employment standard?
Multilingual Support: Can it cater to both English and French speakers, especially important if you operate in Quebec?
Canadian Holiday Tracking: Does it recognize Canadian public holidays and help manage leaves around them?
Local Support Hours: If you face issues, can you reach out to customer support during Canadian business hours?
Tax Regulations: Is it equipped to handle the specifics of Canadian tax codes, benefits, and deductions?
Calculate Score of the HR Software Systems and make a decision:
Consider each point as a separate score and use the total score to make your decision. For each 'yes,' add one point. Here's a helpful guide to understand the scores:
5: Perfectly tailored for Canada! 🍁
3-4: Not bad, but there's room for improvement.
1-2: It might be time to consider human resource software that understands your business a better
0: Reject
Wrapping Up
In this article, we have thoroughly examined the top HR software systems available in Canada. We have carefully considered important factors to help you choose the perfect platform for your needs.
We believe this review will assist you in finding the HR software in Canada that meets your company's needs. Having the right tool is crucial for effective human resources management.
Frequently Asked Questions
What is HRIS in Canada?
HRIS is short for Human Resource Information System. In Canada, businesses use HRIS software to manage employee data and automate HR processes. These systems include everything you need for managing payroll, benefits, time and attendance, recruiting, and performance.
What software is used by HR?
HR professionals use different types of software to streamline their work. These include HRIS, Applicant Tracking Systems (ATS), Performance Management Systems, Learning Management Systems (LMS), and payroll and benefits administration platforms. The best software for your company depends on its size, needs, and the HR tasks you want to streamline or automate.
Is there free HR software?
Absolutely! There are free HR software options specifically designed for small businesses and startups with basic HR requirements. The free versions usually have limited features and are best for managing a small team of employees. However, to access all the advanced features, companies usually need to buy paid versions.
How much does HR Software cost per month?
The price of HR software can differ greatly based on the provider, features offered, and the number of employees it can accommodate. You can find prices starting at just $5 per employee per month and going up to several hundred dollars per month for more advanced systems with a complete set of features. Providers often have different pricing options based on the size of your business and the features you need.