Freelancer.com Review in 2023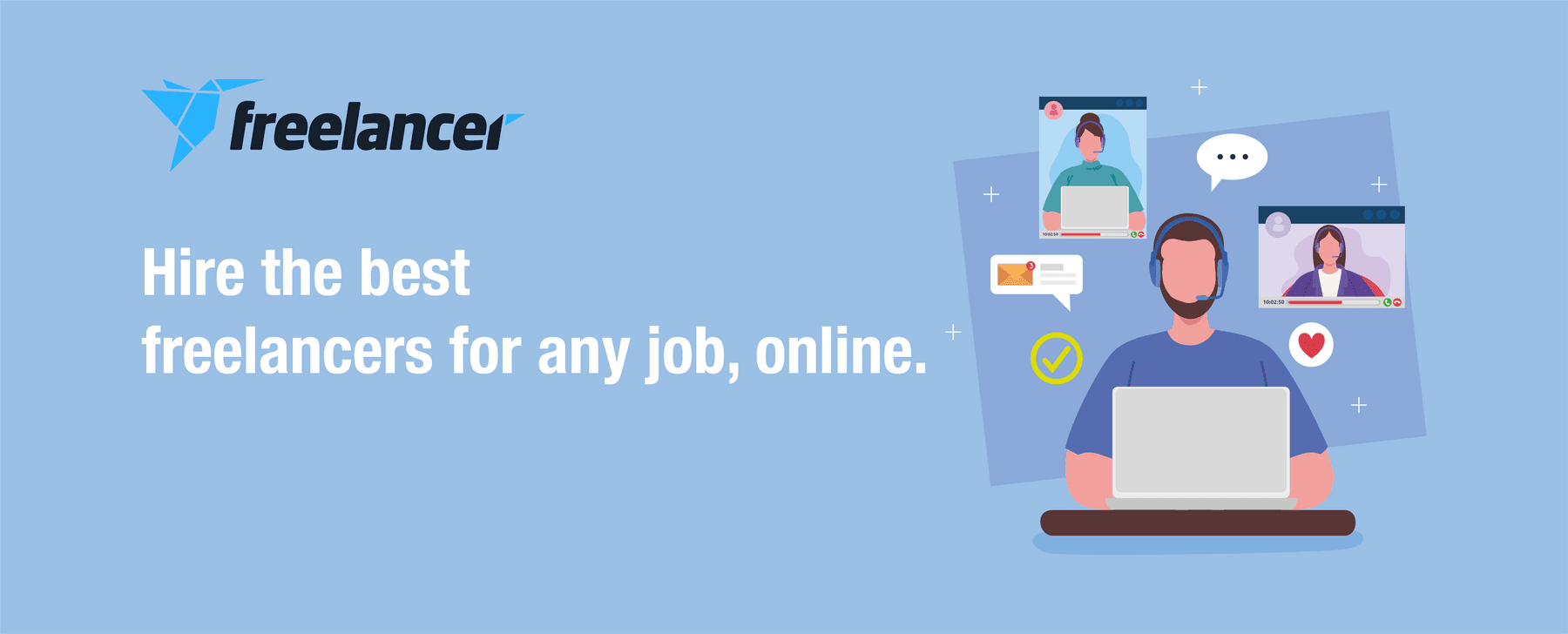 In recent years we've seen more and more people giving up their full-time jobs to go from the typical employee life to freelancing, and after the COVID-19 Pandemic working from home tips and tricks is now a mandatory option for some. Recent Forbes Studies found the revolution rising growth rate of all the freelancing platforms. That is why Freelancer.com and similar sites are becoming increasingly popular.
It's understandable why even professionals today are looking for more independence and flexibility. Nowadays, whether it's on Instagram, YouTube, a travel blogger's website, or some other platform, we've been bombarded with the "freedom lifestyle" more than ever. It's quite hard not to be jealous of the lifestyle of those who have escaped the rat race and now earning from their passion.
In this booming era of freelancing, we've also reviewed another of the biggest freelancing platforms, check out our comprehensive review of Upwork.
And now, we'll dive deep into the Freelancer .com review. The specific topics we're going to cover in this article are:
What is Freelancer .com?
How does it work?
Features of Freelancer .com
How much does Freelancer .com charge?
How do I make the payment on Freelancer.com?
Disputes and issues
Time Tracking and communication
Reviews and complaints of Freelancer.com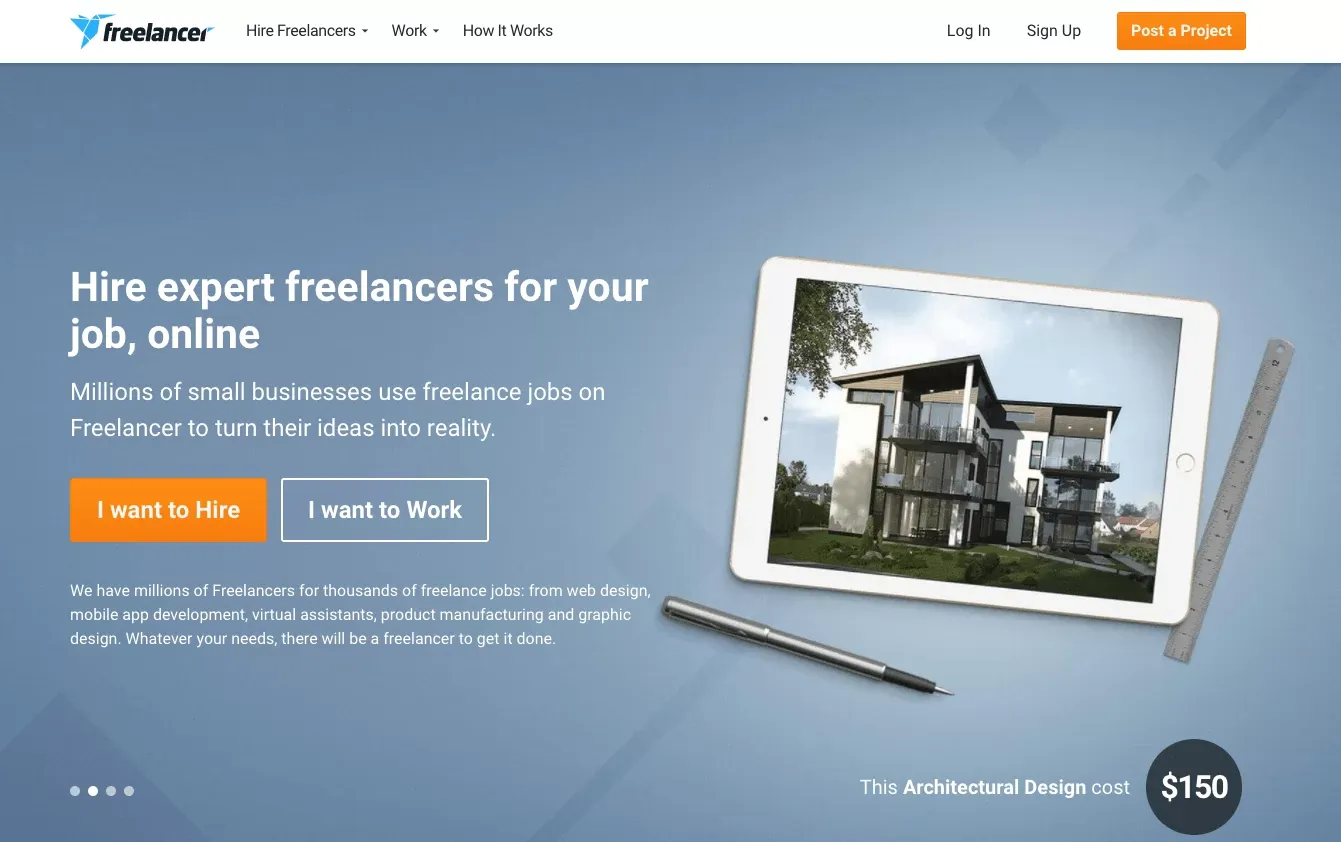 What is Freelancer.com?
Freelancer.com is what its name suggests. It's one of the largest or might be the largest freelance crowdsourcing marketplaces, where business clients, and workers or independent contractors can meet. It's a virtual marketplace for skilled and talented freelancers to offer their skillful passions to clients.
Freelancer .com was started in 2009 by founder and current CEO Matt Barrie. Though its headquarters is in Sydney, Australia, it also has offices in Vancouver, Buenos Aires, California, Jakarta, Manila, and London. Throughout the years, Freelancer .com has purchased other freelancer companies like GetAFreelancer .com, EUFreelance .com, Freelancer .de, and many more.
It's impressive and quite evident that Freelancer.com has grown tremendously throughout the years. Just check out the recent numbers of their statistics: Freelancer.com is humongous with more than 49 million registered users and over 19 million job postings! And their numbers are growing only.
How Does It Work?
Basically, this platform facilitates work and pay between clients and freelancers. Clients post various types of jobs that can be done remotely, and the freelancers bid for the jobs. From the bidding, the clients will pick the freelancer(s) to do the job. Once the project is done and accepted, the freelancer gets paid.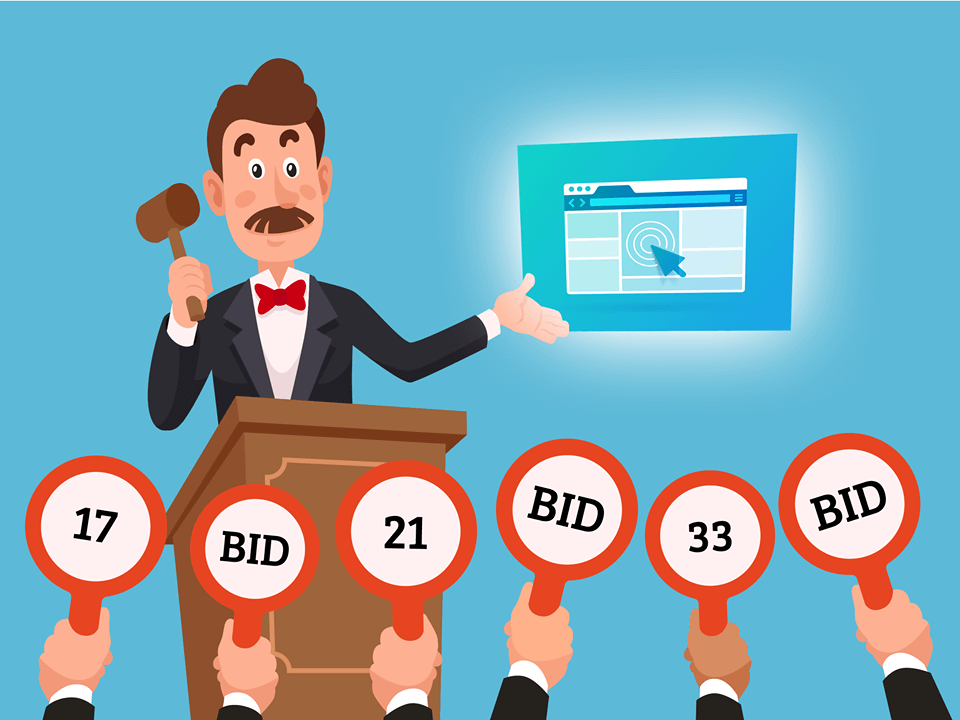 For Clients:
To get a job done by freelancers, you have to create a freelancer .com client profile. After completing the client profile, you can use the 'post-project' interface to complete the project and wait for freelancers' bids. To create a post about your project, you'll need to specify the project's full name, describe it in detail, and mention its budget range. This platform has a "get the most out of your project" feature where with additional fees, you can choose to:
Receive faster responses
Make your post more visible
Mark your project as "urgent"
Keep your project details private
Get expert help in searching for the best freelancer for your job
Get freelancers to sign a Non-Disclosure Agreement
Before your project goes live on the platform, you'll need to credit your account with an amount equal to or higher than your project's cost. You can do this either from your PayPal, credit card, or from your bank account. Freelancer .com keeps 3% of the project cost.
For Freelancers:
To work as a freelancer on this platform, you also have to create a freelancer profile. To find work, search for relevant jobs/projects based on your skill set, and after placing your bids, hopefully, get awarded the project and start working. Based on the types of payment methods you choose while bidding, you'll get paid.
Types of Freelancer.com Jobs
One of the best sides of this platform is that you'll find both large and small projects on this site. This is great as a freelancer that provides you with many options. For example, if you're looking for a side hustle, you can bid for small jobs. But if you have time for large projects, you can bid for something long-term that will keep you busy full-time.
When choosing jobs/projects on Freelancer .com, you can also select between hourly jobs and fixed-price jobs
1. Fixed Price Jobs
In this type of job, you're getting paid a fixed price for the entire gig regardless of how many hours it takes to complete the job. With this kind of job, you can earn more. The advantage here is that you'll know beforehand how much you're going to make for a specific type of work.
Normally, fixed-price jobs are paid at the end of the agreement when the work is completed and accepted. However, if a project is quite big and spans more than a few weeks, you can request your client release partial payments at a specific milestone of the project's progress.
2. Hourly Jobs
Freelancer.com also has hourly basis jobs too. In this kind of job, you'll be paid a specific rate per hour included in the job details. Hourly jobs can also be short-term or long-term. Freelancer. com has a built-in time tracking app for monitoring your working hours, which also takes screenshots so the client can monitor your productivity.
Job Categories of Freelancer.com
Freelancer.com has a massive marketplace of job categories. From IT jobs and writing to web designing, data entry, accounting, SEO, and jobs in the law and consultancy industry. Here you can find almost every type of job that can be done remotely.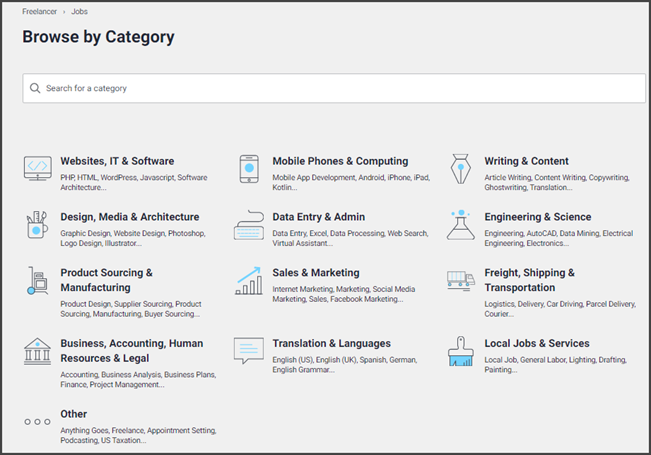 The complete list of the job categories is humongous, actually. There are more than 687 sub-categories in the Websites/IT section only! Together there are thousands of categories you can search in to find work you can do remotely.
With thousands of possible categories to choose from, it's hard to imagine there isn't something for everyone on this platform. Also, with a list that big, it's worth doing your research to gain new 'in-demand' skills in fields with little competition.
Features of Freelancer.com
One may doubt all the unique features of Freelancer .com but the fact that it is the web-freelance resource that actually invented the traditions most similar platforms have. Despite the tons of inadequate bidders and spam Freelancer .com keeps engrossing the less business-savvy rivals and blooming.
Various complicated XP systems, levels, and badges used for ranking is their own unique invention, which other freelancer platforms have adopted and improved to surpass Freelancer .com eventually. Here we're going to mention some of the features of Freelancer.com
1. Contest Feature
One of the most exciting and unique features of Freelancer.com is the 'Contest.' Freelancer .com allows its clients to arrange a Contest where the freelancers can compete with other freelancers to prove their skills. It gamifies your online talent hunt as a client.
The Contest is skill-related, so let's say it's a Copywriting contest. Your entrances will be in the form of copywriting, and the client's payment will be provided as the prize for the winner. These contests are beneficial to clients because they are delivered with hundreds of submissions from hundreds of freelancers. In our copywriting example, the client would get hundreds of copies from contestants. Among those copies, the client would pick the best of the best copies from the various entries and only pay for that one. Not all of them.
It's up to you as a freelancer if you want to join the Freelancer .com contest or not. Once in a while, these types of contests are worth joining, as they can offer a way to examine your skillset with other contestants, and also, it can also be fun. This feature of Freelancer .com is a win-win for everyone.
Note that Contest prizes are charged 10% free or $5. As a freelancer, you'll have to pay those fees.
2. Freelancer Rewards
Freelancer .com also has a reward system that's designed as an incentive for freelancers. You'll acquire XP points (Experience Points) as you accomplish goals and jobs on their platform. Accumulation of XP points will allow you to unlock more reward points as you go up through various Reward levels.
The more XP points you have, the more chances of winning a job/project you'll have. You can also use your XP points to buy Freelancer .com upgrades like contest upgrades, paying for exams, and getting more bids. But the sad thing is that Freelancer Rewards only works for paid memberships.
3. Employer Following
Imagine, that whenever your favorite employers post projects or contests, you'll get a notification via email. Won't this be amazing? Yes, Freelancer.com allows you to follow your favorite employers so that you can bid or join immediately when they post a job or Contest.
Though the number of employers you can follow is based on the membership play, you're using on this platform. And as an employer, you'll have full control over who will follow you by preventing freelancers from adding you to the employer Following.
4. Preferred Freelancer Program
The preferred freelancer program is the process of giving a freelancer the highest reward on this platform, which will make them a member of a community of elite-level. Freelancers must apply to participate in this program, and Freelancer.com will select them individually.
As a Preferred Freelancer, there are so many perks, including high-level support. And a badge on your profile to show your achievements.
5. Freelancer Showcase
This feature freelancers can use to showcase their compilation of successful projects, winning contests on Freelancer.com. Employers can easily and quickly find the best suitable freelancers according to their project's requirements. As an employer in this showcase, you can also find more details about each project or Contest, such as project duration, total budget, and project summary.
How Much Does Freelancer.com Charge?
In this platform, both the freelancers and the clients have to pay fees based on the job type. Pricing of this platform can be complicated, but you'll be accustomed to their payment system with regular usage.
Fees for Employers
It's free to sign up and post a project for an employer on Freelancer.com. Even after posting the project on the platform, receiving bids from the freelancers, discussing the requirements, and evaluating the project of the freelancer's profile are free. However, you'll have to pay a fee when you award a project to a freelancer.
For fixed-price projects, you'll have to pay 3% or $3, whichever is greater. For hourly jobs, the platform imposed 3% every time you release payments to your selected freelancer.
Fees for Freelancers
As a freelancer, it's free to sign up to this platform, and as a free member, you can even create your profile, bid on projects, enter contests, get notifications on available jobs, and download and install their app. You can also win jobs with the basic features included in a free membership plan.
But when you accept a project and accomplish it, you'll have to pay the fee. Your freelancer introduction fee for the fixed-price job is 10% of the agreement's value or $5, whichever is higher. And for hourly jobs, freelancer.com imposes a 10% fee for every payment you receive.
Contest Fees
As an employer, it's free to submit entries to a contest. When you are awarded a contest prize, you'll have to pay the fee as the freelancer award. This fee is charged when the award is released, which is after the contest has ended and the handover of entry material has been done to the employer's satisfaction.
The freelancers' fee to enter a contest is 10% or $5, whichever is greater.
Fees for The Preferred Freelancer Program
As a Preferred Freelancer Program member, you'll have to pay a 15% project fee when you are awarded and take a Recruiter project; this will only be charged when you receive the project's payment.
Membership Plan
Freelancer.com has a whole lot of membership plans starting from free membership to $69.95 worth the Premier Membership plan. Each membership plan has perks for both the employer and the freelancer.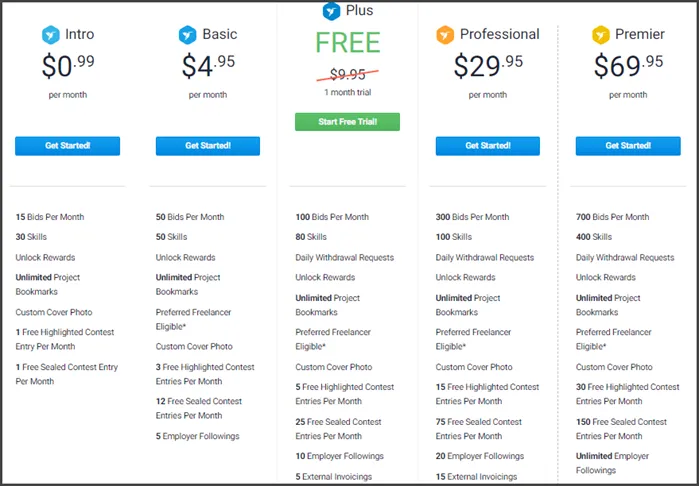 Employers with a membership plan can increase the project's time so that the project can be live on the platform and can receive bids.
They can also use the Sealed Project Upgrade feature to hide the bids from other freelancers which can help them to higher quality and genuine proposals as the freelancers can't see other freelancers' bids and won't try to outbid each other.
With NDA (Non-disclosure Agreement) Upgrades, employers can ensure freelancers sign a Non-disclosure agreement before bidding on your post that ensures your posted project's confidentiality.
For freelancers, membership plan benefits vary with the number of bids used on projects, the number of contest they can join, and how many employers they can follow. Project Bookmarking features that come with the Intro, Basic, Plus, Professional, and Premier membership plans enable freelancers to flag a project they are interested in to bid on later.
With the Plus, Professional, and Premier membership plans, freelancers can also send external invoices to their clients outside the platform.
The most expensive plans are for full-time severe freelancers and freelance agencies with remote teams working on more significant-scale projects.
Additional Services
Freelancer .com also has other options for employers that cost money, such as Featured, Urgent, and Priority, to help them find the right freelancers at the right time, ranging from $5 to $199.
How Do I Make Payment on Freelancer.com?
Freelancer .com has a controlled payment structure that uses the milestone payments method. An employer's milestone payment, which is the contract price of the project, will be locked in the employer's account while the freelancers are completing the job, and payments are released to the freelancers by Freelancer .com under the following conditions:
When both the freelancer and the employer agree that the payment can be claimed and released.
If there's a dispute, the payment is decided in favor of the freelancer.
If the employer sends an instruction to Freelancer .com to release the locked payments to the freelancers.
If the employer acknowledges that the freelancer has completed a project to their satisfaction.
To put it in other words, the employers have total control over the Milestone Payments. Employers have the right to release or hold payments, and Freelancer.com is just the platform that locks the payment fund.
Disputes and Issues
Disputes usually happen when there are disagreements between employers and freelancers. The usual forms of disputes are payment-related, missed deadlines, quality of work, etc. One of this platform's common disputes is that employers are not paying contractors for their performed jobs because of unsatisfactory work.
As Freelancer .com suggests, if any disputes arise, they should be resolved between the users by talking with each other rather than using their Disputes and Issues services. Taking the dispute to Freelancer .com can make matters worse, as nobody wants to have disputes on their profile. If the dispute can't be solved between the users, then it'll have to be escalated to the next level.
Reporting a dispute costs money for both the employer and the freelancer. In Freelancer .com, the dispute fee is $5 or 5% of the dispute's amount; whichever is higher, the same amount of fee will be refunded to the winner at the end of the dispute.
It's important to note that Freelancer.com is not offering legal services to employers and freelancers. If the Dispute team cannot resolve the problem, the dispute might need to be leveled up to arbitration, which will cost more money.
Time Tracking and Communication
As a freelancer, if you opt-in to Freelancer .com for hourly projects, you have to download their desktop app, which will enable the employers to track their working hours. This same app will also periodically take screenshots of your workstation for employers to monitor your productivity.
The time tracking app of Freelancer .com is useful and limited to only hourly projects. Besides hourly projects, most freelancers who work on fixed-price projects are usually not encouraged to use the app.
In this case, as an employer, if you would like to monitor your selected freelancer's time and want to measure their productivity level and track their app usage on their workstation, you can choose a time-tracking tool like Apploye.
With Apploye's employee timesheet app, you can track where and how time is spent in your company, and productivity levels and can use it to record your remote employees' scheduling, attendance, leave, and vacation. You can also monitor your project tasks, and estimate your project's budget; it also enables you to generate payroll and invoices, with comprehensive reports on your employed freelancer. It's available on every other platform and Operating System so that you can monitor your freelance teammates on the go from anywhere and with any device.
Freelancer .com also delivers a mobile app that enables them to keep in touch with their employers via messaging. This app also shows multiple projects and details about them. As an employer and freelancer, it's important to keep in touch with each other to be updated with important information.
Reviews and Complaints of Freelancer.com
For reviews, we are going to count on TrustPilot. Looking at the reviews of Freelancer .com on TrustPilot, we can find out that Freelancer .com has an overall rating of 4.6 based on 5,000 reviews. This is an extraordinary score and shows that a huge majority of users are pleased with Freelancer.com.
Positive reviews are mainly focused on:
It has great customer service.
It is a great avenue for making money online.
The Platform respects both employers and freelancers.
There are also many Negative Reviews too, which is very normal for a humongous company like Freelancer.com. The common matters in these reviews are:
It has very poor customer service.
Some reviewers suggested their services were unprofessional.
Some freelancers are imposing Freelancer .com as a scam.
As you can see, some of the negative and positive reviews contradict one another, which is common for massive platforms like Freelancer.com. Their pros can be cons for some.
Conclusion
In conclusion, we can say again that bigger doesn't mean better. In Freelancer .com, quantity takes over quality which can be good for some and also can be challenging for some. Being one of the largest freelance platforms has to pay its price. But still, it's up to you to judge for yourself.