Why it is Important to Track Time in Project Management?

In a project, the first step is to create a plan that works. After you create a plan comes the most important part of your project. It determines the success of your project. That important part is the allocation of resources. In this section, you will be making crucial decisions about how much of the resources each task should consume. Furthermore, you will also be specifying the time each task should take to complete. A project might lose its value if it is not completed on time. This is why most organizations consider time tracking as an important aspect.
This blog will brief you about time tracking in project management and how it helps an organization. We will also list some tools that will prove useful in time monitoring.
Time tracking for businesses: An overview
Time tracking is the way through which businesses measure the time taken to complete a job. There are many uses for time tracking. An organization uses it for various purposes. It includes billable hours, scheduling, etc.
When it comes to project management, time tracking usually means the task completion time. Let us take a look at an example for further clarification.
Assume that you have delegated work to a freelancer. If you are hiring an expert, you will be paying on the hour. This is where time tracking comes into play. Freelancer uses tools to track their time spent productively. Thus, it will let you bill the right amount. Also by allotting a deadline, you can ensure that your project stays on track. Some businesses also use time tracking to measure the performance of the freelancer working for them. It helps them make decisions about future projects.
Benefits of time tracking integration into the business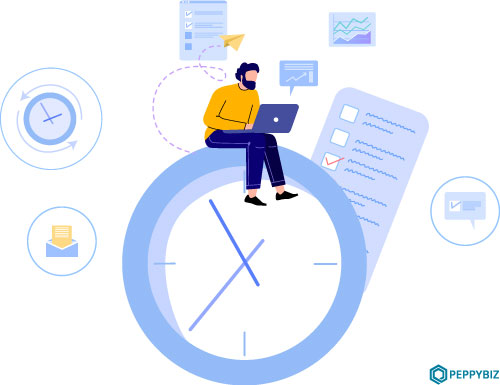 Now that we have understood what is project time tracking, we now have to address why they use it. It comes with benefits that can improve the overall efficiency of your business. Let us take a look at the ways it achieves such a feat.
1. Workflow transparency:
Every project management plan has workflows that an employee needs to follow. But, most of the time the employee gets lost in the tasks to complete and forgets the time limit on each of them. The best way to make your workflows more transparent is to inform the employees of the duration allotted for a particular task. It can be in the form of deadlines or Gantt charts.
Now, the employees know what to do and when to do it. Moreover, a transparent workflow improves the coordination between the manager and the team. A manager can also improve the workflow by monitoring the time sent on every activity. Also, as a manager, you need not worry about micromanaging when your team follows the schedule on their own. Especially due to prevailing remote work situations, it is crucial that managers keep their employees well-informed and time-conscious.
2. Increased employee accountability:
Making the employees time-conscious is undoubtedly one of the toughest tasks. However, you can easily achieve it by introducing time tracking in every step of your project. So that the employees know they are racing against time to complete each part.
When employees are aware of the unproductive time spent, they tend to focus on the ways to change that. Thus, every employee completes the tasks allotted to them on time. Which naturally results in increased employee accountability. When you add deadlines to every activity you assign, your employees will learn to manage their time accordingly.
3. Understanding the operational efficiency:
Setting up time tracking in project management helps you understand the working operation better. You will be able to accurately measure the billable hours. Furthermore, you will also be able to track work hours sent on each client's project. So that you can optimize your working hours. The result is you understand your operational efficiency and work on ways to improve it.
4. Tracking time and budget in various areas: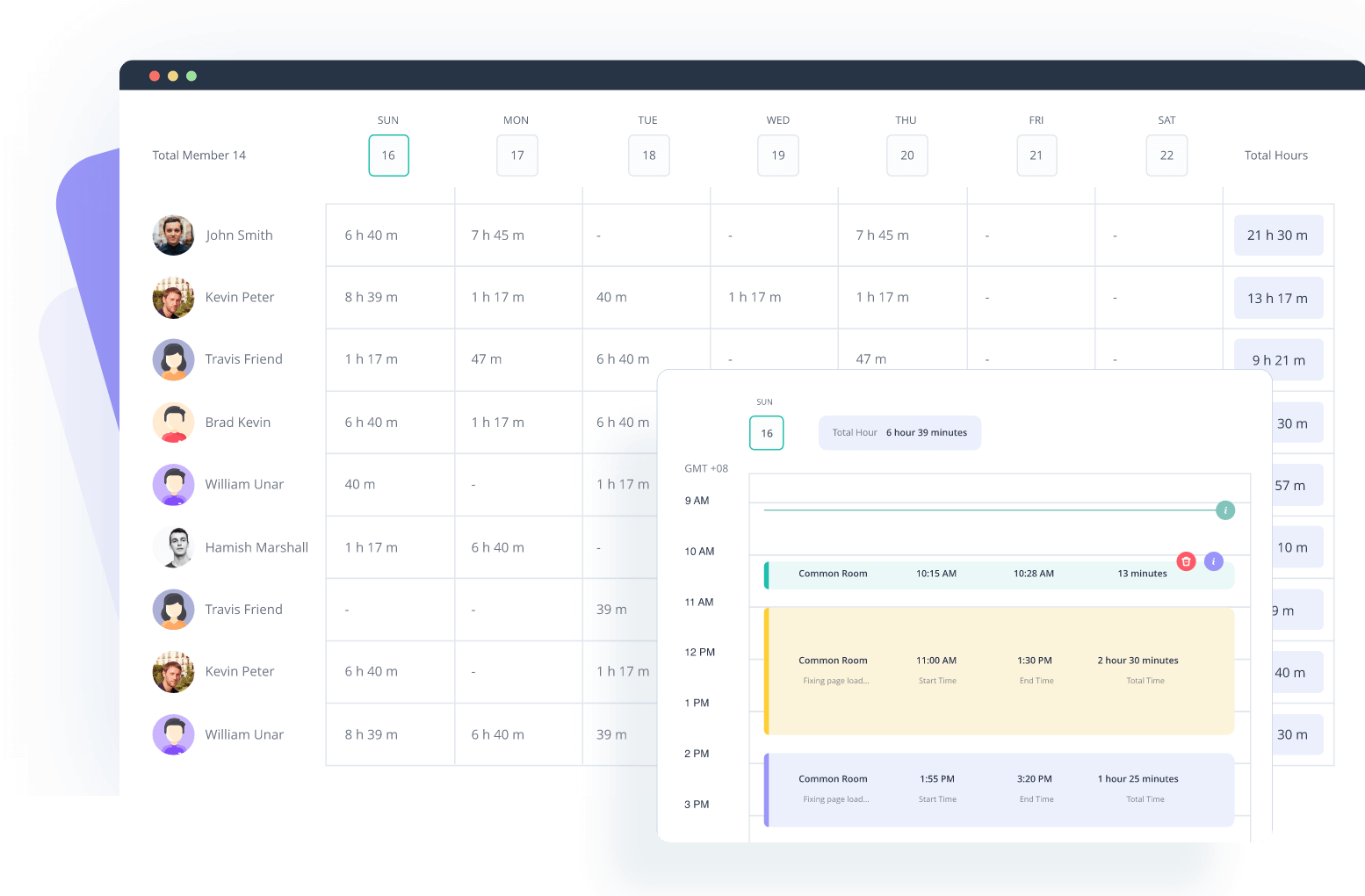 Are you experiencing gaps in budget analysis? If so, it is time for you to set up timesheets for your employees. Tracking their time will reduce the burden of calculating the expenses. With standard hourly wages for each employee, you know exactly how each employee affects your budget. For instance, if you find an employee whose efficiency is less compared to the others, you can find ways to train that employee to perform better.
5. Gain insight into business resources:
Some businesses lose track of the resources they used during a complicated project. It will only result in a wastage of resources. How do you solve this issue? Again, tooling time tracking in project management is the answer. You can simply measure the various resources spent per time taken.
By tracking the time, you can easily find resources that your employees are overusing. Furthermore, it also specifies if a single employee is doing a majority of the tasks. Thus, you can also prevent employee burnout. Always remember that employees are also valuable resources vital for the completion of the project.
6. Knowing the business bottlenecks:
Bottlenecks can make even experienced managers frustrated. Because most of the time the bottlenecks are only visible after the crucial time for the project has passed. To be able to identify potential bottlenecks, you must first look for the following signs:
Stagnation of tasks.
A pattern of delays in work assigned to a specific department/person.
Uneven workloads.
If you encounter any of the above-mentioned symptoms, it means that you can make improvements to your workflow. Time tracking in project management enables you to closely look at each part of the workflow. Thus, allowing you to identify the bottlenecks beforehand. It saves you a lot of time and improves client satisfaction.
7. Make well-informed decisions:
When you integrate time as an essential part of a project in the planning phase, you are sure to gain more accurate insights. Knowing the standard time for a task is only possible if you ask an expert. Hence, you need to understand the capabilities of each department involved. By understanding the resources and time limits, every decision made is strategic.
At any point in the project, you can easily find better ways to do the same activity. Since you already keep constant tabs on time, it will be easy to make decisions that will not affect the time frame of the project.
What are project management and its types?
Project management is a term that compiles a wide range of activities required for the successful completion of a project. It covers everything from planning to the effective implementation of a project. Furthermore, it also serves as the manual for the completion of a project within the given resources and budgeted time.
Almost every sector employs project management techniques to complete the tasks at hand. But a standard model will not suit every business. This is why experts have designed different project management methodologies which you can follow to achieve the set project goals. However, roughly almost all methods consist of the following steps:
Planning.
Initiation.
Execution.
Monitoring.
Closing.
The names of these steps are self-explanatory. Now, let us understand some of the most used types of project management.
1. Waterfall Project Management:
Waterfall project management follows a simple method where one can move on to the next step only if they complete the step before that. It is a one-directional process that follows all the traditional steps linearly. In this kind of project management, you need to ensure that you organize the tasks in the most efficient way. Furthermore, to maintain the connectivity between the tasks you need to establish a detailed workflow.
It is a slower method when compared to the others. But if you want to have a simple and predictable structure, it is the best option.
2. Agile Project Management: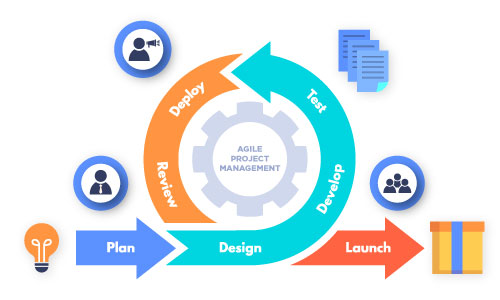 A business that needs to complete multiple projects within a short time can make use of this model. Agile is a popular method among software companies. Instead of working on one step at a time, different teams will be working on different stages at the same time. The tasks in each phase align well with the others, so there's no delay in the project deliverables.
Moreover, following an agile management method allows continuous improvement of your workflow. Since every phase takes place in parallel, you do not need to start from the initial stages in case of an error. You can simply isolate the error and rectify it without affecting the project timeline.
3. Scrum Project Management:
Scrum is a method widely used by small teams to complete small parts of the project in a sprint. It allows you to split up a complicated project into smaller and simple fragments. Also, it suits well for businesses who outsource smaller segments of the project.
4. Kanban Project Management: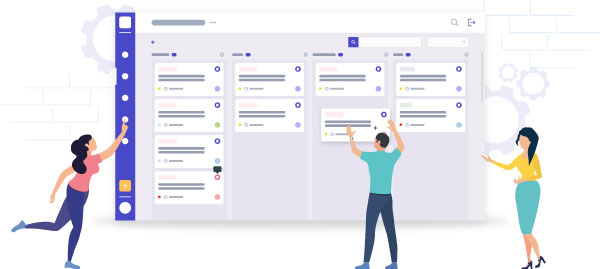 Kanban is also similar to agile project management. It manages time by allowing you to organize tasks and assign deadlines through a simpler interface. With the Kanban method, managing small tasks becomes easier. It allows you to monitor and track the progress of every task. Thus improving the overall quality of your project management.
5. PRINCE2 Project Management:
This project management method focuses on reducing errors and optimizing efficiency. One major advantage of this method is its flexibility. You can use this technique irrespective of the size of the project. It ensures maximized productivity at all stages by grouping them based on the part it plays in the completion of the project.
All these methods consider time tracking in project management as one of the crucial steps. Now, let us take a look at some types in which you can carry out time tracking.
Types of time tracking
a. Personal time tracking:
It doesn't matter if the organization sets time limits or not. But it is important that every individual must be aware of the time they spend. You can track your productive time even by using a stopwatch. However, there exist a lot of other modern apps that make your time tracking simpler. You can use them to effectively manage your schedule.
b. Project time tracking:
Organizations, on the other hand, must focus on completing the projects on time. Instead of monitoring the time themselves, the software does the job. There are many tools available in the market that automatically track the time your employees spend on doing the job. This way, you can record and report the time taken for each task involved in a project.
c. Cumulative time management:
Cumulative time management simply combines the two types mentioned above. It involves tracking the time spent by each individual on each task. Cumulative time management is significantly helpful in improving the accountability of every employee involved.
Best tools to incorporate time tracking into your business:
Most managers nowadays use time tracking software to efficiently manage the time of the team members. Not only managers but also those who rely on outsourcing benefit from using these tools. You can use these tools to find billable hours, time consumption per task, employee efficiency, etc.
Obviously, there are many tools floating around claiming to be the best. But it all comes down to the features they offer and if they are suitable for your business. The following are some of the essential features you must be looking for when searching for a time tracking tool:
Time tracking tools.
Timesheets.
Project management tools.
Payroll management tools.
Reports and analytics creation tools.
Whenever you opt for a project management solution, look for time tracking features and vice versa.
We have compiled a list of the best time tracking apps to narrow your search journey. The software listed here contains all the necessary tools for you to perform time tracking in project management.
1. PeppyBiz
PeppyBiz's project management software comes with built-in time tracking capabilities. Our software has timesheets and Gantt charts to improve the flow of the project. Furthermore, our software also incorporates visually pleasing Kanban boards to streamline your project management process. Apart from these, there are many other features that make our software one of the most sophisticated project management solutions.
2. Apploye
Apploye is an app dedicated to powerful time management tools. It keeps your productivity running by tracking your inactive time. And then giving you a friendly nudge to get back to work. Moreover, you can access this platform from various devices such as Android, Apple, Windows, etc.
This app is exceptionally great for fieldwork businesses that require constant GPS time tracking of their employees. What's more? There are tools for invoicing and billing based on the productive hours spent. Thus, making it a suitable time tracking app for consultants and remote working freelancers too.
3. Harvest
With Harvest's dedicated time tracking tool, you can monitor your productivity and also your team's time. A simple start/stop method allows your employees to accurately record the time spent. It also has integrations through which you can integrate with apps like Trello, Google Chrome, etc.
👉 See our comprehensive list of Harvest Alternatives in 2023.
4. Toggl Track
Also known as Toggl, it is a well-known time tracking app. It has a mobile app which small teams and individuals can use. If you want additional features, you might have to spend a little money. Furthermore, you can add the plugin of the software in your browser to actively track time. One of the primary reasons people choose Toggl is because of its simple and easy-to-use interface. It also allows you to create teams, clients and track projects accordingly.
👉 See our comprehensive list of Toggl Alternatives in 2023.
5. Everhour
Everhour is a simple but efficient tool that works well with other project management tools. Unlike other integrations, Everhour's integration capabilities make it easier to track time. You do not have to switch tabs to turn the timer on and off. It also comes with useful tools for budget management, resource management, team management, invoicing, etc.
👉 See our comprehensive list of Everhour Alternatives in 2023.
6. HourStack
If you have ever used a calendar, you can also easily use this tool. It offers a simple calendar-based UI to make time tracking simpler and more effective. Drag-and-drop scheduling tools further cut down the time taken for assigning tasks and deadlines. Just like other apps in this list, it offers numerous integrations with third-party software.
7. Jibble
Do you want free software that tracks time? Then Jibble should be your preference. However, it is only suitable for small teams. It offers unlimited users, but still, the functionalities make it suitable only for smaller teams. It would be a great addition to your remote working team as it also comes packed with various invoicing features. One of the most innovative features of this app is the use of biometric data as a punch-in for employees.
👉 See our comprehensive list of Jibble Alternatives in 2023.
Conclusion
To sum up, time tracking in project management paves the way for maximized efficiency and successful completion of a project. Irrespective of the size of your business, time is a resource that you should be keenly monitoring. Grab one of these time tracker tools today and start working towards becoming successful.