Real Estate Virtual Assistant Hiring-(Tasks+Manage+Tools)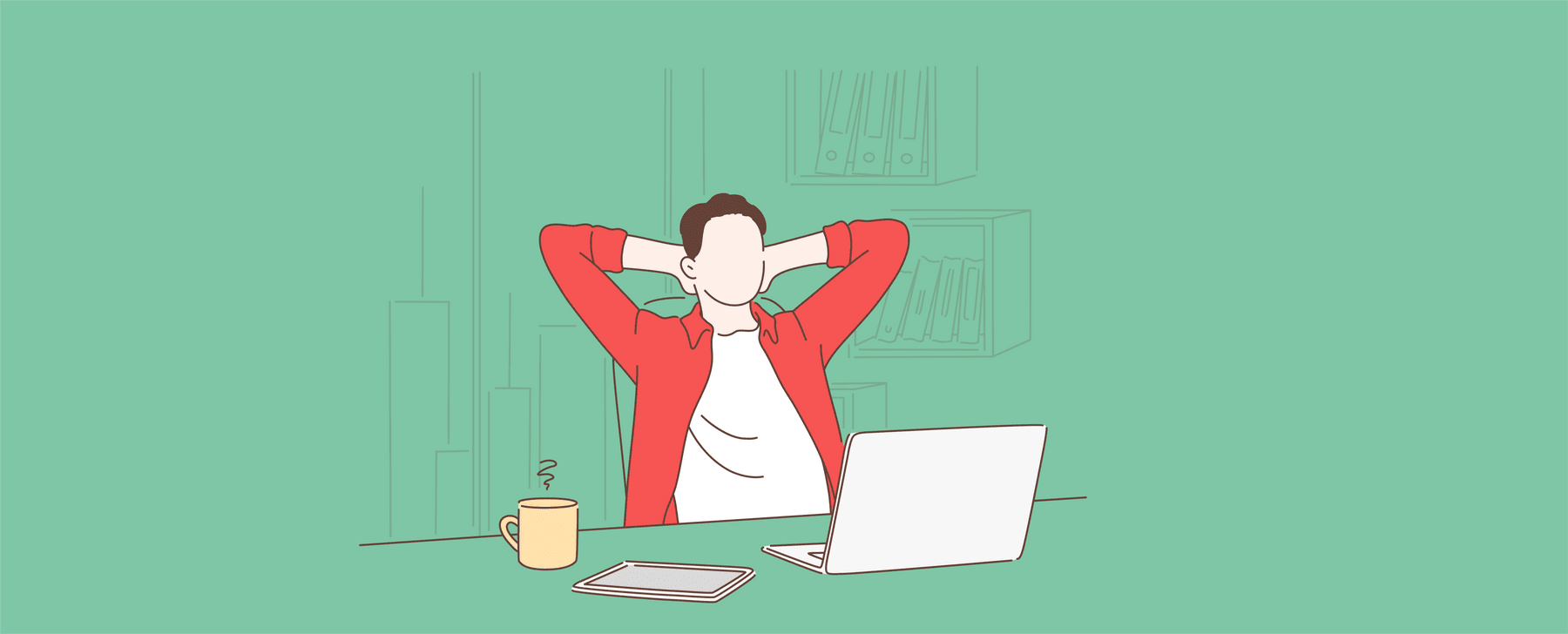 A real estate agent's life is hustling 24/7, and there's a lot of paperwork and organization to be done regularly besides meeting clients and helping them sell their property or find a new one to buy. Doing all the mundane daily work eats up most of the precious time of real estate agents and pulls them away from the tasks that bring revenue and expand their business.
Hiring an assistant could solve the problem, but they are too expensive to hire. Most realtors can't afford to hire an assistant, so why not hire a Real Estate Virtual Assistant who is specially trained to handle the daily tasks of realtors?
Virtual assistants are less expensive than full-time in-house employees, and they are skilled at their work. By hiring a real estate virtual assistant, you can easily delegate mundane energy-draining tasks to them and can intensely focus on your core skills. In this article, we'll share everything you need to know about real estate virtual assistants.
The topics we'll cover in this article about Real Estate Virtual Assistants are:
What is a Real Estate Virtual Assistant?
Why should you Hire A Real Estate Virtual Assistant?
Tasks a Real Estate Virtual Assistant can do for you
Things to do before Hiring a Real Estate Virtual Assistant
Where to find a Real Estate Virtual Assistant?
How to Manage Your Real Estate Virtual Assistant?
What is a Real Estate Virtual Assistant?
Generally Real Estate Virtual Assistant is someone you hire online to perform tasks virtually from a remote location related to the real estate business. Nowadays, more and more realtors are hiring virtual assistants who can help them stay organized, close more deals, and get more listings.
The main idea of hiring a virtual assistant is to free up as much time as possible to focus on your business's core points to grow and expand. The good thing about a real estate virtual assistant is that they are specially trained in accomplishing all the tasks a realtor needs to complete, such as finding property details, data entry and management, and cold calling with lead generation activities.
By delegating the tasks to your reliable real estate virtual assistant, you can get out of the daily controlling routine and repetitive work pattern.
Why Should You Hire a Real Estate Virtual Assistant?
Stop wasting your time on the tasks that can be taken care of by a virtual assistant. While you spend your time doing $20 per hour tasks, you limit your ability to increase your annual income and sales volume. By delegating specific tasks, you can focus on the things that matter most in your business.
Some of the benefits you should realize to consider hiring a real estate virtual assistant:
1. To Save Time
Twenty-four hours a day that's all we have, and what you focus on will expand in this same amount of time. So, what are you focusing on with the time you have? Do you feel stuck in the mud of paperwork and administrative organization? If you want, you can quickly get out of that pile of mundane workload by hiring a virtual assistant who is specially trained to handle those specific tasks so that you have your time back and use them wisely.
Firstly, training your real estate virtual assistant (REVA) according to your way can be time-consuming. Still, after a while, when your REVA gets used to your way of doing work, you'll have enough time to focus on things that matter to grow your business.
2. To Save Money
It can lower employment fees by more than 40% when you outsource your daily mundane real estate tasks to a virtual assistant. This is because, by outsourcing, you don't have to pay payroll taxes, regulatory fees involved with hiring in-house administrative assistants, and social security.
The money you pay to your real estate virtual assistant is tax-deductible. By hiring a virtual assistant, you won't have to do the payroll and insurance paperwork too. You'll save even more money because you don't have to be in the office while working for you virtually.
3. Increase Your Income
By delegating the tasks holding you back from your talent to earn more, you can double and even triple your current income. Havard Business Review showed in one of their research that delegating more of what you don't have to do yourself frees up time so you can use it where it matters, which increases your productivity and usually results in an increase in income.
4. Focus on What You Do Best
In real estate, most realtors are strong relationship builders. To get more buyers and listings, it takes time to build relationships and connect with people, so they begin to trust and like you. This process of building a connection must also happen after the contract is signed for an exclusive listing.
If you're not using at least 20% of your time in building relationships, then you'll not reach your income goals. This means the time actually in front of people, either in person or on the phone. People want to be acknowledged. Delegate the repetitive tasks and focus on what you do best.
5. Reach Your Goals
By delegating your daily tasks to your virtual assistant, you can reach more of your goals. You'll have more time to think about reviewing your prior week and plan for the week ahead. More thinking time will allow you to plan your goals, and you can break them and add them to your daily, weekly, and monthly planner. Your goals become more achievable since you're intensely focused on them.
6. Expand Your Business
Have you ever thought about organizing together a real estate team or considered hiring a buyers' agent? The more you delegate to your reliable virtual assistant, the more time you'll have to build your business.
A trained virtual assistant can help you make your listings that will dominate the online world by properly marketing them. When sellers are impressed by your efforts and what they achieve for their property, they're more likely to refer you to others to help you expand your connection.
7. Explore New Opportunities
When you aren't being held down with tasks that you shouldn't be doing and have fresh energy, you can explore new opportunities in your field. Maybe you want to expand into property management, and commercial real estate, or improve your current listings with virtual home staging. Or you might like to learn more about building your investment portfolio.
Whatever you want to expand on, know you will have more time to delegate your tasks to a reliable real estate virtual assistant.
8. Find a Better Work-Life Balance
When you outsource real estate tasks, you can make more time for what's more important to you—your family. By doing this, you find a balance point where you can grow your business and spend more time with your family.
When you delegate your admin tasks, redundancies, and repetitive duties, you'll discover that taking care of yourself never felt so good. And you'll be able to do all these without interruptions.
Tasks a Real Estate Virtual Assistant can do for you
Here are some of the primary and more challenging tasks a well-trained real estate virtual assistant can do to help get back your time.
1. Administrative Real Estate Tasks
Your free time will be better organized by delegating your daily mundane admin tasks to your real estate virtual assistant. All the dull but unavoidable admin tasks a virtual assistant can do:
Getting through hundreds of emails every day, sorting them, sending follow-up emails to home buyers, responding to inquiries, and handling other back-and-forth emailing,
Answering and making phone calls, and diverting them when necessary,
Communicating with agents, screening and receiving calls from sellers or buyers,
Noting down the new important facts, taking messages for you,
Managing your work and personal calendar, rescheduling appointments, setting up meetings,
Filing documents, gathering and organizing all the paperwork,
Entering data into spreadsheets and organizing them,
Proofreading and reviewing various documents,
Curating and updating the data in the business files,
Calculating costs, creating weekly, and monthly reports, and monitoring your work results,
Coordinating other financial transactions and handling payments,
Reminding you of upcoming obligations and events in advance, and so much more.
Just think of the relief for you having someone reliable taking care of these tasks with their full attention and leaving you enough time and energy to focus on what is more important to you.
2. Marketing Tasks
There's a wide range of elementary and professional tasks that you can get done depending on how experienced and knowledgeable your real estate virtual assistant is about marketing. These tasks are:
Designing your online marketing campaigns,
Crafting, scheduling, posting, optimizing, and updating content on your business website and also on your social media platforms,
Collecting, organizing, and creating visuals for your advertising campaigns,
Posting advertisements on social media and engaging with your audience,
Crafting PowerPoint presentations for home buyers,
Designing, scheduling, and automating email marketing campaigns,
Doing keyword research,
Building links to boost your website's organic traffic,
Converting prospects into customers and generating leads,
Monitoring your marketing efforts, examining your competitors and stats, creating reports so that you can easily find out which approaches are working for you,
All of these are an absolute necessity if you want to exist in this competitive market. And you can do all of them just like that by hiring the right real estate virtual assistant for you. If you want your real estate virtual assistant to be only focused on marketing, you can find one specific too.
3. Managing Your Listings
Your trained real estate virtual assistant can make sure that-
Your listings are always up-to-date in your MRS and Zillow accounts,
Leads are entered into your CRM system,
And all the other data is current.
In a way, they can handle your listing coordination, updates, and presentation so that you can always depend on the data you take from the listings.
4. Researching Your Leads or Listings
Researching the name of every single lead to find out more about their requirements and needs before you approach them with your offer is a huge time and energy-draining process. This is where a trained real estate virtual assistant can prove their worthiness. After spending hours doing investigations and organizing the results according to your desire, you'll be able to answer almost any common questions from hunters immediately.
By researching and creating relevant profiles, your virtual assistant can help you find out who you're trading with and make you prepared for the meeting. Real estate virtual assistants can be a precious gold mine when it comes to your lead's relevant details.
5. Preparing Meeting Materials
This task involves creating presentation videos or handouts about what people should know before purchasing a particular house and drafting a list of inquiries and other important points related to property so that you go to your meetings fully prepared and avoid not remembering critical details.
They can do an extensive range of other specialized tasks to help you make more money in less time while you can avoid mental and physical exhaustion.
Things to do before Hiring a Real Estate Virtual Assistant
There's a lot that goes into the hiring process. If you want the right real estate virtual assistant according to your necessity, you need to prepare for it first. Before starting the hiring process, you need to prepare yourself first. The things you need to do:
1. Identify the Tasks You'll Outsource
The first thing you need to be sure about is which tasks you'll be outsourcing. Make a list of tasks that you believe you can delegate properly. To make a list, you can audit your own time and list out the tasks you do every week for every deal.
You can also make a list of tasks you would like to do if you only had more time in your 'wish list.' Assess each task's priority, then finalize your list once you have decided which ones you'll outsource and which ones you'll continue to do.
2. Create Process Documentation
Documented the process of how you want your jobs to be done. You can do this with some or all the tasks you included in your list. Make sure you document your current process, which will help you to guide your virtual assistant. You can use both screencast videos and Google Docs to create your library of "standard operating procedures."
These standard operating procedures will become a handy reference manual your assistant can depend on. It's also a precious business asset you can have. And if your newly hired assistant ever leaves, it'll be faster to welcome someone new.
3. Estimate How Many Hours You Need
Before starting the hiring process, you need to have an exact estimation of the number of hours you will need from a virtual assistant to complete tasks. This is crucial because based on your virtual assistant's working hours, you're going to pay the
You always have the option to choose project-based; most virtual assistants nowadays work at an hourly rate. It helps to be more specific when it comes to the hours you need. Like, "I'm looking for a virtual assistant 10 hours a week."
4. Describe Your Virtual Assistant
There are so many talents and skills to choose. Selecting the right virtual assistant for you to work with is like getting in front of a buffet table. If you know what you need, you can make all the difference. You have to be very precise with what you're searching for, skills and attitude-wise.
Here are some questions that you have to answer to get an idea of what kind of virtual assistant you're looking for -
Are you searching for someone who can work at the same hour as you do?
How many years of experience does the applicant need to have for them to be qualified?
Do they need to speak fluent English?
What experience do they have in your field?
Do they have a reliable track record?
Being good at social marketing and cold calling isn't good enough. They have to adapt to your requirements and standards because all the skills and talent would be nothing if you can't sync with each other.
Where to Find Real Estate Virtual Assistant
Now that you have a clear concept of what kind of real estate virtual assistant you want and estimate how many hours you need the virtual assistant, the next step is to hire them. And there are two ways you can hire them:
Hire your Real Estate Virtual Assistant from a VA agency
Hire an individual Real Estate Virtual Assistant
1. Hire your Real Estate Virtual Assistant from a VA Agency
The first way of hiring your desired virtual assistant is to go to a Virtual Assistant Agency. If you're still not convinced and not sure about hiring a real estate virtual assistant but want to try it out anyway, then you should go for a VA Agency. These agencies can provide budget-friendly VAs within 24 hours after you give the details of your desire.
Here are some virtual assistant companies you can rely on:
Time Etc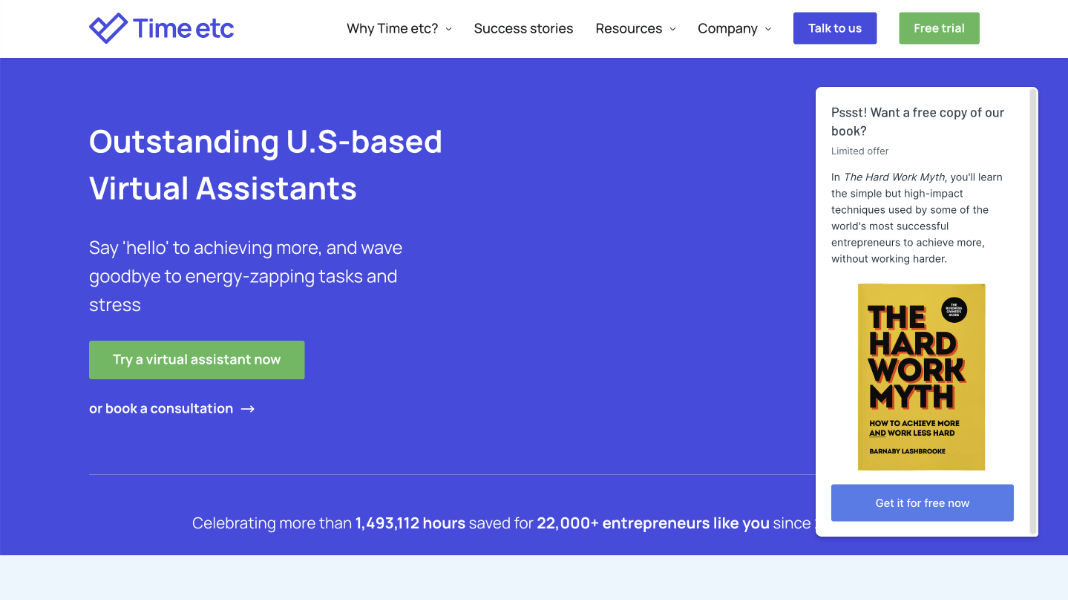 Time etc. is a virtual assistant company that provides support to real estate professionals through its experienced and highly skilled virtual assistants. Their virtual assistants are trained to handle a wide range of administrative and customer service tasks, allowing real estate agents, brokers, and property management companies to focus on their core activities. With Time etc., real estate professionals can free up their time, increase their productivity, and improve their customer service levels.
Wishup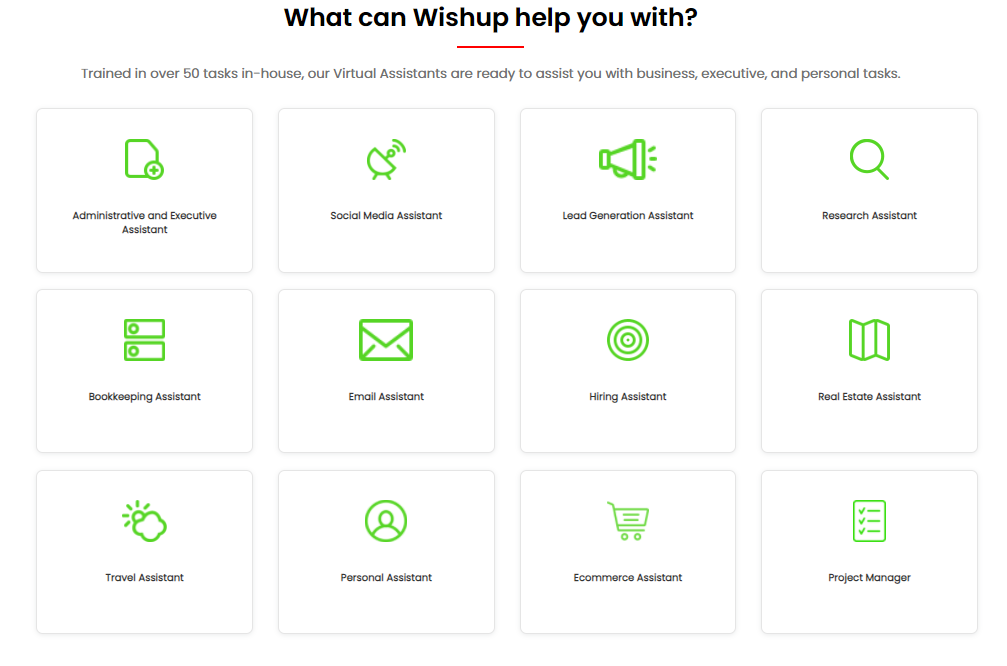 Wishup is a virtual assistant company that is committed to helping its clients meet their goals. They provide support to real estate professionals. The virtual assistants at Wishup are highly skilled and experienced, capable of handling tasks such as lead generation, customer service, data entry, marketing support, and transaction coordination. Wishup is dedicated to helping their clients achieve their goals and their virtual assistants are available 24/7 to provide support whenever it is required.
Summit VA Solutions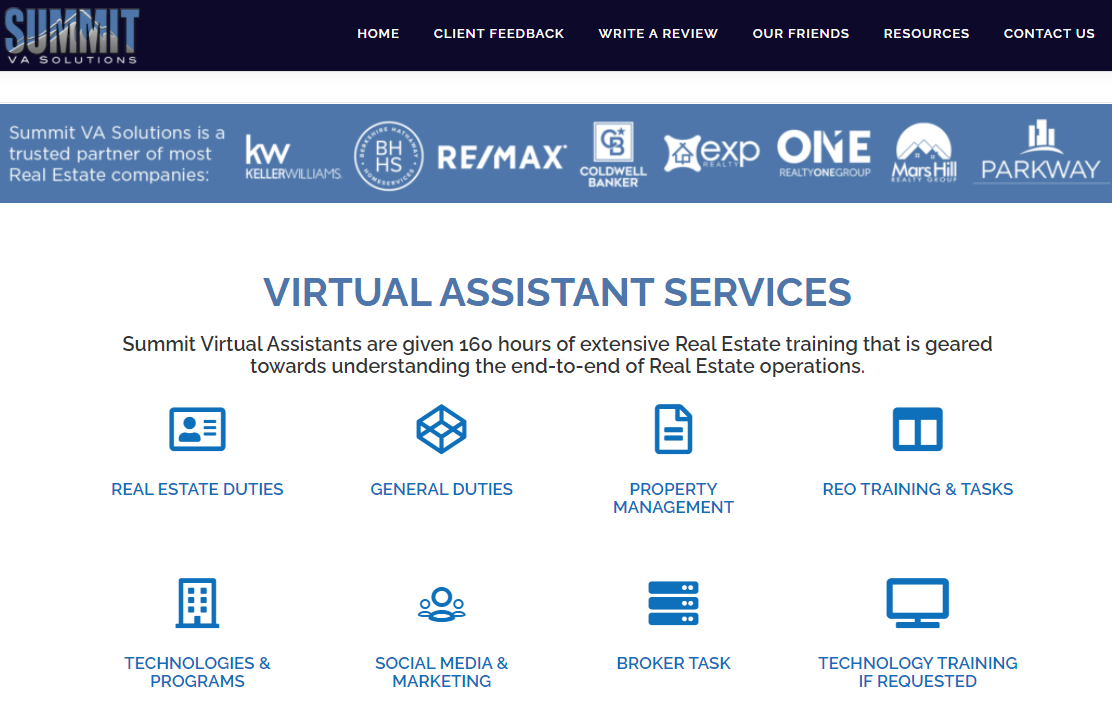 Summit VA Solutions deliver full-time real estate virtual assistant from a wide selection of roles including transaction management, marketing, property management, administrative work, and many more. Their VAs are based in the Philippines with an impressive amount of training and experience in the most common real estate software system. Their VAs are specially trained for the real estate industry.
2. Hire an individual Real Estate Virtual Assistant
Another way of hiring a real estate virtual assistant is to hire your desired VA individually from freelance platforms or job boards. If you're an experienced real estate agent, you'll probably find a great real estate virtual assistant through job sites like OnlinJobs. ph, LinkedIn, and freelancer platforms.
Here are some of the freelance platforms for you to consider, to begin with:
Upwork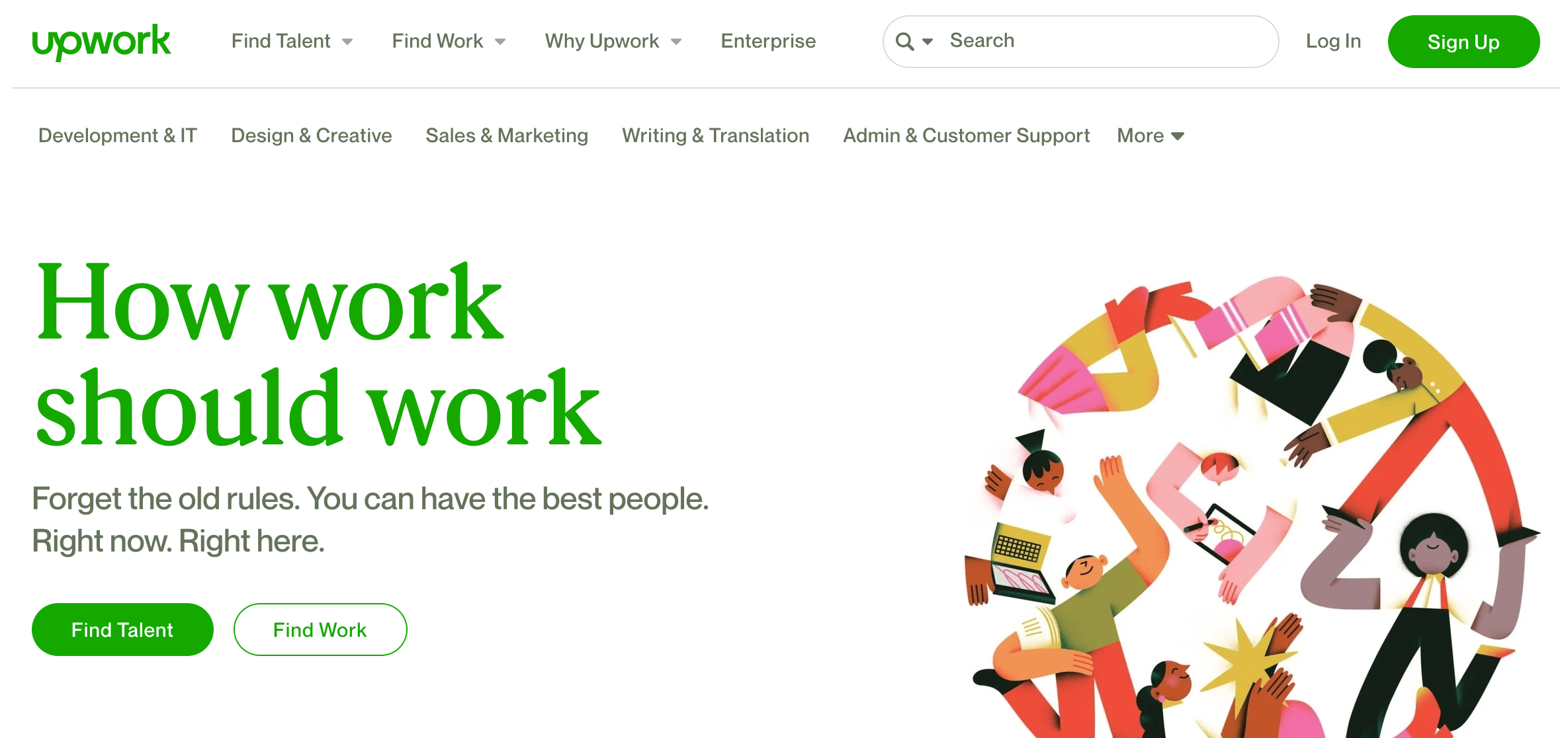 No freelance market list will ever be complete without Upwork. Many realtors new to outsourcing have found their dream virtual assistants to help them with their daily real estate tasks. Many experienced and professional real estate virtual assistants are freelancing from this site.
Read our extensive article on the Review of Upwork
OnlineJobs.ph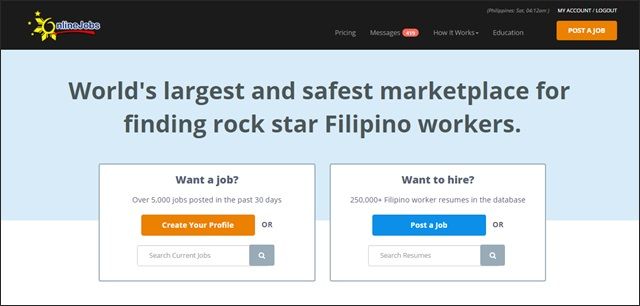 Online jobs. ph is a Philippine-based job board that allows business owners to hire online Filipino freelancers to help them grow their businesses. What is unique about this job board is its powerful filtering system that you can easily use to find the Filipino real estate virtual assistant you're searching for.
Related Article: Check out our article on the best freelance websites for beginners.
How to Manage Your Real Estate Virtual Assistant?
After hiring your virtual assistant, you also have to be careful about maintaining your real estate VA. Communication is the key to maintaining your VA efficiently. Besides the communication tools, you will also need other appropriate virtual assistant tools to manage your VA.
Communication Tools
Using the right communication tools can make you feel like you're working with someone who's right next to your room. These communication tools are changing the whole experience of remote working and enabling the era of remote working.
Messaging Tools
For everyday communication, you can use Slack or Chanty to send the details of your task and supervise your VA anytime via text or even voice or video messages. You can use these tools to share files. Using these tools, you can even create a task-specific channel to keep the communication clean.
Video Calling Tools
For a video conference or a quick video meeting, you can use Skype and Zoom; both offer their basic video communication services for free. Using these tools, you can host a project meeting, and share your screen to explain them in detail.
Productivity Monitoring Tools
As someone who's far from you will work for you, it's essential that you're monitoring remote employees or, in this case, your virtual assistant. Without monitoring your VA's working hours, you won't know how long your VA takes to complete a specific task or how they're performing your delegated tasks. As you're going to pay them based on the hours they're working for you, you must be keeping an eye on their performance. So, how to do that?
Keeping that problem in mind, we've created a solution. It's Apploye, an intuitive time tracking tool that can help you keep an eye on your VA's working hours and give you a visualization of your VA's productivity level.
How does Apploye do all these?
Apploye is an intelligent all-in-one software built to motivate your remote employees. It provides time tracking, activity monitoring, analyzing, invoicing, reporting, and much more.
Apploye provides all the necessary information you need to manage your real estate virtual assistant efficiently by:
Monitoring the apps and websites they're using while performing your tasks
Tracking keyboard and mouse movement, monitoring productivity level,
Letting you customize timesheet, offline tracking,
Creating automated payroll based on their working hours
Last Words
Many entrepreneurs and startups admitted how essential a role virtual assistants play in their business growth; as a real estate agent, hiring the right virtual assistant can change the game for you too.