15 Best Time Tracking Software for Ubuntu in 2023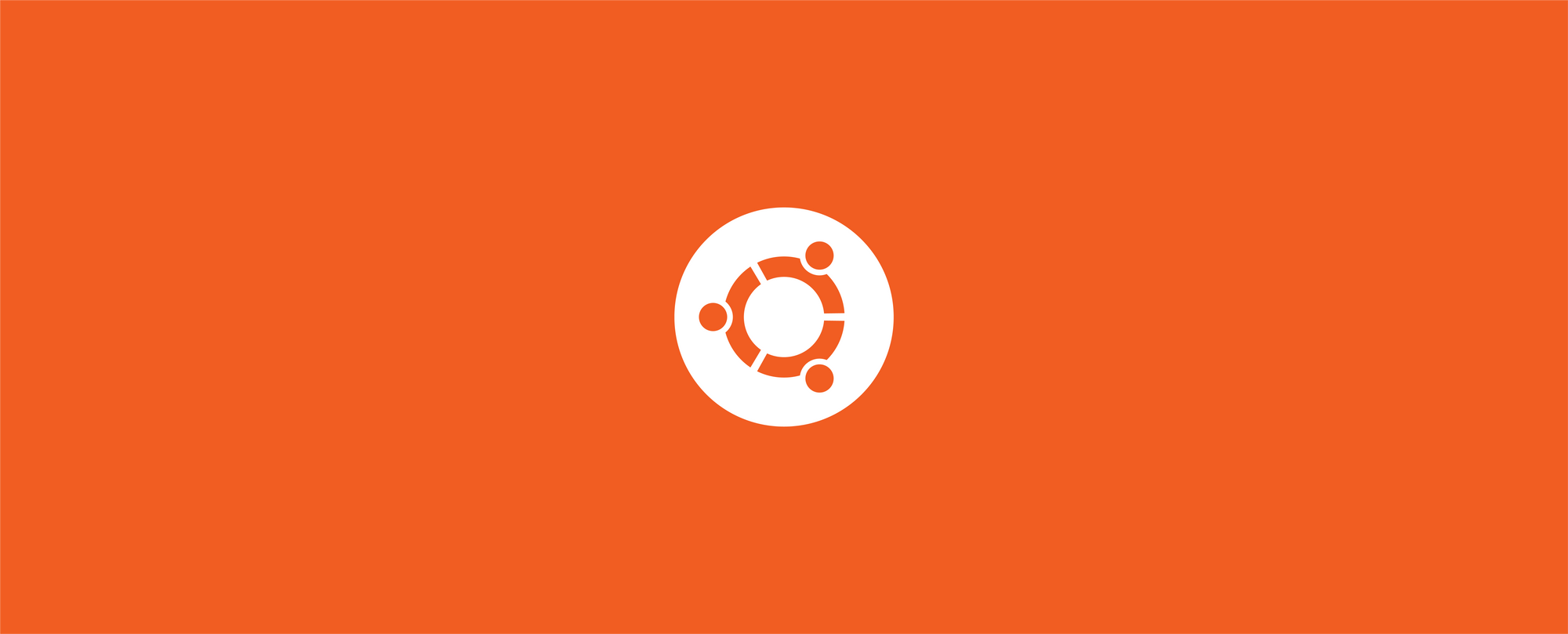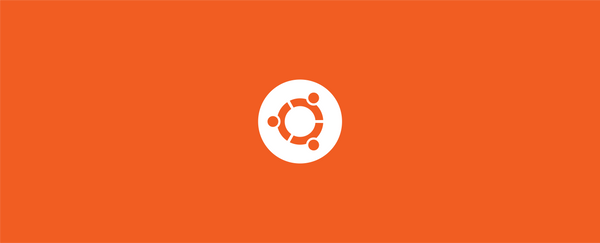 Time tracking software is the demand of the age if you are running a business that requires a sound record of performance and continuous improvement in the productivity level for both individual and team levels. So, it doesn't matter whether you are a Windows or Ubuntu user; you have to afford a Ubuntu time tracker to see the graphs that matter most to you.
This article is particularly written for businesses that heavily rely on the Ubuntu operating system for their operation and want to raise the productivity bar with the touch of compatible Ubuntu time tracking software.
Go through and discover which one suits you the most!
What is the Ubuntu Operating System?
Before we jump onto our main discussion, here is something that you should know about the Ubuntu operating system.
Ubuntu is a Desktop-based operating system that is a distribution of Linux. It is a secured operating system that doesn't need anti-virus software to protect it from various attacks. Remember, while Linux is the core operating system, Ubuntu is just the distribution of it which can be used in personal computers, servers, IoT, and cloud computing.
You can also use Ubuntu on your smartphone, and its installation process is very straightforward, which helped it acquire many users and fans across the globe.
List of Top Ubuntu Time Tracking Software
Below is the list of the top 15 Ubuntu time-tracking software.
Apploye
Time Doctor
Toggl Track
TimeCamp
Clockify
Hubstaff
Klok Time Tracking
Kimai
Hamster
actiTIME
arbtt
TimeSlotTracker
TrackingTime
GnoTime
Quidlo Timesheets
1. Apploye – The Ultimate Time Tracking Software for Ubuntu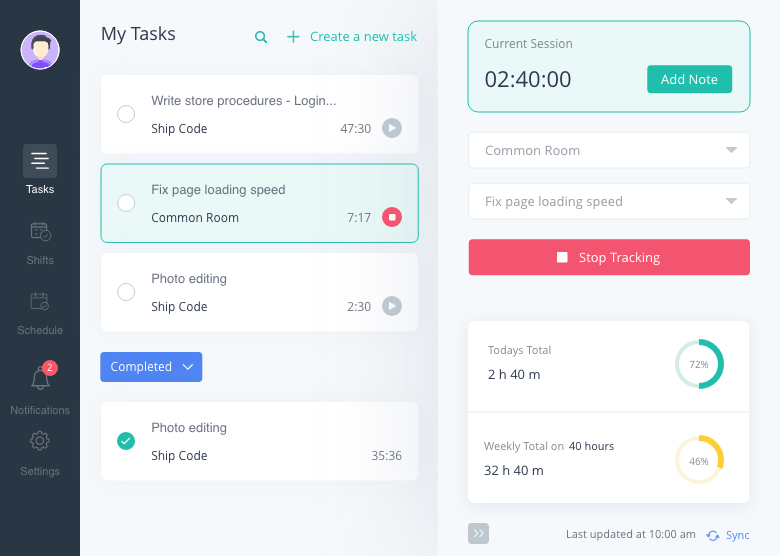 If you are looking for the best time tracking software to track activities in the Ubuntu operating system, then you are in the right spot right now!
Apploye is decisively the best time tracker for Ubuntu as it offers some of the most refined features that will make your work a breeze. It is a time tracking software with screenshots that can help you monitor remote employees and get the best out of them without any manual effort. We are calling Apploye the best solution for Ubuntu because of the following features it offers to the customers.
All-round Time tracking: Apploye offers everything you need to have in the field of time tracking. It allows you to track employee hours across devices and see the timesheet in a customized view. You can also track time across tasks and projects with the magical touch of Apploye. You will be able to detect the idle time of your employees and export the timesheet data in PDF or Excel format. Apploye offers a clock in/out and a Pomodoro timer, a powerful feature to tackle monotony and drive productivity.
Remote Employee Monitoring features: Apploye offers a sufficient number of features with which you can monitor the activities of your remote workers without running the risk of micromanagement. Apploye offers a screenshot feature by which you can take up to three screenshots every ten minutes to keep your employees aligned with their current tasks. Moreover, it will monitor your employees' internet usage and give you detailed information about the apps and software they use during work.
Reporting & Dashboard: Apploye offers a sophisticated dashboard with the help of which you can see a performance-based comparison among the employees. It will show the time your employees have been using in different tasks and projects. You can download reports on the performance of the employees based on different tenures. Moreover, you will get reports on the manually added time with apps and URL usage of the particular employee.
Productivity Management: The productivity measurement of Apploye is done by calculating mouse clicks and keyboard usage. You will see the percentage of productivity both on the app and the dashboard. It is indispensable as it allows businesses to track the employees' performance and sustain the best performer of the organization.
Projects and Budgeting: Apploye, besides being a great time-tracking software, can help you with projects and budgeting. It keeps track of the time across multiple projects, helps you set up a budget for your project, and supervises its cost and profitability over time.
Pricing
Apploye provides the following four pricing plans.
Solo: $4/user/month
Standard: $5/user/month
Premium: $6/user/month
Elite: $7/user/month
The above pricing is for monthly users. If you go for the annual plan, there will be a 50% discount, and you can save half of the money!
So, why wait? Try out Apploye for free for ten days and get the taste of the best Ubuntu time tracking software around you!

2. Time Doctor- For Building a Better Workplace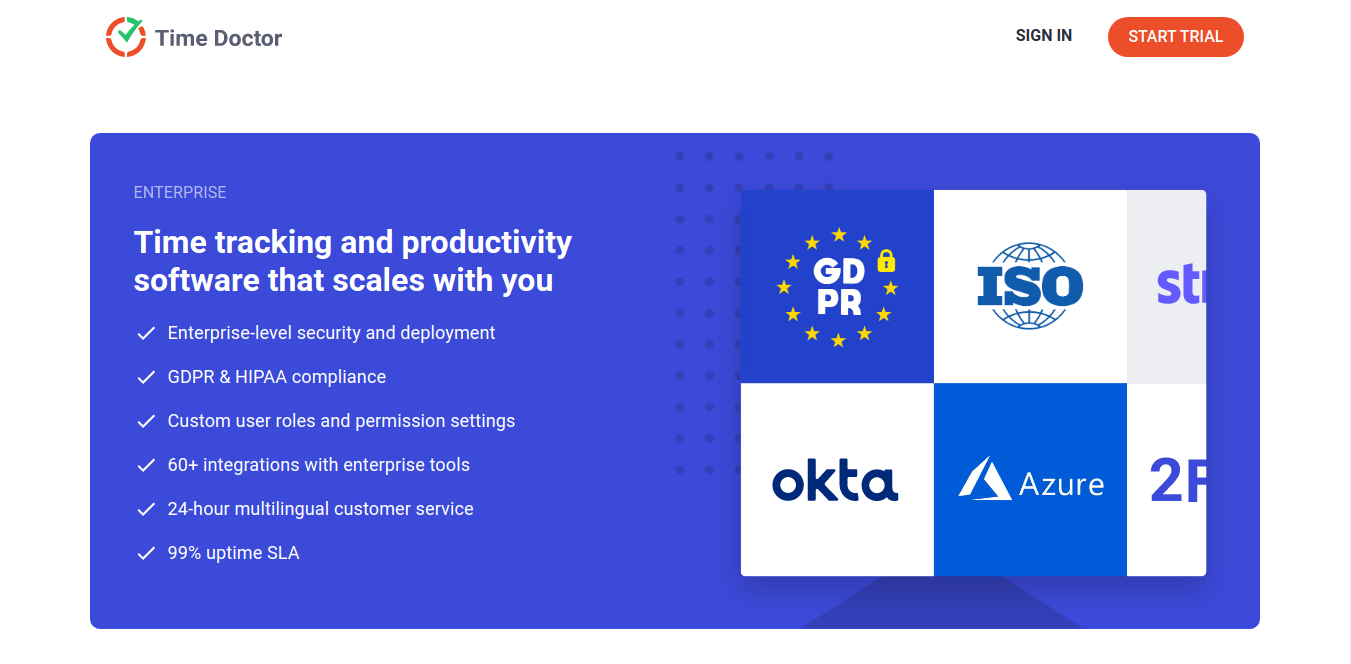 Time Doctor can be a good option for you if you want to track time in Ubuntu. We are keeping Time Doctor second in the list because it helps you build a better workplace with boosted productivity with the touch of accurate time tracking. This Employee-friendly Ubuntu time tracker gives you many important features you can't ignore if you are determined to keep your employees on track to drive productivity.
Features:
Employee Time Tracking on task, project and client and offline time tracking.
Report generation, Internet and app usage, optional screenshot feature.
Payroll, reminder, and client feature.
Dashboard, timesheet export, payroll.
Integrations: Monday, Todoist, Slack, Salesforce.
Pricing:
Basic: $7/user/month
Standard: $10/user/month
Premium: $20/user/month
👉 See our comprehensive list of Time Doctor Alternatives in 2023.
3. Toggl Track- Time Tracking for Better Work in Linux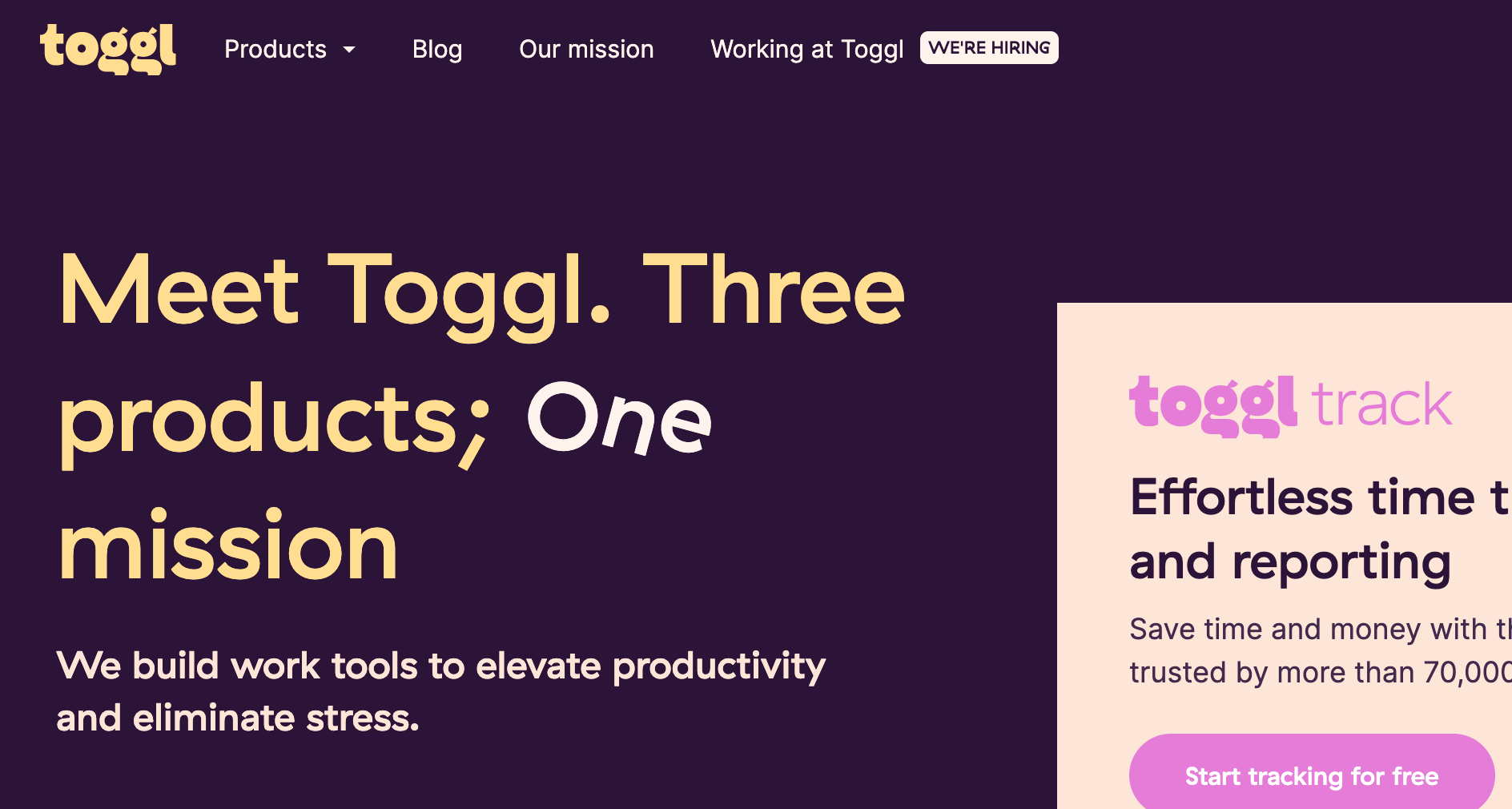 Tracking time with Toggl Track is intuitive as It allows you to seamlessly track time in the Linux desktop application. Toggl track comprehensively synchronizes data with the web version in a few seconds and can work offline too. Its time tracking procedure is simple and user-friendly.
Features:
Auto tracker, One-Click Timers, Background timer.
Time Rounding, Schedule reports to email, Saved Reports.
Insights, Billable Rates, Project Dashboard.
Email Tracking Reminders, Time Audit.
Integrations: Evernote, Jira, Gitlab, Salesforce.
Pricing:
Starter: $10/user/month.
Premium: $20/user/month.
Enterprise is customizable.
The free version is available for teams of up to 5 members.
👉 See our comprehensive list of  Toggl Alternatives in 2023.
4. Timecamp- Linux Time Tracking with Rising Project Profitability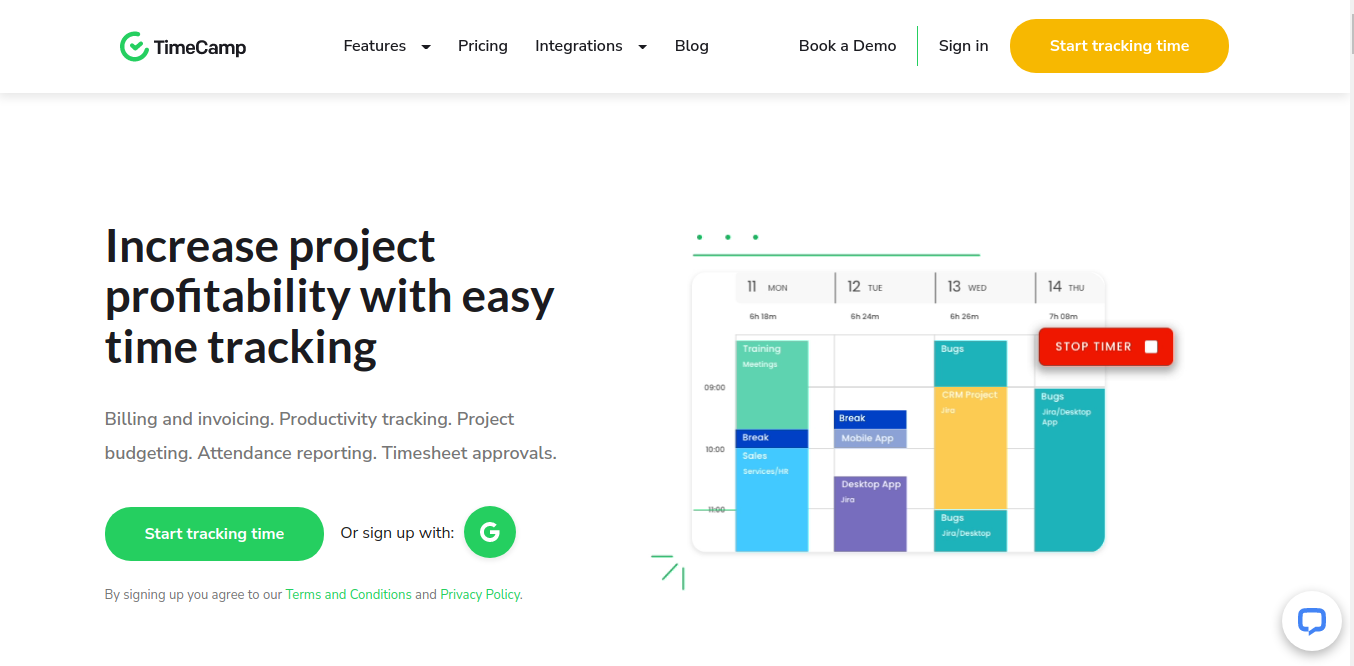 Known for its tracking capability of billable time, TimeCamp is a wonderful choice when it comes to tracking time on the Ubuntu desktop to ensure the project profitability bar rises. You can get a graphical timesheet integrated with a calendar and several integrations that might help you make the work processes a lot easier.
Features:
Project profitability, Productivity tracking, team's performance.
Insightful reporting, billable hour tracking.
One-click approval, effortless invoicing.
Attendance tracking, clock-in clock-out, Payroll automation.
Integrations: Outlook Calendar, Podio, Pipedrive.
Pricing:
Free: solo users.
Basic: $5.25/user/month.
Pro: $7.50/user/month.
Enterprise: contact the vendors.
👉 See our comprehensive list of Timecamp Alternatives in 2023.
5. Clockify- Free Team Time Tracker with Timesheet App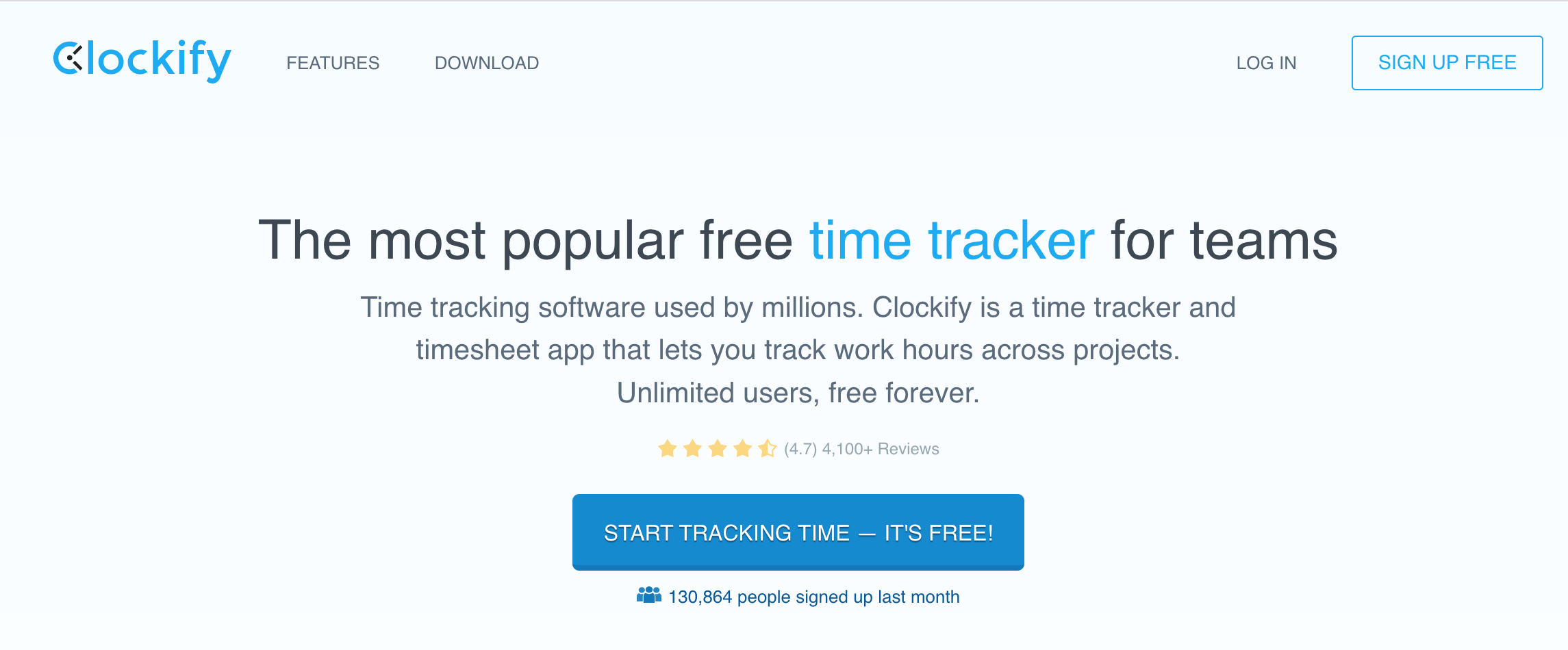 One of the finest in its core business, Clockify is a good choice for Ubuntu desktop time tracking to ensure optimized employee productivity in your workplace. Clockify helps you analyze the performance of the employees and generate reports based on that. Besides, it offers some valuable features that help to cut the system loss and stay efficient during office time.
Features:
Visualization calendar, Dashboard, and Timesheet export.
Location tracking, Routes, Screenshot monitoring.
Project rates, budgets, and alerts.
Scheduling, Milestones, Capacity, Assignments.
Integrations: YouTrack, Basecamp, Github, etc.
Pricing:
Basic (Administration): $4.99/user/month
Standard (Timesheeting and Billing): $6.99/user/month
Pro (Productivity & Profit): $9.99/user/month
Enterprise (Control & Security): $14.99/user/month
👉 See our comprehensive list of Clockify Alternatives in 2023.
6. Hubstaff- Easy and Accurate  Ubuntu Time Tracking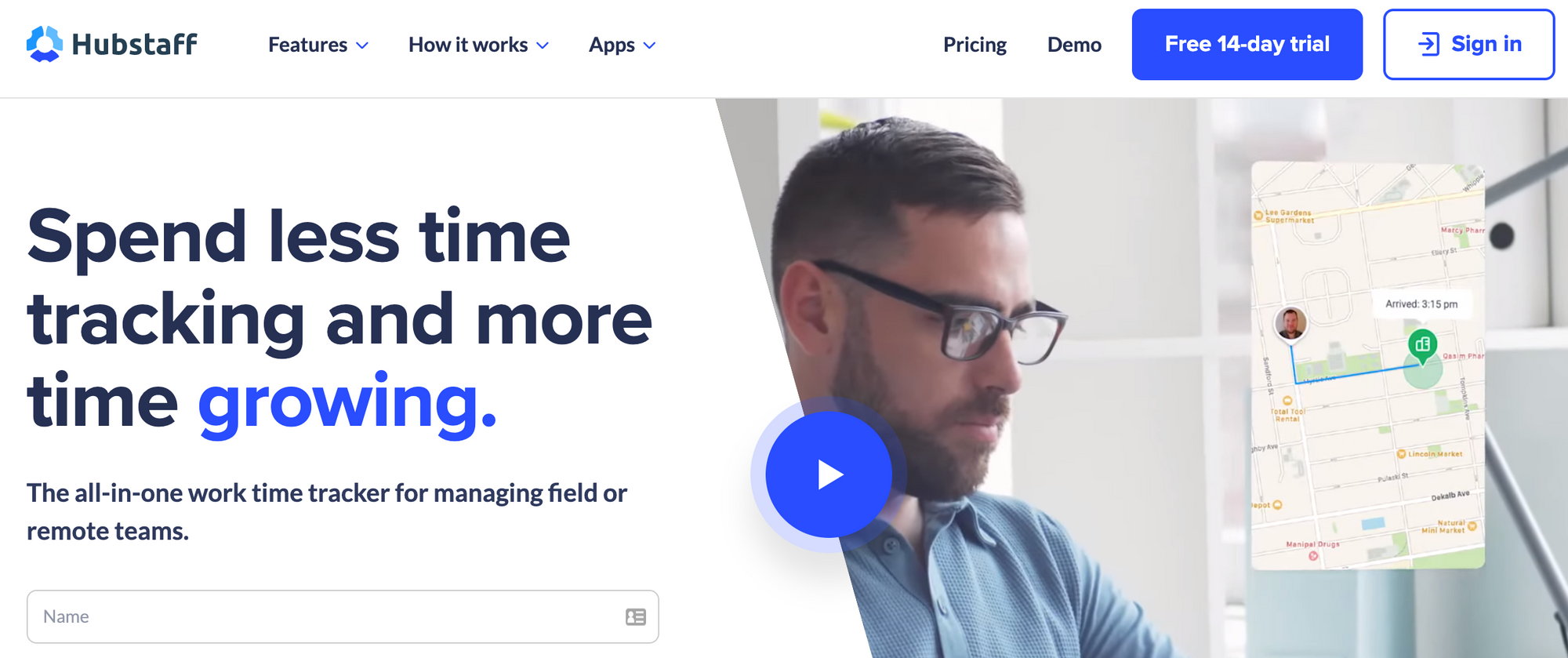 Hubstaff is a robust time tracking option if you have a workforce using the Ubuntu Operating system in general. Known for its myriads of features, Hubstaff is a strong contender for precisely tracking time, overseeing project performance, and driving employees to become the better version of themselves in terms of productivity and performance.
Features:
Pricing:
Free: for one user
Time- Starter: $7 per user per month
Time- Pro: $10 per user per month
Enterprise: Contact vendors
👉 See our complete list of Hubstaff Alternatives in 2023.
7. Klok Time Tracking- Personal Time Tracking Made Easy

Klok time tracking is another good choice for tracking time on the Ubuntu Desktop. It is a time tracker that tracks the time across multiple projects and generates reports based on employee performance. Being an Adobe air application, Klok time trackers' expertise lies in visualizing the time spent by the users and making the visuals eye-soothing.
Features:
Timesheet submission, meeting, invoicing.
Flexible client and project hierarchy.
Accurate team and project time tracking.
Visual display of time, Timesheet export.
Pricing:
Klok Pro Single User License: $19.99
Klok Pro – 3 User License Pack: $56.97
Klok Pro – 5 User License Pack: $89.95
Klokwork Team Console Single License: $99.99
Klok Pro – 10 User License Pack: $179.90
Klok Pro – 30 User License Pack: $479.70
8. Kimai - Open Source Free Time Tracking App for Linux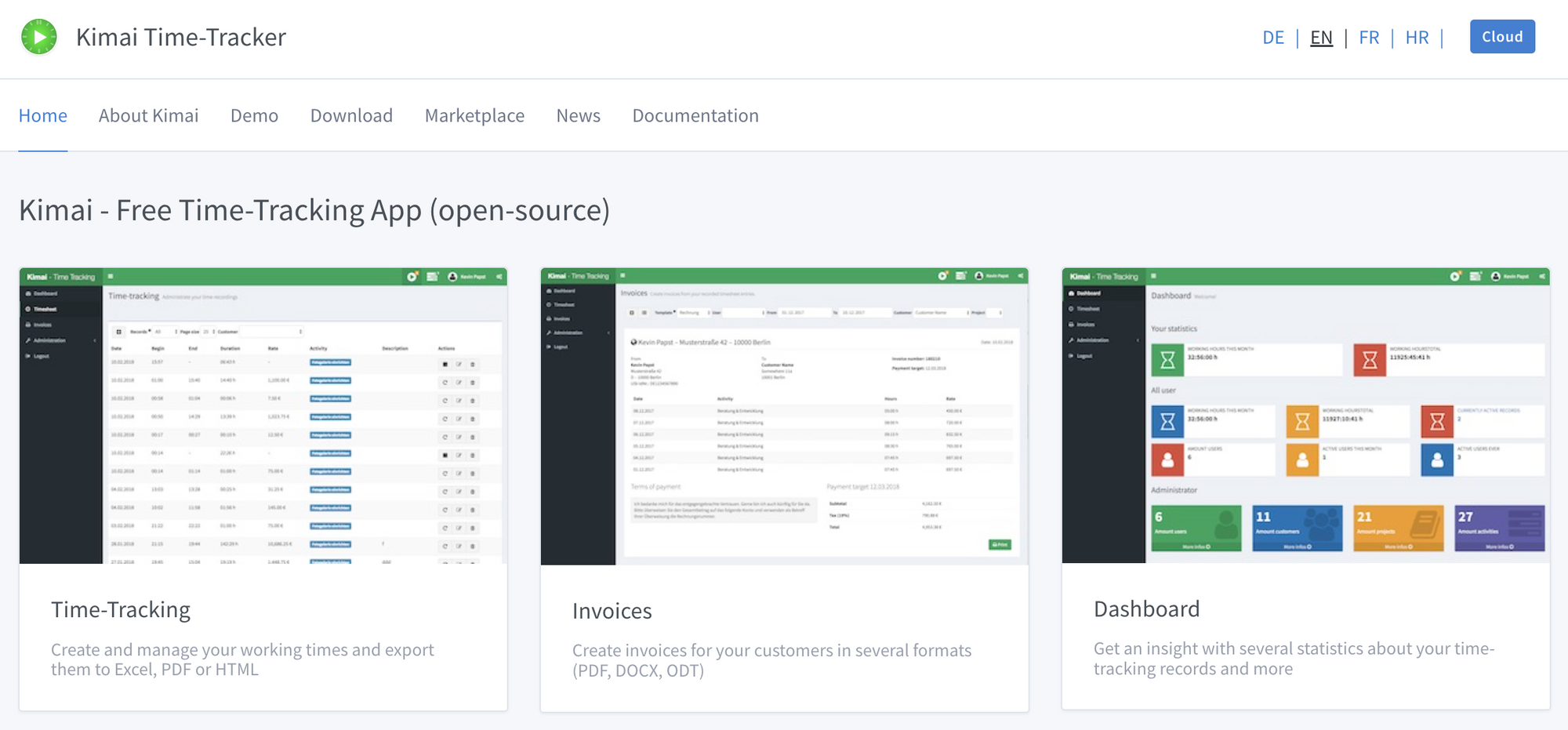 The open-source free Ubuntu time tracking software, Kimai can be considered a wise choice if you want to track your team's time and performance in the Ubuntu operating system. The feature list of Kimai is sufficiently large, which helps you pull up the productivity bar and tackle the risk of missing time on various tasks.
Features:
Invoicing, Activities, Projects.
Teams, Multi-user, Multi-Language.
Export Data, Expense, Statistics.
Docker, Migration, Limit Records.
Pricing:
Kimai is absolutely Free as it is an open-source free time tracker.
9. Hamster- Simple and Free Time Tracking App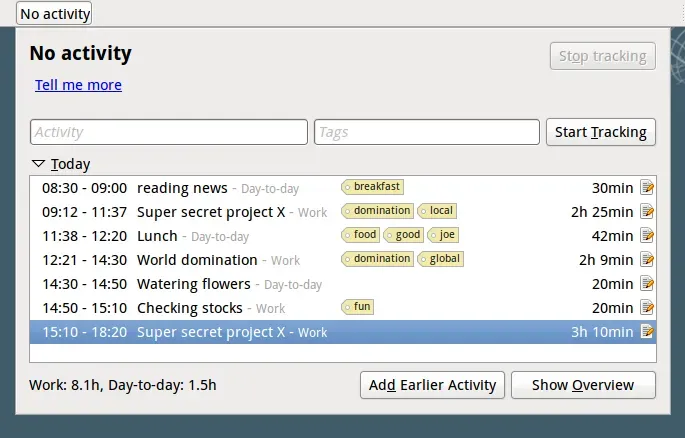 One of the simplest operations, Hamster, is a free time tracking app that helps you track time in the Linux-based Ubuntu operating system. Hamster offers you a handful of features and categorizes your tasks. It also helps the organization owners with adequate statistical data to make essential decisions on employee performance.
Features:
Invitation, Team sync, organization.
Custom Role, Domain Verification, Audit Log API.
Repo creation restriction, Notification Restrictions.
Projects, Labels, Milestones.
Pricing:
Like Kimai, Hamster is also free for all!
10. actiTIME- Smart Time Tracking Software for Reaching Heights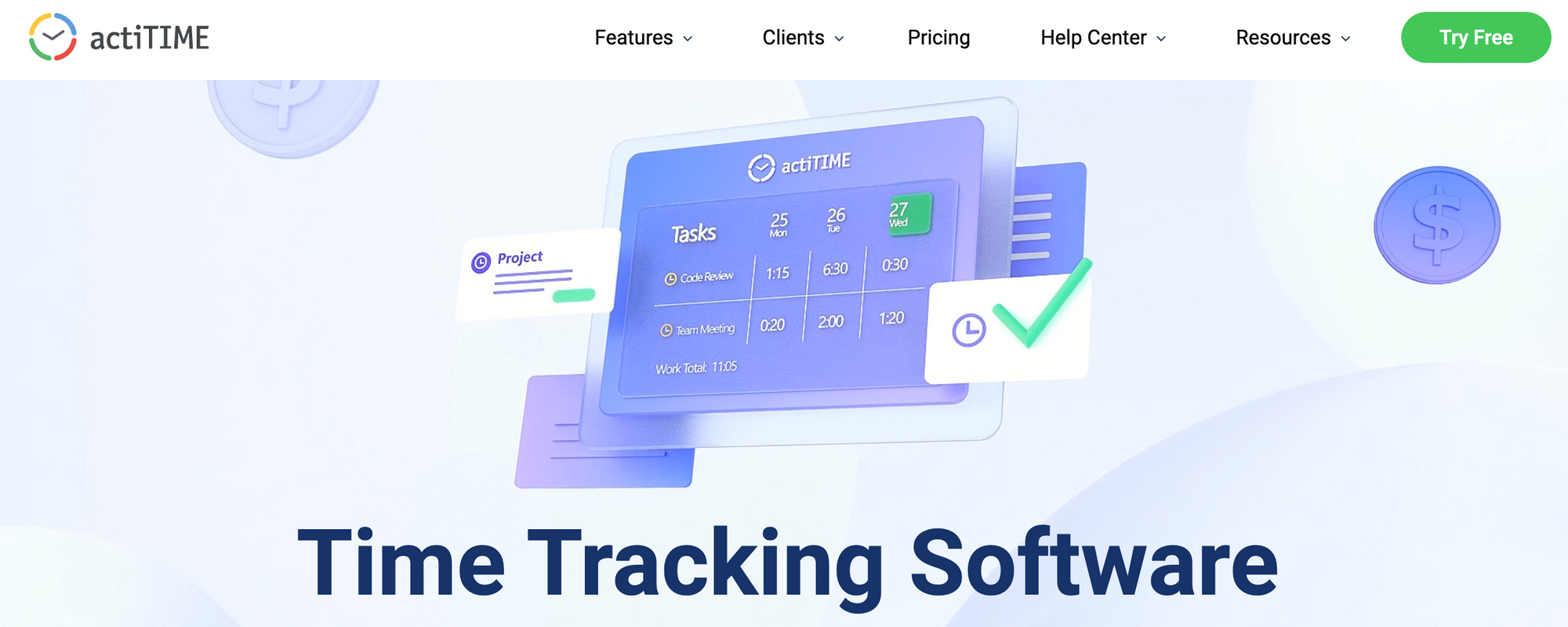 actiTIME is one of the most delicate time tracking software, useful for tracking time in the Ubuntu operating system. It helps the businesses keep their remote employees adhering to the approaching deadlines and support the overall productivity of the workplace to expedite further. If you own a company that wants to reduce time monitoring efforts and make a calculated decision based on the generated information, it is a grand choice for you.
Features:
Performance analysis, Workflow management.
Financial Reports, Data Visualization.
Time tracking, Web timesheet.
Reports and Data Analysis, Project tracking.
Pricing:
Free: for 1-3 users
actiTIME Online :$6/user/month
actiTIME Self-Hosted: $120/user/month
👉 See our comprehensive list of Actitime Alternatives in 2023.
11. Arbtt- Cross platform Rule-based Time Tracker
Arbtt can be chosen as an option for tracking time in Ubuntu operating system, a time tracking software renowned for its adherence to the rules. It is a cross-platform time tracker best for background time tracking and keeping continuous log files.
Features:
Background time tracking, Data investigation.
Built-in command-line statistics generator.
Pattern revelation on activities and projects.
Pricing:
Arbtt is a free time tracker. However, you may need coding knowledge to track time in Arbtt.
12. TimeSlotTracker- Simple and Useful Time Tracker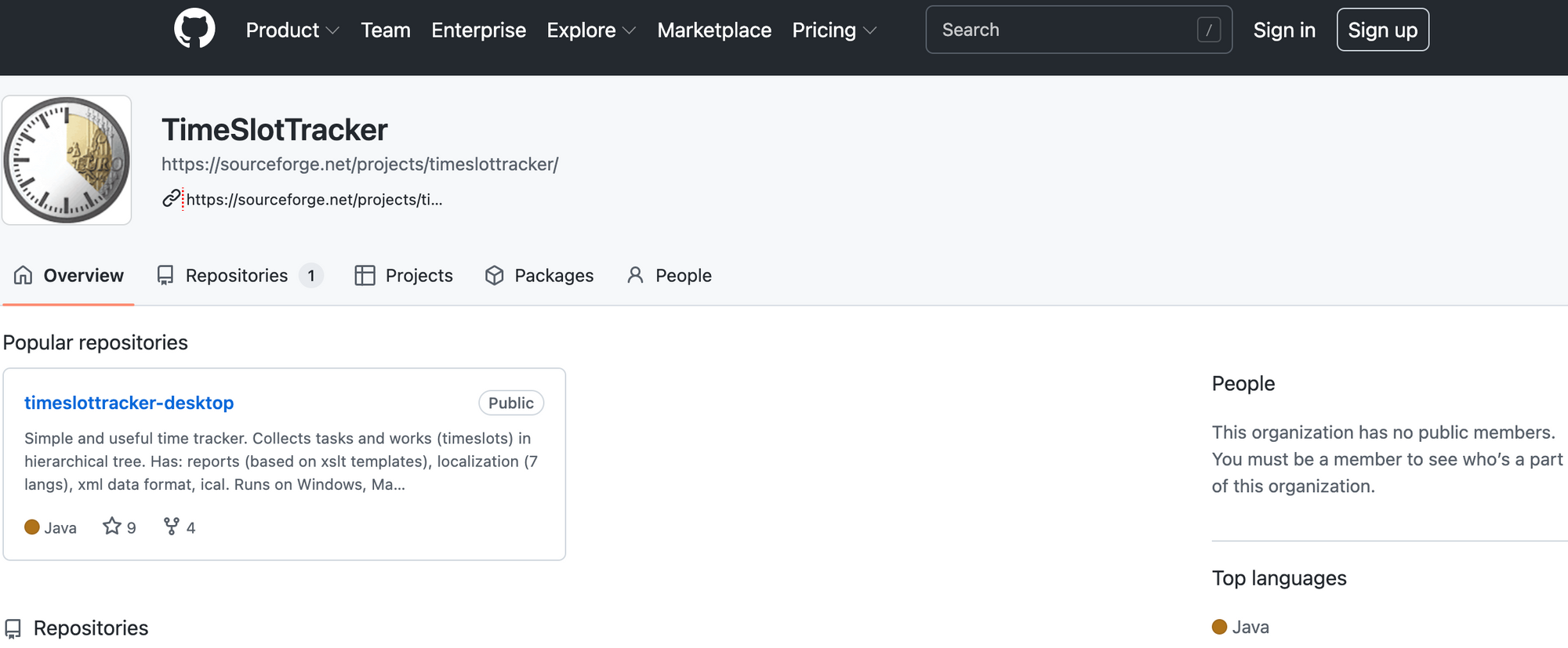 Another tech-savvy tool helpful in tracking time in Ubuntu operating system, TimeSlotTracker, needs programming knowledge to operate. You will be able to get your data in an HTML report, XML data format, localization in 7 different languages, and sync TimeSlotTracker with iCal.
Features:
Time tracking, Hierarchical task tree.
Predefined and custom reports.
Jira and iCalendar support.
Pricing:
It is a free Ubuntu time tracker, and you can help the TimeSlotTracker to develop the app further.
13. TrackingTime - Time Tracking with Most Flexible Reporting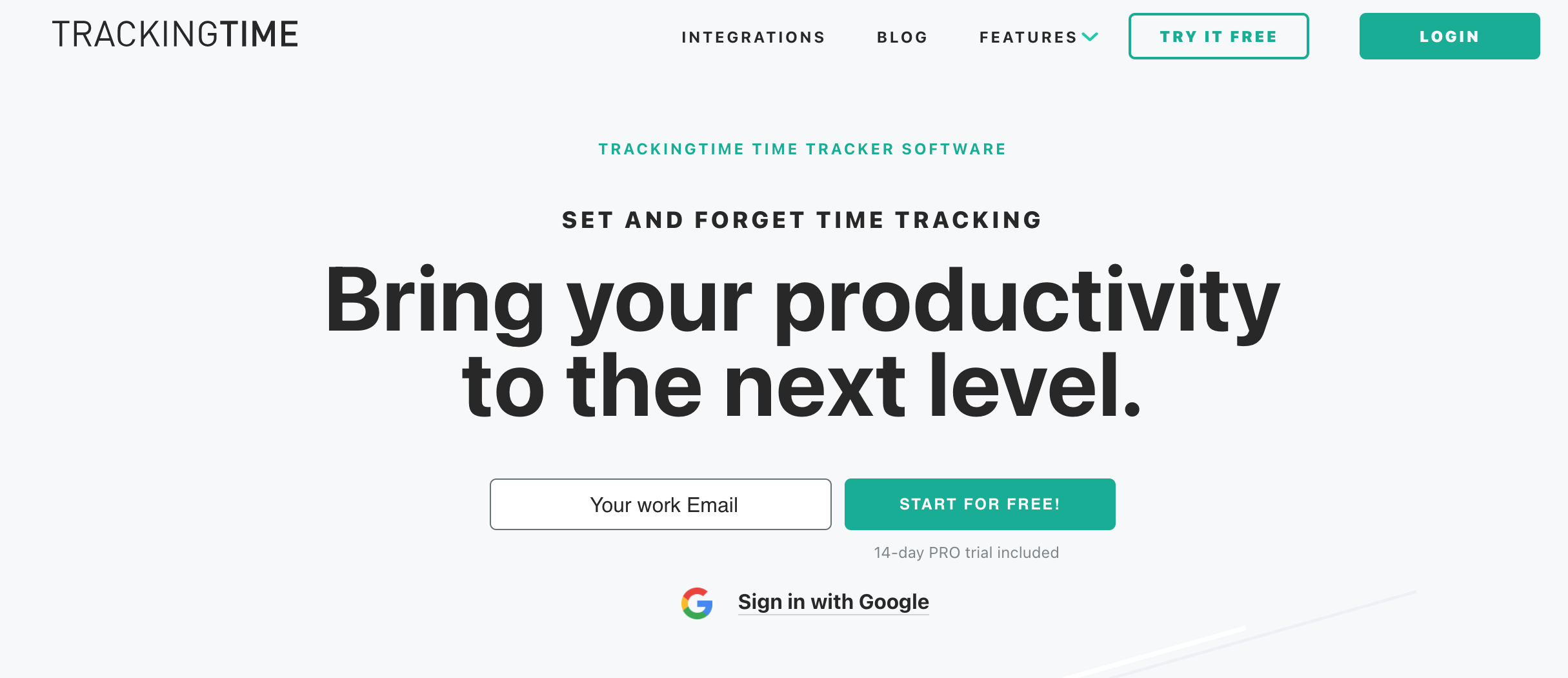 TrackingTime is another good choice for Ubuntu users, but it is used as a chrome app in the Linux system. So, working on Google Chrome during the operation is necessary. The core expertise of this tracker is its flexible reporting system with functional one-click time tracking. It can also be used as a background app.
Features:
Edit & enter manual time, clock in and out.
Breaks and overtime estimation, absent reporting.
Professional reporting, Team's productivity, and Employee attendance control.
Pricing:
Free: Up to 3 users.
Pro: $7/user/month
14. GnoTime - Keep your projects under "Timing Control"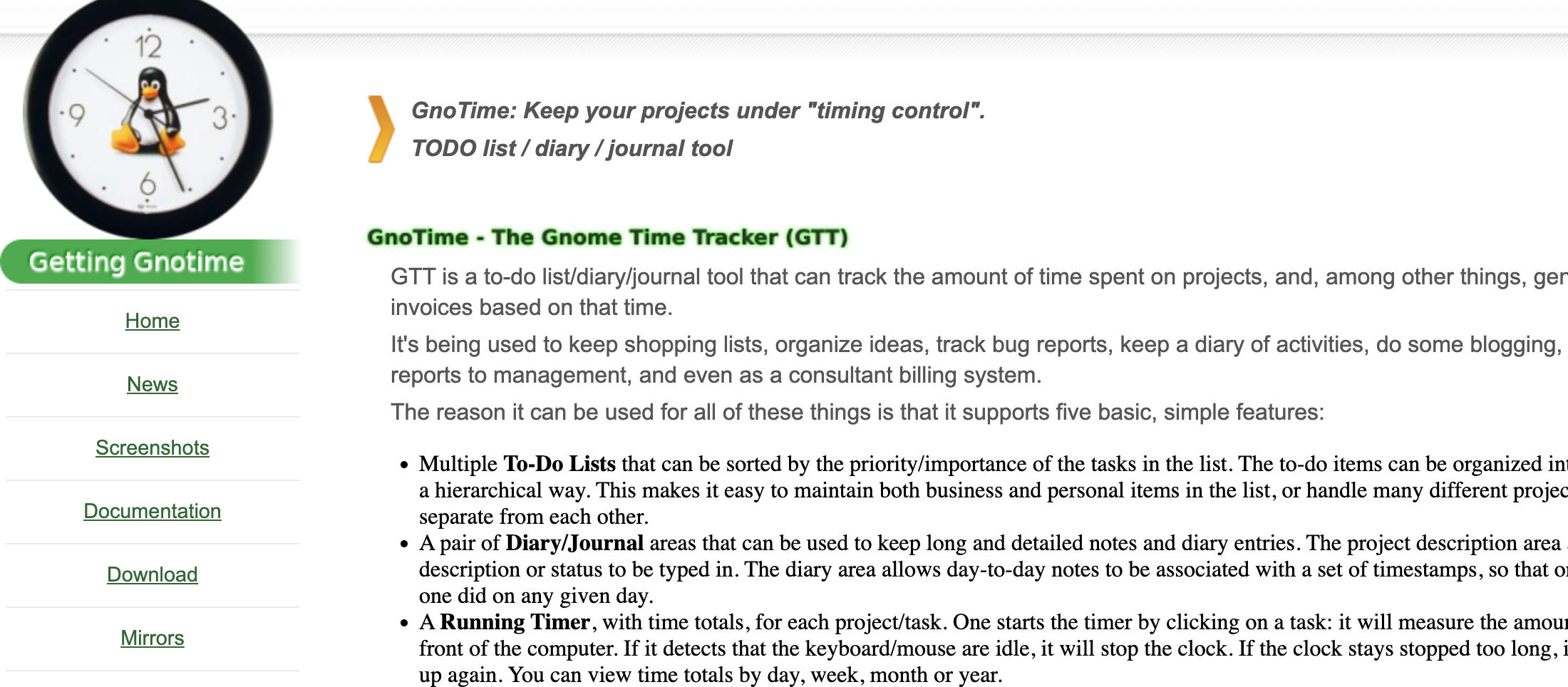 GnoTime is a basic time tracking software, but it can serve its purpose very well in the Ubuntu operating system. It is basically a hierarchical to-do list time tracker that tracks time across tasks and projects. It can also be used as a consultant billing system.
Features:
Multiple To-do list, A pair of diary/journal.
Task timer, Billing status, idle time detection.
Urgency ranking, HTML reports.
Pricing:
No information is available on GnoTime pricing.
15. Quidlo Timesheets- Simple Team-Based Time Tracking for Ubuntu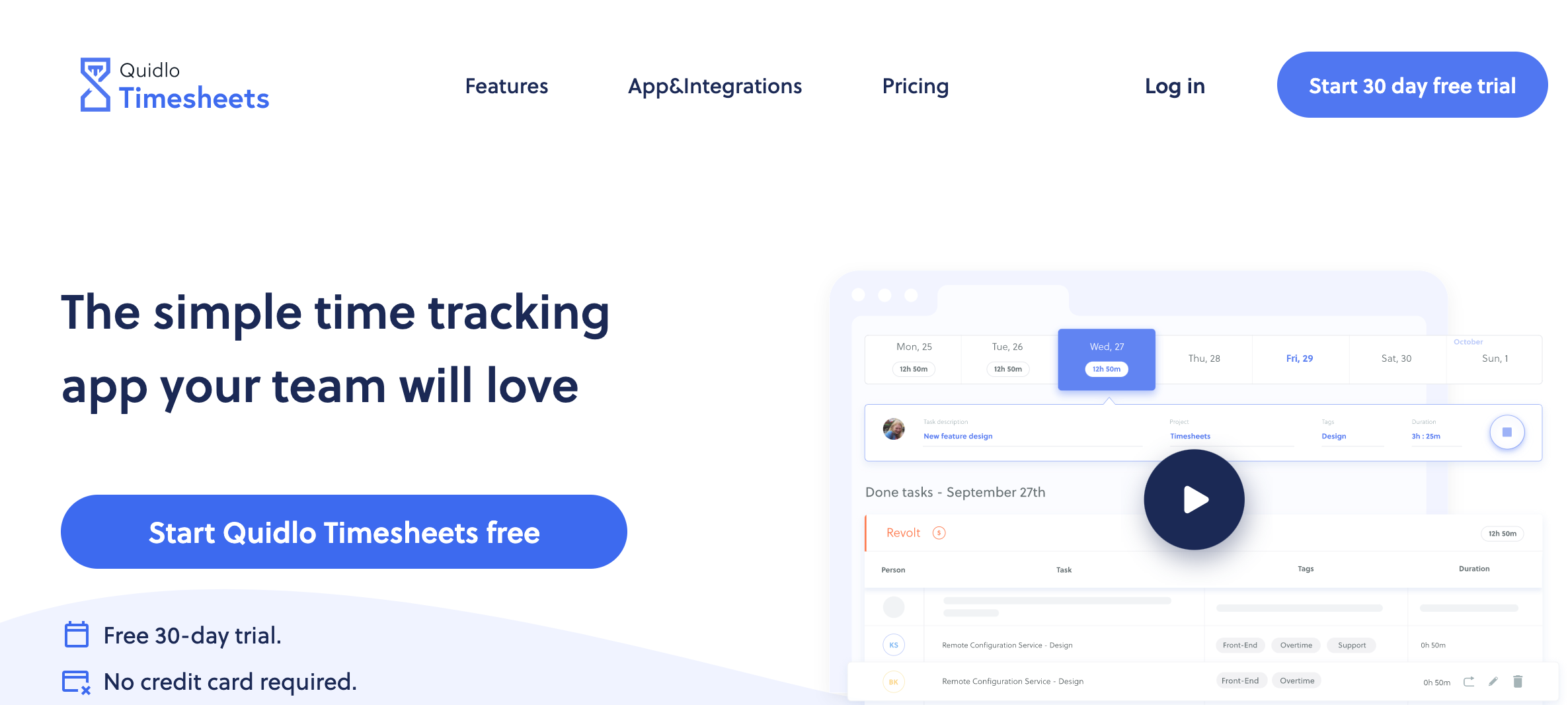 Quidlo Timesheets is the last recommendation on our list. It is effortless to operate and control from the users' end. Quidlo Timesheets offers a handful of features and is very intuitive at operation. You can send mobile reminder notifications through Quidlo Timesheets and work on the web, desktop, and mobile (Android & iOS).
Features:
Time tracker, Reports, Projects.
User and roles, Timesheet management.
Integration: Google Assistant, Siri, Amazon Alexa, Slack etc.
Pricing:
Starter: $0/month/10 users
Pro: $39/month/Unlimited users
Custom: Business solution

Conclusion
So, which one of the above Ubuntu time trackers do you want to check out?
Select the best Ubuntu time tracking software at the very top of the list and discover your team's potential with the magical touch of productivity. Yeah! We are talking about Apploye!
You can still consider the others based on your requirement. Still, Apploye could easily fit into organizations that might want everything regardless of budget or a budget-constrained cost-effective solution.
So, analyze and finalize. Let a suitable time tracker for your Ubuntu user base do the magic in your workplace!