14 Best Virtual Team Communication Tools (Pros, Cons & Pricing) - 2022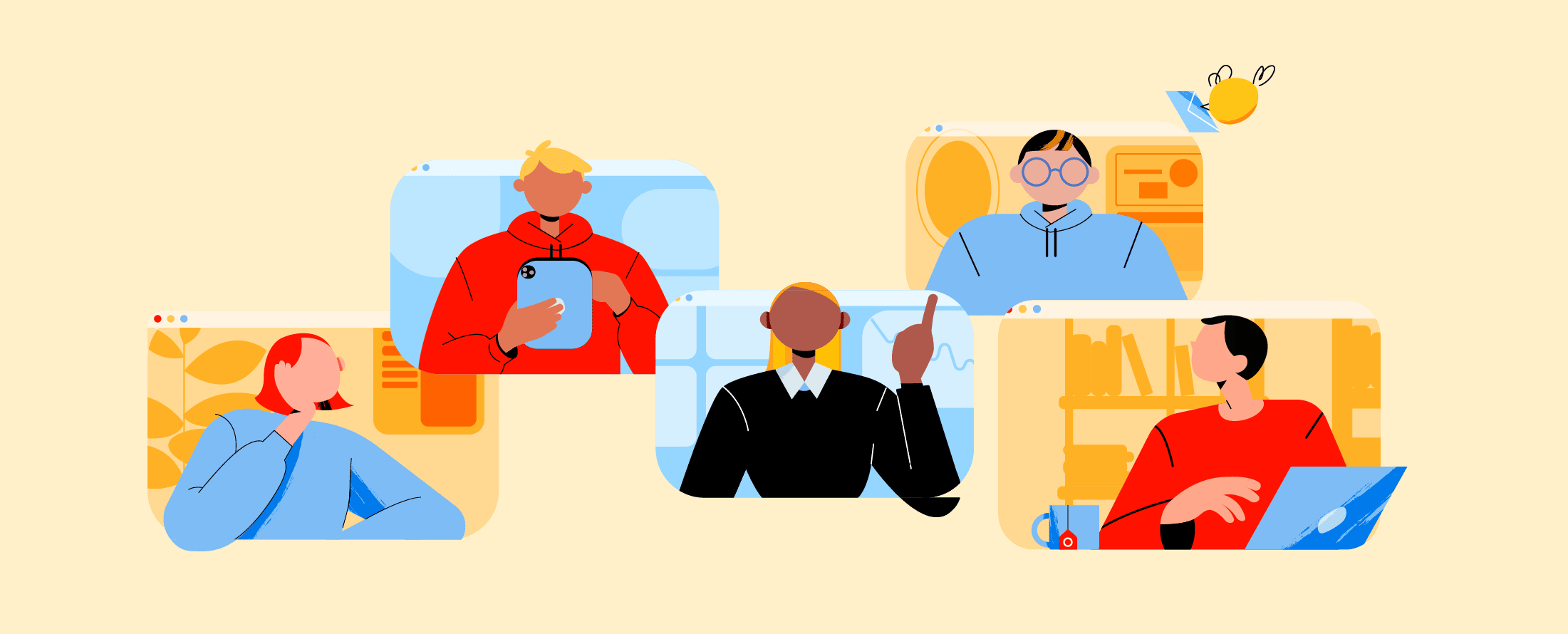 How often do you get stuck in meetings where everyone seems to be talking over each other? Or maybe you've had a meeting where no one seemed to contribute anything new or useful?
Communication is key to success in every aspect of life and business.
Whether you're working at home or in an office, being able to communicate effectively with your colleagues is essential. With the rise of virtual teams, it's becoming increasingly important to stay connected and collaborate effectively.
If you're looking for ways to improve communication within your team, these 14 virtual team communication tools might be able to help.
What Is Virtual Communication?
Virtual communication is an online form of communication that does not require physical presence at the same time.
This type of communication can be done using any technology, including:
Text messaging
Instant messaging
Video chat
Social media
Email
Web conferencing
Business communication is an essential part of any organization.
Not only across stakeholders but also within your team. It helps team members understand each other better, make decisions together, and ultimately work better together. Increased productivity within your team will lead to faster and better quality results. What more could you want?
In today's world, most people are working remotely from their homes. Some even choose to work from coffee shops or restaurants. So how can we expect them to perform well if they don't have access to proper communication channels?
Here are just some of the many challenges faced with virtual team communication:
Different Time Zones
Communicating in an office is easy, you can just walk over to a person and have a conversation with them. However remote offices pose a new problem and it is an even bigger problem when your team members aren't even living in the same time zone.
You need to find an effective way to communicate across time zones so that everybody is still kept in the loop.
Harder To Interpret Body Language
Yes, at least with virtual communication there is usually a copy of your conversation to refer back to but does it outweigh the fact that there is little to no face-to-face communication? You could organize a video call or web conference but even then it is hard to interpret someone's body language.
Lack Of Company Culture
Being in an office together every day facilitates a bond between all your workers and allows for a positive company culture to develop. Working remotely makes it harder to establish this kind of relationship.
There is less opportunity to interact with others on a daily basis which leads to a lack of a sense of community.
Difficulty In Managing Conflict
Conflict resolution is something that comes naturally when you are physically present. But when you are working remotely, you may feel more comfortable avoiding conflict altogether. The result is that conflicts go unresolved and eventually become toxic.
Employees Are More Distracted
When you are going into an office every day, there is nothing (except maybe your mobile phone) to distract you. But at home, there is plenty.
The plumber ringing on the doorbell, the laundry cycle beeping away and hungry children nagging you in your ear to name a few.
Poor Wifi Connection
Even if you have all the tools and processes in place to make your virtual communication as efficient as possible you still face one big issue - Wifi.
Wifi connection and functionality differ vastly from country to country. If your team members live in different parts of the world, they will definitely need to invest in high-speed internet connections in order to keep up!.
Virtual teams are here to stay.
They are becoming increasingly popular, especially among small businesses who want to cut down costs by reducing the office space they need.
This means that companies must adapt to these changes and come up with ways to effectively manage their virtual teams.
There are many ways to improve virtual communication such as making sure everyone has access to a webcam, microphone, and wifi, encouraging internal messaging, having a regular team games night, and having regular weekly meetings.
But what about those employees who are not able to attend meetings because they are traveling or busy doing other things? How do you ensure that they are still included in the important discussions?
The answer is quite simple: you don't (well not in person at least).
Instead, you should use some sort of virtual meeting software to allow your team members to participate in the same way as those who are physically present. To help you do this, we have put together a list of the best virtual team communication tools.
Top 14 Best Virtual Team Communication Tools
There are many different types of tools for virtual communication and collaboration available today.
Project management tools allow for the creation of projects, task tracking, activity updates, employee time management, and much more.
Instant messaging tools facilitate real-time communication between team members. You can quickly send a message to any team member no matter how big or small the reason.
Video conferencing tools are the closest alternative you'll get to an in-person interview. Video meetings are great for conducting interviews, remote training sessions, and presentations.
File sharing tools make it easy to share files and documents with each other. Plus you can often leave comments and notes on the files that can then be viewed and replied to by other team members.
Visual collaboration tools are a useful form of communication tool for anyone in the creative industry - particularly designers. These tools allow you to communicate visually with aids such as diagrams, mockups, and presentations using images, text, shapes, and even video that can then be commented on and worked on together.
As you can see there are many different types of tools available to facilitate virtual communication. Which type you choose should be based on the needs of your company (and your budget of course). Now let's have a look at some of the best tools on the market.
1. Monday.com
Monday.com is a web-based project management and customer relationship management (CRM) tool designed specifically for remote workers.
It allows users to set up tasks, track progress, assign due dates, and view reports.
Users can also add attachments, collaborate on projects, and comment on each other's work. Monday.com offers free accounts but requires a paid subscription if you need additional features.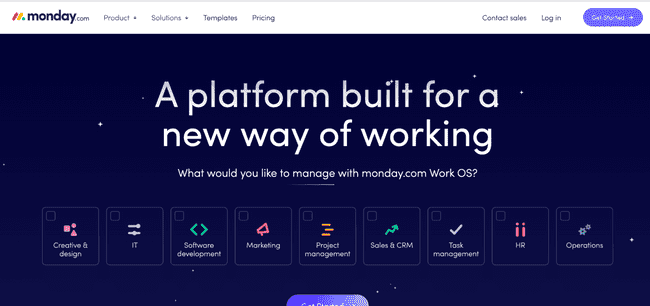 Source: monday
Pros
Easy to use
Customizable automations
Integrates with all your favorite tools
Exceptional user interface
Cons
The mobile version isn't quite up to speed yet.
Price
Free version
Paid plans range from $24 - $48 per month depending on the features you are looking for and the number of users you wish to link.
2. Avoma
Avoma classifies itself as a meeting intelligence software.
What Avoma does is record, transcribe, and then summarize your meetings so that they can be referred back to in the future or so that anyone that missed the meeting can catch up on what was said in their own time.
This functionality also makes for a much more collaborative meeting space!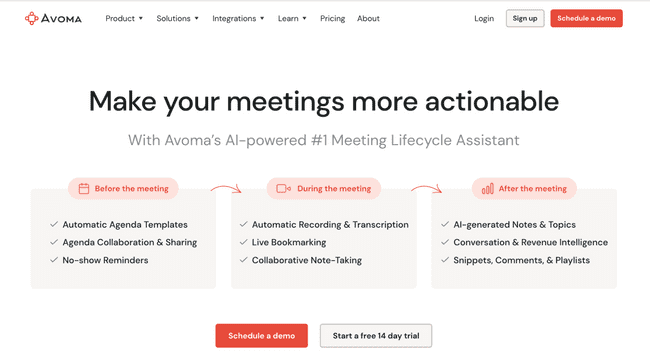 Source: avoma
Pros
Cons
No functionality for recording in-person conversations
Price
Free Version
Paid plans range from $20/user/month - $105/user/month
3. Chanty
Chanty team chat app is an easy-to-use app that provides many different ways to stay in touch. It allows you to communicate with your team using text messages, voice calls, video calls, and even screen sharing.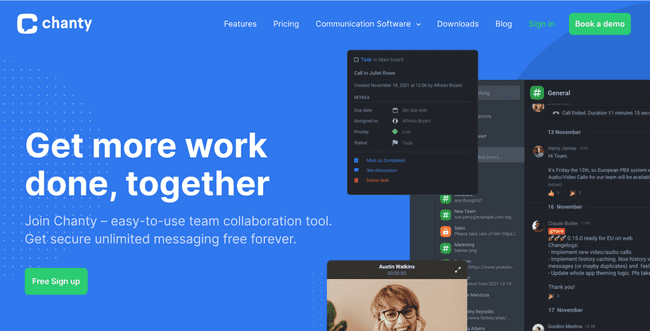 Source: chanty
Pros
Project management features
Ability to quickly turn messages into tasks
Unlimited search history
Plenty of integrations
Affordable
Cons
Lack of advanced customization
Price
Free plan
Paid plan: $3/user/month
4. Google Meet
Google Meet is Google's video conference solution that allows you to connect with others over the internet without having to install any extra software.
You simply open a browser window and enter a URL where you want to meet. Once connected, you can talk face to face , share screens, and present slideshows.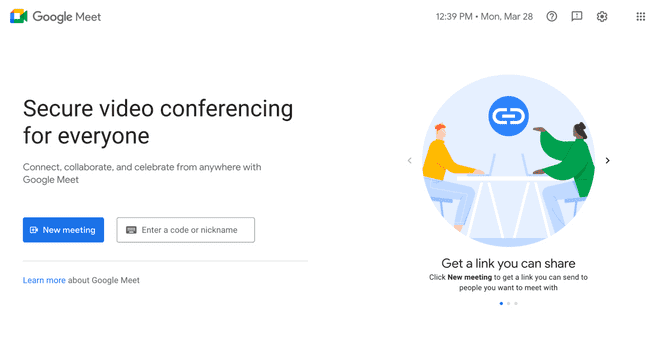 Source: google meet
Pros
Simple to use
Works well with Google Chrome
Allows you to join from anywhere
Can be used on multiple devices simultaneously
Cons
Not always reliable
Requires a Google account
Price
5. Stormboard
Stormboard is a cloud-based online whiteboard and collaboration platform that helps teams create a shared workspace online.
Stormboard allows you to manage documents, spreadsheets, presentations, and forms. You can also invite people to collaborate on these files. All this happens within one central location.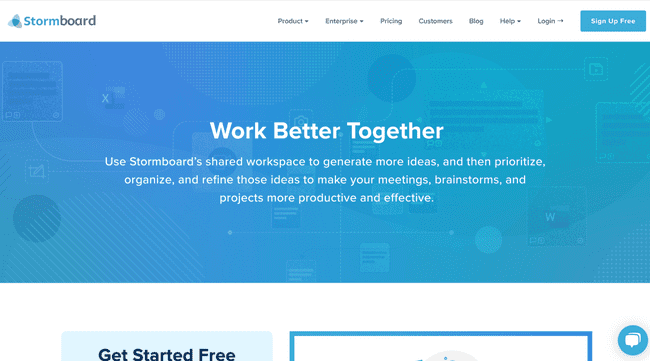 Source: stormboard
Pros
Easy to use
Allows you to collaborate on large files
Supports document editing
Allows you to organize your content
Great for brainstorming
Cons
Doesn't allow file storage
Limited integration options
Limited color customizations of interface
Price
Free
Paid plans range from $10/user/month - $16.67/user/month
6. Trello
Trello is a project management and visual collaboration tool that allows you to work together on projects by creating boards and adding cards. Trello has two main sections: Boards and Cards. A board is like a folder where you can add cards to it.
Each card represents something that needs to be done. Trello uses checklists to help you complete each task and stay on track of your work.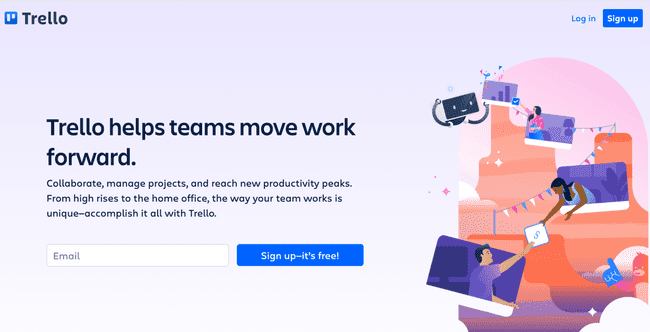 Source: trello
Pros
Extremely customizable
+100 integrations
Easy to use
Easy to set and keep track of deadlines
Cons
Lacking in tutorials for effective use
Free version is lacking in features
Limited mobile app functionality
Price
Free version
Paid plans range between $5/user/month -$17.50/user/month
7. GoToMeeting
GoToMeeting is a web-based meeting application that enables users to conduct meetings through audio, video, and screen sharing. GoToMeeting offers free accounts as well as paid premium accounts.
The free version includes basic features such as scheduling, dial-in numbers, and recording. However, if you need more advanced features, you will have to upgrade to a paid account.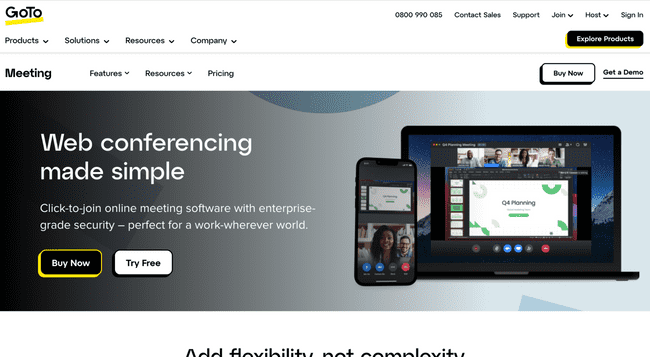 Source: goto
Pros
Excellent customer service
Integrates with other applications
Document sharing
Possible to host large meetings
Meeting recording and transcriptions
Cons
Price
Free (basic)
Paid plans range from$14 - $19/user/month
8. Slack
Slack is an instant messaging and team communication tool that allows you to communicate with coworkers while working remotely or collaborating on a project.
Slack integrates into your existing workflow so you don't have to learn anything new.
It provides real-time chat, group chats, direct messages, voice calls, and even text message notifications.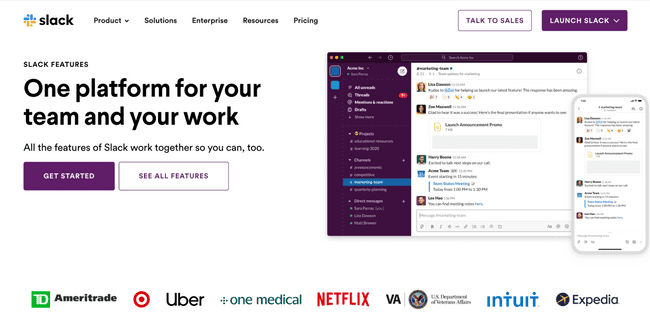 Source: slack
Pros
Instant messaging
Group chats
Text message notifications
Integrated with other apps
Real-time updates
File sharing
Cons
Limited file sharing
Lacking in customization
Price
Free version
Paid plans range from €6.25/person/month - €11.75/person/month
9. Zoom
Here is one tool we are sure you have heard of. Zoom.
Zoom is a web conferencing solution that allows you to connect with up to 500 participants at once.
This means you can hold conference calls with multiple people at the same time.
Zoom has four different pricing models: Basic, Pro, Business, and Enterprise. You can choose which model best fits your business depending on the number of participants you'll be hosting and the amount of cloud storage you need.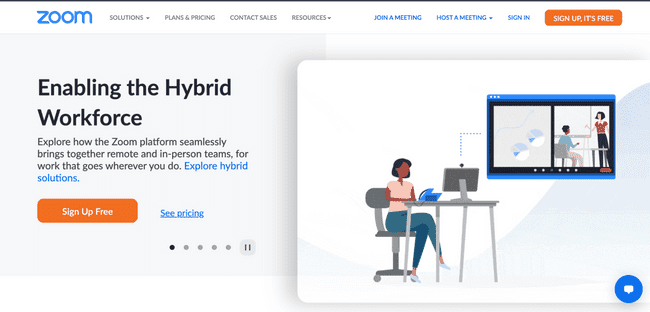 Source: zoom
Pros
Affordable
Can be used on any device
Easy to use software
Good customer support
Transcript recording
Cons
Not always reliable
Requires a stable internet connection
Price
Free version
Paid plan $149.90 /year/license - $240 /year/license
10. Asana
Asana is very similar to Monday.com. Asana helps to manage tasks, projects, and collaborate with others. With this tool, you can create lists, assign tasks to teammates, and get feedback on what's going on within your team and across your organization.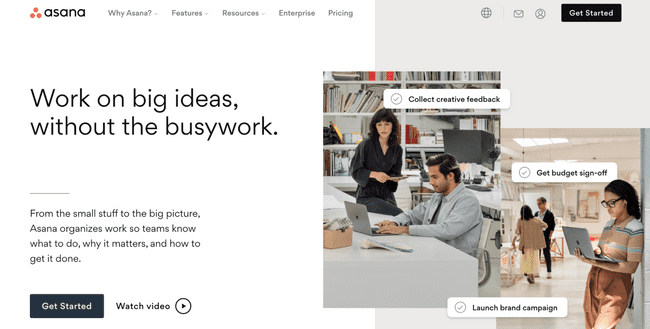 Source: asana
Pros
Allows for remote team collaboration
Great for managing projects
Task reminders
Cons
Long learning process
Lack of flexibility
Price
Free
Paid plans range from $10.99 - $24.99/user/month
11. Google Drive
Google Drive is Google's online drive for file sharing and storage. It is a cloud-based file system that allows you to store files and share them with others. Files stored in Google Drive can be accessed from anywhere using a web browser by anyone with access.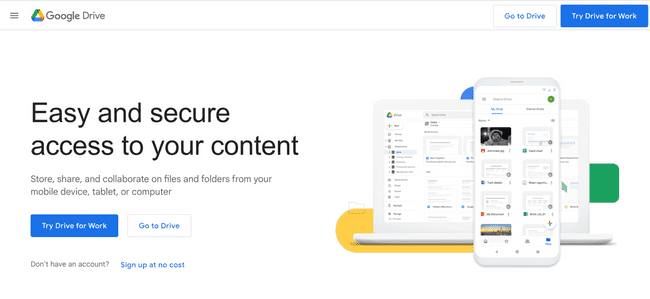 Source: google drive
Pros
Accessible from anywhere
Multiple file types supported
Shareable across devices
Cons
Needs an active internet connection
You need a Google account
Limited cloud storage with the free plan
Price
Free
Paid plan: $12/user/month
12. ClickUp
A tool like ClickUp is helpful as it allows you to easily schedule meetings and send out invitations to attendees. You can also set up custom agendas, add notes, and upload documents before each meeting.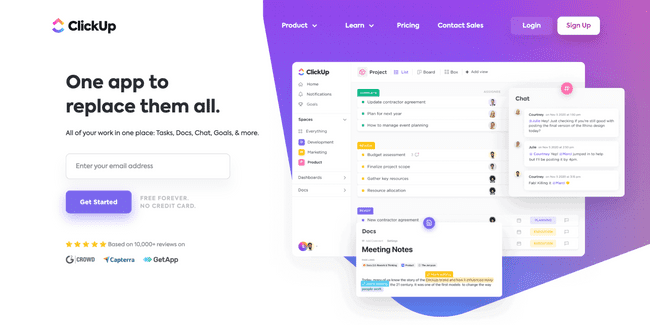 Source: Clickup
Pros
Easy to use and customize
Comprehensive onboarding videos
Plenty of integrations
Cons
Scalability is limited
Limited file sharing options
Price
Free trial
Paid plans range between $5 - 19/user/month
13. Lucid Meeting
Lucid Meeting is, you guessed it, a meeting software that allows you to host virtual meetings, conferences, and presentations.
Lucid Meeting is available via desktop, mobile phone, tablet, and web browsers. The platform is easy to use and offers plenty of features including screen sharing, whiteboard, audio, video, and chat.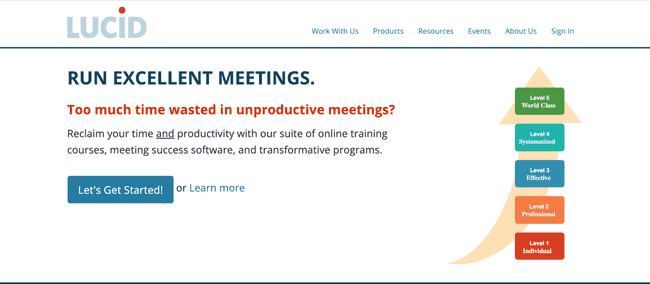 Source: lucid meeting
Pros
Offers great integration with other tools
Works well on all platforms
Has a variety of templates
Cons
Screen sharing not always reliable
No file sharing option
Price
Free
Paid plan: $12.50/host - $249/month
14. Miro
Miro is another tool that allows for visual collaboration (much like Stormboard). It is essentially an online whiteboard where your team can brainstorm ideas, draw diagrams, or record their voiceovers. Miro supports both Mac and Windows computers.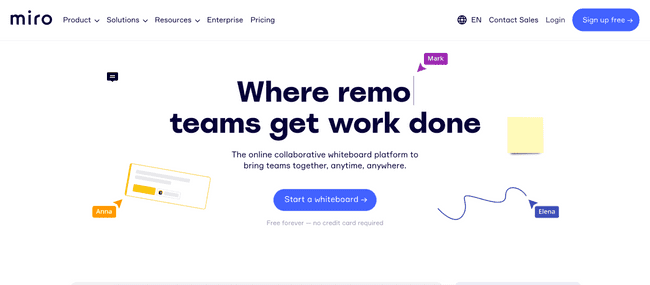 Source: Miro
Pros
Integrates with many applications
Viewable board history
Has a variety of customizable templates
Video chat is possible
Cons
Poor usability
Lacks robust sketching features
Price
Free
Paid plans range from $8 - $16/member/month
Conclusion
As you can see there are many virtual team communication tools available for you to use. Each one has its strengths and weaknesses, but they do offer some pretty cool features. Luckily most of them come with a free basic version so you can always try out a few until you find the one that works best for you!
Ultimately using a virtual communication tool is a great way to make your remote works feel more connected to each other, to you, and to the company.