Best Employee Monitoring Software in India (Top 5)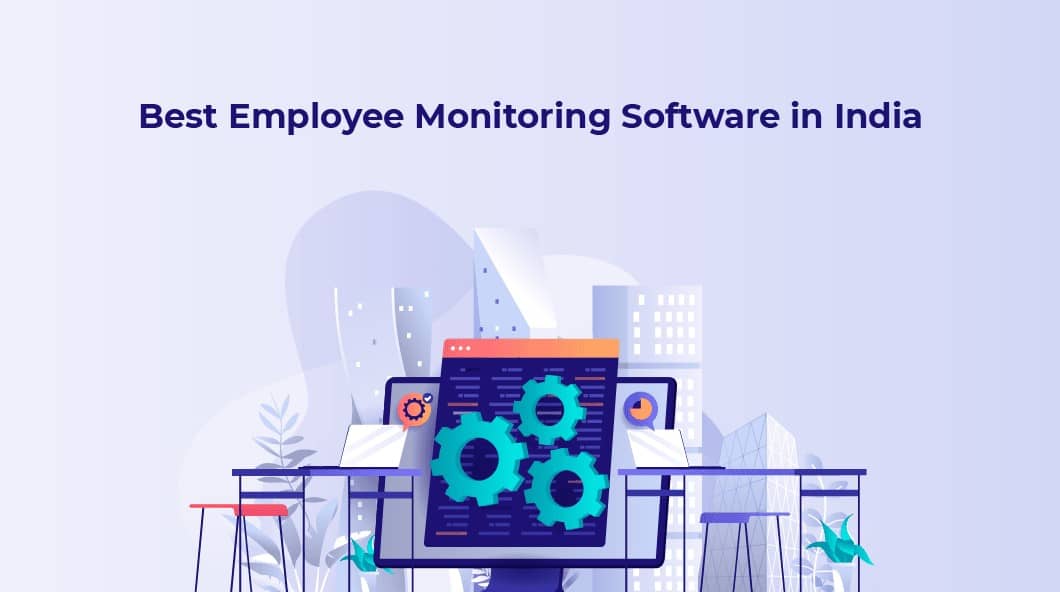 To be competitive in today's fast-paced digital environment, businesses must integrate technology into their processes. Employee Monitoring Software in India can boost your business. Moreover, India's IT industry is growing and its population is tech-savvy, so it uses this type of software more.
These technologies are more critical than ever due to remote work and difficulty managing big teams across locations. Employee monitoring isn't about suspicion or privacy violations. Instead, it's about increasing productivity, guaranteeing regulatory compliance, and securing firm data—essential for business growth..
In this article, we detail the Best Employee Monitoring Software in India. We'll look at various options on the market, talk about what makes them unique, and figure out if they match your requirement.
List of The Best Employee Monitoring Software in India: User Ratings and Pricing
Here is a list of the pricing plans for employee monitor software in India with the user rating:
Employee Monitoring Software
Rating out of 5 (Capterra)
Pricing Plans (Per user per month)
1. Apploye
4.9
Solo: $2
Standard: $2.5
Premium: $3
Elite: $3.5
2. VeriClock
4.7
Only one plan: $5
3. TimeDoctor
4.5
Basic: $5.9
Standard: $8.4
Premium: $16.7
4. Hubstaff
4.6
Desk Starter: $5.83
Desk Pro: $8.33
Enterprise: Contact Sales
5. Desktime
4.5
Pro: $6.42
Premium: $9.17
Enterprise: $18.33
6. Workstatus
4.5
Contact sales
Which employee monitoring software in India will be best for me?
Considering the rapidly evolving work culture, choosing the right employee monitoring software in India depends on several factors. Here are a few key aspects to keep in mind before making your decision:
Rich in features: Choose software that provides real-time tracking, tools for analyzing and boosting productivity, and robust data security. You can guarantee optimal effectiveness and data security in this way.
User-friendly Interface: Give preference to software that is simple to use. A user-friendly interface will promote quicker learning and faster benefit usage.
Privacy Compliance: Ensure the software you select complies with national and international privacy rules. This is essential to stay out of legal trouble and to keep your employees' trust.
Customer Support: Software that offers efficient and timely customer support is a good choice. This will guarantee prompt problem-solving and avoid significant operating disruptions.
Cost-Effectiveness and ROI: The software you choose should increase productivity, improve data security, and facilitate performance management to return the initial investment.
Scalability: Your software should grow together with your company. Select a solution that can accommodate an expanding workforce without sacrificing performance.
Integration Capabilities: The software you choose should smoothly integrate with other programs and devices your business employs.
Data Analytics and Reporting: Look for thorough reports and data analytics. This will encourage productivity and help informed decision-making.
Reliability: Ensure the software is dependable and up-to-date with little downtime to prevent monitoring interruptions.
Trial Period: Lastly, pick the employee monitor software with a trial term. This lets you test the software before buying it and see if it fulfills your needs.
Review of Top Employee Monitoring Software Solutions in India
1. Apploye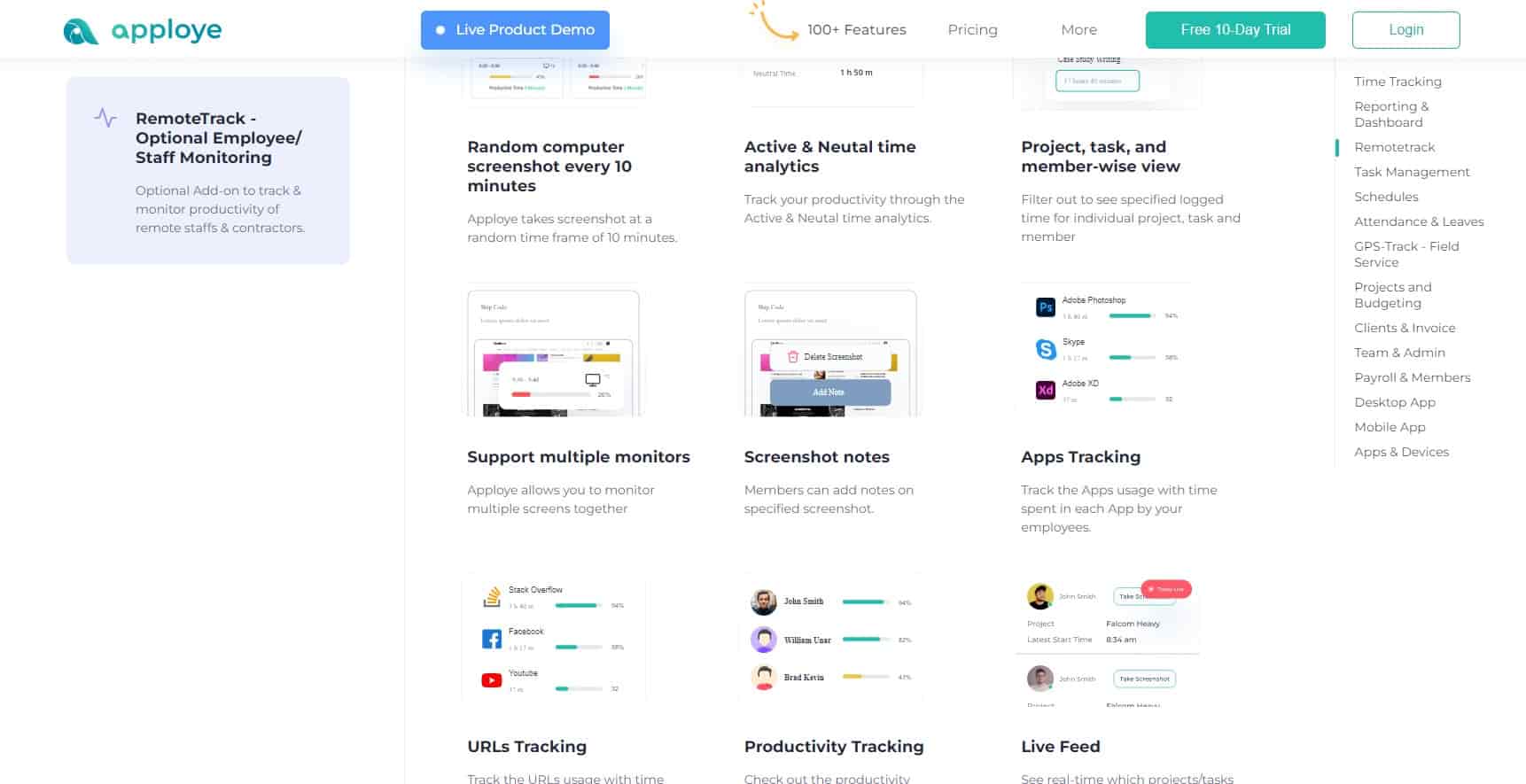 Apploye is one of India's leading employee monitoring and time-tracking apps. It offers comprehensive time tracking solutions for desktop and mobile applications. You can easily manage projects, tasks, and budgets efficiently.

As a part of remote employee monitoring, Apploye provides live feed and instant screenshot features to monitor employees' tasks and progress in real-time​​. You can make data-driven decisions with its reporting and dashboard capabilities. Besides tracking time on desktop, mobile, and web with unique features like idle time reminders and GPS tracking for field staff.

Used by over 1500 organizations worldwide, it's a trusted solution for employee monitoring for Indian organizations, managing work hours, and enhancing productivity​.
Prime features of Apploye
Time Tracking
Timesheet Approval
Employee GPS tracking
Projects and Budgeting
Employee Screenshot Monitoring
Employee GPS tracking
Reporting and Dashboard
Clock in & Clock Out
Let's explore Apploye's employee monitoring features tailored for Indian businesses

Foster Collaborative Transparency by Screenshot Monitoring of remote employees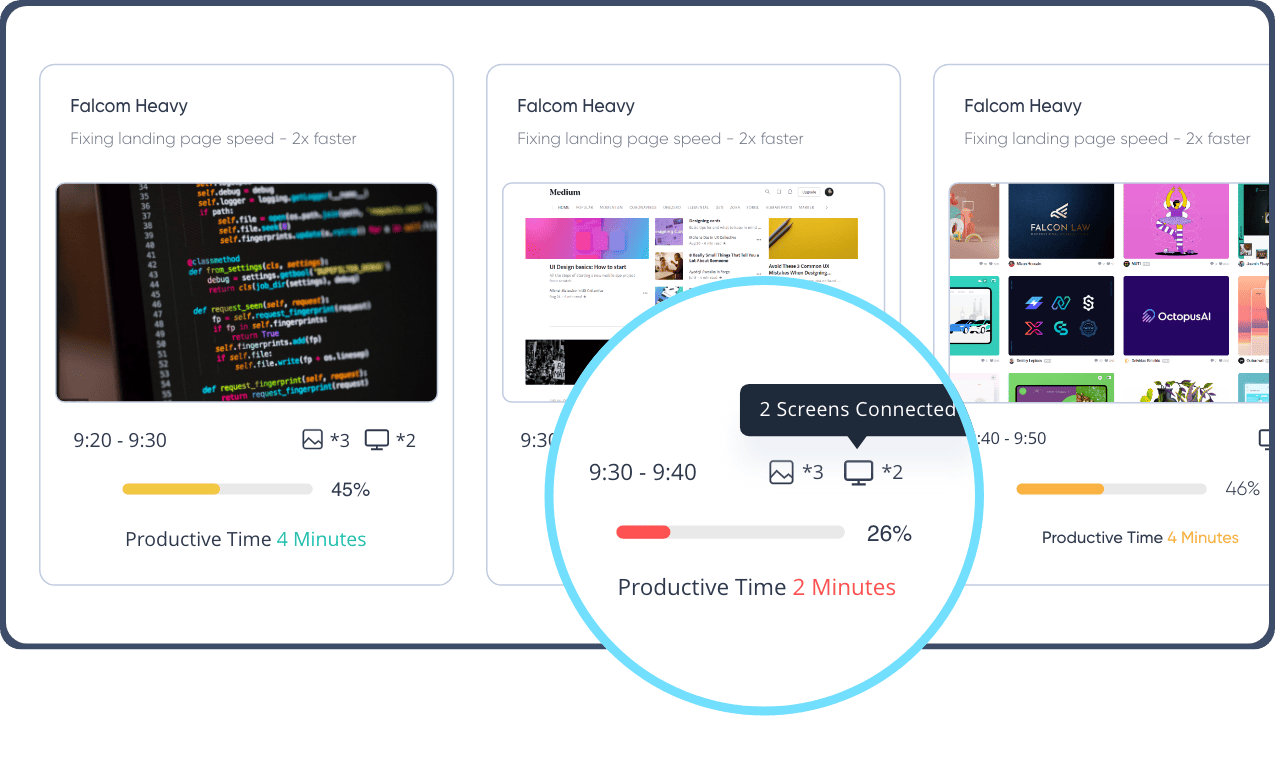 Promote accountability and openness in India's diverse work cultures with screenshot monitoring. This feature shows real images of how time and resources are effectively used, offering a clear view of work progress. Screenshot monitoring is an integral part of remote employee monitoring software in India.
Elevate your remote workforce management with the invaluable insights offered by Apploye's screenshot monitoring. Random computer screenshot every 10 minutes. Moreover, it will help you get a complete picture of employees' activities with instant screenshots.
Live Feed of Employees
With the Live Feed feature of Apploye, you can see who is working on what right now and what they are working on. It also lets you see when their current work session started.
Apps and URL Usage tracking of your remote employee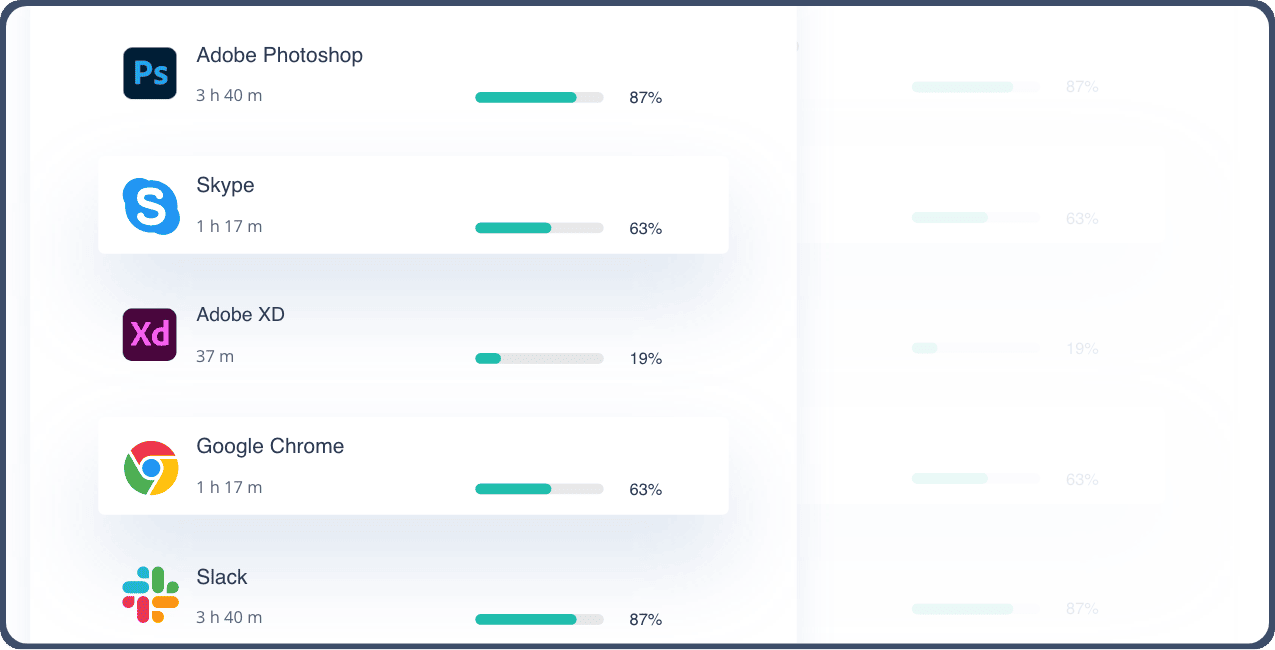 Employees spending too much time on personal internet browsing during work hours is a problem worldwide, including in India's fast-growing tech industry. Unchecked personal internet use at work can significantly reduce productivity.

To address this, you can use employee monitoring software as a business owner or manager. Apploye will track your employees' work apps, websites, and URLs in real time.

Gain meaningful context on your team's digital habits for a clearer perspective on work. Understand frequent platform usage and duration to foster transparency and trust. Cultivate an open work culture that encourages personal responsibility in task management.
Empower your team with our innovative remote employee time-tracking features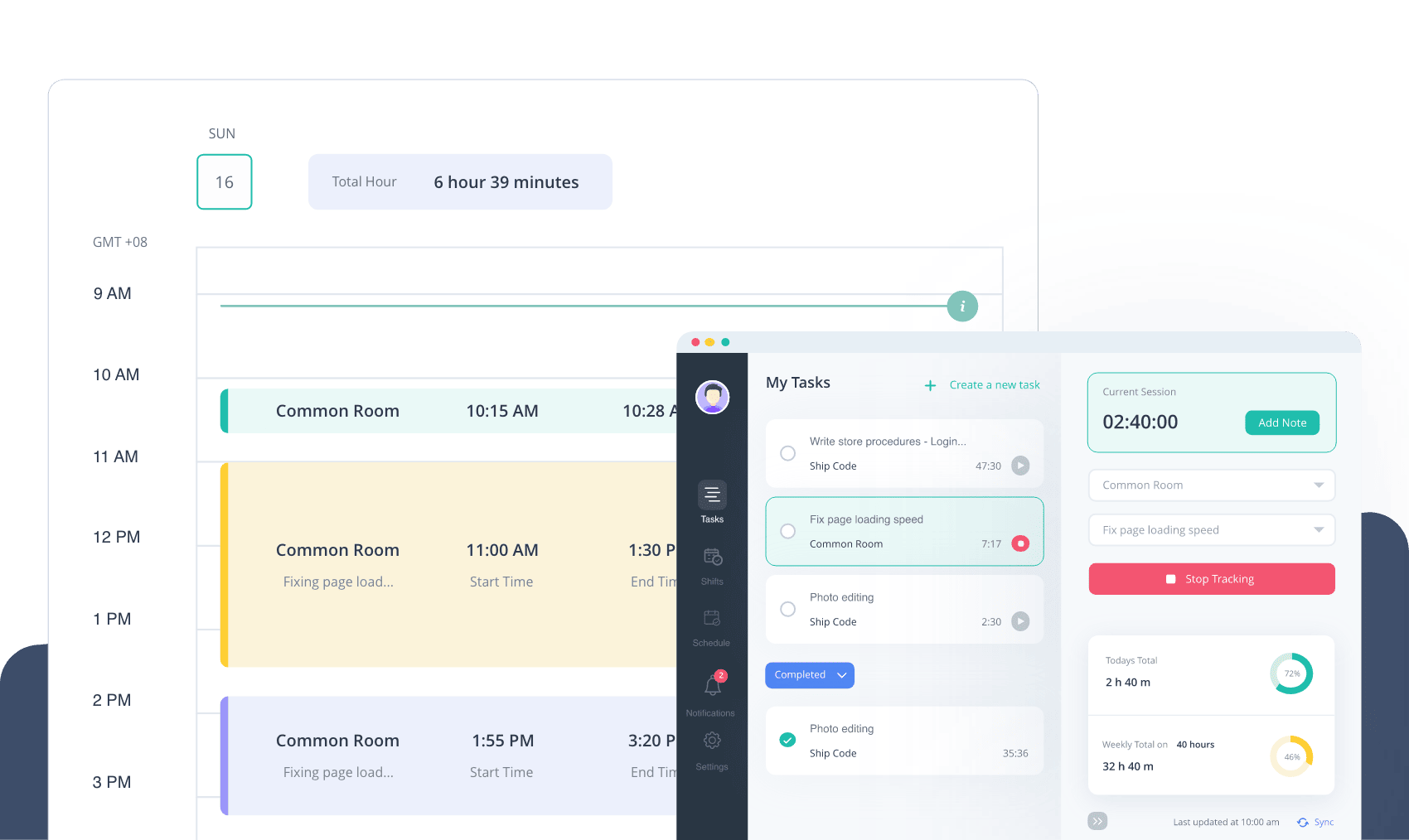 Apploye is more than just an employee monitoring tool; it's also a tool for tracking time. Which can help boost output. It was made for bosses and workers and made work easier and more efficient.
Automatic timer and timesheet creation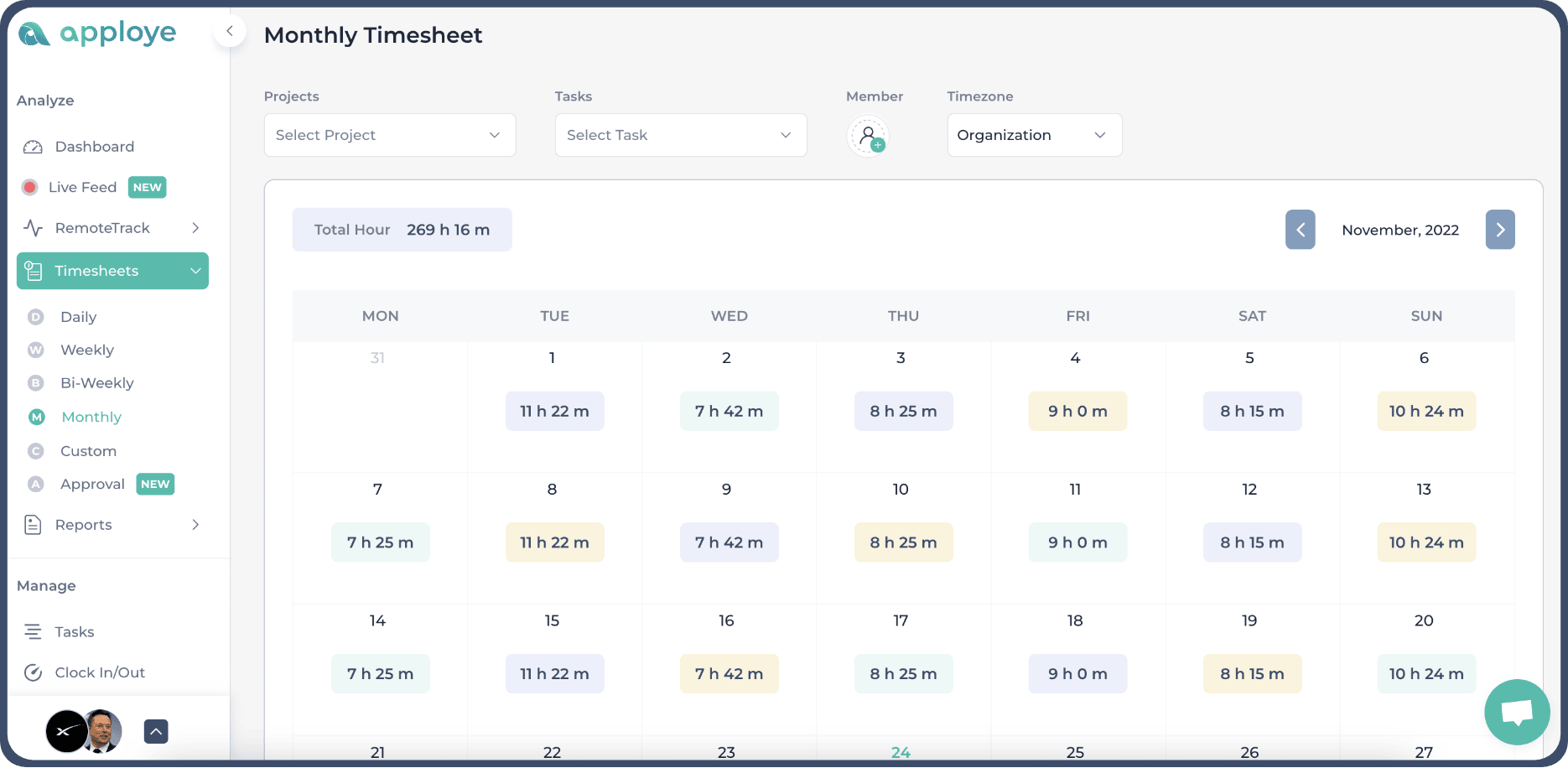 Apploye will help you eliminate the hassle of manually logging time with an automatic timer, so your team can focus on what matters: their work. No more time sheets or files to keep track of, all of that is taken care of for you by Apploye.
Manage Remote Projects With Unprecedented Efficiency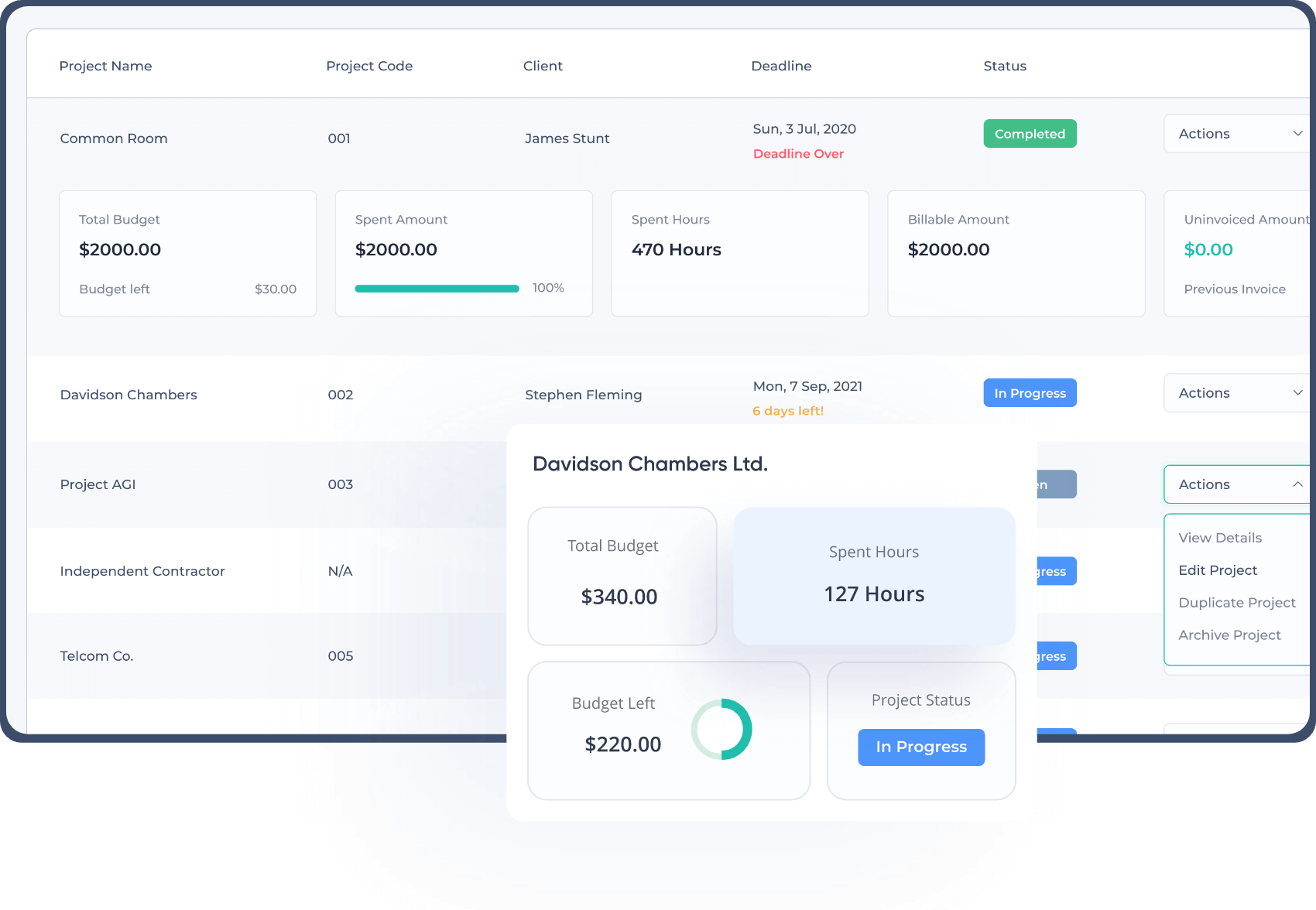 Managing a project is complex, especially when working with remote teams or handling multiple projects. Monitoring progress, meeting deadlines, and coordinating teamwork can be challenging. Apploye offers a few project management features to provide an impactful solution.
Additionally, these features align with legal and cultural expectations for employee monitoring in India and help streamline processes and ensure project success.
Monitor your project's budget
Apploye helps create accurate project budgets with its time-tracking data. Tracking time enables you to estimate costs better. This approach allows you to have realistic project budgets and avoid overspending.
Monitor Employees Billable Hours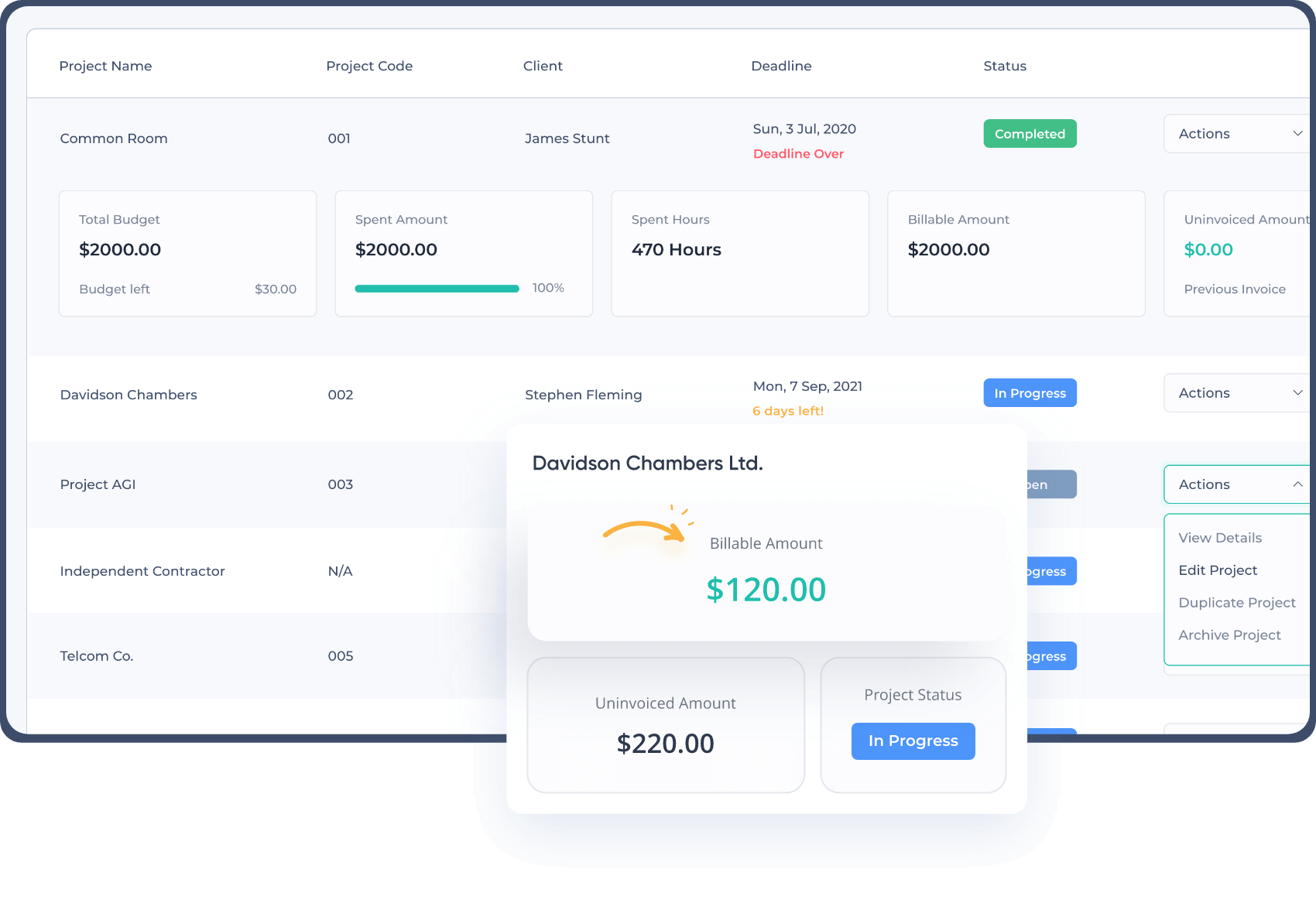 Effective Project Billing: Apploye simplifies project billing by automating procedures. Additionally, the tool tracks time spent on projects, allowing for accurate billing. Additionally, in India, trust is crucial in business relationships. Transparency improves billing accuracy and builds client trust.
Hourly Billing: Apploye can handle hourly-based salaried employees' payroll, which is common in many Indian organizations with remote workers. It tracks hours worked by hourly employees and ensures they are paid for the exact time worked. Besides, Apploye's productivity tracking helps salaried employees ensure that their work hours and productivity match their pay.
Know your remote employee's location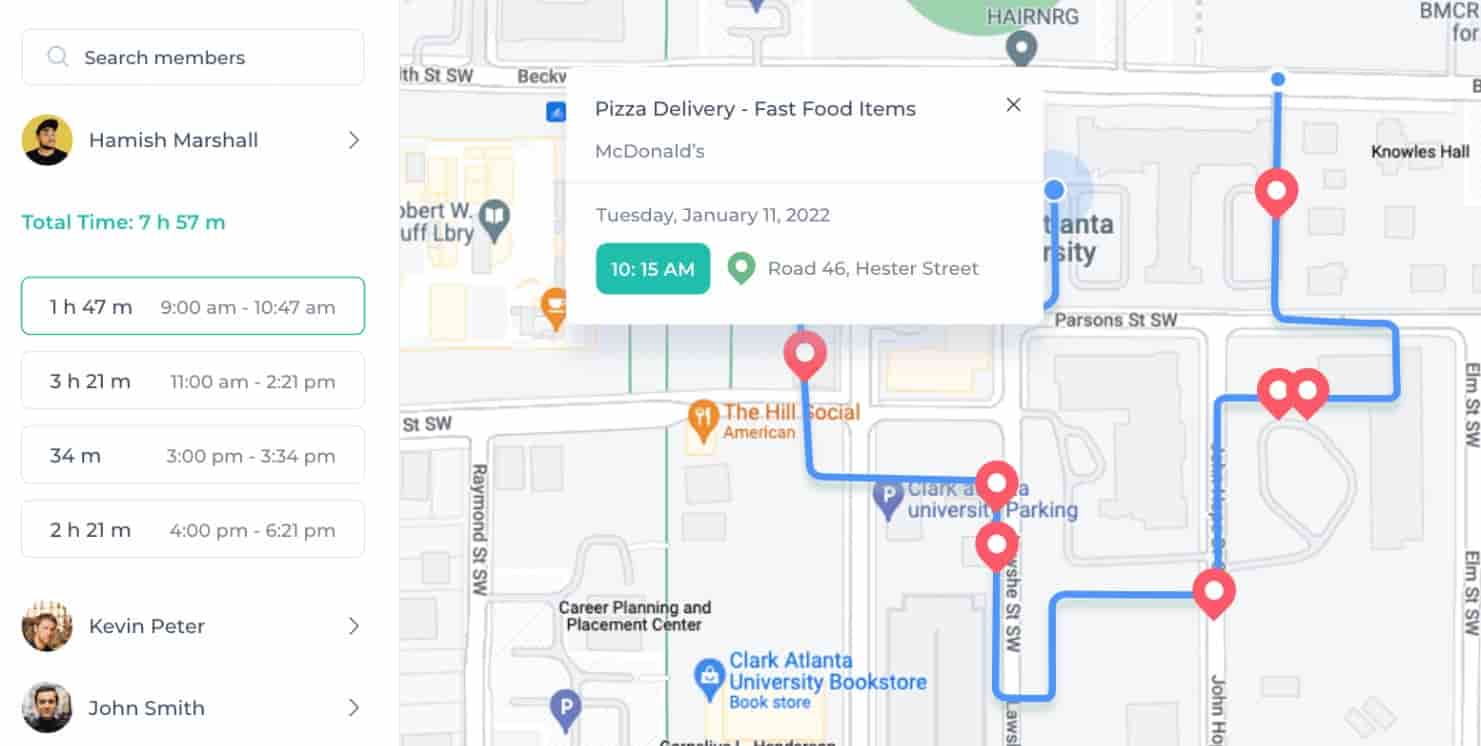 In a period where remote and fieldwork is gaining popularity in India and across the globe, Apploye's real-time employee GPS tracking feature proves immensely valuable. It tracks the live location of employees, providing an efficient employee monitoring system for Indian organizations. However, it does so while upholding the principles of individual privacy and dignity, which are central to India's cultural and legal expectations.
Making Informed Decisions: Harness Comprehensive Analytics and Reports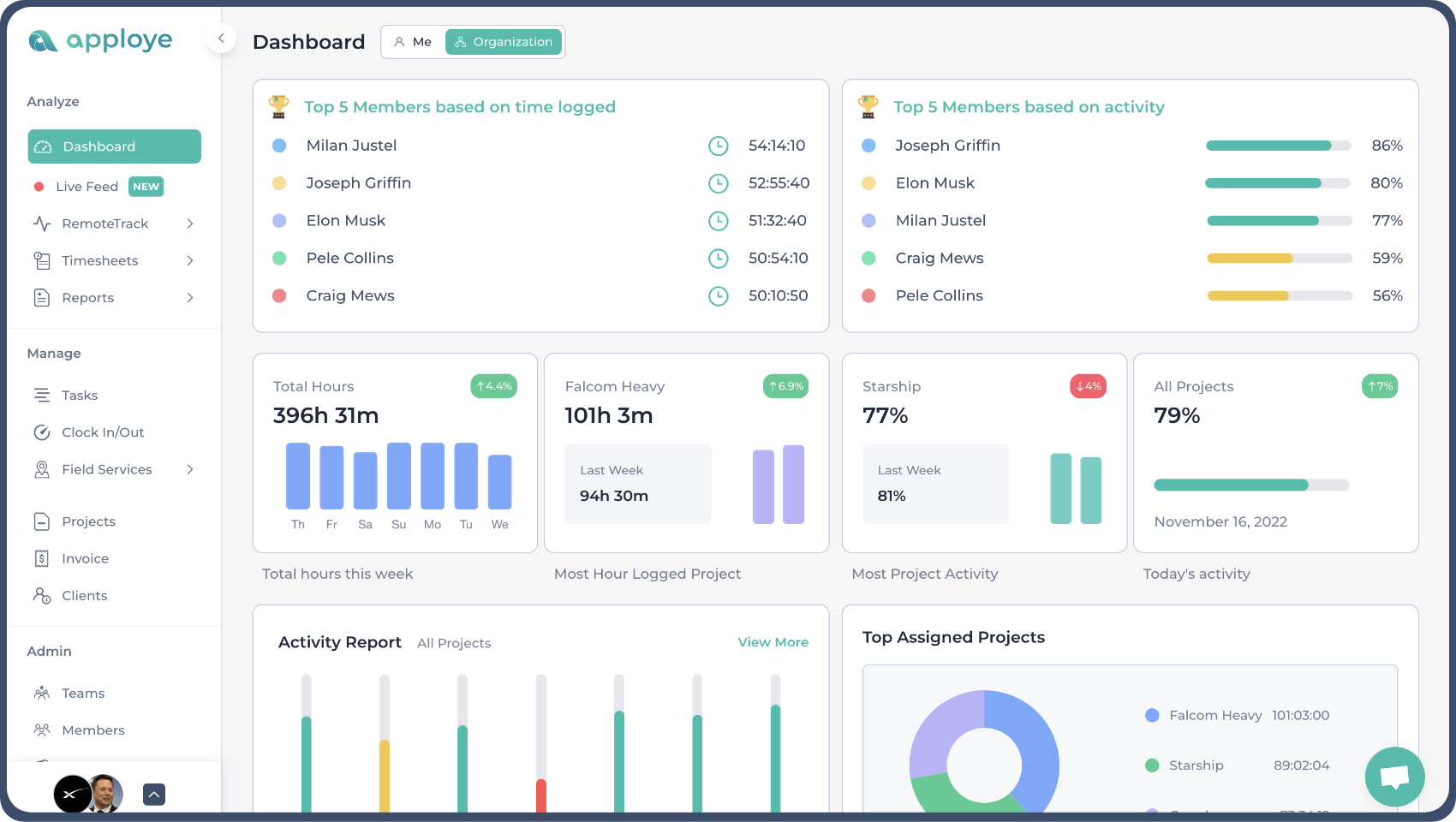 With advanced data, you can learn a lot about how productive your team is. Get detailed reports on how time is spent, project progress, and web/app behavior so that you can make intelligent decisions. Share your knowledge with your team to encourage openness and responsibility. With Apploye's smart analytics, you can boost productivity and growth while following India's strict data protection laws and working standards.
2. VeriClock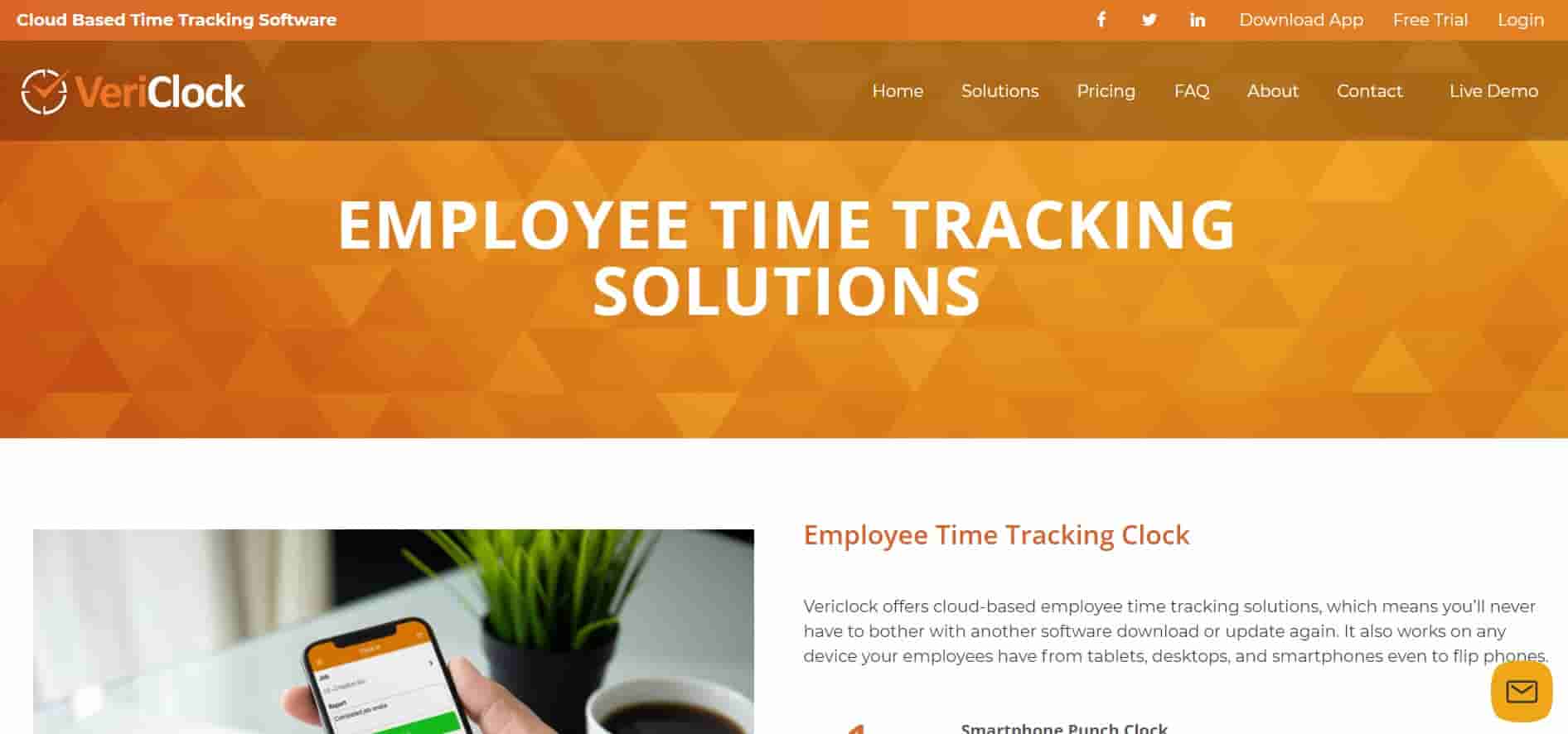 VeriClock is a leading provider of employee monitoring services in India. It is perfect for various sectors since it provides a robust time tracking solution and real-time access to work data. It adheres to India's privacy regulations while reducing administrative hassles, preventing payroll mistakes, and saving time. VeriClock is a preferred option for employee monitoring in India due to its adaptability and user-friendliness.
Prime Features of VeriClock
Businesses can streamline their time tracking procedures, save on administrative work, and guarantee precise and effective payroll processing by utilizing VeriClock's capabilities. Due to its many capabilities, it is an excellent tool for any business looking to improve productivity and time management. Here are a few prominent features:
Geolocation
Job and Task Tracking
Reporting
Alerts and Notifications
3. TimeDoctor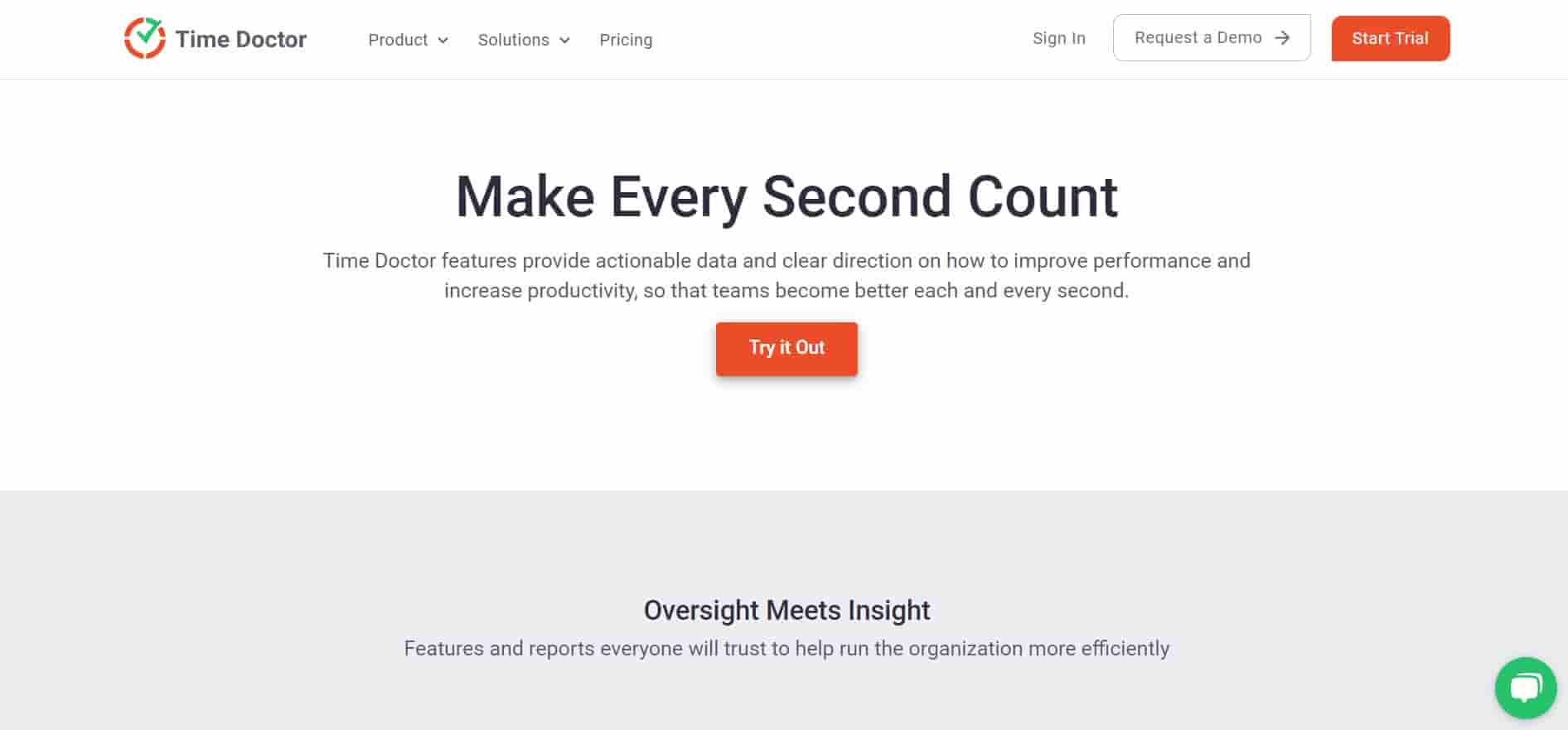 Time Doctor is a popular employee monitoring software in India. It helps remote teams manage work hours effectively. Moreover, the tool follows India's data privacy norms and balances operational efficiency with employee privacy. It caters to India's gig economy and remote teams with precise time tracking and transparent monitoring.
Time Doctor enhances productivity and bolsters trust within the workplace, making it a comprehensive solution for employee monitoring in India. Whether freelancers tracking billable hours or businesses managing large remote teams, Time Doctor offers a complete solution for diverse time-tracking needs.
Prime Features of TimeDoctor
Time Doctor's core strength lies in its flexibility and detailed insights, making it a preferred choice for businesses of all sizes. By using Time Doctor, organizations can gain more control over their time, boost productivity, and successfully manage remote teams. Here are a few prominent features:
Time Tracking
Screenshots
Task and Project Management
Payroll
4. Hubstaff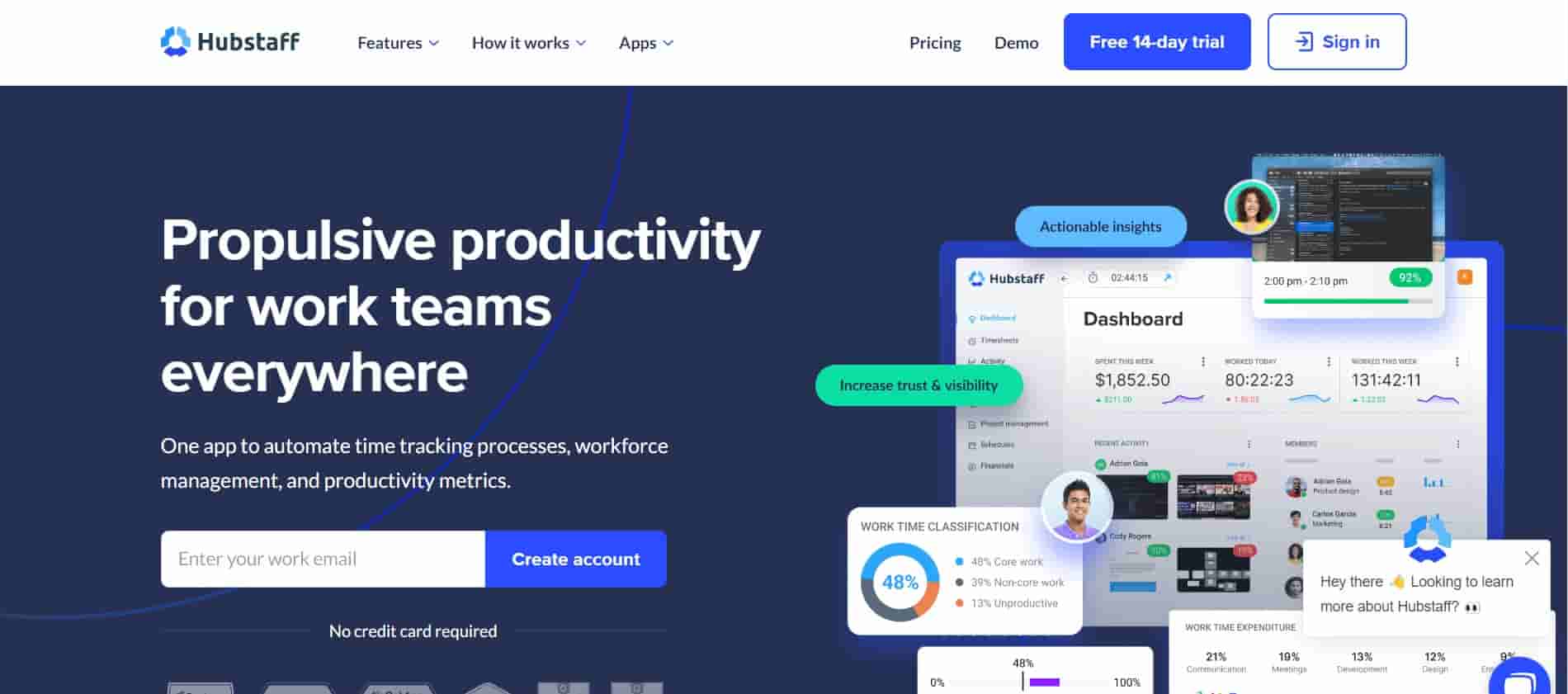 For remote teams and professionals, Hubstaff is a powerful employee monitoring tool in India that provides accurate time tracking and productivity management. While adhering to India's privacy regulations, this integrated solution boosts productivity, optimizes workflow, and offers crucial work insights.
With its user-friendly, single-platform approach, Hubstaff is an efficient employee computer monitoring software in India for small and large corporations. Due to its adaptability, it is a fantastic tool for independent contractors, small businesses, and major corporations alike.
Prime Features of Hubstaff
Hubstaff gives businesses the resources to increase productivity and efficiency by fusing straightforward functionality with powerful features. It represents a complete response to the changing needs of managing remote workers and teams. Here are a few prominent features:
Time Tracking
Activity Levels
Screenshots
GPS Tracking
Project Budgeting
Advanced Reporting
5. Desktime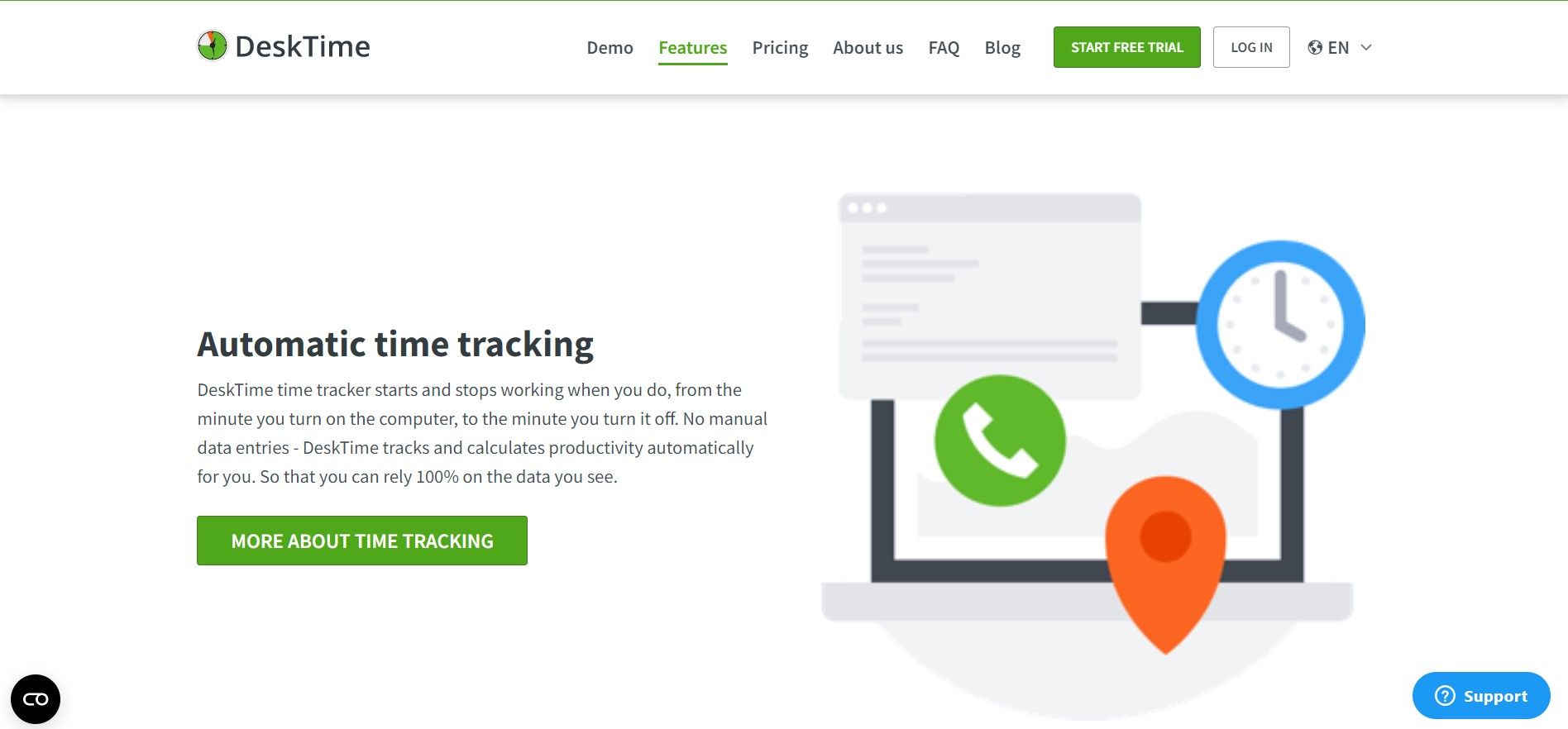 Real-time tracking is provided by DeskTime, a top pick for employee monitoring software in India, to increase productivity and responsibility across various teams. Moreover, the app suits independent contractors, small groups, and big businesses. It provides seamless activity tracking, task management, and productivity analysis.
DeskTime stands out as one of India's best employee monitoring systems while adhering to the country's privacy standards.
Prime Features of Desktime
Due to DeskTime's accurate and transparent time-tracking features, organizations can make well-informed decisions, streamline operations, and increase productivity. Here are a few prominent features:
Time Tracking
Productivity Analysis
Pomodoro Timer
Reports and Screenshots
Absence Calendar
6. WorkStatus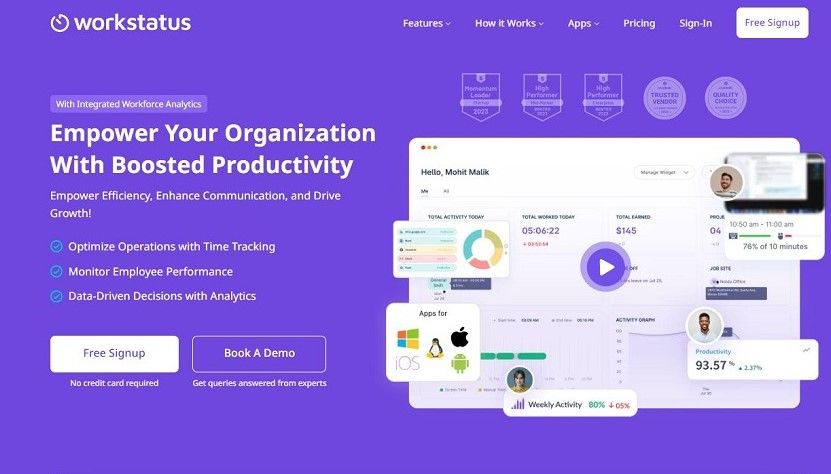 Workstatus is a comprehensive employee monitoring tool that helps businesses track and optimize employee performance. With its user-friendly interface, it allows teams to monitor tasks, projects, and time spent on various activities. The platform provides real-time updates, task assignment features, and progress reports, enabling seamless collaboration and efficient workflow.
Workstatus also offers insightful analytics and attendance tracking, empowering organizations to make data-driven decisions and improve their HR operations with streamlined attendance, enhanced performance monitoring, and collaboration.
Prime features of Workstatus
With these features, Workstatus empowers organizations to enhance productivity, optimize resource utilization, and achieve better results:
Time Tracking
Employee Monitoring
Productivity Tracking
Attendance Tracking
Online Timesheets
Geofencing & GPS tracking
Detailed Reporting
The Rise of Remote Work and remote employee monitoring software in India
In India, remote work has become the norm, demanding efficient technologies to track personnel and guarantee productivity. This is precisely what employee monitoring software does: it keeps track of work, facilitates efficient communication, and protects data.
These solutions make it easier to switch to remote work, ensuring that businesses continue to run efficiently and prosper regardless of where their employees are based. They are, in a nutshell, the key to effective remote work in India.
The Necessity of Employee Monitoring Software in the Indian Context
In light of particular difficulties and an expanding culture of remote work following COVID-19, Indian firms are becoming increasingly aware of the need for employee monitoring software. It has several benefits, particularly in the IT and service industries where managing large workforces is easier and more effective.
Take Mr. Imagine, the proprietor of Bengaluru-based XYZ Tech, as an example. He witnessed a considerable increase in productivity after implementing staff monitoring software and achieved transparent, data-driven employee ratings. It is evident that he will continue to use the employee surveillance program.
In addition to maximizing production, the software is essential for maintaining accurate records and complying with the stringent labor laws of India. It automates record management and provides precise information on work hours, leaves, and more, assuring flawless compliance and offering unchallengeable proof in court cases.
Employee monitoring software has evolved from a luxury to a crucial requirement for companies aiming for success in India's particular business conditions.
The Pros of software for monitoring workers in India:
Boosts Productivity: Employee monitoring software boosts productivity by reducing distractions and improving time management for remote workers.
Delivers Detailed Analytics: Provides insights on work patterns, inefficiencies, and growth opportunities for businesses in India.
Enhances Data Security: Monitors irregular activities to reduce data breach risks.
Facilitates Performance Management: Provide an unbiased account of work activities, crucial in India's businesses that embrace remote work culture.
Enables Evidence-Based Evaluations: Gives businesses in India data that can be used to measure success and ensure fairness and recognition.
Improves Accountability: Creates a culture of accountability by keeping track of the work activities of workers in India who work from the office or home or hybrid work culture.
Facilitates Efficient Task Allocation: This will help managers assign jobs based on how busy each person is and how well they are doing.
Supports Regulatory Compliance: Helps businesses follow India's labor laws by showing proof of work activity.
Aids in Conflict Resolution: Gives unbiased information for resolving issues at work in workplaces.
Ensures Work-Life Balance: Employee monitoring software will help businesses in India achieve a healthier work-life balance by monitoring and preventing excessive working hours.
Reduces Idle Time: It will help identify periods of inactivity, enabling owners or managers to address productivity issues in Indian businesses.
Conclusion
With the rise of remote work and other changes in how people work in India, employee monitoring software has become an important tool. These apps not only improve work and security, but they also make sure that performance reviews are fair.
In this article, we suggest the best employee monitoring software in India to help increase your business's productivity. To choose the right software, you need to consider your business's goals, privacy laws, and the people using it.
Frequently Asked Questions (FAQ) about Employee Monitoring Software in India
What is the Free Employee Monitoring Software in India?
Free Employee Monitoring Software in India - Fact or Fiction? The truth is somewhere in the middle. There are free trial periods, but they usually only last for a particular time. For long-term, ongoing use, you need to buy a paid plan.
So, there is "free" employee monitoring software, but it's only there to show you what the paid version is like.
Is it legal to monitor employees in India?
Employee monitoring is largely permitted in India, but it must be done respectfully and within specific legal restrictions. It's significant to remember that businesses are legally obligated to respect their employees' right to privacy.